NO BAKE NUTELLA FUDGE
This post may contain affiliate links. Please read my disclosure policy.
Quick and easy, No Bake Nutella Fudge is creamy, chocolaty, sweet and delicious, made in just minutes using your microwave.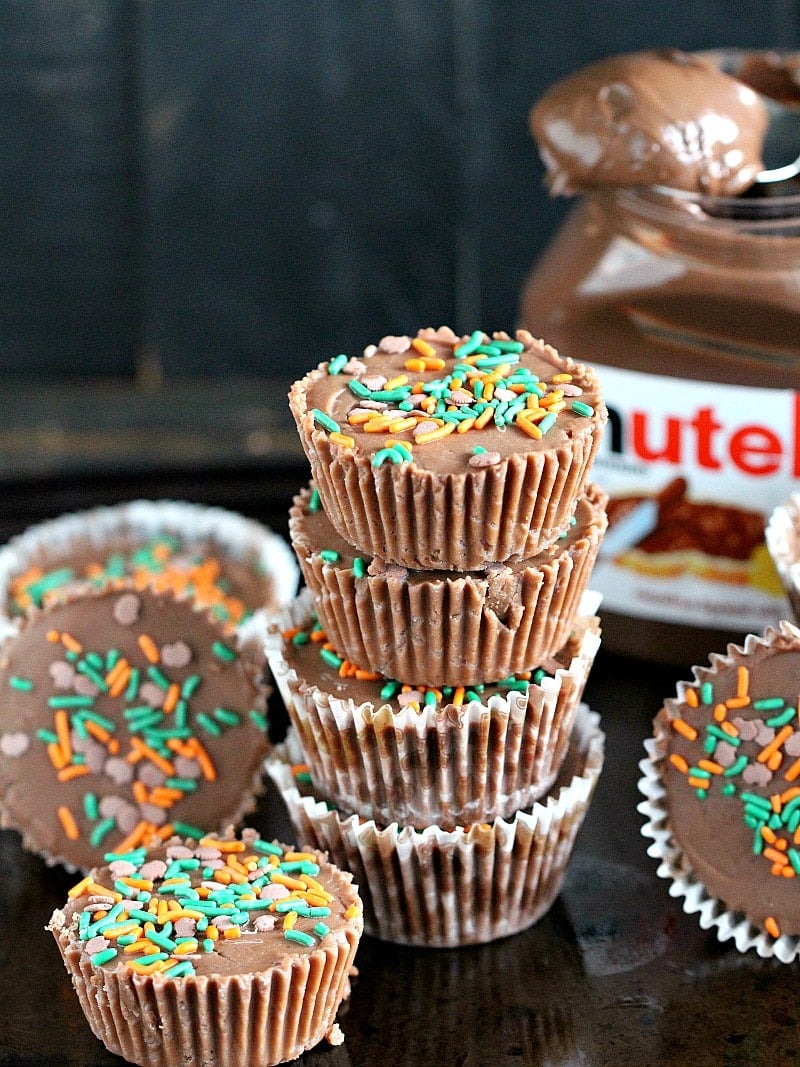 No Bake Nutella Fudge is what we make in our house when we crave a quick and easy dessert. The Nutella Fudge comes together in minutes and it's a crowd pleaser from kids to adults.

I made this Nutella Fudge for Christmas, but never got the chance to share it, I figured that this recipe can be made any time of the year, so I better share it with all of you quickly.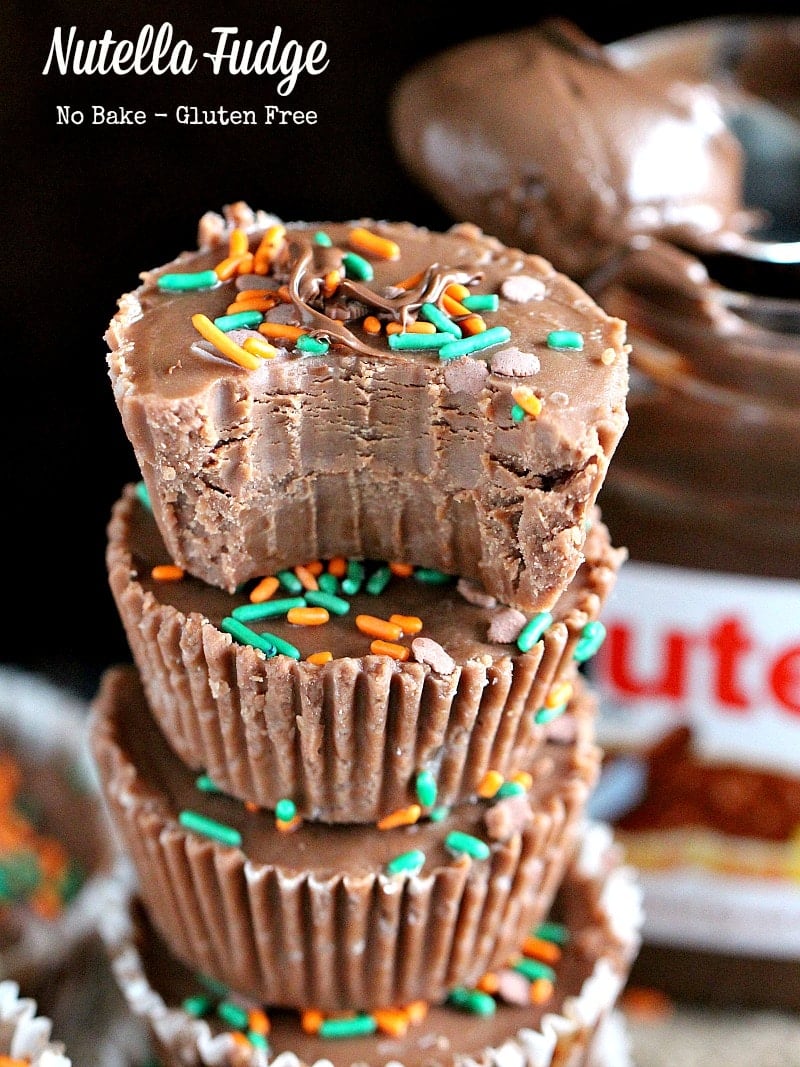 I am a huge fan of quick and easy fudge recipes, that require no candy thermometer, here are a few other variations that you should try: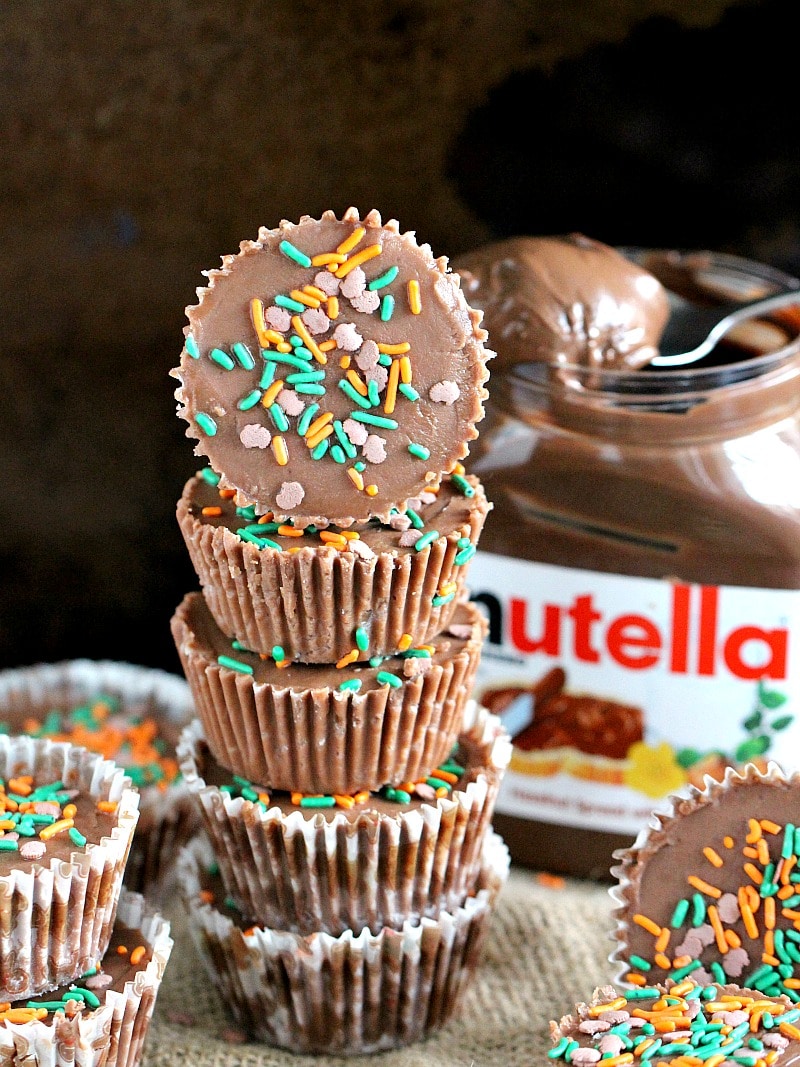 Here are a few tricks to get your Nutella Fudge smooth:

MY LATEST VIDEOS
When melting the Nutella and butter, make sure you stop every 40 – 60 seconds to stir the mixture really well. Don't skip the stirring step, as it may result in burning some parts of the Nutella, which will create lumps.
Sift the confectioner's sugar, it will improve the overall texture of the fudge. It's one extra step, but it will take you just a few minutes.
Store the fudge into an airtight container in the fridge, this will ensure it doesn't become rock hard.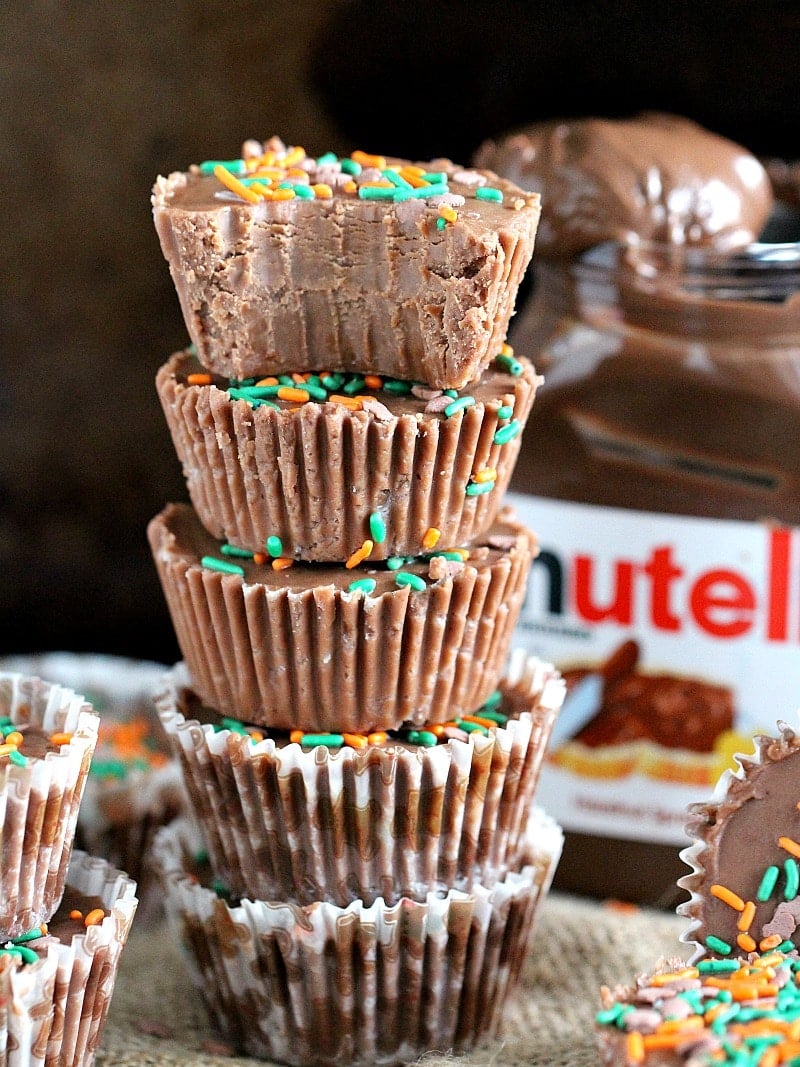 I didn't add any nuts to my No Bake Nutella Fudge, but you can add you favorite mix-ins, some that I would recommend are:
chocolate chips, for extra chocolate and a nice crunch
chopped, roasted hazelnuts, they are perfect in this rich dessert
walnuts or pecans
corn flakes cereal – this one is a huge hit all the time!
sprinkles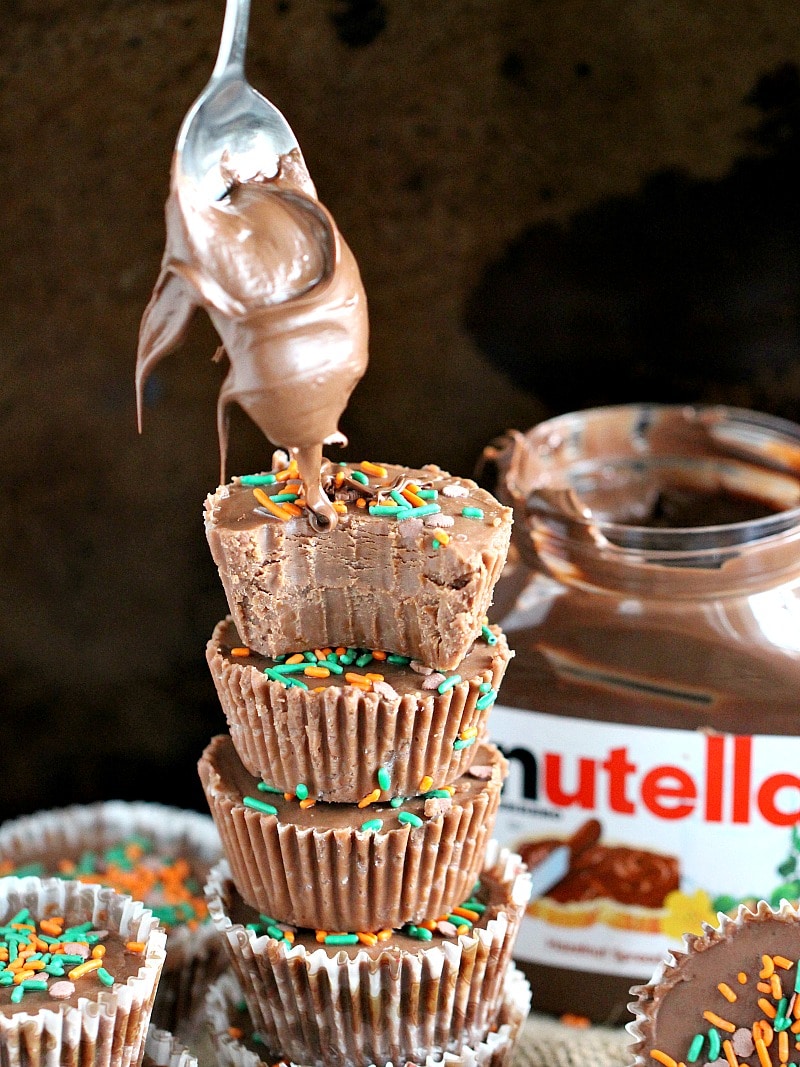 The fudge is definitely on the sweet side, but what can you expect from Nutella mixed with sugar? To cut the sweetness you can enjoy it with some coffee or a cup of milk. The kids totally love the sugar and will refuse the milk 🙂 The No Bake Nutella Fudge is a huge hit for playdates or as a hassle free, easy dessert for all the Nutella lovers!
Here is a fun step by step video of how to make this recipe:
Tools I used to make this easy No Bake Nutella Fudge:
No Bake Nutella Fudge
Author:
Prep time:
Total time:
Quick and easy, No Bake Nutella Fudge is creamy, chocolaty, sweet and delicious, made in just minutes using your microwave.
Ingredients
1 cup Nutella
1 cup/2 sticks unsalted butter
1 teaspoon vanilla extract
1/4 teaspoon salt
4 cups confectioners sugar, sifted
[b]Optional:[/b]
sprinkles
1 cup walnuts, chopped
or 1 cup pecans, chopped
or 1 cup hazelnuts, roasted and chopped
Instructions
Line two regular muffin tins with paper cups. Set aside.
If using a rectangular or square pan, line it with aluminum foil, so there is extra foil sticking out on the sides to lift the finished fudge out.
Add the Nutella and butter to a large bowl, microwave and stir the mixture every 40 – 60 seconds, until completely melted and smooth.
Remove bowl from the microwave and stir in the vanilla extract and salt. Mix well with a rubber spatula.
Add the sifted confectioners sugar and stir well until completely combined. If using any mix-ins, fold them in and stir well.
Press the fudge into prepared baking pan or paper cups, smoothing the top with the back of a spatula. The top will appear somewhat oily, top with sprinkles. Refrigerate for at least 4 hours or until the fudge is firm to the touch.
Store fudge in an airtight container in the refrigerator for up to 1 week.
Enjoy!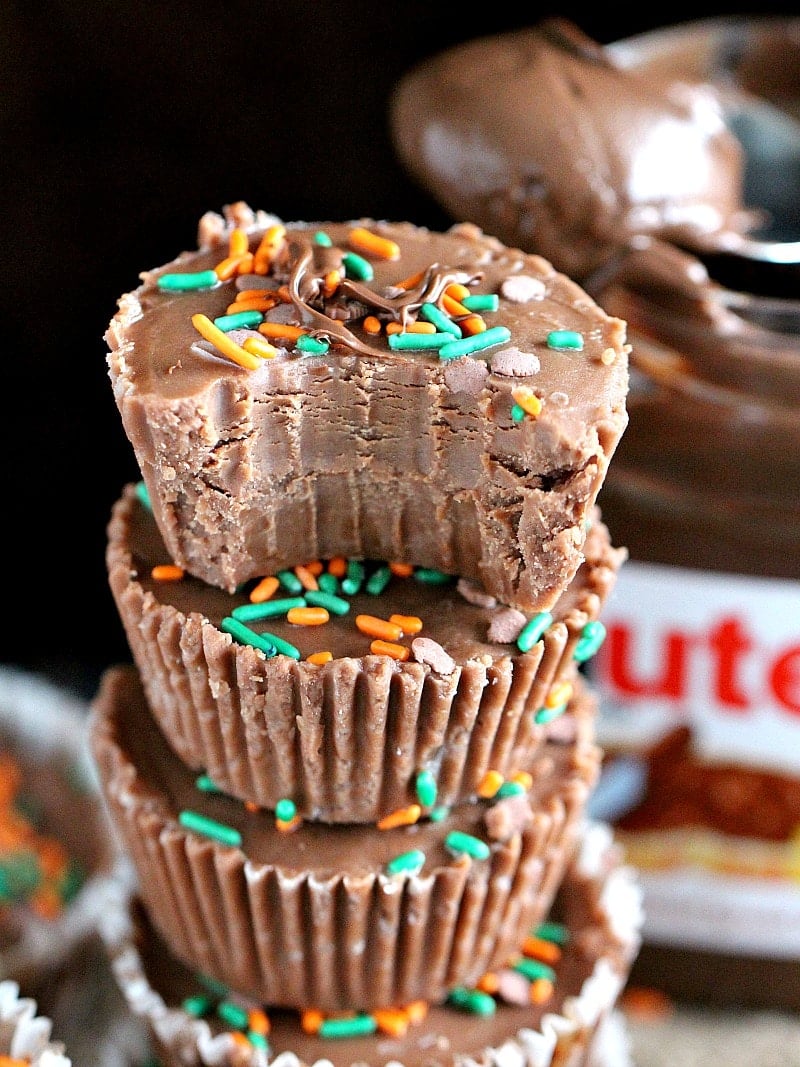 Sink your teeth into this sugary goodness!
Peas and Peonies, LLC. owns the copyright on all images and text and does not allow for its original recipes and pictures to be reproduced anywhere other than at this site unless authorization is given. If you enjoyed the recipe and would like to publish it on your own site, please re-write it in your own words, and link back to my site and recipe page. Copying and/or pasting full recipes to social media or personal blogs is strictly prohibited. Sharing this recipe is very much appreciated and encouraged. Read my disclosure and privacy policy. This post may contain affiliate links.