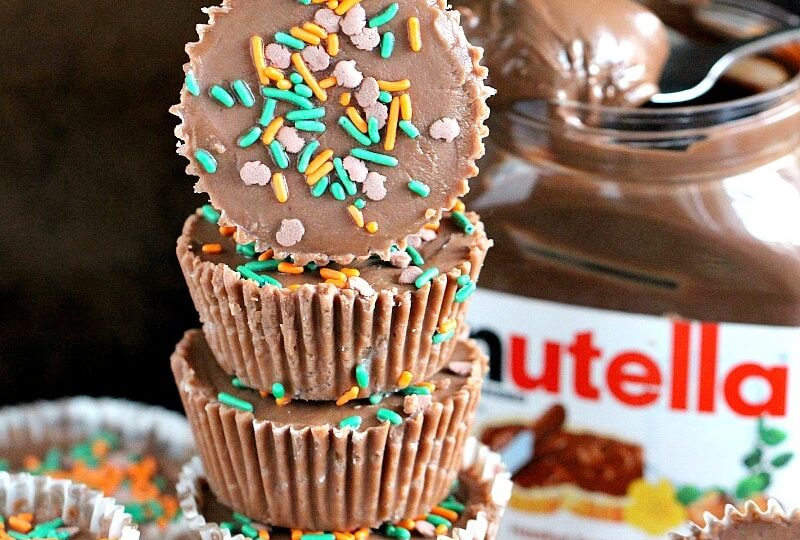 No Bake Nutella Fudge Recip [VIDEO]
No Bake Nutella Fudge is creamy, chocolaty, sweet and delicious, made in just minutes using your microwave. Watch the recipe video tutorial and see how easy this dessert is to make!
I love making easy and delicious fudges, among my favorites, include: Mint Chocolate Chip Fudge, Pumpkin Fudge, and Patriotic Fudge.
The Best No Bake Nutella Fudge
Nutella Fudge is what we make in our house when we crave a quick and easy dessert. The Nutella Fudge comes together in minutes and it's a crowd-pleaser from kids to adults. My other favorite fudges are Mint Chocolate Chip Fudge, Pumpkin Fudge, and Pink White Chocolate Fudge.
These are the perfect fudge to take to a party or potluck. What we love about them is that they require a few simple ingredients, and no oven is used. This makes life much easier for everyone! If you love Nutella, then this dessert is the perfect combination of that. It is rich, creamy, and super fudgy! Once you try it, you will crave for more!
What is Nutella made of?
Nutella is made from sugar, modified palm oil, hazelnuts, cocoa powder, skimmed milk powder, whey powder, soy lecithin, and vanillin.
Pin This No Bake Nutella Fudge Recipe to your Favorite Board
Here are a few tricks to get your Nutella Fudge smooth:
When melting the Nutella and butter, make sure you stop every 40 – 60 seconds to stir the mixture really well. Also, don't skip the stirring step, because it may result in burning some parts of the Nutella, which will create lumps.
Sift the confectioner's sugar, since it will improve the overall texture of the fudge. It's one extra step, but it will take you just a few minutes.
In addition, store the fudge into an airtight container in the fridge, this will ensure it doesn't become rock hard.
You can change swap the Nutella with peanut butter if you are a peanut butter fan. Similarly, you could use chocolate-almond butter.
Also, if you do not have a muffin tin, you can spread the mixture on a dish, and then cut it in square sizes.
You can add your favorite mix-ins, some that I would recommend are:
Chocolate chips, for extra chocolate and a nice crunch
Chopped, roasted hazelnuts, they are perfect in this rich dessert
Walnuts or pecans
Corn flakes cereal – this one is a huge hit all the time!
Sprinkles
The fudge is definitely on the sweet side, but what can you expect from Nutella mixed with sugar? To cut the sweetness you can enjoy it with some coffee or a cup of milk. The kids totally love the sugar and will refuse the milk!
The No Bake Nutella Fudge is a huge hit for playdates or as a hassle-free, easy dessert for all the Nutella lovers!
What's the difference between fudge and chocolate?
The main difference between fudge and chocolate is the texture and taste. Fudge is usually softer, chewier and sweeter because it contains butter, added sugar, milk, corn syrup and/or sweetened condensed milk—ingredients you won't find in the bark.
Tools I used to make this easy fudge recipe:
Watch Recipe Video: