Pumpkin Fudge – 5 Ingredients 5 Mins [Video]
Pumpkin Fudge made in 5 minutes with only 5 ingredients! Creamy, delicious, no-bake, and also gluten-free. Watch the recipe video tutorial below and see how fun and easy this recipe is!
This Pumpkin Fudge is a perfect treat for the upcoming fall season. With Halloween fast approaching, this fudge is one of my favorite desserts on the table. My other favorite fall treats are Instant Pot Pumpkin Cheesecake, Pumpkin Pound Cake, and Halloween Pumpkin Oreo Cake.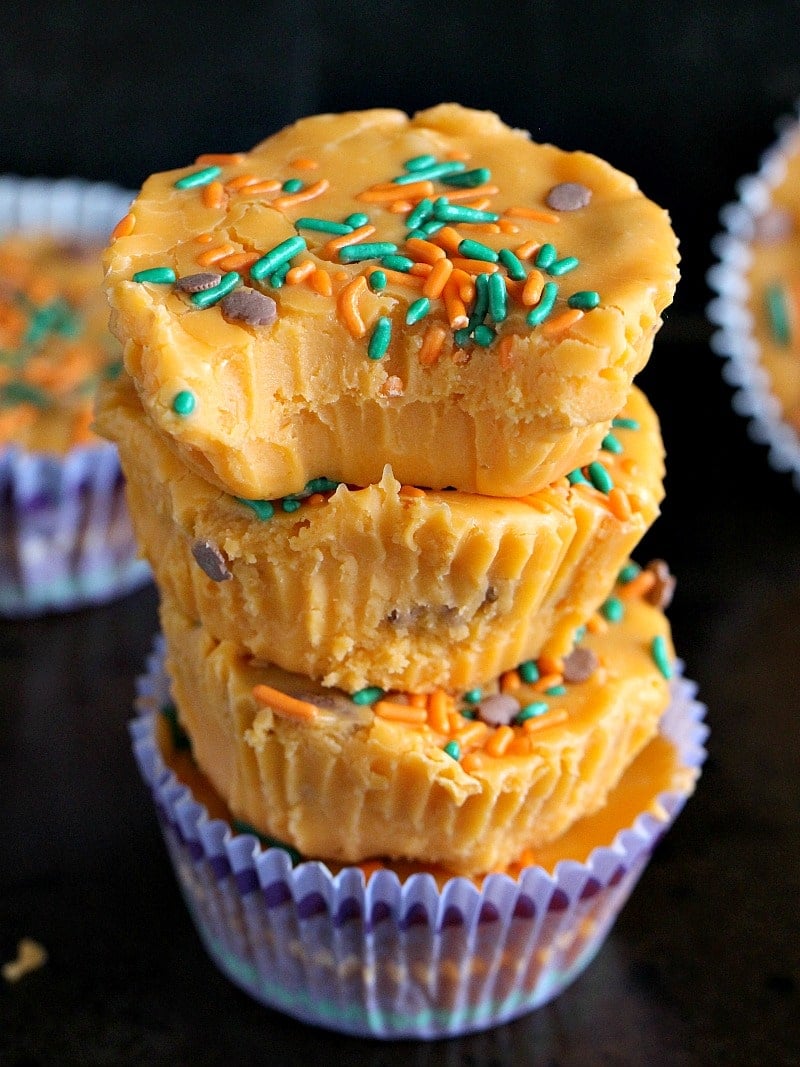 Easy Pumpkin Fudge Recipe
Pumpkin Fudge is the best way to dive into the pumpkin season. I am in no way rushing summer, I just couldn't resist and had to share this recipe with you! I kept test tasting Pumpkin Fudge recipes for about two weeks and when I finally tweaked the recipe to my liking and gained probably 4 pounds!
While testing all the other recipes, I just thought it won't be fair to keep this gem hidden until fall fully hits. You will find this fudge to be super creamy, soft, and delicious, with a little crunchiness from the mixed in walnuts. It is a great dessert and a delicious treat to make during the holiday season. It is super easy to prepare, and would be a hit on your Halloween, Thanksgiving, or Christmas tables! So, give it a try, and you will run back for more!
Many fudge recipes have a very long list of ingredients and lots of steps, and I know many people are not that comfortable with kitchen thermometers and hot, bubbly candy. The mission was to create a super simple, creamy, delicious, and easy to make Pumpkin Fudge. I must say that this is a winner, ready in 5 minutes, minus the refrigeration time. The recipe requires only a few ingredients and your ability to operate a microwave.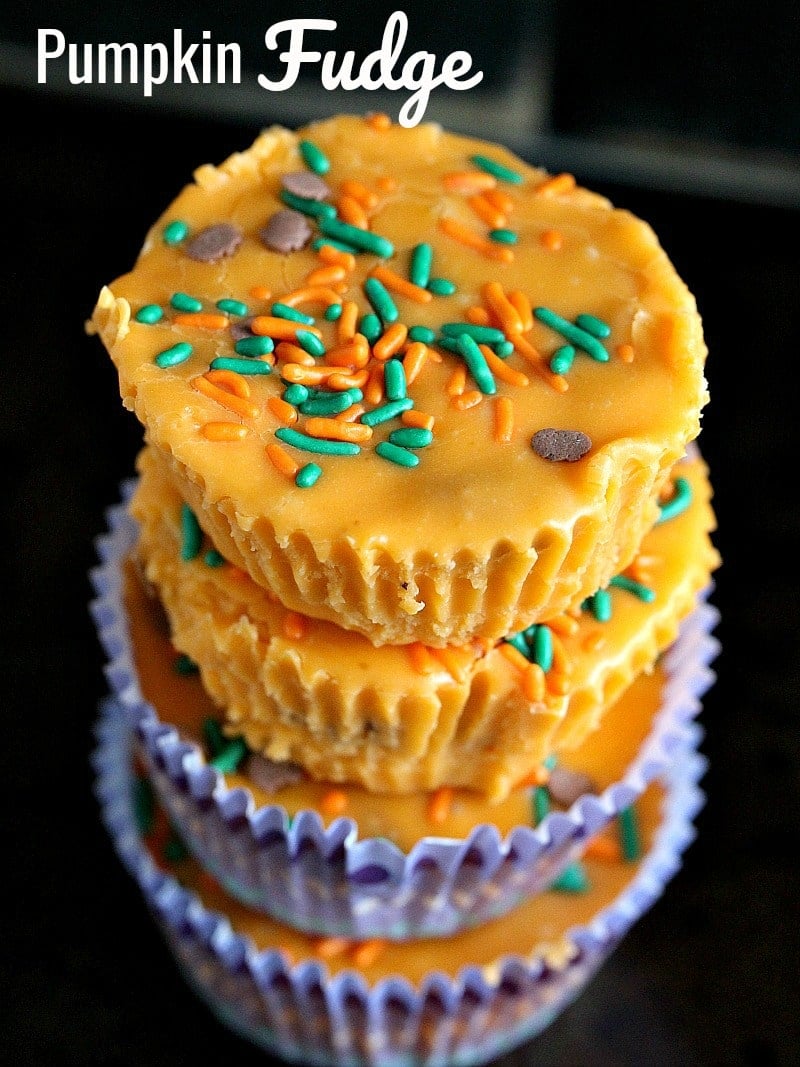 Tips and Tricks to make the perfect Pumpkin Fudge:
Use quality white chocolate, which is the main ingredient so you want it to be the best in order to get the best taste and texture. I really like using white chocolate melts/wafers (link before the recipe).
Also, white chocolate is very pretentious, so be extra, extra careful when melting it. Usually, I do 20 seconds intervals in the microwave and lots of stirring to make sure I am not overheating it. In addition, if you overheat the white chocolate it will clump and separate and it will become unusable, unfortunately.
You can skip the food coloring all together if you are not making the fudge for a festive occasion. At the same time, you can intensify to your preference.
Use gel food coloring, it is the best in this recipe as the liquid food coloring may make the white chocolate separate.
Mix-ins are optional, but here are my favorite ones: Toasted Pecans, Raisins, Cranberries, and Walnuts.
How do you make Pumpkin Spice?
You can make pumpkin spice blend at home pretty easily, here is what you will need:
3 tablespoons ground cinnamon
2 teaspoons ground ginger
2 teaspoons ground nutmeg
1 teaspoon ground allspice
1 teaspoon ground cloves
Directions: In a small bowl, mix all the spices together. Transfer to a small jar or spice container.
Is evaporated milk the same as condensed milk?
Evaporated milk is condensed milk without the added sugar with the water content cooked off until it has a consistency that is similar to cream. Evaporated milk and sweetened condensed milk cannot be used mutually in cooking, because the sugar content in one product is much higher than the other.
How long does pumpkin Fudge last?
Home-made fudge will last fairly well. The main risk with fudge is that it dries out and becomes a little crumbly.
Also, to better preserve the fudge, it is best to store it in an airtight seal, or a container with a tight-fitting lid. In a cool place, the fudge will keep for about 2 weeks but you can also keep the fudge in the fridge which will extend the life for 3 to 4 weeks.
More fudge recipes: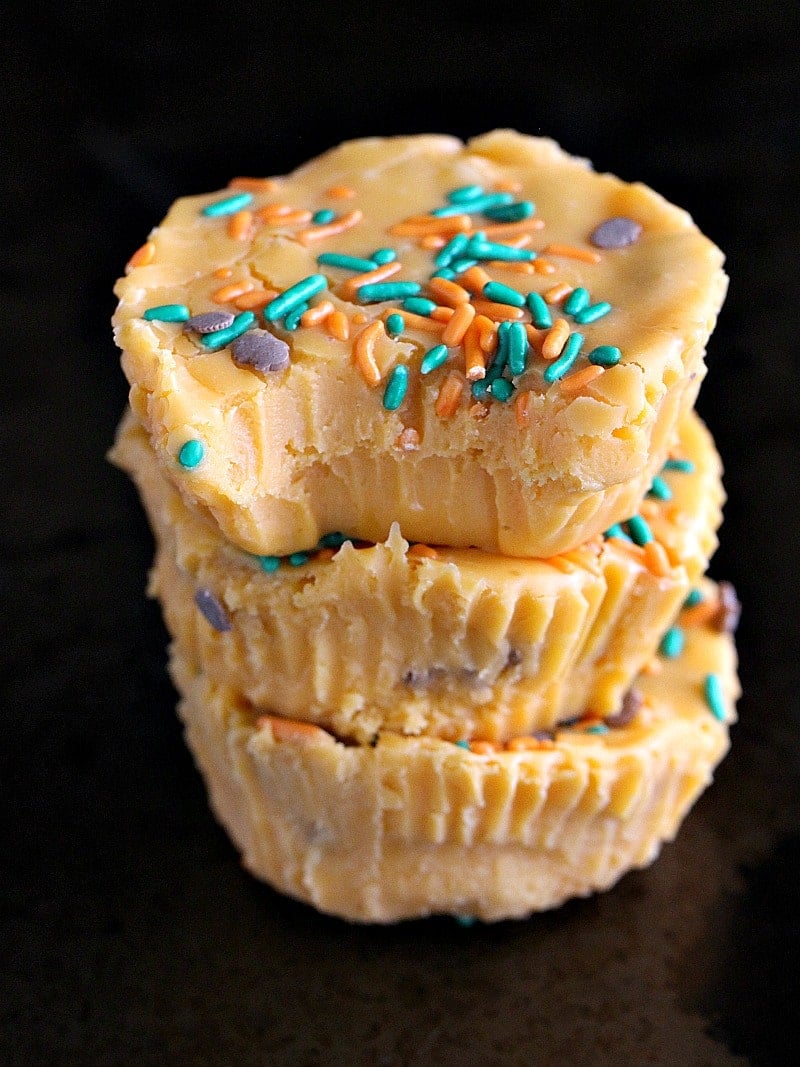 How do you freeze it?
Fudge can also be frozen in airtight containers for up to 3 months. The temperature in the freezer should be as close to 0°F as possible.
In addition, if freezing the fudge you may prefer to put pieces of baking parchment paper in between layers of the fudge to prevent the pieces from freezing together. The fudge will thaw very quickly at room temperature.
Are you a fan of easy fudge recipes? Check these out:
Tools/Ingredients I used to make this Pumpkin Fudge Recipe:
White Chocolate Wafers – they redesigned to melt quicker and easier, which I find perfect for fudge recipes.
Gel Food Coloring – this set comes in a variety of colors and it won't add extra water to your fudge, which is great.
Parchment paper – a kitchen staple, it just makes life so much easier with its non-stick magical powers.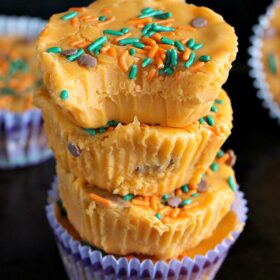 Pumpkin Fudge
Pumpkin Fudge made in 5 minutes with only 5 ingredients! Creamy, delicious, no bake and also gluten free.
Save
Share
Print
Pin
Rate
Ingredients
2

cups

/ 12 ounces/ 340 grams white chocolate melting wafers

5

tablespoons

condensed milk

2

tablespoons

pumpkin puree

1/2

teaspoon

pumpkin spice

1/4

cup

chopped walnuts
Optional:
food coloring: orange

mix ins: walnuts

(raisins, sprinkles etc)
Instructions
Line a regular muffin tin with paper cups, only 6 needed. Set aside.

Combine the chocolate and condensed milk in a large, microwave safe bowl. Microwave in 20 seconds increments and stir after each one until the chocolate has melted. Make sure you stir well, after each interval as the residual heat will melt the chocolate without extra microwaving. This way you avoid overheating and separation of chocolate.

Stir well until smooth, stir in pumpkin puree, walnuts, pumpkin spice and a few drops of orange gel food color (if using).

Pour mixture into the lined muffin cups and refrigerate for 1-2 hours.

When the fudge has cooled off and harden it can be served.
Notes
Make sure you don't add more condensed milk or pumpkin puree, the mixture will become runny and it won't settle. Add more pumpkin spice, for a more prominent flavor. Taste and adjust.
Nutrition
Calories:
96
kcal
|
Carbohydrates:
11
g
|
Protein:
2
g
|
Fat:
4
g
|
Saturated Fat:
1
g
|
Cholesterol:
5
mg
|
Sodium:
35
mg
|
Potassium:
93
mg
|
Fiber:
0
g
|
Sugar:
9
g
|
Vitamin A:
825
IU
|
Vitamin C:
0.7
mg
|
Calcium:
52
mg
|
Iron:
0.4
mg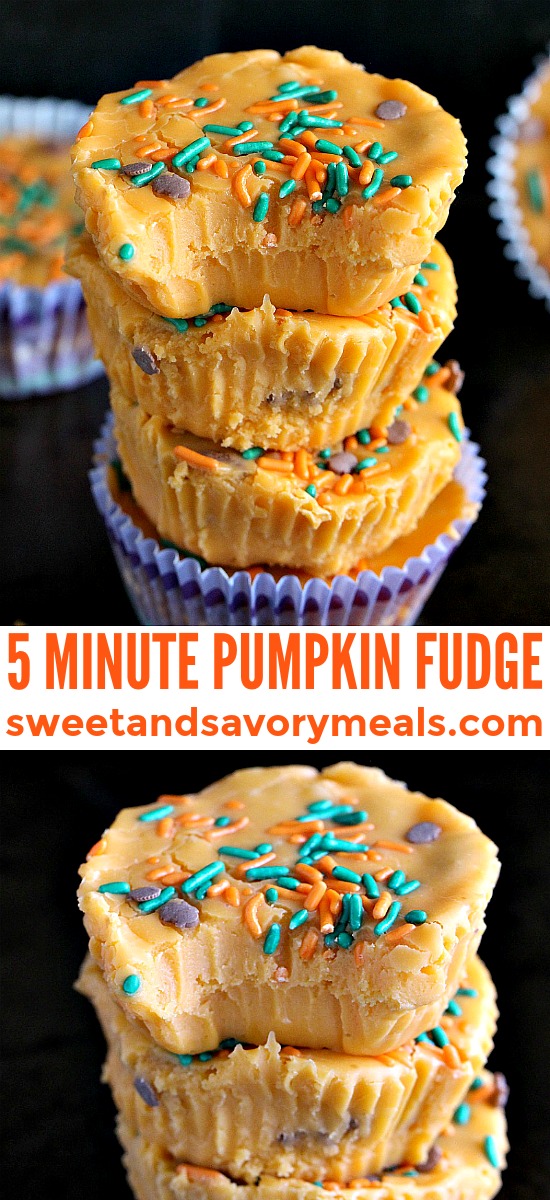 More recipes you might love