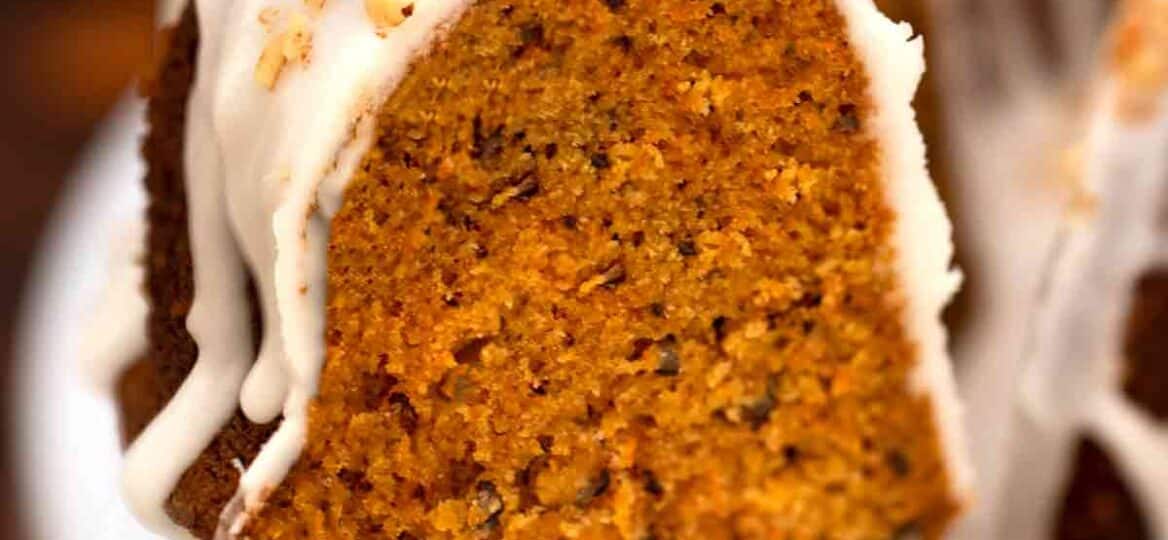 Pumpkin Bundt Cake [Video]
Pumpkin Bundt Cake is perfectly spiced, moist, and dotted with crunchy pecans. It's topped with a sweet cinnamon glaze then sprinkled with more nuts. A showstopping fall dessert!
Autumn is a baking season! Fill your home with the wonderful smells and flavors of the Best Homemade Apple Pie, Cranberry Orange Muffins, and Pecan Pie Cinnamon Rolls. Best when shared!
Pumpkin Bundt Cake with Pecans
Pumpkin Bundt Cake is dense but deliciously moist and infused with warm autumn spices. It looks magnificent and tastes fabulous. Finished with a sweet cinnamon glaze, it's the perfect way to greet the arrival of fall. Don't forget hot coffee or tea on the side!
Feel free to bake it a day or two before your potluck, party, picnic, or brunch. It keeps really well in room temp, and for me, it's even better a few days after the day of baking. This dessert is comforting, so easy to whip up, and impossible not to want a second slice right after your first!
I have used lots of spices like cinnamon, nutmeg, and cloves, they warm up this dessert and give it a fall feel alongside the pumpkin puree. For this recipe, you can make your own puree, it's pretty simple, but incredibly delicious!
The glaze is optional, you can skip it if you want to cut on calories, but it adds a nice level of sweetness and it pairs so well with the cinnamon and chopped pecans. You can also make this dessert without the pecans if you would prefer just a pure pumpkin bundt cake!
What goes into Pumpkin Bundt Cake?
You will need:
White and brown sugar: they both add sweetness, and the molasses content of the brown makes the cake moister
Vegetable oil: gives us a tender, moist crumb
Eggs: make sure they're at room temperature so they incorporate properly with the batter
Pumpkin puree: canned is fine, but homemade puree is so much more flavorful!
Flour: use all-purpose

Baking soda: our main leavening agent
Spices: for classic fall flavor, we'll use ground ginger, powdered cloves, ground fine cinnamon, and nutmeg powder
Pecans: chop as fine or chunky as you like
Salt
For the glaze:
Whole milk
Cinnamon
Powdered sugar aka dusting, icing, or confectioner's sugar
More chopped pecans
How to make the puree?
It's the easiest thing ever! In fact, once you taste the difference between homemade and canned, you'll never look back. Follow these simple steps:
Halve, scoop the insides out, and chop the flesh into chunks
Roast until tender

Process until it reaches a pureed consistency
Follow this recipe to make your own
Let it cool and use it! Squeeze it out for a thicker texture. Perfect for any sweet or savory application. If you want to use it as a pie filling, flavor with your chosen spices, then adjust the sugar level to your liking.
How to make Pumpkin Bundt Cake from scratch?
Whisk. Combine all wet ingredients thoroughly.
Mix up your batter. Take the sifted dry ingredients, and whisk them carefully together with the wet. After that, stir in pecans.
Bake. At 350F for around 70-75 minutes, then check for doneness.

Glaze. Allow the bundt to cool. Combine glaze ingredients except for the nuts. Pour our drizzle all over the cake, then sprinkle with crushed pecans.
Variations:
Add chocolate: fold chocolate chips (white, dark, semi-sweet) into the batter.
Use other nuts: try it with walnuts, pistachios, crushed almonds, macadamia, and cashews.
Use other glazes: also great with vanilla glaze, salted caramel glaze, chocolate glaze, and rum glaze. A maple glaze will be tasty as well.
Add fruits: fold in some dried cranberries, raisins, and other dried fruits.
Add a swirl: make it more festive and scrumptious by adding a cheesecake swirl. You can also go for a brownie one, it will taste delicious.
How do you know when a bundt cake is done baking?
Take a toothpick, then push it into the thickest part of the dome. Lift it up, and once you see it's clean, it has finished baking. A small number of moist crumbs clinging to the toothpick is fine.
Can I use pumpkin pie filling instead of puree?
I wouldn't recommend it simply because it is already sweet and contains spices. Only use pure puree.
More delicious pumpkin recipes:
How to store bundt cake?
It will remain deliciously moist for several days at room temp. I recommend slicing it into serving sizes. Wrap each tightly in plastic wrap. To enjoy, just unwrap and eat.
If keeping in the fridge, wrap tightly to protect against drying out.

Wrap tight, freeze, and store for up to 3 months.
Recipe tips and notes:
Check out my Best Pumpkin Dessert Recipes and Best Pumpkin Recipes 2020.
For precise measurements, use a kitchen scale.
Also, let the Bundt cool down for around 15mins out of the oven before placing on a wire rack.
Only use puree so you can control the number of spices you want as well as the sweetness level.

Don't overmix. A few small pockets of flour are fine.
Use room-temp ingredients.
Use a silicone bundt pan, which makes removing the cake so much easier!