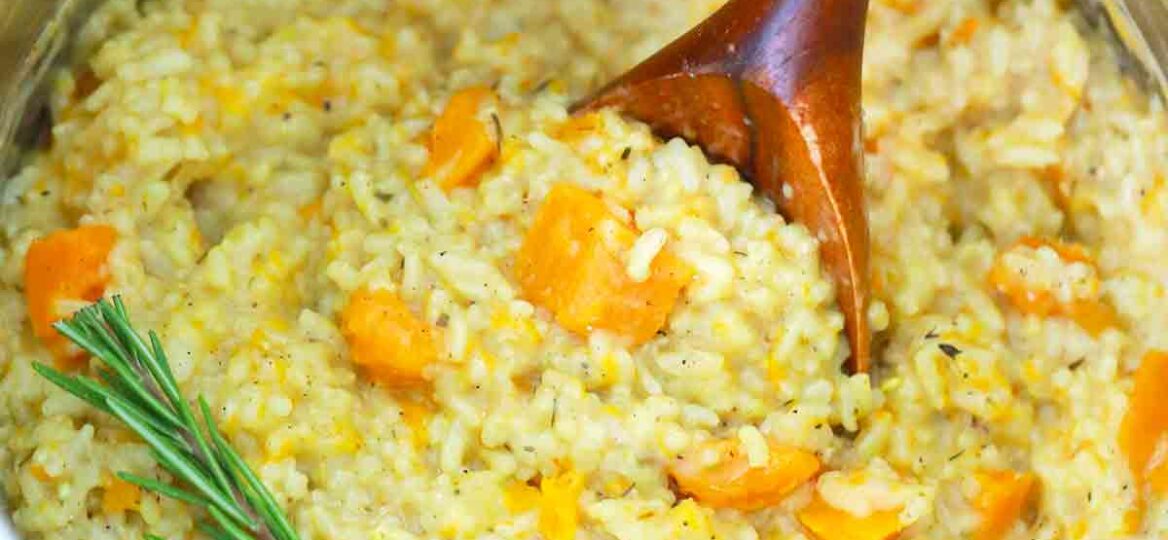 Instant Pot Pumpkin Risotto [Video]
Instant Pot Pumpkin Risotto is a creamy and delicious meal, that is perfect for fall or Thanksgiving. Cheesy, made with warm spices and lots of buttery pumpkin bites. But autumn is when pumpkins are in season, so this is the best time to make those pumpkin recipes you have been waiting for.
No matter what you are cooking for dinner, this makes a great accompaniment. Another fantastic recipe is this sweet and creamy Instant Pot Rice Pudding. Or you can have this pumpkin risotto as a side dish to our hearty Instant Pot Lamb Stew. You can even pair this delicious dish with these sensational Garlic Lamb Chops you cook in the oven.
For some reason, a lot of cooks do not like to make risotto because they are afraid they will mess it up or they think it is too complicated. That is just the opposite of the truth. This recipe with the instant pot (or electric pressure cooker) makes it incredibly easy and you do not have to do anything special.
If this is the first time you have used your instant pot, this is a great recipe to start with. This pumpkin risotto recipe is easy with just a handful of ingredients and hardly any prep time. The main things you will need are rice, broth, and pumpkin.
Pressure Cooker Pumpkin Risotto is a delicious side dish for any main course, for your Thanksgiving meal, or for any meal any time of the year. It is so good that the whole family will love it! Actually, it makes for a delicious vegetarian main course.
Ingredients needed:
The instructions and full list of ingredients and measurements can be found on our recipe card below. But these are the ingredients you will need:
Rice: Arborio rice is the best and most easy to find.

Broth: Chicken or vegetable broth are both fine.

Pumpkin: Peeled, seeded, and uncooked pumpkin cut into ½-inch cubes. You could also use a pumpkin purée.
Olive oil: High-quality pure virgin olive oil is best.
Wine: White wine, cooking wine, or white wine vinegar.
Butter: Unsalted or salted, room temperature.
Parmesan cheese: Optional
Onions: Chopped finely.
Garlic: Minced.
Seasonings: We used thyme, rosemary, salt, pepper, curry powder, cinnamon, and nutmeg.
How do you make an instant pot pumpkin risotto recipe?
Sauté: To start, set the pot to the sauté setting and add the onions in the olive oil along with 1/3 of the pumpkin. Sauté for 4 to 5 minutes, stirring occasionally. Add the seasonings and garlic and sauté for another minute while stirring.

Add rice: Then, add the rice and stir it for two more minutes to toast it. But don't wait for brown rice because it only does that if you cook it too long.

Add wine: Afterward, pour in the wine and stir it until the liquid is evaporated, which takes about one minute.

Seal: Next, turn the instant pot to the offsetting and add the rest of the pumpkin and the broth. Then, lock lid and turn valve to sealing.

Cook: Then you will cook the risotto for six minutes on high. The cooking time does not start until the pressure builds up, which takes about 10 to 12 minutes.

Release: Once the time is up, do a quick release or turn the vent to venting until the pressure is released.

Finish: Finally, lift the lid and stir the risotto. It will seem runny at first. Add the parmesan and butter and stir until it is combined.

Tip: If it is too thick, add more broth or water.

Serve: Transfer your easy instant pot risotto to a serving dish and top it with more parmesan cheese if you like.
Recipe variations:
More cheese: Also great, add more cheese such as goat cheese or cheddar.
No cheese: Or, to make this meal vegan, omit the parmesan cheese altogether and use vegetable broth instead of chicken.
Add spices: Adding other spices to your risotto is fine. Just use whatever you enjoy.

Omit spices: Alternatively, skipping some of the spices is okay too such as sage, marjoram, or poultry seasoning. Just add what you like.

Non-alcoholic: You do not have to use white wine, but it does add a great flavor.
Make it sweeter: Add coconut milk, maple syrup, or honey to make this dish sweeter.
Veggies: Add chunks of veggies like carrots, peas, mushrooms, or celery.
Nuts: Another option is to mix in some raisins, dates, or some nuts like walnuts or pecans for some texture.
How to serve:
This dish is best served warm with a topping of parmesan or fresh sage leaves on top. Or you could try one of these ideas:
Alternatively, you could add some diced fresh pumpkin on top.
Fry up some crispy bacon in your air fryer and cut it into chunks or crumble it on top of the risotto.
Serve with these sweet and tangy instant pot cinnamon apple pork chops.
Another way to serve this is with a salad and another vegetable for a vegan meal.
This recipe would also go great with oven-roasted turkey.
Frequently asked questions
Do you need to rinse or soak rice before cooking?
Although some people will tell you that you need to wash or soak your risotto before cooking it, do not do it! The starch on the grains of rice is what makes your risotto creamy and sticky. If you wash that starch away, you will just have wet rice.
What is the secret to perfect risotto?
Making risotto is not rocket science. In fact, it is easier than making regular rice. But there are some things you need to remember when making this creamy and sticky dish. First, do not add cold stock to your hot pot. Have it simmering in a small pan, or it will cool everything down and mess up the cooking process. And make sure to add it slowly, a bit at a time.
Overcooking is another thing that can mess up your risotto. The rice should be cooked al dente with just a little bite. This dish is made perfect by toasting it first for two minutes before sealing it in the pressure cooker to finish cooking. Using the high pressure of the instant pot makes your creamy pumpkin risotto perfect every time.
What is the best rice to use for risotto?
Since the rice is the most important ingredient in this instant pot pumpkin risotto, you have to make sure you use the proper white rice. While some are great choices, others are just not a good fit. You need rice that is short to medium grain with a high starch (amylopectin) content. It helps if it is on the plump side too.
Some rice is just named "risotto rice" making it easier to find what you need. But the three most popular risotto rice are arborio, carnaroli, and vialone nano. Arborio is starchy and easy to find with a medium grain and is easy to use.
Carnaroli is actually the best rice for risotto but since it is so hard to find, we listed it as the second. It has a fantastic flavor and really holds its shape. It also produces the creamiest risotto due to its starch content. Vialone nano is Italian short-grain rice and is also a great choice but is also hard to find.
How to store leftovers:
Store: First make sure to fully cool the leftovers. After that keep in the fridge for three days in an airtight plastic container.
Freeze: Once the risotto is cooled to room temp, put it in a plastic freezer-safe container in the freezer, where it will be good for three months.

Thaw: Defrost the rice overnight in the fridge before you plan to serve it.
Reheat: Reheat on the stove top on medium heat for five minutes or in the microwave for about one minute, depending on how much you are reheating and how many watts your microwave is.
More Thanksgiving Instant Pot Recipes:
Cooking tips:
The consistency of the risotto may change after reheating. Thicken it by spooning some of the excess liquid off the top or letting it sit for a while to absorb the stock. Or add some heavy cream.
Cut the time and workload by using canned pumpkin or pumpkin puree instead of fresh pumpkin chunks.
Make sure to not use pumpkin pie filling. It is not the same thing.
To make sure you get the full toasty rice taste, scrape the brown bits from the bottom of the pot when you have it on the saute setting.

An alternative to this is using brown rice, which makes a crunchier risotto.
Another option is to make this with squash for an instant pot butternut squash risotto recipe.
Instant Pot Pumpkin Risotto
Ingredients
2

tablespoons

extra virgin olive oil

1/2

cup

very finely chopped onions

4

cloves

garlic

minced

1 1/2

teaspoon

dried thyme

1/2

teaspoon

dried rosemary

1/2

teaspoon

curry powder

1/2

teaspoon

cinnamon

1/4

teaspoon

nutmeg

1/4

tsp

ground pepper

1/2

teaspoon

salt

or to taste

2

cups

Arborio rice

not cooked

1/2

cup

white wine

4 1/2

cup

vegetable broth

or chicken broth

1

lb

uncooked pumpkin

peeled, seeded and diced in 1/2-inch cubes

2

tablespoons

unsalted butter

1

cup

Parmesan cheese

freshly grated
Instructions
Saute:
Select the SAUTE function on the Instant Pot.

Once heated, add the oil, diced onion, and half the pumpkin pieces. Saute for 4-5 minutes, stirring occasionally.

Add garlic, dried herbs, spices, salt, and pepper. Stir and cook for 1 more minute.

Add rice and stir for 2 minutes to lightly toast it.

Add white wine, and using a wooden spoon stir and cook until completely evaporated about 1-2 minutes.
Pressure Cook:
Add the broth and remaining pumpkin pieces. Close the lid, lock it, and turn the valve to sealing.

Pressure Cook on High for 6 minutes using. It will take about 10-14 minutes to come to pressure.

Once cooking time is finished, do a Quick Pressure Release by turning the valve to venting position.

When pressure is fully released, carefully remove the lid.
Add cheese:
Add the butter and cheese and stir. the risotto.

If it's too watery, click on Saute and cook for a few more minutes or add more cheese.

If too thick, add more broth or water, stir and cook for a few minutes.

Taste and adjust for seasonings before serving.

Serve immediately topped with additional Parmesan cheese.
Deliciousness to your inbox
Enjoy weekly hand picked recipes and recommendations