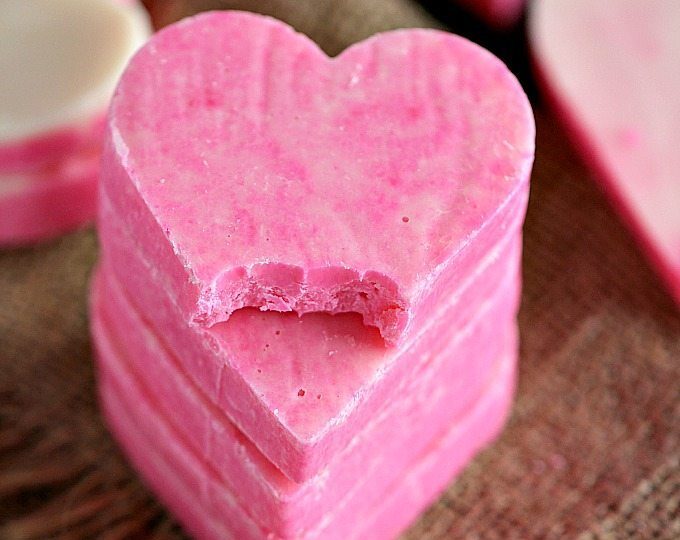 Pink White Chocolate Fudge
Pink White Chocolate Fudge is incredibly easy to make and very festive. 3 Ingredients, 5 minutes to get a creamy and irresistible fudge.
I love making fudges, among my favorites, include: No Bake Nutella Fudge, Pumpkin Fudge, and Patriotic Fudge.
Pink White Chocolate Fudge
Pink White Chocolate Fudge is so easy to make and is perfect for Valentine's Day, or to just treat yourself to a pretty and yummy dessert. The fudge comes together in minutes, all you have to do is wait for it to chill and use a heart cookie cutter to cut it into pretty heart shapes.
This Pink White Chocolate Fudge requires only 3 ingredients, it is sweet, creamy, and rich, also it is gluten-free. This will be a huge hit to make with kids and believe me, adults will ask for seconds too!
Tips and Tricks to make the perfect Pink White Chocolate Fudge:
Use quality white chocolate, that is the main ingredient so you want it to be the best in order to get the best taste and texture
White chocolate is very pretentious, so be extra, extra careful when melting it. I do 20 seconds intervals in the microwave and lots of stirring to make sure I am not overheating it. If you overheat the white chocolate it will clump and separate and it will become unusable unfortunately
You can skip the food coloring all together if you are not making the fudge for a festive occasion, at the same time you can use any color you want to adjust it to your preference
Use gel food coloring, it is the best in this recipe as the liquid food coloring may make the white chocolate to separate
For an ombre effect, don't fully mix in the food coloring, you will see as you stir it in.
Also, if you are looking for more fun and delicious Valentine's Day recipes, check the our best Valentine's day desserts.
Are you a fan of easy fudge? Check these recipes:
Tools/Ingredients I used to make this Pink White Chocolate Fudge Recipe:
Looking for more Pink Desserts? Here I come to save you!
White Chocolate Raspberry Truffles – Naturally Pink
Deliciousness to your inbox
Enjoy weekly hand picked recipes and recommendations