Pink White Chocolate Fudge
Pink White Chocolate Fudge is incredibly easy to make and very festive. 3 Ingredients, 5 minutes to get a creamy and irresistible fudge.
This post contains affiliate links at NO extra cost to you, I just like sharing the things I love and work for me.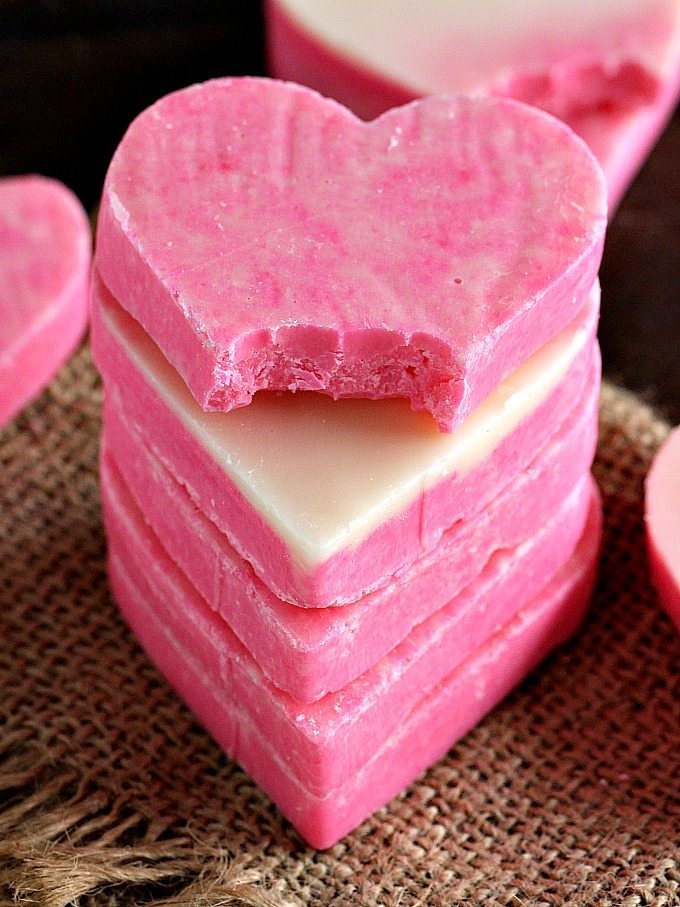 Pink White Chocolate Fudge is so easy to make and is perfect for Valentine's Day, or to just treat yourself to a pretty and yummy dessert. The fudge comes together in minutes, all you have to do is wait for it to chill and use a heart cookie cutter to cut it into a pretty heart shapes. This Pink White Chocolate Fudge requires only 3 ingredients, it is sweet, creamy and rich, also it is gluten free. This will be a huge hit to make with kids, and believe me, adults will ask for seconds too!

Tips and Tricks to make the perfect Pink White Chocolate Fudge:
Use quality white chocolate, that is the main ingredient so you want it to be the best in order to get the best taste and texture
White chocolate is very pretentious, so be extra, extra careful when melting it, I do 20 seconds intervals in the microwave and lots of stirring to make sure I am not overheating it, if you overheat the white chocolate it will clump and separate and it will become unusable unfortunately
You can skip the food coloring all together if you are not making the fudge for a festive occasion, at the same time you can use any color you want to adjust it to your preference
Use gel food coloring, it is the best in this recipe as the liquid food coloring may make the white chocolate to separate
For an ombre effect, don't fully mix in the food coloring, you will see as you stir it in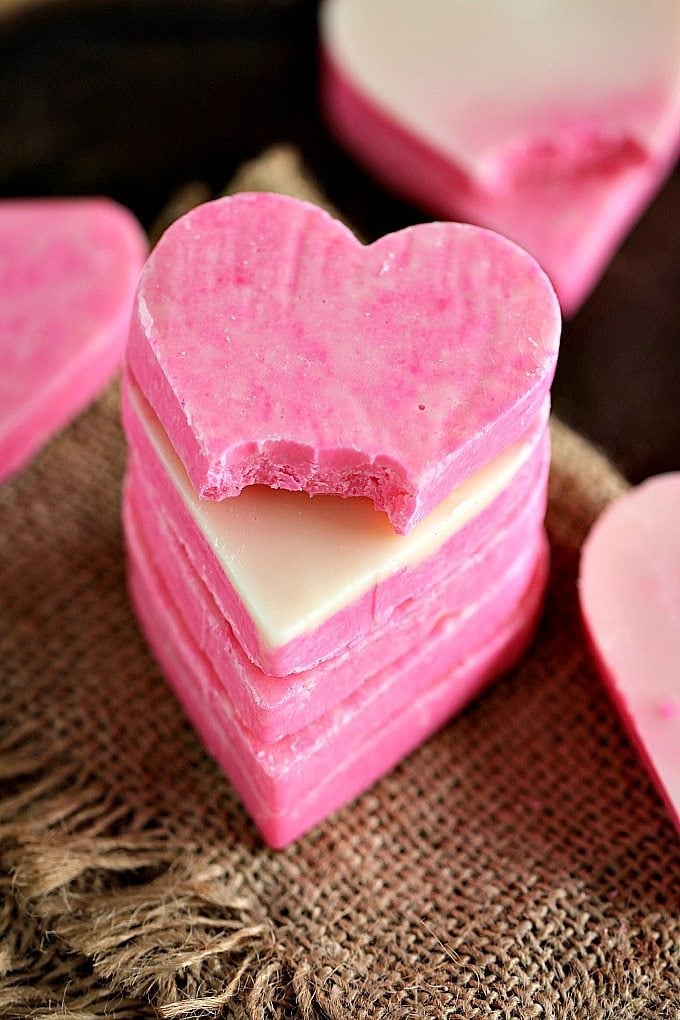 Are you a fan of easy fudge? Check these recipes: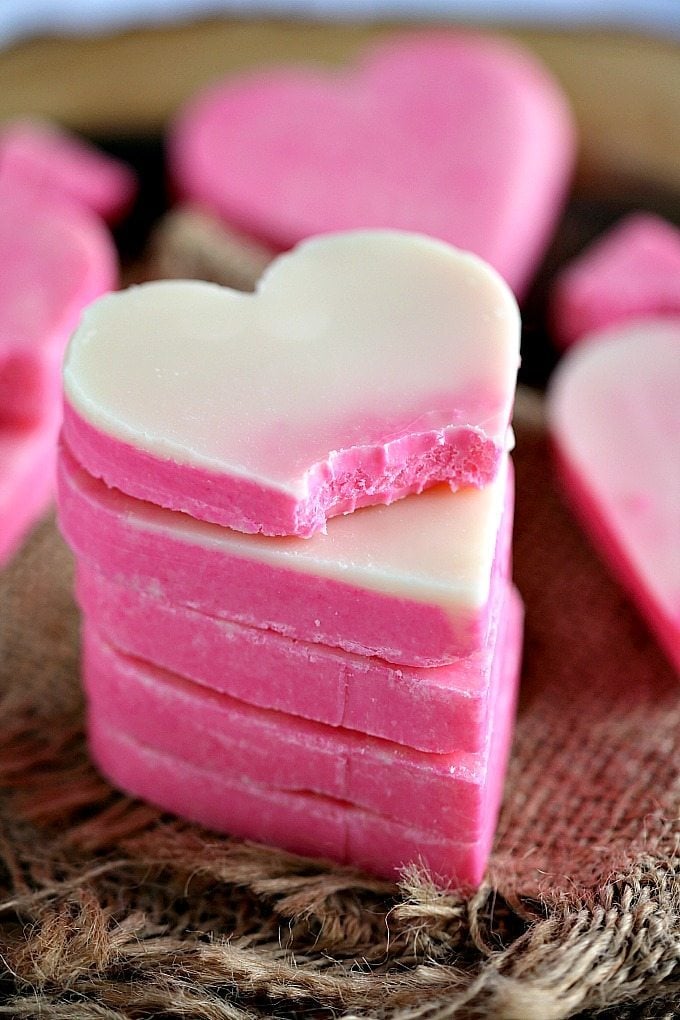 Tools/Ingredients I used to make this Pink White Chocolate Fudge Recipe:
White Chocolate Wafers – they redesigned to melt quicker and easier, which I find perfect for fudge recipes
Gel Food Coloring – this set comes in a variety of colors and it won't add extra water to your fudge, which is great
Heart Cookie Cutter – can be used to make cute heart cookies and also this is what I used to cut the fudge in pretty heart shapes
9×9 inch pan – I use it for many recipes, brownies, fudge and blondies. It's quality is great and I like the perfect measurements, it works great for smaller batch recipes.
Parchment paper – a kitchen staple, it just makes life so much easier with it's non-stick magical powers
Pink White Chocolate Fudge
Pink White Chocolate Fudge is incredibly easy to make and very festive. 3 Ingredients, 5 minutes to get a creamy and irresistible fudge.
Author:
Katalina Kastravet
Recipe type:
No Bake Dessert
Ingredients
20 ounces white chocolate melting wafers
½ cup + 1 tablespoon sweetened condensed milk
Pink gel food coloring
Optional:
Sprinkles
Dry cherries
Instructions
Line a 9x9 inch pan with parchment paper, so it overhangs on two sides. Set aside.
Combine the chocolate and condensed milk in a large, microwave safe bowl.
Microwave in 20 seconds increments and stir after each one until the chocolate has melted. It took me two intervals only to melt the chocolate, make sure you stir well before you microwave again, as the remaining heat will melt the chocolate.
Note: If you are using regular chocolate, make sure you chop it into small pieces before adding it to the bowl to microwave.
Stir well until smooth, add a few drops of pink gel food color. For an ombre effect, don't mix it all, leave some white chocolate mixture without the pink color.
Optional: you can mix in dried cherries and sprinkles. I have tried it in a different batch and the dried cherries work nicely with the white chocolate.
Pour mixture into the lined pan and refrigerate for 1 hour.
When the fudge has cooled off and harden, use a heart shape cookie cutter to cut it into heart shapes. To make it easier, and less painful on the hands, top the cookie cutter with a kitchen towel, and gently press on the fudge.
Don't discard the leftover pieces, they are still delicious 🙂
Fudge can be stored at room temperature for 4-5 days in an airtight container.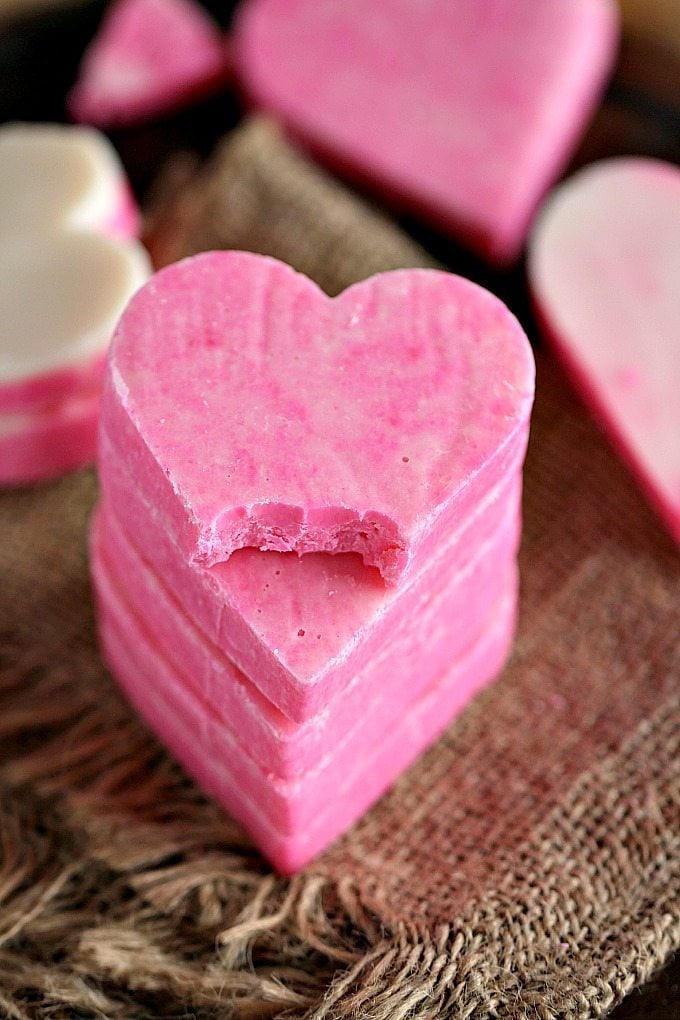 Looking for more PINK DESSERTS? Here I come to save you!