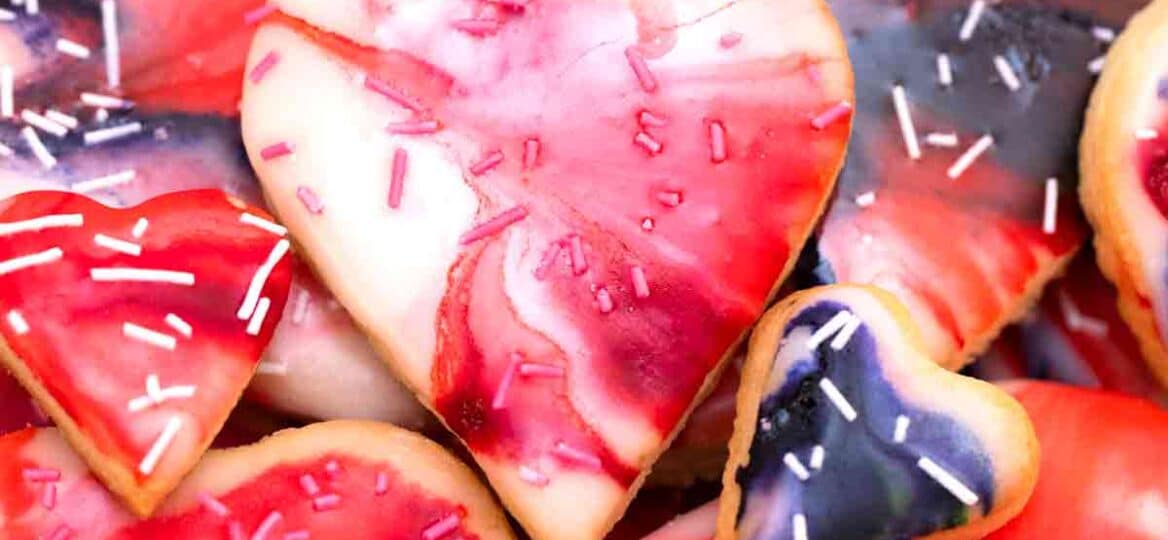 Valentine's Day Cookies [Video]
These Valentine's Day Cookies are soft and buttery with delicious marble icing on the top. They are beautiful and easy to prepare, making them the perfect treat for the special someone!
For more LOVE inspired desserts, I recommend trying these Red Velvet Cheesecake Bites, Strawberry Pretzel Salad, or Mango Mousse Cake.
Valentine Sugar Cookies Recipe
If you are looking to impress someone with a special dessert during this Valentine's Day, then these Valentine Sugar Cookies are the ideal treats. They are festive, colorful, and quite delicious.
What I like the most about these cookies is how easily you can personalize them. For example, you can shape them in hearts, squares, or any form you love. Also, you can easily make them in various colors such as red, pink, or anything in between.
These treats are always a hit in my house. I tend to make a larger batch of them and gift to my friends and family. They are very similar to sugar cookies with the soft and buttery center, and crisp edges.
In addition, the glaze on top gives them a galaxy effect making these cookies very unique and special. Give them a try, and I guarantee that your loved ones will be very impressed with them.
How to make Valentine's Day Cookies?
Make the Dough: Start by whisking together flour, baking powder, and salt. In a separate bowl, beat butter and sugar until light and fluffy. Then, add egg, milk, and vanilla and beat until combined. Next, add some flour and beat until combined.
Roll the dough: Once the dough is fluffy, roll it into two balls. Press hard, and then wrap each dough with plastic wrap. Refrigerate for about an hour.
Roll and bake: Next, preheat the oven to 350 degrees F. Place parchment paper over the baking sheets. Remove the chilled dough from the refrigerator, and roll it into about 1/4 inch thick. Using a cookie cutter, cut them individually into desired shapes. Once cut, refrigerate for another 10 minutes prior to baking. Next, bake for about 10 minutes.
Decorate with icing glaze: In a bowl, combine sifted powdered sugar, 3 Tbsp milk, and light corn syrup. Whisk until smooth. Then, decorate the cookies.
Rest and serve: Let them rest for about 3o minutes so the icing is hardened, and serve.
How do you get Valentine's Day Sugar Cookies to hold their shape?
The secret here is to let the dough rest and refrigerate it for about one hour. This will help to hold their shape while also making them soft and buttery.
Another way is to add a few tablespoons of cornstarch to the dry ingredients. This will save you some time on refrigerating while also making the dough easier to handle and of course spread less.
How to decorate Valentine's Day Cookies?
In this recipe, I love the galaxy effect when icing them. This gives them a super cool look that is ideal for special occasions. In addition to ice glazing the dessert, you can try some of the following:
Use sprinkles: This is a quick and easy way to decorate the cookies. Feel free to use any shapes and colors, or a mixture of them.
Hersey Kiss: You can also add a Hersey Kiss to the center of the cookies.
M&M's: Everyone loves M&M's and it works great on them.
Fresh Strawberries or Raspberries: Another great idea is to use fresh berries. Simply cut them uniformly, and decorate them on top. The fruits will give them a nice color and flavor.
How to store Sugar Cookies?
Another reason I love these treats is that they can be stored for a longer period. Simply, put them in an airtight container to expose the air, and refrigerate for up to 2 weeks.
To freeze, use a freezer-safe container, and freeze for up to 3 months.
Let them thaw overnight on the counter prior to serving.
More easy treats for Valentine's Day:
Recipe Tips:
I highly recommend using room temperature ingredients. This way, everything incorporates together better and easier.
Also, you can add a few drops of red or pink food gel coloring into the dough to make them extra-special for this day!
Refrigerating the dough is essential. Therefore, plan ahead for at least 1 hour to give it some time to rest and chill.
In addition, feel free to make this dough a few weeks in advance and keep it in the freezer. Simply wrap it well, and freeze. Then, thaw overnight prior to using.
You can experiment with flavors by adding almond extract, vanilla extract, lemon or lime juice, etc.
Use cookie cutters to cut them into your favorite forms and shape.
As stated above, adding a bit of cornstarch will make the cookie's buttery and prevent them from spreading while baking.
Deliciousness to your inbox
Enjoy weekly hand picked recipes and recommendations