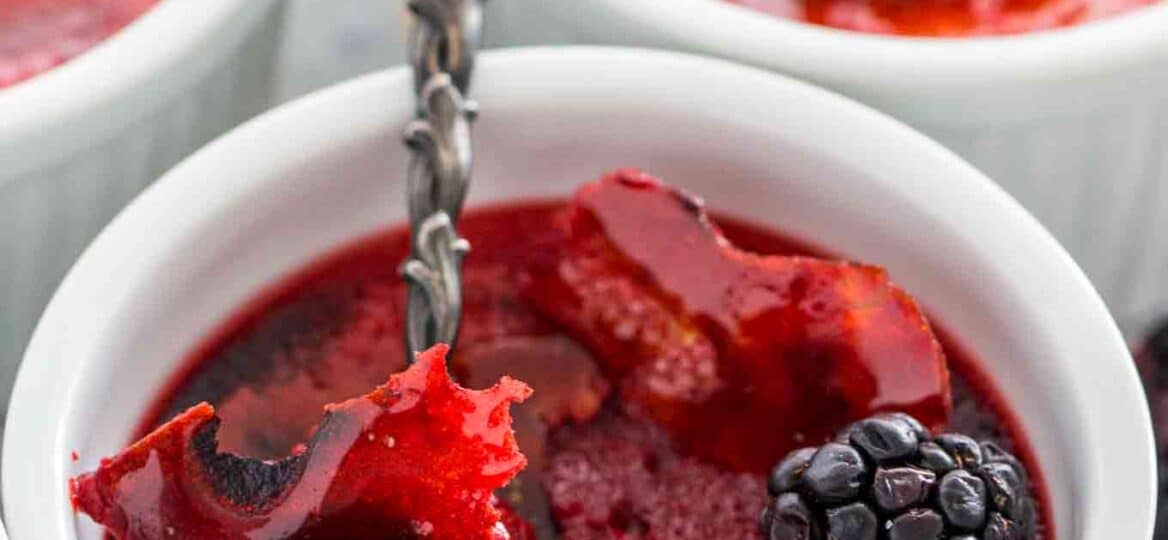 Red Velvet Creme Brulee [Video]
Red velvet creme brulee is a delicious Valentine's Day dessert, putting a festive twist on classic creme brulee. This homemade delicate dessert is easy to make, and sure to impress!
We sure love creme brulee on this blog and have many versions for different occasions. You can start with the classic one, or make a chocolate version. The seasonal takes on this crowd-pleaser dessert are also amazing. We encourage you to try this Pumpkin Creme Brulee and also the Sugar Cookie one.
Easy Red Velvet Creme Brulee
Red Velvet Creme Brulee is one of the easiest and most impressive desserts you can make for Valentine's Day. The beautiful, deep and rich red color is festive and beautiful. The dessert is a sweet and tender custard, that has just the slightest chocolate flavor, characteristic to red velvet desserts.
We enjoy serving it with fresh berries, they are just tart enough to balance the sweetness of this dessert. Definitely serve it cold, to fully enjoy its gloriousness. The crispy sugar shell and the creamy custard are the perfect matches, that make an unforgettable dessert.
What is creme brulee?
Creme brulee is a classic French dessert, also known as burnt cream. This is a creamy, custard-like dessert, that is also gluten-free and mainly made from egg yolks, cream, and sugar.
The custard is baked in small ramekins, usually into individual servings. Before serving, a thin, crispy layer of caramelized sugar is added by sprinkling some sugar and using a torch to caramelize it.
Does red velvet taste like chocolate?
Cocoa powder is an ingredient often found in these recipes. In those instances, the primary flavor profile is chocolate. Our red velvet version has a deep chocolate flavor. As for the red color of the desert, it is partly due to a chemical reaction in the cocoa powder. The remaining red color comes from red food coloring.
RED VELVET CREME BRULEE RECIPE TIPS:
First, use room temperature ingredients. If the eggs are too cold, when you add the warm cream mixture, some bits may cook, which is unappealing.
Next, use very fine sugar, like caster sugar. For the topping, add just enough sugar to cover the surface.
Use very high-quality cocoa powder. The cocoa will make a difference in how the dessert overall tastes.
Make this recipe Keto, by using Erythritol instead of regular sugar.
We highly recommend using gel food coloring instead of regular food coloring, to a deeper, richer color.
Similarly, if you would like to avoid the chemicals in food coloring, use beetroot to color the custard. The color won't be as deep, but it will be natural.
HOW TO FREEZE RED VELVET CREME BRULEE?
First, wrap each individual ramekin tightly in foil.
Next, place in the freezer for up to one month.
To thaw, remove from freezer, and place in the fridge overnight.
When ready to serve, sprinkle some caster sugar on top, and caramelize it with a blowtorch, or broil for 2-3 minutes before serving.
More Valentine's Day desserts to try:
Deliciousness to your inbox
Enjoy weekly hand picked recipes and recommendations