Red Velvet Creme Brulee [Video]
Last updated on June 18th, 2021 at 07:15 pm
Red velvet creme brulee is a delicious Valentine's Day dessert, putting a festive twist on classic creme brulee. This homemade delicate dessert is easy to make, and sure to impress!
We sure love creme brulee on this blog and have many versions for different occasions. You can start with the classic one, or make a chocolate version. The seasonal takes on this crowd-pleaser dessert are also amazing. We encourage you to try this Pumpkin Creme Brulee and also the Sugar Cookie one.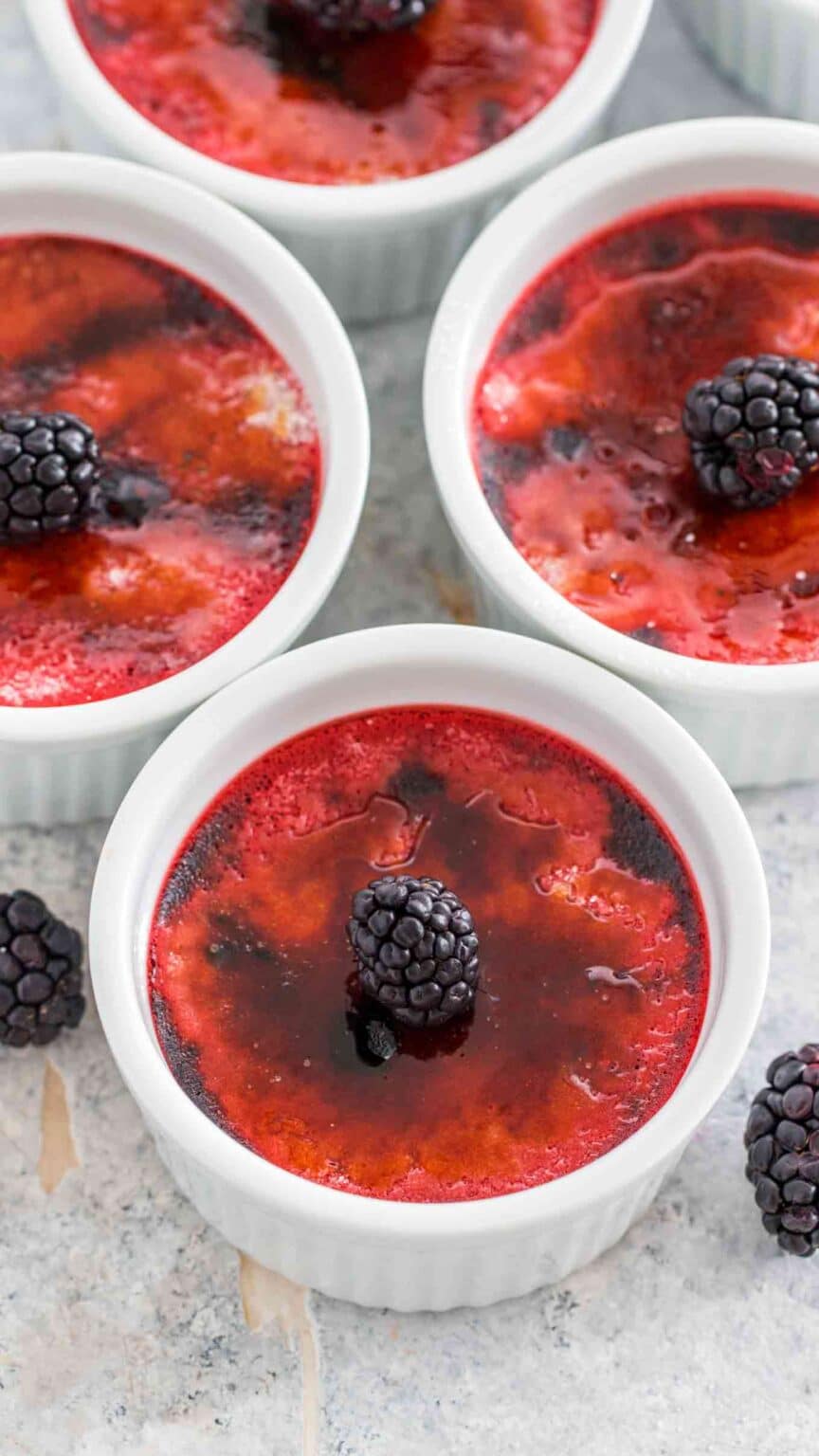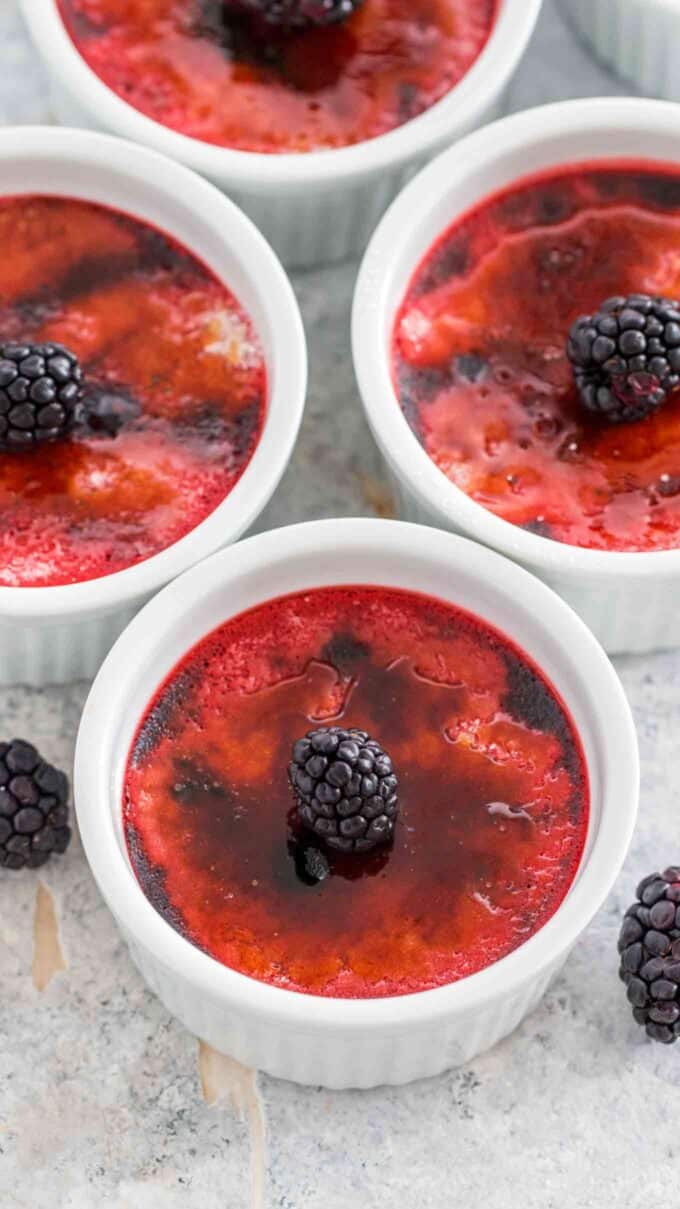 Easy Red Velvet Creme Brulee
Red Velvet Creme Brulee is one of the easiest and most impressive desserts you can make for Valentine's Day. The beautiful, deep and rich red color is festive and beautiful. The dessert is a sweet and tender custard, that has just the slightest chocolate flavor, characteristic to red velvet desserts.
We enjoy serving it with fresh berries, they are just tart enough to balance the sweetness of this dessert. Definitely serve it cold, to fully enjoy its gloriousness. The crispy sugar shell and the creamy custard are the perfect matches, that make an unforgettable dessert.
What is creme brulee?
Creme brulee is a classic French dessert, also known as burnt cream. This is a creamy, custard-like dessert, that is also gluten-free and mainly made from egg yolks, cream, and sugar.
The custard is baked in small ramekins, usually into individual servings. Before serving, a thin, crispy layer of caramelized sugar is added by sprinkling some sugar and using a torch to caramelize it.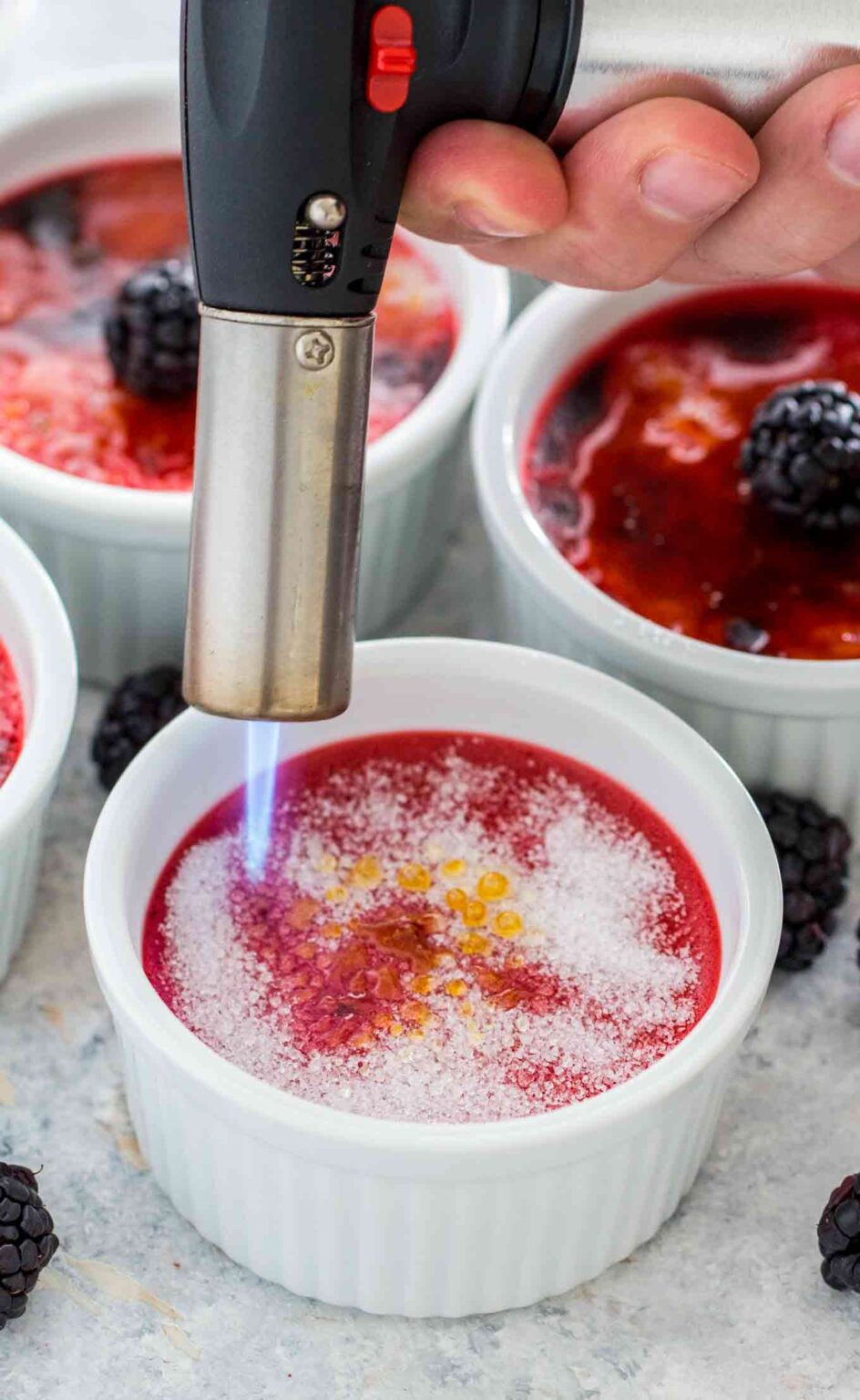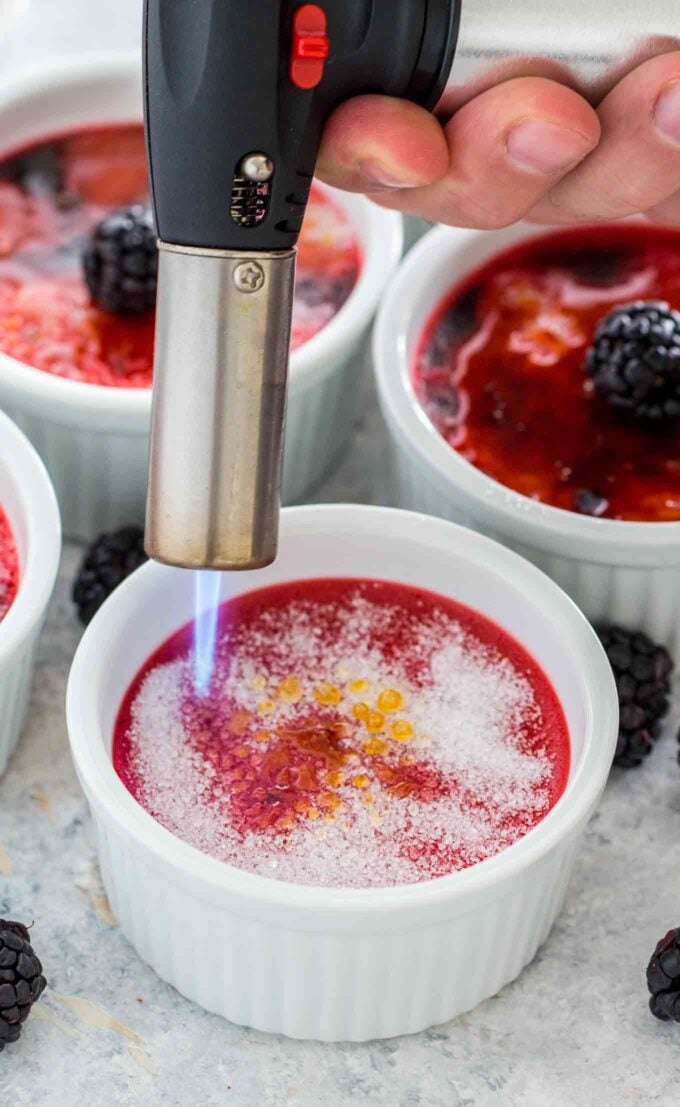 Does red velvet taste like chocolate?
Cocoa powder is an ingredient often found in these recipes. In those instances, the primary flavor profile is chocolate. Our red velvet version has a deep chocolate flavor. As for the red color of the desert, it is partly due to a chemical reaction in the cocoa powder. The remaining red color comes from red food coloring.
RED VELVET CREME BRULEE RECIPE TIPS:
First, use room temperature ingredients. If the eggs are too cold, when you add the warm cream mixture, some bits may cook, which is unappealing.
Next, use very fine sugar, like caster sugar. For the topping, add just enough sugar to cover the surface.
Use very high-quality cocoa powder. The cocoa will make a difference in how the dessert overall tastes.
Make this recipe Keto, by using Erythritol instead of regular sugar.
We highly recommend using gel food coloring instead of regular food coloring, to a deeper, richer color.
Similarly, if you would like to avoid the chemicals in food coloring, use beetroot to color the custard. The color won't be as deep, but it will be natural.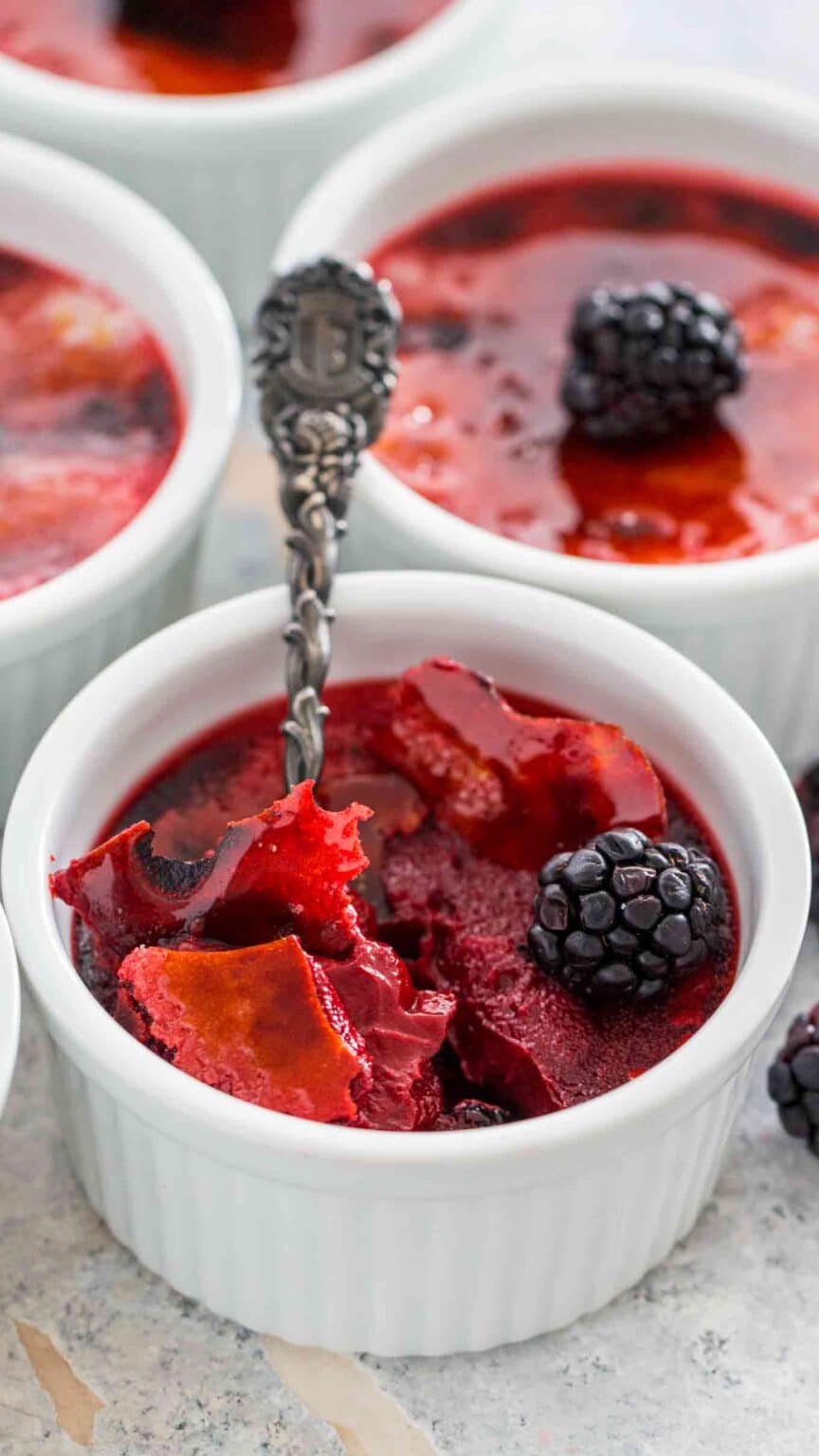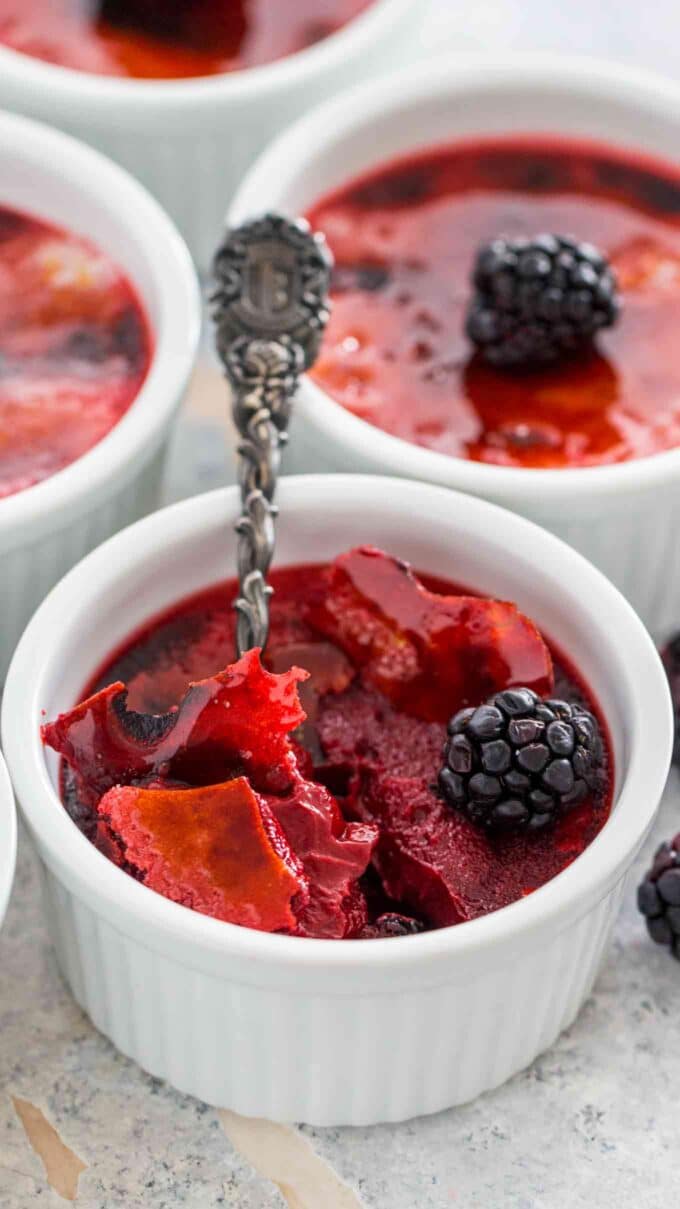 HOW TO FREEZE RED VELVET CREME BRULEE?
First, wrap each individual ramekin tightly in foil.
Next, place in the freezer for up to one month.
To thaw, remove from freezer, and place in the fridge overnight.
When ready to serve, sprinkle some caster sugar on top, and caramelize it with a blowtorch, or broil for 2-3 minutes before serving.
More Valentine's Day desserts to try: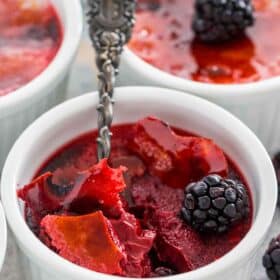 Red Velvet Creme Brulee
Red velvet creme brulee is a delicious Valentine's Day dessert, putting a festive twist on classic creme brulee. This creme brulee recipe is easy to make, and sure to impress!
Save
Share
Print
Pin
Rate
Ingredients
6

egg yolks

(room temperature)

1/2

cup

granulated sugar

1/4

cup

cocoa powder

(sifted)

2

cups

heavy cream

1

teaspoons

vanilla extract

1/8

teaspoon

red gel food coloring

1/4

teaspoon

salt
Instructions
Preheat oven to 325 degrees F.

Place 6 (7 to 8-ounce) ramekins into a roasting pan.

Add the eggs to a large bowl, add 1/2 cup of sugar, salt and whisk until well mixed. Stop to scrape the sides and bottom of the bowl.

Add cocoa powder, and whisk to combine. Scrape the sides and bottom of the bowl and whisk again until fully combined. Set aside.

Add red Gell food coloring and whisk to combine.

Add heavy cream to a medium sauce pan, stir and heat it until hot, and it simmers lightly, do not boil. Remove from heat.

With the mixer on low speed, gradually add the cream to the egg mixture, slowly mixing continuously. Add vanilla extract and add the cream little by little, especially at the beginning, otherwise it may cook some parts of the egg mixture.

Use a spoon to scoop and discard the foam accumulated on top of the custard mixture.

Pour the custard mixture into the prepared ramekins.

Pour hot water into the pan to come roughly halfway up the sides of the ramekins.

Bake in the preheated oven for 45 - 50 minutes. The crème brûlée is done when it looks set, but still just slightly jiggly in the middle.

Once cooked, remove the roasting pan from the oven and let the creme brûlée cool in the pan before transferring to the fridge.

Cover the ramekins with plastic wrap and refrigerate for at least 2 hours and up to 3 days.

When ready to serve, remove it from the refrigerator, 30 minutes before browning the sugar on top. Sprinkle a tablespoon of fine sugar on top of each serving. Using a torch, melt the sugar to form a crispy top.

If you don't have a torch, broil it to melt the sugar. Keep an eye on it, to make sure it doesn't burn.

Allow the dessert to sit for 10 minutes before serving.
Nutrition
Calories:
225
kcal
|
Carbohydrates:
34
g
|
Protein:
6
g
|
Fat:
7
g
|
Saturated Fat:
3
g
|
Cholesterol:
203
mg
|
Sodium:
141
mg
|
Potassium:
181
mg
|
Fiber:
1
g
|
Sugar:
32
g
|
Vitamin A:
390
IU
|
Calcium:
120
mg
|
Iron:
1
mg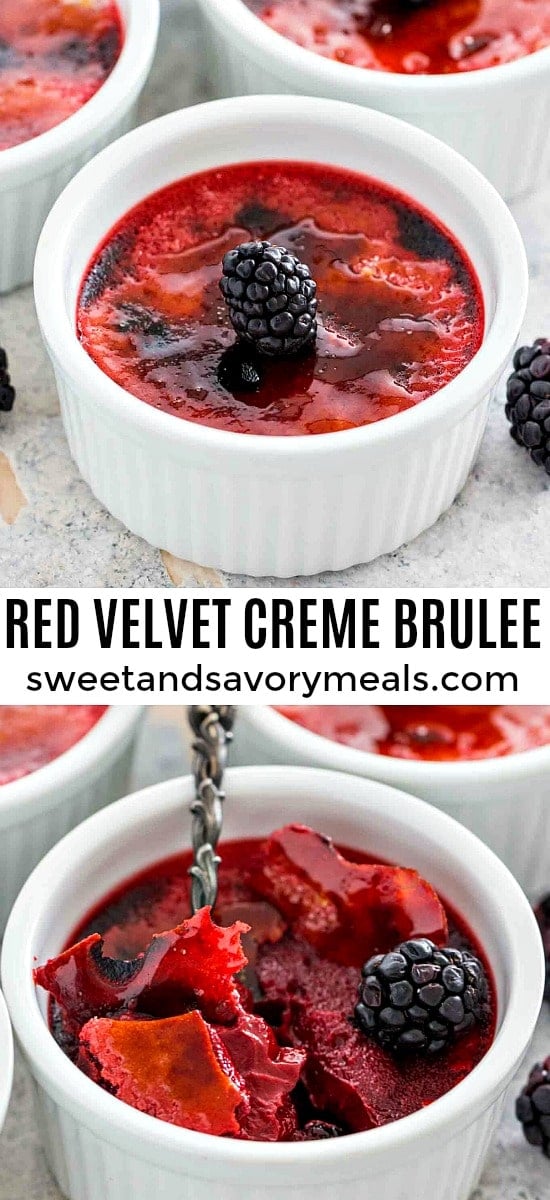 More recipes you might love