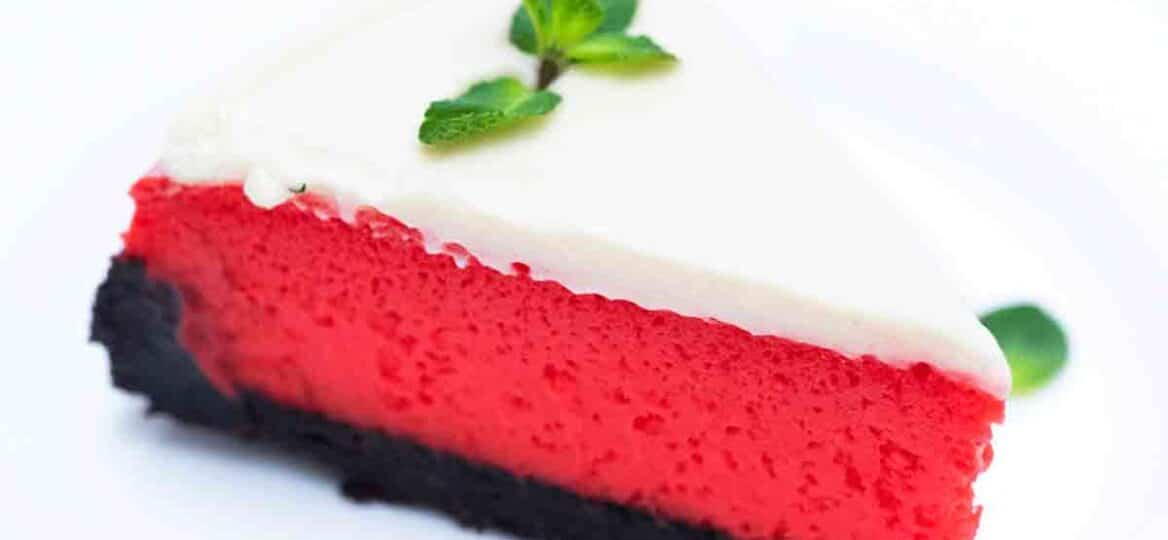 Red Velvet Cheesecake Recipe [Video]
Red Velvet Cheesecake is a rich and silky cream cheese frosted cheesecake baked in a buttery Oreo crust. It's the perfect Valentine's day dessert!
Looking for other awesome ways to enjoy red velvet? Make these Cheesecake Stuffed Cookies, Red Velvet Creme Brulee, and Red Velvet Hot Chocolate!
Red Velvet Cheesecake
Red Velvet Cheesecake is the queen of all Valentine's Day desserts! It has that beautiful, dramatic red color guaranteed to steal the show. Every bite is creamy and indulgent. It's hard not to fall in love with this amazing treat!
However, it's not just for Valentine's Day. You can bake this stunning dessert for any occasion. It's great for birthdays, dinner parties, or even as a thoughtful gift!
What flavor is red velvet?
Its hallmark flavor is sweet and tangy, with a hint of chocolate from the cocoa that other recipes add. For this recipe, we're using sour cream to create that flavor profile. That gorgeous red color is achieved with food dye, but in the past, bakers actually used beets to color the filling.
How do you make homemade Red Velvet Cheesecake?
Make the Oreo crust: First, crush the cookies, mix with melted butter, and press tightly into a pan (use springform). Chill for a minimum of 20 mins. to set.
Prep the filling. Beat the room-temp cheese until fluffy. Then, beat in a little of the sugar at a time, until both are combined well and the mixture turns creamy. Beat in the eggs one at a time. Whisk in the cornstarch-flour mix, followed by the extract. Finally, beat in the sour cream.
Color the batter. Next, stir in a bit of red gel color at a time, until you get the shade you want. Pour the batter carefully into your pan.
Bake. Place in a water bath. Bake at a 325F oven for about an hour and 15 mins, or until set. Cool for at least an hour.
Frost. Beat the butter and cheese together. Once smooth, add the vanilla and powdered sugar. Beat until the frosting is smooth. Pipe or spread onto the baked cheesecake. Keep in the fridge until ready to serve.
Recipe Variations:
Use other crust flavors: Instead of Oreos, use crushed Grahams or ginger snaps for a hint of spice.
Chocolate swirls: Melt some dark or white chocolate and swirl into the batter before baking.
Other toppings: Aside from cream cheese frosting, you can also top it with fresh berries or fruit sauces like blueberry, cranberry, raspberry, or strawberry. It's really good with chocolate or caramel sauce! For a lighter frosting, try some whipped cream.
Can you make this cheesecake gluten-free?
Yes! Simply sub the Oreos with almond meal, a combo of nuts and oats, or gluten-free crackers. Use regular flour for the filling as well.
What cream cheese is best for cheesecake?
Whatever you do, don't use the spreadable kind! It won't bake or firm up properly for a dessert like this. Use full-fat, block-style cream cheese.
Can you make red velvet cheesecake no-bake?
Sure! Skip the eggs. Bloom some gelatin, and mix it into the batter. Chill for at least 6 hours, and ideally, overnight.
How do you make it in the instant pot?
Assemble the recipe the cover the springform tightly with foil to prevent overflowing.
Next, place on a trivet. Pour 1.5 cups of water onto the bottom of the pot.
Set the IP on High for 30 mins, and release the pressure naturally.
Cool for a few hours before frosting.
For more details on how to make cheesecake in the IP, check out this recipe!
Can you freeze red velvet cheesecake?
Yes! What I do is I slice it into single portions, then wrap each one tightly in cling wrap and foil so everyone can just defrost what they want to eat. You can also wrap the entire dessert the same way if you want to freeze it whole. This will keep for at least 4 months frozen.
How do you make red velvet cheesecake from Cheesecake Factory?
If you're as obsessed with one of CF's most popular dessert, try this copycat of their Red Velvet Cake Cheesecake! Tastes just like the original!
How to bake a cheesecake?
For perfect, crack-free results, bake it on low at 325F. Use a water bath to make sure it cooks evenly and to prevent surface cracks.
How to thaw a frozen cheesecake?
Slow-thaw in the refrigerator overnight to enjoy the following day. You can also defrost it at room temp, but prevent it from getting soggy with condensation by thawing uncovered.
More Valentine's Day Recipes:
Recipe Tips:
Use room-temp ingredients so everything incorporates together easily. This also helps you avoid overmixing the filling.
Also, check out my Top 10 Best Valentine Day desserts.
If you can, use gel food color instead of liquid. The color is more vibrant, and you don't need a lot of it.
I highly recommend using full fat for both the cheese and sour cream for the creamiest, most luscious results.