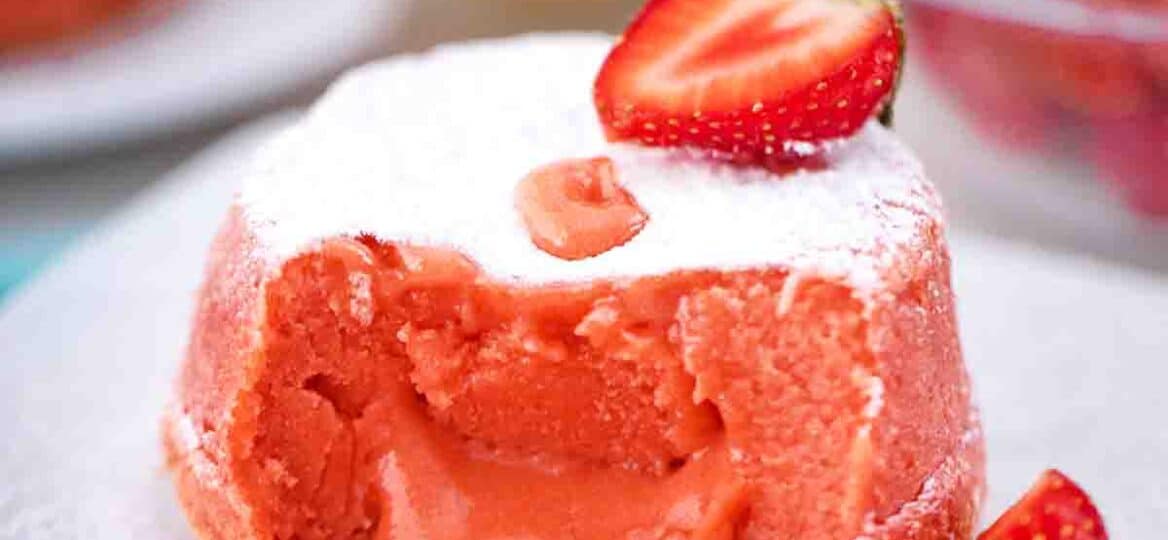 Strawberry Lava Cakes with Strawberry Curd
Strawberry Lava Cake is a decadent dessert made with creamy strawberry curd, naturally pink, it has a delicious strawberry center. They only take 15 minutes to bake so you can have them for dessert tonight. Impress your family and friends with the unique lava effect that makes the whole cake ooey-gooey scrumptious. My family gave it a 5-star recipe rating!
Of course, it was a French chef who invented the lava cake. However, he made it in his New York restaurant, so it was made in the United States. Chef Jean-Georges Von Gerichten made it first by accident when he took a chocolate cake from the oven too soon and noticed it was still runny in the middle. After tasting it, he put it on his menu as molten chocolate cake.
Our strawberry lava cake can be made in less than half an hour and served warm, so it is the perfect treat to whip up for surprise guests. Or just for yourself when you are craving sweets. You will only need basic baking ingredients like flour, sugar, butter, and eggs as well as vanilla seeds, white chocolate, a lemon, and strawberry curd.
Follow us on Pinterest for more delicious recipes!
Ingredients needed:
You will need the ingredients listed here to make these strawberry lava cakes. After you are ready to begin, scroll down to our handy printable recipe card for the complete instructions and exact measurements.
Large egg yolks: At room temperature.
Large eggs: At room temperature.
Vanilla bean seeds
White chocolate
All-purpose flour
Unsalted butter: Chopped.
Powdered sugar: Also known as icing sugar or confectioners' sugar.
Lemon juice
Lemon zest
Pink gel food color: Optional.
How to make strawberry lava cakes from scratch?
Preheat oven and prepare pan: First, preheat oven to 425 degrees F, grease six 6-ounce ramekins with melted butter, place them on a cookie sheet and set aside.

Melt the chocolate: Next, melt white chocolate and butter in a large microwave-safe bowl for one minute. Take it out and stir before putting it back in for another 15 seconds. Continue doing this until the chocolate mixture is melted and smooth.

Mix in the rest of the ingredients: Immediately, in the same bowl, add vanilla bean seeds, food coloring, lemon juice, lemon zest, strawberry curd, powdered sugar, and flour with a rubber spatula. Then, whisk in the eggs and egg yolk until it is smooth and shiny.

Fill the ramekins: Next, evenly distribute the batter into the ramekins. Leave them on the baking sheet and put them in the oven and let them cook for 14 to 15 minutes or until the edges are set.
Remove cakes from ramekins: Allow five minutes to set, then run a knife along the edges of the cakes and carefully invert them onto a serving plate.

Top and serve: Finally, add strawberry curd of powdered sugar on top and serve immediately.
Recipe variations:
Chocolate lovers: Not in the mood for strawberry lava cakes? You can still use this recipe. Make chocolate lava cakes instead. Just leave out the strawberry curd, lemons, and pink food coloring, and use semisweet chocolate chips or cocoa powder.
Have them both: Instead of cutting out the strawberry flavor altogether, just make chocolate lava cakes with a dollop of strawberry curd in the middle of them.

Chocolate chips: Alternatively, you could gently fold some chocolate chips into the batter for a blend of chocolatey flavor.

Different sugar: Instead of powdered sugar, you can use granulated sugar or coconut sugar.

Other flavors: Try using different flavors of curd or sauce in these like lemon, orange, or lime to give them a unique taste. Since you are making six of them, mix them up for a variety of flavors.

Other oil: Instead of butter, feel free to use margarine or your favorite oil for baking.

PB&J lava cakes: If you are a fan of PB&J sandwiches with chocolate or Nutella, add a quarter cup of peanut butter to your batter.
How to serve:
This delicious strawberry cake is the perfect dessert for Valentine's Day but you can serve it anytime. It does not have to be a special occasion. These are some of our serving ideas you can try, or you can share some of your ideas in the comments section.
Top with fresh strawberries and strawberry jam. We have a delicious strawberry jam recipe you can use.
Another way to top these cakes is with chocolate syrup. You can never have too much chocolate!
These are also great served with a scoop of ice cream. Try this great recipe for strawberry ice cream.

For festive-looking lava cakes, add rainbow sprinkles inside and on top.

Whipped cream will make your lava cakes even more mouthwatering. And we have the best recipe for rich whipped cream.

The perfect beverage with this would be a strawberry daiquiri. Or, for a non-alcoholic drink, strawberry lemonade would be amazing.
Frequently asked questions
How do you make lemon zest?
Making your own lemon zest is easy. In fact, they sell citrus zesters that are actually made to make zest from lemons, oranges, and limes. It is very similar to a cheese grater. In fact, you could use a cheese grater instead and get the same results. A microplane works very well too. You could also use a vegetable peeler, but you may need to use a food processor to make it fine enough to use in recipes.
Why is my lava cake dry?
The most common reason that a lava cake comes out dry on the inside is because it was cooked too long. You want to just bake it until the outside is set. If you cook it longer, the middle will continue to cook with the cake, making the middle dry. Just like when you make a regular cake, the middle is the last thing to cook so you want to take it out before that happens.
Why is it called a ramekin?
The French chose this name way back in 1706 after the ramequin, which is a meat or cheese dish made in a small mold. However, the French word, ramequin, was taken from early Dutch cooks who used the word rammeken. Then there were the Germans who used the word ramkin to describe cream, which was cooked in these small ceramic bowls.
What can I use instead of ramekins?
If you do not have any ramekins, there are several good substitutes. For one, you could use custard cups. Or try oven-safe mugs, small baking dishes, ceramic bowls, or jelly jars that are safe for oven use. You can also try using muffin tins. Just make sure you grease them well.
What are the nutrition facts in this recipe?
This decadent dessert has 293 calories per serving as well as 23 grams of carbs, 20 grams of fat, and 11 grams of saturated fat. It also has 147 mg of sodium, 212 mg of cholesterol, and 14 grams of sugar. But it also has some vitamins and minerals including 1.4 mg of iron, 64 mg of calcium, 6.4 mg of vitamin C, 625 units of vitamin A, 110 mg of potassium, and 5 grams of protein.
More strawberry recipes to try:
How to store leftovers:
Store: To store leftover strawberry lava cakes, cover the whole ramekin in plastic wrap and then refrigerate in an airtight container for up to three days.
Freeze: If you cannot finish your leftover lava cakes in a few days, wrap them in plastic wrap, put them in a freezer-safe container or freezer bag and you can freeze them for several months.

Thaw: For the best results, place frozen leftovers in the fridge to thaw overnight before serving.
Reheat: Simply pop one cake in the microwave and cook for 30 to 45 seconds to reheat. They also taste delicious cold or at room temperature.
Baking tips:
You can use vanilla extract instead of beans.
Also, some people say adding a pinch of salt to the batter gives it an enhanced strawberry flavor.
If you do not want to melt your chocolate in the microwave, you can use a small saucepan on medium heat.

Instead of butter, you can grease your ramekins with coconut oil or non-stick cooking spray.

Want an even juicier strawberry center? Fill the ramekins halfway and then add a teaspoon of strawberry curd. Top with the remaining batter and then bake.

When whisking in the eggs, use a hand mixer on high speed to make things easier and faster.

For more strawberry recipes or dessert cuisine, check out our food blog.
Strawberry Lava Cakes
Ingredients
2/3

cup

white chocolate

1/2

cup

unsalted butter

chopped

2/3

cup

all-purpose flour

1/2

cup

powdered sugar

1/2

cup

of strawberry curd

1

teaspoon

lemons zest

1

tablespoon

lemon juice

3

vanilla beans

seeds only* or 1 tsp vanilla extract

4

large eggs

room temperature

4

large egg yolks

room temperature

4-5

drops pink gel food color

optional
Instructions
Butter six 6oz ramekins and place them on a baking sheet. Set aside.

Add white chocolate and butter to a large microwave-safe bowl and microwave for 1 minute. Stir and continue microwaving in 15 seconds intervals until all melted and smooth. Make sure to stir well after each interval.

Once the mixture has melted, whisk in flour, powdered sugar, strawberry curd, lemon juice, lemon zest, pink gel food color (if using), and vanilla bean seeds or vanilla extract.

Whisk in the eggs and egg yolks until well combined and the mixture is smooth and shiny.

Divide the batter evenly among prepared ramekins and bake for 14-15 minutes, or until the edges are set. Remove from oven and let stand for 5 minutes before serving.

To remove the cakes from the ramekins, run a butter knife around the edges of the cake to loosen it and invert it onto a serving plate.

Top with powdered sugar or more strawberry curd and serve.