Strawberry Lava Cakes with Strawberry Curd
Strawberry Lava Cakes are easy to make, show stopper desserts. They are moist and tender with a delicious strawberry center.
I love strawberries and the endless recipes you can use them in. Recently, I have made a Strawberry Curd, which should be used in these Lava Cakes. In addition, I have plenty of other Strawberry desserts which are simple and delicious, like Strawberry Bars, Strawberry Pie and Strawberry Poke Cake.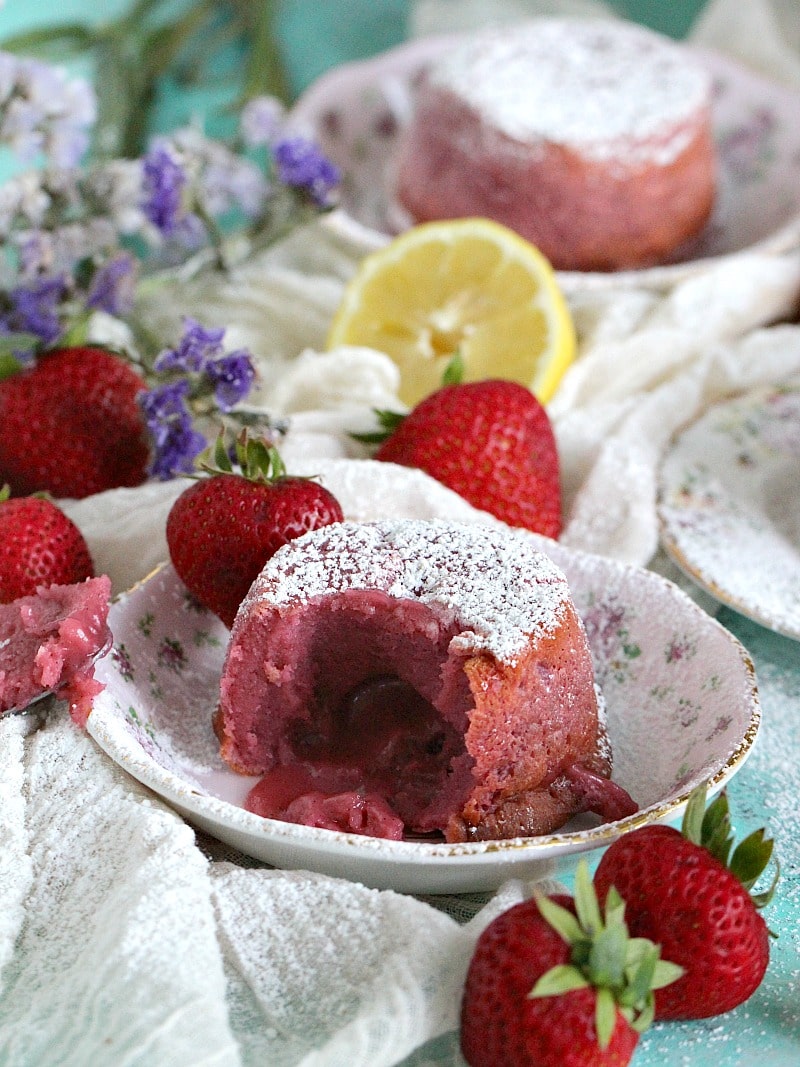 Strawberry Lava Cakes
Strawberry Lava Cakes are no fuss and easy to make. They take 30 minutes from start to finish, if you already have the curd on hand. In 30 minutes you can enjoy an unbelievably luscious and flavorful dessert. The cakes are so moist, packed with flavor, sweet and tender with a "lava" center. Each bite is bursting with flavor and just melts in your mouth.
I loved the texture and appearance of these cakes. I am notoriously known for not liking dry cakes. However, these Strawberry Lava Cakes will not disappoint. They are tender and moist like a soufflé, with pronounced and rich strawberry flavor.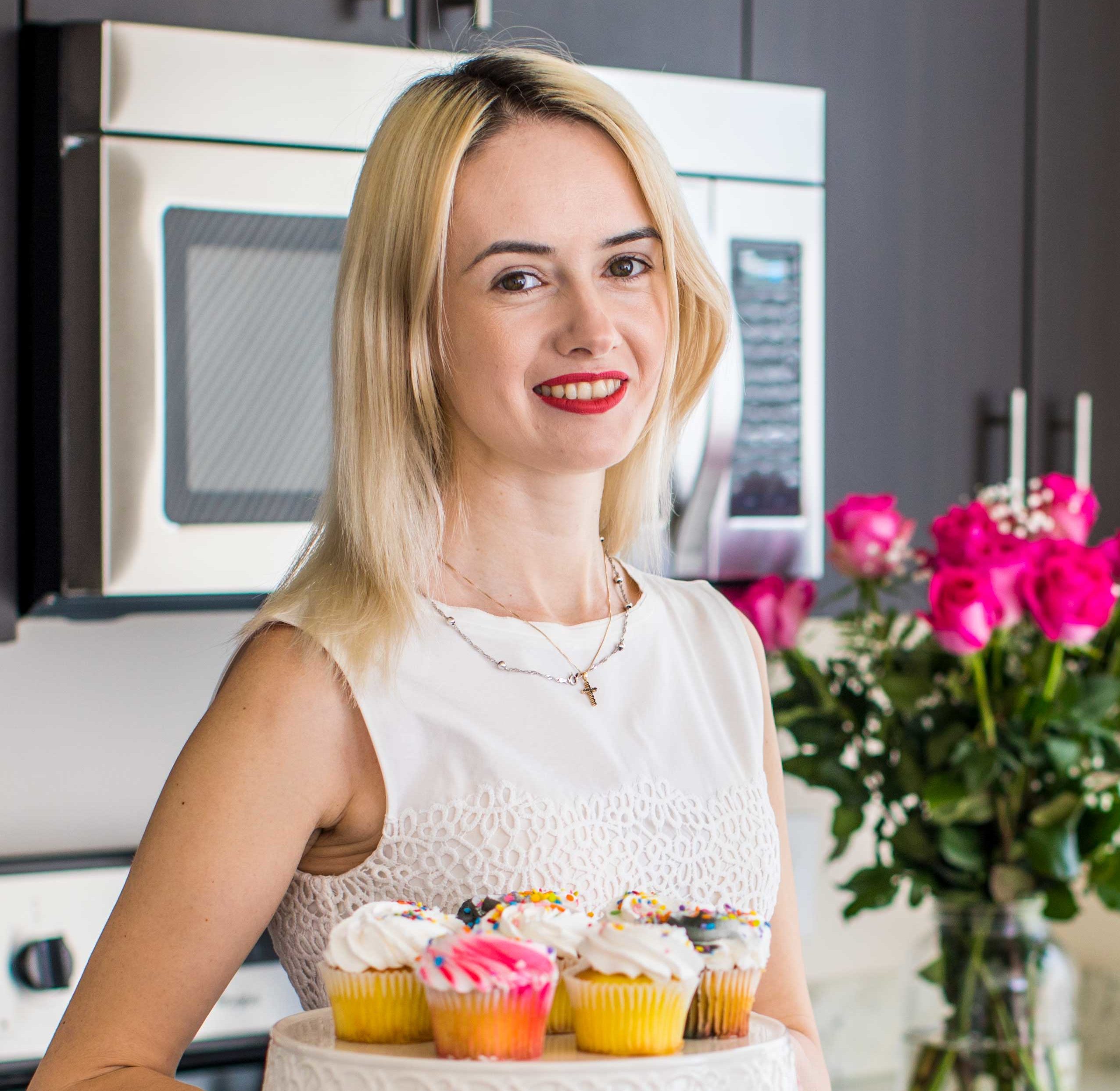 Follow us on Pinterest for more delicious recipes!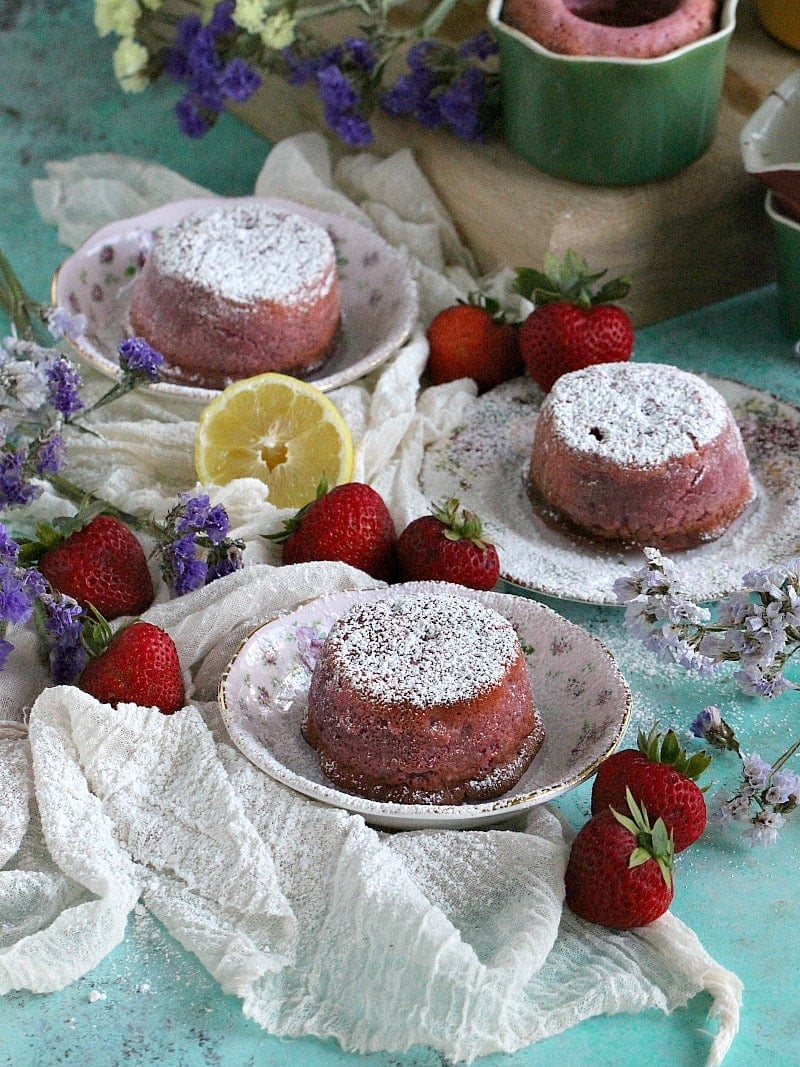 Why you will love these Strawberry Lava Cakes:
The cakes are very easy to make, because they are ready in less than 30 min.
The chocolate and strawberry combo is delicious, which make them a perfect dessert.
These are perfect for a party or special occasion, such as Valentine's Day.
Rich, creamy and delicious, they are guaranteed to become a show stopper on the dessert table.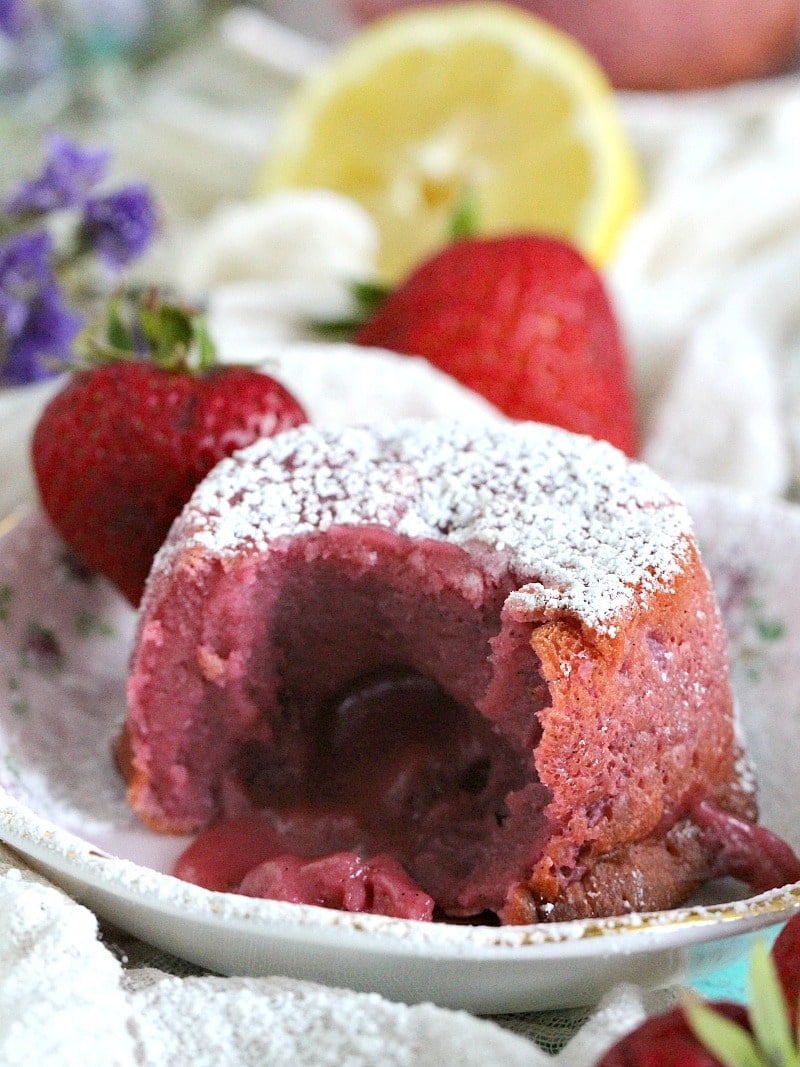 How to make lemon zest?
Follow the easy steps below:
Rinse the lemon.
Set your tool over a cutting board. A microplane produces a very fine zest, perfect for baking and cooking. If you don't have a microplane, use the smallest holes on an ordinary grater.
Grate the yellow skin of the lemon only. Grate just enough to get through the yellow skin, this way you can avoid the bitter white pith underneath.
Rotate the lemon and repeat. Once the white pith is exposed, rotate the lemon and zest the next strip of peel. Repeat until most of the peel is removed, or until you have enough zest for your recipe.
CAN YOU FREEZE STRAWBERRY LAVA CAKES?
You can freeze the baked lava cakes. Cool the cakes completely and refrigerate for a few hours. Fully wrap it in plastic wrap tightly. Next, wrap in aluminum foil or place in freezer bags. Freeze for up to 3 months. Defrost before serving. Preferably warm them up in the microwave before serving.
Save Recipe
Strawberry Lava Cakes
Author: Catalina Castravet
Serves: 8 servings
Prep time:

10

minutes
Cook time:

15

minutes
Total time:

25

mins
Nutrition information
Calories: 293 Carbohydrates: 23 Protein: 5 Fat: 20 Saturated Fat: 11 Cholesterol: 212 Sodium: 147 Potassium: 110 Fiber: 0 Sugar: 14 Vitamin A: 625 Vitamin C: 6.4 Calcium: 64 Iron: 1.4
Save Recipe
More recipes you might love