Strawberry Lava Cakes with Strawberry Curd
This post may contain affiliate links. Please read my disclosure policy.
An easy to make, show stopper dessert, these Strawberry Lava Cakes are moist and tender with a delicious strawberry center.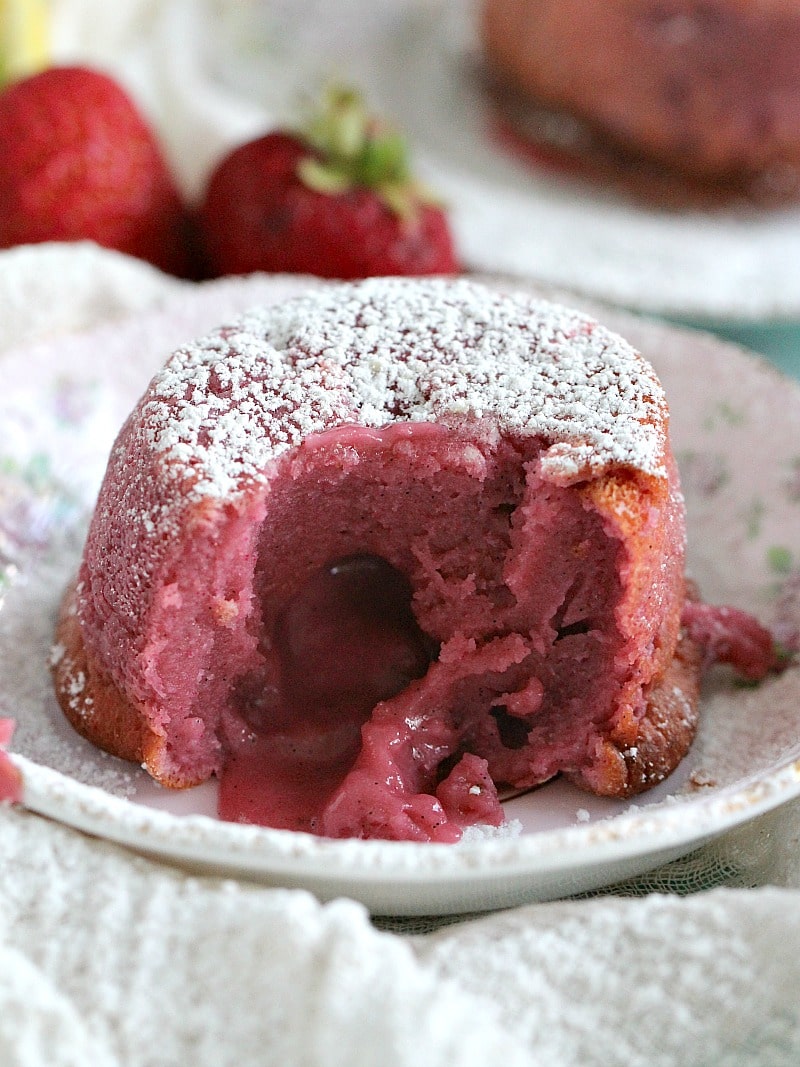 Have you ever had Strawberry Lava Cakes ? If you answered no, you have to drop everything right this moment, run into your kitchen and quickly make some. That if you already have my delicious Strawberry Curd on hand, if no start with it please!

I made Strawberry Curd a few days ago and it was sitting in my fridge ready to be used. I was playing with recipe ideas in my head, all of them delicious by the way, and when I checked my Facebook feed I stumbled upon these Lemon Lava Cakes, now aren't they adorable? It hit me hard, I wanted to make Strawberry Lava Cakes with my delicious Vanilla Bean Strawberry Curd. And thats what I did my friends, these Strawberry Lava Cakes are heavenly delicious! I just need someone to stop us from eating them!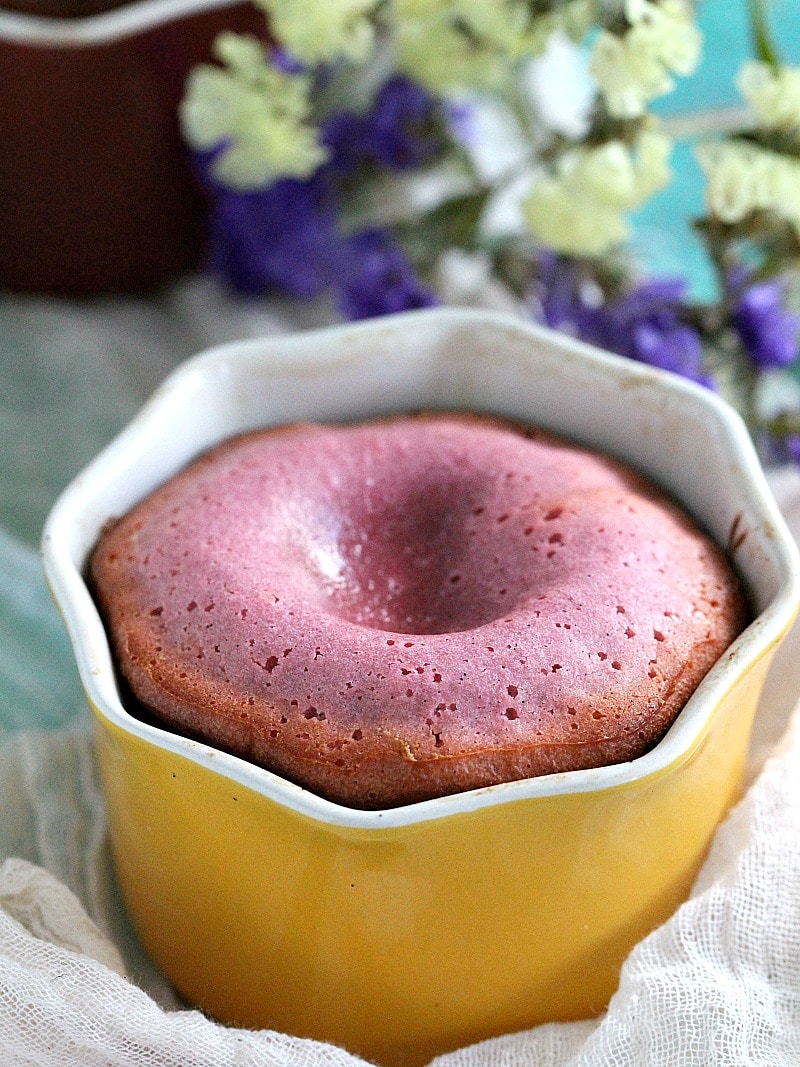 You would be surprised at how easy its to make the Strawberry Lava Cakes they are absolutely no fuss. They take 30 minutes start to finish, if you already have the curd on hand. In 30 minutes you can enjoy an unbelievably luscious and flavorful dessert.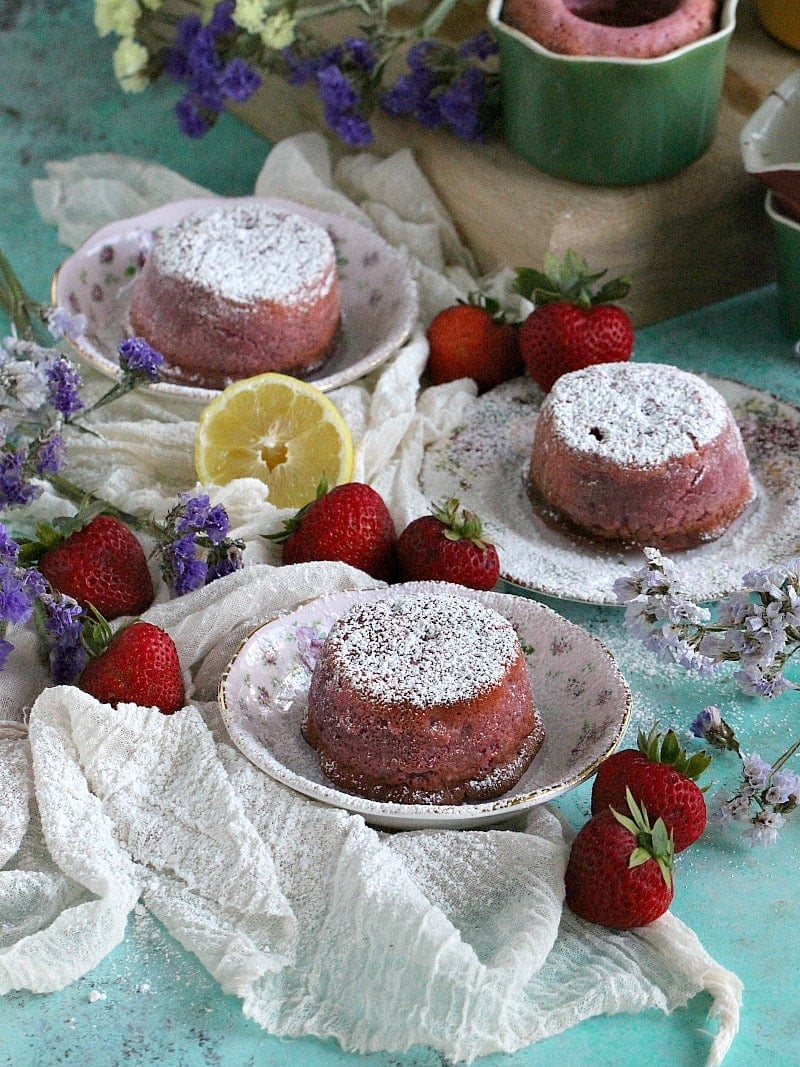 My husband is obsessed with these Strawberry Lava Cakes and declared it one of his favorite desserts. And what's not to love? The cakes are so moist, packed with flavor, sweet and tender with a "lava" center. Each bite is bursting with flavor and just melts in your mouth.

MY LATEST VIDEOS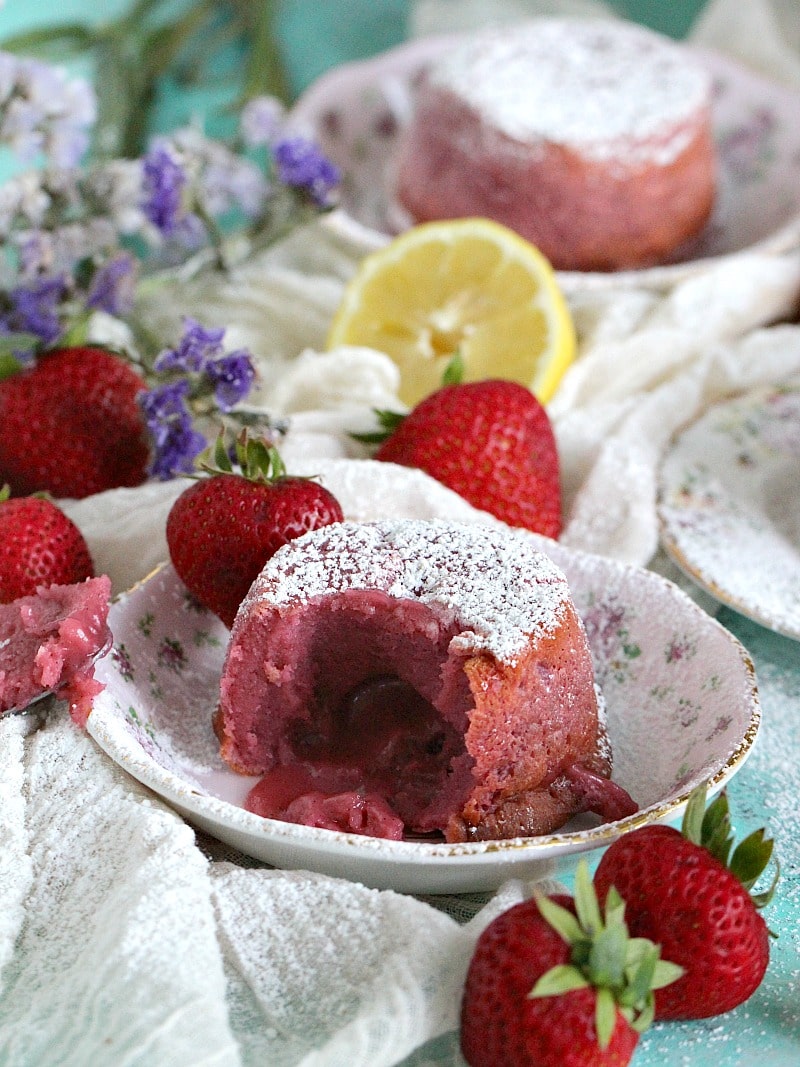 I loved the texture of these cakes so much! I am notoriously known for not liking dry cakes, these Strawberry Lava Cakes are so moist, they remind me of soufflé. This is a perfect recipe for a date night, it does't take long to prepare, but man, you are about to enjoy a fabulous dessert!!!

Strawberry Lava Cakes
An easy to make, show stopper dessert, these Strawberry Lava Cakes are moist and tender with a delicious strawberry center.
Author:
Katalina Kastravet
Ingredients
⅔ cup white chocolate
½ cup (1 stick) unsalted butter, chopped
⅔ cup all-purpose flour
½ cup powdered sugar
½ cup Strawberry Curd
1 teaspoon lemons zest
1 tablespoon lemon juice
3 vanilla beans, seeds only*
4 large eggs
4 large egg yolks
4-5 drops pink gel food color
Instructions
Preheat oven to 425F.
Butter 6 six ounces ramekins and place on a baking sheet. Set aside.
Add white chocolate and butter to a large microwave safe bowl and microwave for 1 minute. Stir and continue microwaving in 15 seconds intervals until all melted and smooth.
Once the mixture has melted, whisk in flour, powdered sugar, strawberry curd, lemon juice, lemon zest, pink gel food color and vanilla bean seeds. Whisk in the eggs and egg yolks until well combined and the mixture is smooth and shiny.
Divide the batter evenly among prepared ramekins and bake for 14-15 minutes, or until the edges are set. Remove from oven and let stand for 5 minutes before serving.
To remove the cakes from the ramekins, run a butter knife around the edges of the cake to loosen it and invert onto a serving plate.
Top with powdered sugar or more strawberry curd and serve.
Notes
* Do not pack the measuring cup tightly with flour as these will result in using too much flour for the recipe.
* Vanilla beans can be replaced with 1 teaspoon of vanilla extract.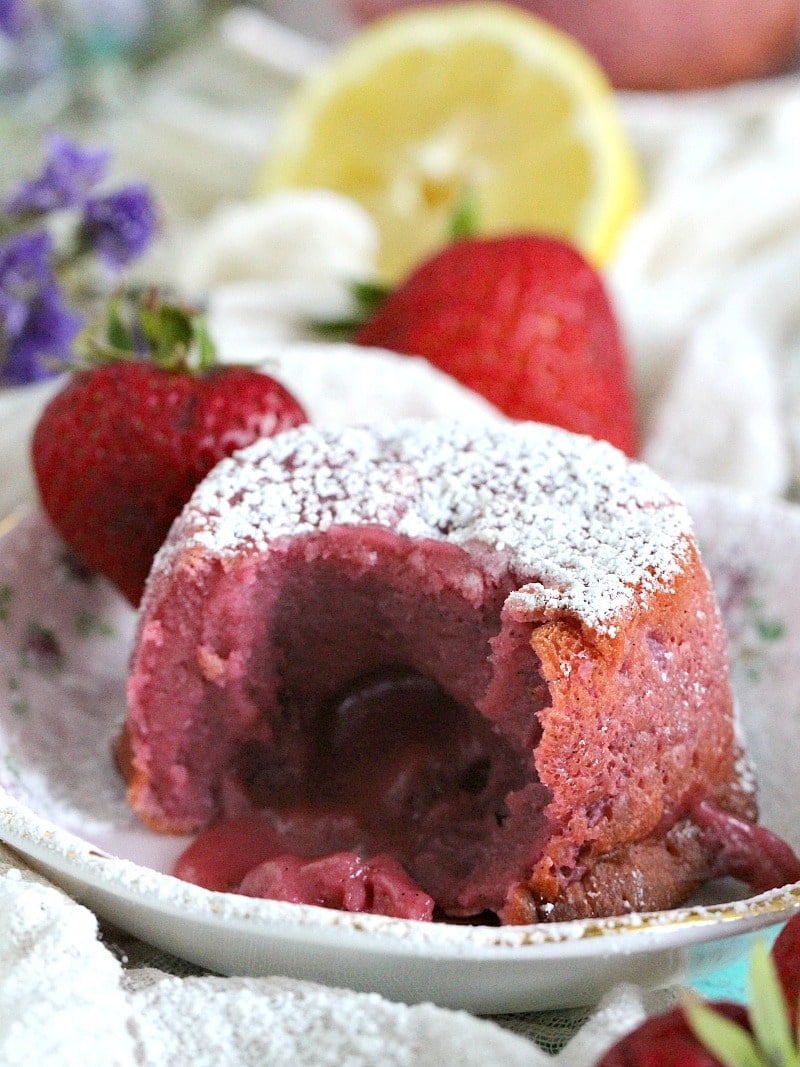 Recipe adapted from Dixie Crystals.
Peas and Peonies, LLC. owns the copyright on all images and text and does not allow for its original recipes and pictures to be reproduced anywhere other than at this site unless authorization is given. If you enjoyed the recipe and would like to publish it on your own site, please re-write it in your own words, and link back to my site and recipe page. Copying and/or pasting full recipes to social media or personal blogs is strictly prohibited. Sharing this recipe is very much appreciated and encouraged. Read my disclosure and privacy policy. This post may contain affiliate links.