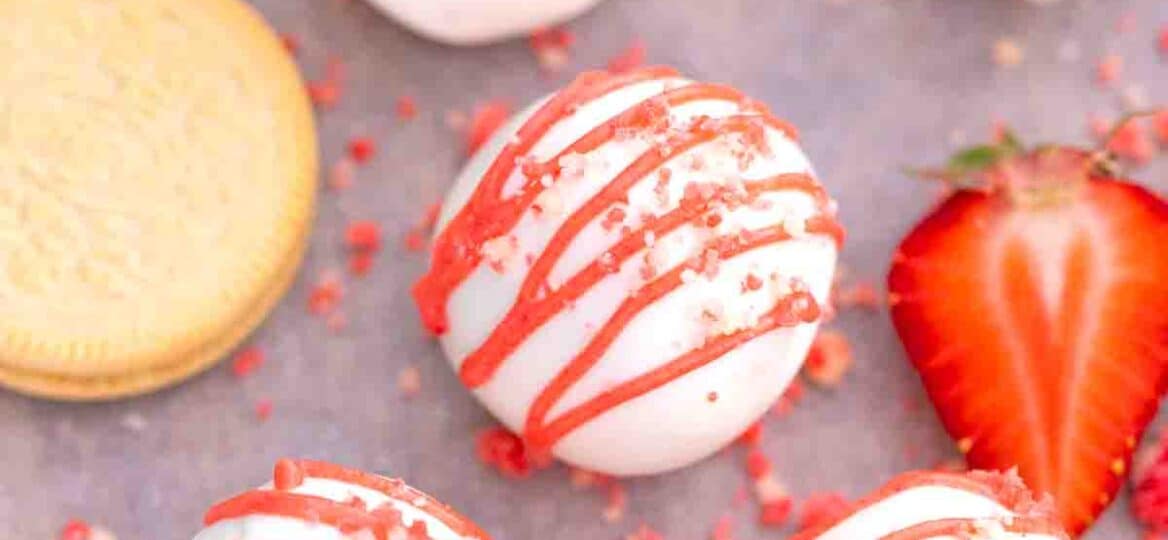 Strawberry Shortcake Truffles Recipe
Strawberry Shortcake Truffles are made with golden Oreos, strawberry shortcake crumbs, and smooth white chocolate coating, a delightful treat! A unique taste that everyone loves. And the colors make them perfect for Valentine's Day or any celebration. They taste so good, you probably need to double or triple this recipe.
The first truffles ever made were chocolate but there is some confusion over who invented them and when they were invented. Some say they were first made in 1850 at the Patisserie Siravdin in Paris. Others say the very first truffle was created in 1920 by French Chef Georges Auguste Escoffier. He discovered them by accident when he accidentally poured hot cream into a bowl of chocolate instead of a bowl of eggs.
These strawberry shortcake truffles are easy to make, and you only need a handful of ingredients. These include Oreo cookies, cream cheese, lemon zest, red candy melts, strawberry shortcake crumbs, chocolate chips, and shortening. Besides all of the time spent chilling the truffles, it only takes about 15 minutes to prepare them.
Ingredients needed:
Here are the ingredients you will need to make these delicious strawberry shortcake truffles. When you are ready, scroll down to our printable recipe card for complete instructions and measurements.
Lemon zest
Golden Oreos
Softened cream cheese
Red candy melts
Vegetable shortening
White chocolate chips
How to make strawberry shortcake truffles from scratch?
Crush up the Oreos: First, put all of the Oreos into a food processor and pulse until the mixture is fine crumbs that resemble wet sand.
Mix in the cream cheese: Add cream cheese to the cookie crumbs and pulse them until it is thoroughly combined with the crushed Oreos. You should not see any white cream cheese.
Chill the dough: Now, transfer the mixture to a large bowl and stir in one cup of the strawberry shortcake crumbs. Cover and chill it for 30 minutes.
Make the truffles: Once it is chilled, remove the mixture from your fridge and roll it into one-inch truffles. Place the truffles on a baking sheet lined with parchment paper and refrigerate for 60 minutes.
Melt the chocolate: Then, add candy melts to a microwave-safe bowl with 1 1/2 teaspoons of shortening. Microwave on medium for 30 seconds. Stir and microwave for another 30 seconds and stir again. Continue until all the candy is melted and smooth.

Coat truffles: Immediately, dip truffles into the melted chocolate one at a time. You can use a toothpick, two forks, or some other kind of dipping tool. Swirl it until the entire truffle is coated. Lift it out and lightly tap it on the rim of the bowl. Run a toothpick or knife along the bottom to get all the excess chocolate.

Chill again: After, put the chocolate-covered truffles in the fridge again for 30 minutes. Then, remove the truffles and put them on a baking sheet lined with parchment paper.

Melt white chocolate: While you wait for them to chill, place the chocolate chips into a medium bowl and melt, using the same instructions as before. Put the melted chocolate into a small baggie and cut a small tip from a lower corner. Drizzle the chocolate over the top and then sprinkle on the rest of the strawberry shortcake crumbs. Place the baking sheet on a wire rack to catch excess chocolate.

Chill and serve: Finally, put the room-temperature truffles in the fridge for at least one hour to firm up the chocolate. Then, serve with ice cream or whatever else you like.
Recipe variations:
Other colors: You could change the colors of your strawberry truffles as you wish. Try pink candy melts or dark chocolate instead.
Add freeze-dried strawberries: Add some dehydrated strawberries to your truffle batter for a more intense strawberry flavor. Freeze-dried fruit is always more flavorful than fresh.

Coconut oil: Feel free to use other oils when melting chocolate such as vegetable, corn, or coconut oil instead of shortening.
Other flavors: For other flavors, use different kinds of Oreo cookies like peanut butter, chocolate cream, strawberry, or even original.

No cream cheese: Instead of cream cheese, you can use sour cream, greek yogurt, or mascarpone.

Other zest: You can skip the lemon zest or switch it to lime zest for a unique flavor.
How to serve:
These delicious truffles are also very visually appealing, making them great for parties and other special occasions. With the red and white colors, they would be perfect for Valentine's Day. Try one of these ideas or share your own in the comments section.
Strawberry shortcake truffles go great with strawberry ice cream or our strawberry sorbet.

You can serve these truffles with a handful of fresh strawberries on the side.
These are perfect for dipping. Try dipping these in some strawberry sauce.
To make your truffles festive, add some rainbow sprinkles to the top before they cool.
Another way to enjoy these yummy truffles is with our strawberry banana smoothie.

Crumble up your leftover truffles and use the crumbles as a topping for ice cream or pudding.
Frequently asked questions
How do you make strawberry shortcake crumbs?
There are different ways to make these delectable little crumbles. You could mix strawberry jello with flour butter, sugar, and vanilla. Just stir it up and bake it for five to eight minutes at 350 degrees F on a baking sheet lined with parchment paper. Let it cool to room temperature before using.
What is the difference between candy melts and white chocolate chips?
The main difference is the cocoa butter. White candy melts use vegetable oil instead of cocoa butter, which is why they are not typically called white chocolate candy melts. The cocoa butter gives the chips a smoother texture while the oil in the melts helps them stay solid longer. Also, melting chocolate chips requires tempering.
What does it mean to temper chocolate?
To properly temper chocolate, you have to melt it in short increments. Using the microwave is a shortcut to this by heating it at half power for 30 seconds at a time, stirring in between. You can also use a double boiler to heat 2/3 of it to 110 degrees F. Then, cool it to 95 degrees F before adding the rest of the chocolate.
What are the nutrition facts in this recipe?
If you are concerned about the nutrition, calories, and fat, here are the approximate numbers for each serving. There are 151 calories, 10 grams fat, and 5 grams of saturated fat. It also contains 25 grams of carbohydrates, 6 mg cholesterol, 90 mg sodium, and 18 grams of sugar. But you will also get 2 grams protein, 2 mg iron, 20 mg calcium, 90 units of vitamin A, 40 mg of potassium, 3 grams of monounsaturated fat and 1 gram of polyunsaturated fat.
How to store leftovers:
Store: You can store your leftover truffles in an airtight container in the fridge. They will stay fresh for up to a week.
Freeze: It is also safe to freeze your strawberry shortcake truffles for up to three months. Put them in a freezer bag or another freezer-safe sealed food container.

Thaw: Be sure to thaw your truffles in the fridge overnight for the best flavor and texture.
More truffles to try:
Recipe tips:
Feel free to use white candy melts instead of white chocolate chips if you like.
Put a piece of plastic wrap on top of the container under the lid for extra freshness.
You could wear latex gloves when rolling the balls into truffles.

Instead of rolling your truffles into balls, use a cookie scoop. It is much easier, and you will not get your hands dirty.

If you do not have a food processor, use a high-speed blender or even an electric mixer. Crushing the cookies by hand will not make the crumbs small enough for this recipe.

Shorten chill time by putting truffles on the parchment-lined baking sheet in the freezer instead of the fridge.

Put your phone in cook mode so it will not go dark while you are making your strawberry shortcake truffles.

Looking for other recipes? We add more recipes every day to our food blog.
Strawberry Shortcake Truffles
Ingredients
1

package

Golden Oreos

regular size, not family pack

4

ounces

cream cheese

softened to room temperature

1

teaspoon

lemon zest

2/3

cup

strawberry shortcake crumbs

click on link for recipe
Instructions
First, add the Oreos to a food processor and pulse until the mixture turns into very fine crumbs.

After that, add the cream cheese and pulse until very well combined.

Transfer the mixture to a bowl, and stir in 2/3 cup of the Strawberry Shortcake Crumbs and lemon zest. Cover the batter and refrigerate for 30 minutes, or better one hour.

Once the mixture has been chilled, remove it from the fridge, and use a 1 tablespoon or 2 tablespoons scoop, to portion the truffles and roll them into smooth balls.

Arrange the truffles onto a parchment-lined baking sheet or cutting board and refrigerate for 1 hour.

Add the white chocolate chips and 1 teaspoon of vegetable shortening to a microwave-safe bowl and microwave on medium heat for 30 seconds. Stir well using a rubber spatula and microwave again for 30 seconds and stir well. The residual heat should melt the remaining chocolate, if needed repeat again and stir until melted and smooth.

Using two forks or insert a toothpick into a truffle, dip the truffle into the bowl with melted white chocolate and gently coat it evenly. Carefully lift the truffle, let the excess chocolate drip and transfer the truffle to a baking sheet covered with waxed paper, by lightly using it with a second toothpick (if not using forks).

Chill the coated truffles in the fridge for 30 minutes.

Place the red candy melts and remaining to shorten into a bowl. Microwave for 30 seconds, stir and see if you need to microwave again. Transfer the melted red candy melts to a resealable sandwich bag.

Cut a small tip from the lower corner and drizzle the chocolate over the truffles. Immediately sprinkle Strawberry Shortcake Crumbs on top of the truffles.

Chill the truffles for one more hour and serve.
Deliciousness to your inbox
Enjoy weekly hand picked recipes and recommendations