Strawberry Shortcake Pie [Video]
Strawberry Shortcake Pie is made with whipped cream, powdered sugar, sweetened condensed milk, cream cheese, strawberry sauce. Topped with an amazing strawberry crumble topping that will remind you of the classic ice cream. You can make this in less than an hour for a sweet dessert to add to any meal.
If you are looking for a summery dessert recipe to add to your meal, try our Best Strawberry Poke Cake or the Strawberry Pie with Cheesecake Layer. Or if you would rather have some refreshing citrus, try this Key Lime Pie Poke Cake.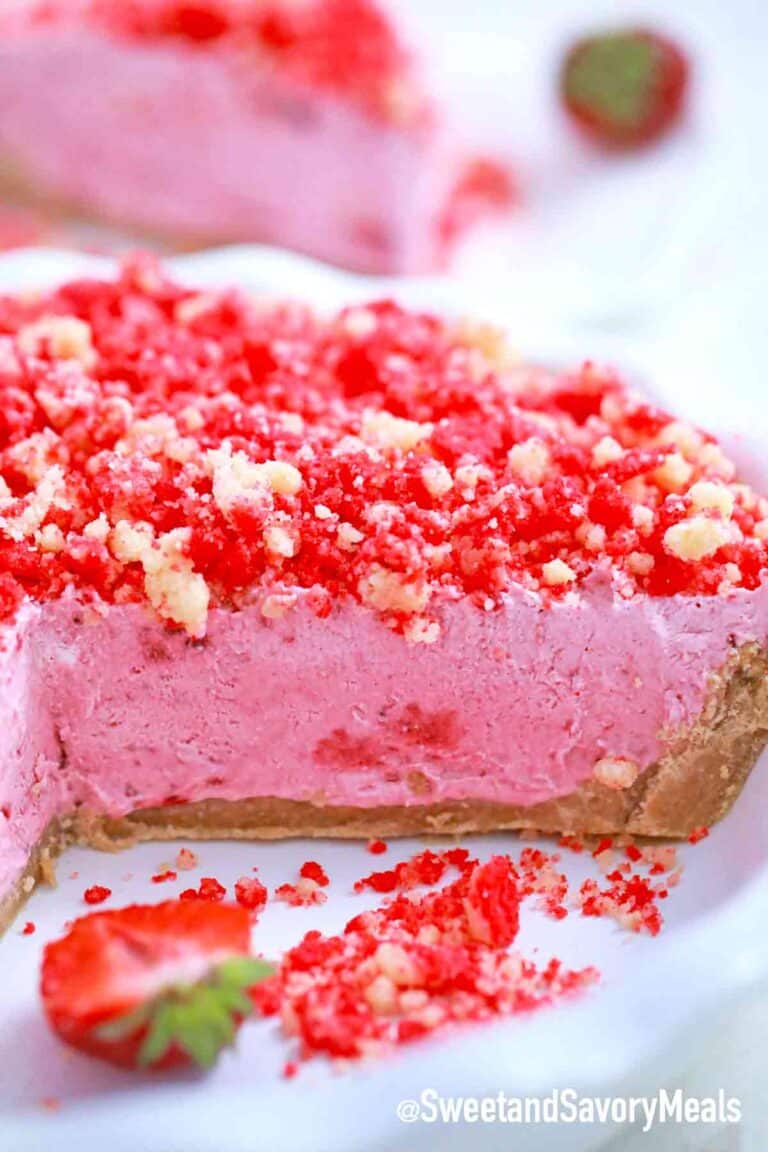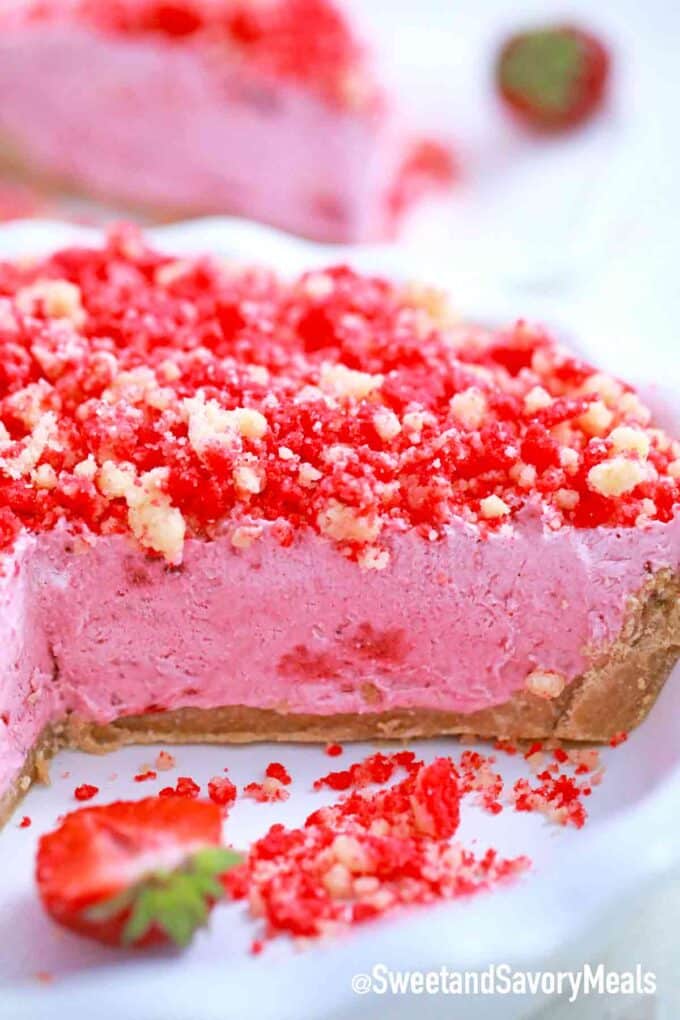 Strawberry Shortcake Freezer Pie
This strawberry shortcake pie recipe is a cool and light dessert for any family gathering or just for you. Pair it with any of your favorite meals like instant pot pork shoulder or brown sugar-baked pork chops. Or bring it to the next picnic or party to show off to your friends and family how great your cooking skills are.
You may have bought a similar pie at the grocery store or bakery but you cannot get the fresh juiciness of the strawberries from something that has been sitting out for so long. Why not make your own and experience how fantastic it is supposed to taste?
All you need is whipped cream, powdered sugar, sweetened condensed milk, cream cheese, strawberry sauce, and a few other ingredients.
If you want to add something different to your strawberry dessert, how about tossing in a handful of homemade blueberry sauce or some other kind of fruit? Strawberries go well with other berries like blackberries, raspberries, and even cranberries. We actually have the most delicious cranberry sauce on the blog.
Need more than one pie? Just increase the ingredients to cook for a large group or to save for later. Whether it is summer or winter, strawberry pie is a delicious dessert for any occasion.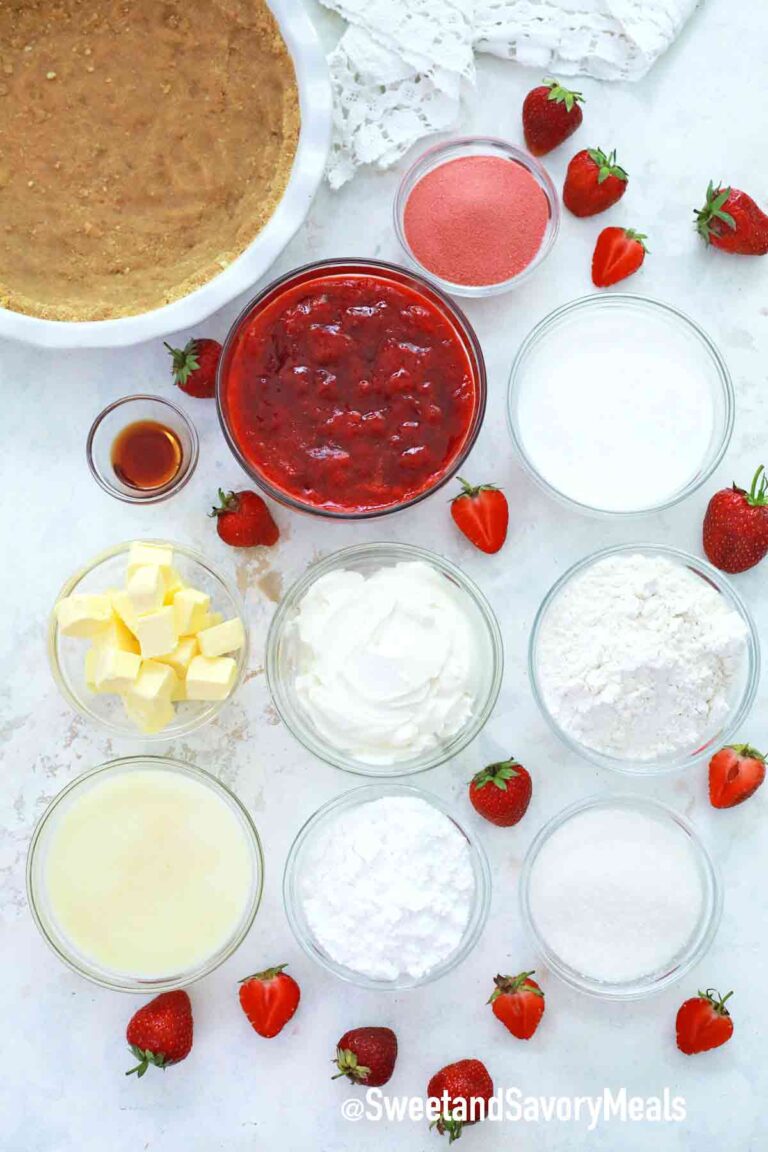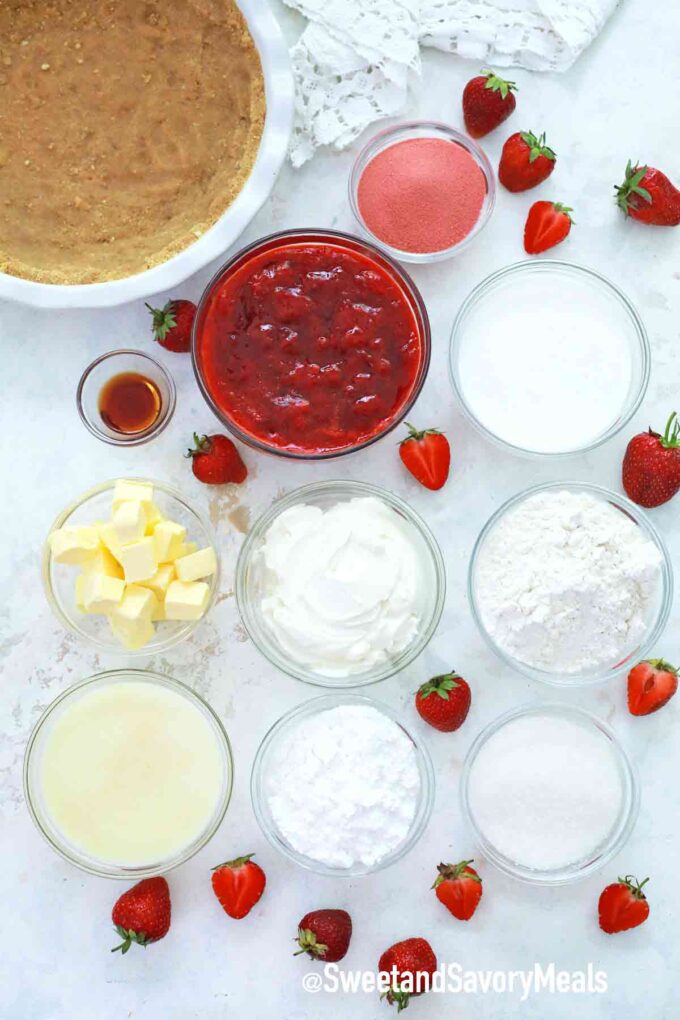 Ingredients needed:
For the exact measurements, refer to the strawberry shortcake pie recipe card below. Here is what you will need:
For the Filling:
Whipping cream: Use heavy whip cream for best results.
Powdered sugar: Also known as confectioners' sugar, hence, it's used to keep the smooth texture and to add sweetness.
Sweet condensed milk: You won't need to add too much granulated sugar since there is sugar in this.
Cream cheese: Make sure it is room temperature.
Strawberry sauce: Use my easy strawberry sauce for the best results.

Graham cracker crust: Also, use one readymade or make your own.
Crumble Topping:
Strawberry gelatin: Gelatin has no additives and is better than jello.
Flour: Use gluten-free if you are allergic to gluten.
Butter: Divide it up into two bowls.
Sugar: Granulated white sugar is best.
Vanilla extract: It is best to use pure vanilla extract.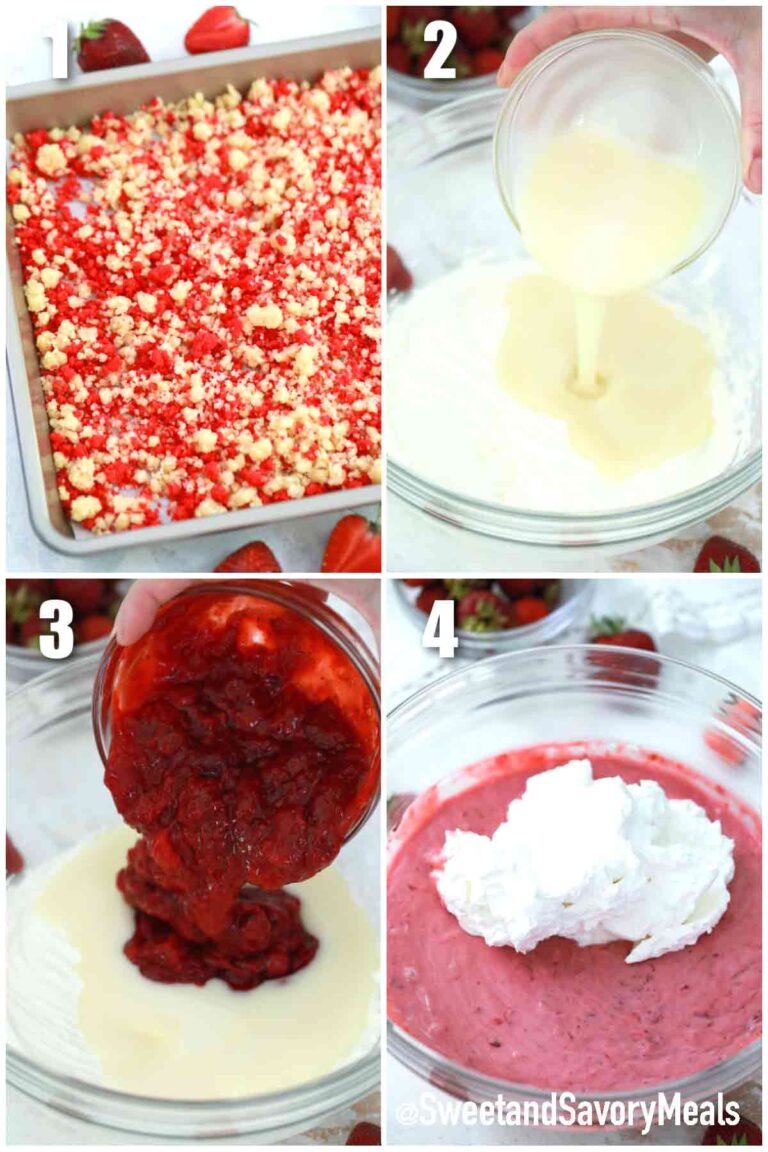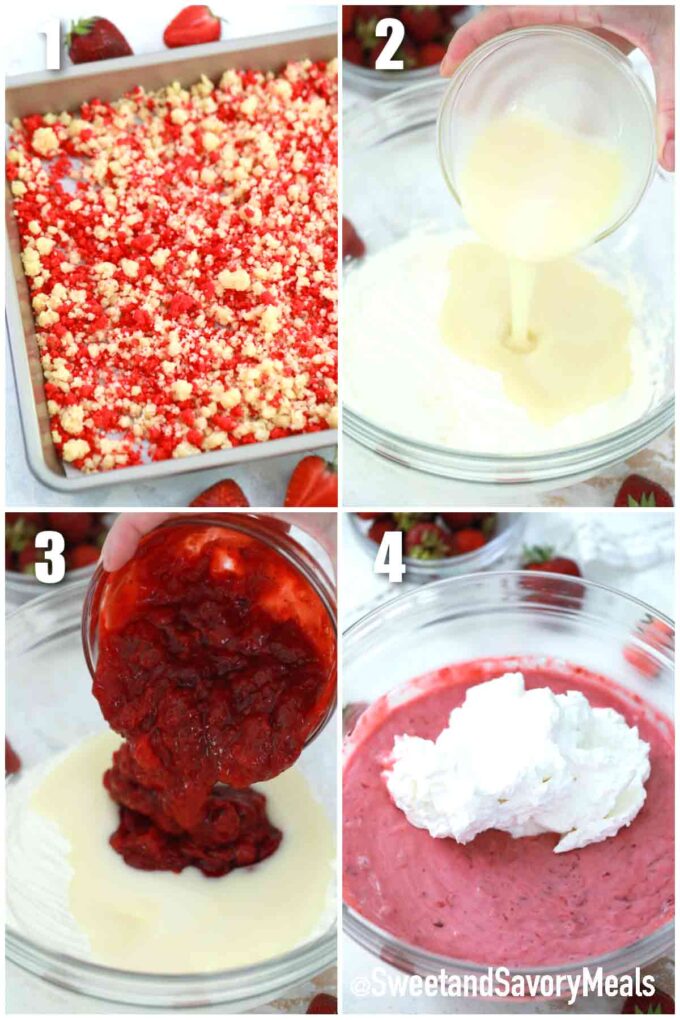 How to make a strawberry shortcake pie recipe from scratch?
Crumble Instructions:
Get ready: First, preheat your oven to 350 degrees F.

Jell-o: Next, add ¼ cup of butter, Jell-o, and ½ cup of flour in a medium bowl and stir with a fork until it is crumbly and fine.
Mix again: After that, add ¼ cup of butter, ½ cup of flour, ½ cup of granulated white sugar, and one teaspoon vanilla to a separate medium bowl. Make sure to use a small fork to make it crumbly and fine.

Sprinkle: Next, on a baking sheet lined with parchment paper, sprinkle the strawberry crumble, and then the vanilla crumble. Afterward, mix them gently by hand.

Cook: After that, bake it for seven to eight minutes but don't stir them up.

Let them cool: Finally, remove the pan from the oven and let it cool for at least 60 minutes. Wait 30 minutes or put them in the refrigerator for about five minutes if they are still warm.

Store: Lastly, put the crumble into an airtight storage container until you are done with the filling.
Filling instructions:
Mix: In addition, use a mixer with a large bowl to beat the powdered sugar and whip cream until it forms stiff peaks. Then set it aside in the refrigerator. Keep in mind that you can also use store-bought whipped topping.
Mix again: Similarly, using another large bowl and the same mixer to beat the cream cheese until it is smooth and creamy. Next, add the condensed milk to the cream cheese mixture and stir for another minute until it is mixed up completely.
Strawberry shortcake pie instructions:
Sauce: After that, mix in the strawberry sauce with the whip cream mixture and stir it until it is mixed well.
Pour: Spread the whole mixture into the pie crust and smooth it out on top. Use a 10-inch crust for best results.
Freeze: Next, put your pie into the freezer for four to five hours.
Remove: After that, take it out of the freezer 10 minutes before serving and place it on a pie plate.
Serve: At the end, add crumble to the top when serving.
Recipe variations:
Add fresh fruit: Mix fresh strawberries on top along the edges of the pie or chop and sprinkle some into the filling.
Try other fruits: Similarly, add another fruit like blueberries, blackberries, or even apples and peaches.
Pour on the sauce: Also, add a bit of easy strawberry jam on top for even more flavor.
Toppings: Also try adding toasted coconut, chocolate chips, cool whip, or chocolate syrup to the top.
Nuts: Another variation is to make the crust out of crushed almonds and also add some chopped macadamia nuts on top.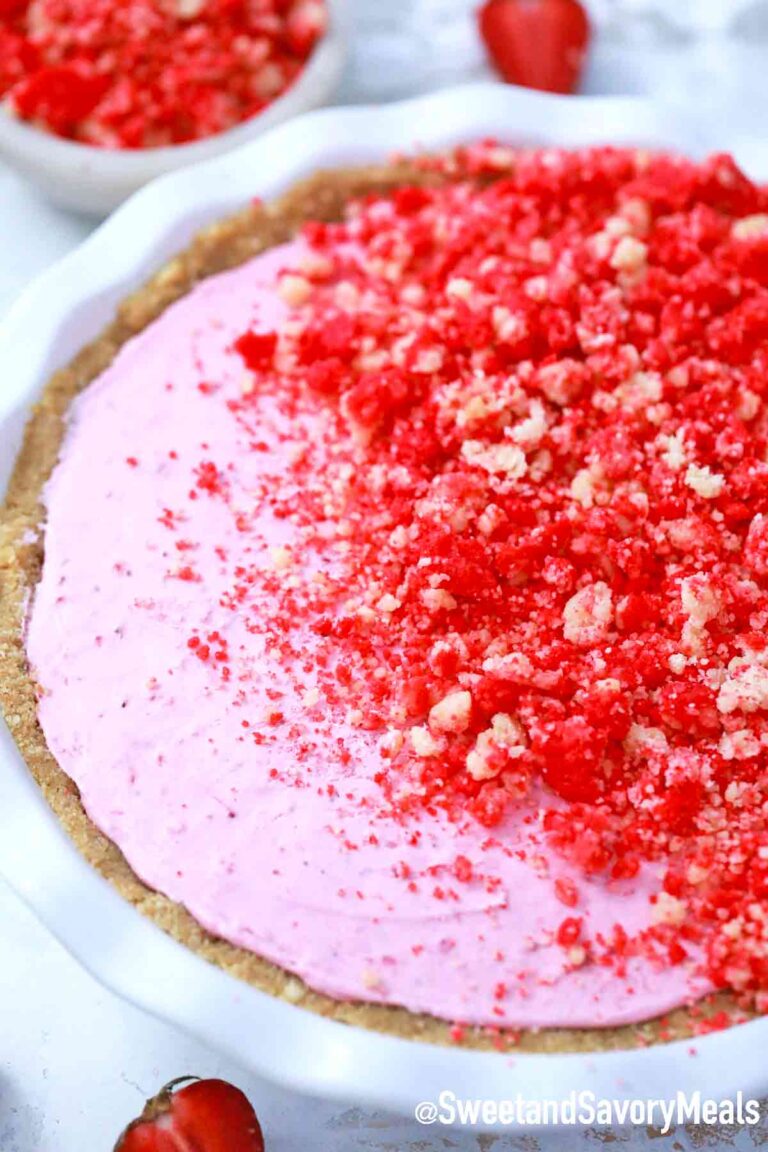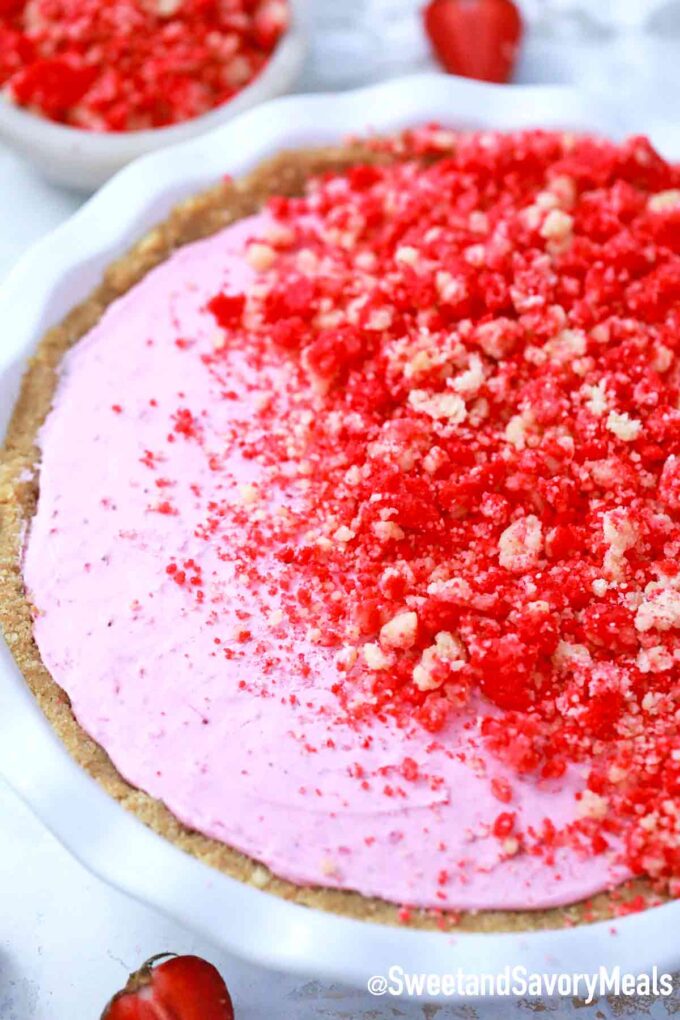 How to serve:
Strawberry shortcake pie is best when served cold but thawed for about 10 minutes, so it is not too hard.
Add the crumble mixture to the pie before serving or just add it to each piece as you serve. This will be one of your favorite desserts in no time.
There are many ways to serve it, here are our favorites:
More Dessert Recipes:
Frequently Asked Questions
How do I store the strawberry crumble topping?
You can keep the crumble in the refrigerator in an airtight container for about four or five days. Or you can place them into a freezer bag and store them in the freezer for up to three months.
Can I freeze the pie?
For best results, you should put the pie in the freezer uncovered until it is completely frozen, this usually takes a few hours. After it is frozen, wrap it with plastic wrap and seal it in a freezer bag, it should stay good for up to four months.
To make it easier to serve after frozen, cut into individual servings before freezing and thaw a few hours in the refrigerator before serving.
Why is it called shortcake?
It has nothing to do with the size of the cake as some people presume. The name is an old-fashioned definition of something that is made crisp with the addition of some kind of fat. Hence, in this recipe, the shortcake is made crumbly by using butter.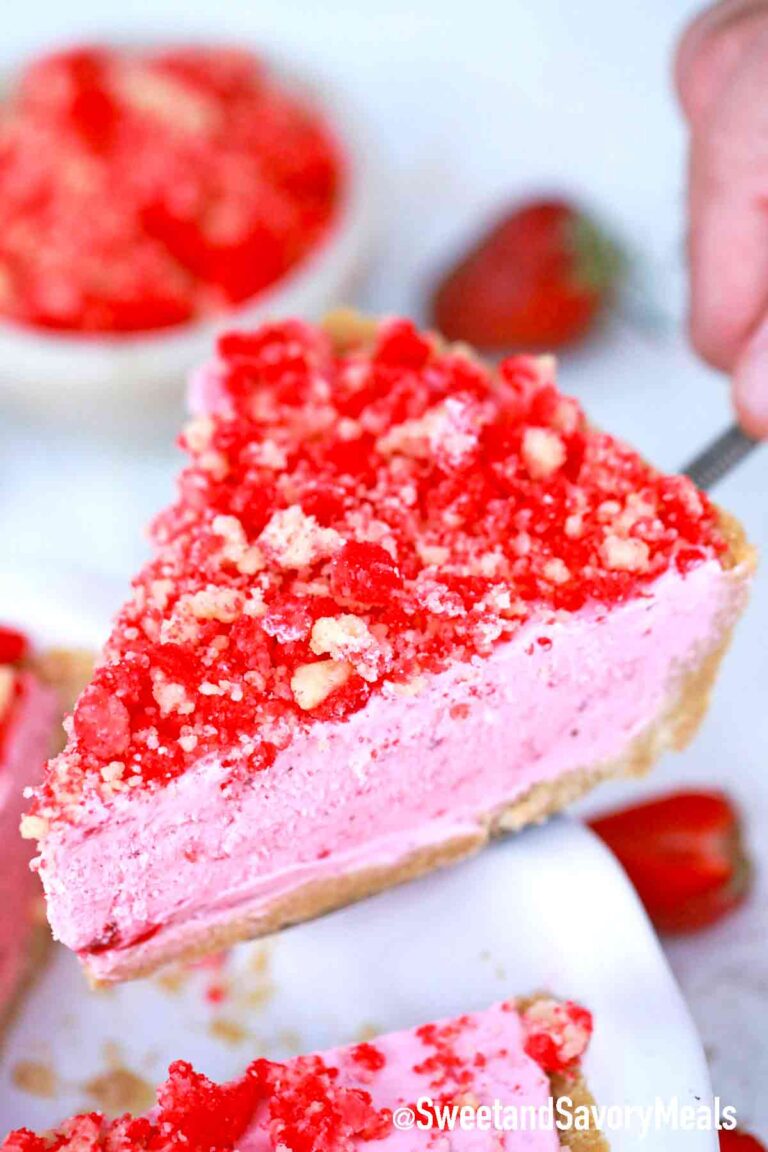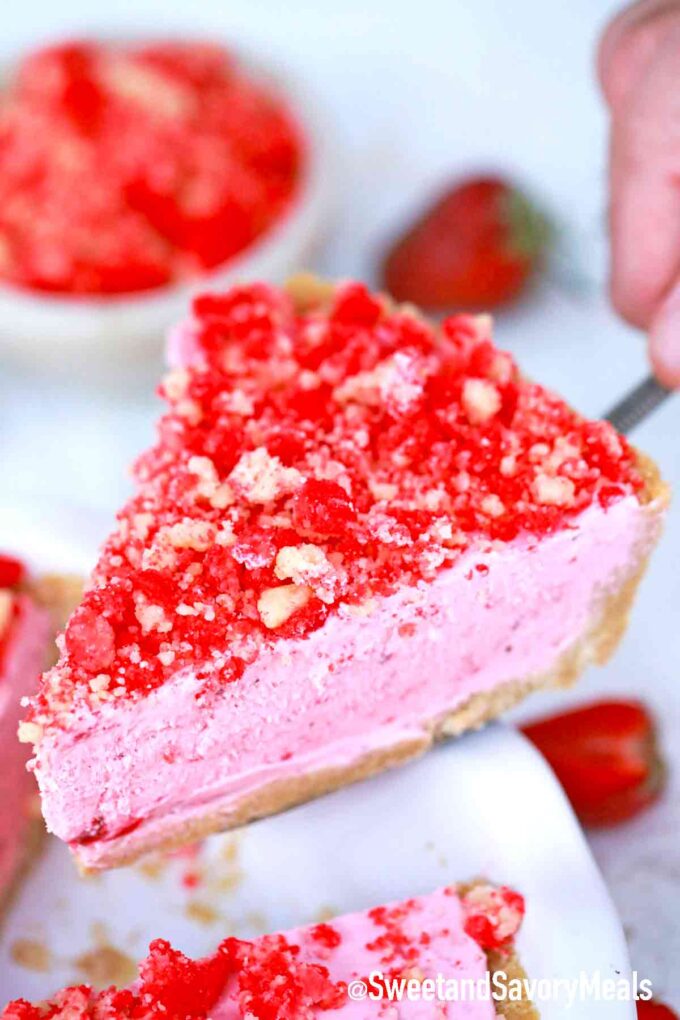 Recipe tips:
Besides, use a nine-inch pie crust, but you will have some leftovers, also use the extra for smoothies.

Also, make sure to use strawberry Jell-O rather than gelatin, hence use other flavors if you want.
You can use any other fruit besides strawberries such as cherry or raspberry, keep in mind that frozen berries are ok.
Try using the almond extract for a unique flavor, especially good paired with the berry flavor.
Add vanilla pudding on top of the filling for an extra layer of yumminess.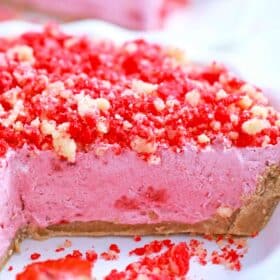 Strawberry Shortcake Pie
Strawberry Shortcake Pie is made with whipped cream, powdered sugar, sweetened condensed milk, cream cheese, strawberry sauce.
Save
Share
Print
Pin
Rate
Ingredients
Strawberry Shortcake Crumble Topping:
3

ounces

box strawberry flavored Jell-o

1

cup

all-purpose flour

(divided)

1/2

cup

unsalted butter

(cold and divided)

1/2

cup

white granulated sugar

1

teaspoon

vanilla
Strawberry Shortcake Pie Filling:
1

cup

heavy whipping cream

1/2

cup

powdered sugar

1

can

sweetened condensed milk

8

ounces

cream cheese

(room temperature)

2

cups

strawberry sauce

(homemade or store-bought)

1

prepared graham cracker pie crust

(9 or 10")
Instructions
Strawberry Shortcake Crumble Topping:
Preheat oven to 350 degrees F.

In a medium bowl using a fork stir Jell-o with 1/2 cup flour and 1/4 cup butter. Make a fine and crumble.

In another medium bowl stir 1/2 cup flour, with 1/2 cup sugar, and 1/4 cup butter, plus 1 teaspoon vanilla. Also, use a fork to mix and make crumbles.

Line a baking sheet with parchment paper and sprinkle on it the strawberry crumbles. Next, sprinkle on the vanilla crumbles, and slightly mix them by hand.

Bake for 7-8 minutes and do NOT stir.

Remove from the oven and let cool completely before storing into an airtight container in the fridge. When ready to use, take a fork and stir them first.

The recipe makes 3 cups of crumbles.
Strawberry Freezer Pie Filling:
In a large mixing bowl using an electric mixer beat the heavy whipping cream and powdered sugar until very stiff peaks form. Set aside in the fridge to chill for 30 minutes.

In a large mixing bowl using an electric mixer beat the cream cheese until creamy and without lumps.

Next, add the sweetened condensed milk and beat for another minute or until combined.

Add the strawberry sauce and beat until well combined.

Next, combine the mixture with the whipped cream and stir until well combined.

Transfer the filling into the prepared pie crust. Freeze for 6-8 hours.

When ready to serve, remove from the freezer and let it thaw for about 10-15 minutes.

Add the strawberry shortcake crumbles on top and serve.
Nutrition
Calories:
665
kcal
|
Carbohydrates:
114
g
|
Protein:
7
g
|
Fat:
22
g
|
Saturated Fat:
11
g
|
Polyunsaturated Fat:
1
g
|
Monounsaturated Fat:
8
g
|
Trans Fat:
1
g
|
Cholesterol:
47
mg
|
Sodium:
416
mg
|
Potassium:
224
mg
|
Fiber:
2
g
|
Sugar:
59
g
|
Vitamin A:
615
IU
|
Vitamin C:
12
mg
|
Calcium:
114
mg
|
Iron:
2
mg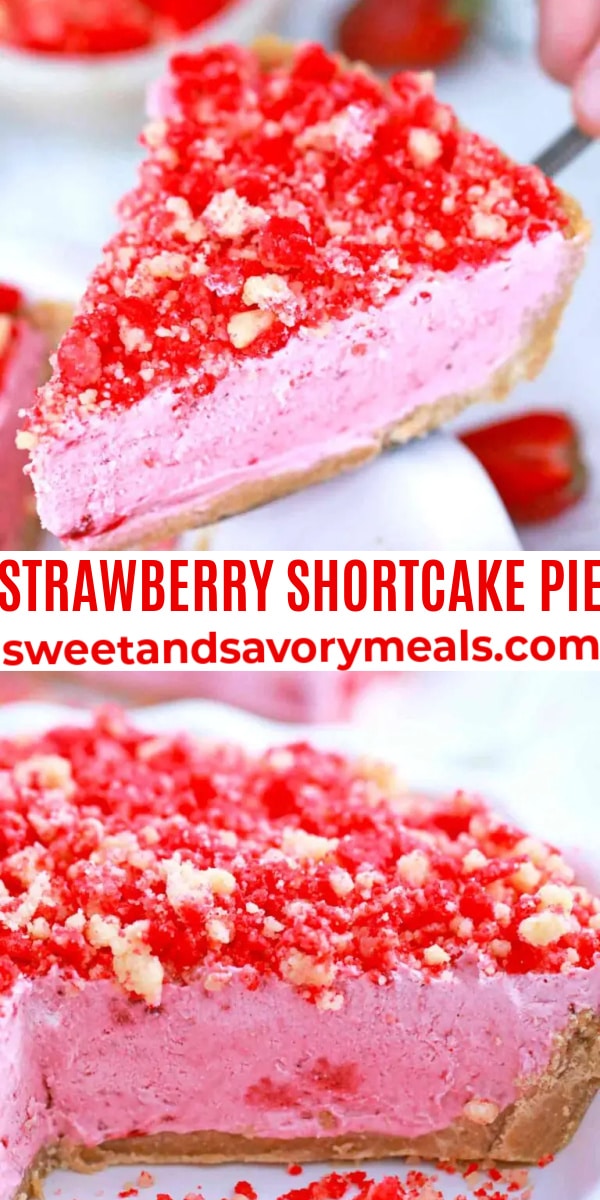 More recipes you might love