Strawberry Mousse is made of fresh strawberries and cream, whipped together until light and airy. A beautiful dessert fit for when you have company or for simply enjoying it by yourself!
When it comes to desserts, anything strawberry-flavored is always a hit. Enjoy more of it in this Strawberry Tiramisu, Strawberry Lava Cakes with Strawberry Curd, and this rustic Strawberry Pie!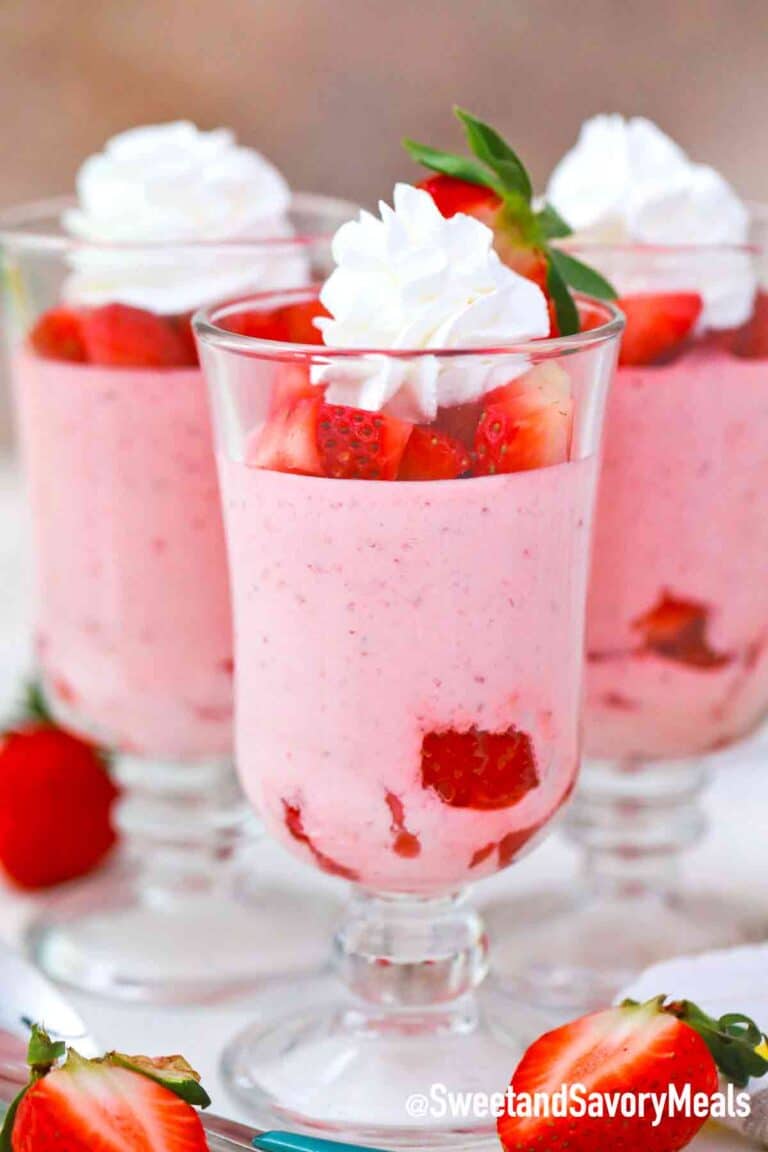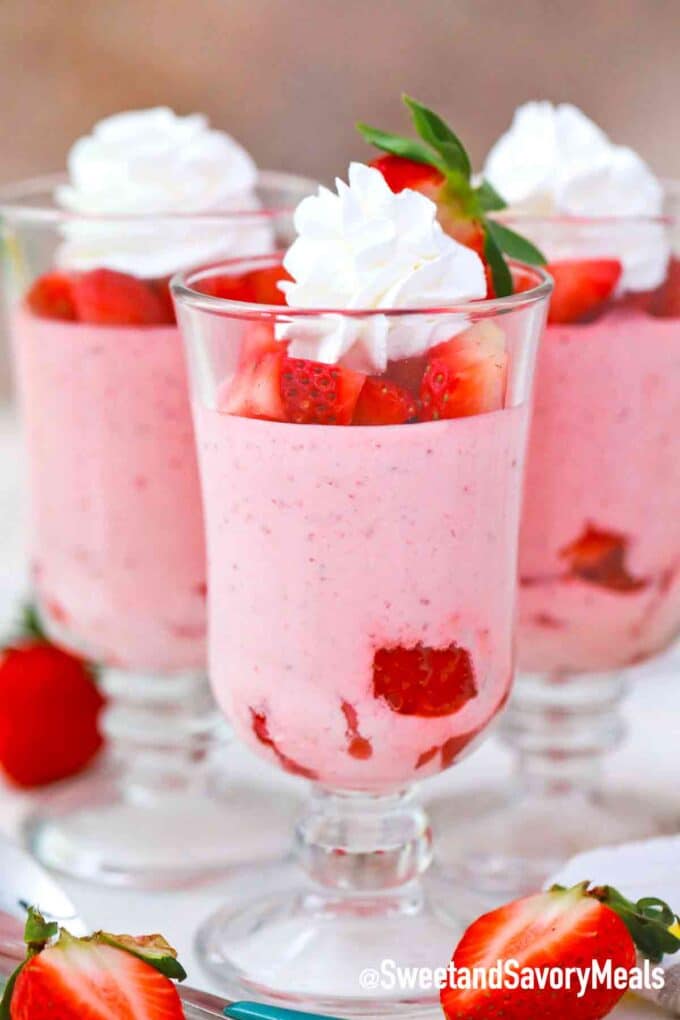 Homemade Strawberry Mousse Recipe
Strawberry Mousse is light as air and bursting with pure strawberry flavor! Plated up with more fresh berries and velvety cream, it looks absolutely fancy and tastes even better. We love serving this during brunches, parties, and other get-togethers.
This delicate dessert may look intimidating to make, but believe me when I say it's beyond easy! There are also tons of variations you can make with this basic recipe. Switch up the fruits, layer on top of a cake or brownie, and more.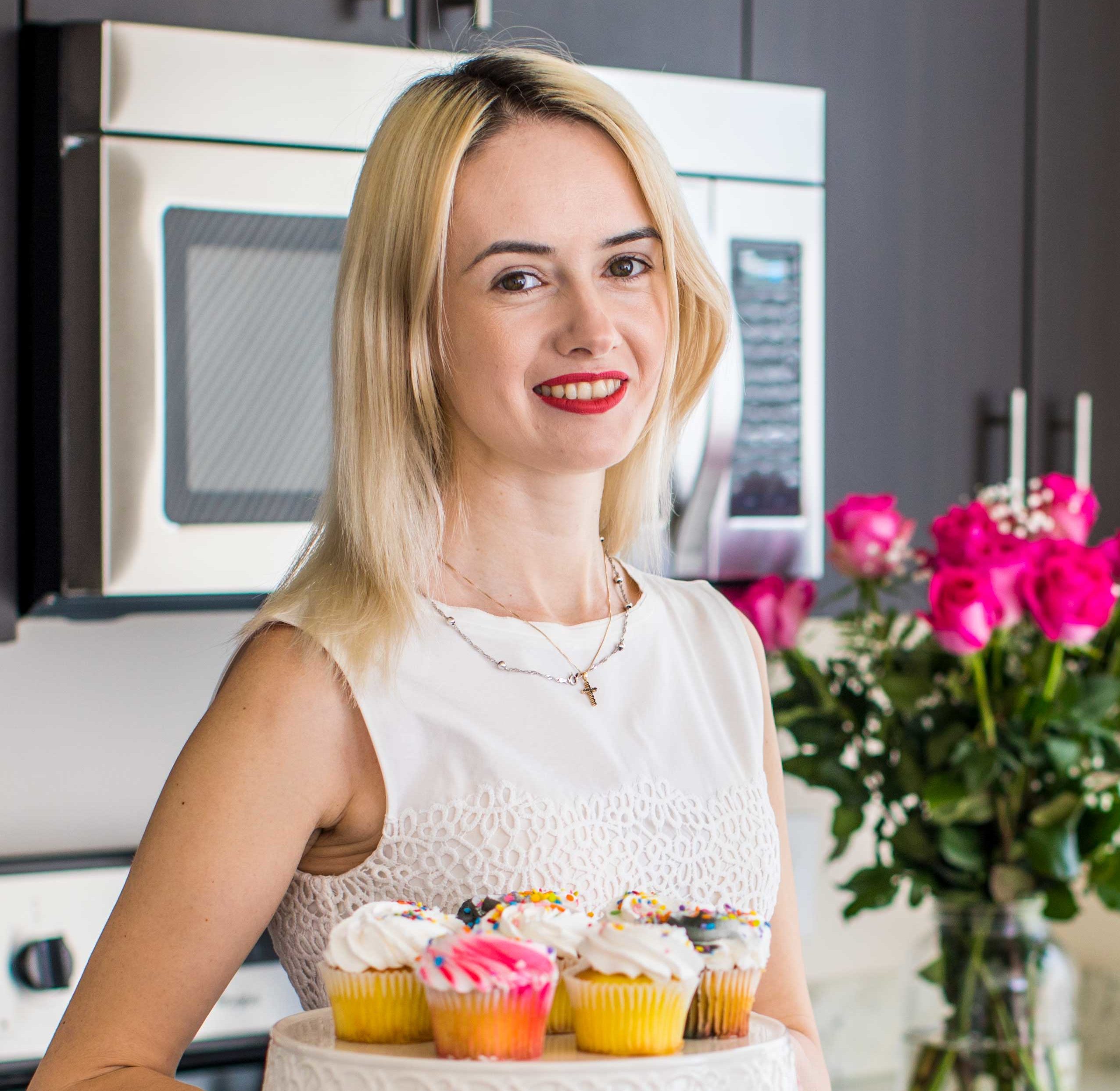 Follow us on Pinterest for more delicious recipes!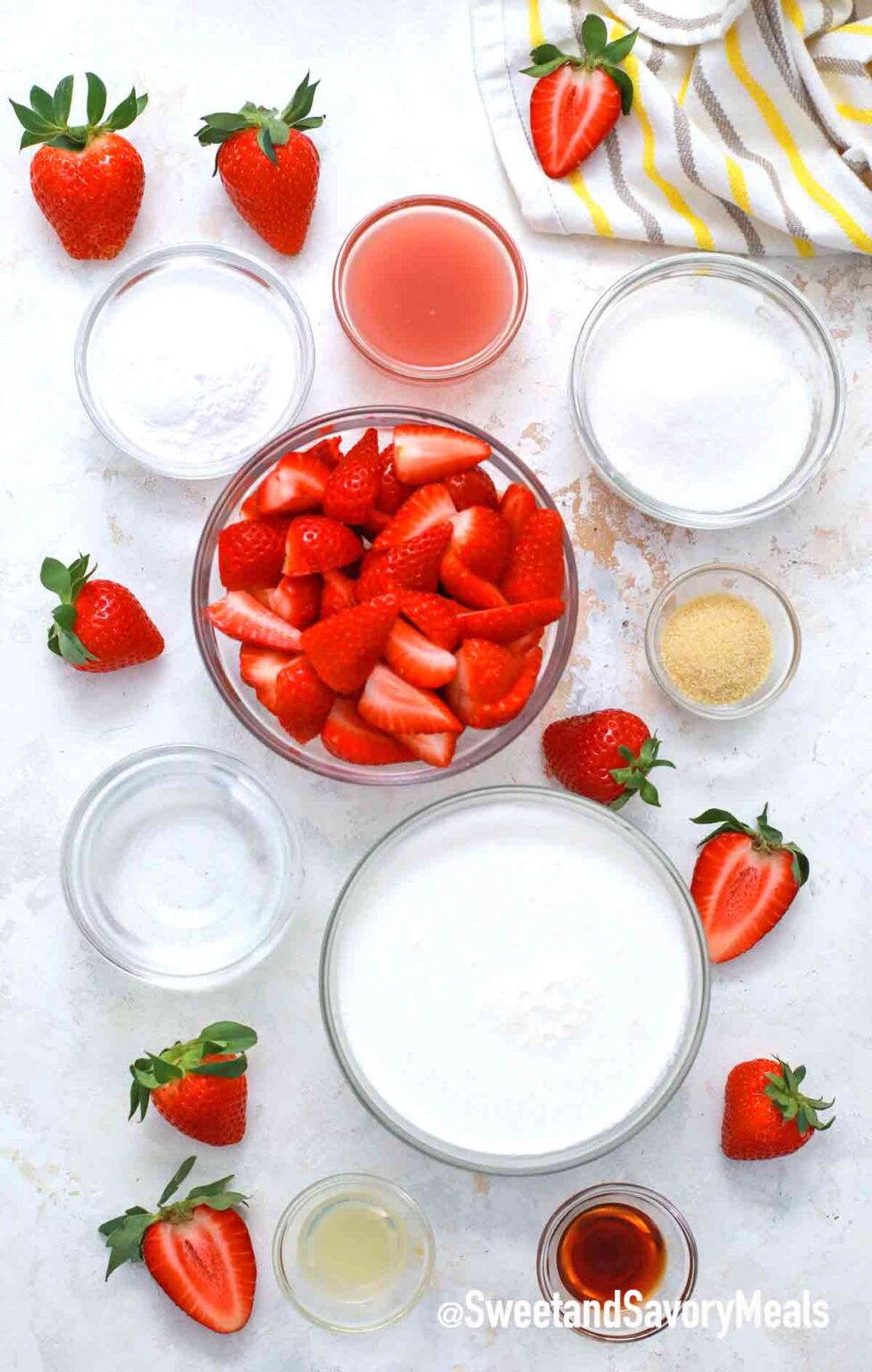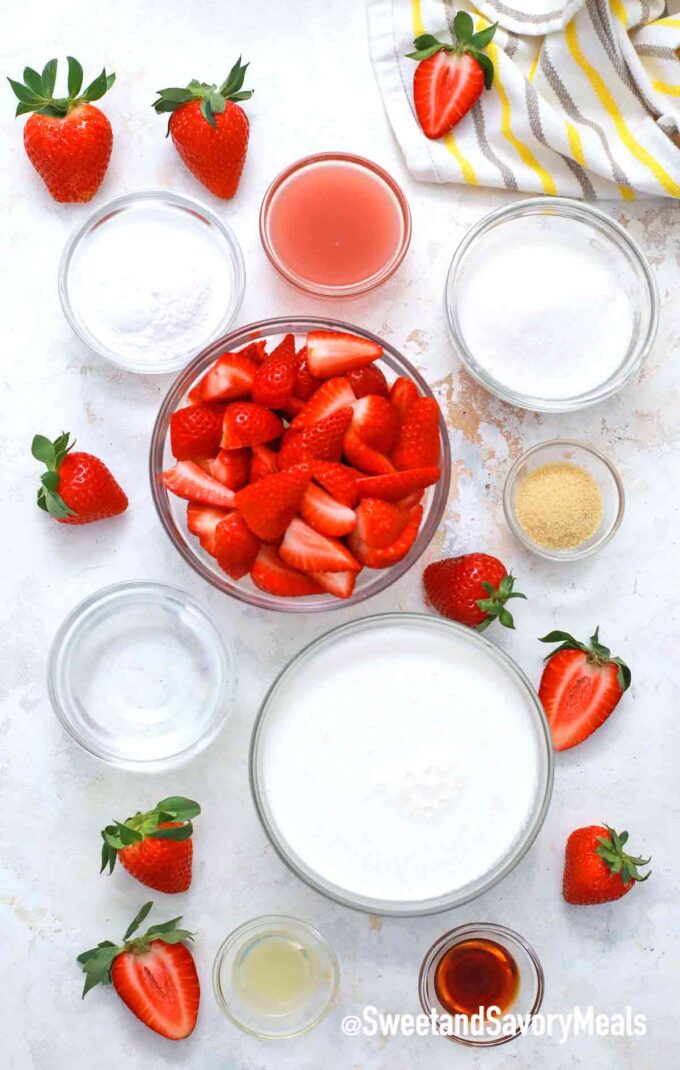 What is mousse?
It's a soft, whipped dessert that can be savory or sweet. It comes in almost endless flavor variations. Some of our favorites are pumpkin, peanut butter, and fruit flavors like clementine, pomegranate, and mango!
What are the basic components of mousse?
The flavor focus (that's our strawberries), a binder (the gelatin), an aerator (the fluffy whipped cream), and flavorings (in this recipe, we're using vanilla and lemon for more flavor).
What do you need to make strawberry mousse
Strawberries: For that pure fruit flavor, we're using both fresh strawberries and their nectar juice.
Whipping cream: Make sure to use chilled, HEAVY whipping cream to give the dessert that rich and silky texture.
Gelatin: Get clear unflavored.
Water: About a half cup, to help the gelatin bloom.
Sugars: Balances out the tangy fruit with a little more sweetness. We're using two kinds, granulated and powdered.
Flavorings: A little lemon juice and a dash of vanilla.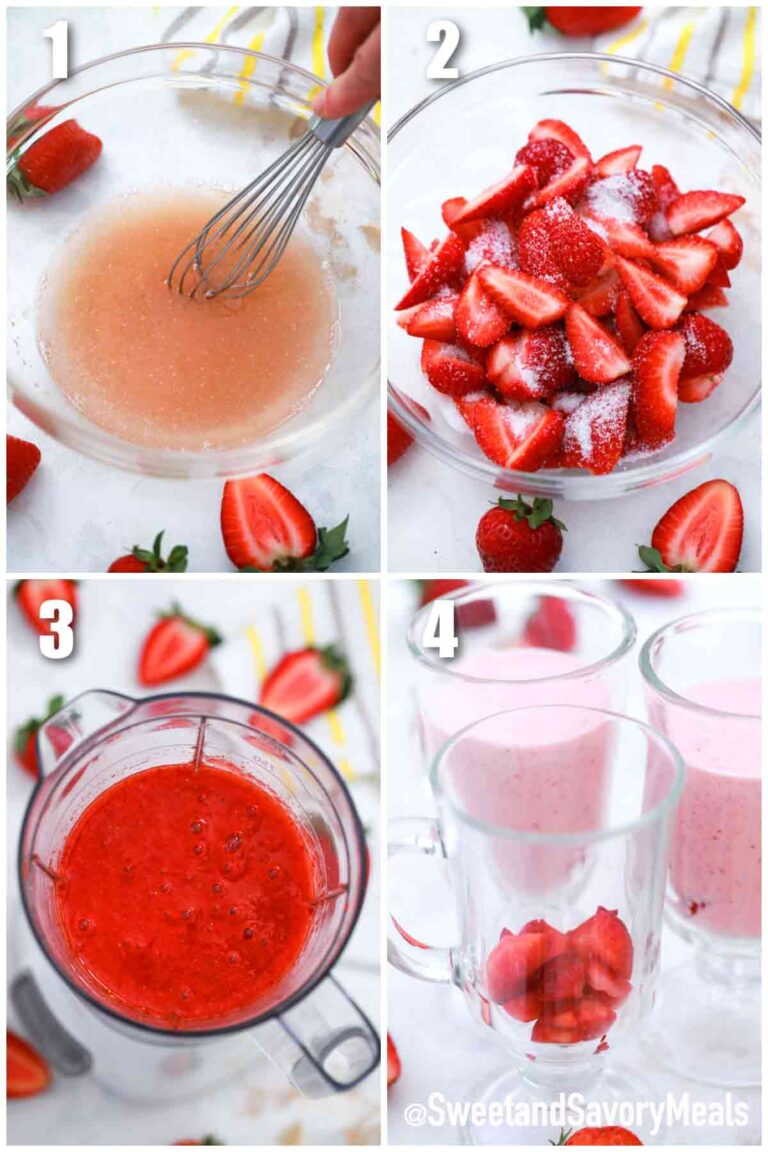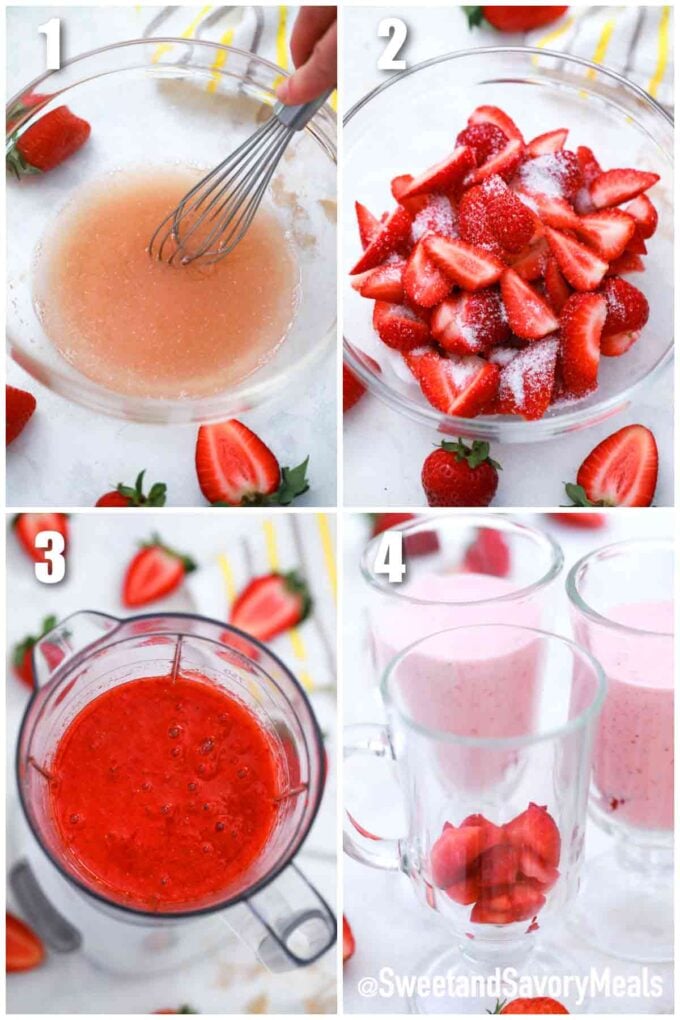 How do you make strawberry mousse from scratch
Bloom. Combining the water with the fruit nectar before carefully mixing the gelatin in it. Leave it aside for 5 mins.
Prep the fruit. Chop a pound of the fruits, then sprinkle with half the sugar before setting aside for 5 mins. Then, pulse or mash together until smooth. For the remaining fruits, sprinkle with the remaining sugar and set aside.
Whip. Mix the cream (it must be COLD) with lemon juice, vanilla, and powdered sugar and whip until you get stiff peaks.
Dissolve. Get your bloomed gelatin and heat it up very gently (you can do this on the stove or microwave) until everything is dissolved.
Mix. Pour your dissolved gelatin into the pureed fruit, then very carefully fold into the whipped cream.

Plate up. Spoon some fruit into the bottom of your serving container. Place mousse on top. Chill for at least 4 hrs.
Serve. Top with more fresh fruit and cream. Enjoy.
Recipe variations:
Mixed berries: Add in some blackberries and blueberries into the puree.
Mixed fruits: Blend in some sweet mangoes, kiwis, or passion fruits into the strawberries.
Curd topping: Top with lemon curd, vanilla bean strawberry curd, or key lime curd instead of cream for a refreshing finish.
Trifle: Alternate layers of fruit, chiffon, mousse, and whipped cream.
Brownie: Bake classic chocolate or these tangy lemon brownies, and then chill until completely cool. After that, top with the mousse layer and chill. Slice into bars and enjoy.
Cake – Bake a basic yellow cake, or this fluffy orange cake to make it extra fruity. Cool, then spread the mousse on top and chill.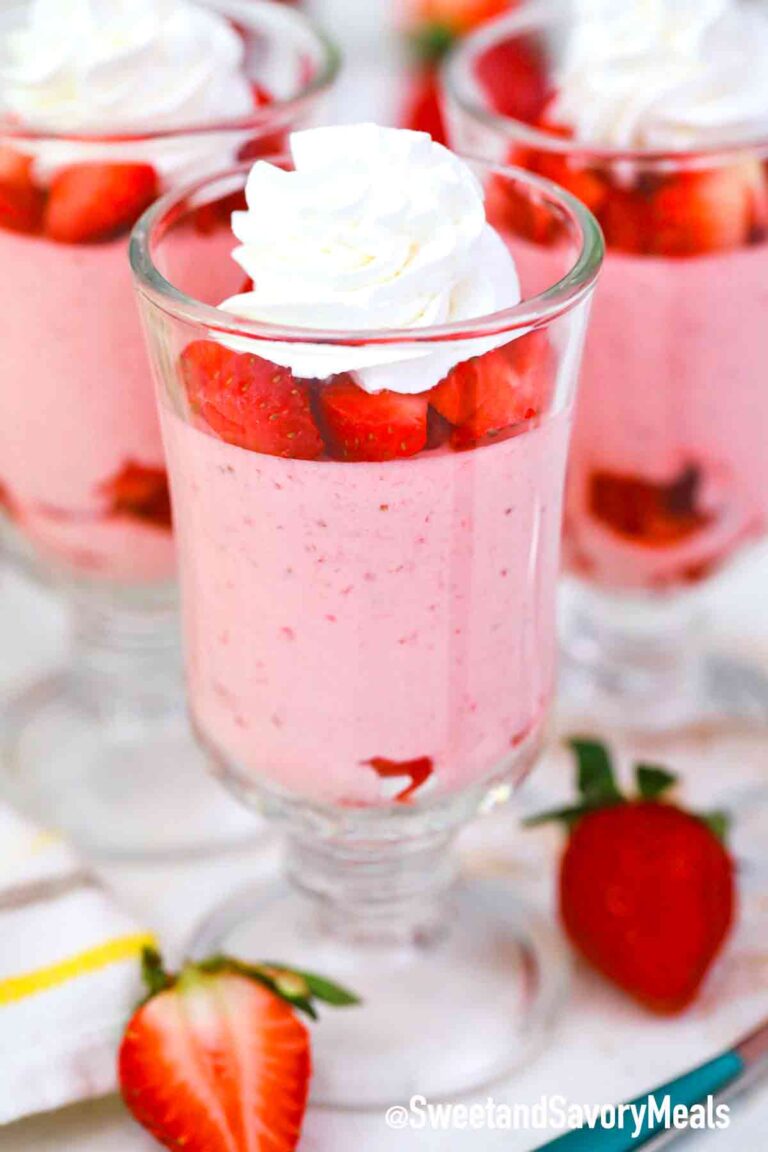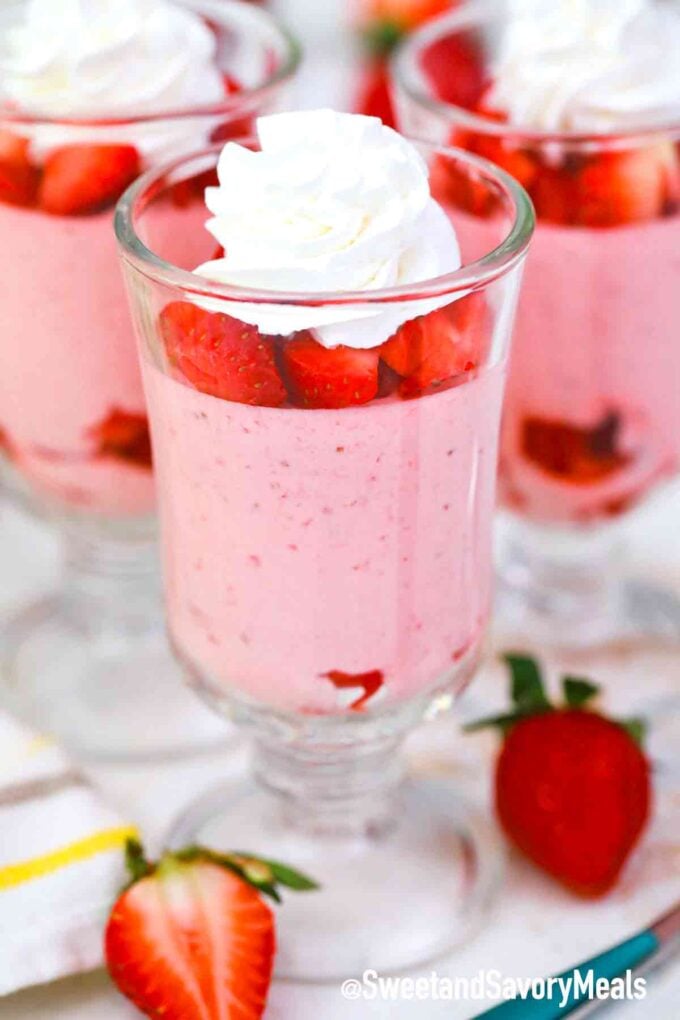 How do you thicken strawberry mousse?
We use gelatin to give the dessert a thick consistency and structure.
How do I make mousse firmer?
Make sure to bloom your gelatin properly, and don't skip the chilling process to firm it up.
Is gelatin vegetarian?
No. However, you can replace it with agar-agar for a vegetarian/vegan version.
What can I use instead of gelatin?
Again, you can use agar-agar, a seaweed-based gelatin alternative. Other mousse recipes also use egg yolks, a cream-egg yolk mixture, or cornstarch.
How to serve:
Get creative! Serve it in delicate shot glasses or flutes, or spoon into ramekins. You can also top them with more chopped strawberries or other fruits. Don't forget the whipped cream!
How to store leftovers:
Cover the containers tightly with plastic wrap then foil to prevent moisture from deflating the dessert. Then, store in the refrigerator for up to 3 days.
How to freeze and defrost mousse:
Definitely. Transfer to a Ziploc, then push the air out before freezing for up to 2 months. To defrost, simply transfer from the freezer to the lower part of the fridge until it's soft.
More Strawberry Recipes:
Save Recipe
Strawberry Mousse Recipe
Strawberry Mousse is made of fresh strawberries and cream, whipped together until light and airy.
Author: Catalina Castravet
Serves: 6 servings
Prep time:

30

minutes
Total time:

4

hrs

30

mins
Notes:
The heavy cream must be VERY COLD, or it won't whip up.
Don't boil your gelatin! Just very gently heat it up until dissolved.
This should be chilled for at least 4 hrs., or the dessert will end up runny.
Nutrition information
Calories: 233 Carbohydrates: 49 Protein: 7 Fat: 2 Saturated Fat: 1 Cholesterol: 7 Sodium: 68 Potassium: 509 Fiber: 4 Sugar: 44 Vitamin A: 293 Vitamin C: 112 Calcium: 205 Iron: 1
Save Recipe
More recipes you might love
Categories: