No Bake Strawberry Cheesecake [Video]
No Bake Strawberry Cheesecake is an easy, luscious dessert loaded with fresh strawberry flavors. The buttery Oreo crust takes it over the top!
Looking for more sweet ways to use cream cheese? Try this Cherry Cream Cheese Coffee Cake which is perfect with tea or a cup of joe. My Cinnamon Cream Cheese Cookies are always a huge hit, same with this Pumpkin Bread with Cream Cheese that's full of autumn flavors.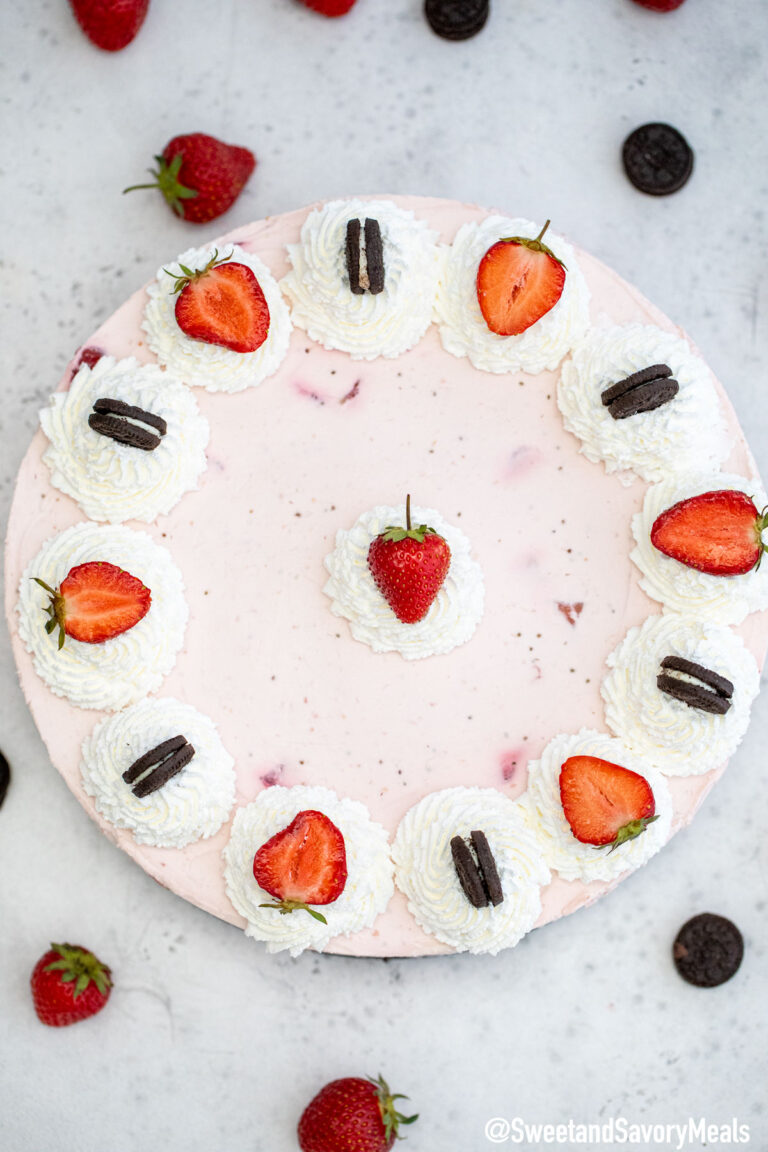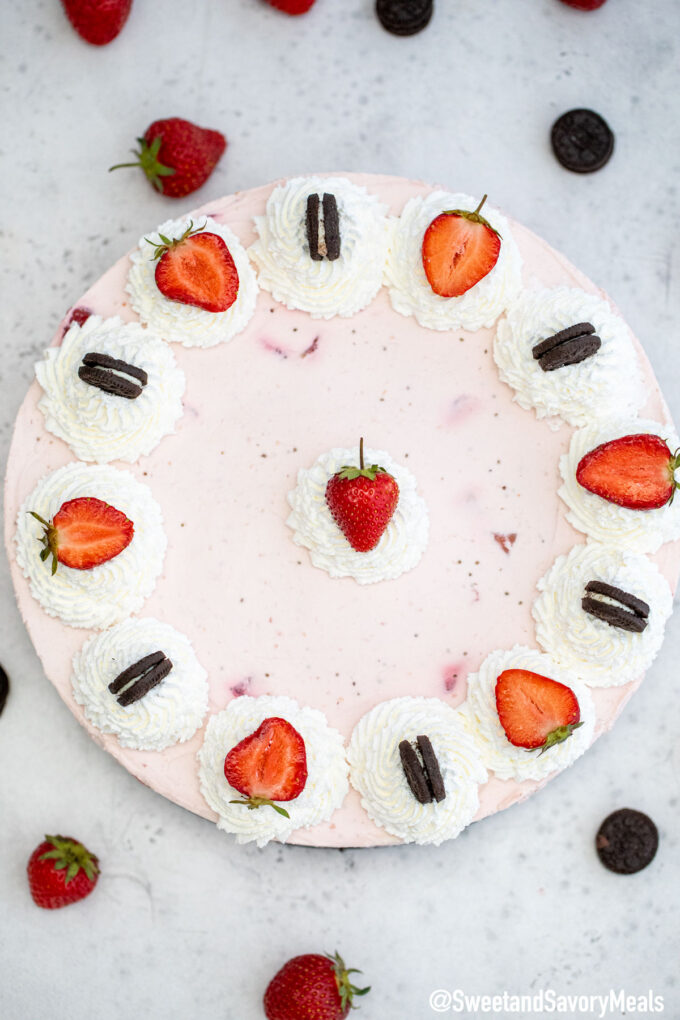 Strawberry Cheesecake Recipe
No Bake Strawberry Cheesecake is a lighter alternative to the baked version. I do love classic cheesecakes, but they tend to be dense and heavy. Also, I know that not all of us have fully-equipped kitchens.
This recipe means you can enjoy homemade cheesecake any time you want even without an oven!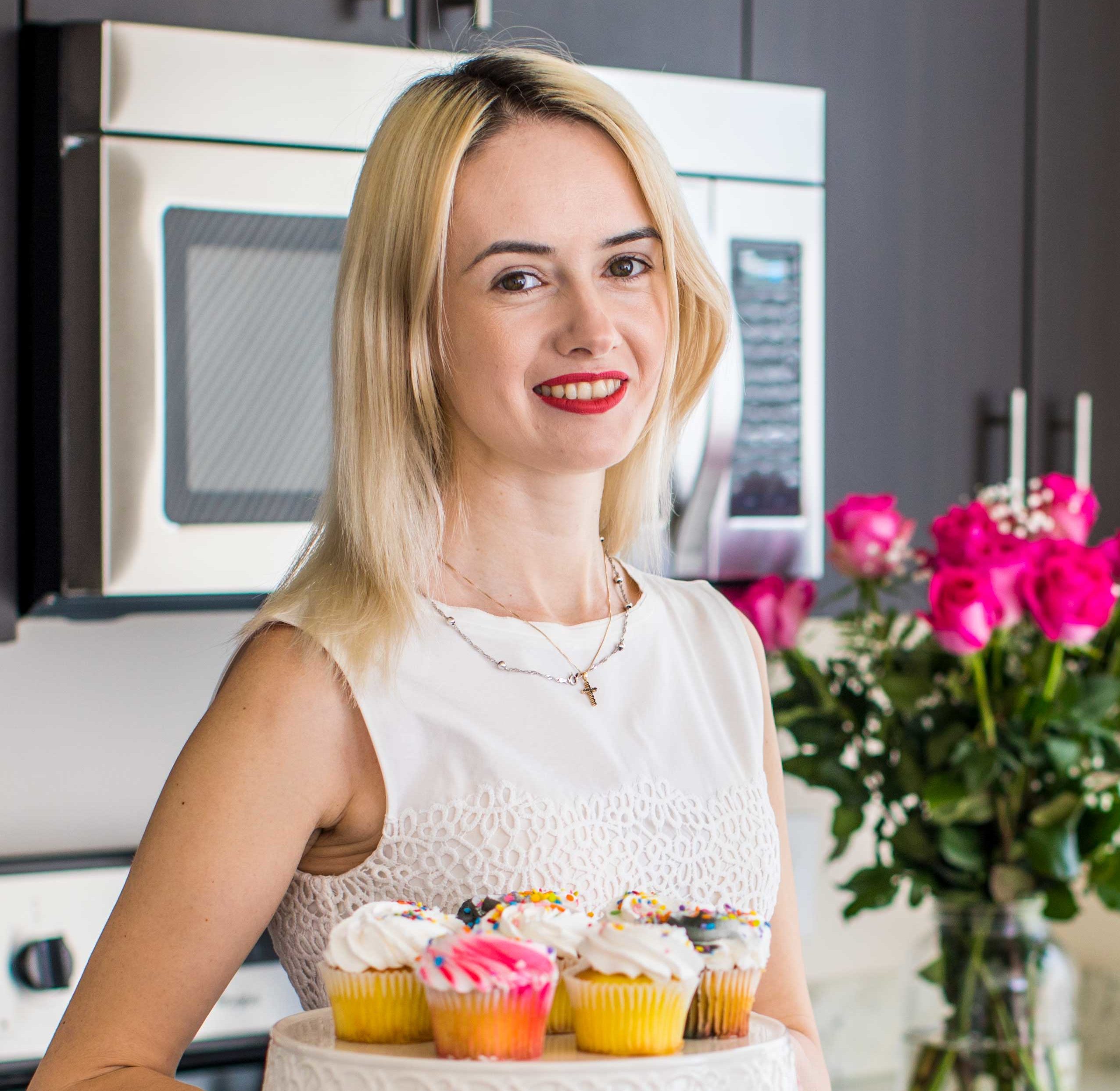 Follow us on Pinterest for more delicious recipes!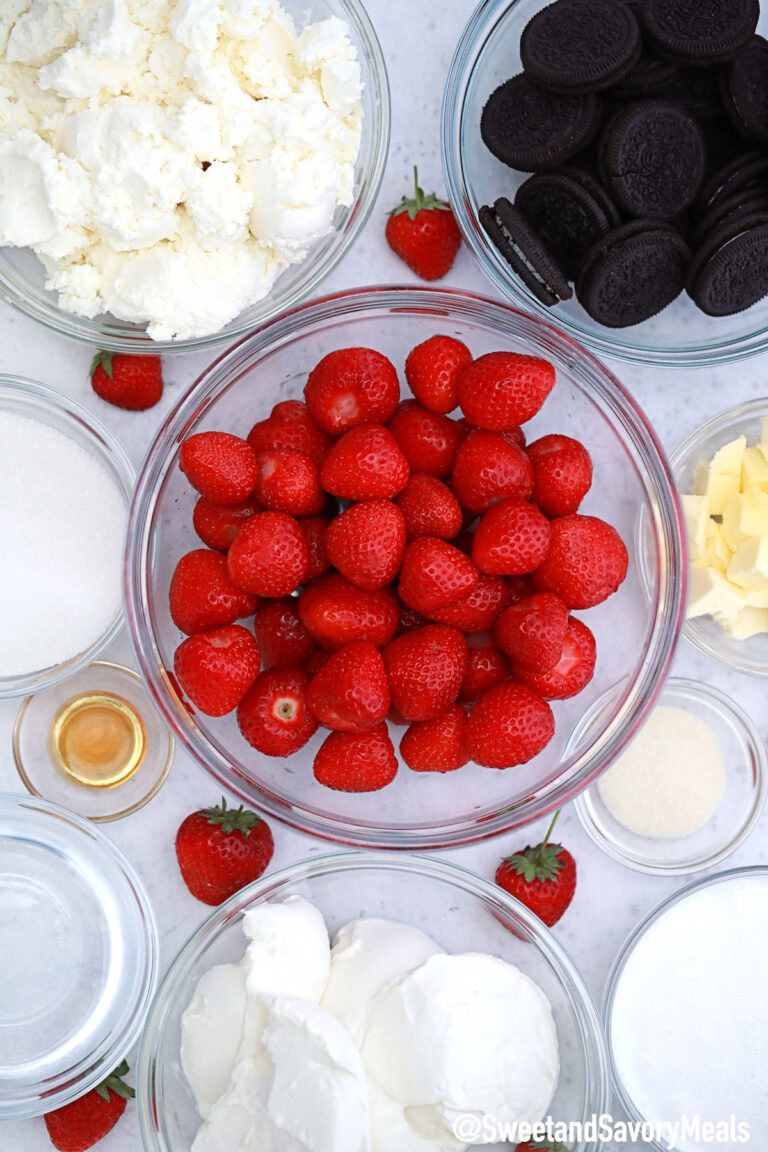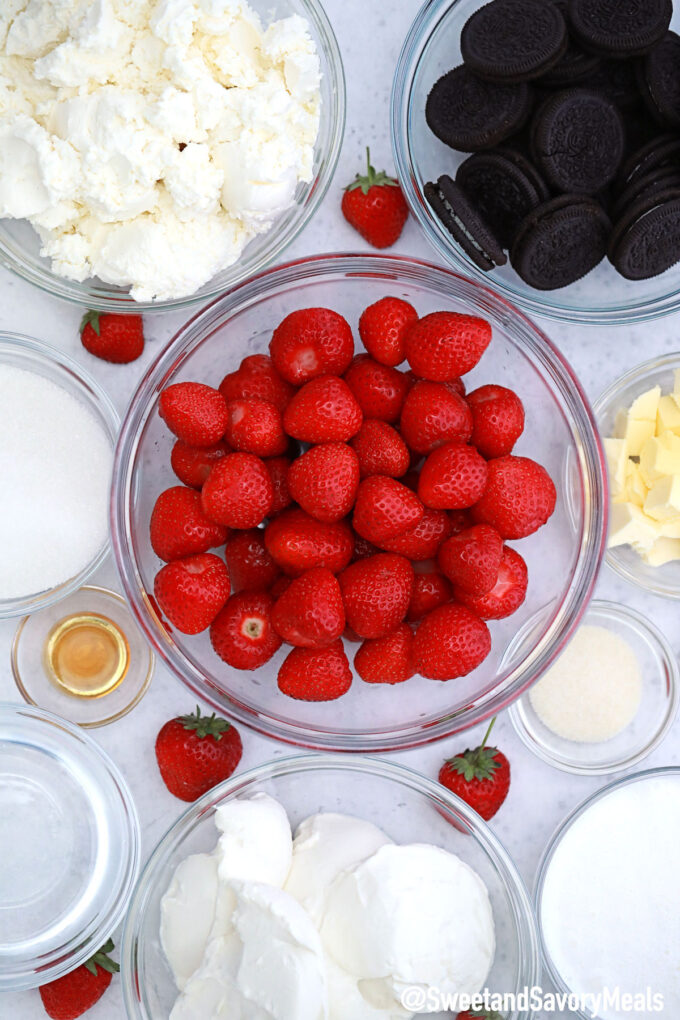 The lovely thing about this no-baked version is that it's very customizable, and I'll be sharing a few ways to jazz it up later on. Fair warning— this No Bake Strawberry Cheesecake is highly addictive, so get ready for everyone to keep requesting it all the time!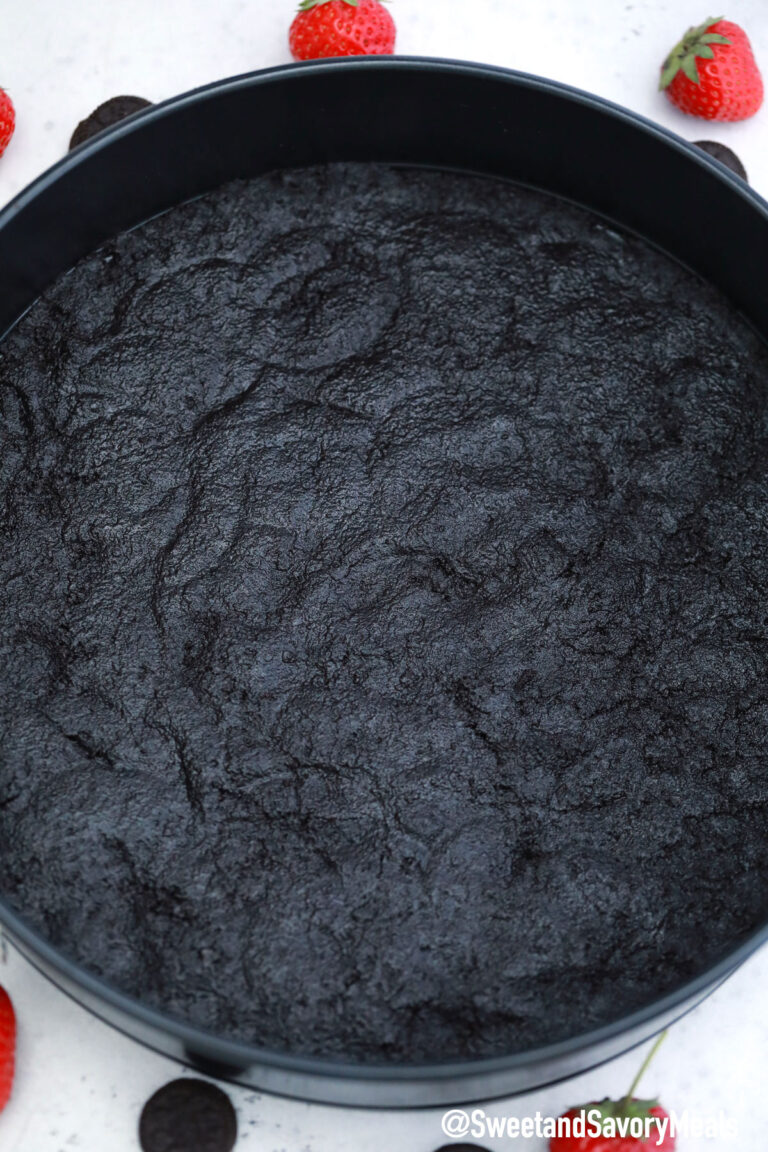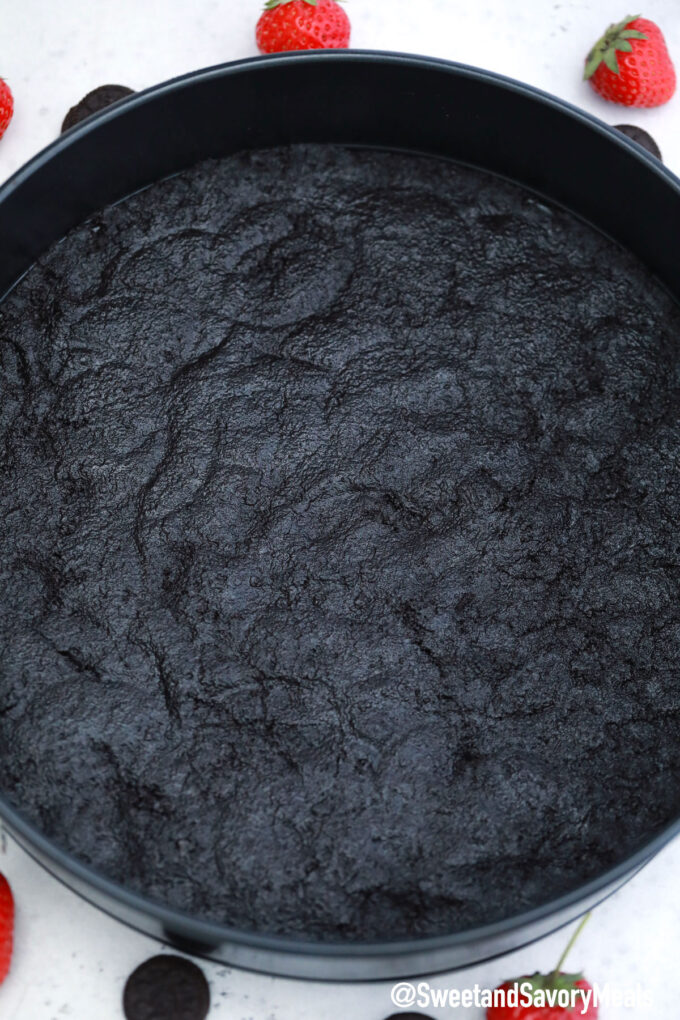 What do you need to make No Bake Strawberry Cheesecake?
You're going to need butter and Oreo crumbs for the crust.
For the cheesecake filling, prepare strawberries, mascarpone, and cream cheese, plus whipping cream, sugar, and vanilla extract.
You'll also need water and unflavored gelatin which will help the cheesecake set.
Finally, you'll need sugar and heavy whipping cream for the topping.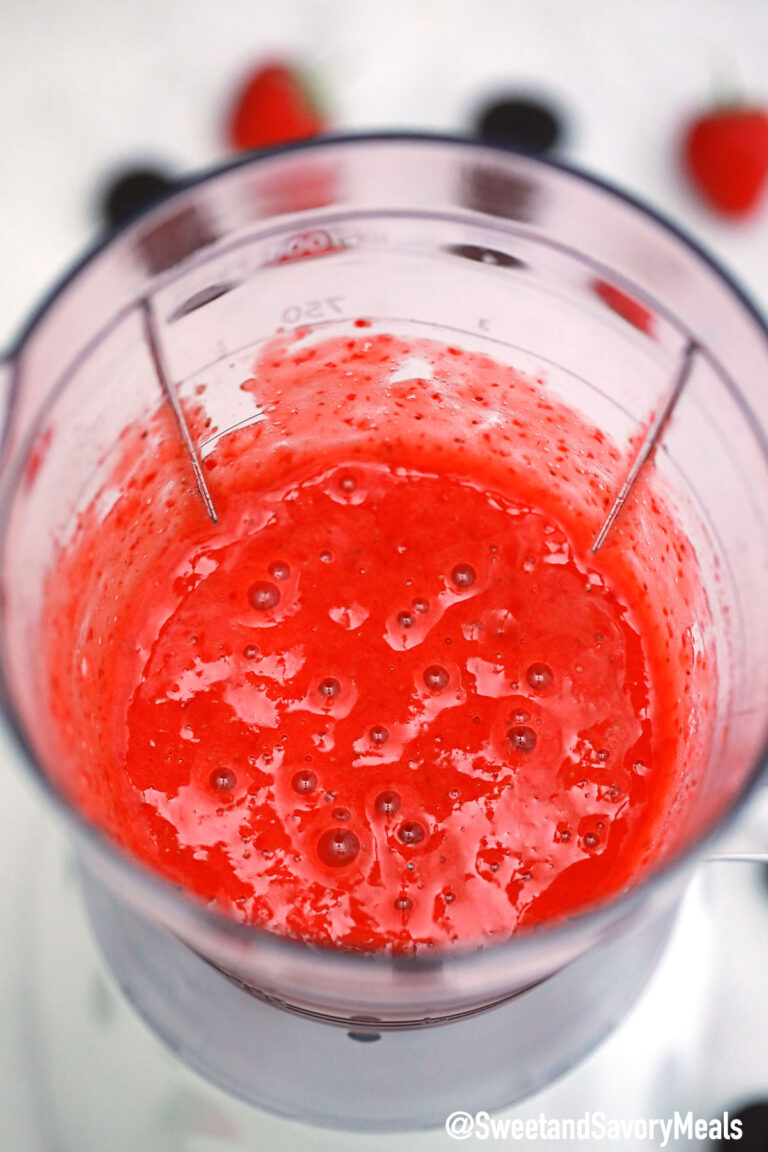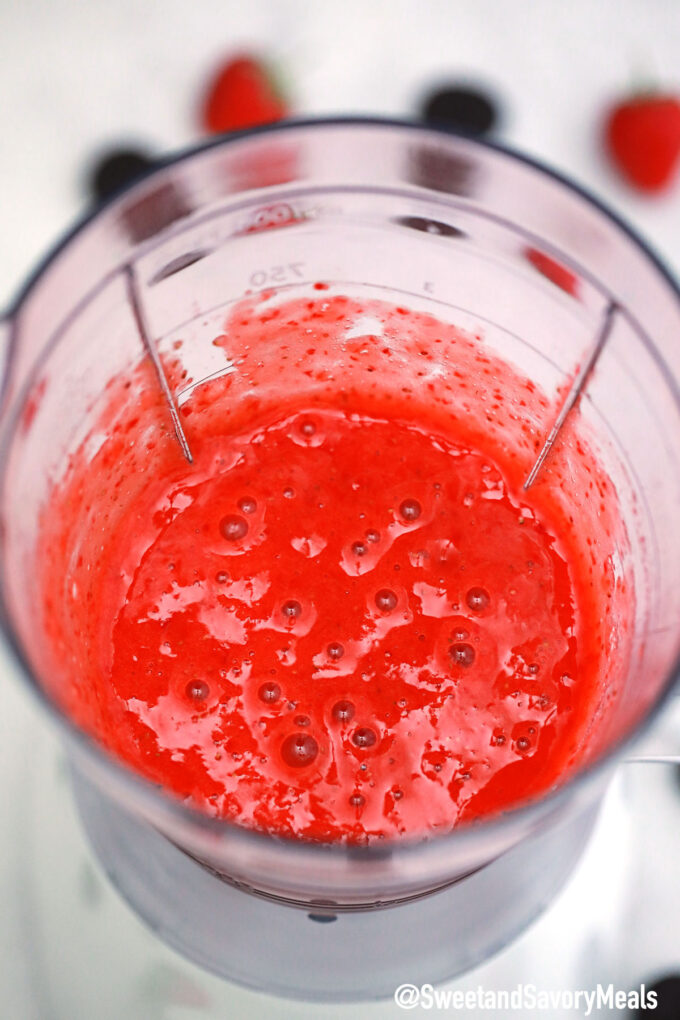 How to make the best No Bake Strawberry Cheesecake
Combine melted butter and Oreo crumbs. Press onto your pan. Refrigerate for 20-30 minutes.
Process the strawberries until smooth.
Make your cheesecake batter by combining mascarpone, cream cheese, and sugar.
Combine the gelatin and fruit mixture, then combine with the cheesecake batter.
Spread on top of the Oreo crust and chill for 6 hours or overnight.
Top with whipped cream. To make, whip your cold cream and sugar until stiff peaks form. Transfer to a piping bag, and pipe the top of your cheesecake with it.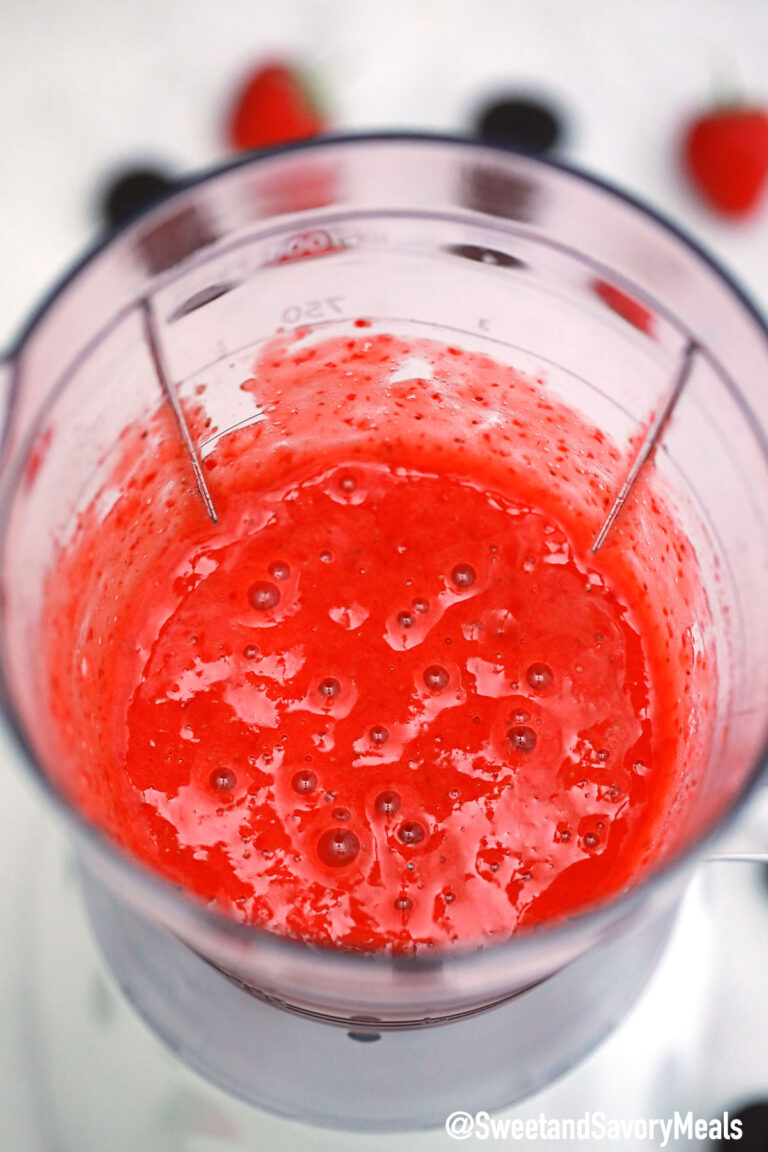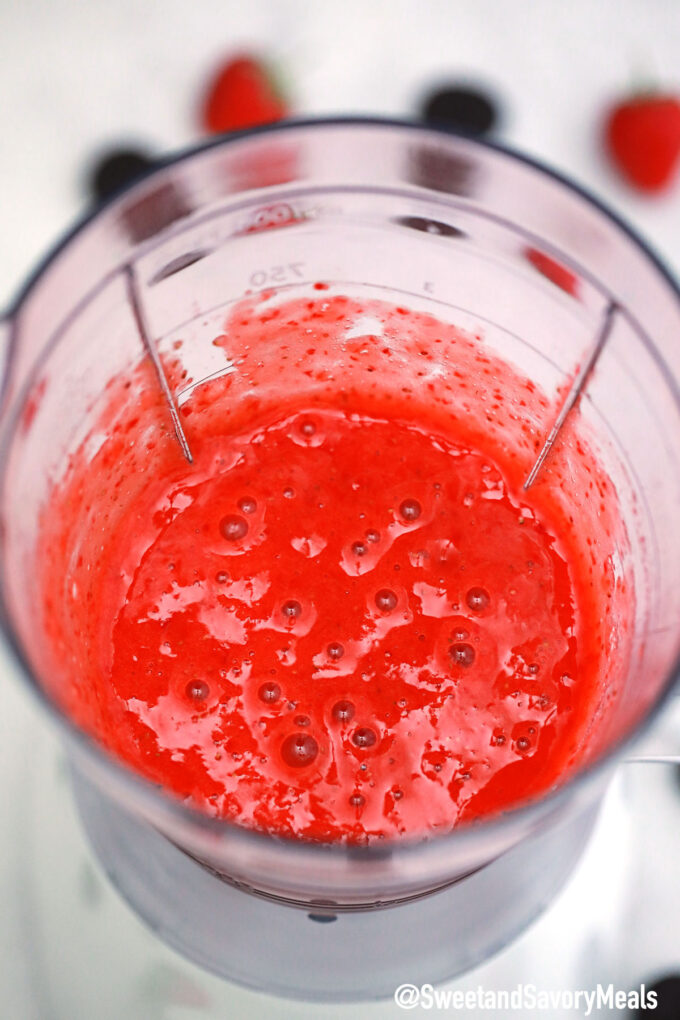 What brand of cream cheese is best for cheesecake?
Different cheesecake brands vary wildly in texture and flavor. Some are on the sweet and creamy side, while others are tangy and thick.
The best way to see which brand you like best is to simply try them out. Start with the brands that are easily available to you.
No matter what brand you choose, always get the cream cheese that comes in blocks. Never use the spreadable kind since it doesn't have the ideal consistency for cheesecake.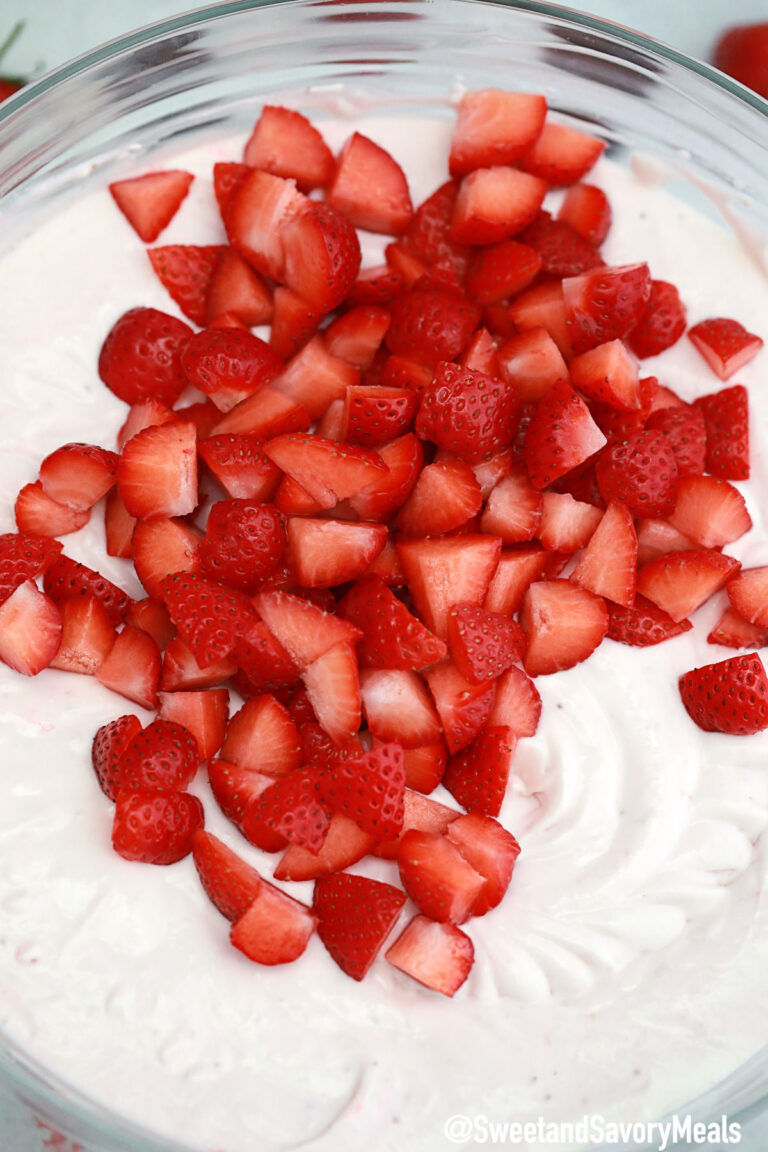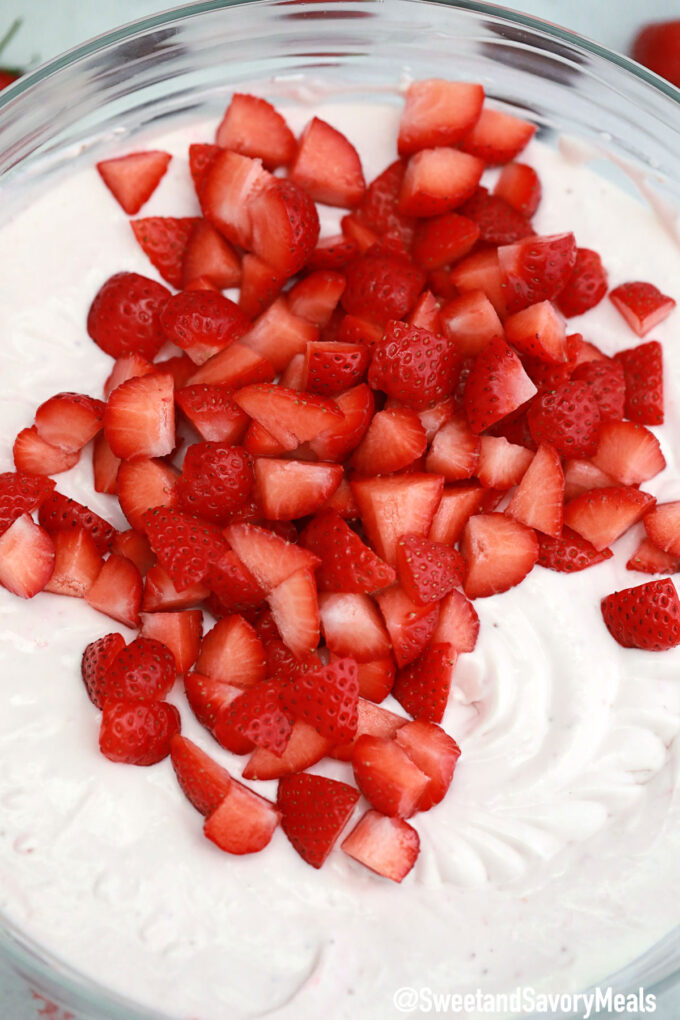 Can I use frozen strawberries?
Yes! You'll be processing the fruit anyway, so frozen is fine. Unlike fresh, you don't need to worry if they're sweet enough as well since they're always frozen at their sweetest. Be sure to thaw the package before using it.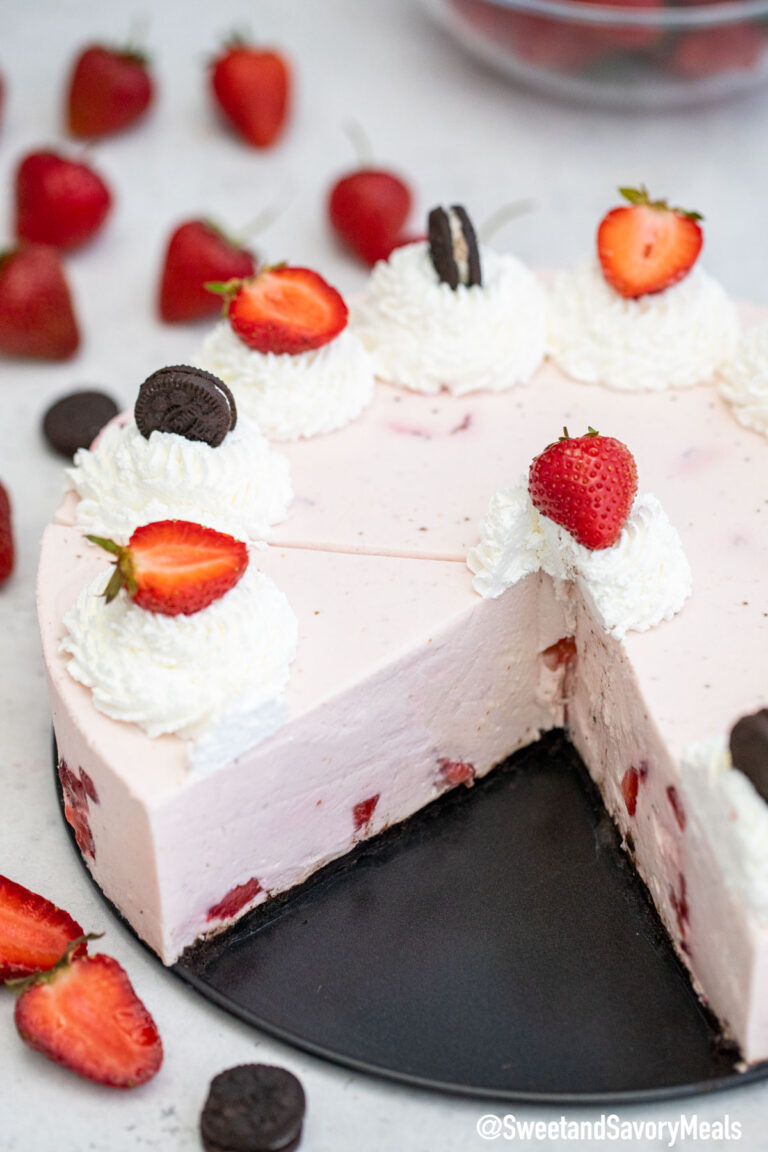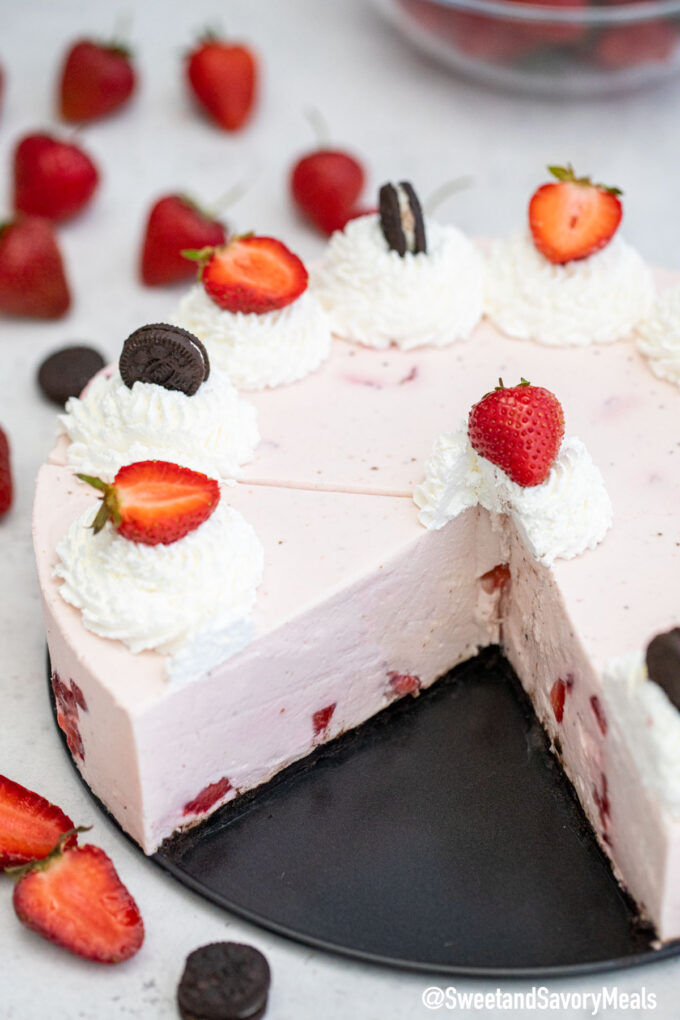 How to bloom gelatin?
Get your cold water, and sprinkle the gelatin powder on top. Set aside for a minute or two to bloom. Combine, microwave for a half a minute, and whisk until the gelatin forms.
Can you make it in advance?
Yes, and that's one of the best things about this recipe! Once it firms up, just keep it in the fridge for a day or two until you're ready to serve.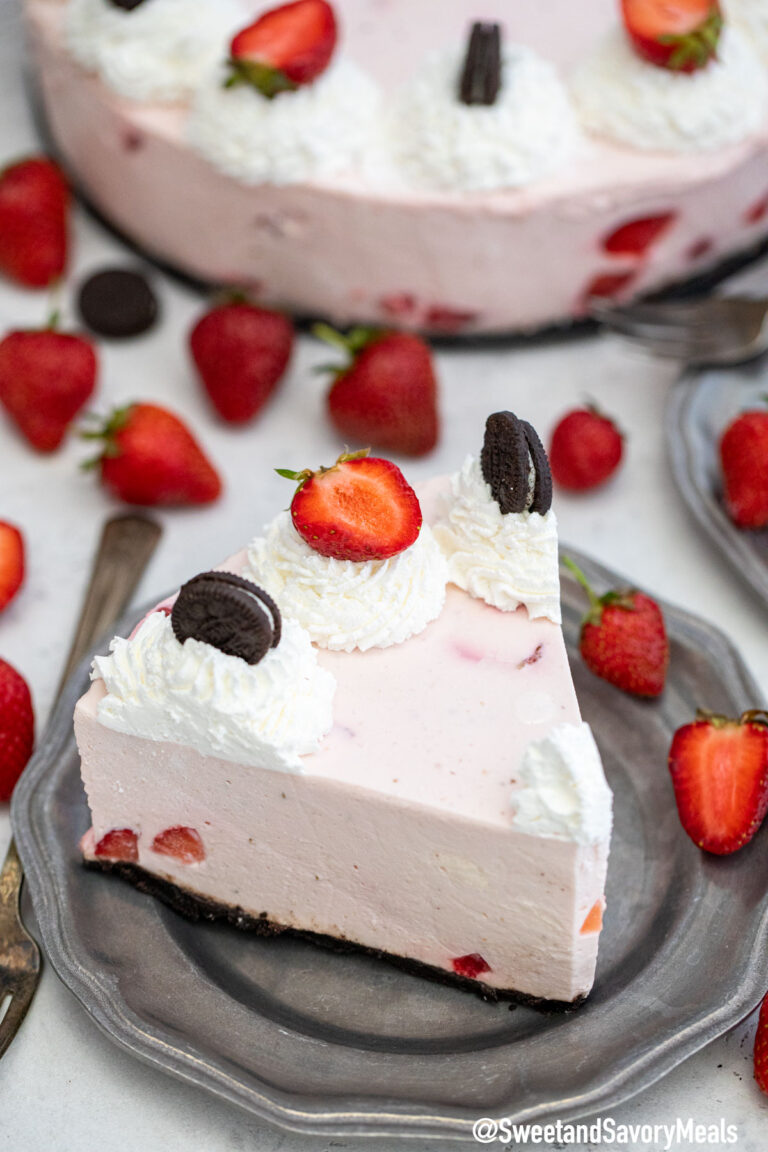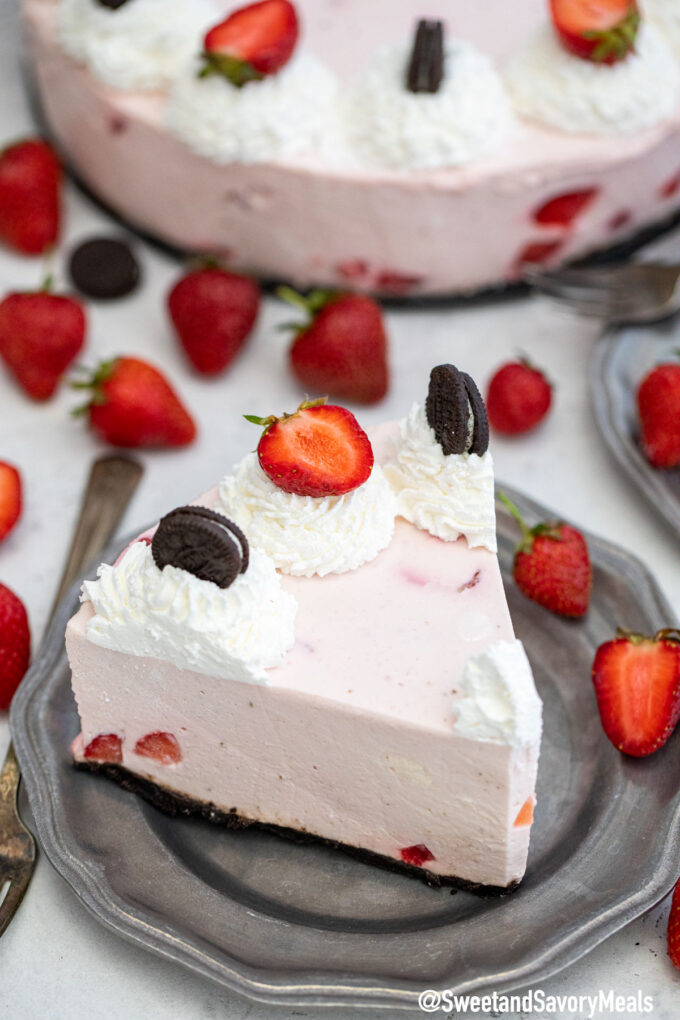 How to freeze a no-bake cheesecake?
Wrap the chilled cheesecake in plastic wrap and foil. Freeze up to a month.
More delicious cheesecake recipes: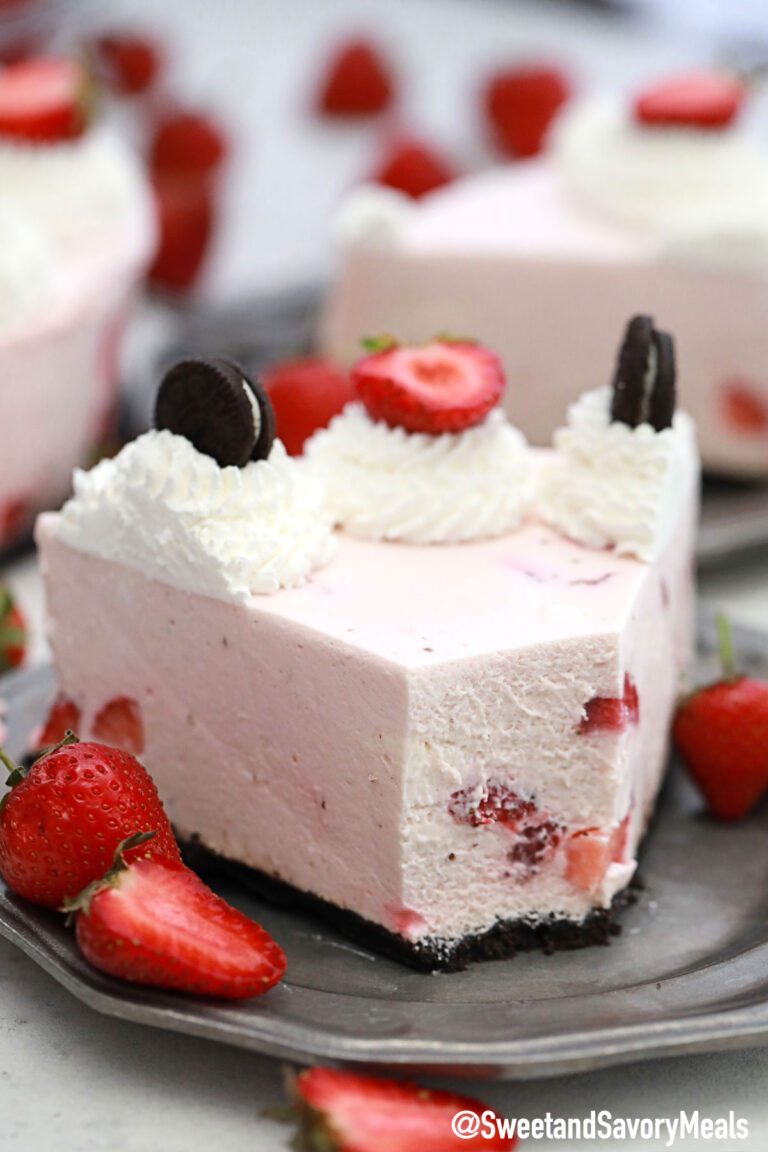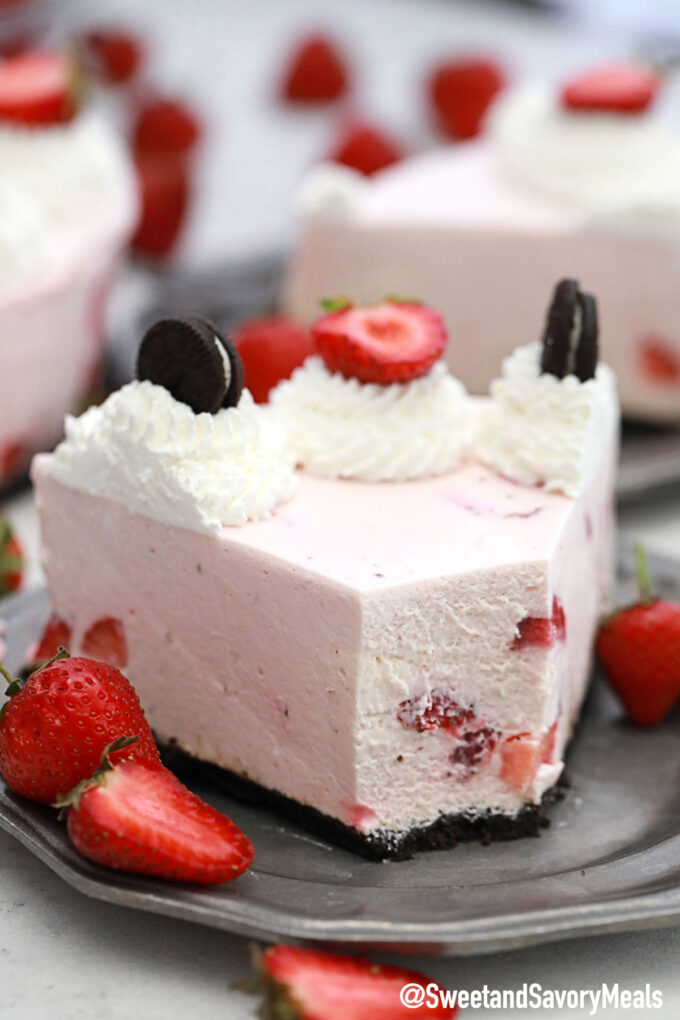 Recipe Tips:
Not a fan of Oreos? You can replace it with graham cracker crumbs.
Save some strawberry chunks for mixing into the batter.
No-bake cheesecakes should always be served chilled.
Customize this by using different fruits, such as mangoes, raspberries, blueberries, and cranberries.
Save Recipe
No Bake Strawberry Cheesecake
Author: Catalina Castravet
Serves: 12 slices
Prep time:

1

hour
Total time:

7

hrs
Ingredients
Crust:
20 Oreo Cookies (crushed into crumbs)
6 tablespoons unsalted butter (melted)
Cheesecake Filling:
4 envelopes unflavored gelatin (7 grams per envelope)
2/3 cup water (cold)
3 cups strawberries (cut into cubes)
24 oz cream cheese (room temperature)
8 oz mascarpone cheese (room temperature)
1 1/2 cups white granulated sugar
1 cup heavy whipping cream (cold)
1 teaspoon vanilla extract
Whipped Cream:
1 cup heavy whipping cream (cold)
3 tablespoons white granulated sugar
Garnish:
Instructions
Crust:
Add Oreo crumbs to a medium bowl and mix with melted butter until fully combined.
Press the mixture onto the bottom and sides of a 19 or 10-inch springform pan or a 9x13 inches cake pan. Use a measuring cup to press the mixture, it makes the process very easy. Refrigerate for 20-30 minutes.
Gelatin Mixture:
Add 1 cup of cold water to a small bowl, sprinkle the gelatin on top. Let it bloom for 1-2 minutes. Whisk to combine, microwave for 30 seconds and whisk until fully combined and a gelatin mixture is formed. Set aside.
Cheesecake Filling:
Add 1 ½ cups of strawberries to a food processor and process until smooth. Set aside.
In a large bowl, using an electric hand mixer or stand mixer, mix together cream cheese, mascarpone cheese, and 1 cup of sugar on medium-low speed until combined. Stop once to scrape the sides and bottom of the bowl. Do not mix at high speed or overmix, as the mascarpone cheese can begin to separate.
In a chilled mixing bowl, add the cold heavy whipping cream, remaining sugar, and vanilla extract. Whip on high speed until stiff peaks form. Manually, using a spatula, fold the whipped cream into the mascarpone cream cheese mixture.
Add the strawberry puree to the gelatin mixture, mix.
Add the strawberry gelatin mixture to the cheesecake batter and mix to fully combine.
Fold in with a spatula the remaining cubed strawberries.
Spread the cheesecake filling evenly on top of the crust. Level the top with a spatula.
Set the cheesecake in the refrigerator to chill and firm, 6 hours or better, overnight.
Whipped Cream:
Add the cold heavy whipping cream and sugar to a large mixing bowl. Whip on high speed until stiff peaks form. Add whipped cream to a piping bag fitted with a large star tip and pipe cream on top of the cheesecake.
When ready to serve, carefully remove the cheesecake from the springform pan.
Decorate with fresh strawberries and mini Oreos. Always serve chilled.
Store in the fridge for up to 4 days.
Calories: 480 Carbohydrates: 52 Protein: 9 Fat: 27 Saturated Fat: 16 Cholesterol: 67 Sodium: 437 Potassium: 297 Fiber: 1 Sugar: 43 Vitamin A: 834 Vitamin C: 21 Calcium: 171 Iron: 2
Save Recipe
More recipes you might love