Creamy Strawberry Pie Recipe
Creamy Strawberry Pie made with fresh and aromatic strawberries, baked into a luxurious custard and topped with a buttery streusel topping, makes the perfect summer treat.
I love making easy and delicious strawberry desserts. Among my most popular once are Strawberry Poke Cake, Strawberry Bars, and Strawberry Lava Cakes.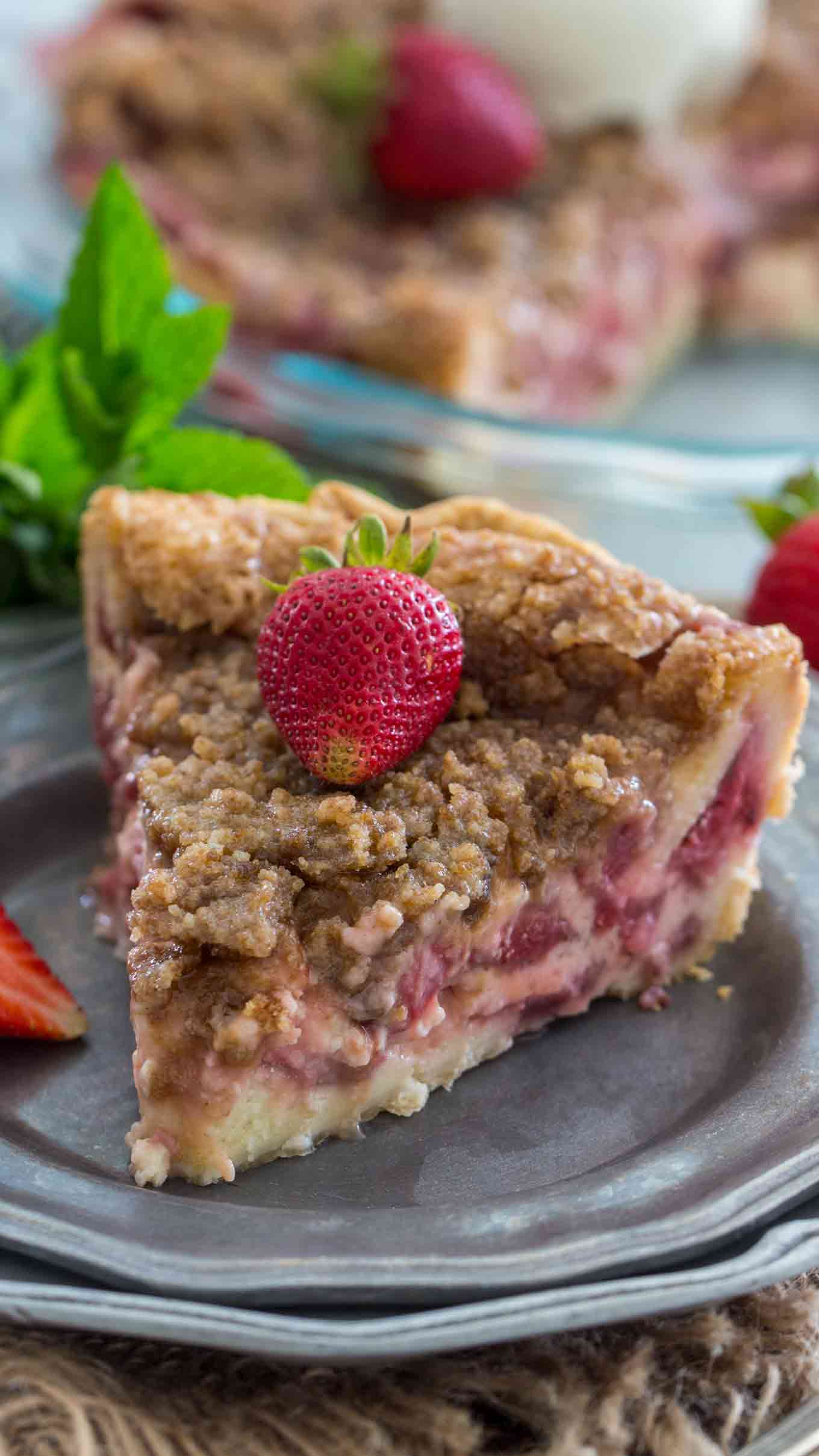 Creamy Strawberry Pie
A Creamy Strawberry Pie is one of my favorite treats to make with fresh strawberries. This is such an easy and luxurious dessert and perfect to put some berries to good use. This pie can be made with other berries as well, like blueberries, blackberries, raspberries. You can also make it with peaches or cherries! The Creamy Strawberry Pie melts in your mouth with each and every bite. I love the buttery crust, the creamy filling with the juicy and sweet strawberries and the crispy streusel topping.
Serve this pie with vanilla ice cream and fresh mint leaves, it makes the perfect dessert on a hot summer evening! While the pie is amazing on its own, when you top it with some vanilla ice cream, it makes it even better!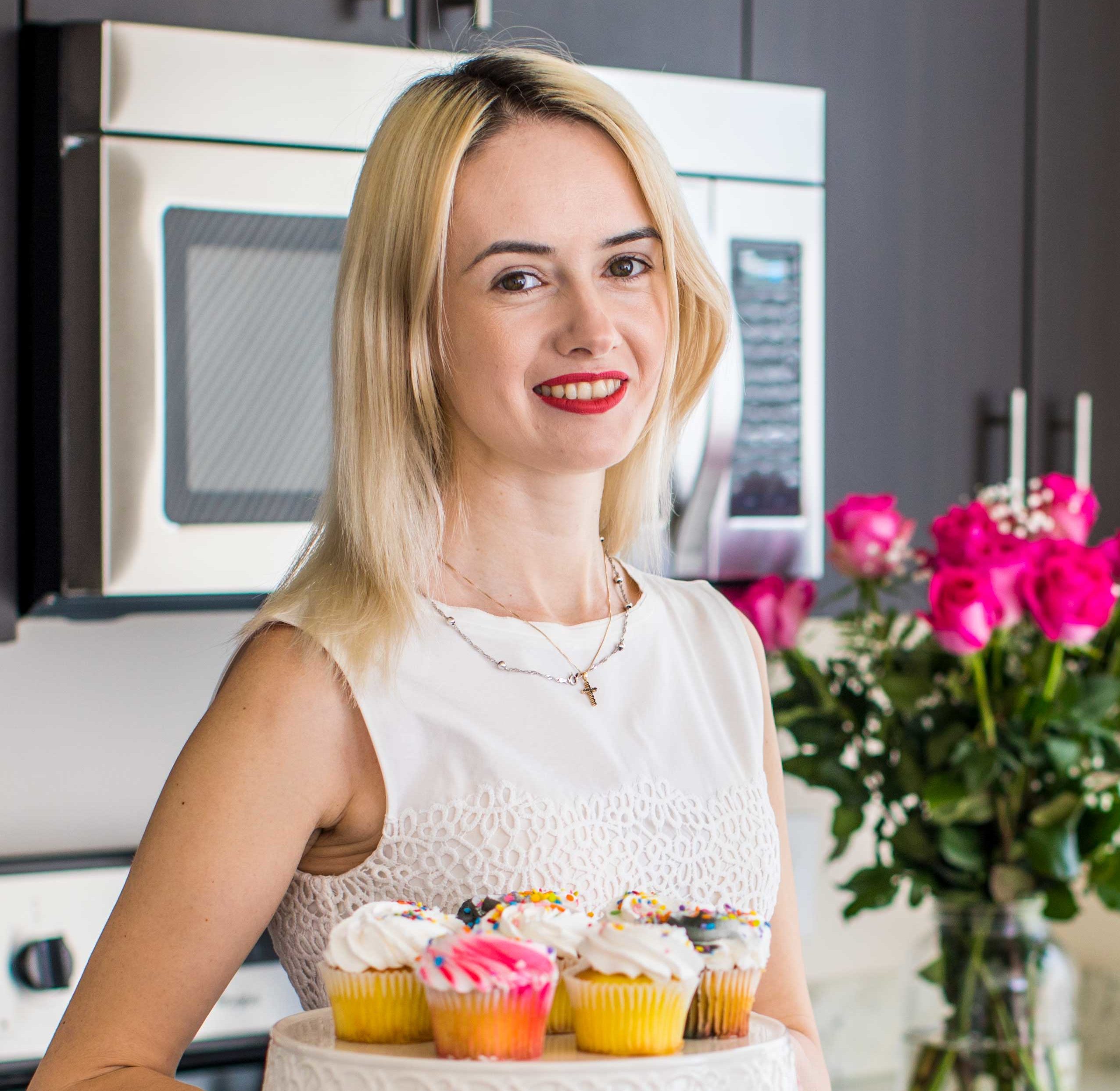 Follow us on Pinterest for more delicious recipes!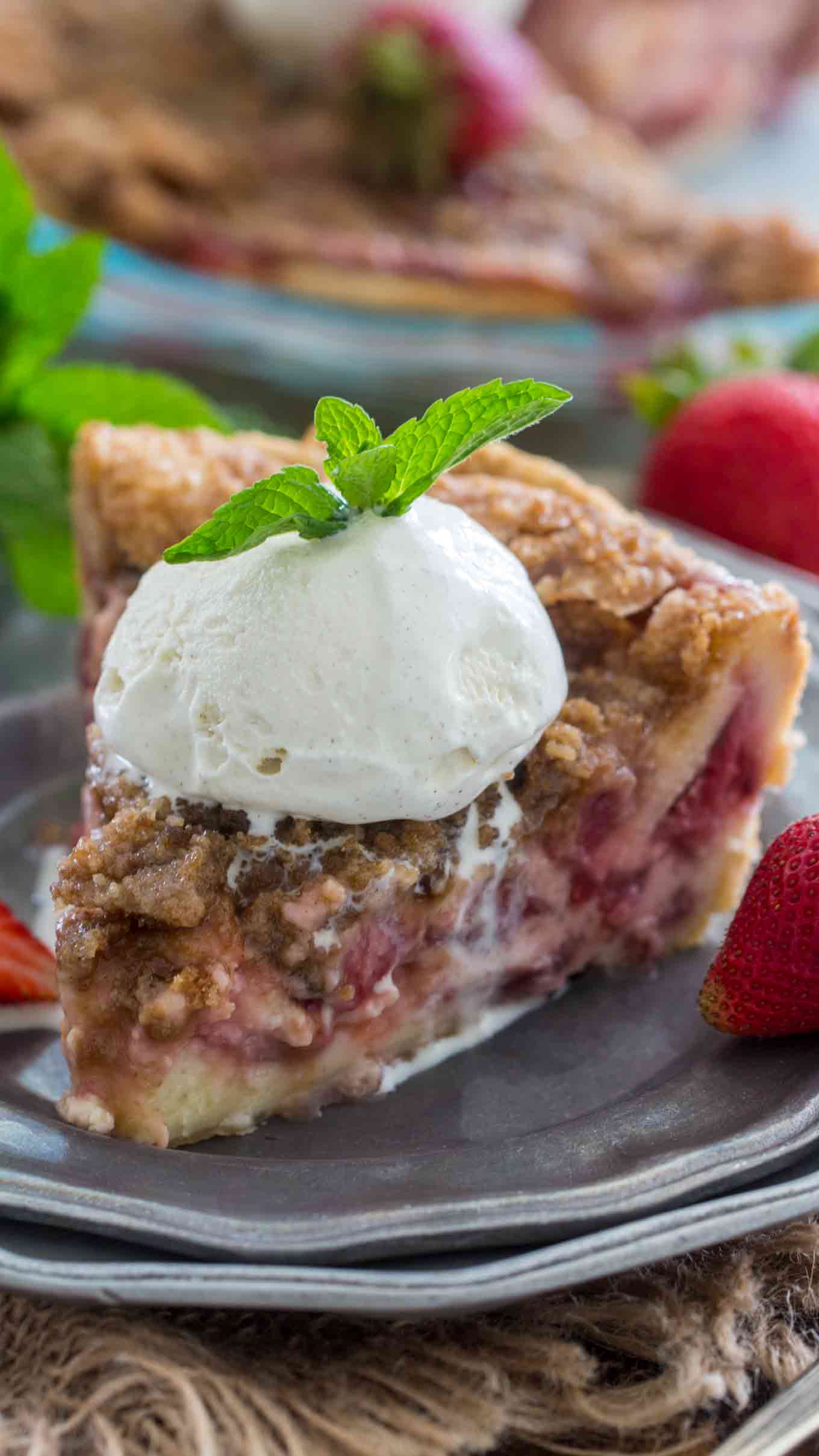 How do you make streusel topping?
For a great streusel topping, you usually combine: cold butter, flour, sugar, cinnamon, and a pinch salt.
Using a pastry blender or fork, you cut in the butter until fine crumbs form.
Use your hands, to mix and form large clumps.
The topping can be frozen in an airtight container for up to 6 months.
Can I use frozen strawberries to make this recipe?
No, I do not recommend that, even after thawing them, the strawberries will still have too much liquid and it will curd the custard.
Can I freeze this Creamy Strawberry Pie?
No, I do not recommend freezing this pie, as the strawberries will release extra water when thawed and it will curd the custard.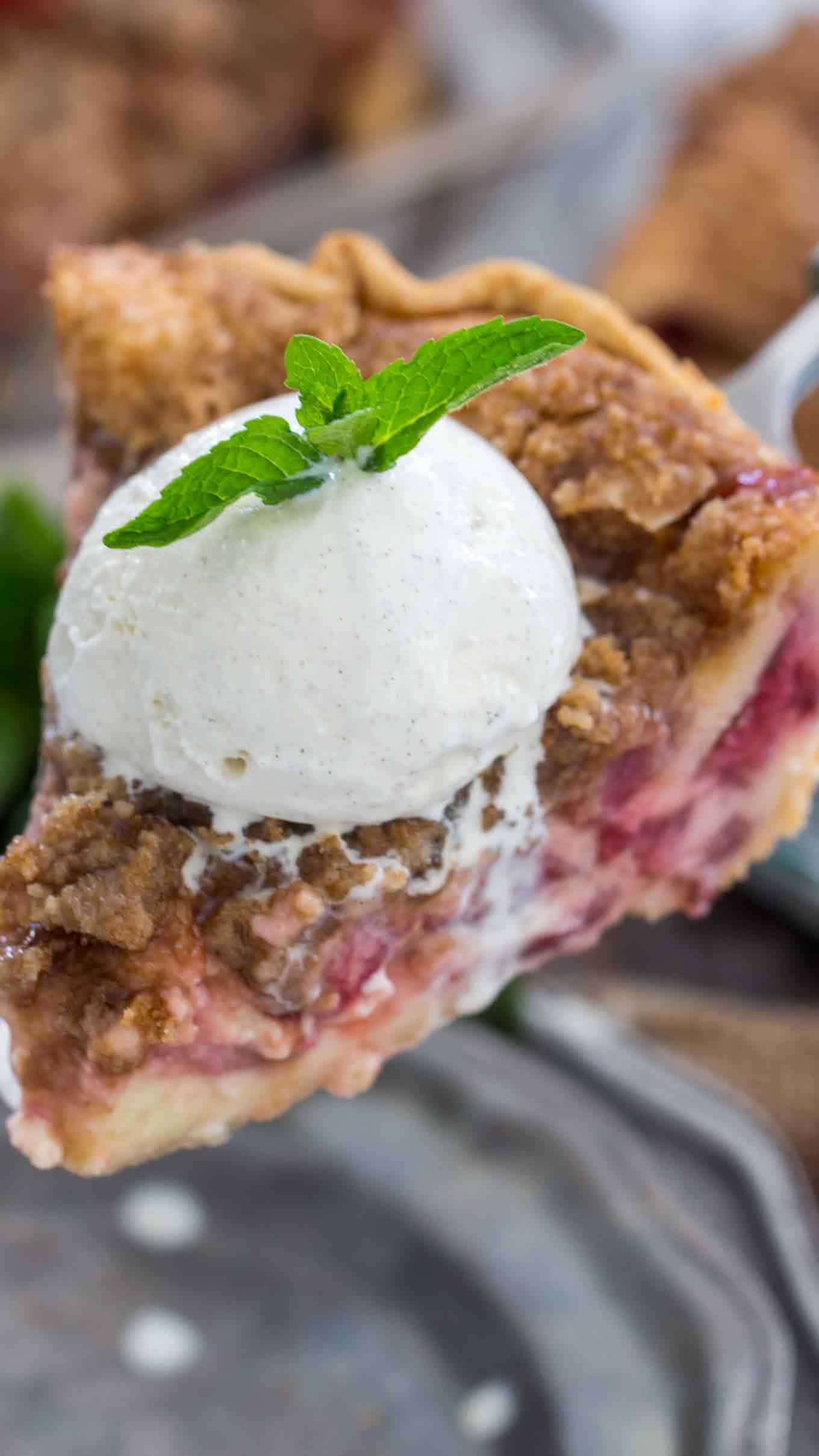 Save Recipe
Creamy Strawberry Pie Recipe
Author: Catalina Castravet
Serves: 12 slices
Prep time:

15

minutes
Cook time:

55

minutes
Total time:

1

hr

10

mins
Ingredients
Pie Filling:
1 cup white sugar
1/3 cup all purpose flour
1/4 teaspoon salt
2 eggs beaten
1 cup sour cream
1 teaspoon vanilla extract
2 lbs fresh strawberries (sliced)
4 tablespoons cornstarch
Streusel Topping:
1/2 cup white sugar
1/2 cup brown sugar
3/4 cups all purpose flour
1 teaspoon cinnamon
1/4 cup butter cold and cubed
Instructions
Preheat oven to 350 degrees.
Line the bottom and sides of a 9 inch pie plate with a store-bought pie crust.
Pie Filling:
In a large bowl, combine 1 cup of sugar with 1/3 cup of flour, and salt. Whisk to combine.
Add the beaten eggs, sour cream and vanilla extract, whisk until well combined.
Add the strawberries to a large bowl and top with cornstarch. Gently stir to with a spatula and try to coat all the pieces.
Transfer the strawberries to the prepared crust. Distribute evenly.
Top the strawberries with the custard mixture.
Streusel Topping:
In a medium bowl, combine both white and brown sugar, cinnamon and 3/4 cups flour. Stir to combine.
Add the butter, using a fork or pastry cutter combine the mixture until it resembles coarse crumbs. You can also use your hands to mix it.
Sprinkle the streusel on top of the pie.
Bake:
Bake in the preheated oven for 50 to 55 minutes, or until lightly browned. If the crust starts to brown more than you prefer, place foil over the crust and continue baking.
Remove from oven and place pie to cool on a wire rack.
After completely cooled, refrigerate for at least 3-4 hours for the custard to settle.
Serve with vanilla ice cream and garnish with fresh mint leaves.
Notes:
Keep the pie refrigerated and serve chilled. Consume within 2 days, as the strawberries will start releasing extra liquid into the custard.
0 Calories: 286 Carbohydrates: 50 Protein: 2 Fat: 8 Saturated Fat: 4 Cholesterol: 47 Sodium: 112 Potassium: 192 Fiber: 2 Sugar: 38 Vitamin A: 310 Vitamin C: 44.6 Calcium: 62 Iron: 1.3
Save Recipe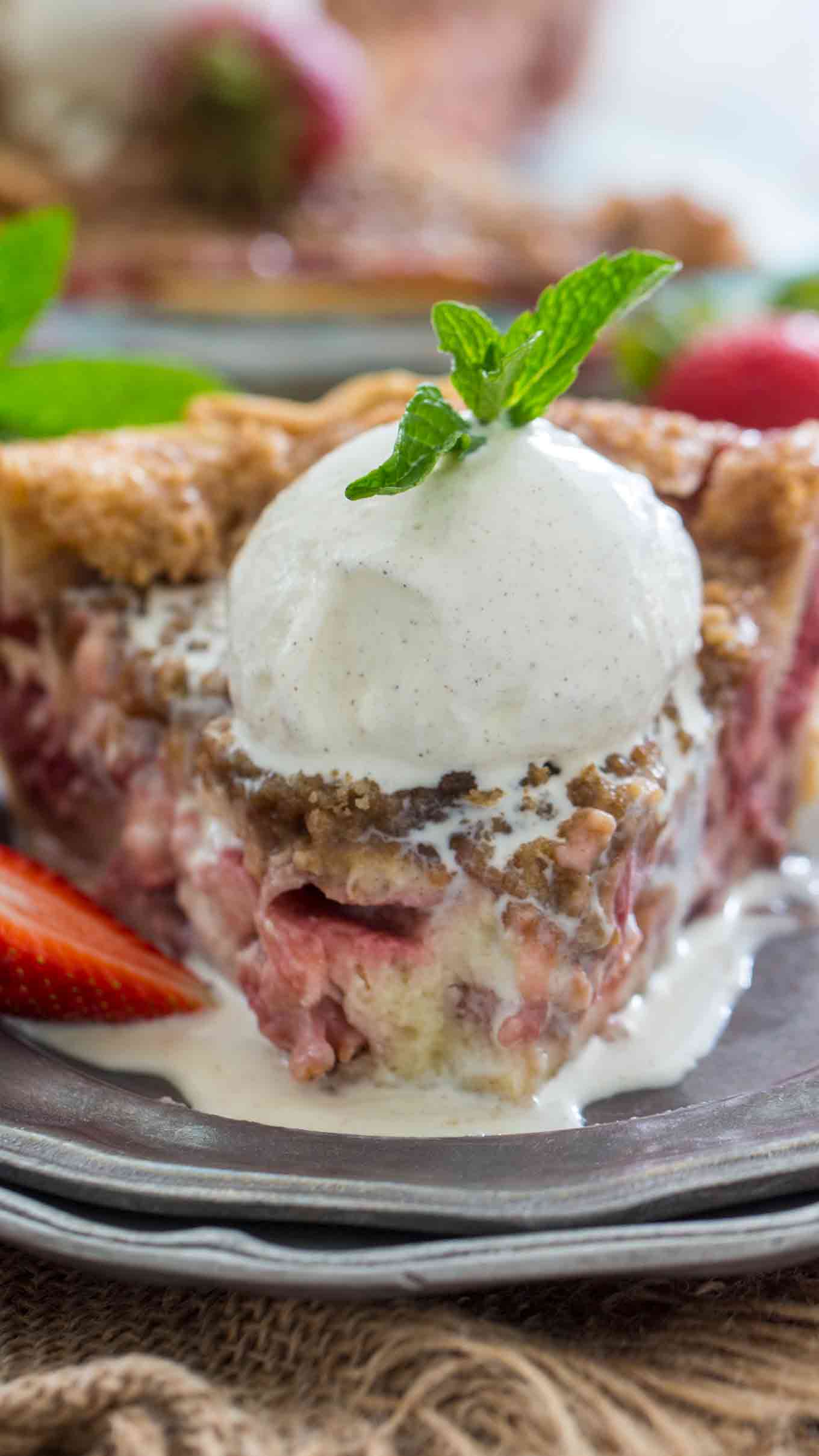 More recipes you might love