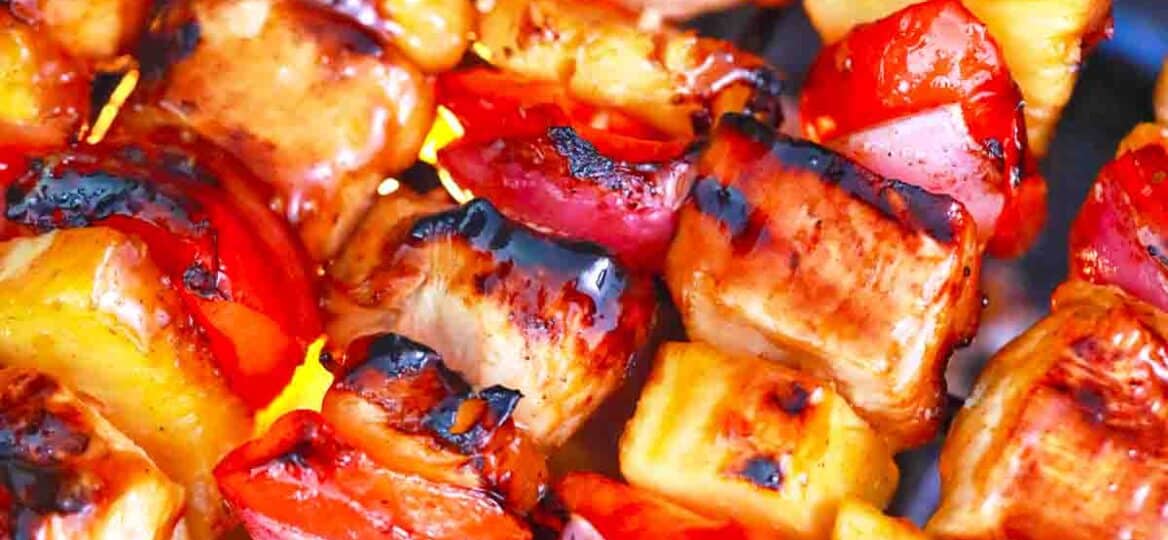 BBQ Chicken Kabobs Recipe [Video]
BBQ Chicken Kabobs is the perfect recipe on the grill, made with juicy and tender meat, sweet and refreshing marinade, and fresh pineapple pieces. This is a light and filling recipe that is perfect for summer bbq parties, camping, or potluck get-togethers.
If your family loved this scrumptious recipe, try these Pesto Chicken Kabobs made with mozzarella pearls, cherry tomatoes, and chicken breasts. Another version of this recipe is our Grilled Chicken Skewers, which are seasoned with liquid smoke, sweet pineapple juice, and soy sauce.
When barbecue season starts, we always seem to be looking for new recipes to try. Whether it is a new way to make barbecue chicken or a fresh new homemade barbecue sauce, you can always find something different to try.
With our BBQ chicken skewers, you will get both. A new way to make chicken and a delicious new barbecue sauce. BBQ Chicken Pineapple Kabobs is the perfect recipe for cooking on your outdoor grill.
The chicken breasts are chopped and marinated in a delicious sauce for intense flavor all the way through the meat. They are then cooked on the grill with fresh veggies for just a few minutes (long enough to make your mouth water).
Looking for some other great recipes to make during grilling season? Our grilled pork skewers are deliciously sweet, made with pork loin, zucchini, and pineapple juice and these grilled shrimp skewers are super tasty with honey, liquid smoke, and sesame oil flavor.
Another one of our great chicken kabobs recipes is this Keto Italian Chicken Skewers smothered in buttermilk and Italian herbs. Any of these grilled dishes will go great with our sweet potato salad made with orange juice, feta cheese, and curry.
Ingredients needed:
Gather these ingredients for this easy and delicious BBQ chicken kabobs recipe. Then scroll down to our printable recipe card for step-by-step instructions.
Teriyaki sauce: Make your own with our teriyaki sauce recipe.
BBQ sauce: Use your favorite barbecue sauce or make your own with our easy BBQ sauce recipe.
Fresh pineapple: Cut into one-inch chunks.
Boneless, skinless chicken breasts: Cut to the same size as the pineapple pieces.
Red bell pepper: Cut into 1 1/2-inch chunks.
Red onion: Chopped the same size as the red bell peppers.
Red sweet Asian chili sauce
Minced garlic cloves
Freshly grated ginger
Lime juice
Lime zest
Canola oil: Olive oil is fine too.
Kosher salt: To taste.

Freshly ground black pepper: To taste.
How to make BBQ chicken kabobs recipe?
Make the BBQ sauce: The day before (or at least two hours before), mix ginger, zest, juice, teriyaki sauce, and barbecue sauce in a small bowl. Set aside 1/4 cup for later.
Marinate: Then, pour homemade barbecue sauce and chicken into a gallon-sized zipper bag and let it marinate for at least two hours but preferably overnight. Turn the bag over a few times during the process so it is evenly covered.
Prep time: After, drain the juice from your marinated chicken and prep the skewers. Thread chicken, onions, bell peppers, and pineapple chunks onto the skewers and brush with a bit of olive oil. Add salt and pepper.

Preheat grill: Meanwhile, preheat the grill to medium-high heat.

Grill chicken: Once the grill is heated, add chicken skewers and grill for about 10 minutes, turning occasionally. The chicken should have an internal temperature of 165 degrees F with a meat thermometer.

Make the special sauce: Mix the remaining barbecue sauce with the Asian chili sauce and brush it onto the grilled chicken. Grill for another one or two minutes.

Serve with sauce: Serve immediately with the special BBQ sauce or your favorite bbq sauce and garnish with parsley.
How to make air fryer BBQ chicken kabobs:
The day before: Previously, make your barbecue chicken sauce so you can marinate it overnight or at least for several hours. Combine the BBQ sauce, teriyaki, lime juice and zest, and fresh ginger in a large bowl. Put 1/4 cup of extra BBQ sauce aside for cooking.

Marinate: Add the chicken and toss evenly. Cover and let it marinate overnight or for several hours, flipping occasionally for even coating.
Prep the chicken skewers: Once the chicken has marinated, drain the marinade and prepare the skewers by threading on the pineapple, bell peppers, onion chunks, and chicken pieces. Brush with oil and season with salt and pepper.
Preheat: In the meantime, preheat your air fryer to 400 degrees F. Place skewers in the air fryer basket, making sure there is room for airflow in between. Cook for 5 minutes. Flip and cook for another four minutes or until the chicken is tender and the internal temp is 165 degrees F.
Mix the sauces: Then, mix the extra BBQ sauce with the chili sauce and brush it onto the BBQ chicken kebabs. Cook them for another one or two minutes, flipping once.

Serve: Serve BBQ chicken kebabs garnished with parsley and with the Asian chili sauce or your favorite BBQ sauce on the side.
Recipe variations:
Bacon: Add raw bacon to the skewers for crispy bacon chicken kabobs.
Other meat: You could also use pork, turkey, or beef chunks instead of chicken breasts.
Soy sauce: In this recipe, adding some soy sauce to the final coating would be delicious.

Add veggies: Feel free to add other veggies to your BBQ chicken skewers. Mushrooms, zucchini, and tomatoes are some good choices.
Make barbecue sauce sweeter: Add some brown sugar to your BBQ sauce for a sweeter flavor.
Spice it up: Try your own flavor combination of spices like thyme, paprika, garlic powder, or onion powder.
Heat it up: For spicy chicken kabobs, add some red pepper flakes or cayenne pepper to the marinade.

Grill pan: If the weather is not cooperating, just use a grill pan in your oven instead.
How to serve:
These grilled chicken kabobs are perfect for Memorial Day or anytime during the summer grilling season. They are a huge hit with everyone. My family absolutely loved this recipe, so I made sure to include it in my recipe box. Try one of these awesome ideas for this great recipe or one of your own.
These BBQ chicken skewers make a nice side dish with this barbecue pork chops recipe.
Sprinkle each of the chicken kabobs with chopped green onions or scallions.
If you are serving these chicken skewers as the main entree, add some sides like our deviled egg potato salad and this grilled corn recipe.

Feel free to make your own sauce for this delicious dish by combining your favorite flavors like Worcestershire sauce, honey, and liquid smoke.
Instead of BBQ sauce, try using a spicy sauce like this delicious General Tso sauce.
Frequently asked questions
What is the difference between chicken kabobs and chicken kebabs?
These are actually the same thing, just with different names. When Iskender Efendi invented this delicious dish back in 1867, he called it the kebab after the horizontally stacked Cag Kebab. The spelling varies with the location. In the US, it is typically spelled kabob while it is spelled kebab in Europe and the Middle East.
How do I make chicken kabobs without a skewer?
Prepare all of the ingredients in the same way, marinating the chicken as with BBQ chicken skewers, but lay everything on a greased sheet pan to cook instead of using skewers.
You can line them up like they are on skewers or just toss them all onto the baking sheet and cook it on the grill for 10 to 15 minutes. You could also cook them in the oven at 400 degrees F for 20 minutes.
How can I skewer bacon?
Use the thicker type of bacon and cut it into thirds. Stick them onto the skewers when raw so they are easier to pierce without breaking. Another way to do this is by wrapping the bacon around the chicken chunks.
What are the nutritional values of this recipe?
These barbecue chicken kabobs are loaded with vitamins and minerals as well as protein. With each serving, you will get about 300 calories, 25 grams of carbs, 9 grams of fat, and 19 grams of sugar. But you also get 1,825 units of vitamin A, 86 milligrams of vitamin C, 45 milligrams of calcium, and 35 grams of protein.
How to store leftovers:
Store: After the barbecue chicken skewers are cooled to room temperature, you can remove them from the skewer and store the meat and veggies in an airtight container. Make sure you eat within a few days.
Freeze: If you cannot eat them all in several days, put the leftovers in a freezer bag and store them in the freezer for up to three months.

Thaw: For best results, defrost your frozen BBQ chicken skewers in the fridge overnight before reheating.
Reheat: To make sure your veggies are crispy and the chicken is cooked to perfection, heat them up separately because the veggies cook faster. The best way to reheat it is with the broiler or air fryer. You can also toss them on the grill at medium-high heat for several minutes.
More recipes on the grill:
BBQ Pineapple chicken kabobs grilling tips:
Make this recipe easier and faster by using canned pineapple chunks instead of fresh ones.
You can use wooden skewers or metal skewers, whichever you prefer. They both yield the same results. However, you should soak your wooden or bamboo skewers in water for 30 minutes before using them, so they do not burn.
Give your barbecue chicken kabobs a fresh look by heating them on medium heat during the final step until they are slightly charred.

The length of time you marinate the chicken makes all the difference. The longer you marinate, the better they will taste once they are cooked.
Make your own spice rub to make your marinated chicken taste even more intense. Mix one teaspoon of each: smoked paprika, garlic powder, onion powder, cumin, and salt with 1/2 teaspoon of pepper.

If you are worried the vegetables will burn if you cook the chicken to 165 degrees F, just separate them. Put all chicken chunks on separate skewers and put them on the grill first.

The nutrition calories and other facts will vary depending on the sauces and other ingredients you choose. For example, your homemade barbecue sauce may have a lot fewer calories and sugar than store-bought sauces like Stubbs BBQ sauce.
BBQ Chicken Kabobs
Ingredients
1

cup

teriyaki sauce

1/2

cup

bbq sauce

homemade or store-bought

1/4

cup

Asian sweet chili sauce

4

cloves

garlic

minced

1

tablespoon

freshly grated ginger

1

tablespoon

lime juice

1

teaspoon

lime zest

2

pounds

chicken breasts

boneless and skinless - cut into 1-inch chunks

2

cups

fresh pineapple chunks

the size of the chicken chunks

1

red bell pepper

cut into 1 1/2-inch pieces

1

red onion

cut into 1 1/2-inch pieces

2

tablespoons

canola oil

or vegetable oil

Kosher salt and freshly ground black pepper

to taste
Instructions
In a medium bowl, combine the bbq sauce, teriyaki sauce, lime juice, zest, garlic, and ginger. Stir the mixture and reserve 1/4 cup.

Add the rest of the mixture to a large Ziploc bag and add the chicken; marinate for at least 2 hours or overnight, turning the bag occasionally.

When ready to grill, remove the chicken from the marinade and drain excess.

Thread chicken, pineapple pieces, bell pepper, and onion onto skewers.

Brush with canola oil, and season with salt and pepper.

Preheat the outdoor grill to medium heat, or place a grill pan over medium heat on the stove.

Arrange the skewers on the grill, and cook for about 10-12 minutes, turning occasionally. The chicken is completely cooked through when it reaches an internal temperature of 165 degrees F.

Mix the reserved marinade sauce with the chili sauce.

Brush the. skewers with the mixture, and cook for 1-2 minutes.

Serve with Asian chili sauce mixture on the side.
Deliciousness to your inbox
Enjoy weekly hand picked recipes and recommendations