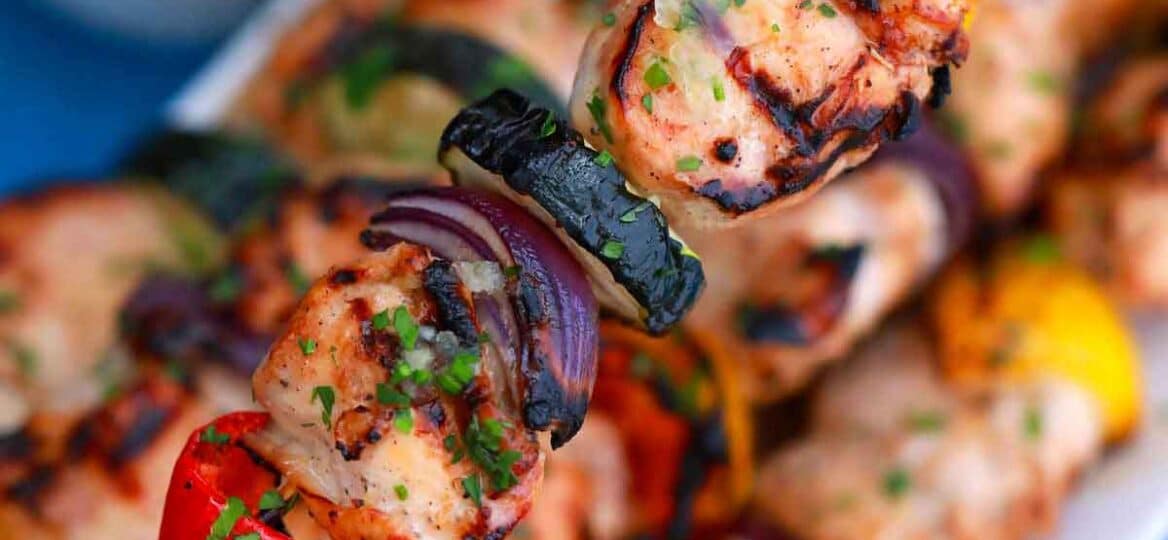 Grilled Chicken Skewers Recipe [Video]
These Grilled Chicken Skewers are super juicy made with marinated chicken breasts along with some colorful vegetables. The meat is tender and cooked to perfection, making this the ultimate summer dinner to enjoy with friends and family!
This easy and healthy meal is one of our summer favorites. The combination of zucchini, bell pepper and poultry grilled together on a skewer will give you the required proteins and vitamins all in one serving! For a complete meal, we like serving it along with avocado corn salad, deviled egg potato salad, or oven baked potatoes.
THE JUICIEST GRILLED CHICKEN KABOBS
Chicken Kabobs are one of our favorite grilling options. Especially when the summer season comes, this recipe is on top of our list. It is easy to make, healthy, full of protein, and super delicious!
The secret to getting tender and juicy meat lies in the marinate. Our marinate is refreshing, based on pineapple juice, lemon, and garlic. You can adjust the flavors as well, or add other herbs that you prefer. I like to marinate the chicken overnight.
However, if you are in a hurry or short on time, even one hour would be enough. Similarly, if you don't feel like grilling after a busy workday, this recipe can also be easily baked in the oven.
You can enjoy these kabob on a hot summer day with a refreshing kiwi margarita or homemade lemonade. This combo will never fail to hit the spot!
Are Grilled chicken Skewers healthy?
Yes. Kebabs are quite healthy because the meat is not fried or deep-fried. The poultry does not contain fat and is full of protein.
Also, when grilled along-side healthy veggies like zucchini and bell pepper, you know that you end up with a healthy and nutritious meal!
The Best Chicken Kabob Marinade:
The secret of this recipe and getting an extraordinary juicy and tender chicken lies in the marinade. To make it, you will need the following ingredients:
Pineapple juice – It helps to tenderize the poultry and it also gives it a nice bright color.
Soy sauce – You can use the regular or reduced-sodium type.
Worcestershire sauce – This is one of my favorite sauces when it comes to the marinade. It helps tenderize the meat, while it also penetrates deeply. In addition, when combined with the rest of the ingredients, it works really well.
Honey – To balance out the soy sauce and the acidity of the lemon and pineapple juice.
Lemon juice – For a hint of citrusy flavor.
Lemon zest
Garlic – Use three to four cloves based on your preference.
Liquid smoke – For an extra smoky tasty, add 1 teaspoon of it.
Salt and pepper – An essential ingredient!
You will also need:
Skewers: You can use wooden skewers (but ensure to soak them in water prior to placing on the grill to avoid burning). Similarly, you can go with reusable metal skewers.
Grill: Whether you like to fire it up using charcoal or gas is your decision! Also, to cook it indoor go with grill pan. And don't forget, you can easily oven bake them!
How do you make grilled chicken skewers?
Start by cutting the chicken breasts into 1-inch pieces.
Prepare the marinade by whisking the ingredients together. It is best to use a large bowl.
Next, add the poultry to the marinade bowl or ziptop bag. Let the meat marinate for at least one hour. I tend to refrigerate it overnight, but this is optional.
If using wooden skewers, do not forget to soak them in cold water for about 20 minutes.
Thread the kabobs onto the skewers along with sliced veggies.
Cook them over medium-high heat (about 375 degrees F) for about 6-8 minutes on each side.
Serve warm!
Recipe Variation:
Oven-baked chicken skewers: Alternatively, you can bake the chicken in the oven at 400 degrees F for about 30 minutes. During mid-point cooking time, turn them over once and brush them.
Add different seasoning: Feel free to mix things up from Italian seasoning, Cajun seasoning, taco seasoning, to homemade poultry seasoning. Adjust based on your taste.
Use different vegetables: You can use your favorite vegetables. Some great substitutions would be mushrooms, cherry tomatoes, asparagus, summer squash, etc.
What to serve with grilled chicken kabobs?
Expert Tips:
This recipe work with various meat cuts, such as thighs. In addition, you can use pork, beef, lamb, or even shrimp instead.
When threading the kabobs, I love using onion as it caramelizes the meat while giving it a nice boost of flavor.
To store leftovers, use an airtight container and refrigerate it for up to 3 days.
In addition, don't forget, if using wooden skewers to soak them in cold water for about 20 minutes prior to cooking. This will prevent them from catching fire.