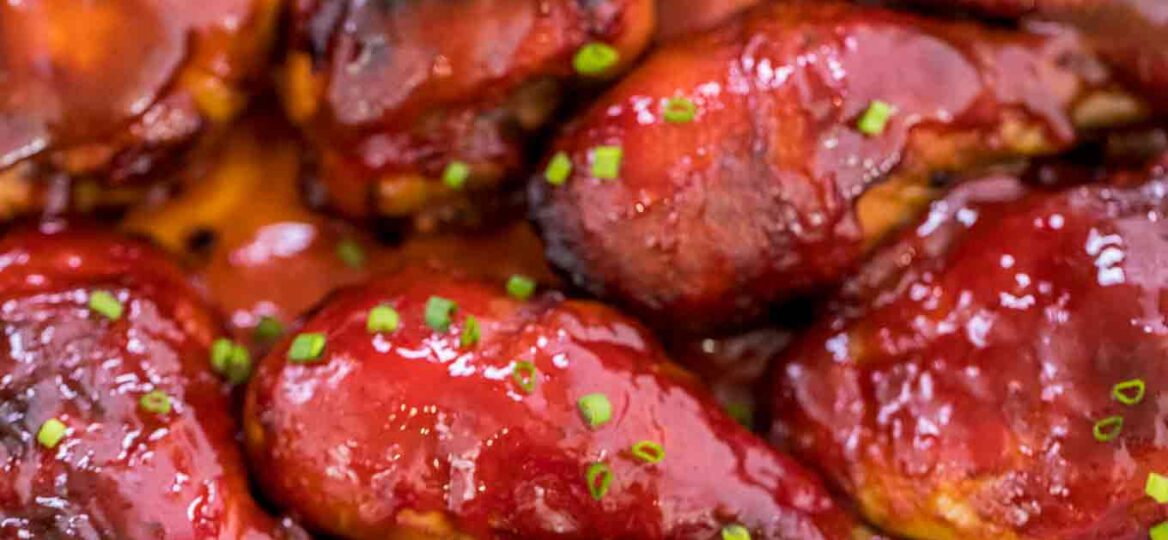 Baked BBQ Chicken is moist and juicy on the inside, and crispy on the outside. Roasted in a delicious bbq sauce with slightly sticky bark, this is one of the BEST chicken bbq dinners you can have.
This recipe is super simple to make with just a few ingredients needed. It is perfect to serve with some mashed potatoes, twice baked potatoes, and corn on the cob.
Best Baked BBQ Chicken Recipe
Baked BBQ Chicken is perfectly glazed with a bit of sweet and savory taste to it. Every time we cook it, it ends up moist and juicy, and the barbecue sauce makes this dish super tender and sticky. Any chicken part can be used, so feel free to go with what you like. We use it in variation, but bone-in, skin-on chicken thighs or drumsticks work really well here.
Meat on the bone with skin takes a bit longer to bake, but it results in a juicier dish. You will end up with a super juicy center, and crispy skin on the outside that tastes just delicious.
That said, you can certainly use boneless breasts or another cut to cook it. In any case, glazing the meat throughout the cooking process will result in the best dinner possible. Go ahead and try it, you will not bake chicken any other way!
WHAT KIND OF CHICKEN SHOULD I USE?
As stated above this is up to you, but you can start with bone-in, half chicken breasts or thighs. While it's ok to use boneless and skinless chicken, sometimes it tends to be on the drying side.
However, try going with bone-in and skin meat because it keeps it from drying out and imparts excellent flavor. Also, leaving the skin on will naturally baste the meat while cooking, making it crisp.
how long do you bake bbq chicken?
Cooking time will vary slightly based on the cut and thickness of the meat. For this recipe, we usually cook the meat at 400 degrees F for about 45 to 55 minutes depending on the cut, and also on how crispy we want it. During the cooking process, we apply a simple yet important technique.
After initially baking it for about 25 minutes, the meat is basted with more sauce, then cooked again for another 10 minutes, then removed from the oven and brushed again then shortly broiled.
This does two things, it ensures the best coating and also keeps the poultry moist and juicy. Chicken needs to be cooked to an internal temperature of 165 degrees Fahrenheit.
HOW to get the CARAMELIZED SAUCE ON baked BBQ CHICKEN?
The secret here is to apply the sauce to the meat in intervals. Once you start baking it, try to brush and coat the top of it with bbq sauce in about 10 minutes intervals. This is guaranteed to results in a deliciously sticky, glazed exterior that is finger-licking good!
what goes with Baked BBQ Chicken as a side dish?
For a complete meal, throw some veggies on the same pan in the last 10-15 minutes of cooking time! Some great suggestions include:
Also, you could steam them separately, or roast them on a separate pan!
other sides:
HOW TO STORE BBQ Chicken?
Before refrigerating it, make sure it is completely cooled. Then transfer it to an airtight container, and refrigerate for up to 4 days.
HOW TO FREEZE it?
Wrap each individually cooked piece in plastic wrap, then add a layer of aluminum foil over the plastic wrap.
Transfer the wrapped dish to a freezer bag and freeze for 4 months.
When ready to use, remove from freezer and set in the fridge overnight to thaw out.
The next day, reheat in the oven or in the microwave.
Recipe Tips:
We recommend using an aluminum baking pan for cooking in the oven. It is great for roasting.
Also, it is best to broil the chicken for an extra few minutes in the end as it caramelizes the sauce and it gives a nice color. Keep an eye on it not to burn it.
Similarly, you can bake it on a baking rack as this will elevate it and cause air to circulate around the pieces.