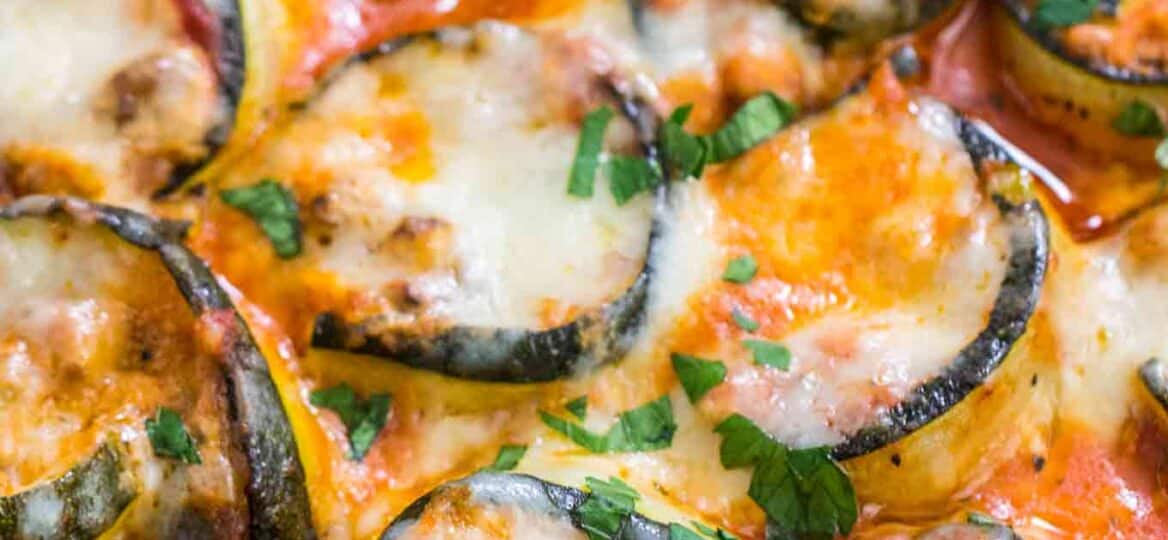 Zucchini Lasagna Roll Ups [Video]
Zucchini Lasagna Roll Ups are a healthy and low-carb alternative to the traditional lasagna noodles. This gluten-free dish is rich and flavorful and is guaranteed to win you over.
Zucchini dishes are becoming more and more popular on our blog. We enjoy cooking zucchini inspired dishes as they are nutritious and very tasty. You can also try our Chicken Bacon Ranch Zucchini Boats or Zucchini Lasagna.
If you want to indulge yourself with a zucchini inspired dessert, this Chocolate Zucchini Bread is an amazing option.
Easy Zucchini Lasagna Roll-Ups
Zucchini Lasagna Roll-Ups is easy to make and it is stuffed with ricotta, parmesan and baked in the most delicious marinara sauce. This dish is very tasty and has a nice and festive look to it. If you want to impress your guests with something healthy, yet delicious, this is the meal to cook!
With everything this dish has to offer, we really doubt you will ever miss the lasagna noodles. Plus, it's so much healthier, lighter, and also keto-friendly! You can use this dish as an appetizer, main course, or side dish. The party bites zucchini rolls can be made ahead of time, and are perfect to feed a larger crowd.
Zucchini is the perfect replacement for pasta because it is soft and very easy to cook. Also, you can easily shape the zucchini in the forms you want, so it is an excellent veggie for many recipes. Being so healthy and low in carbs, zucchini has become our go-to veggie lately.
Even our 5-year-old son loves this recipe and asks to pack the zucchini roll-ups for lunch every time we cook them. It also freezes well, and leftovers are just as delicious.
How do you slice zucchini for Lasagna Roll-Ups?
We recommend cutting the zucchini lengthwise to about 1/8 inch slices. You can try cutting them by hand, but the best bet would be using a mandoline. This way all the roll-ups will have the same size and a festive look.
Also, cutting them into 1/8 inch size allows the zucchini to roll up with ease and not to break up.
WHAT'S THE BEST ZUCCHINI FOR Lasagna Roll Ups?
When making roll-ups, it is important to have a uniform and larger size zucchini. Look for medium-large to larger size zucchini that weighs just under a pound.
How to prevent soggy zucchini?
Zucchini is a bit delicate, so it needs some caution when cooking. One important thing to remember when cooking zucchini is that it looses moister once cut. Therefore, to prevent the zucchini from becoming soggy, we suggest a few easy options below. Also, watch the recipe video tutorial attached.
Sprinkle with salt – once sliced, sprinkle the zucchini with some salt and let sit for about 15 minutes. Then, pat dry the zucchini with a paper towel before rolling up.
Refrigerate – do the above steps, but also refrigerate the zucchini roll-ups overnight once rolled up, but before cooking. After sitting for a few hours in the fridge, the zucchini will release a lot of moisture, which you can easily drain before cooking.
Bake or grill – another option would be to bake or grill the sliced zucchini for about 10-15 minutes. Just enough to remove the moisture. Once sliced, transfer the zucchini into a hot oven (350 degrees F) for about 10-15 minutes, so they soften just enough to become pliable. Make sure not to overcook the slices in the oven, or they will become too soft and fall apart while rolling.
Important to note – when rolling the zucchini slices, try not to apply too much force. In other words, use a light touch, and don't worry too much about making the perfect rolls. Once you arrange them together in the skillet, they tend to fall into line perfectly.
Can you freeze Zucchini Lasagna Roll-Ups?
Yes! Simply transfer the roll-ups into an airtight or a freezer-proof container. Freeze up to 3 months. When ready to serve, transfer the dish into a baking pan, and bake it in the oven at 350 degrees F for about 10-15 minutes.
Useful Tips:
You can use summer squash instead of zucchini. They have a similar texture but taste a bit sweeter.
Similarly, you could make this dish with eggplant.
For a spicier kick, add some crushed red pepper flakes into the ground beef mixture.
You can swap the meats. We used ground beef for this recipe. However, ground turkey, chicken, or even pork will work just as fine.
For a vegetarian version, skip the meat.
Also, if the marinara sauce is not up to your liking, swap it with vodka sauce or arrabbiata sauce.