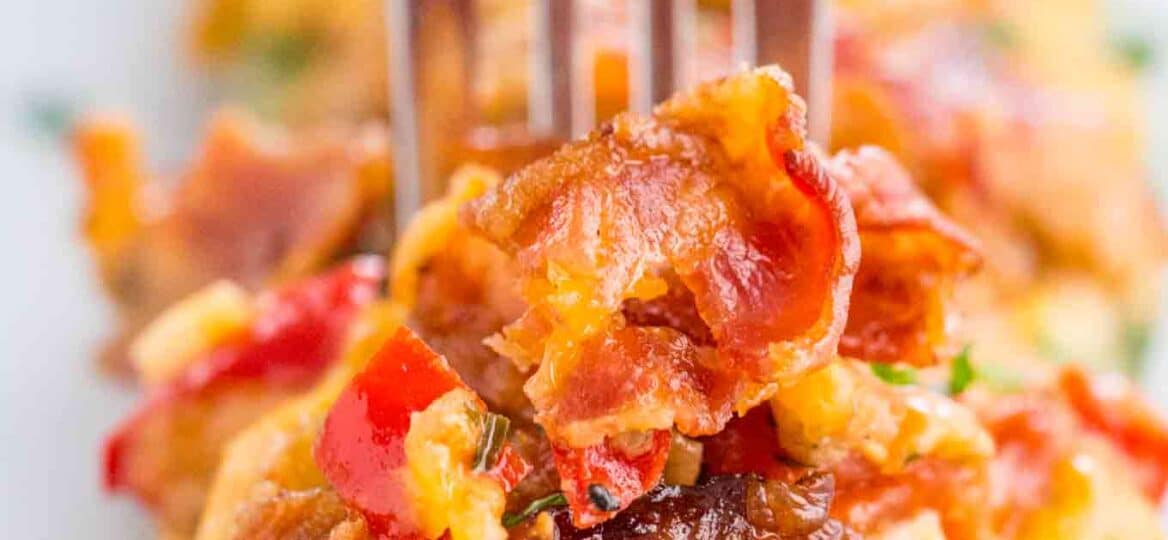 Chicken Bacon Ranch Zucchini Boats [Video]
Chicken Bacon Ranch Zucchini Boats are the perfect low carb dinner that can satisfy everyone. The boats are full of flavor, healthy, and quite easy to prepare. With some ground chicken, bacon, ranch seasoning, and cheese you can enjoy a delicious and crisp, tender meal.
We love utilizing zucchini in our dishes. They are healthy, low carb, nutritious, and ideal for the Keto diet. If you enjoy zucchini dishes as much as we do, we recommend trying the Pizza Stuffed Zucchini Boats or Zucchini Lasagna.
Chicken Bacon Ranch Zucchini Boats
Chicken Bacon Ranch Zucchini Boats are great as a main meal if you are looking for a low carb dish. We usually eat the boats as is, but they can also go as a side dish or appetizer. Most people don't even realize that zucchinis are some of the best low carb veggies you can have.
Due to their benefits, we try to use them as much as possible. In addition, you can always find them in stores, so they can pretty much be used year-round.
By all means, this recipe is very easy to make. Simply, carve out the zucchini boats with a spoon, and then fill them with the chicken mixture. If you end up with an extra filling, save for later in the fridge. The filling can be used in a stir fry or with some spaghetti with some marinara sauce. These zucchini boats also store well and can be reheated for lunch or dinner the following day.
Is Zucchini good for the keto diet?
Zucchini is perfect to consume on a keto diet. It is one of those veggies that are very low in carbs at only 3 grams net carbs per cup. In addition, it has a good source of vitamin C and can lower blood sugar levels, or help with weight loss.
What do you need for Chicken Bacon Ranch Zucchini Boats?
Zucchini

Olive oil
Ground chicken
Onion
Garlic
Diced Tomatoes
Ranch seasoning
Bacon
Cheddar cheese
Salt and pepper to taste
How to make Chicken Bacon Ranch Zucchini Boats?
Follow the steps below. Also, feel free to watch the recipe video tutorial attached.
First, cut the zucchini in half lengthwise.
Then, using a teaspoon, scoop out the flesh, leaving a bit at the top and bottom to create a front and end of the boat. Do this carefully so you don't rip the zucchini. Should leave about 1/4 inch size shells
Fill the zucchini boats with the chicken mixture.
Bake in the oven at 400 degrees F for about 25-30 minutes.
To make sure the zucchini is cooked all the way, I cover the pan with foil for the first half of baking. Then after about 15 minutes mark, I uncover and sprinkle with more cheddar cheese.
HOW TO STUFF ZUCCHINI BOATS?
First, rinse the zucchini.
Then, with a sharp knife cut them in half lengthwise.
You can use the avocado cutting method, to cut and scoop out the seeds, and some of the flesh.
Make sure when you scoop out the zucchini to have enough left for the boat. Leave about 1/4 inch size shells.
With a spoon, fill the zucchini shells with meat mixture.
AT WHAT TEMPERATURE DO YOU BAKE THE ZUCCHINI BOATS?
It is important to bake the zucchini boats at the right temperature. Make sure the oven is preheated to 400°F. If you are setting the temperature lower, the baking time should increase.
However, it is not recommended to cook the zucchini boats at a higher temperature than 400°F. We bake our boats at 400 degrees F for about 20-25 minutes.
CAN I FREEZE Chicken Bacon Ranch Zucchini Boats?
The zucchini boats freeze well. We recommend using an airtight container or a zip bag when freezing.
Then, store in the freezer for up to three months.
When ready to serve, reheat them in the oven at 350 degrees F for about 10-15 minutes.
Watch Recipe step by step video: