Best Mango Mousse Cake
Mango Mousse Cake is creamy and aromatic made with yellow cake and topped with sweet strawberry jelly, and fresh blackberries.
Since I made this Clementine Mousse Cake, I couldn't stop thinking of a Mango Mousse Cake. I mean, I am such a huge mango fan, that I decided the best way to incorporate in a cake would be in a Mango Mousse Cake. And the result did not disappoint!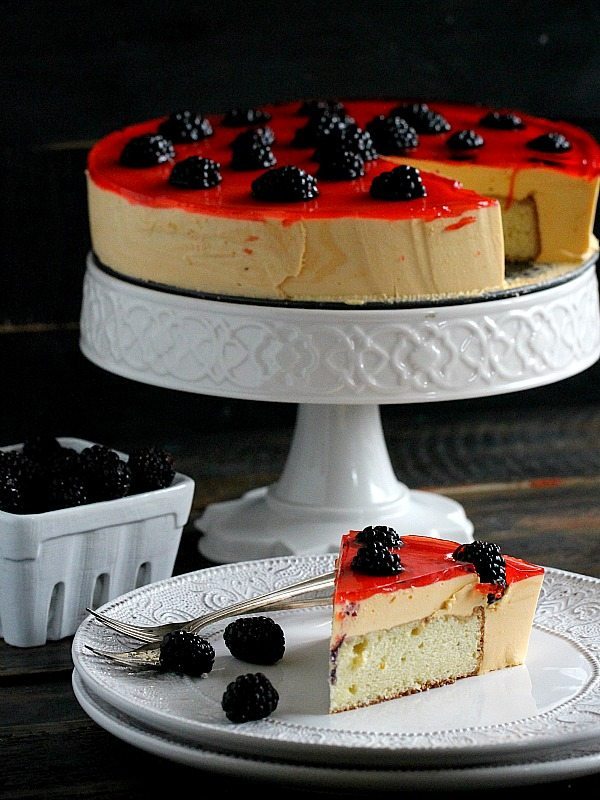 Mango Mousse Cake
This Mango Mousse Cake, is creamy, aromatic and not too sweet. It sits on top of a yellow cake, and is topped with a sweet strawberry jelly and fresh blackberries. The cake just looks gorgeous, and tastes even better. If you are a mango fan, I highly recommend making this Mango Mousse Cake, its light, sweet, and quite easy to make. The process involves more waiting around for the mousse and jelly to settle, the active work is very minimal.
The mango juice is fruity and fragrant, that I just wanted to incorporate it into a mousse cake. Combined with the strawberry jelly, this cake just screams to me that I am ready for warmer days. Because after you bite into it, you will pleasantly feel warmer in your hart and soul. The combination between the mango mousse and the strawberry jelly is just incredibly delicious. Hence, I challenge you to try and make this delicious and gorgeous cake.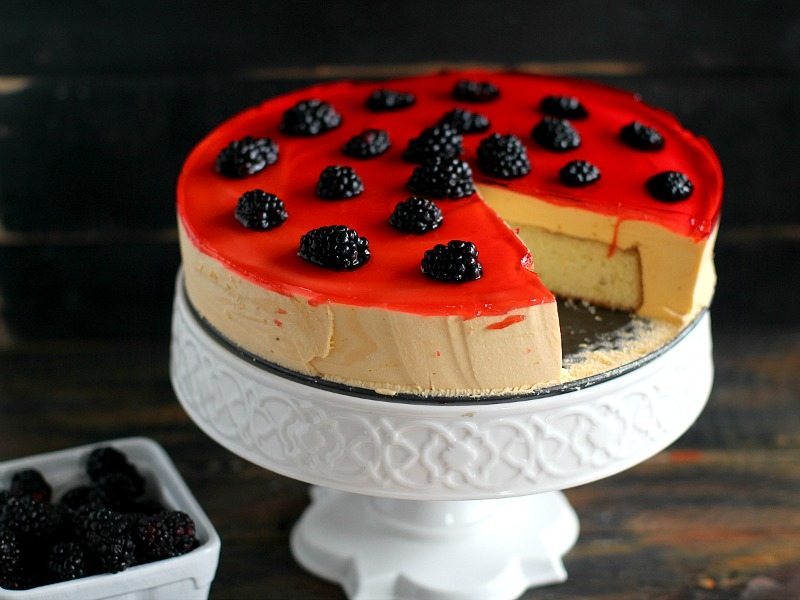 Why You'll Love This Mango Mousse Cake:
Firstly, it is puffy, pretty and delicious, and is a show stopper dessert.
Also, the color combination make this cake stand out.
In addition, it's easy to find ingredients and minimum prep work is needed.
It's fruity and refreshing dessert, and can be topped with various fruits or flavors.
Perfect for special events or occasions, like Valentine's Day.
Lastly, it can be made 1 day in advance, so you don't have to worry about a last minute dessert.
Do you need gelatin for Mousse?
Traditionally, mousse and mousse cakes are made with gelatin. If you want to substitute the gelatin, you can use agar agar, and it should be handled in the same way.
How Long Will Mango Mousse Cake Stay Fresh?
The Mango Mousse cake can be stored wrapped in plastic wrap at room temperature for about 3-4 days.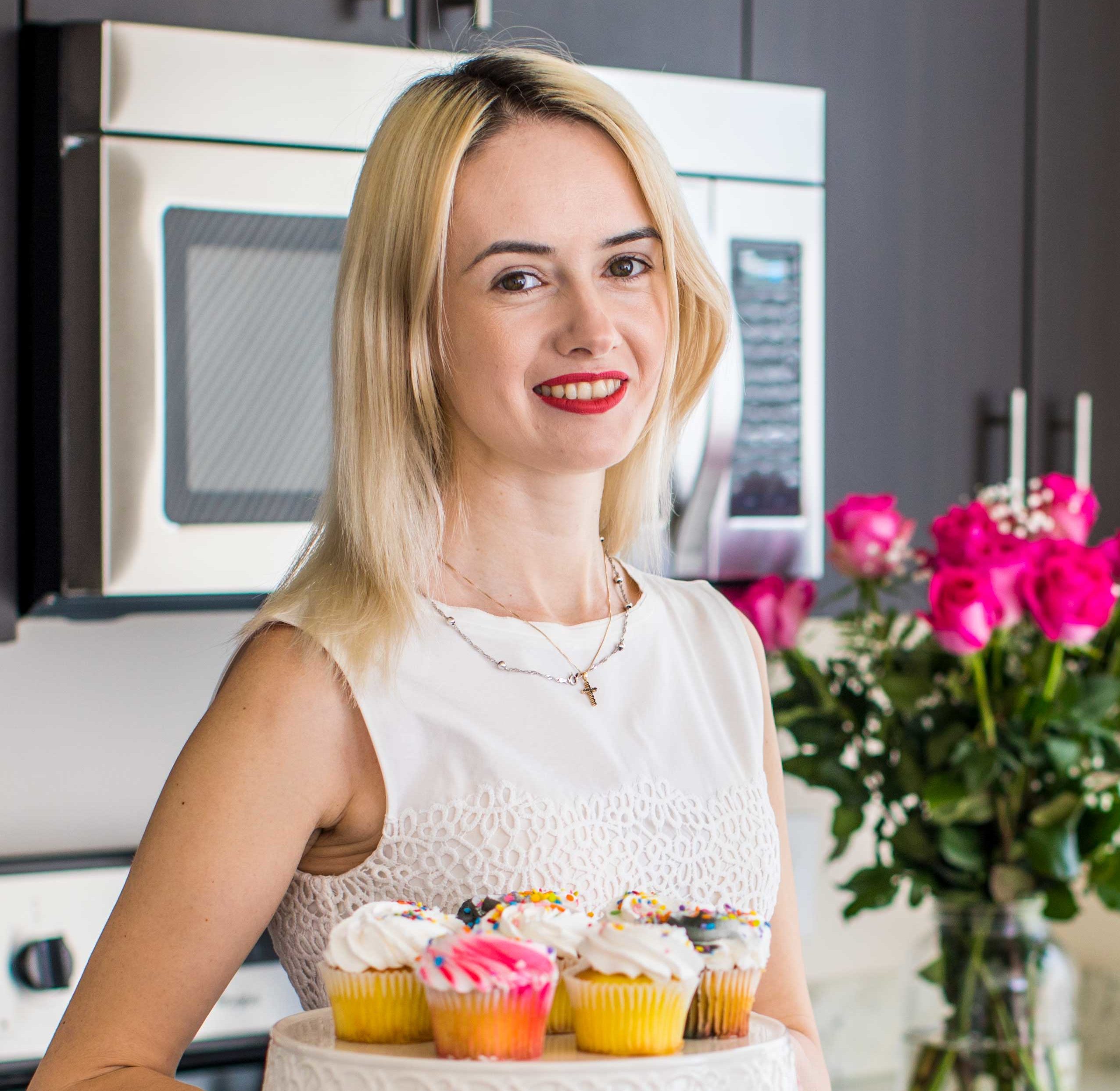 Follow us on Pinterest for more delicious recipes!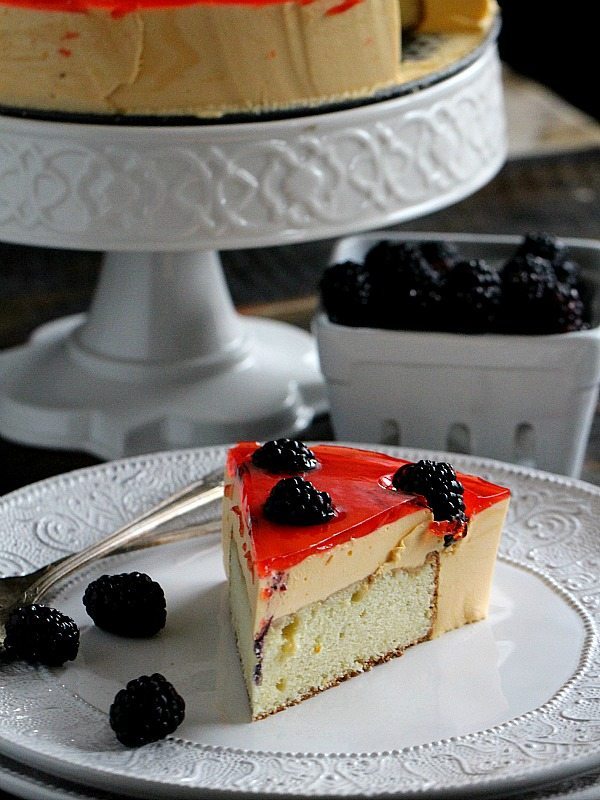 CAN YOU FREEZE Mango MOUSSE Cake?
Freezing is possible for up to 2 months. Since the mousse contains gelatin and some sugar it will not freeze completely solid.
To thaw the mousses cake, overnight in the fridge and consume within 24 hours. You may also be able to serve the mousse almost frozen, as an iced fruit mousse.
Save Recipe
Author: Catalina Castravet
Serves: 14 servings
Prep time:

30

minutes
Cook time:

30

minutes
Total time:

1

hr
Ingredients
Yellow Cake:
2¼ cups all-purpose flour
1½ cups granulated sugar
3½ teaspoons baking powder
1 teaspoon salt
1 stick butter (softened + more for buttering the pans)
1 cup heavy whipping cream
1/4 cup vegetable oil
3 large eggs
1 teaspoon vanilla extract
Mango Mousse:
2 envelopes unflavored gelatin (7 grams each)
2½ cups Mighty Mango Naked Juice
1/2 cup sugar
2 cups heavy whipping cream (cold)
Strawberry Jelly:
1 Strawberry Jelly box
1 pint blackberries
Instructions
Yellow Cake:
Preheat oven to 350F.
Butter two 8 inch cake pans and set side.
In a medium bowl mix dry ingredients: flour, sugar, baking powder and salt.
In the large bowl of an electric mixer, whisk softened butter on medium speed for 1-2 minutes.
Add dry ingredients and combine with butter for 30-40 seconds.
Add heavy cream, oil, vanilla extract and eggs one at a time, mix on medium-high for one minute.
Pour batter into prepared pans. Bake for 20-25 minutes, a tooth stick inserted into the center of the cake must come clean.
Mango Mousse:
Add mango juice to a medium sauce pan and sprinkle the gelatin over it. Let it sit for 1-2 minutes. Turn the stove on, and on low heat stir in the sugar into the juice and gelatin mixture. Cook stirring for 3-5 minutes, just until all the sugar and gelatin has dissolved.
Transfer the mixture to a glass bowl and refrigerate for 30-40 minutes, or just until settled. Its important to check on the mixture every 5 minutes after 30 minutes have passed and give it a few stirs. The mixture is ready when it has a pudding texture.
Whisk the heavy whipping cream on high speed until stiff, when soft peaks have been formed, reduce the mixer speed to low and add the mango gelatin mixture to it. Whisk on low until combined. Make sure to scrape the walls of the bowl with a spatula, to make sure the mixture is fully combined.
Place the yellow cake into the center of a 9 inch springform pan, there will be space around it. Pour the mousse over the cake letting it fill in around the side. Refrigerate at least for 1 hour before adding the strawberry jelly layer.
NOTE: if you have a higher springform pan, or a cake ring, pour some of the mousse over the cake, top it with the second layer, and cover with the remaining mousse mixture.
Strawberry Jelly:
Follow instructions on the box on how to prepare the jelly. Let the jelly cool to almost room temperature, I usually give the bowl an ice bath to speed up the process. Watch the jelly closely, and stir it often, to make sure it doesn't fully settle. After the ice bath, when the jelly temperature has reached almost room temperature, pour it over the mousse, top with blackberries.
Refrigerate for at least 4-6 hours before serving the cake. Remove cake from the fridge and run knife around inside rim of pan to loosen cake; remove side of pan, slice and serve.
Calories: 265 Carbohydrates: 48 Protein: 5 Fat: 6 Saturated Fat: 3 Cholesterol: 37 Sodium: 206 Potassium: 292 Fiber: 2 Sugar: 32 Vitamin A: 260 Vitamin C: 7.1 Calcium: 147 Iron: 1.8
Save Recipe
More recipes you might love