Best Mango Mousse Cake [Video]
Last updated on June 18th, 2021 at 09:57 pm
Mango Mousse Cake is a decadent slice of mango heaven! A layer of buttery yellow cake, creamy mango mousse, and strawberry jelly make this such a delightful treat.
Serving mousse-based desserts is always a sure hit. Impress your guests and family with these delicious Peanut Butter Mousse Brownies, Clementine Mousse Cake with Peach Jelly, and Milk Chocolate Mousse Shots!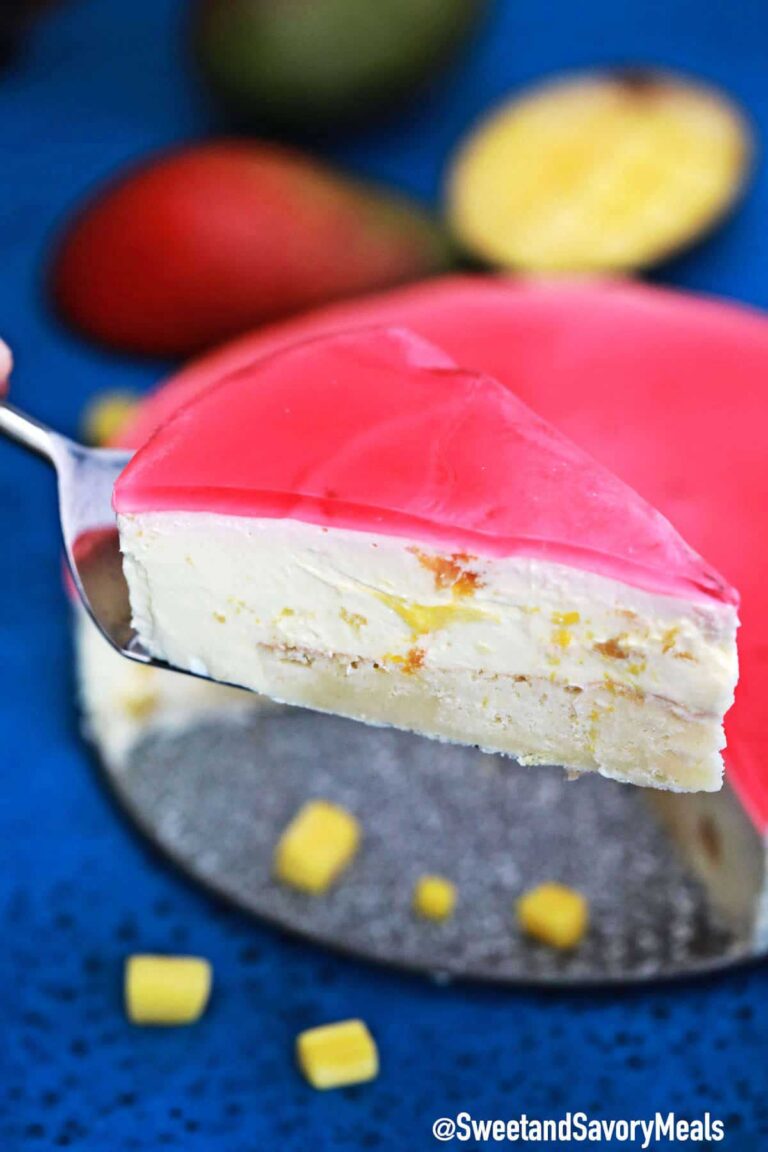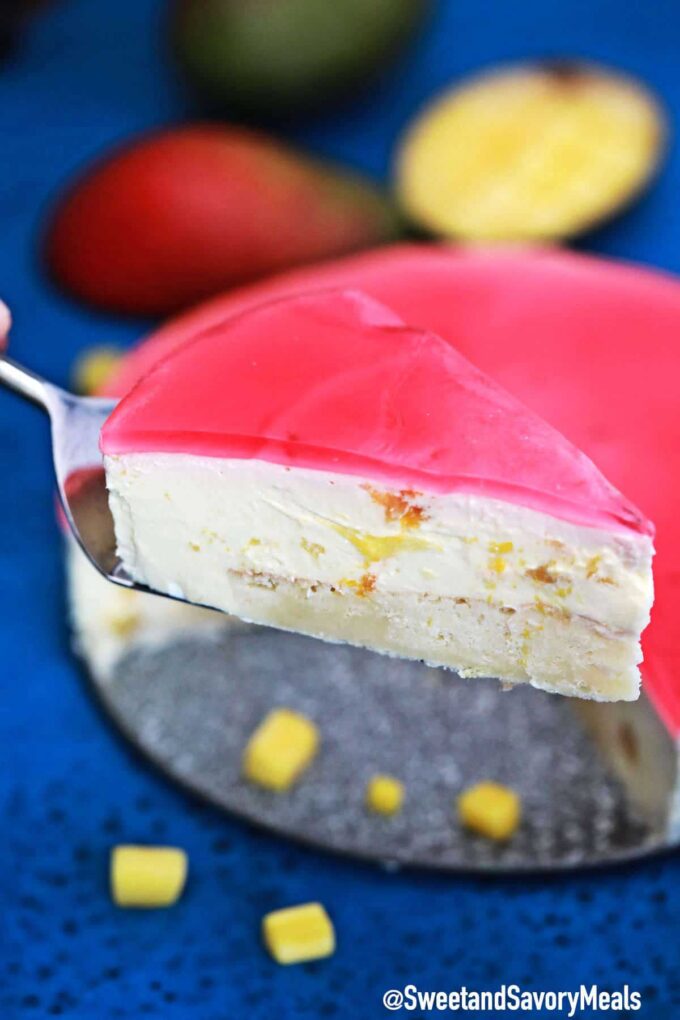 Mango Cake Recipe
Mango Mousse Cake is exactly what you need if you're craving this amazing tropical fruit. It's light, airy, and absolutely loaded with sweet and fresh mango flavors.
The cake is delicious on its own, but something magical happens when you combine it with mango mousse with a thin layer of strawberry jelly on top. It's almost impossible to stop with just one slice!
A lot of home cooks are intimidated by making a mousse. While it involves a few more steps than a traditional cake, it's actually super easy. Once you've got a handle on the basic process, you can put your own twist on it.
Try chocolate, coffee, other fruits, vanilla— the possibilities are endless. But for now, we're focusing on one of the best versions of them all: Mango Mousse Cake!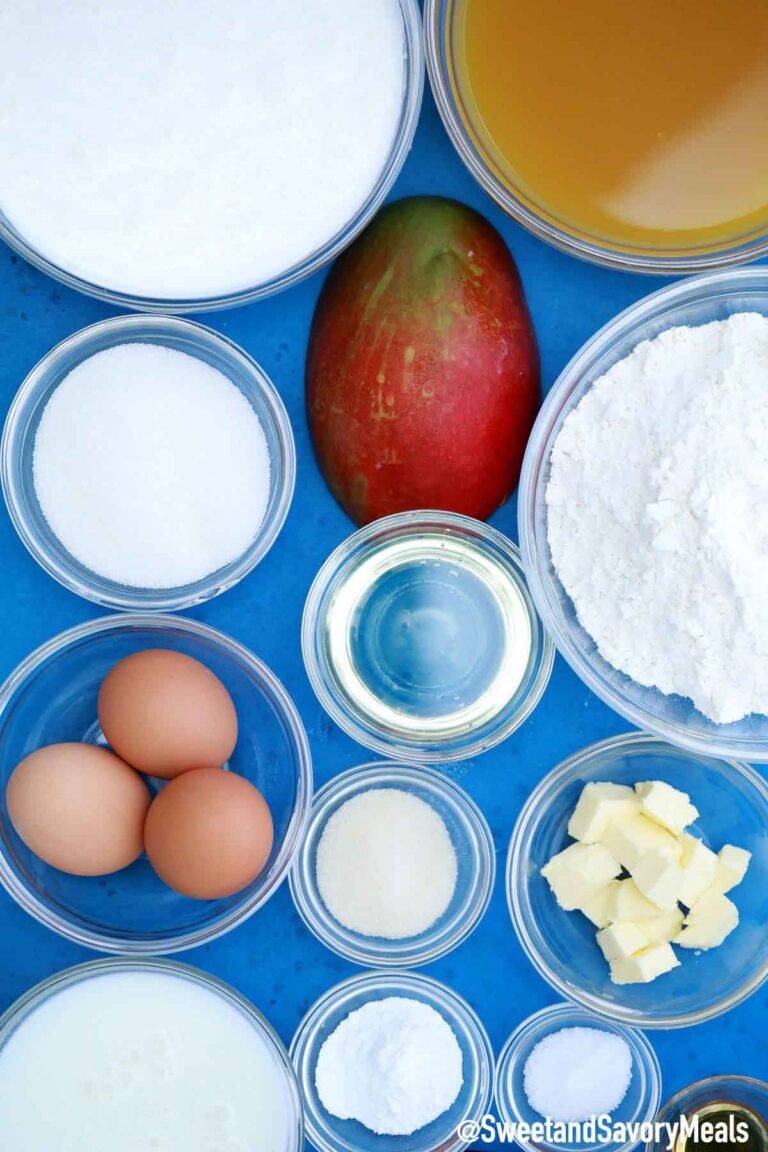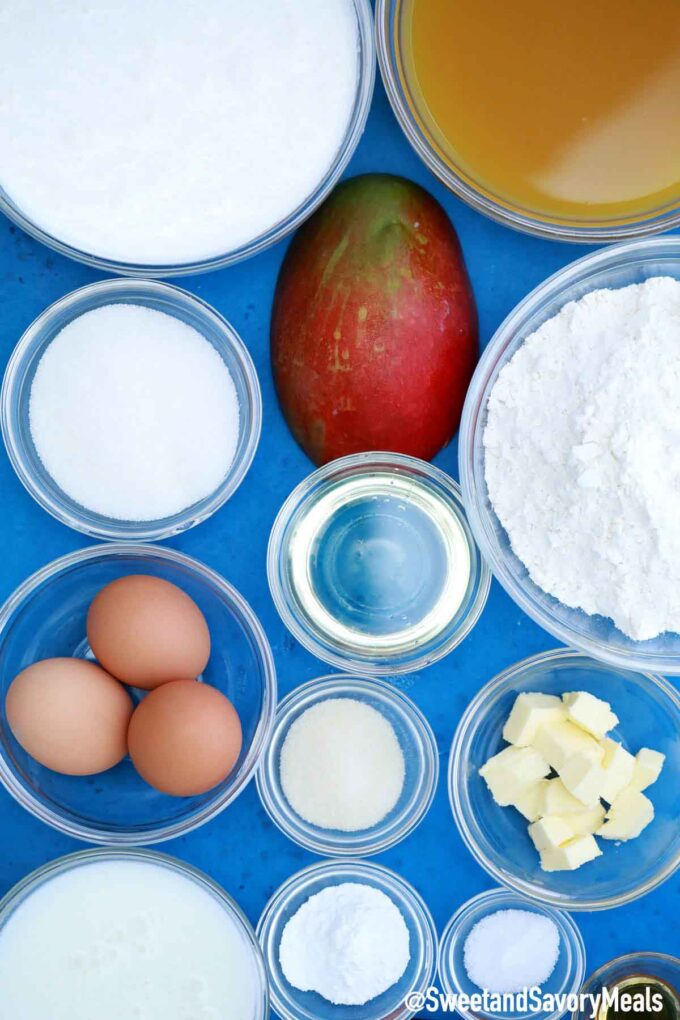 What is a mousse cake?
Here's a fun fact: the word "mousse" means "foam" or "froth" in French. It's the perfect name for this fantastic confection.
A mousse cake is generally a layer cake made with a flavored mousse and a cake base.
What do you need to make Mango Mousse Cake
For the yellow cake base, you'll need sugar, salt, flour, milk, butter, eggs, baking powder, and vanilla extract,.
For the mango mousse, prepare sugar, mango juice, unflavored gelatin, and chunks of mango.
Finally, you'll need a box of strawberry jelly.
To make this a beginner-friendly recipe, I chose convenient versions for some of the ingredients, like the box of strawberry jelly. But if you want to make it from scratch, you can absolutely do so!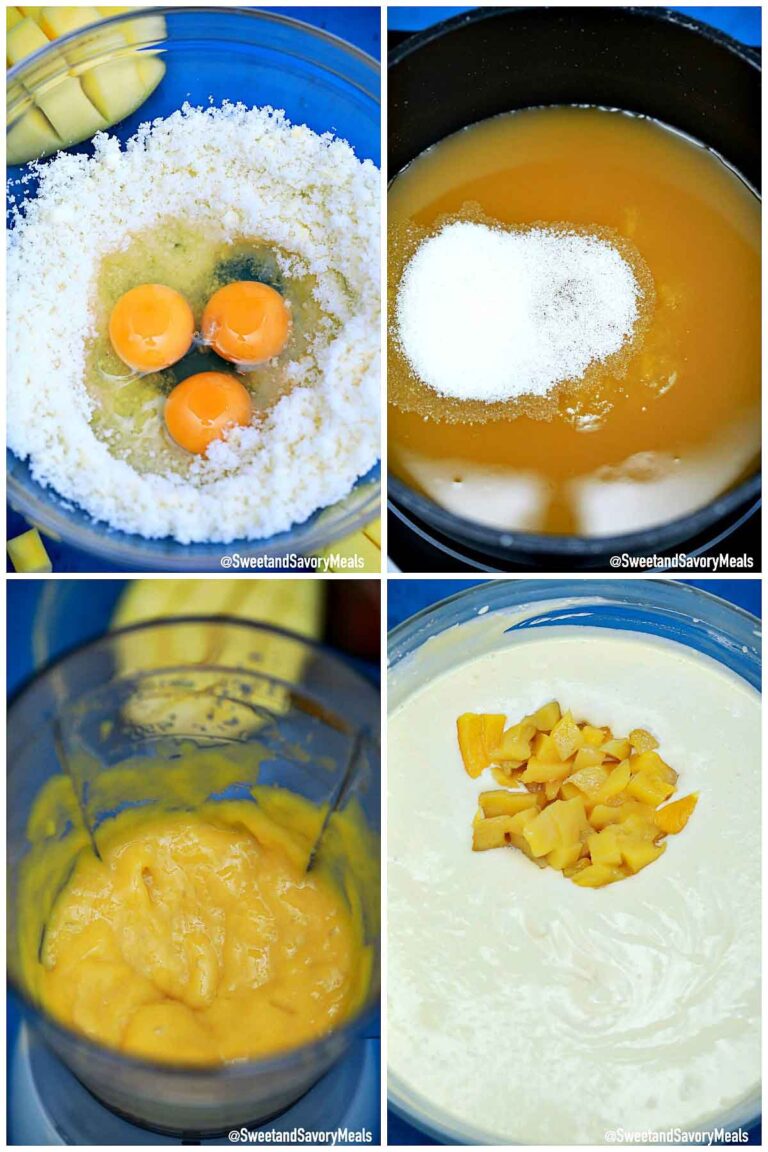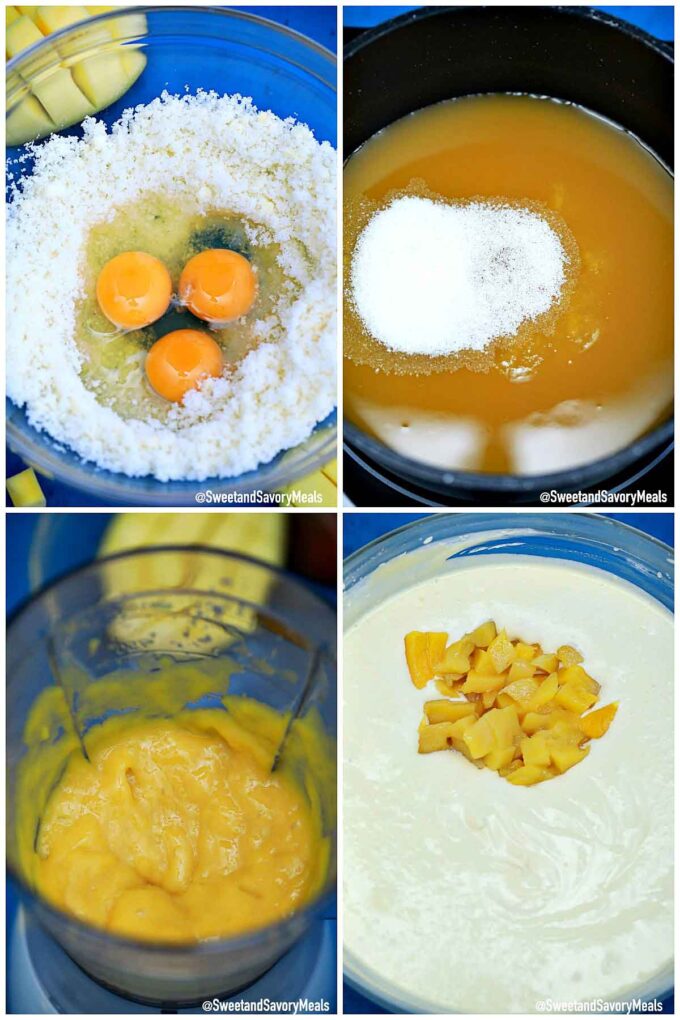 How to make Mango Mousse Cake
We'll begin with the yellow cake layer. Mix your dry ingredients in a bowl, then whisk sugar and butter. Mix in the eggs. Add your vanilla, oil, cream, and mix on medium-high. Combine your dry ingredients to complete the batter. Bake.
Next is your mousse. Sprinkle gelatin over your mango juice, dissolve along with the sugar, and set until it reaches pudding texture. Process mango chunks. Whip the cream and add the mango puree and gelatin mix until completely combined. Stir in more mango chunks.
Assemble the cake. Place the base in a springform pan, then pour the mousse over it. Refrigerate until it sets.
Make your strawberry jelly according to the box instructions. Pour over the mango mousse, and chill the cake to set.

Slice and serve.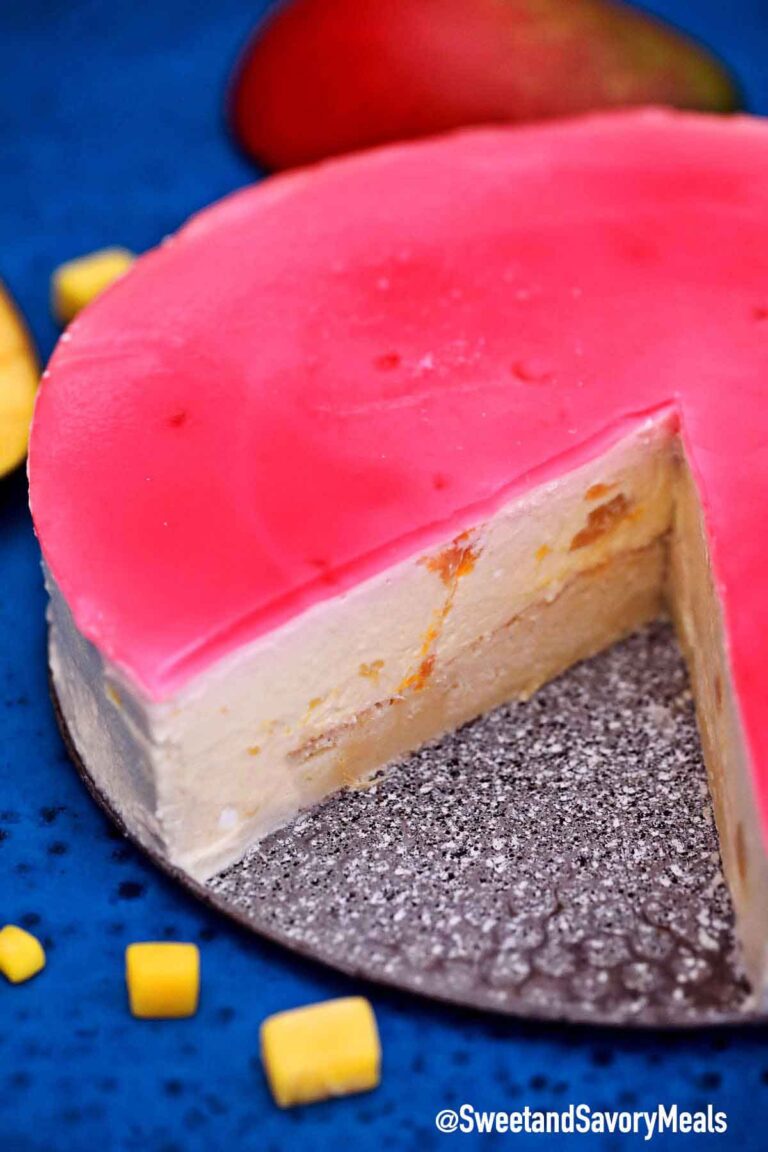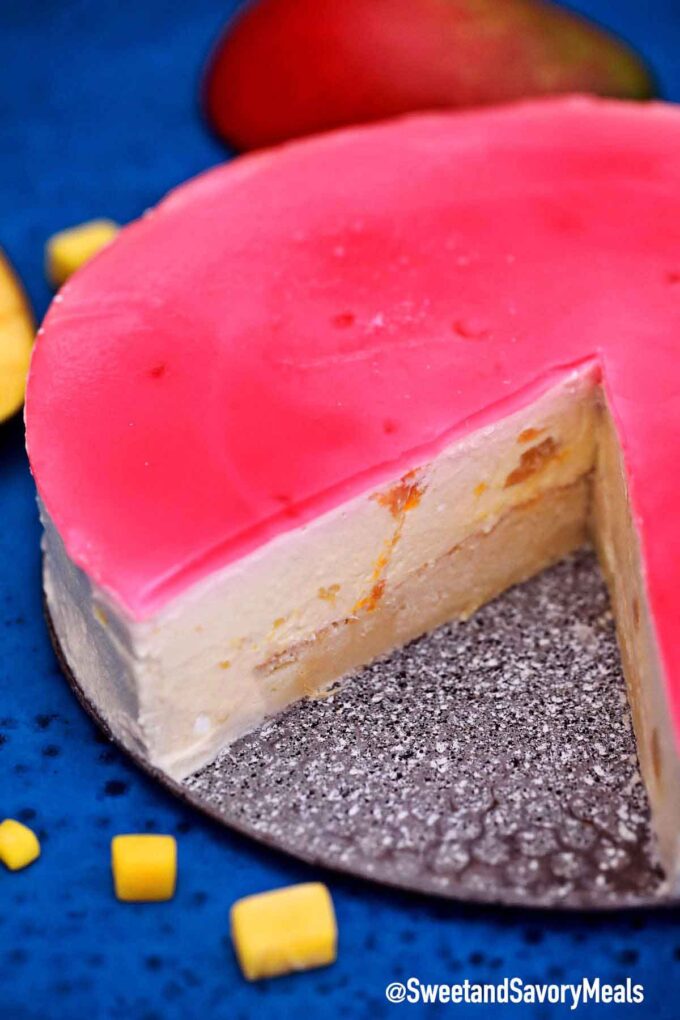 Can I use fresh mangoes?
Yes, and you'll get that pure mango flavor from the fruit itself. Just make sure they're ripe and sweet.
Can I skip the gelatin?
I wouldn't recommend it. You need the gelatin to help the mousse set because the whipped cream and mango puree combination is really delicate.
Don't worry about the taste since we're using unflavored; we just need it to get the right consistency.
How long will the MMC last?
You can freeze it for up to two months. When ready to serve, thaw it inside the fridge overnight.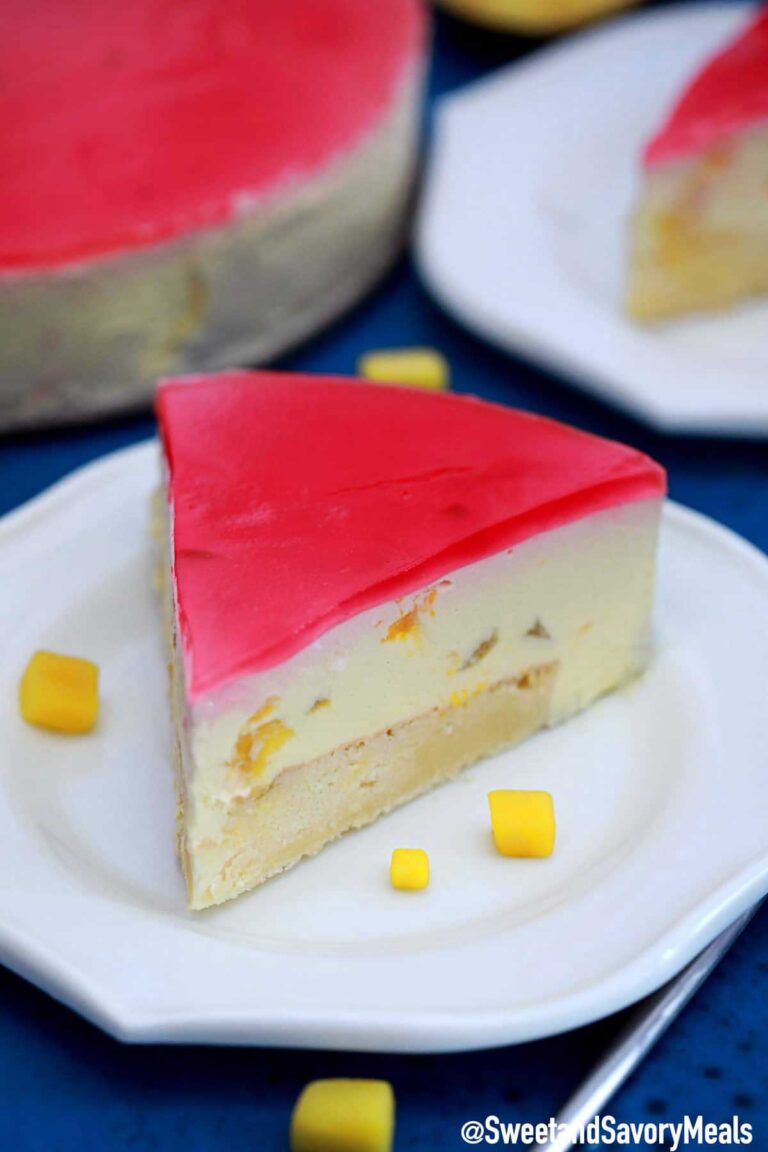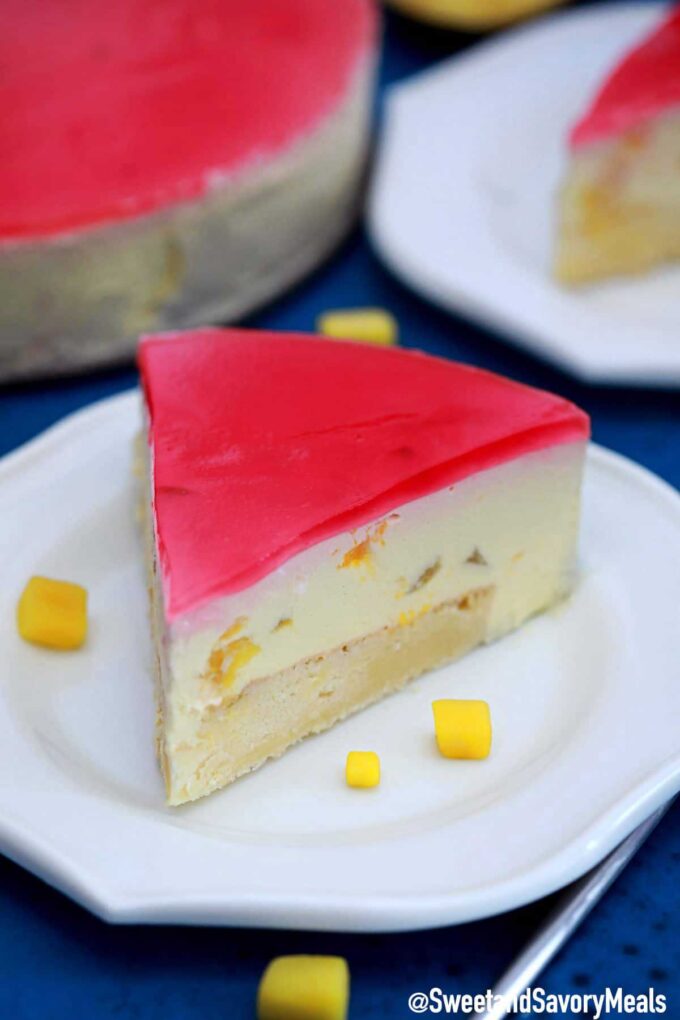 More delicious desserts: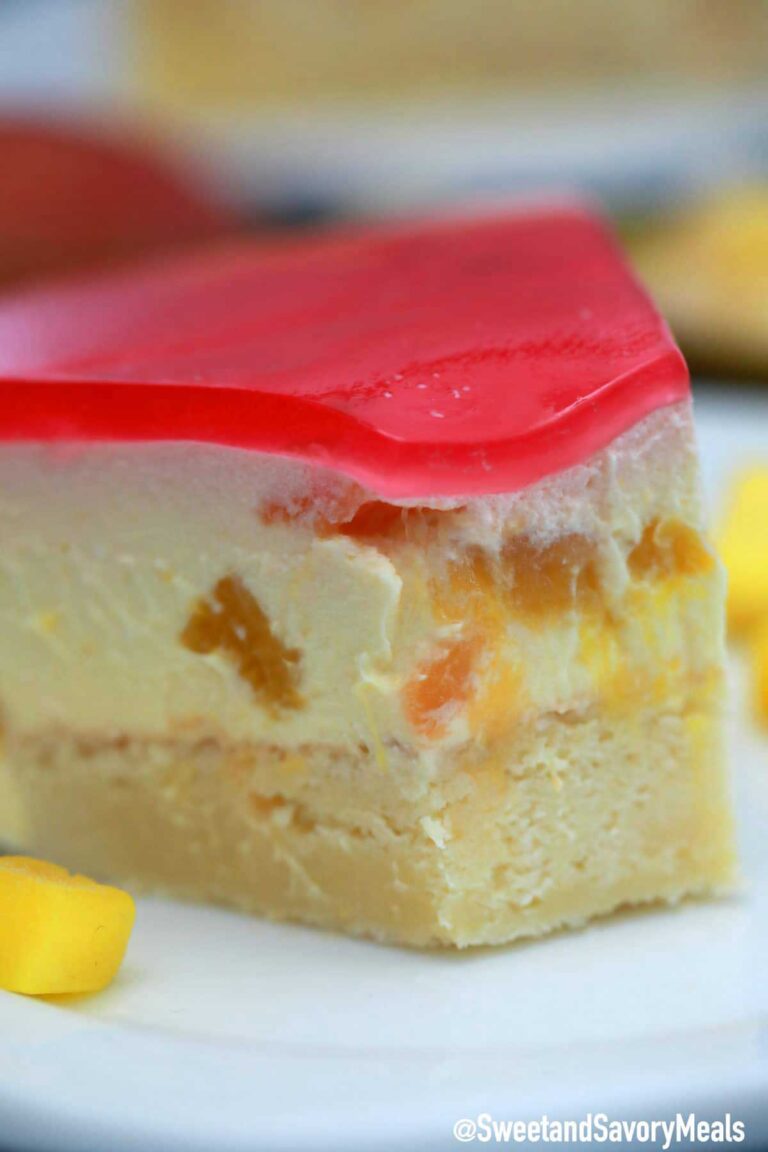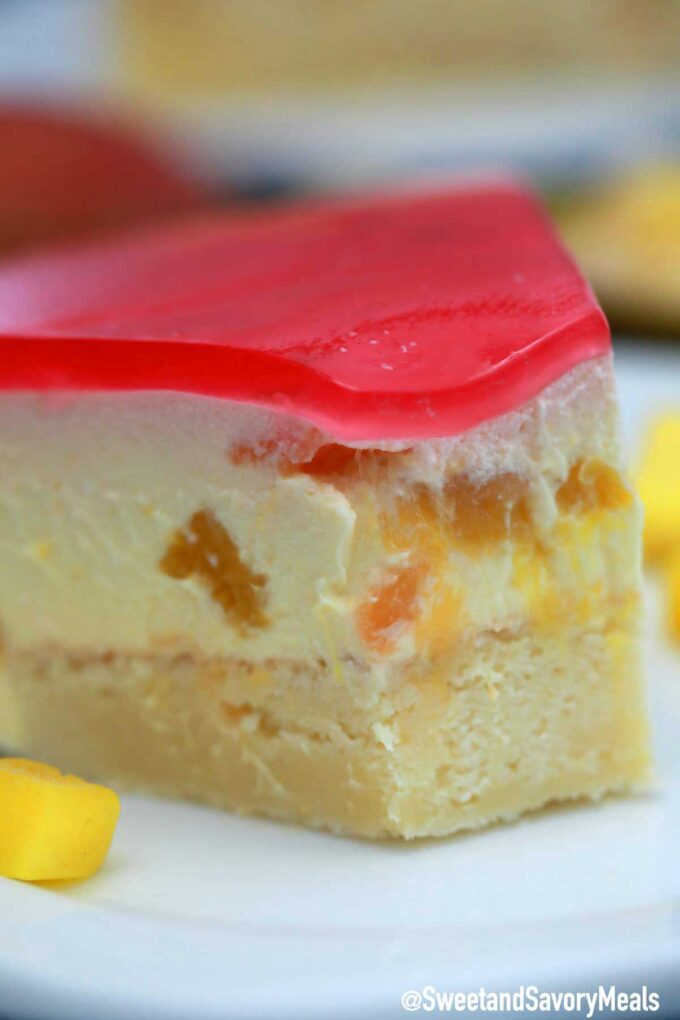 Recipe Tips:
Don't overcook your cake. Only bake until a toothpick inserted comes clean.
Feel free to use frozen mango for the puree.

For nice and clean cake slices, clean your knife after every cut.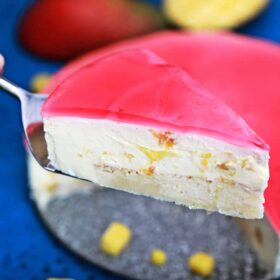 Mango Mousse Cake
Mango Mousse Cake is a decadent slice of mango heaven! A layer of buttery yellow cake, creamy mango mousse, and strawberry jelly make this such a delightful treat.
Save
Share
Print
Pin
Rate
Ingredients
Yellow Cake:
2¼

cups

all-purpose flour

1½

cups

granulated sugar

3½

teaspoons

baking powder

1

teaspoon

salt

1/2

cup

butter

(softened + more for buttering the pans)

1

cup

milk

1/4

cup

vegetable oil

3

large eggs

1

teaspoon

vanilla extract
Mango Mousse:
3

envelopes

unflavored gelatin

(7 grams each)

2½

cups

Mango Nectar Juice

1/2

cup

sugar

1 1/2

cups

heavy whipping cream

(cold)

2

cups

mango chunks

(fresh or canned)
Instructions
Cake Layer:
Butter two 8 inch cake pans and set aside.

In a medium bowl mix dry ingredients: flour, baking powder, and salt.

In the large bowl of an electric mixer, whisk softened butter and sugar on medium speed for 1-2 minutes.

Add dry ingredients and combine them with butter for 30-40 seconds.

Add milk, oil, vanilla extract, and eggs one at a time, mix on medium-high for one minute.

Pour batter into prepared pans. Bake for 20-25 minutes, a tooth stick inserted into the center of the cake must come clean.
Mango Mousse:
Add mango juice to a medium saucepan and sprinkle the gelatin over it. Let it sit for 1-2 minutes. Turn the stove on, and on low heat stir in the sugar into the juice and gelatin mixture. Cook stirring for 3-5 minutes, just until all the sugar and gelatin have dissolved.

Transfer the mixture to a glass bowl and cool to room temperature.

Add 1 cup of mango chunks to a food processor and process until smooth.

Whisk the heavy whipping cream on high speed until stiff, when soft peaks have been formed, reduce the mixer speed to low, and add the mango gelatin mixture to it. Whisk on low until combined. Make sure to scrape the sides of the bowl with a spatula, to make sure the mixture is fully combined.

Stir in the remaining 1 cup of mango chunks into the mixture.

Place one yellow cake layer into the center of a 9 or 10-inch springform pan, there will be space around it. Pour the mousse over the cake letting it fill in around the side. Refrigerate at least for 2 hours before adding the strawberry jelly layer.

NOTE: if you have a higher springform pan, or a cake ring form, pour half of the mousse over the cake layer, chill, then top it with the second layer, and cover with the remaining mousse mixture.
Strawberry Jelly:
Follow instructions on the box on how to prepare the jelly. Let the jelly cool to almost room temperature, I usually give the bowl an ice bath to speed up the process. Pour it over the mousse.

Refrigerate for at least 6 hours before serving the cake. Remove cake from the fridge and run a knife around inside rim of pan to loosen cake; remove sides of pan, slice, and serve.
Nutrition
Calories:
406
kcal
|
Carbohydrates:
64
g
|
Protein:
7
g
|
Fat:
15
g
|
Saturated Fat:
6
g
|
Cholesterol:
44
mg
|
Sodium:
330
mg
|
Potassium:
323
mg
|
Fiber:
2
g
|
Sugar:
46
g
|
Vitamin A:
1194
IU
|
Vitamin C:
18
mg
|
Calcium:
161
mg
|
Iron:
2
mg
More recipes you might love