Peanut Butter Mousse Brownies
Peanut Butter Mousse Brownies are stuffed with Reese's Peanut Butter Eggs and topped with a creamy No Bake Peanut Butter Mousse. They are puffy, rich and flavorful, and very easy to make.
These Peanut Butter Mousse Brownies are so pretty and tasty, that are perfect for themed parties, and are a hit with kids and adults alike! Like Dark Chocolate Peanut Butter Cupcakes, Flourless Peanut Butter Cookies and Peanut Butter Cookie Dough Cups, these will be a perfect dessert for you and family to enjoy!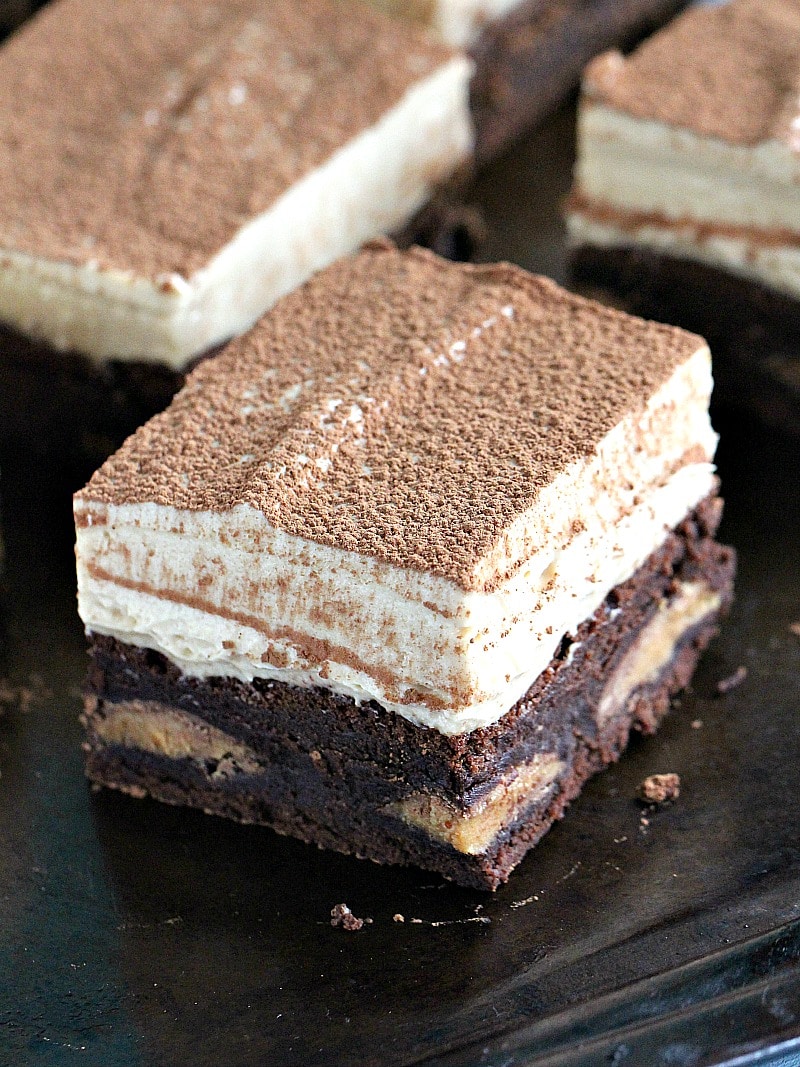 Peanut Butter Mousse Brownies
These Peanut Butter Mousse Brownies are the best brownies you will ever try. They are rich, creamy, dense, and topped with a thick layer of no bake peanut butter mousse. The mousse makes these brownies soft and creamy, and it adds another level of taste and texture to them.
The peanut butter flavor is intense, yet perfectly balanced with the chocolate and the mousse. These Peanut Butter Mousse Brownies are such an elegant dessert, it takes regular brownies to a whole new level.
Why You'll Love This Peanut Butter Mousse Brownies:
They are rich with peanut butter and chocolate flavor, and are a show stopper dessert.
Easy to find ingredients and minimum prep work and dishes to clean.
Perfect for brunch parties and for bigger crowds.
Easy to transport if you have to take them to a brunch party.
Can be made 1 or 2 days in advance so you don't have to worry about a last minute dessert.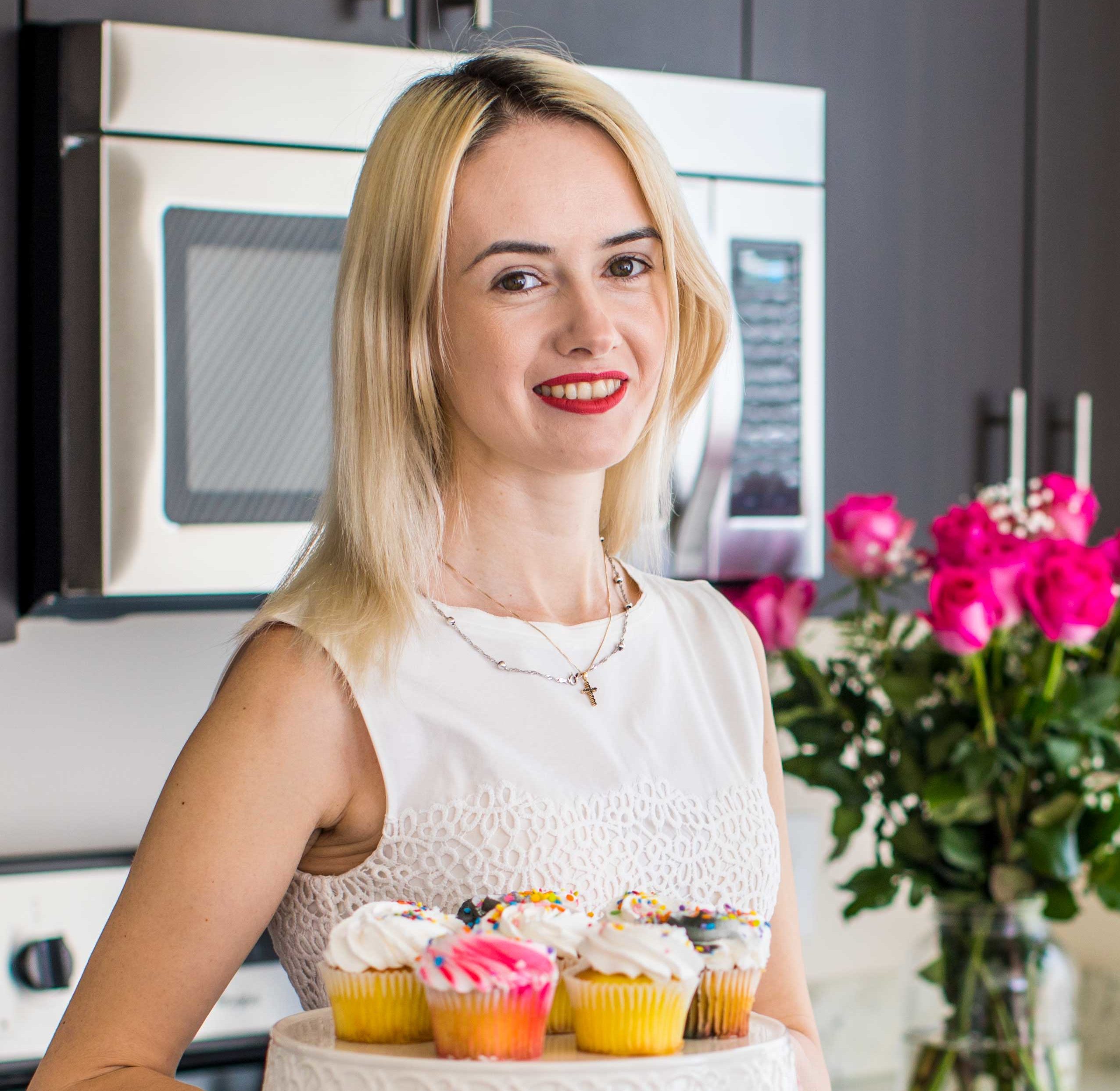 Follow us on Pinterest for more delicious recipes!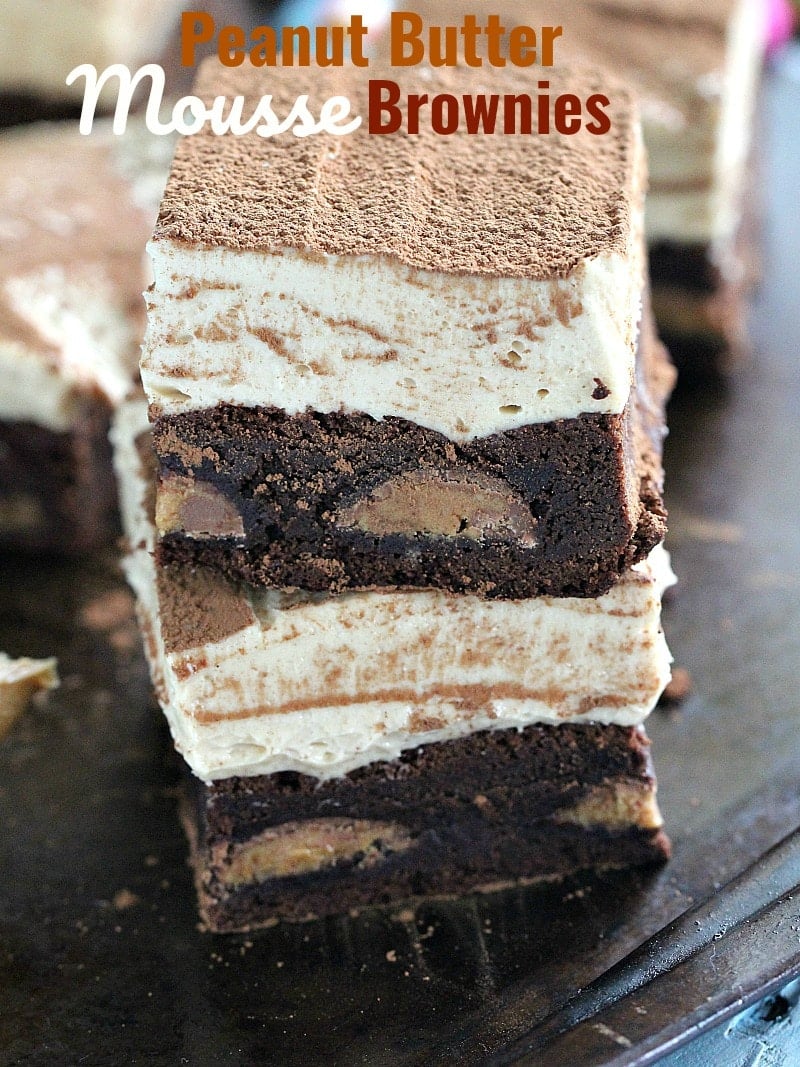 How Long Will Peanut Butter Mousse Brownies Stay Fresh?
The brownies can be stored wrapped in plastic wrap at room temperature for about 4-5 days.
Can You Store and Freeze these Peanut Butter Mousse Brownies?
Absolutely! This brownies freeze well. Cool the brownies completely and fully wrap it in plastic wrap, tightly. After that wrap in aluminum foil. Freeze for up to 2-3 month. Defrost before serving.
Looking for more Peanut Butter desserts? Here are some suggestions:
Save Recipe
Peanut Butter Mousse Brownies
Author: Catalina Castravet
Serves: 12 servings
Prep time:

30

minutes
Cook time:

40

minutes
Total time:

1

hr

10

mins
Ingredients
For the Brownie Layer:
4 large eggs
2 cups sugar
8 ounces melted butter (+ 2 tablespoons for greasing the pan)
1 cup cocoa (sifted)
1 teaspoon vanilla extract
1 cup flour (sifted)
1/2 teaspoon kosher salt
16 mini Reese's Eggs
Peanut Butter Mousse:
8 ounces cream cheese (softened)
1 cup creamy peanut butter
1 1/2 cups heavy whipping cream
2 cups confectioner's sugar
cocoa powder
Instructions
Preheat oven to 325 degrees F.

Place a baking sheet (parchment paper) in a buttered 9x13-inch pan so it covers the bottom and 2 sides (to facilitate the brownie removal). Butter the parchment paper or spray with baking spray and set aside.

In the bowl of a mixer fitted with the wire attachment, beat the eggs at medium speed until fluffy and light yellow, add the sugar and beat until combined. Add remaining ingredients, and mix to combine.
Pour half of the batter into the pan and top with Reese's eggs, pour the remaining batter.

Bake for 35-40 minutes. A toothpick inserted in the center of the brownie should come out with a few crumbs attached, but NO raw batter.

Remove from oven and set aside to cool without removing the brownie from the pan. Once cooled down completely start on the mousse.
Peanut Butter Mousse:
Chill a mixing bowl in the refrigerator or freezer for at least 15-20 minutes.
Remove bowl from refrigerator and using a mixer fitted with the wire attachment beat 1 cup of heavy cream until stiff peaks form. Set aside.
In a separate bowl, whisk on medium speed cream cheese, peanut butter and confectioner's sugar, reduce speed to low and add 1/2 cup of heavy cream, mix on medium low speed until fully combined. Stop to crape the sides of the bowl with a spatula.
Gently, using a spatula, manually fold in the whipped cream into the peanut butter mixture. Gently still until well blended.
Pour the peanut butter mousse on top of the completely cooled brownie pan and level the top layer. Place in the fridge overnight, or for at least 4-6 hours.
Before serving, remove from fridge, lift the mousse brownies from the pan using the parchment paper edges, dust with cocoa powder, run a knife thru cold water and cut into square bars.
Calories: 712 Carbohydrates: 71 Protein: 11 Fat: 46 Saturated Fat: 23 Cholesterol: 156 Sodium: 425 Potassium: 333 Fiber: 3 Sugar: 55 Vitamin A: 1245 Vitamin C: 0.2 Calcium: 71 Iron: 2.2
Save Recipe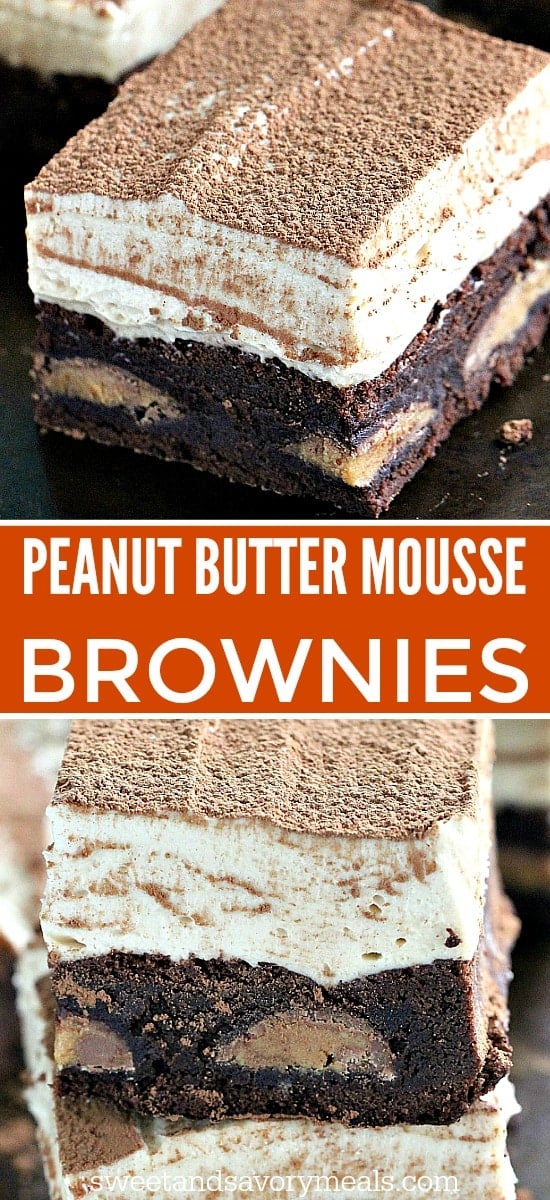 More recipes you might love