Peanut Butter Mousse Brownies
This post may contain affiliate links. Please read my disclosure policy.
Chocolaty Peanut Butter Mousse Brownies are stuffed with Reese's Peanut Butter Eggs and topped with a creamy No Bake Peanut Butter Mousse.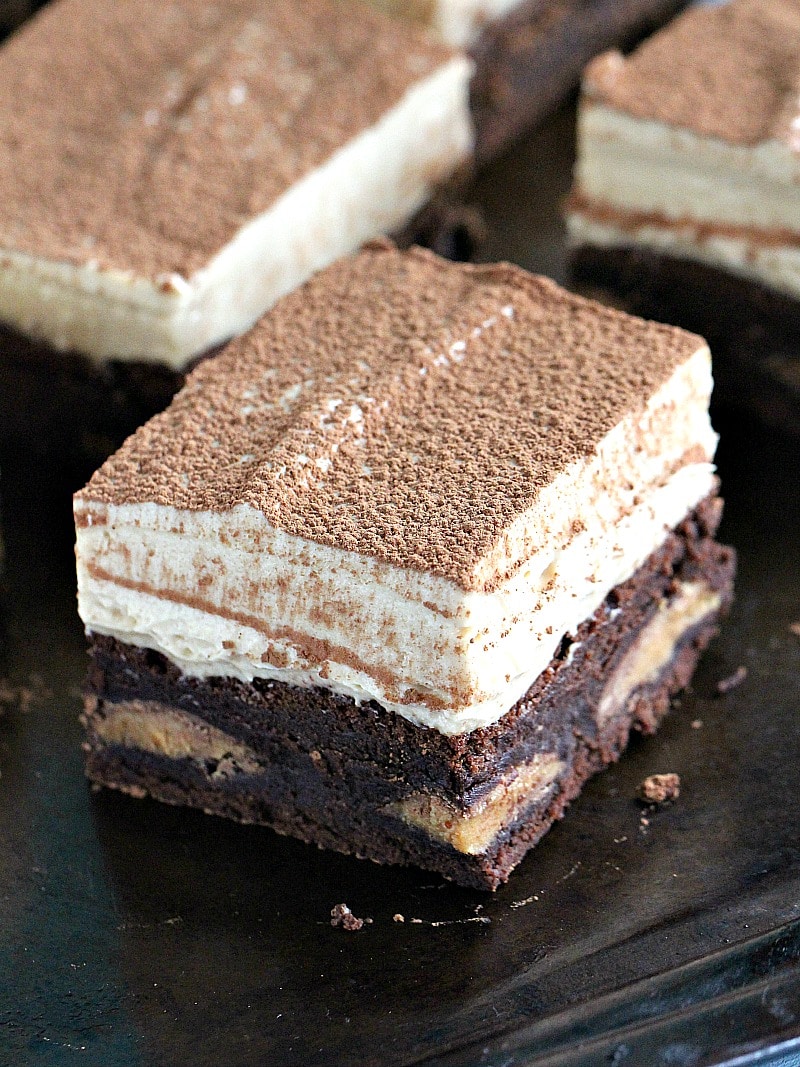 I must confess, I love brownies, I am actually obsessed with brownies and I might've just developed an addiction to these Peanut Butter Mousse Brownies stuffed with Reese's Eggs. If you check my brownie recipes, you can see that I have Chocolate Mousse Brownies, Red Velvet Creme Brûlée Brownies (yes, I went that far!), I also have 7 Layer Brownies, Pomegranate Mousse Brownies a Brownie Cake and Brownie Cupcakes. Well, those are a lot of brownies in one paragraph, but all of them are unbelievably good.
If you have been a reader for some time, you also might've noticed that I have a thing for mousse. Mousse makes everything so much better! I mean, its sweet, its creamy and it adds another level of taste and texture, its good on its own, but its even better when combined with other desserts, just like in these Peanut Butter Mousse Brownies that are topped with a thick layer of No Bake Peanut Butter Mousse.

With Catholic Easter just around the corner, if you are like me you stocked up on Reese's Eggs, cause that stuff is insanely delicious. And if you are like me, you will end up with a basket full of candies, that you can either eat, hoard or much better bake them into brownies.

MY LATEST VIDEOS
Seriously, these brownies are amazing! A cross between peanut butter brownies and peanut butter pie, its actually combining both in this easy and indulgent dessert. The brownies are extra chocolaty, with huge bites of Reese's Eggs, and every single bite is topped with a huge amount of creamy and delicious peanut butter mousse.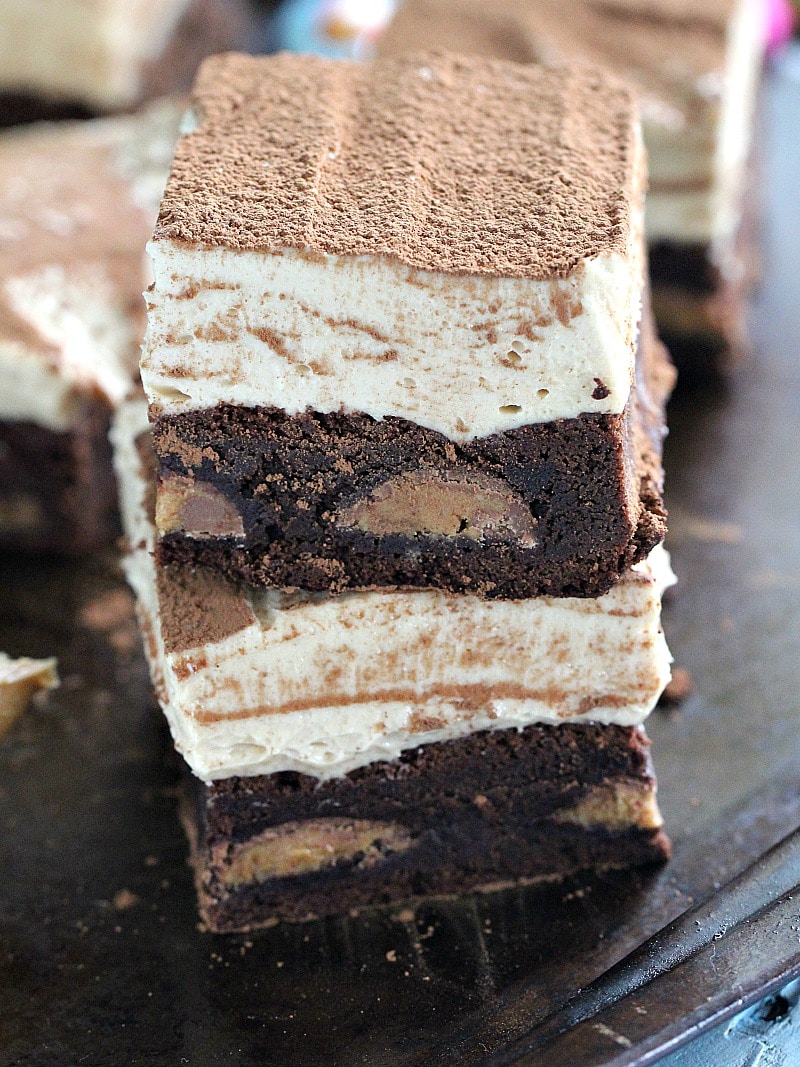 These Peanut Butter Mousse Brownies are the way to get your chocolate and peanut butter fix!

Peanut Butter Mousse Brownies
Author:
Katalina Kastravet
Ingredients
For the Brownie Layer:
4 large eggs
2 cups sugar
8 ounces / 2 sticks melted butter + 2 tablespoons for greasing the pan
1 cup cocoa, sifted
1 teaspoon vanilla extract
1 cup flour, sifted
½ teaspoon kosher salt
16 mini Reese's Eggs
Peanut Butter Mousse:
8 ounces / 1 package cream cheese, softened
1 cup creamy peanut butter
1½ cups heavy whipping cream
2 cups confectioner's sugar
cocoa powder
Instructions
Preheat oven to 325 degrees F.
Place a baking sheet (parchment paper) in a buttered 8-inch pan so it covers the bottom and 2 sides (to facilitate the brownie removal). Butter the parchment paper or spray with baking spray and set aside.
In the bowl of a mixer fitted with the wire attachment, beat the eggs at medium speed until fluffy and light yellow, add the sugar and beat until combined. Add remaining ingredients, and mix to combine.
Pour half of the batter into the pan and top with Reese's eggs, pour the remaining batter.
Bake for 35-40 minutes. Remove from oven and set aside to cool without removing the brownie from the pan. Once in cooled down completely start on the mousse.
Peanut Butter Mousse:
Chill a mixing bowl in the refrigerator or freezer for at least 15-20 minutes.
Remove bowl from refrigerator and using a mixer fitted with the wire attachment beat 1 cup of heavy cream until stiff peaks form. Set aside.
In a separate bowl, whisk on medium speed cream cheese, peanut butter and confectioner's sugar, reduce speed to low and add ½ cup of heavy cream, mix on medium low speed until fully combined. Stop to crape the sides of the bowl with a spatula.
Gently, using a spatula, manually fold in the whipped cream into the peanut butter mixture. Gently still until well blended.
Pour the peanut butter mousse on top of the completely cooled brownie pan and level the top layer. Place in the fridge overnight, or for at least 4-6 hours.
Before serving, remove from fridge, lift the mousse brownies from the pan using the parchment paper edges, dust with cocoa powder, run a knife thru cold water and cut into square bars.
Peas and Peonies, LLC. owns the copyright on all images and text and does not allow for its original recipes and pictures to be reproduced anywhere other than at this site unless authorization is given. If you enjoyed the recipe and would like to publish it on your own site, please re-write it in your own words, and link back to my site and recipe page. Copying and/or pasting full recipes to social media or personal blogs is strictly prohibited. Sharing this recipe is very much appreciated and encouraged. Read my disclosure and privacy policy. This post may contain affiliate links.