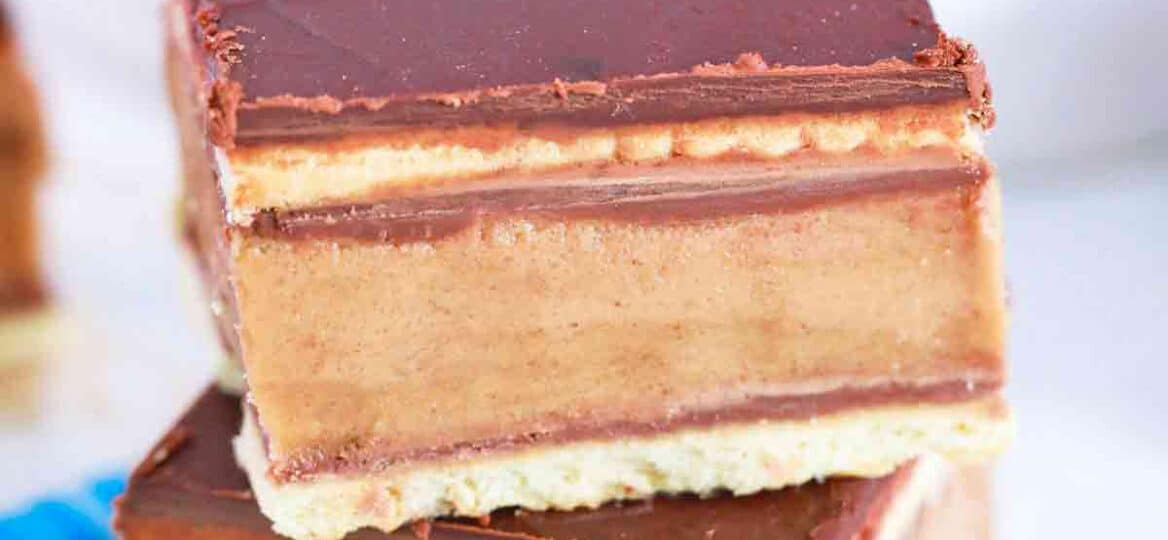 Disneyland Peanut Butter Bars Recipe
Disneyland Peanut Butter Bars are a scrumptious copycat of the yummy sweet treats you find at Pooh's Corner in the park. With three coats of melted chocolate between a thick peanut butter layer and two sheets of graham crackers, these delicious treats are mouthwatering.
Chocolate lovers will enjoy our PB Mousse Brownies made with cream cheese and creamy peanut butter on top of each brownie. If you would rather skip the chocolate, try these Air Fryer PB Cookies that only take 20 minutes. Also great, our Chocolate Chip Cookie Bars are a thicker version of the original cookie.
The Walt Disney Company always comes up with some amazing food to serve at their parks and this is definitely one of our favorites.
Anyone who likes sweets will devour these tasty treats. This is such an easy recipe, and there is no baking required. Get the kids to help. They will have a blast!
The combination of creamy peanut butter, crunchy cookies, and chocolate topping is irresistible!
Ingredients needed:
For the step-by-step instructions, scroll down to the recipe card at the bottom of the page. But here are the easy ingredients for this recipe:
Creamy peanut butter: Any brand will do.
Chocolate chips: We used semi-sweet but you can use your favorite.
Graham crackers: Any brand is fine.

Butter: Unsalted and softened.
Shortening: This is a key ingredient for the best results.
Powdered sugar: Also known as confectioner's sugar.
Salt: Just a pinch.

Vanilla
How to make Disneyland bars from scratch?
Prepare: First, line a 9×9-inch pan with parchment paper or aluminum foil and spray it with nonstick cooking spray.
Beat: Next, mix the powdered sugar, salt, vanilla, butter, and peanut butter with an electric mixer in a large bowl until it is smooth.

Test: Afterward, check the mixture. It should be easy to shape into a ball without falling apart and should not be sticky. You can add up to another ½-cup of sugar if needed.

Melt: Then, using a microwavable bowl, melt chocolate chips in 30 second intervals until it is smooth. Stir between each 30 seconds.

Assemble: To assemble the bars, put half of the graham crackers on the bottom of the pan in a single layer. Then spread 1/3 of the chocolate on top.

Scoop: Next, scoop out balls of nut butter and flatten with your hands before putting them on top. Smooth it out carefully.

Spread: Then, spread another 1/3 of the melted chocolate on before putting another layer of graham crackers on top.

Chill: Lastly, spread the rest of the chocolate over the top with some graham cracker crumbs and chill for at least one hour to set.

Serve: Finally, slice into bars and serve chilled. Store them in the fridge because they will melt at room temperature.
Recipe variations:
Crunchy peanut butter bars: Instead of creamy peanut butter, use chunky to make it crunchier.

Chocolate swap: Feel free to swap the semi-sweet chocolate chips for other types of chips such as dark chocolate or milk chocolate.
Add oil: If you do not have any shortening, you can use your favorite oil instead.

Brown sugar: Sprinkle some brown sugar on top for a richer taste.
Drizzle: Decorate the top of your bars by drizzling a little bit of melted dark or white chocolate on top.
How to serve:
Your family will enjoy these fun dessert bars chilled with a dollop of whipped cream. Or try one of these other serving ideas:
Add a scoop of homemade ice cream on top instead for extra creaminess.
Have a Disney Fantasy Party and add these rich and crunchy Disneyland churro toffee bars too!
Serve with a drizzle of chocolate syrup and some sprinkles for a more festive look.

These also taste fantastic with a scoop of this tangy strawberry sauce on top.
Another sauce that would be great on these peanut butter squares is our homemade caramel sauce.
Frequently asked questions
Where are Disneyland peanut butter bars sold?
You can only get your favorite Disney snack at the park. You can go to Pooh Corner in Critter Country or the Candy Palace on Main Street USA.
That is what makes this copycat recipe so great. You do not have to go all the way to Disneyland to get them.
Not that the theme park isn't fun, but it is an expensive way to get this favorite treat.
What is the easiest way to drizzle chocolate?
To make the perfect chocolate drizzle on top of these delicious Disneyland peanut butter sandwich bars you have to have a perfect consistency.
Using a small bowl, microwave chocolate chips or chopped milk chocolate until it is smooth. Check every 30 seconds for best results.
Then, you can either use a fork dipped into the chocolate to drizzle the melted chocolate over the top or use a sandwich bag.
Just pour the chocolate into a baggie and cut a small hole in the corner. Gently squeeze the bag to get it out.
What is the Grey Stuff at Disneyland?
This popular dessert is made of red velvet cake filled with raspberry jam and completely engulfed in white chocolate mousse ice cream.
All this is on top of a scalloped tea cookie and drizzled with cookie crumbs and candy pearls.
You can get it on your next Disney vacation at Magic Kingdom or in Fantasyland at the Red Rose Taverne.
How to store leftovers:
Store: Be sure to put these Disneyland peanut butter bars in the refrigerator after cutting or you can have a melted mess. These will last about three days in the fridge if you can stop yourself from eating them all.

Freeze: For any leftovers, you can freeze these by wrapping them in plastic wrap or separated by parchment paper in an airtight container. They will last up to three months in the freezer.

Thaw: Thaw overnight in the fridge before serving for best results. Serve chilled.
More copycat recipes:
Cooking tips:
You can also find these chocolate peanut butter sandwich treats at Walt Disney World Resort.
If the chocolate starts to harden as you work, stick it in the microwave for another 20 seconds.

Do not skimp on the shortening. This is what helps the chocolate melt to that smooth consistency like the real thing from Disney parks.
If you have trouble spreading the chocolate, use a freezer bag as a piping bag to squeeze it out onto the graham crackers, making it easier to spread.

Don't forget the parchment paper or aluminum foil and cooking spray for easier removal and cutting.

You can put graham crackers in a freezer bag and crush them using a rolling pin.
Disneyland Peanut Butter Bars
Ingredients
1 1/2

cup

creamy peanut butter

1/4

cup

unsalted butter

softened

1/4

teaspoon

salt

2 - 2 1/2

cups

powdered sugar

1

teaspoon

vanilla extract

10-12

graham cracker sheets

full sheet of 4

2

cups

chocolate chips

3

tablespoons

shortening
Instructions
Line a 9x9 inch square pan with foil or parchment paper. After that, spray lightly with nonstick cooking spray.

In a large bowl, using a mixer, beat together peanut butter, butter, vanilla, salt, and 2 cups of powdered sugar, beat until smooth and a bit crumbly.

Text the mixture with your fingers, you should form a ball easily without it falling apart. If needed, add the remaining ½ cup of powdered sugar.

Place chocolate chips and shortening in a microwave-safe bowl. Heat in 30-second increments, stirring between each, until fully melted and smooth.

Arrange half of the graham cracker sheets on the bottom of the prepared pan in a single layer.

Spread 1/3 of the melted chocolate on top.

After that, add the peanut butter mixture, flatten it using your hands and make it one even layer.

Spread another 1/3 of the chocolate mixture on top of the peanut butter, then add another layer of graham cracker sheets. Top with the remaining chocolate.

Chill to set for at least 1 hour.

Slice into bars and serve.
Deliciousness to your inbox
Enjoy weekly hand picked recipes and recommendations