Air Fryer Peanut Butter Cookies [Video]
Air Fryer Peanut Butter Cookies are incredibly flavorful, chewy and soft, and packed with chocolate chips. These delicious homemade treats only take 7 minutes in the air-fryer!
If you're addicted to PB like we are, you're going to LOVE these Homemade Peanut Butter Eggs, Crispy Peanut Butter Balls, and Peanut Butter Cheesecake!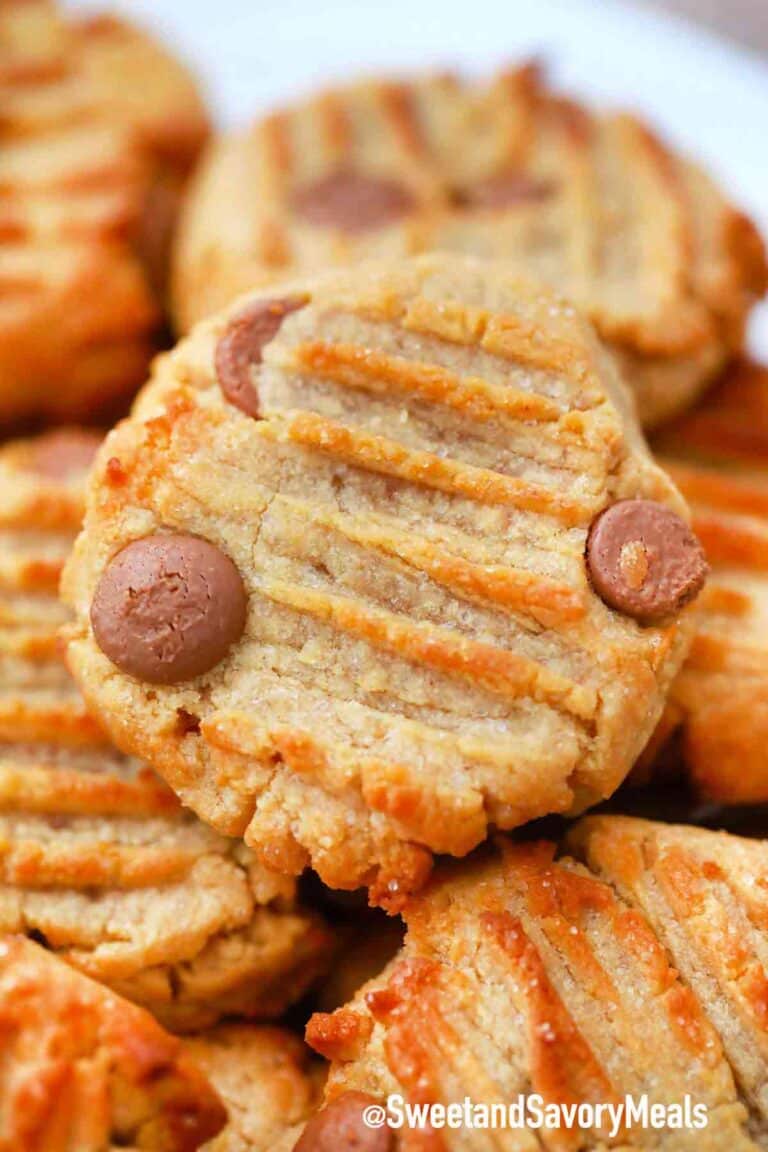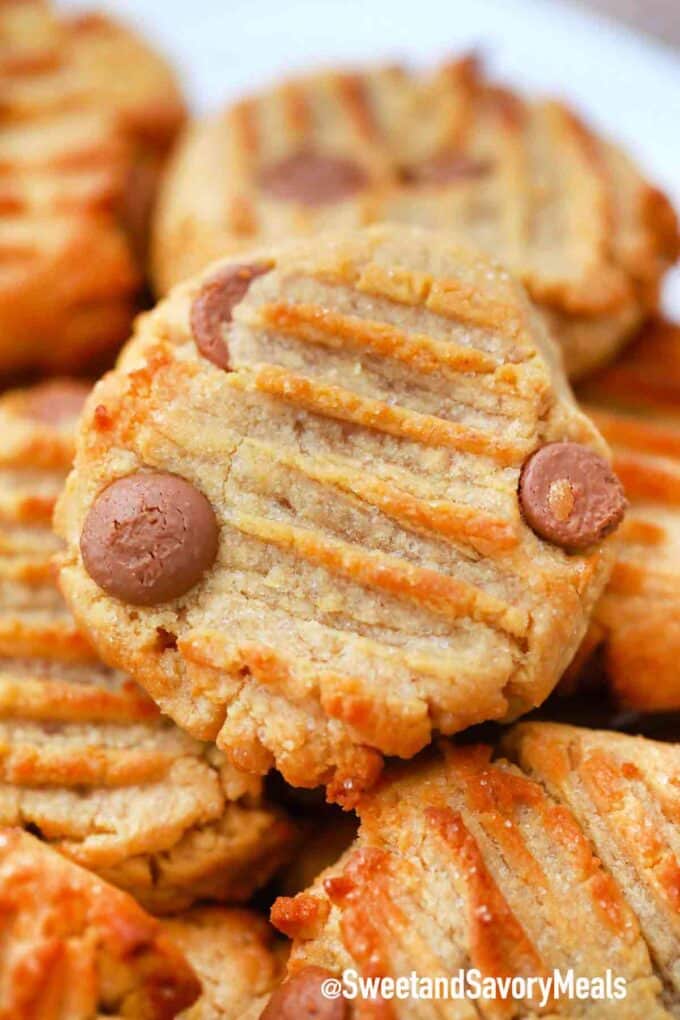 Peanut Butter Cookies Recipe
Air Fryer Peanut Butter Cookies whip up in a flash and are loaded with nutty, chocolatey flavor. If you've made dessert in the air-fryer before, you're in for a happy surprise!
These are just like the classic peanut butter cookies, except there's no hot oven heating up your kitchen. In addition, they're delightfully chewy and irresistibly soft, and you can customize them with different mix-ins. Besides, you can even dip these into chocolate if you're looking for a more decadent treat!
How does an air fryer work?
Specifically, the air fryer works very like a small fan-assisted convection oven. As a result, hot air circulates all around the food, cooking it evenly. That's why you can also bake in it, and not just cookies, but different loaves of bread, a lot of types of cakes, even cheesecakes, decadent brownies, and more!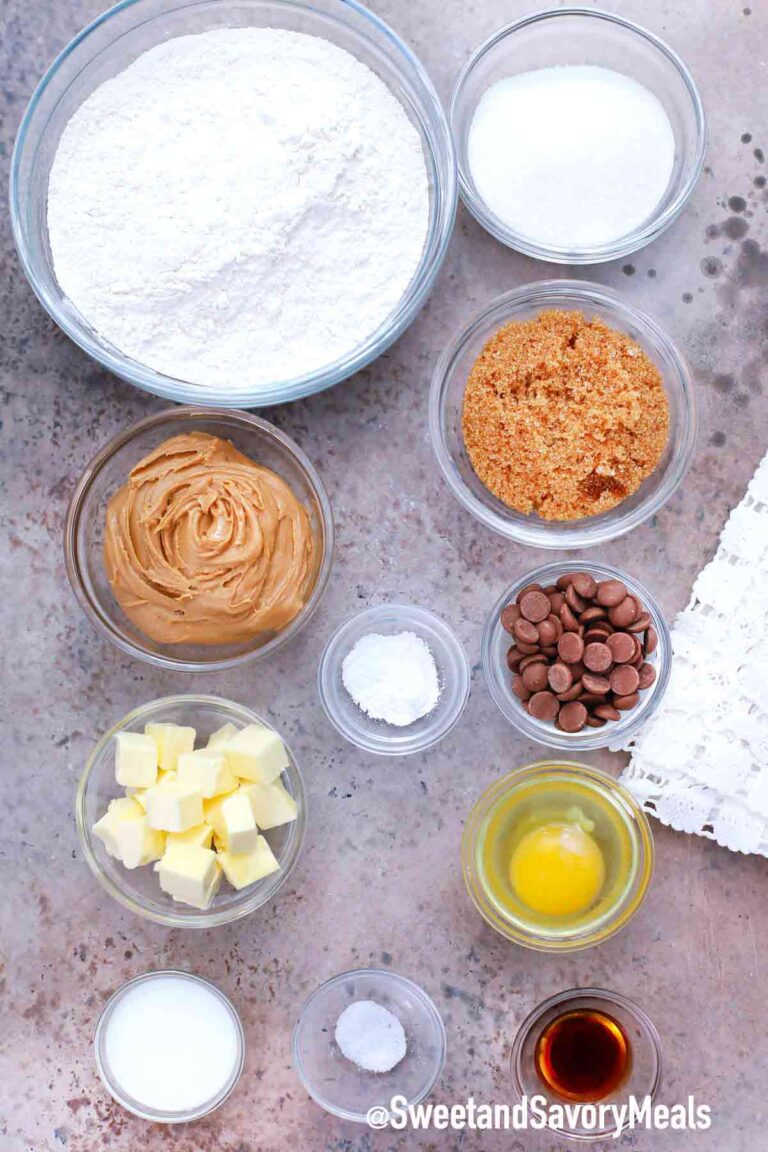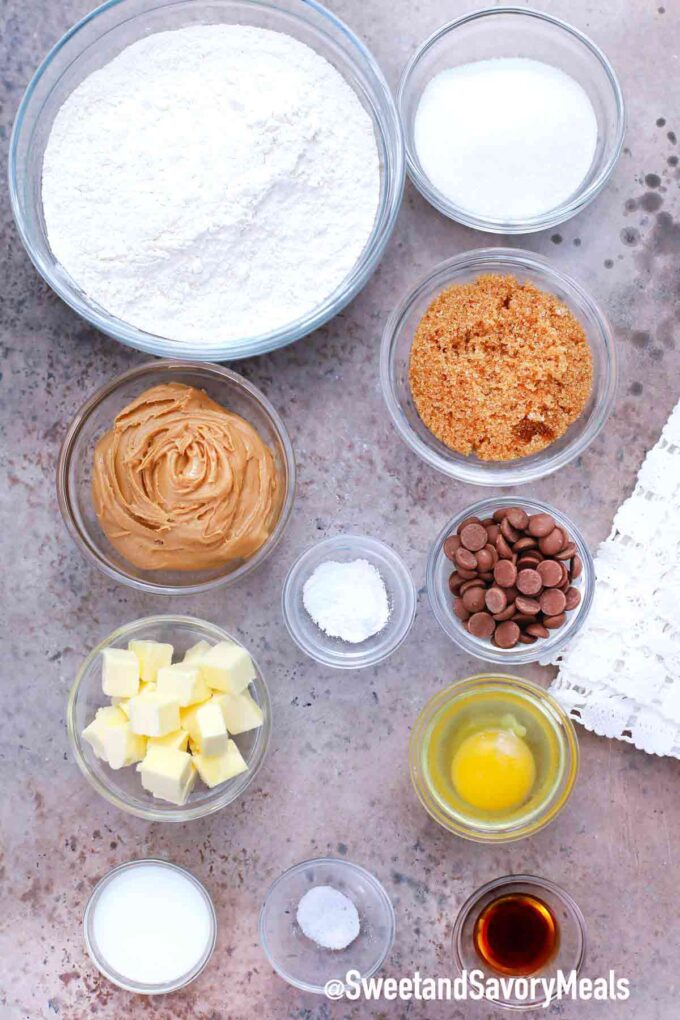 What goes into homemade Air Fryer Peanut Butter Cookies
Peanut butter: Use your favorite brand, but we prefer the creamy, smooth kind for its texture.
Butter: Set it out a few hours before air-frying so it's nice and soft (room temp).
Dry: These treats get their structure from the flour, and baking powder gives them a lift. Finally, a dash of salt prevents it from tasting flat.
Wet: We're using both brown and white sugars, along with an egg, plus a splash of milk and pure vanilla extract.
Chocolate chips: PB and chocolate are a match made in heaven, and you're going to love it in these cookies!
How do you make Air Fryer Peanut Butter Cookies from scratch
Mix. First, start by mixing up the dry, then set aside. After that, mix the PB with the room-temp butter, followed by the sugars. Next, mix in the rest of the wet. Finally, add the flour-baking powder combo gradually just until combined. In the end, finish the dough by stirring in the chips.
Air-fry. Divide the PB dough into small balls about two tablespoons each. After that, flatten with a fork. Air-fry at 350F for about 6 to 7 mins.
Cool. Last of all, set them on a rack and leave them to cool so they firm up a bit.
Serve. At last, get a glass of milk and enjoy!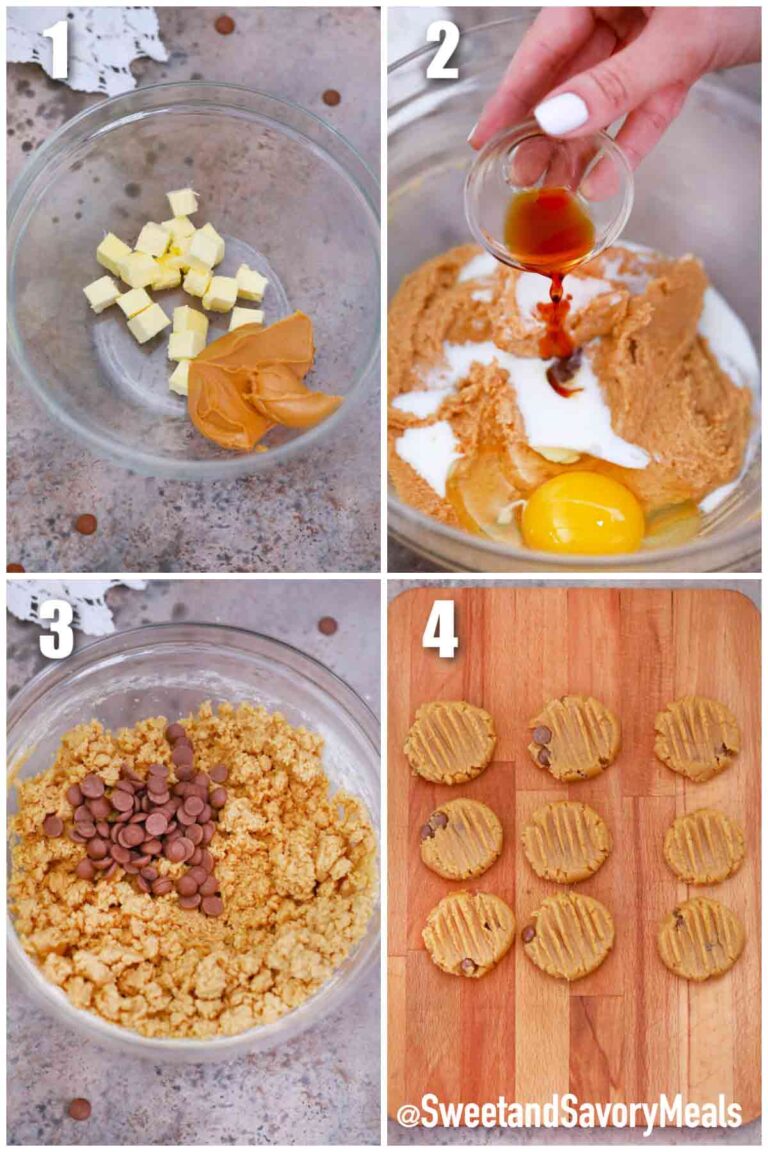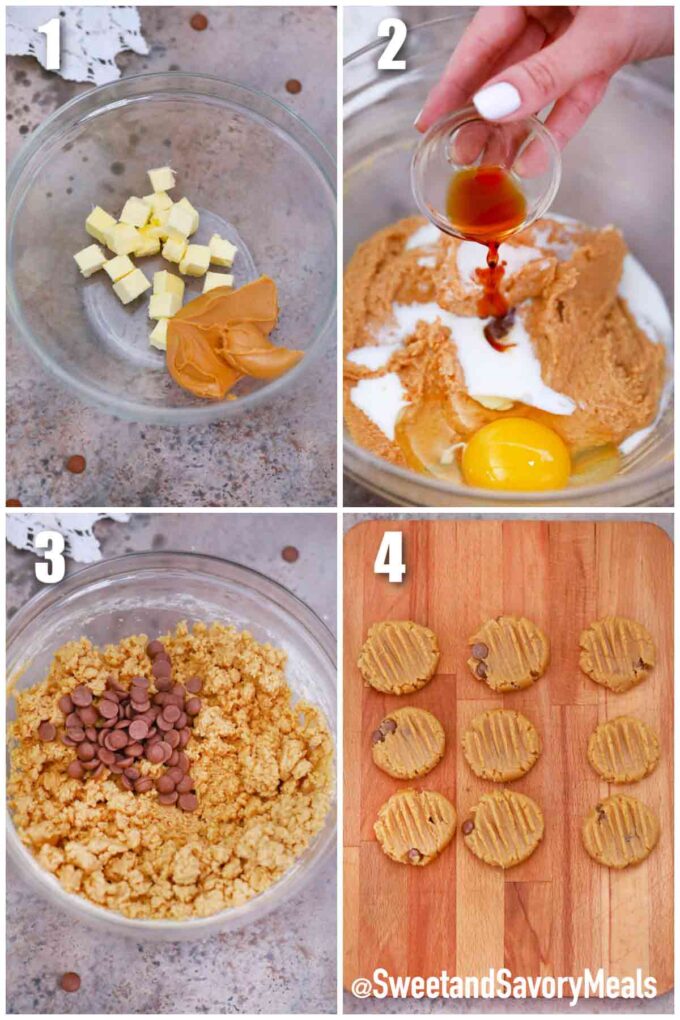 Recipe variations:
Mix-ins: Stir in some white or dark chips, chopped nuts, or crushed pretzels. Also, you can also drizzle the cooled treats with some chocolate sauce if you like, or dip them into the sauce and cover them with colorful sprinkles. Get creative with it!
Keto: Use a keto flour like almond or coconut. Make sure to check the right ratio when subbing for regular flour.

Gluten-free: Swap out with GF flour.
Types of PB: You can use crunchy, sugar-free, natural, honey-roasted, or any other PB you like.

Flourless: Don't want to use flour? Try this recipe instead!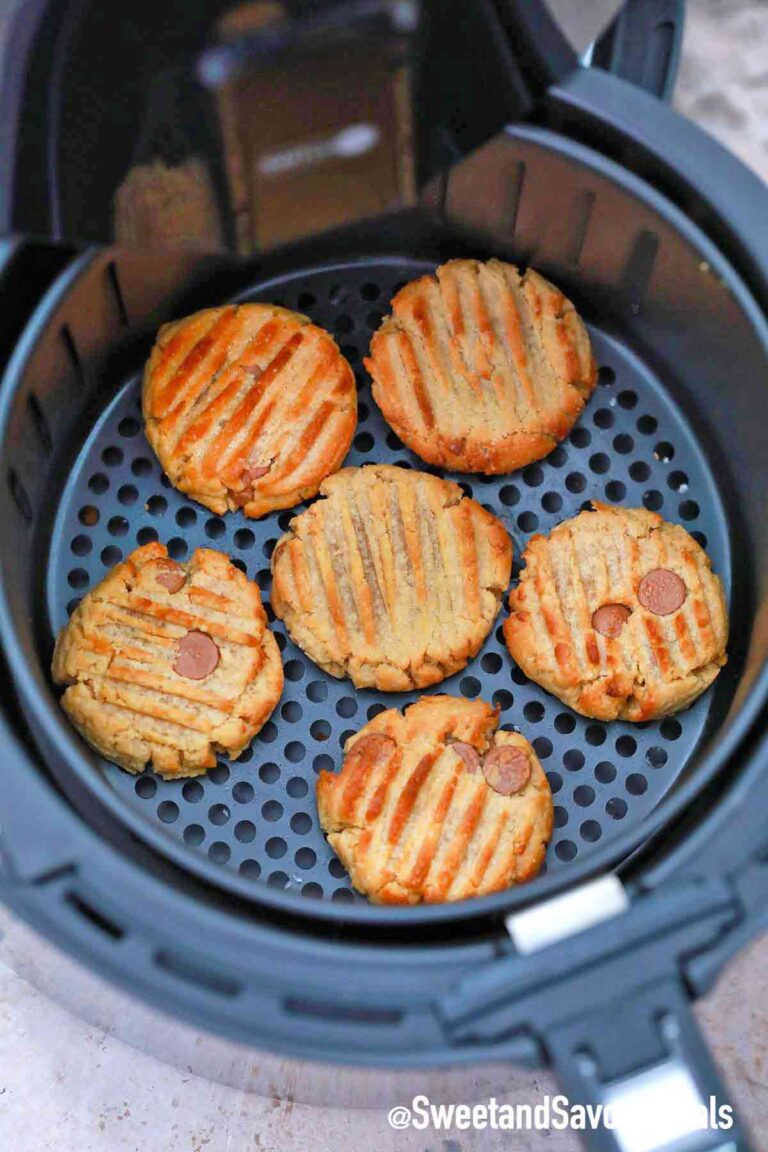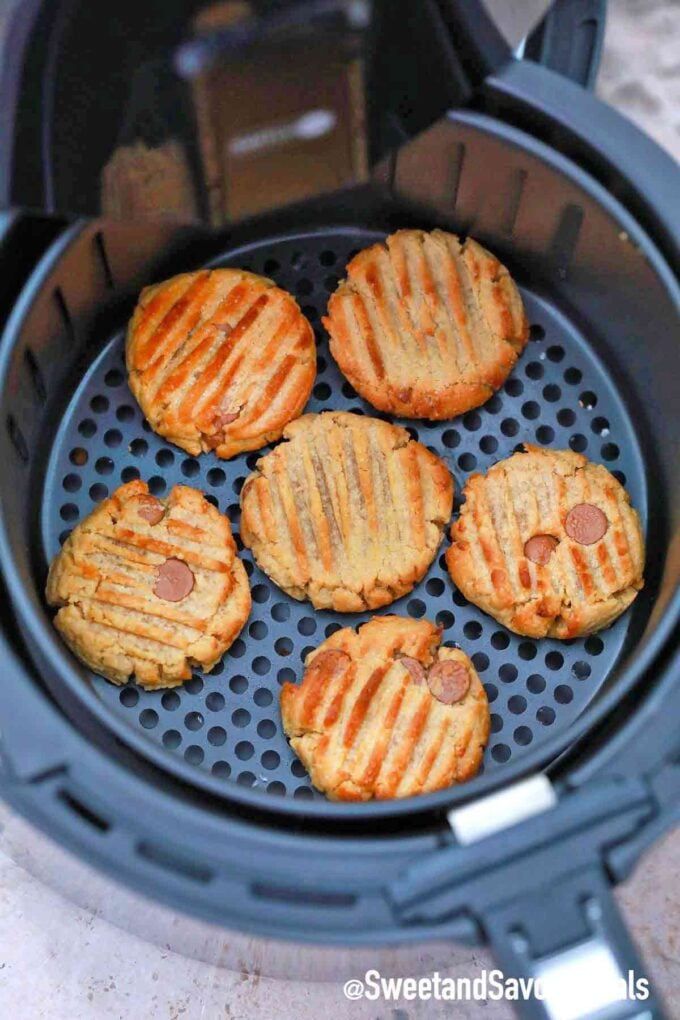 Frequently Asked Questions
How long do you bake cookies in the air fryer?
In a properly preheated air-fryer, it only takes 6 to 8 mins to bake these up!
How do air fryer cookies taste?
Just like regular and incredibly delicious baked desserts. Again, air fryers work very similarly to conventional ovens, so you don't have to worry about them tasting off.
Why are my peanut butter cookies falling apart?
They usually become crumbly and fall apart if they're baked too long or the heat is too high.
Also, these need time to rest as well because it's a very wet dough due to the PB. Another important thing is cooling them down gives them a chance to get firmer.
How do you make peanut butter cookies chewy?
Just as important, it to consider the level of moisture the dough has, the more, the chewier they will become.
Because of that, we're using brown sugar as well because it helps keep baked treats moist and chewy.
Remember to soften your butter, too, because it also helps a lot!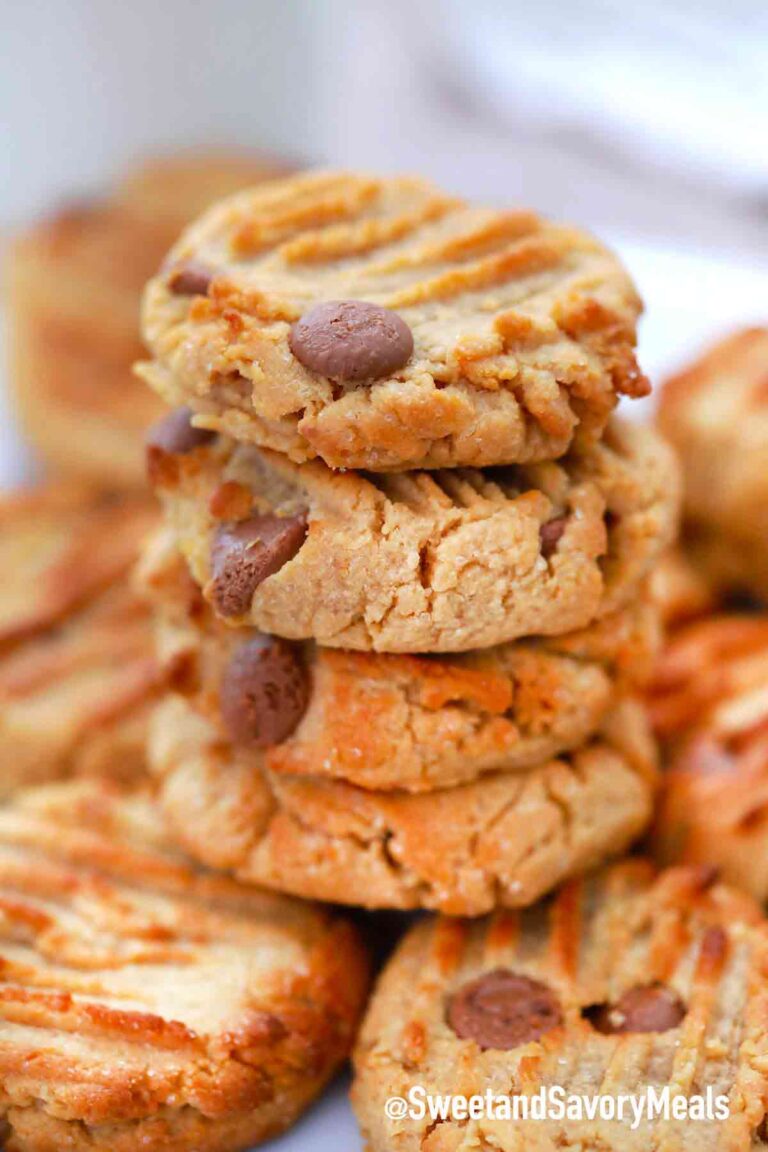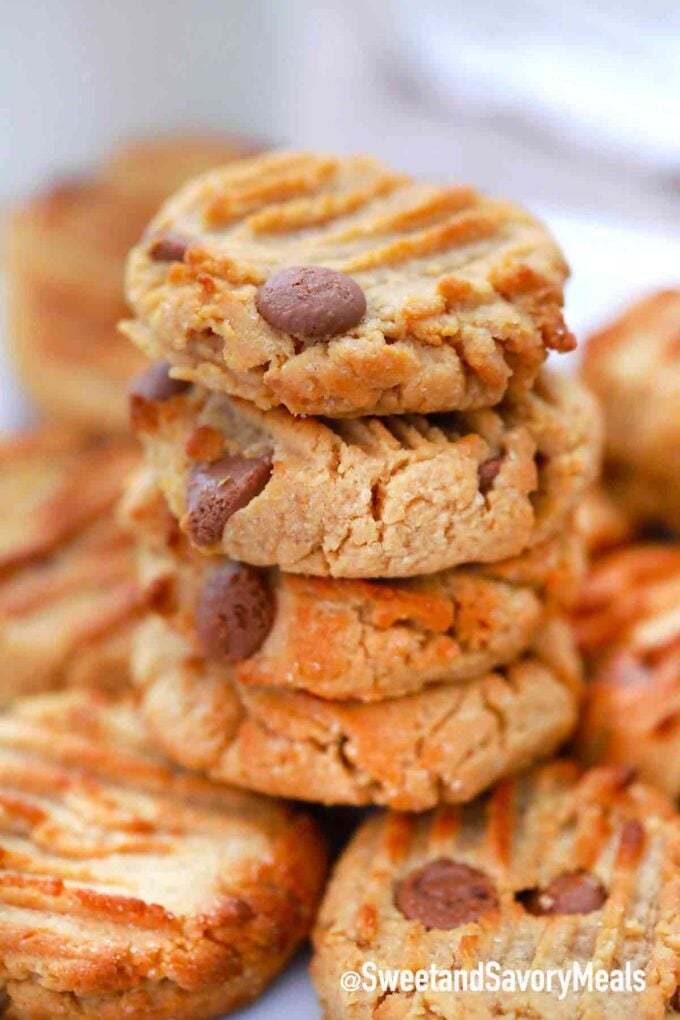 Are air fryer peanut butter cookies better with or without flour?
They're excellent either way! With that said, the biggest difference is in terms of texture. For example, the flourless version is softer.
On the other side, flour gives it a more solid structure, it all depends on your preference.
How to store leftovers:
You can keep this on the counter in an air-tight container for up to 4 days.
How to freeze:
You can freeze them after air-frying (store up to 3 months), or freeze the raw dough (store up to a month).
With this in mind, we recommend flash-freezing them individually on a sheet first before packing and placing them in the freezer.
When ready to cook, bake them directly from frozen. Simply add a few minutes to the baking time.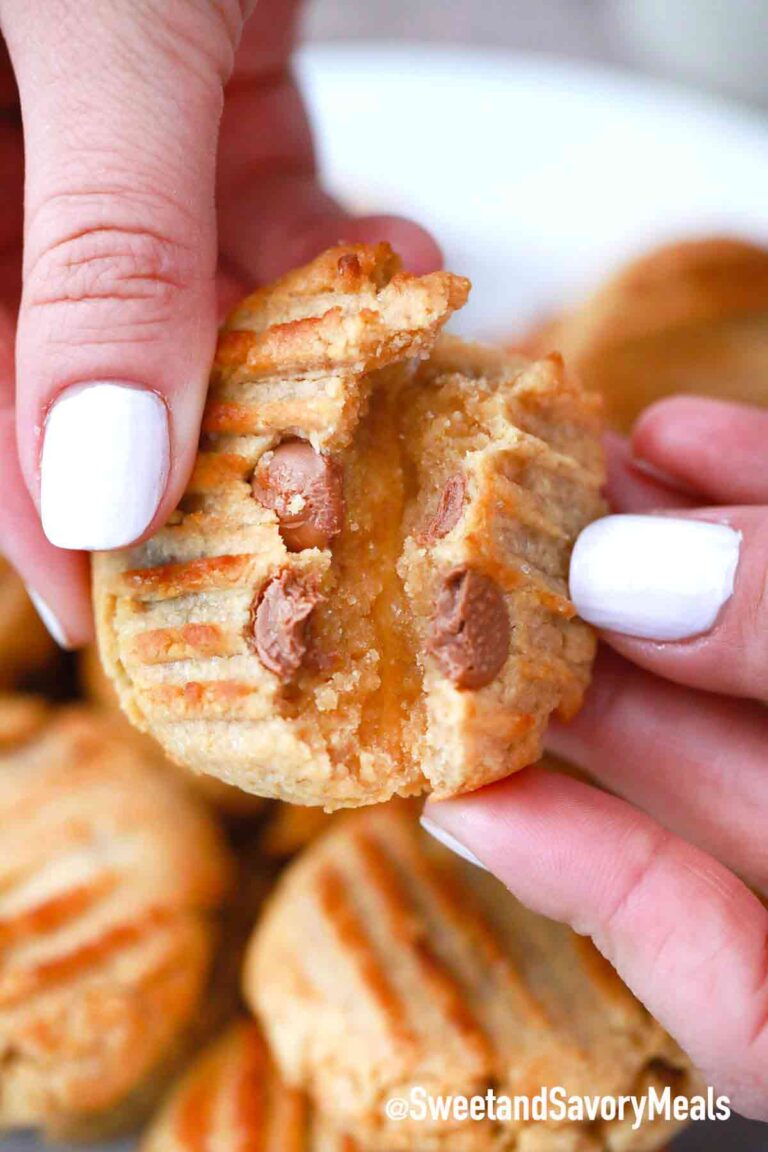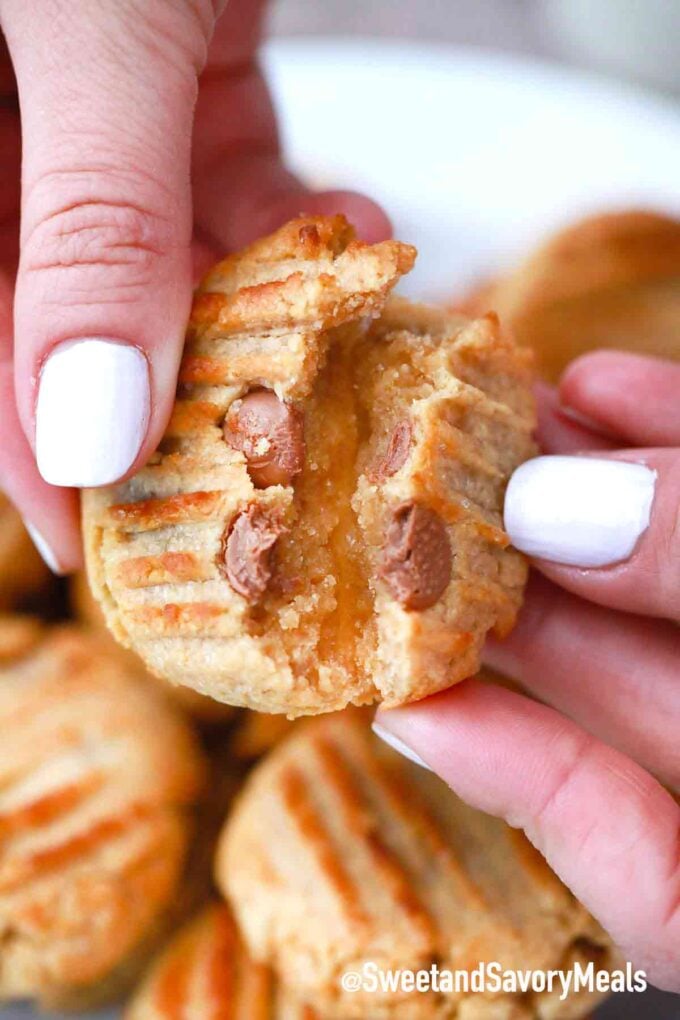 Recipe tips:
You can totally do this recipe by hand. However, if you have an electric mixer, you can use it as well since it becomes easier to mix the sticky PB.
On the other hand, try microwaving the PB for a few seconds to soften it up if you're finding it too thick and dense to mix.
Equally important is to soften your butter! Otherwise, it won't incorporate well with the rest of the ingredients.
More Recipes You Might Like: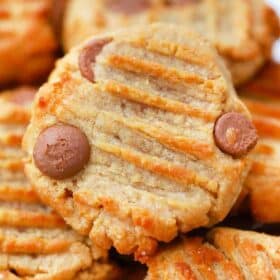 Air Fryer Peanut Butter Cookies
Air Fryer Peanut Butter Cookies are incredibly flavorful, chewy and soft, crispy on the outside, and packed with chocolate chips.
Save
Share
Print
Pin
Rate
Ingredients
2

cups

all-purpose flour

3/4

teaspoon

baking powder

1/2

teaspoon

salt

1/2

cup

unsalted butter

(softened to room temperature)

1

cup

creamy peanut butter

(smooth)

1/2

cup

brown sugar

1/2

cup

white sugar

1

egg

2

tablespoons

milk

(non-diary also works)

1

teaspoon

vanilla extract

1/4

cup

chocolate chips
Instructions
In a medium bowl, mix together all-purpose flour and baking soda. Set aside.

In another bowl, using an electric mixer, whisk together butter and peanut butter. Add sugars and mix until well combined.

Next, whisk in the egg and milk, vanilla extract, until combined.

Slowly add the flour mixture and mix until just combined. Do not overmix.

Using a spatula, stir in the chocolate chips.

Preheat air fryer to 350 degrees F.

Roll about two tablespoons of cookie dough into a ball and using a fork, flatten the cookies.

Place cookies into the air fryer baskets or onto the air fryer trays.

Air fry the cookies for 7 to 8 minutes.

Remove cookies from the air fryer and arrange them on a wire rack to cool.
Nutrition
Calories:
206
kcal
|
Carbohydrates:
22
g
|
Protein:
5
g
|
Fat:
12
g
|
Saturated Fat:
5
g
|
Trans Fat:
1
g
|
Cholesterol:
21
mg
|
Sodium:
164
mg
|
Potassium:
159
mg
|
Fiber:
2
g
|
Sugar:
12
g
|
Vitamin A:
181
IU
|
Calcium:
38
mg
|
Iron:
1
mg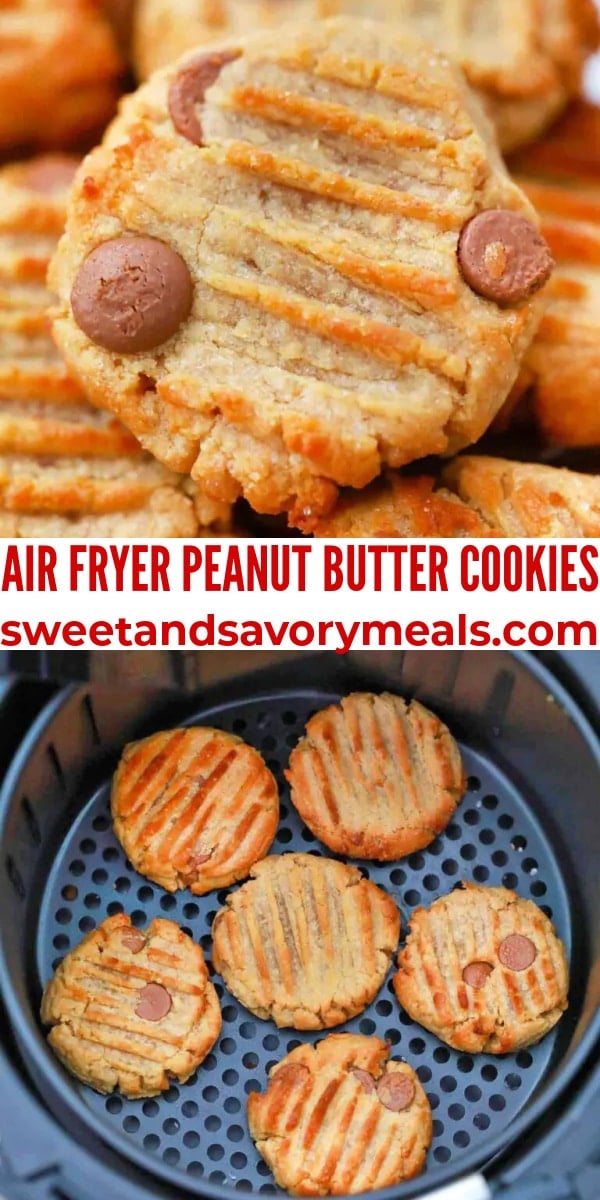 More recipes you might love