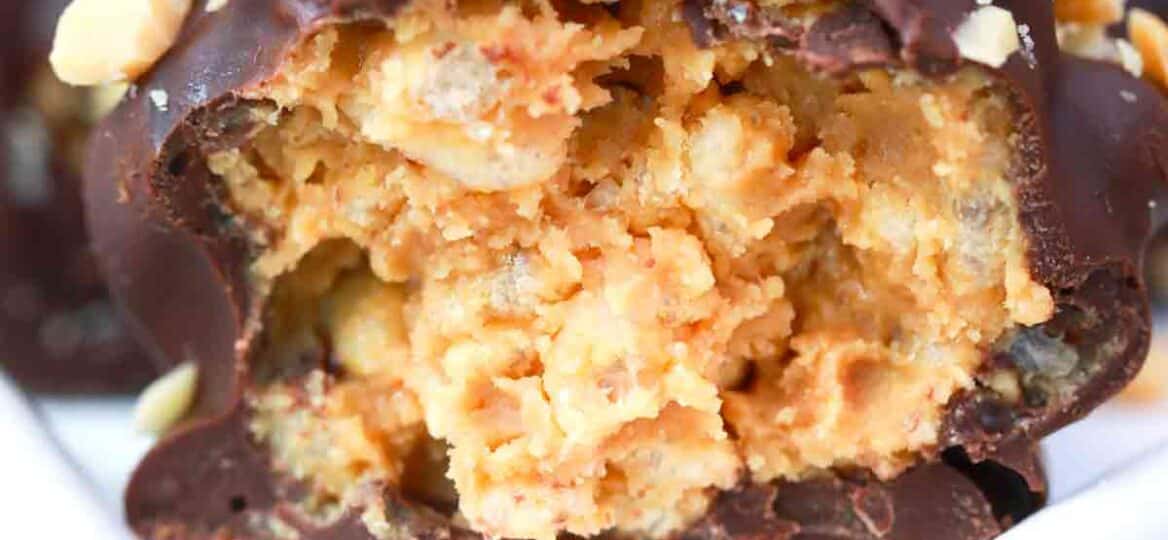 Crispy Peanut Butter Balls [Video]
Crispy Peanut Butter Balls are crunchy bites of peanut butter and rice cereals dunked in chocolate and rolled in crushed nuts. Lush and rich, these can be ready in less than half an hour!
These classic candy treats are so comforting and nostalgic, just like our Homemade Caramel Popcorn, Crunchy Peanut Brittle, and Chocolate Fudge!
No-Bake Peanut Butter Balls
Crispy Peanut Butter Balls are very similar to Buckeyes, except they're packed with crispy, puffy rice cereals and covered in chopped nuts! We find it easier to make, too, because there's no need to cream the ingredients with powdered sugar. Just mix it all up, chill, and it's ready for dunking in chocolate.
Aside from being delicious, these are also loaded with protein. Each ball is also incredibly rich and satisfying, so a little goes a long way! We love bringing this to potlucks especially when there are kids around, and they're always gone in a flash. Customize yours with sprinkles, crushed salty pretzels, and more!
What ingredients go into Crispy Peanut Butter Balls
Peanut butter: Use your preferred brand! We recommend the creamy kind so there's a nice contrast with the nuts and crispy rice.
Crispy rice cereal: These puffy, crisp bits add a fun texture to these treats!
Vanilla: Rounds out all the flavors.
Maple syrup: Loosens up the thick, creamy peanut butter so it blends easier with the rest of the ingredients.
Chocolate: Melted, for covering.
Chopped peanuts: For extra crunch and nuttiness!
How to make homemade Crispy Peanut Butter Balls from scratch
Mix. Take your peanut spread and mix it up with vanilla, rice cereal, and maple.
Roll. Divide into 12 balls, then freeze for about 12 mins.
Dip. Dunk the balls in chocolate before covering in chopped nuts.
Serve. Enjoy chilled!
Recipe variations:
Try other spreads: Nut butter like walnut, pistachio, almond, and cashew are excellent alternatives.
Use honey: For a more neutral flavor, exchange the maple with honey.

Sugar-free: Use sugar-free versions of the chocolate as well as the peanut butter and liquid sweetener.
Chocolate options: You can use creamy white, slightly bitter dark, or kid-friendly milk chocolate.
Dips: Aside from crushed nuts, you can also cover these with sprinkles, chocolate chips, cocoa powder, crushed pretzels, and shredded coconut.
Frequently Asked Questions
How long will Peanut Butter Balls last in the fridge?
You can keep these up for two weeks in the fridge without losing freshness.
Will peanut butter get hard if I keep it in the fridge?
Yes, but that's a natural process due to the oils and nut butter. To restore its spreadable consistency, just leave it at room temp.
Will rice cereal get soggy when mixed with peanut butter?
No, as long as you work quickly! Once you get started with the recipe, don't leave out the mix or the cereal may absorb moisture. Work as fast as you can, and get the balls in the fridge ASAP.
Bonus: The faster you finish making them, the quicker you can start enjoying these treats!
How to achieve melted chocolate to be used for coating?
There are two ways to do this. First, heat up some water in a pot at a brisk simmer, carefully fit a bowl over the pot (to make a simple double boiler), and stir until all your chocolate has melted.
Second, you can microwave it. Start off for a minute at Medium, then stir, and microwave at 20-second intervals while stirring in between to melt it down.
How to cover a peanut butter ball with chocolate?
Stick a toothpick in the center of a chilled ball, and dunk it into the chocolate. Swirl it around a bit to cover the surface and chill.
Storing Instructions
This is a very easy dessert, that will keep well in the fridge and also can be frozen.
How to store leftovers:
Line an air-tight container with parchment, then arrange your balls in a single layer. We also like placing small parchment squares between each individual ball to prevent them from sticking. Refrigerate for up to 2 weeks.
Can you freeze Crispy Peanut Butter Balls?
Sure! Flash-freeze for about two hrs., then transfer to a Ziploc bag. Store in the freezer for up to 3 months. To enjoy, thaw overnight or defrost on the counter.
Recipe tips:
Before melting the chocolate, double-check that everything – including your bowl and spoon – is completely dry, because even a drop of water can make it seize and clump up.
If your peanut butter has hardened, microwave it in short bursts to make it easier to blend.
You can mix the crushed nuts right into the balls if you wish for a crispier, crunchier texture.
More Peanut Butter Desserts:
Deliciousness to your inbox
Enjoy weekly hand picked recipes and recommendations