Crunchy Peanut Brittle Recipe [Video]
Crunchy Peanut Brittle is a sweet, crispy, and buttery confection loaded with toasted nuts and a lovely caramel flavor. A wonderful holiday treat and edible gift!
Can't get enough of caramel? Me neither! That's why I have so many caramel-flavored recipes such as Snicker Cookies with Caramel Sauce, Salted Caramel Apple Madeleines, and Apple Pie Caramel Cheesecake. Give them a try and indulge yourself!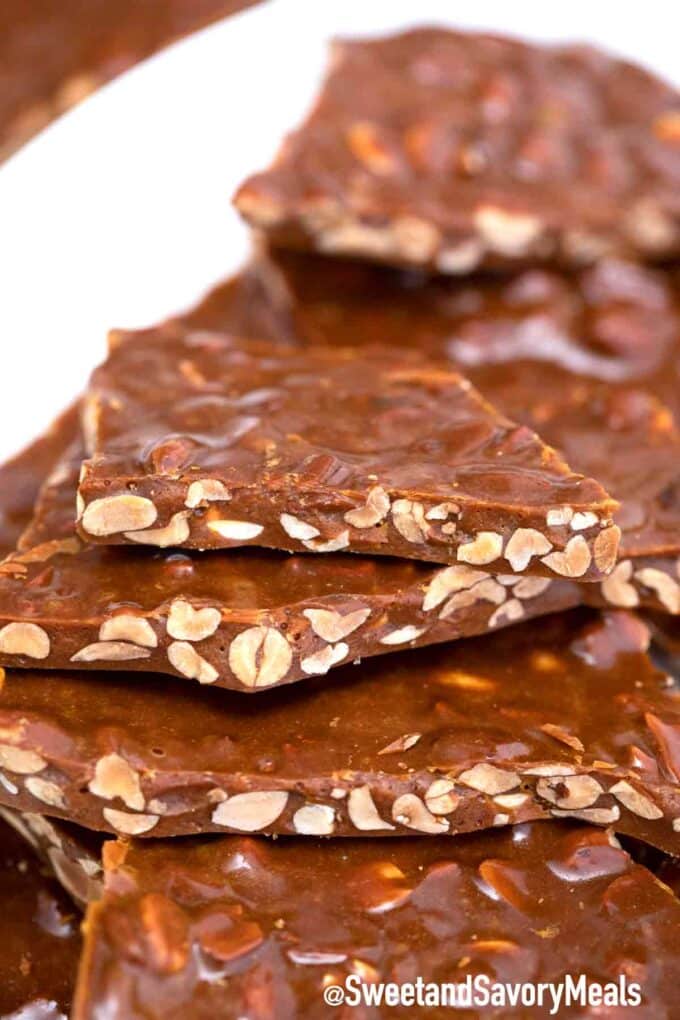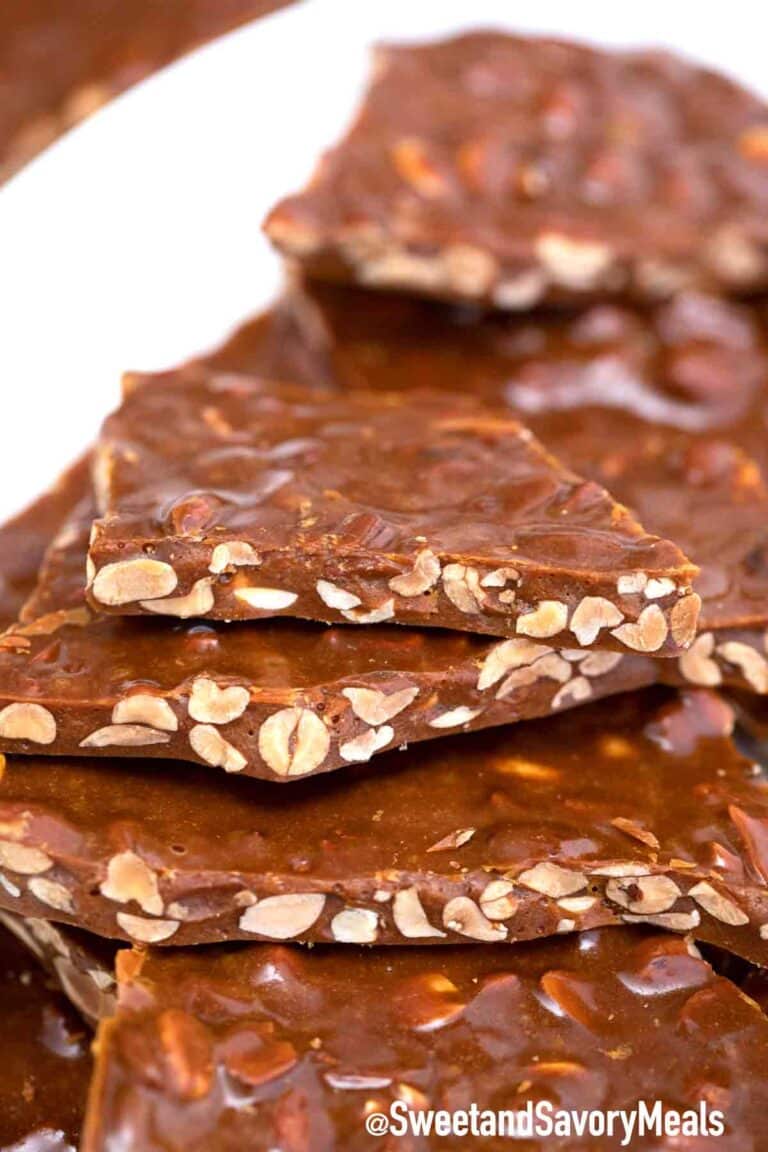 The Best Peanut Brittle Recipe
Crunchy Peanut Brittle is an essential holiday tradition in our home. Not a season goes by without my family and friends enjoying this crunchy and nutty treat, especially during Christmas time!
I make it the old-fashioned way on the stovetop for that classic caramel snap. You can also garnish it with cinnamon sugar, flaked sea salt, chocolate chips, and any topping you like.
If you're intimidated by making candy from scratch, this easy recipe will change your mind. Also, it's great to have on hand for a sweet snack or party dessert. Enjoy this festive dessert with a glass of homemade Christmas punch, red velvet hot chocolate, or a cup of hot chocolate.
Alternatively, this makes for a great holiday gift. Simply place some in a pretty tin, wrap in ribbon, and give away for an impressive, Christmas gift!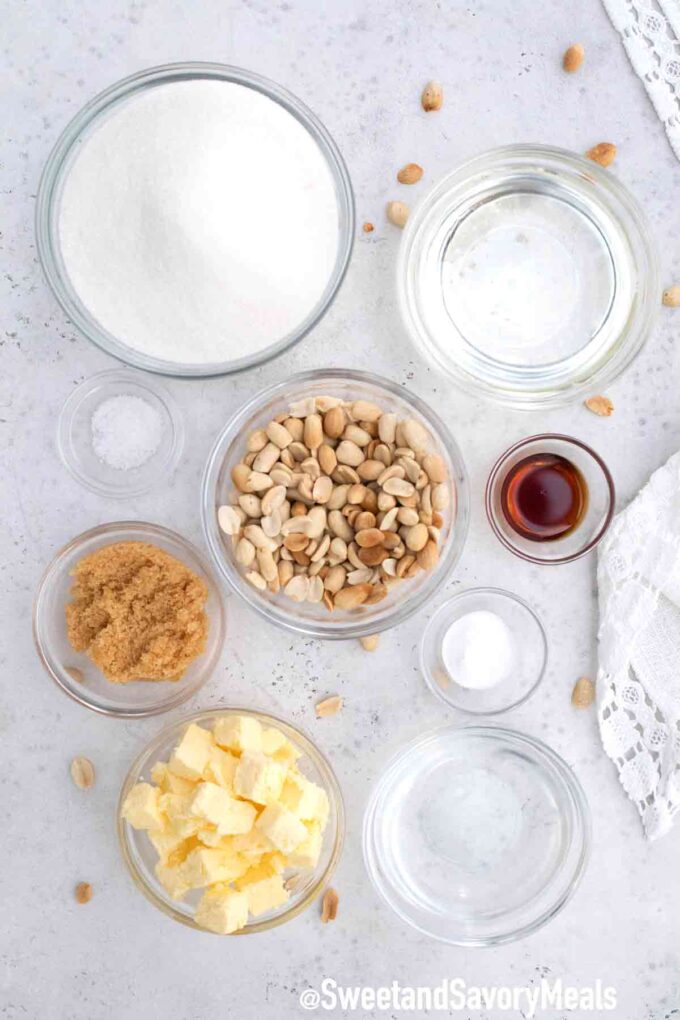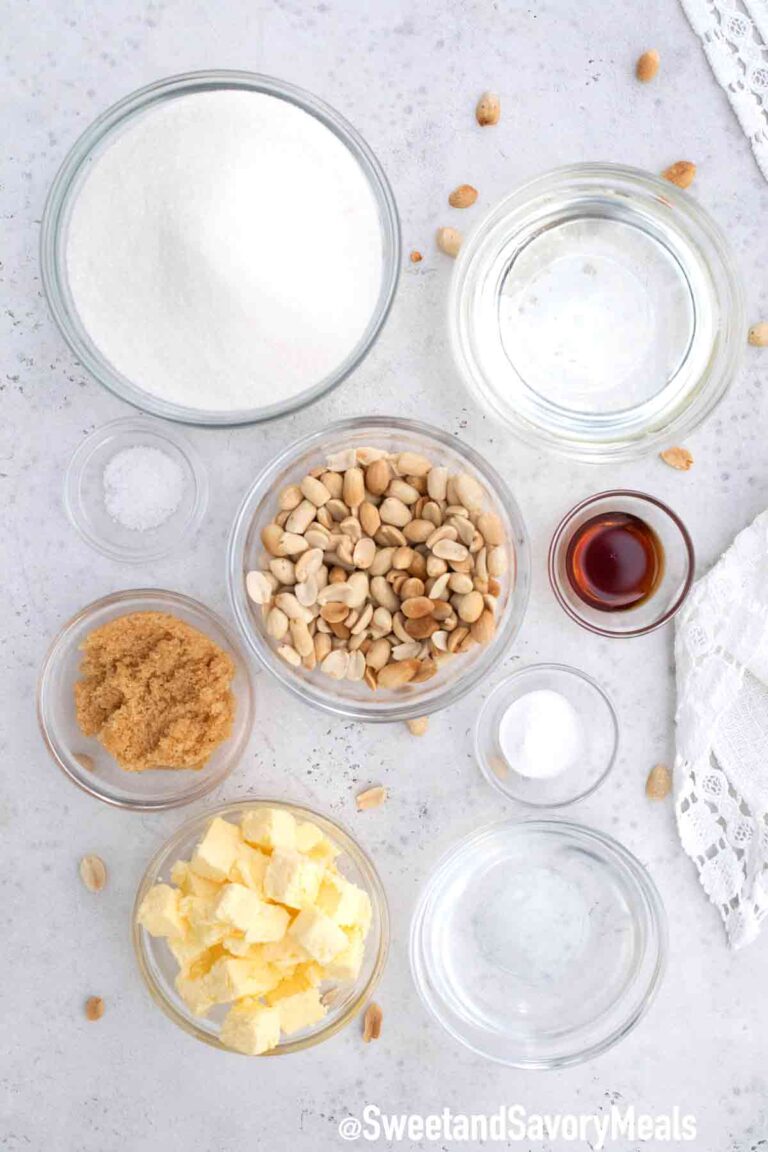 What is Peanut Brittle?
It's a traditional hard candy studded with nuts. The basic components are sugar, corn syrup, butter, flavorings, and nuts boiled together, then lightened up with baking soda.
Once it's cooked, it's spread on a flat surface to harden before breaking into pieces. The flavor is similar to caramel candy.
Homemade Peanut Brittle Ingredients:
Granulated sugar: Measure out two cups of white granulated sugar.
Brown sugar: About ¼ cup of brown sugar will give our brittle that lovely golden color.
Corn syrup: This is essential to making candy – it prevents the sugar from crystalizing and gives the confection a beautiful shine.
Salt: A dash of salt balances out the sweetness.
Water: Dissolves the sugars and helps incorporate the rest of the ingredients.
Vanilla: Just a touch of vanilla gives a huge flavor boost.
Butter: Adds buttery, caramel notes to the candy.
Dry roasted peanuts: You'll need about two cups of toasted peanuts, or any roasted nuts like almonds, macadamia, pecans, cashews, or walnuts. Use your favorite nuts!
Baking Soda: This is the key to a light, crispy brittle.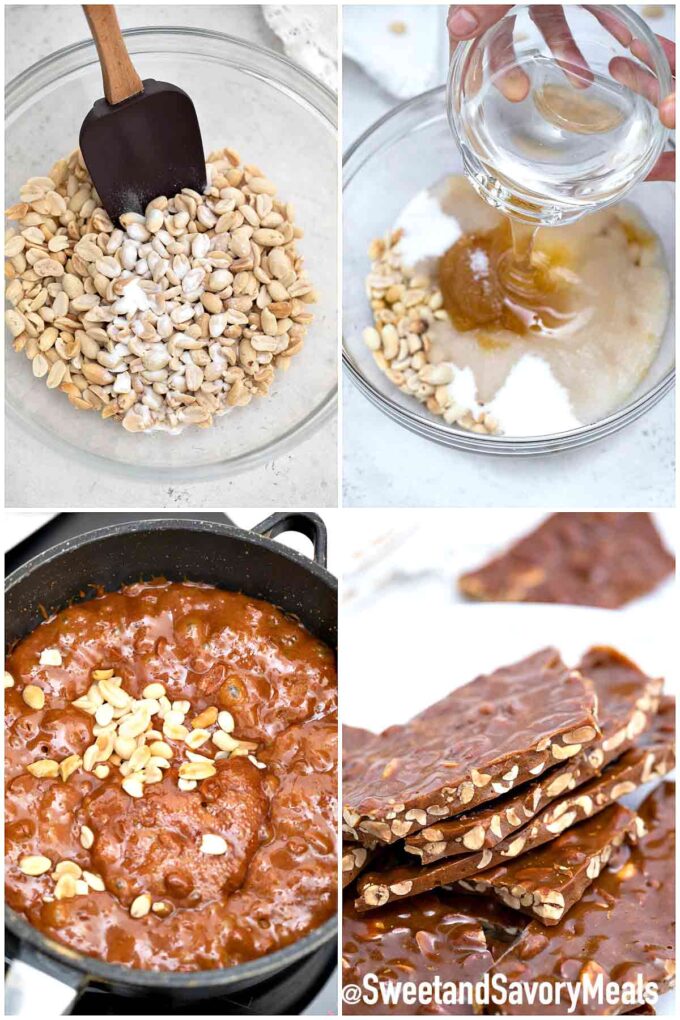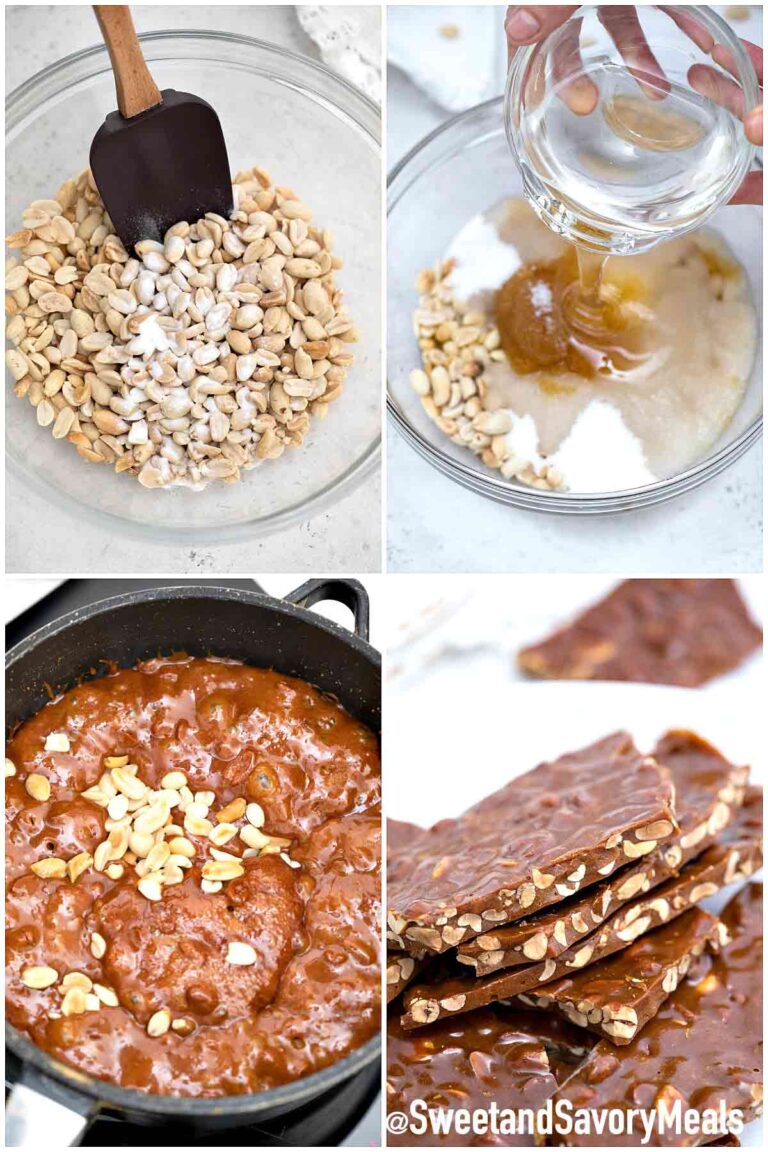 How to make Crunchy Peanut Brittle?
Boil the candy syrup. In a big pot with a candy thermometer clipped inside, pour the syrup in followed by the water, sugars, and salt. Then, mix, boil, and carefully add the butter. Wait for it to reach 280F before adding the peanuts. Stir and let it boil some more.
Add the baking soda. Keep an eye on the temperature. As soon as it registers 305F, take the pot off the heat. Then, stir in the vanilla followed by the baking soda, which will make it bubble rapidly. Next, pour on a rimmed baking sheet and spread out in a thin, even layer.
Let the confection cool. Leave it on the sheet to set and firm up. This can take 20 minutes or longer.
Break into shards. Here comes the fun part! Once it has cooled and hardened, crack it up into smaller pieces, and enjoy.
How long do you let peanut brittle cool?
It takes anywhere from 20 mins to an hour for the molten candy to cool and harden up. This will also depend on the temperature of your kitchen. Avoid touching it while it's cooling down so you get a nice, even sheet.
Why is my peanut brittle too hard?
Did you put in enough baking soda? Forgetting to do so will leave your candy dense, hard, and almost impossible to chew.
Another reason is that your melted sugar got too hot. You should only heat it until the hard crack stage or 305F. That's why having a thermometer is so important when making sweet confections at home.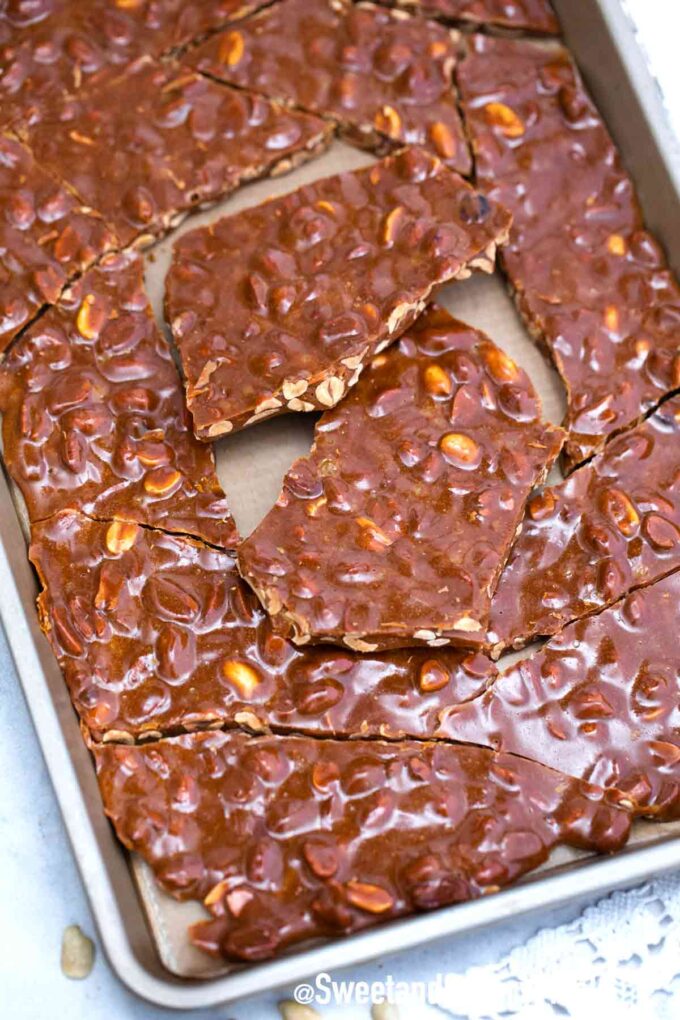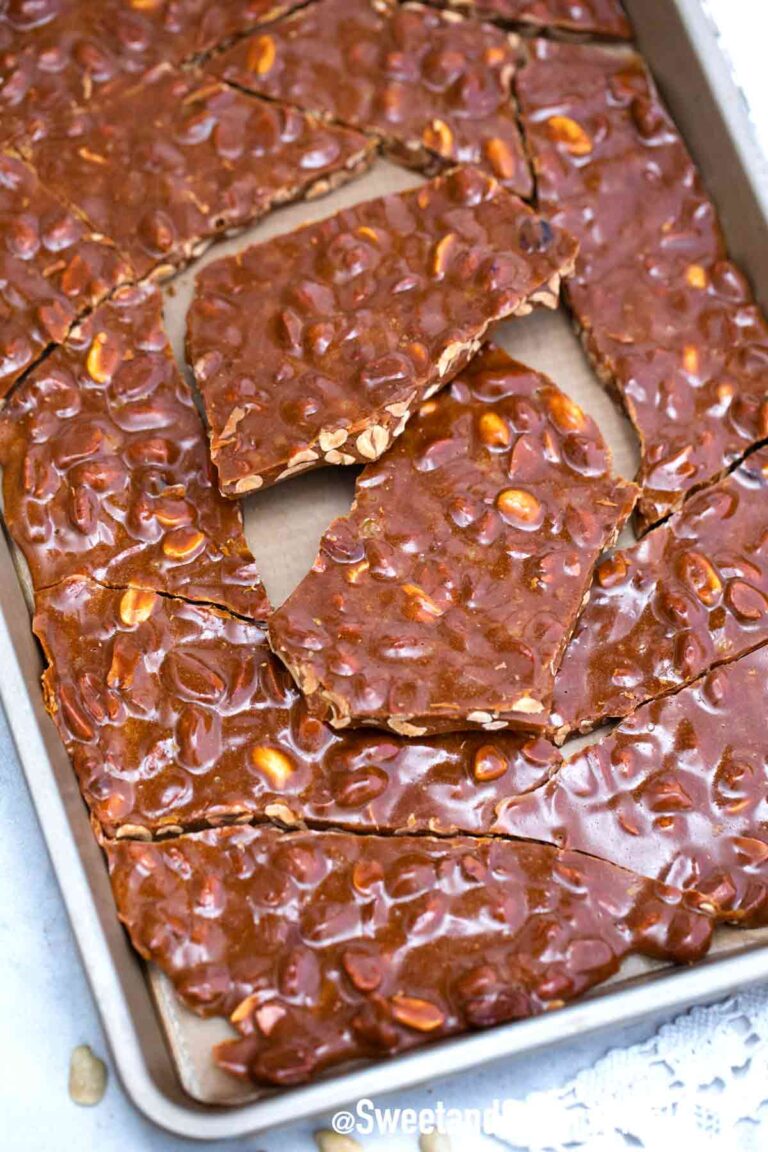 Why do you use baking soda in peanut brittle?
It puts the "brittle" in this beloved confection! The baking soda releases millions of carbon dioxide bubbles into the sugar syrup, creating that trademark light and delicate crisp.
More Holiday Desserts:
How to store them?
Transfer the pieces into a tightly-sealed container. Keep it in a cool and dry place. Stored this way, it will stay crunchy and delicious for several weeks.
Remember: do not store it in the fridge! It will create humidity inside the container and soften the candy instead of keeping it crunchy.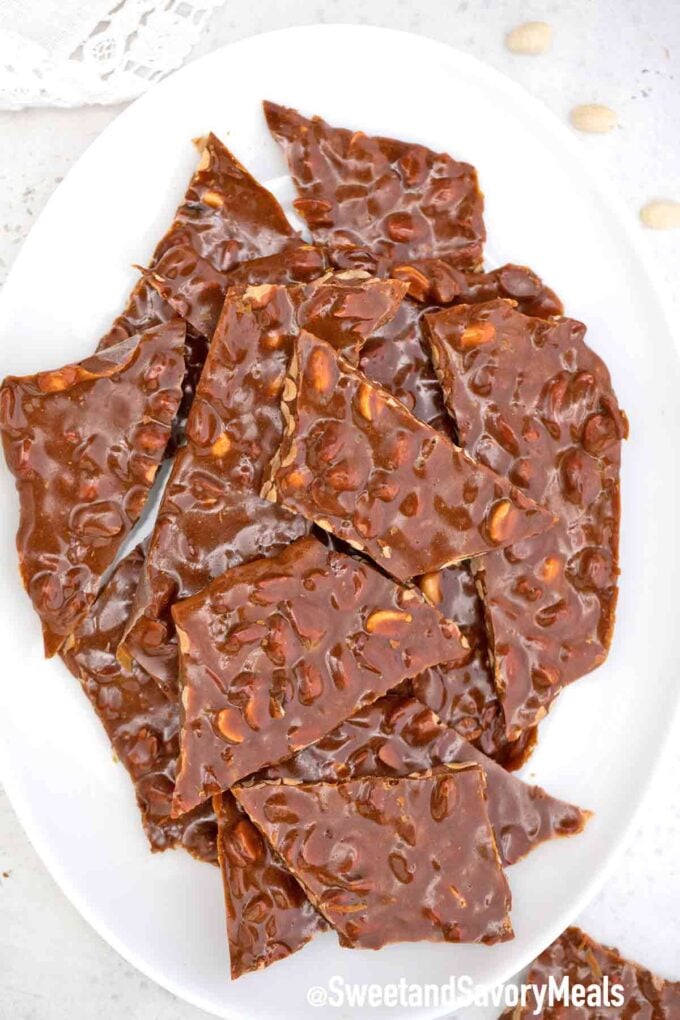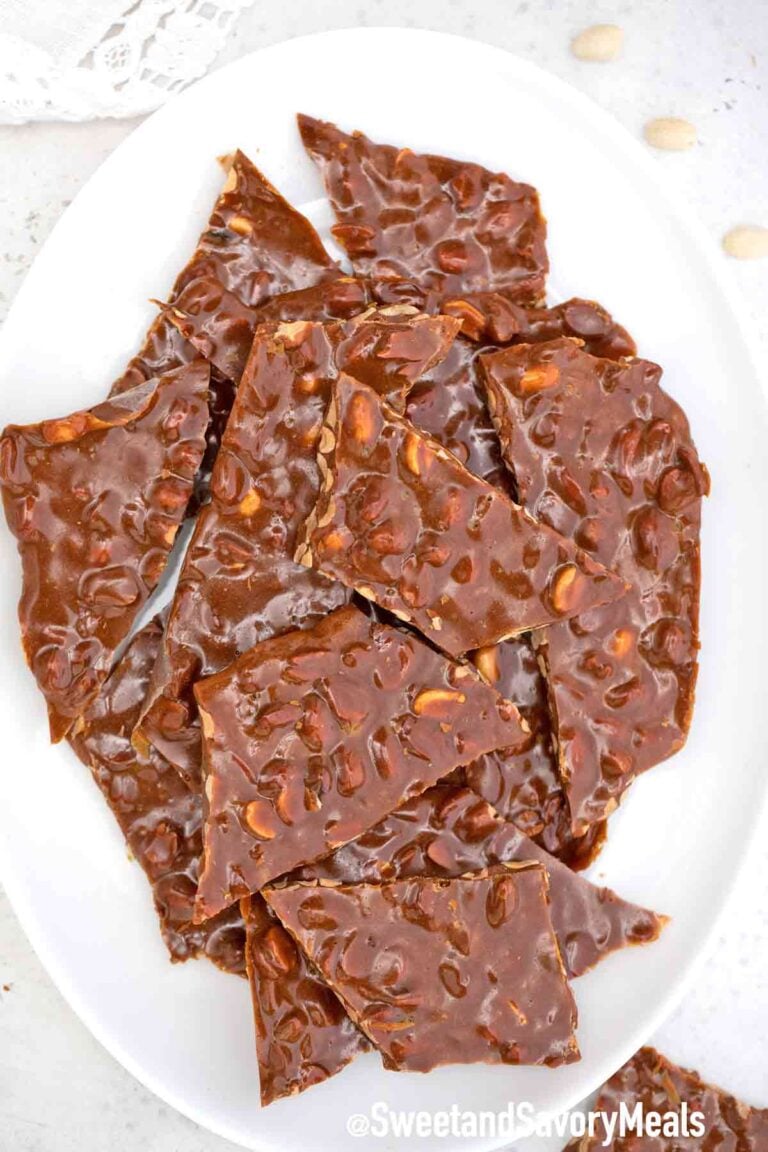 Recipe tips:
Once the candy gets going, it comes together very fast, so all your ingredients should be ready to go before you even turn on the stove.
Also. don't handle it too much once it's on the sheet, or you'll pop all those bubbles that make it airy and light. Simply, pour, spread it flat, and leave it to cool.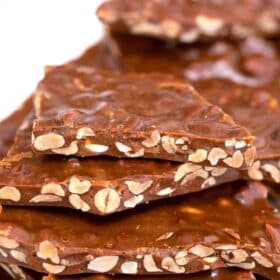 Crunchy Peanut Brittle
Crunchy Peanut Brittle is a sweet, crispy, and buttery confection loaded with toasted nuts and a lovely caramel flavor. A wonderful holiday treat and edible gift!
Save
Share
Print
Pin
Rate
Ingredients
2

cups

white granulated sugar

1/4

cup

dark brown sugar

(packed)

1

cup

light corn syrup

1/2

teaspoon

salt

1/2

cup

water

1

teaspoon

vanilla

1

cup

unsalted butter

(at room temperature and cut into cubes)

2 1/4

cups

dry roasted peanuts

(unsalted)

1 1/2

teaspoons

baking soda
Instructions
Line two large baking sheets with parchment paper, and set aside.

In a bowl mix two cups of peanuts and a 1 teaspoon of baking soda, set aside.

In a medium or large saucepan, combine the sugars, water, salt, and corn syrup, stir and place over medium high heat. Place a candy thermometer inside the pot, you can clip it to the side, make sure it does not touch the bottom of the pot.

Allow to the mixture to come to a boil, stirring occasionally then add the butter and continue stirring.

Once the mixture reaches 280 degrees F, add the peanut and baking soda mix, stirring very well, until the thermometer reads 305 degrees F.

Remove the mixture from heat, stir in the vanilla extract, after that stir in the remaining 1/2 teaspoon of baking soda until well combined, then immediately dump the mixture onto the parchment lined baking sheets and quickly spread out using a spatula. The brittle should be THINNER than the peanuts embedded in it.

Sprinkle the remaining 1/4 cup of peanuts on top.

Allow brittle to cool for about 10-15 minutes before breaking into pieces.

Store in an airtight container to avoid humidity, as it makes the brittle sticky.
Video
Nutrition
Calories:
692
kcal
|
Carbohydrates:
99
g
|
Protein:
10
g
|
Fat:
44
g
|
Saturated Fat:
17
g
|
Cholesterol:
61
mg
|
Sodium:
869
mg
|
Potassium:
294
mg
|
Fiber:
3
g
|
Sugar:
91
g
|
Vitamin A:
709
IU
|
Calcium:
41
mg
|
Iron:
1
mg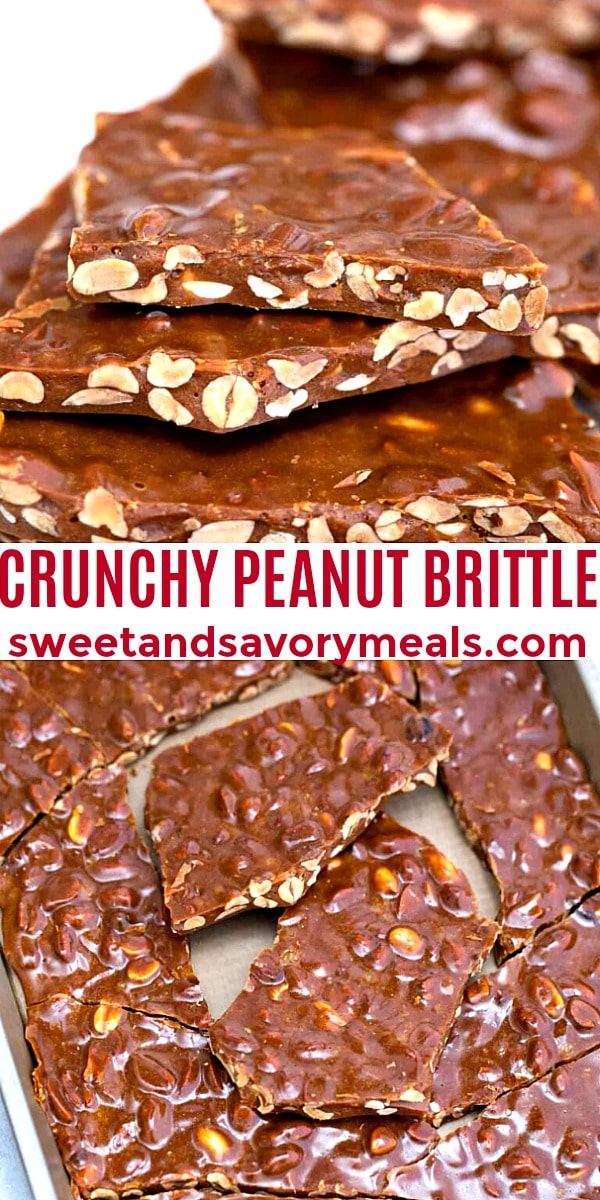 More recipes you might love