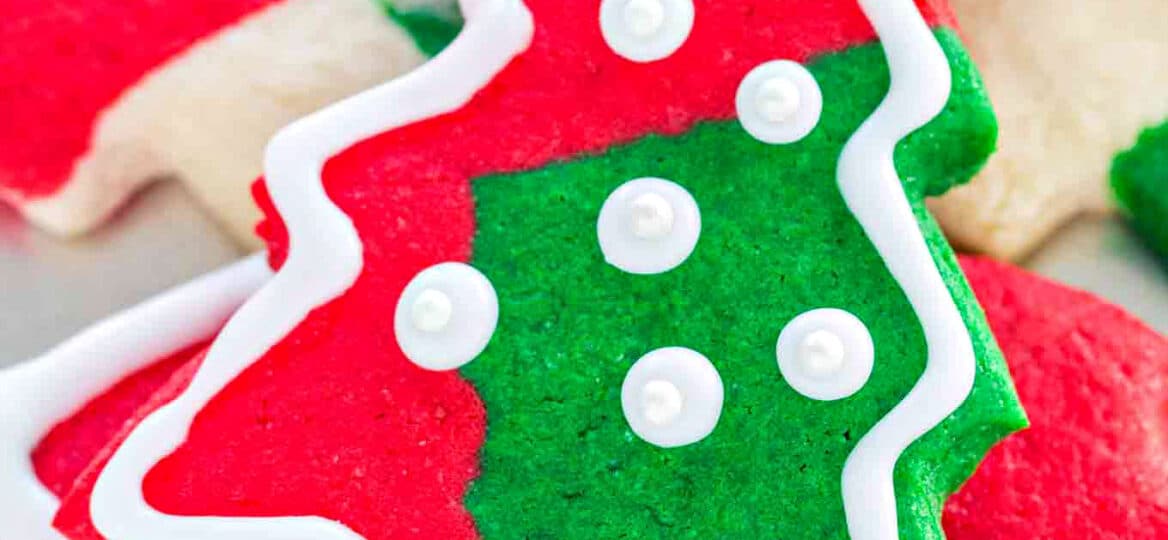 Christmas Sugar Cookies [Video]
Christmas Sugar Cookies are such a nice way to sweeten up your holiday spirit. The cookies are festive, soft, and buttery, with delicious vanilla notes.
Since we are already in December, it's time to bring you cookie recipes that are Christmas-themed. We love this time of the year, and making a delicious dessert during this season is what we love the most.
We already have the Neon Chocolate Sugar Cookies that will brighten up your mood. Also, the Raspberry Linzer Cookies are usually a huge hit with our guests, so we suggest you give them a try.
Best Christmas Sugar Cookies
Christmas Sugar Cookies should be mandatory on everyone's menu during the holiday season, they are so festive and good! The recipe is very simple with basic ingredients. Also, the dough is easy to roll and work with, and the icing is ready in no time. When you first make the dough, it will be a bit sticky and hard to work with, so we recommend chilling it before it is rolled out. Even though this might sound unnecessary and painful, chilling the dough is worth the step.
We have tried this recipe without chilling the dough first and decided that it is not as good. In addition, chilling it will make the dough very easy to manage and roll it out, and the cookies will always have sharp and defined edges. So refrigerating it for about an hour will yield a great result.
We have used some red and green gel food coloring to bring the Christmas spirit and colors in them. As a result, you have the most amazing and cute Sugar Cookies you can ask for.
What are Christmas Sugar Cookies made of?
All-purpose flour
Baking powder
Butter
Granulated sugar
Egg
Vanilla extract
Milk
Salt
Gel food coloring
What is the best thickness for sugar cookies?
To have tender and buttery sugar cookies, we recommend you roll the dough to about 1/4 inch thick. Also, it is important you keep the thickness uniform, so when baking they cook evenly.
Do I have to chill the dough?
For these Sugar Cookies, it is essential that the dough is chilled before worked with. There are other sugar cookies recipes where this step is not required, but for optimal results, we strongly recommend chilling the dough for about 1-2 hours before rolling it.
If you skip this step, the dough will stick and might spread while baking.
Can the dough be made in advance?
Another beauty of this recipe is that you can make the dough well in advance. Once you made the dough, wrap it up in plastic, and store in the fridge for up to 2-3 days. When the time for cooking comes, let the dough rest at room temperature for a bit to soften. Then, roll the dough over, and put the cookies in the oven.
How long do I cook the Christmas Sugar Cookies?
The cookies are usually cooked in about 8-10 minutes at 350 F. As stated above, it's important they are cut uniformly and evenly to about 1/4 inch thick, so they bake in about the same time.
We recommend you check on them after about 8 minutes making sure they are not overcooked. They will be ready once the edges have a golden color.
Do you put sprinkles on them before or after baking?
For this Christmas Sugar Cookies, we decided to let them naked aka to not decorate all of them. We already colored them with red, green and white color, and they look festive and adorable enough. However, if you decide to put some sprinkles on them, we recommend you add sprinkles after baking.
How long will the Christmas Sugar Cookies stay fresh?
The cookies will stay fresh at room temperature for about 5-6 days.
How to freeze them
First, cool the cookies completely and fully wrap them in plastic wrap, tightly.
After that, wrap in aluminum foil or add to freezer bags.
Freeze for up to 2-3 months. Defrost before serving.
More Classic Christmas desserts:
Recipe Tips:
When cutting the cookies, make sure to cut them as close as possible so you get as many cookies as possible from the rolled dough. You will have to re-roll the leftover dough to remake new cookies.
Also, if you are looking for thinner, crispier sugar cookies then roll cookie dough thinner. You can go with about 1/8″ or 1/7". If making them thinner, ensure not to overcook them. The cookies should be done just when the edges start to turn golden brown.
If desired, you can add some sprinkle or icing to them. For icing instruction, check out the Neon Chocolate Sugar Cookies.
When rolling the dough, it's important you maintain the same thickness of about 1/4 inch thick. This is done so the cookies are cooked evenly and uniformly.
The gel food coloring adds a festive touch, but it can be skipped, without altering the recipe.
Tools used for this recipe:
Christmas Sugar Cookies Recipe Video: