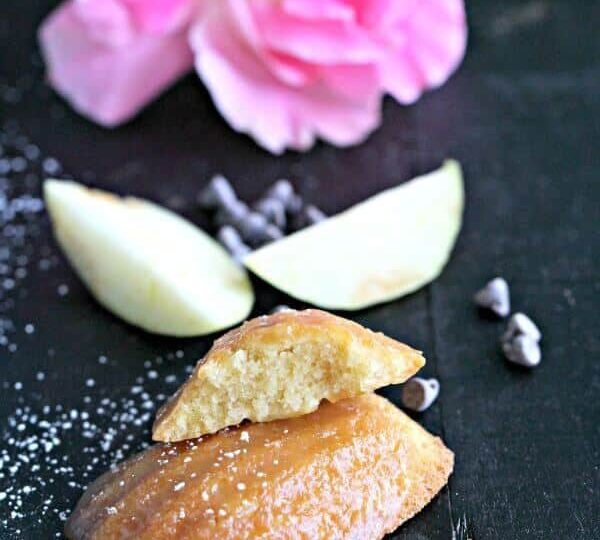 Salted Caramel Apple Madeleines
These Salted Caramel Apple Madeleines deliver fall's classic dessert of caramel dip apples in a fine, sweet and soft cookie form.
Salted Caramel Apple Madeleines Recipe Tips
Salted Caramel Apple Madeleines are the perfect fall treat, because they look fancy, taste great, and melt in your mouth with deliciousness. I honestly think Madeleines are the easiest cookies to make, due to the fact that they only take 30 minutes from start to finish. Their dense texture is irresistible, while still delivering the sweet and buttery taste, which everyone loves! They would be perfectly served with some apple cider or enjoyed with a classic pumpkin latte or coffee.
Why you'll love these Salted Caramel Apple Madeleines:
First of all they are festive and beautiful. Hence, making them a show stopper dessert.
Also, they are incredibly fresh and aromatic.
Tender and buttery, the Madeleines melt in your mouth. Hence, a must try!
In addition, they are the perfect cookies for the holiday season.
Lastly, they can be made 1 or 2 days in advance, so you don't have to worry about a last minute dessert.
Pin This Salted Caramel Apple Madeleines Recipe to your Favorite Board
LOOKING FOR MORE FALL FLAVORED DESSERTS? CHECK THESE OUT:
What is a Madeleine?
Madeleine is a traditional small cake typically baked in a shell-shaped mold which originates from France. They are often decorated with coconut, cinnamon cream and jam, and are extremely delicious!
What is Cinnamon Applesauce?
Applesauce – is a semi-solid food made from apples, a liquid (apple juice, cider, or water), cinnamon, spices, and sometimes sugar. Also, it is cooked down until the apples soften, so they can be mashed or pureed. Applesauce is cooked usually between one hour to a couple of hours.
How do you freeze Madeleine?
The Madeleines can be frozen for up to 2-3 months. Before freezing the Madeleine, do not dust them with sugar until you are about to serve. Store them in airtight container and freeze them in a double wrapping of plastic wrap for several months.
Deliciousness to your inbox
Enjoy weekly hand picked recipes and recommendations