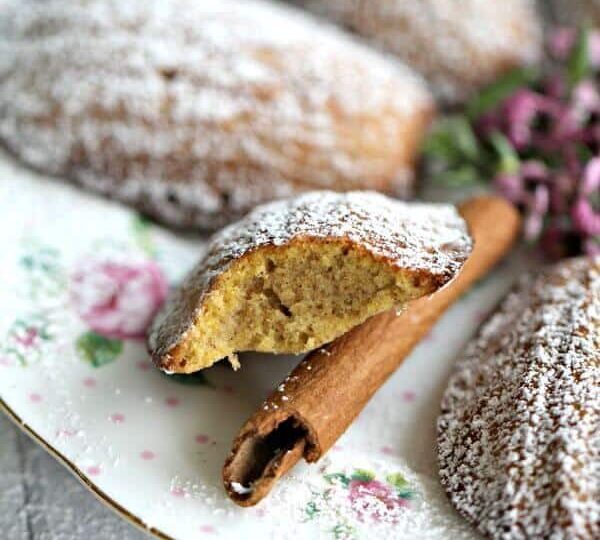 Pumpkin Madeleines with Cinnamon Frosting
Pumpkin Madeleines are an easy dessert full of fall spices with subtle cinnamon and pumpkin flavors. They are fluffy with slightly crunchy edges, and a nice balance of sweet and buttery taste!
I love making easy and delicate pumpkin recipes during the fall seasons. Some of my favorites are Pumpkin Poke Cake with Cream Cheese Frosting, Pumpkin White Chocolate Fudge, and Pumpkin Pound Cake.
Pumpkin madeleines with glaze
Every time I go to Starbucks to get my pumpkin spice latte fix, I grab a handful of these delicious Madeleines. It is already autumn, and it is that time of year where pumpkins are abundant.
On this occasion, I decided to make these delicious pumpkin spice madeleines. They are quite easy to make and I always make a larger batch for the whole family. Also, they taste great, and are quite festive, with a buttery taste and soft texture. Simply put, they are irresistible!
In just under 30 minutes from start to finish, you will have the most gorgeous cookies to enjoy! This recipe is a take on the classic French madeleines, but with a fall twist!. Also, the nice orange color along with cinnamon enhance their fall flavors.
Also, I topped some of them with cinnamon and powdered sugar, others just with powdered sugar, and the rest got a coating of cinnamon cream cheese frosting, and those were my favorite.
I love how the pumpkin slightly changed the texture of these cookies, they became denser, but still maintained their softness and tender crumb. These Pumpkin Madeleines Cookies are covered in that cinnamon cream cheese frosting are the perfect dessert to go with a hot cup of tea, or coffee.
Key ingredients:
Large Eggs
Sugar and powdered sugar
Cinnamon
All-purpose flour
Unsalted Butter
Pumpkin Puree
Cream cheese
You will need a special madeleine pan
How to make pumpkin madeleines?
Make the batter: In a large bowl, using an electric mixer, combine eggs, sugar, pumpkin puree, cinnamon, flour, salt, and melted butter. Then, blend on low speed to combine.
Bake: Next, spoon 1 tablespoon of batter into each madeleine indentation in a pan. Then, place them into a preheated oven at 375 degrees f, and bake for about 10-13 minutes, until crispy edges.
Make the cream cheese frosting: In a separate bowl, using a hand mixer make the frosting by mixing together cream cheese, sugar, and cinnamon until fluffy.
Frost: Lastly, simply drizzle over the cookies and serve.
What is a Madeleine?
It is a traditional small cake typically baked in a shell-shaped mold that originates from France.
Also, they are often decorated with coconut, cinnamon cream, and jam, and are extremely delicious!
What is pumpkin puree vs canned pumpkin?
Canned pumpkin is just cooked pureed pumpkin, and is basically the same thing.
Also, the canned version is flavored with spices like cinnamon, clove, allspice, and ginger, and is also sweetened.
How to make homemade pumpkin puree?
Making it at home is very easy. Also, I like to make a bigger batch in advance and use it in various dishes later on. Here are the steps:
First, halve a fresh pumpkin lengthwise using a sharp knife. Also, ensure to hold it tightly so it does not slip.
Next, using a spoon, scoop out the seeds inside.
Then, place the slices in a baking dish, and roast them at 400 degrees f for about 40 minutes, until tender.
Remove from the oven, and discard the skip.
Lastly, add some seasoning, and puree the pieces using a food processor or blender until smooth.
More easy pumpkin desserts:
Can you make them in advance?
Absolutely! During the holiday season, I try to make a larger batch of them in advance and refrigerate them.
Just remember, if you make them in advance, hold up on the glazing or frosting. Simply, store cooled cookies without the glaze in an airtight container for up to 3 days. The next day, quickly make the frosting and decorate them.
How do you freeze Pumpkin Madeleine?
First, let them completely cool at room temperature prior to freezing. They can be frozen for up to 2-3 months. Before freezing them, do not dust them with sugar until you are about to serve.
Store them in an airtight container and freeze them in a double wrapping of plastic wrap for several months.
Recipe tips:
Alternatively, feel free to top them with a pinch of salt, melted chocolate, or melted caramel.
Also, they cook quite fast. Therefore, keep a close eye on them. Once they get that golden color, they are ready.
Remember to use a madeleine pan. Otherwise, you will not be able to make them or end up with the same size, texture. and that gorgeous hump!
You can also sprinkle them with a bit of brown sugar or sprinkles.
In addition, if you want to get a vanilla flavor, simply add a few drops of vanilla extract to the batter.
Use a small cookie scoop to scoop out the batter into the madeleine molds.