Pumpkin Madeleines with Cinnamon Frosting
This post may contain affiliate links. Please read my disclosure policy.
Pumpkin madeleines have a subtle cinnamon and pumpkin flavor, while still delivering the sweet and buttery taste of the classic madeleine cookies.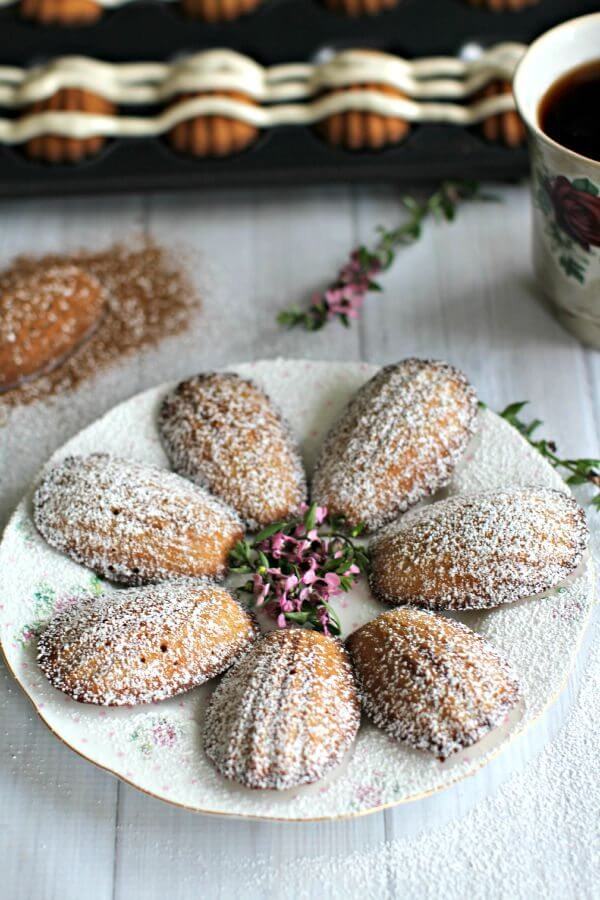 Happy Friday! And here comes the pumpkin, this is my first fall recipe featuring it. I wanted to start mild, like almost introducing it slowly since the weather is still so summery, and these pumpkin madeleines are the perfect way to get your pumpkin fix, without having too much of it too soon.
Eveytime I go to Starbucks to get my vanilla latte fix I grab a handful of madeleines, I love their buttery taste and soft texture. These pumpkin madeleines are incredibly easy to make, this recipe comes together in under 30 minutes start to finish.

These originally French cookies just got so much better, with a subtle pumpkin flavor that adds a nice orange color and some cinnamon to enhance their fall flavor. These pumpkin madeleines would be perfect served with some spiced tea or enjoyed with a classic pumpkin latte that we will soon start seeing everywhere.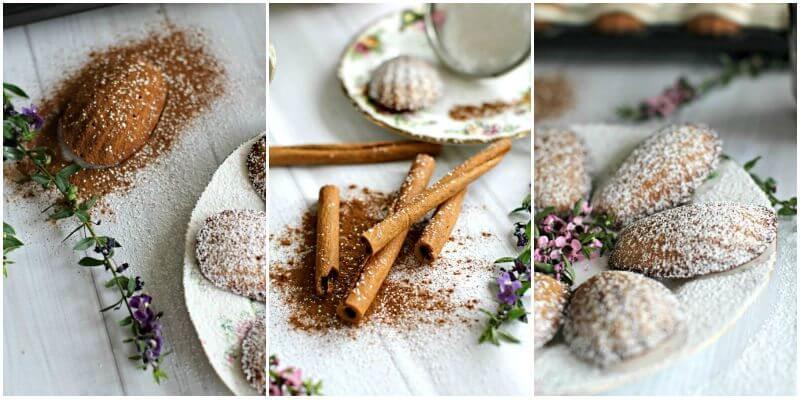 I topped some of these pumpkin madeleines with cinnamon and powdered sugar, others just with powdered sugar and the most of them got a coating of cinnamon cream cheese frosting, and those where my favorite. What can be better than a buttery cookie covered in soft and sweet frosting?

MY LATEST VIDEOS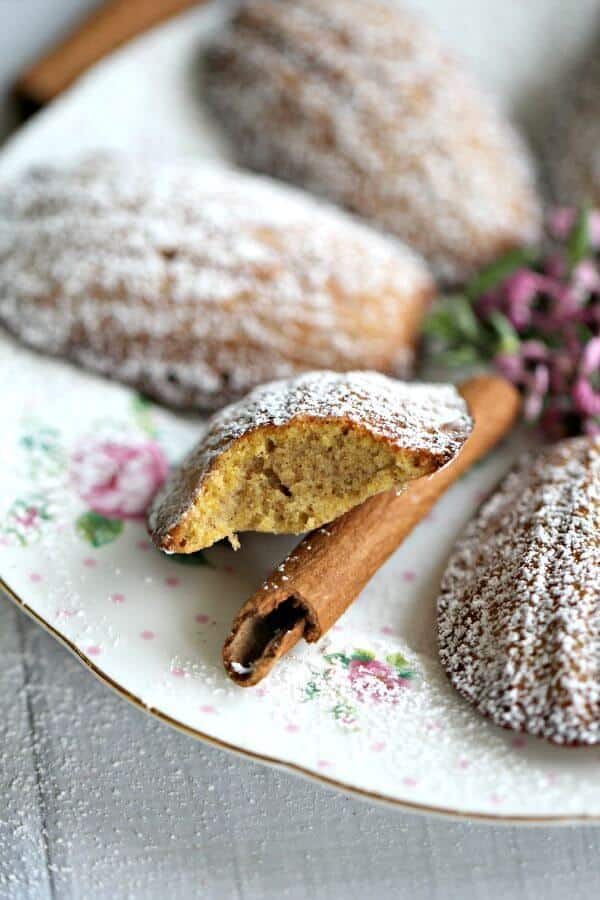 I love how the pumpkin slightly changed the texture of these cookies, they became denser, but still maintained their softness and tender crumb. These pumpkin madeleines covered in that cinnamon cream cheese frosting are the perfect afternoon treat, I just wish we can convince Starbucks to carry some so I can enjoy them everytime I get a latte. My son loved them so much, and my husband was a big fan too.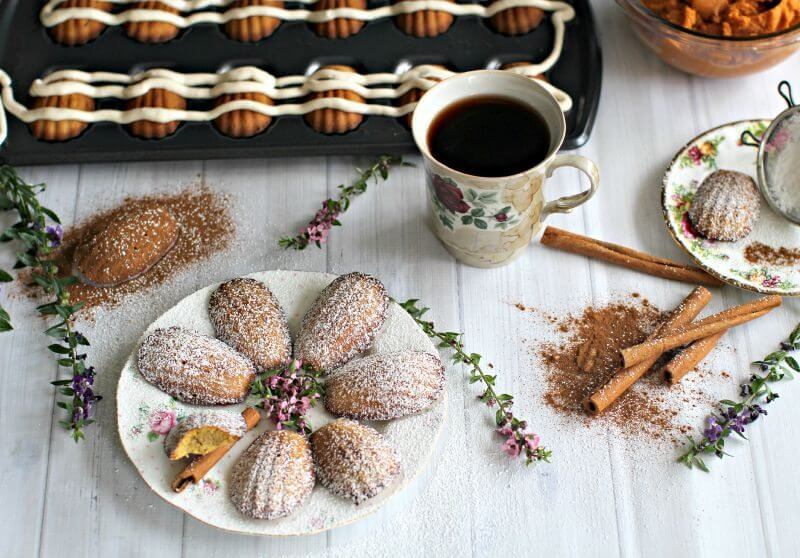 No matter what flavor you choose, cinnamon, powdered sugar, cinnamon cream cheese, or if you would rather have these pumpkin madeleines plain, they will taste equally delicious, and since they are ready to enjoy in less than 30 minutes, there are no excuses not to make a batch!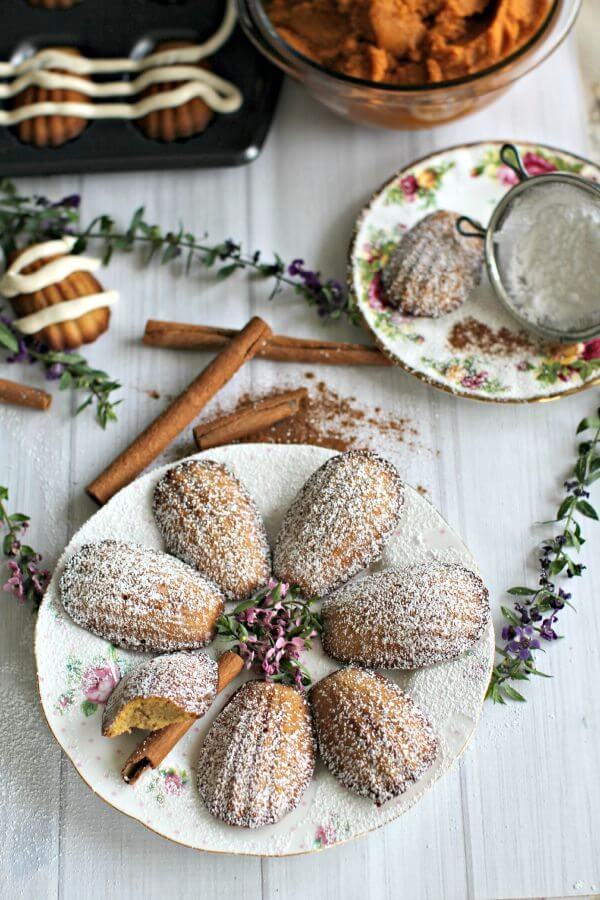 And if you are looking for more fall flavor, try these Apple Bacon Muffins, they have the same irresistible cinnamon cream cheese frosting.

Pumpkin Madeleines with Cinnamon Cream Cheese Frosting
These pumpkin madeleines have a subtle cinnamon and pumpkin flavor, while still delivering the sweet and buttery taste of the classic madeleine cookies.
Author:
Katalina Kastravet
Ingredients
Pumpkin Madelaines
2 large eggs
2⁄3 cup sugar
1 teaspoon cinnamon
1 pinch salt
1 cup all-purpose flour
8 tablespoons unsalted butter, melted, cooled slightly + 2 tablespoons melted for greasing the pans or grease with baking spray
3 tablespoons pumpkin puree
powdered sugar
Cinnamon Cream Cheese Frosting:
4 ounces cream cheese, room temperature
1 cup powdered sugar
¼ cup (1/2 stick) unsalted butter, room temperature
1 teaspoon cinnamon
Instructions
Pumpkin Madelaines
Preheat oven to 375°F.
Prepare 2 large madeleine pans and generously grease with butter and dust with a tad of flour.
Using an electric mixer, beat eggs with ⅔ cup sugar until blended. Beat in pumpkin puree, cinnamon and salt. Add flour and beat just until blended. With the mixer on low speed, gradually add cooled melted butter and beat just until blended.
Spoon 1 tablespoon batter into each madeleine indentation in pan. Bake until puffed and brown, about 11-13 minutes.
Cool for 5 minutes in the pan and after gently remove from the pan and place on a serving dish.
Once cookies have cooled dust with powdered sugar or decorate with the cream cheese frosting.
Cinnamon Cream Cheese Frosting:
Work on the frosting while the cookies are baking.
In the bowl of an electric mixer cream together butter, cream cheese, sugar and cinnamon until light and fluffy. Drizzle over the apple bacon muffins.
Enjoy and store the leftover in jar in the fridge up to one week.
Peas and Peonies, LLC. owns the copyright on all images and text and does not allow for its original recipes and pictures to be reproduced anywhere other than at this site unless authorization is given. If you enjoyed the recipe and would like to publish it on your own site, please re-write it in your own words, and link back to my site and recipe page. Copying and/or pasting full recipes to social media or personal blogs is strictly prohibited. Sharing this recipe is very much appreciated and encouraged. Read my disclosure and privacy policy. This post may contain affiliate links.