Gingerbread Cheesecake Recipe [Video]
Last updated on June 18th, 2021 at 10:45 pm
Gingerbread Cheesecake is an easy but stunning holiday dessert. Each creamy slice is sweet, warmly-spiced, and perfectly tangy. A festive finish to your Thanksgiving or Christmas feast!
Fall-themed desserts are some of my favorite things to bake. What's better than a freshly-baked treat when the air is cold and the leaves are falling? Brew some coffee or tea, then enjoy a slice of Spice Cake, a piece or two of Chewy Molasses Cookies, or warm Pecan Pie Cinnamon Rolls with neighbors and family for the perfect autumn day.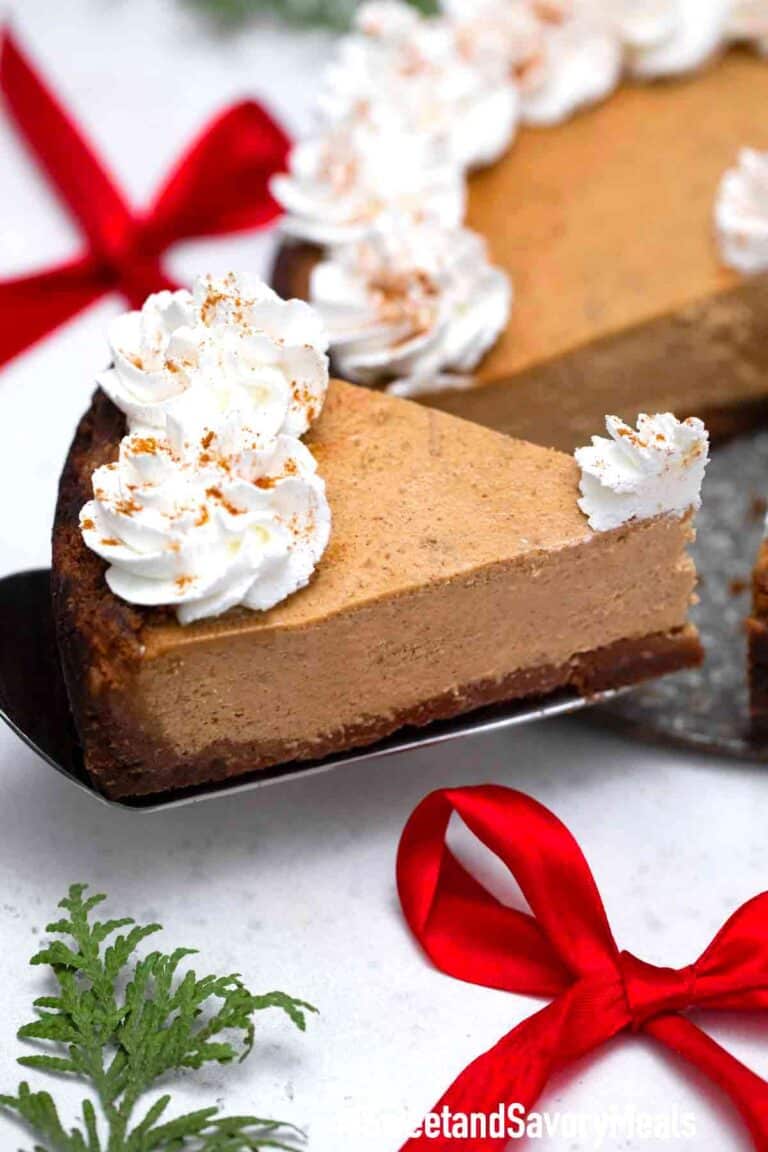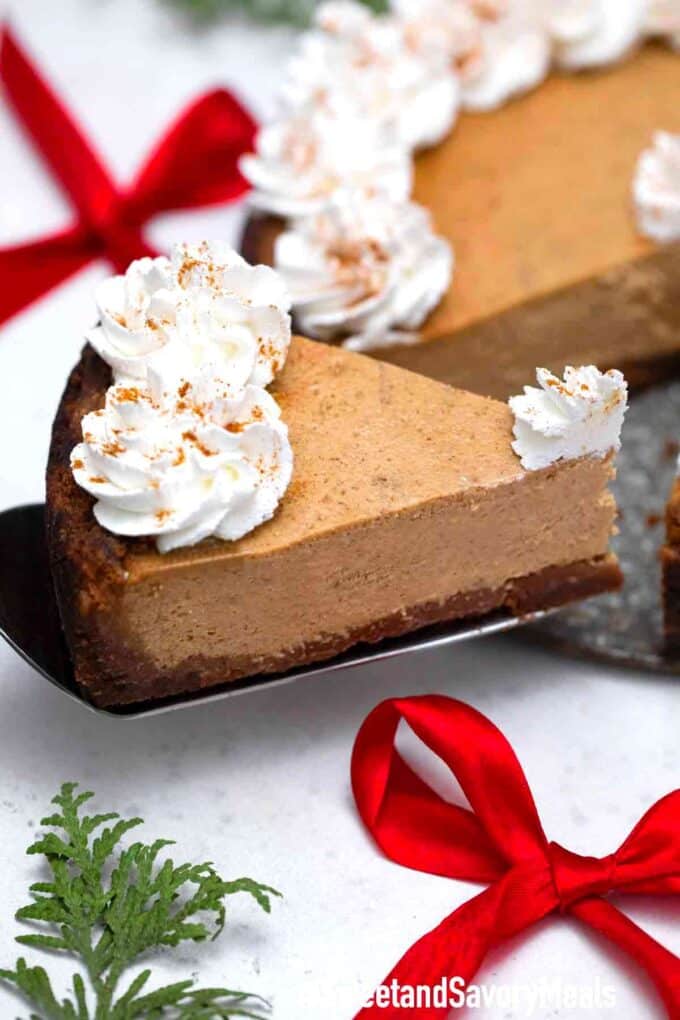 Gingerbread Cheesecake Recipe
Gingerbread Cheesecake is everything a holiday dessert should be – loaded with cinnamon and spices and oh so indulgent! If you grew up having spiced loaves and cookies during Thanksgiving and Christmas, this recipe will fill your home with nostalgic smells.
We're using a water bath so that the filling cooks slowly and evenly. This will give us that gorgeous, smooth surface that's the perfect canvass for toppings.
Also, try making your own spiced whipped cream, slather with chocolate syrup, or squeeze Cool Whip on top and call it a day! But no matter what you garnish it with, this is a sensational dessert that's bound to be a staple during your next holiday.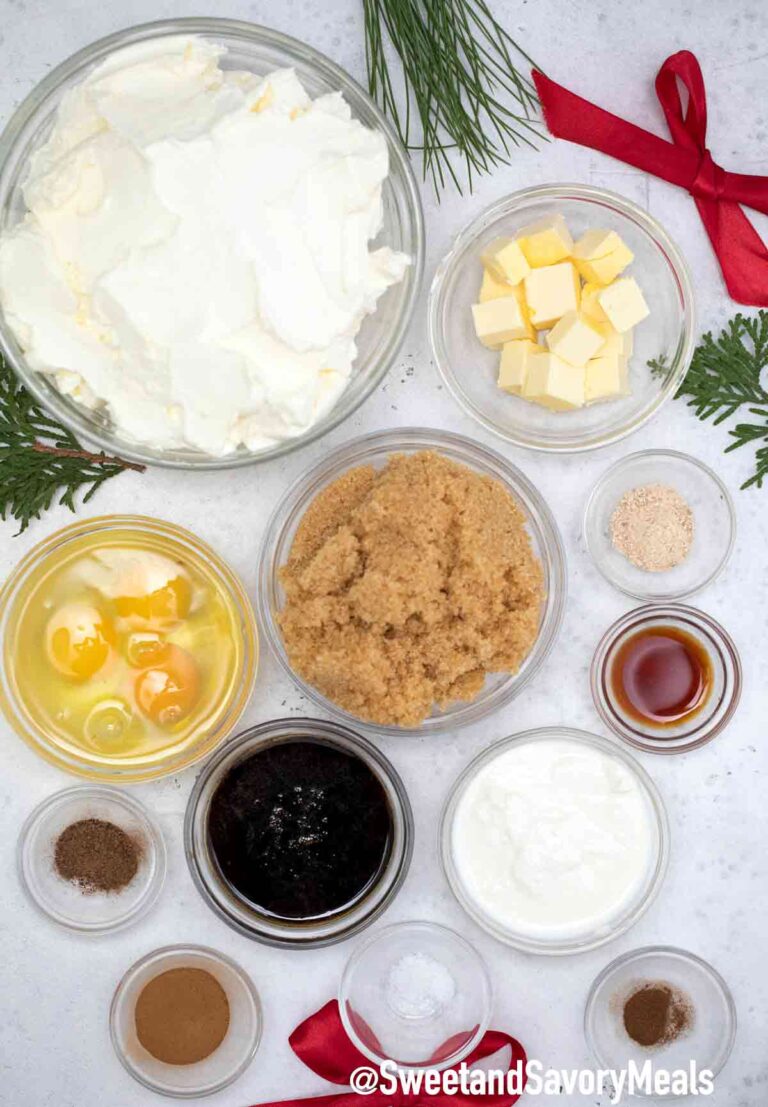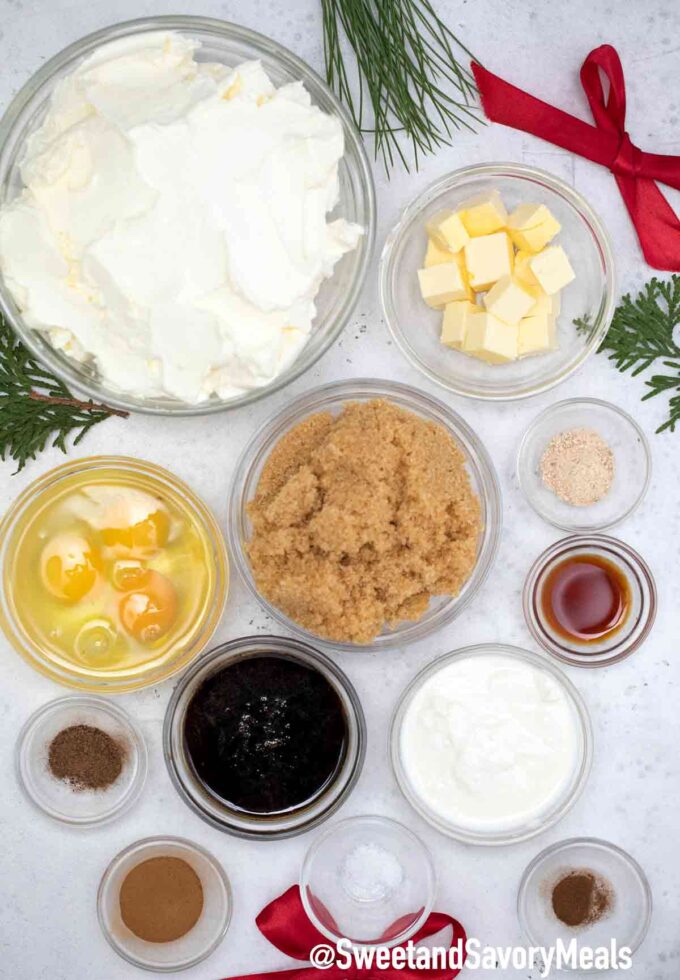 How to make Gingerbread Cheesecake?
Start with the crust. Process the gingersnaps crumbs, spices, and butter until moistened. Press well into the pan.
Make the filling. Take your cream cheese and beat until you get a creamy texture. Up next is the sugar, then beat again until there no lumps. Follow with vanilla and the room-temp sour cream, along with one egg at a time. Finally, add the spices, molasses, and salt and mix until you get a smooth consistency.
Bake. Take your pan with the crust, and pour the filling carefully inside. Bake for around an hour in a water bath.
Cool very gently. After baking, take it out of the water bath, but not the oven. Leave it there to slowly cool down.
Chill to firm it up. Transfer to the fridge and let the dessert chill for up to 8 hours or better yet, overnight.
Serve. Take from the fridge, and slice into your desired size. Top it with a dollop of whipped cream or ice cream, and then add a dash of cinnamon.
Ginger Cheesecake variations:
Use other cookies for the crust: try it with Speculoos cookies, graham crackers, or chocolate graham crackers.
Make it gluten-free: use gluten-free crackers for the crumbs for a gluten-free version.
Use honey: for a lighter-tasting dessert, use honey in place of molasses.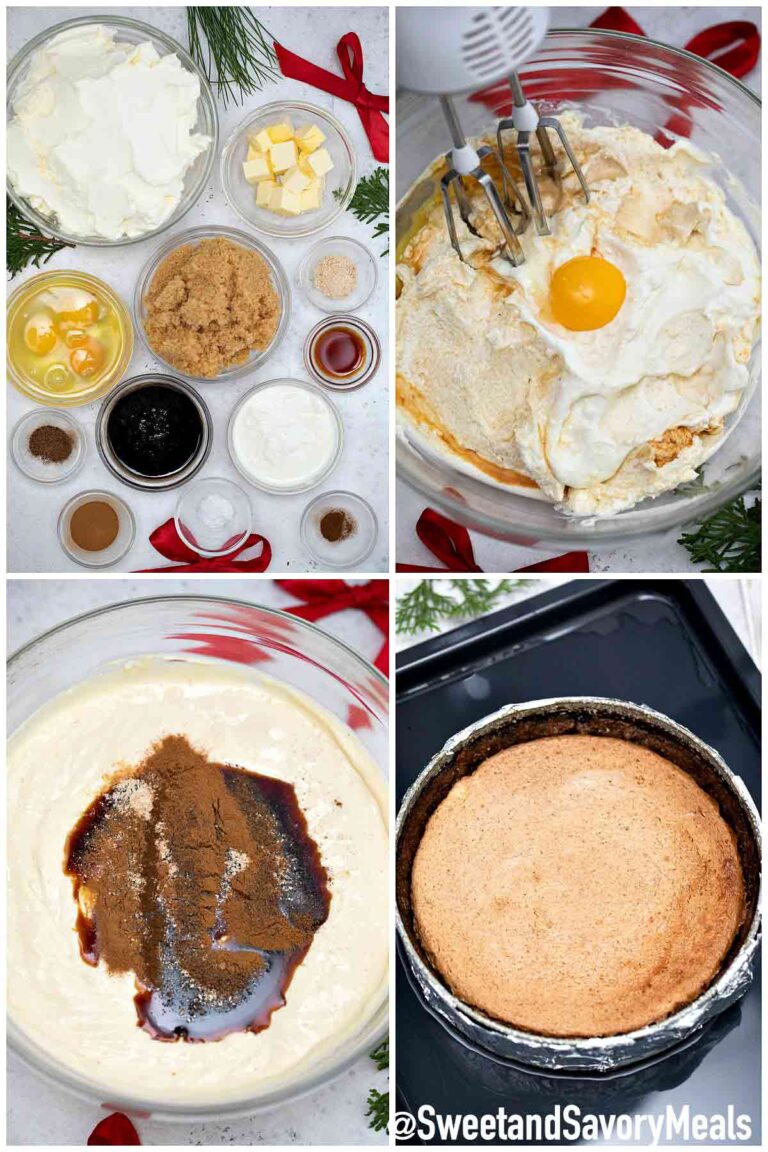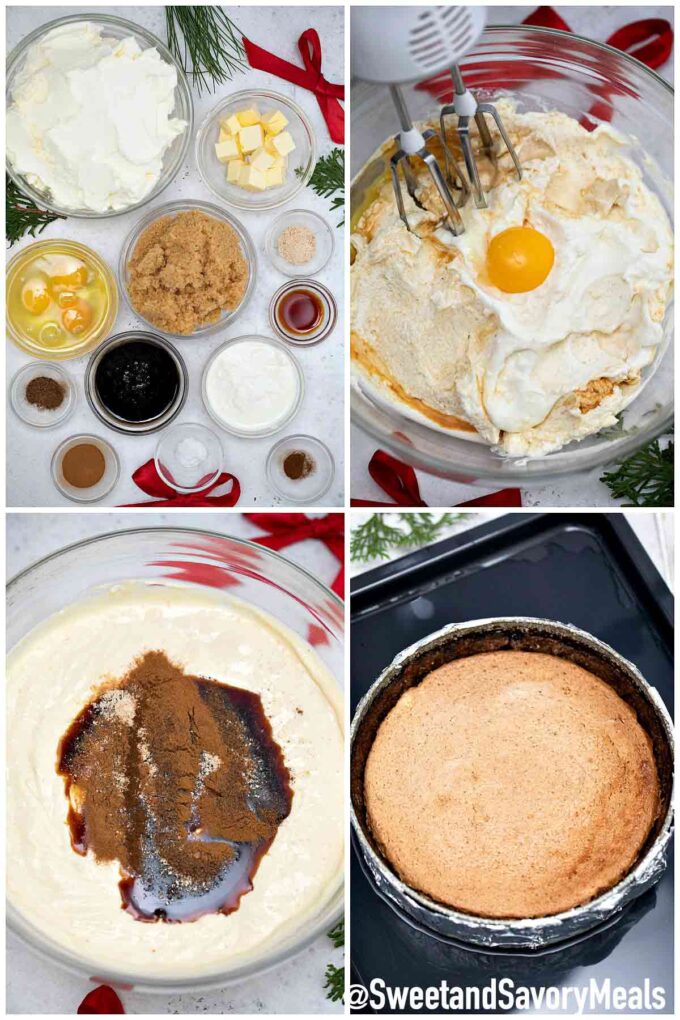 How to make Ginger Bread Cheesecake Filling?
To achieve the perfect filling, avoid overmixing the batter. This introduces air into the filling, which will make the dessert rise during baking. The surface will eventually fall after cooking which leads to cracks.
Prevent this by using room-temperature ingredients. Since they'll all be starting at the same temperature, they incorporate faster so you won't have to mix too much. Also, don't forget to scrape down the sides too! This ensures there are no pockets of raw ingredients in your filling.
What should I top it with?
I kept it simple for this recipe with whipped cream and a sprinkle of cinnamon. But you can totally go crazy with the topping! Jazz up your dessert with the following: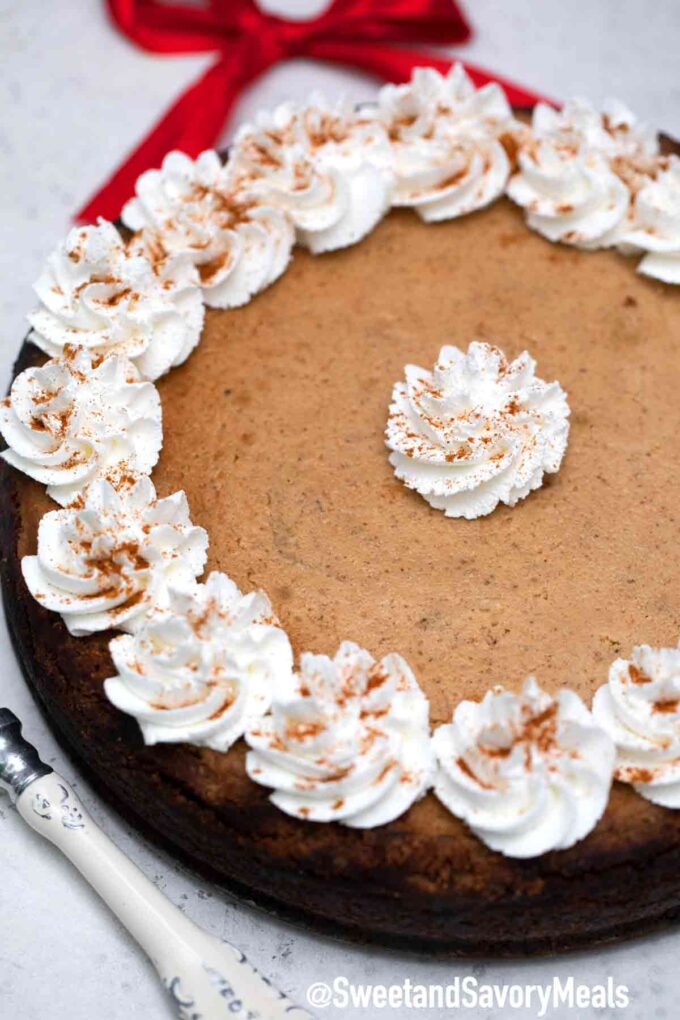 What is the best way to serve my cheesecake with clean slices?
First, never skip the chilling step. Otherwise, your cake won't be firm enough to slice it cleanly. Also, it is important to use your longest, sharpest knife. This way, you don't have to "saw" the slices because the knife will reach down to the crust in one motion.
For your first slice, cut the entire thing in half. Then, take your knife and run it under hot water, then towel off the moisture before cutting again.
Now continue to cut into quarters and thirds, cleaning off your knife after each cut. You'll get neat, beautiful slices every time!
How to store gingerbread cheesecake?
Cover every inch tightly with plastic wrap, or store the leftovers in an air-tight sealed container. The less air gets into your dessert, the longer it'll last.
Properly-stored, this will stay good up to 4 days in the refrigerator. You can freeze it (without the topping) for up to 3 months. Simply defrost and enjoy!
More delicious cheesecake recipes: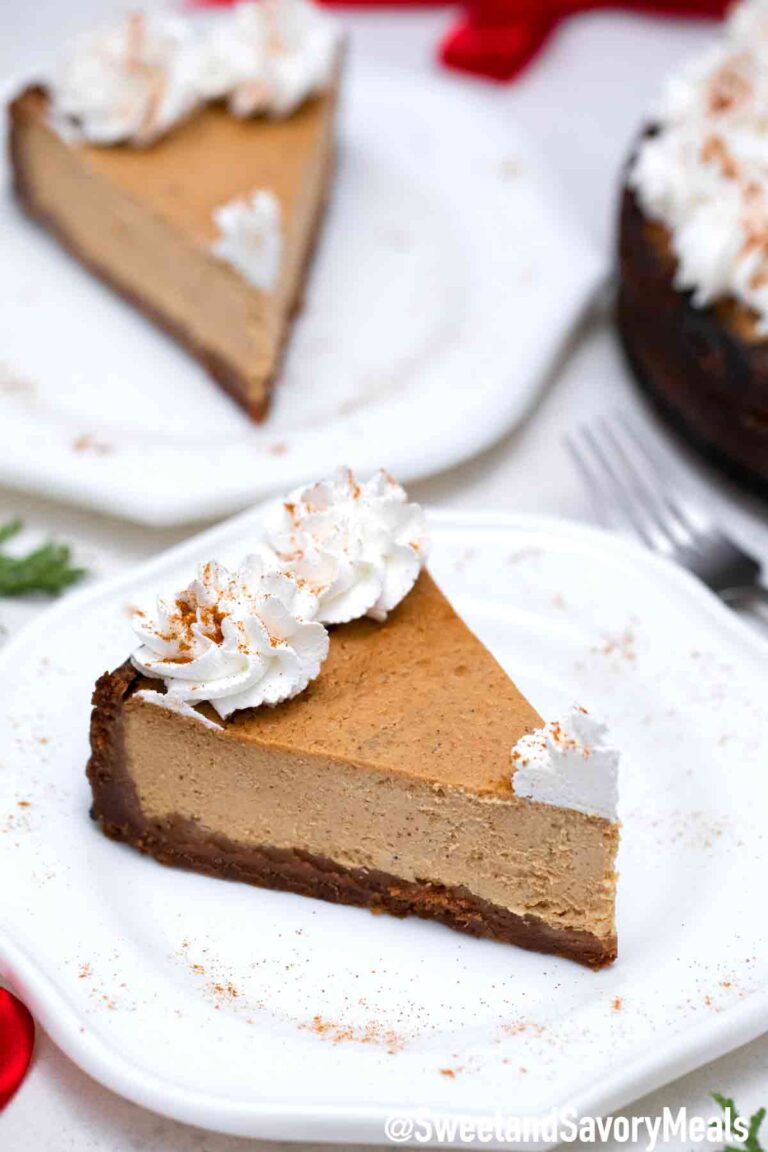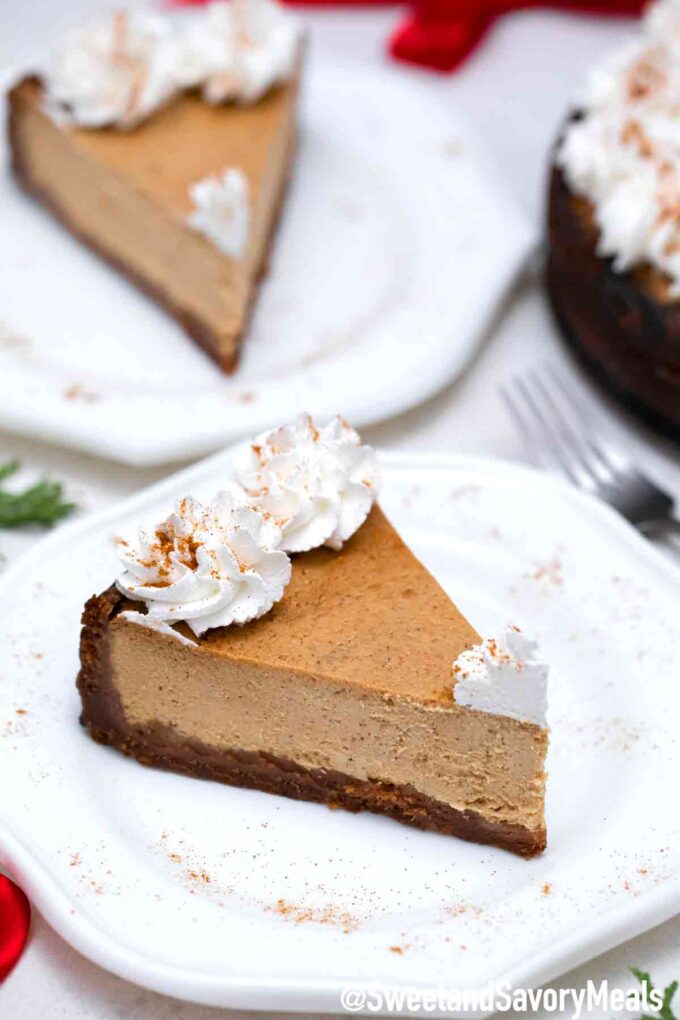 Recipe tips and tricks:
Plan ahead for the chilling time.
Use room-temp ingredients.
For the cheese, only use the type that comes in blocks, not the spreadable kind.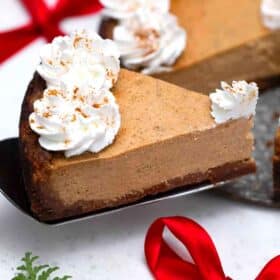 Gingerbread Cheesecake
Gingerbread Cheesecake is an easy but stunning holiday dessert. Each creamy slice is sweet, warmly-spiced, and perfectly tangy.
Save
Share
Print
Pin
Rate
Ingredients
Crust:
2 1/2

cups

gingersnaps crumbs

1

teaspoon

ground cinnamon

1/2

teaspoon

ground ginger

1/2

teaspoon

ground nutmeg

1/8

teaspoon

ground cloves

1/4

cup

unsalted butter

(melted)
Filling:
32

ounces

full fat cream cheese

(4 packages at room temperature)

1 ½

cups

brown sugar

1

teaspoon

vanilla

3

eggs

(room temperature)

1/4

cup

molasses

1/3

cup

sour cream

1/4

teaspoon

salt

1

teaspoon

ground ginger

2

teaspoons

ground cinnamon

1/2

teaspoon

ground nutmeg

1/4

teaspoon

ground cloves
Instructions
Preheat oven to 350 degrees F.

Wrap the outside of a 9 or 10-inch springform pan in foil for a water bath.

In a food processor add the Crust ingredients and pulse until combined.

Press them onto the bottom of the springform pan and up the sides of the pan about an inch.

Add the cream cheese to a large bowl and beat until fluffy.

Add the brown sugar and beat until combined, then add the sour cream, vanilla, and the eggs one at a time. Beat just until combined, scrape the sides and bottom of the bowl.

Add the molasses, salt, ginger, cinnamon, nutmeg, and cloves and beat until fully combined.

Pour the filling into the springform pan. Place the pan into a larger pan, filled with an inch of hot water.

Bake in a water bath for 60 minutes.

When done baking, turn off the oven, remove the pan from the water bath and place it on the middle oven rack. Leave the oven door cracker and let the cheesecake in the oven to cool.

Transfer to the fridge for 8 hours or until fully chilled.

Serve with whipped cream dusted with cinnamon.
Nutrition
Calories:
653
kcal
|
Carbohydrates:
66
g
|
Protein:
9
g
|
Fat:
41
g
|
Saturated Fat:
22
g
|
Cholesterol:
164
mg
|
Sodium:
568
mg
|
Potassium:
425
mg
|
Fiber:
1
g
|
Sugar:
47
g
|
Vitamin A:
1457
IU
|
Calcium:
181
mg
|
Iron:
3
mg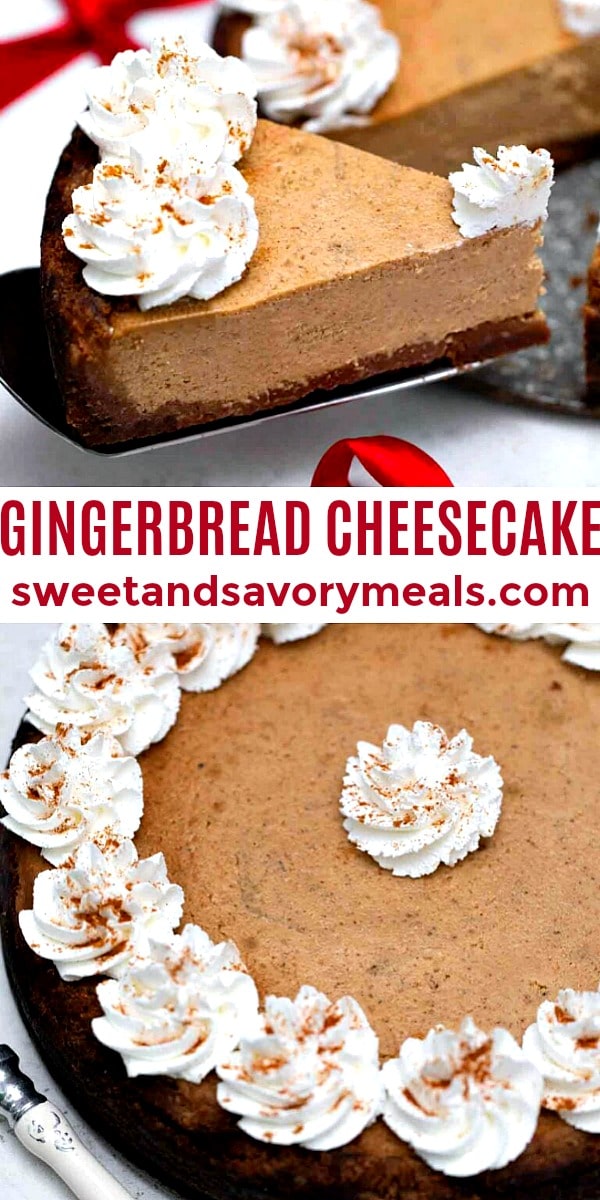 More recipes you might love