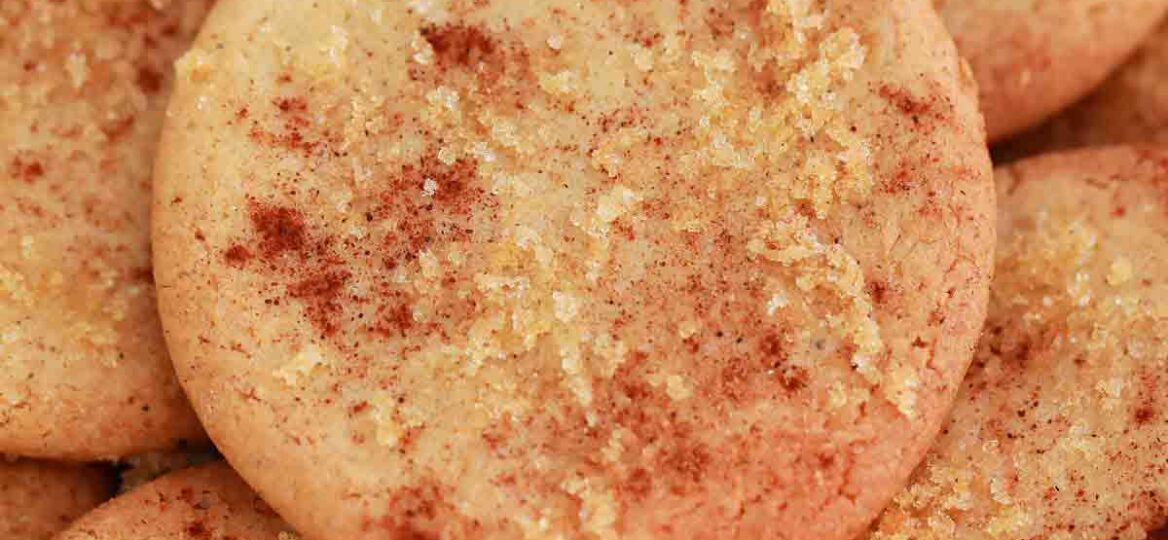 Chewy Brown Sugar Cookies [Video]
Brown Sugar Cookies are delightfully chewy, soft, buttery, and warmly spiced with cinnamon and nutmeg. It's a deeper and richer take on the Christmas classic sugar cookies, and ready in under 30 minutes! A must-bake during the holidays and delicious all year long.
You can never have too many dessert recipes during the holiday season. Indulge yourself with this delicious Chocolate Creme Brulee, Neon Chocolate Sugar Cookies, and The Best German Chocolate Cupcakes to end meal times on a sweet note!
Easy Chewy Brown Sugar Cookies
This Brown Sugar Cookie Recipe is a nice twist on the traditional sugar cookie recipes. They are soft and chewy, and very easy to make in under 30 minutes.
Don't get me wrong, I love extras on my sweet desserts— chocolate chips, nuts, icing, sprinkles— you name it! But sometimes, I just want something pure and simple. These fit the bill perfectly.
Now, don't mistake simple for boring! Every bite is loaded with a delicious blend of molasses, butter, and spices.
The molasses, butter, and brown sugar make the perfect blend for some soft and chewy cookies. Also, the toffee-like flavor these add to the cookies, combines so well with the earthy cinnamon and nutmeg.
The spices are definitely optional, but they make the cookies more festive, so it's totally up to you if you want to add or skip them.
The firm dough is excellent for cutting into fun and festive shapes. This is a must-bake dessert for the holidays with a soft center and crisp edges. I also love wrapping these up in boxes as gifts!
What is brown sugar?
It's crystalline sucrose (your basic white granulated variety) with molasses added for deeper flavor and color. Depending on how much molasses are added in, it can range from light brown sugar to dark brown sugar.
It's a touch more flavorful than the white variety. In general, it tastes like toffee or caramel.
You can totally DIY from scratch. Mix two teaspoons molasses per one cup of white granulated. That's it, and it's ready to be used in recipes.
How to make Brown Sugar Cookies?
Prepare the oven. First, preheat the oven to 350 degrees F.

Make the brown butter. We're browning the butter to get that complex, nutty flavor. Take 10 tbsp from the amount indicated in the recipe. Melt until brown, then pour into a bowl along with remaining butter.
Mix dry components of the dough. Next, in a medium bowl, whisk the flour with the rest of the dry ingredients using a rubber spatula.
Make the butter mixture. In the large bowl add unsalted butter along with the rest of the sugar and mix until there are no lumps. Follow with the egg yolk and vanilla extract and molasses. Then, using a hand mixer, mix the ingredients on medium speed until light and fluffy.
Form the dough. Put the dough together by stirring the flour mixture into the butter mixture.
Shape. Use a cutter to cut into desired shapes, or roll into dough balls using a cookie scoop. Dust the surface with cinnamon sugar.

Bake. Next, line a baking sheet with parchment paper and spread the balls of dough evenly. Then, bake only until they begin to set, which can take around 12-14 minutes.
Serve. Cool on a wire rack before serving or storing.
Variations:
Top with icing: make it extra delicious with cinnamon icing, caramel sauce, chocolate sauce, or vanilla icing.
Use white sugar or granulated sugar: also, you can substitute white or granulated sugar in place of brown, but note that the results may not be as chewy.
Top with toffee chips: just after baking, press some toffee chips, caramel chips, or cinnamon chips.
Chocolate chip cookies: alternatively, feel free to add some white chocolate chips onto the surface.
Add texture: top with sprinkles or crushed nuts for a bit of crunch.
Almond extract: Feel free to swap the vanilla extract with almond extract. This will give them a deeper and richer flavor. Just use 1 teaspoon because it has a stronger flavor than the vanilla extract.
How do you make sugar cookies soft and chewy?
To achieve that soft and chewier cookie texture, you'll need ingredients with a lot of moisture. That's why we use brown sugar, melted butter, and add extra egg yolk in there.
Also, you can use light brown sugar or even white sugar. However, the cookies will have the same chewy texture and also may turn out more crumbly.
How do you know when Brown sugar cookies are done?
There's no coming back once they get overbaked, so pay attention to your oven! These are done once the edges of the cookies are just barely beginning to get golden brown. The middle will look undercooked, and that's okay. They will continue to cook and firm up as they cool.
Make ahead instructions:
You can easily make the cookie dough up to 3 days ahead, and chill in the refrigerator for up to 3 days. When ready to bake, let the dough sit at room temperature for 30 minutes prior to baking. Then, bake as directed.
How long do these cookies last?
Once baked, these will stay fresh for up to a week at room temperature inside an airtight container. They will also keep well for several months frozen. A convenient way to get ahead of the holiday baking frenzy!
If you're not ready to bake yet, freeze the dough for up to a month instead. Defrost when ready to bake and follow the rest of the recipe.
More easy cookie recipes:
Recipe tips:
If the dough gets too sticky, sprinkle some all-purpose flour to make it more workable.
Let baked goods cool to firm up before enjoying.
In addition, place a piece of parchment paper under the dough when rolling it out. This will help to them up and prevent them from sticking to the surface.
DO NOT OVERBAKE. Set a timer, and start checking at the 10-minute mark. Once you notice browning on the edges, it's time to take them out.
Always keep some molasses on hand, it's great to be added to many sweet and also savory recipes. Also, you can always make some brown sugar, instead of running to the store.
Also, let the cookies cool on the pan prior to serving. This will help them set and get that perfect texture.