Best German Chocolate Cupcakes [Video]
German Chocolate Cupcakes are soft and chocolaty, stuffed with a coconut-pecan filling and topped with chocolate cream cheese frosting. Watch the video tutorial below and see how delicious these desserts are!
I love making gorgeous and delicious cupcakes. Among my popular once are Dark Chocolate Peanut Butter Cupcakes, Galaxy Cupcakes, and Red White and Blue Cupcakes.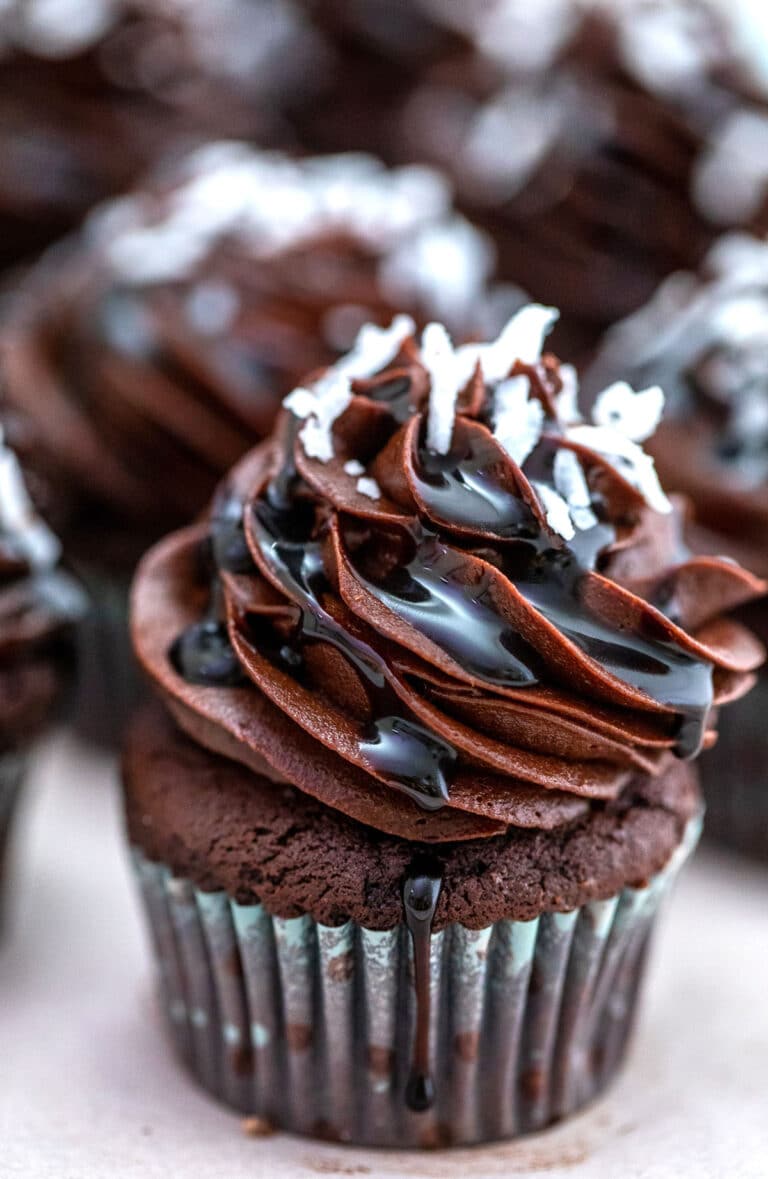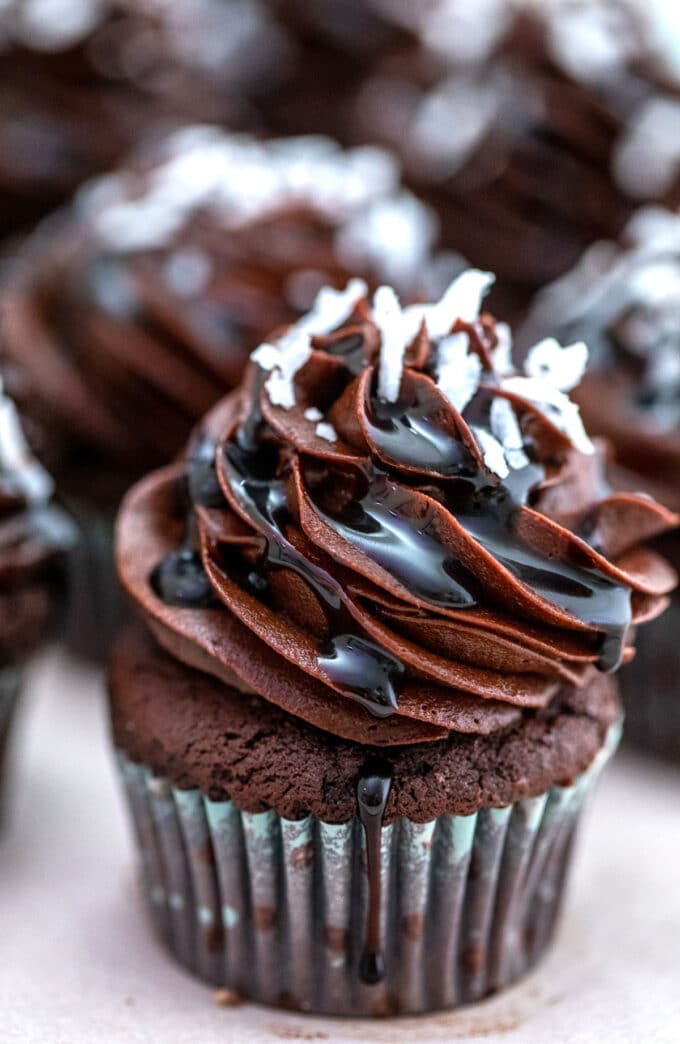 German Chocolate Cupcakes
These German Chocolate Cupcakes with Chocolate Cream Cheese Frosting are definitely on top of my favorite cupcakes list. Luxurious and rich, these are a chocolate lover dream come true. I am a huge fan of German Chocolate Cake, I actually have a version on the blog and it's one of my most popular recipes. It makes perfect sense, as the cake is to die for.
I am a huge coconut lover, in my opinion, it adds so much flavor to desserts. Because of this, I went ahead and added the classic German Chocolate Cake coconut pecan filling into the cupcakes and also on top of it.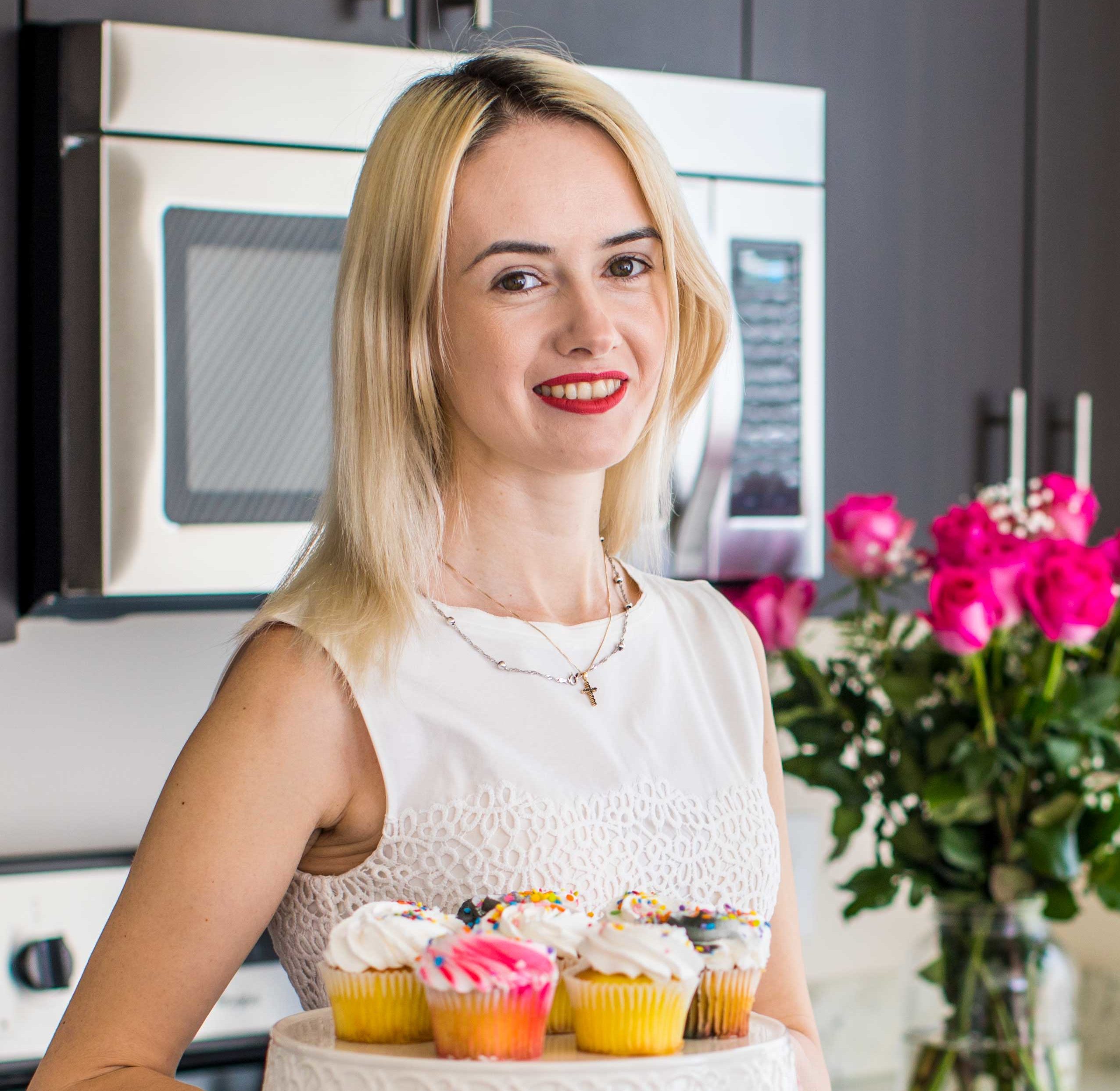 Follow us on Pinterest for more delicious recipes!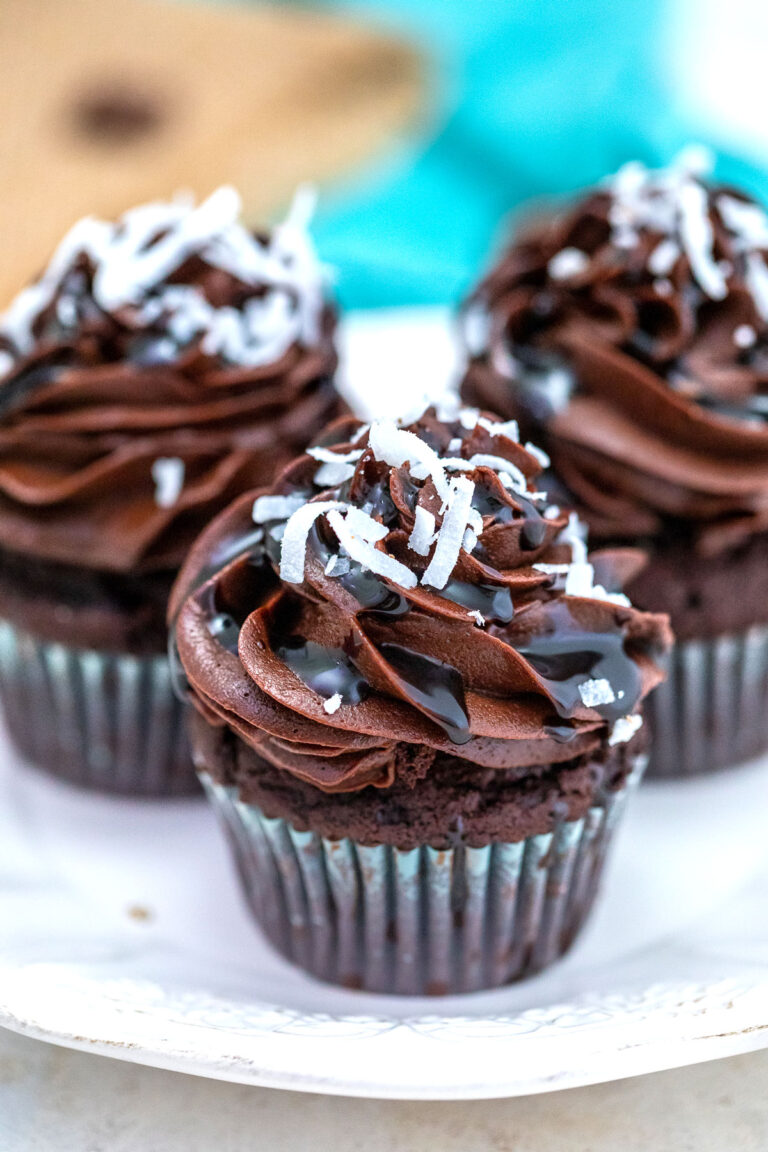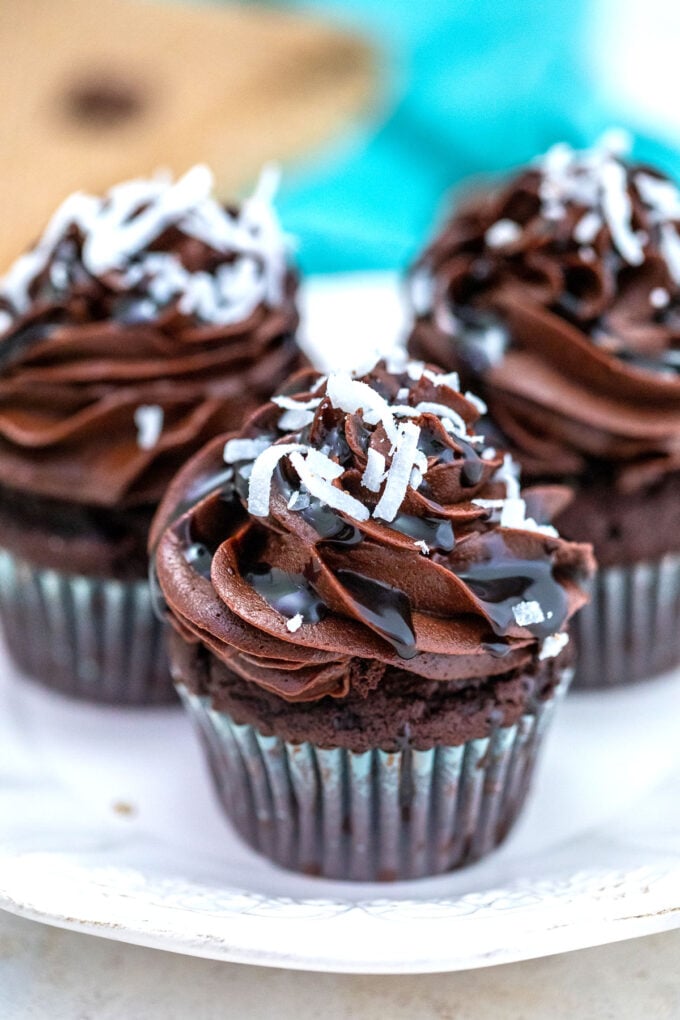 The result did not disappoint, as the cupcakes came moist and filling. Since the cupcakes are already so rich, I decided to go with a cream cheese frosting since it has a nice tanginess that balances the sweetness of the dessert.
Why you'll love these German Chocolate Cupcakes
Firstly, they are very easy to make and taste delicious.
Also, they are the perfect cupcake for chocolate lovers.
In addition, they are rich, creamy, they are guaranteed to become a show stopper dessert.
It can be made 1 or 2 days in advance so you don't have to worry about a last-minute dessert.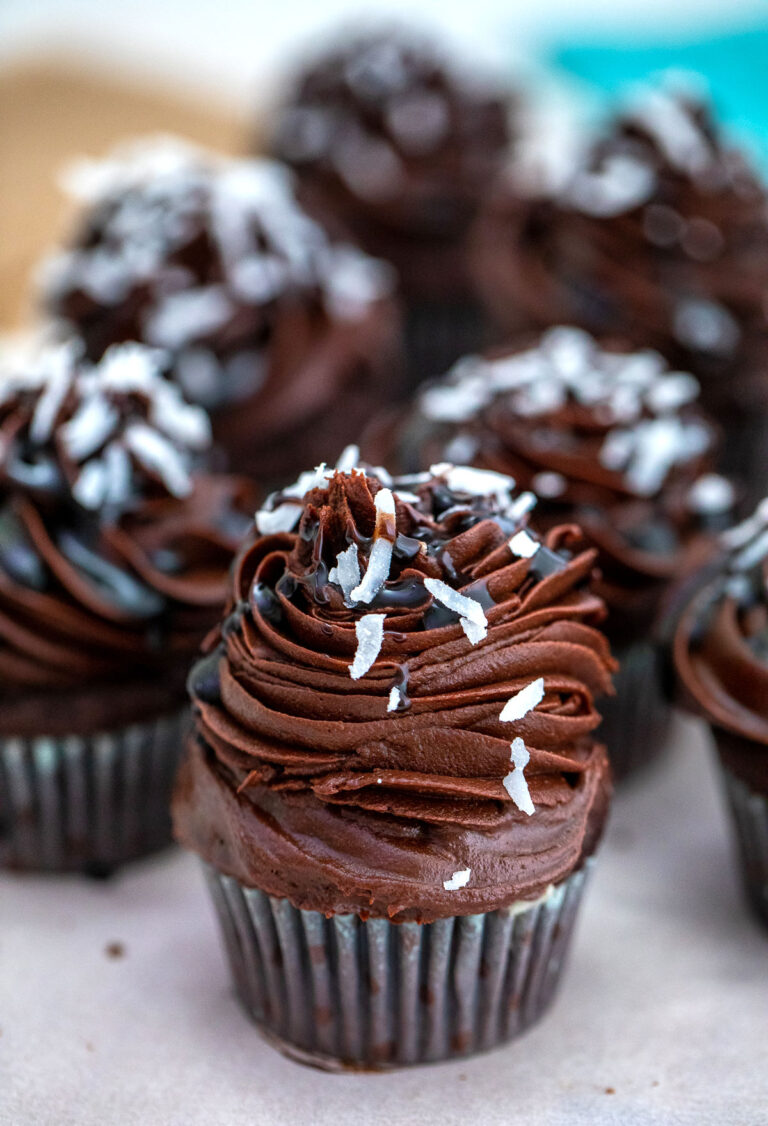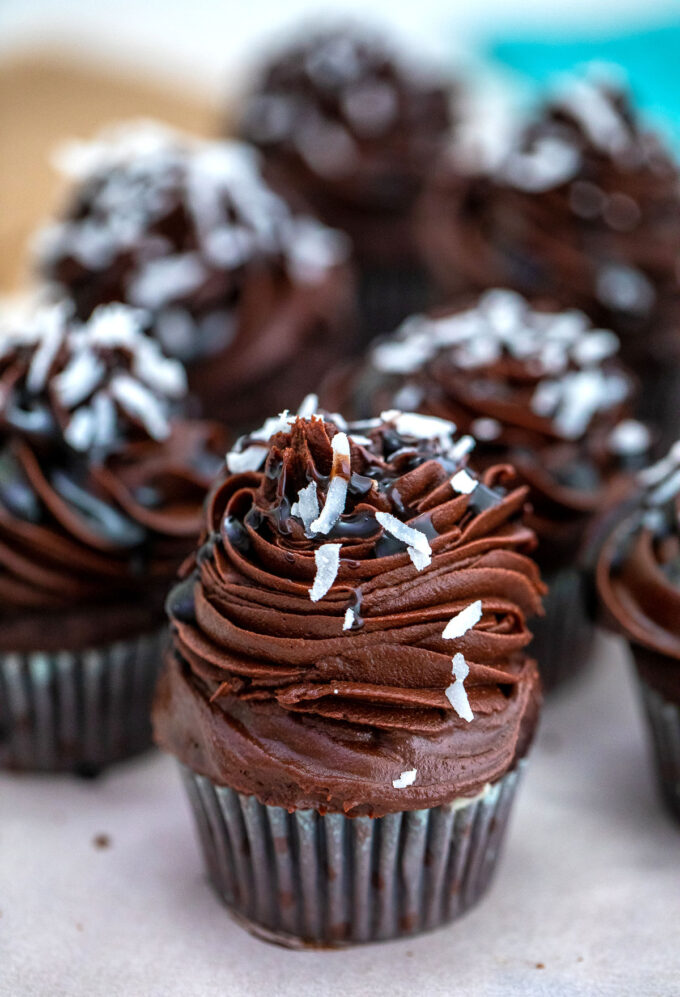 German Chocolate Cupcakes Recipe Tips
Use high-quality chocolate and very high-quality cocoa powder. Since the chocolate flavor is front and center, using a good one will make a huge difference.
Don't skip the salt, you definitely want to add it here, as the salt will enhance the chocolate flavor.
Also, ingredients should be at room temperature. For that perfect airy, soft, and moist crumb.
You can control the sweetness level by using semi-sweet or bittersweet chocolate in the recipe.
Make sure you don't over bake the cupcakes. Each oven is different but checking at the 15-minute mark is key to see how much more they need to be kept in the oven.
I addition, use extra coconut pecan filling. Because the German Chocolate Cupcakes are famous for their coconut pecan filling, you want to use a hefty amount. This way the cupcakes to taste like the real deal.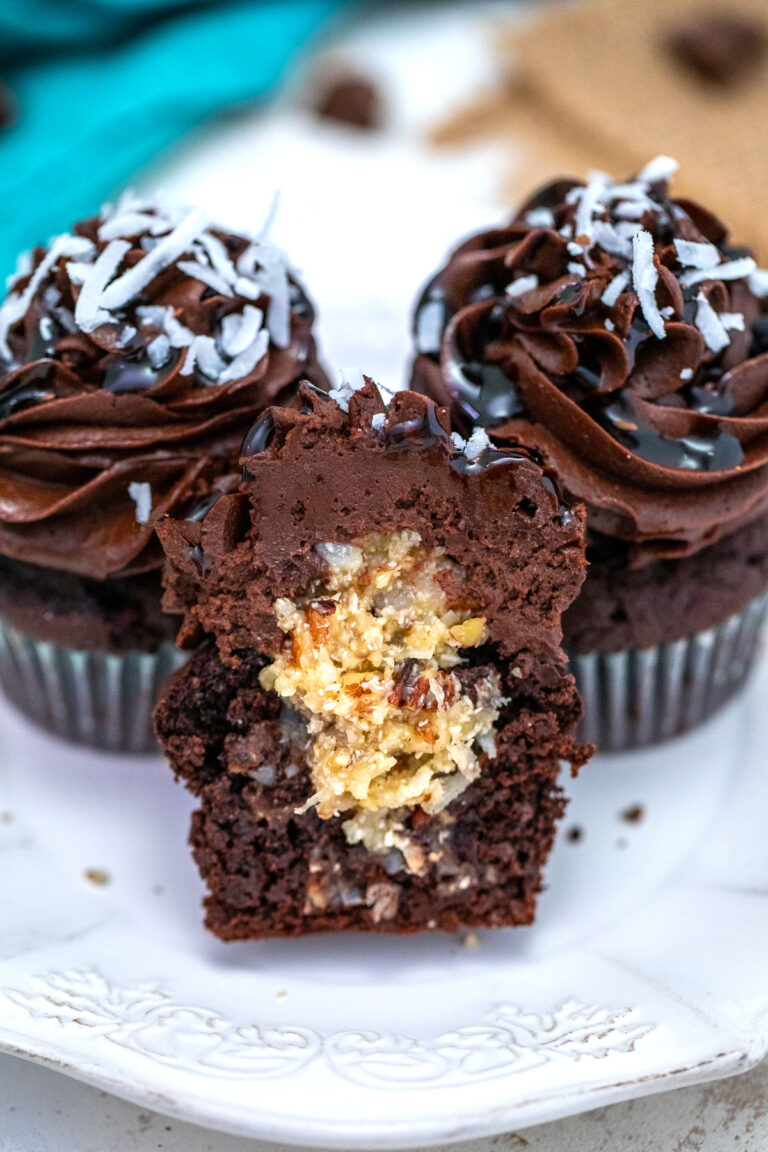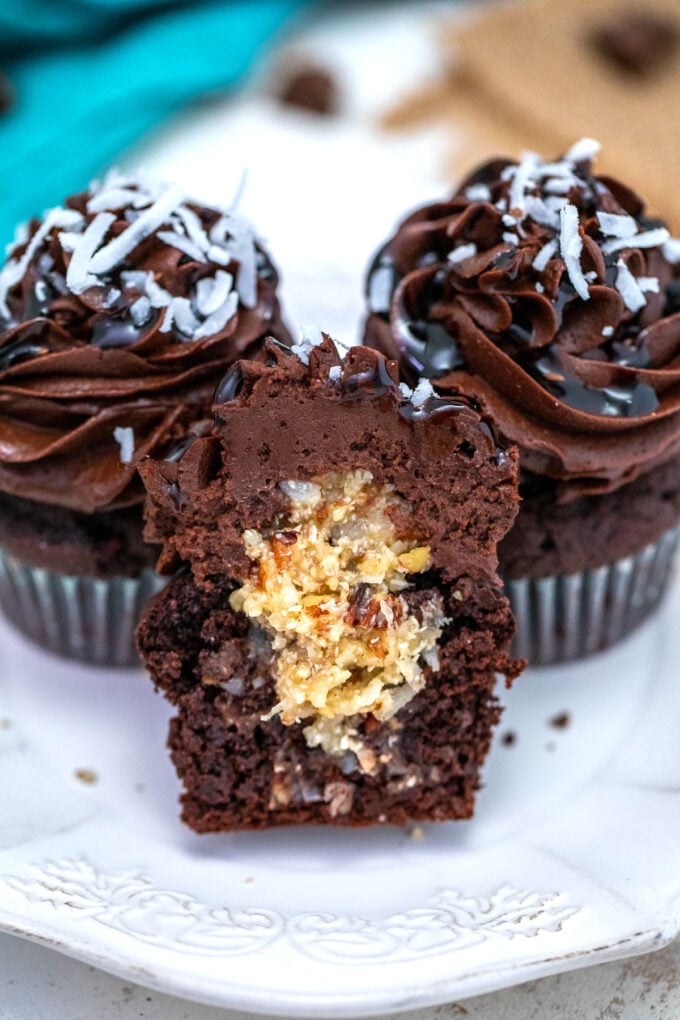 Can you refrigerate the German Chocolate Cupcakes
Best to refrigerate the cupcakes for one hour before serving for the frosting to harden a bit. Keep the cupcakes refrigerated, because the frosting will melt at room temperature.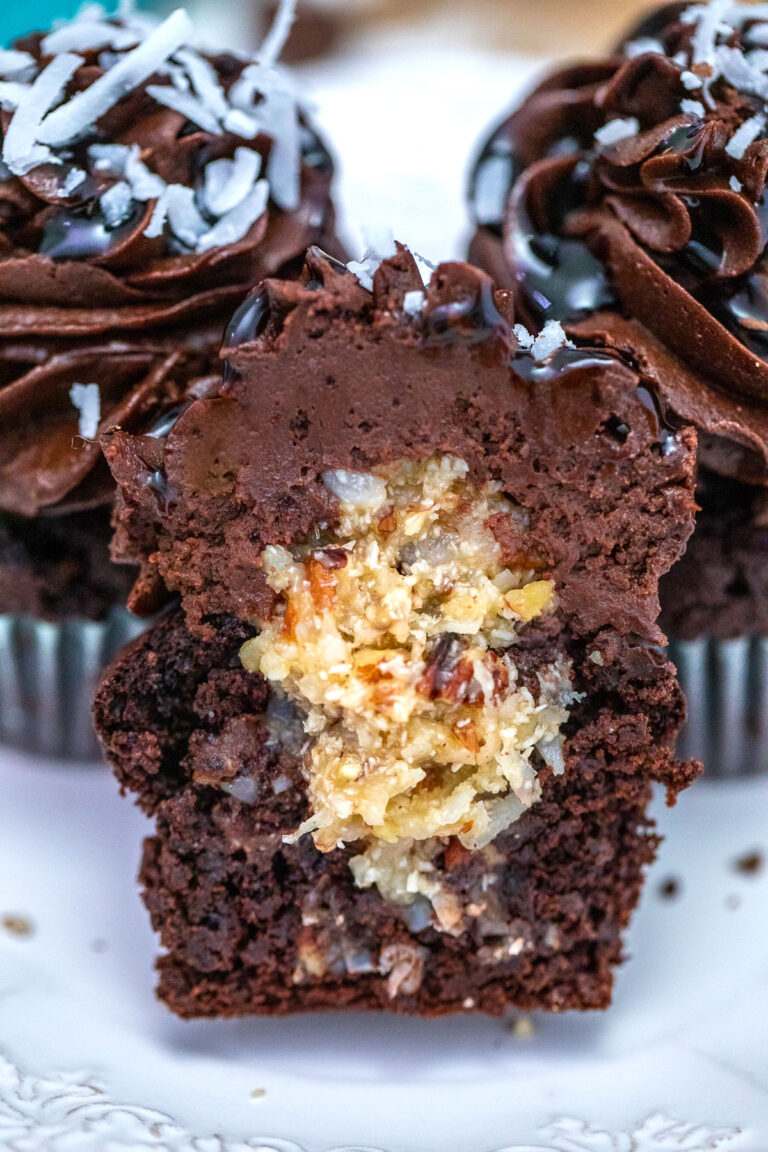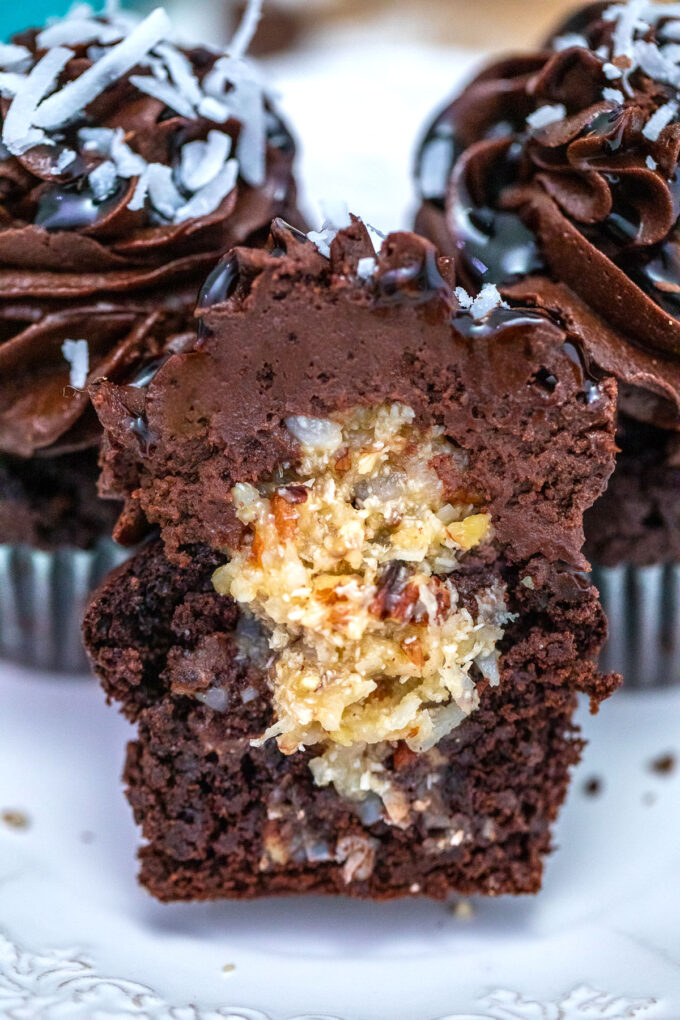 Tools/Ingredients I used to make the Best German Chocolate Cupcakes:
Save Recipe
Best German Chocolate Cupcakes
Author: Catalina Castravet
Serves: 20 servings
Prep time:

1

hour
Cook time:

30

minutes
Total time:

1

hr

30

mins
Ingredients
Chocolate Cupcakes:
1 stick unsalted butter
3 oz semi-sweet baking chocolate
2 large eggs (room temperature)
3/4 cup granulated sugar
1 teaspoon vanilla bean paste or use vanilla extract
1/2 cup sour cream (room temperature)
3/4 cup unsweetened cocoa powder
3/4 cup all-purpose flour
1/2 teaspoon baking soda
1 teaspoon baking powder
1/4 teaspoon salt
Coconut Pecan Filling:
1 cup evaporated milk
4 large egg yolks
1 cup light-brown sugar
1 stick unsalted butter, (diced into pieces)
1 teaspoon vanilla extract
2 cups sweetened shredded coconut flakes
1½ cups pecans (chopped)
Chocolate Cream Cheese Frosting:
12 oz semi-sweet chocolate (chopped)
3 sticks unsalted butter (room temperature)
8 oz cream cheese (room temperature)
2 cups confectioners sugar
1/2 cup unsweetened cocoa powder (sifted)
1 teaspoon vanilla bean paste or vanilla extract
Chocolate Ganache
1/2 cup whipping cream
4 ounces semi-sweet chocolate (chopped)
Garnish:
2 tablespoons unsweetened shredded coconut
Instructions
Chocolate Cupcakes:
Preheat oven to 350F degrees. Set the oven rack into the middle of the oven.
Line a regular muffin pan with cupcake liners. Set aside.
Add butter and chocolate to a microwave safe bowl and melt in 30-second increments, stirring in between each time. Set aside to cool down and come to room temperature.
Mix cocoa powder, flour, baking soda, baking powder, and salt together until well combined and sift the mixture into a medium size bowl. Set aside.
In the bowl of a stand mixer fitted with the whisk attachment add: eggs, sugar, vanilla bean paste, and sour cream, whisk on medium speed until smooth, for about 1 minute.

Add the cooled butter and chocolate mixture and whisk until smooth, for about 30 seconds.

With the mixer on low speed, slowly add in the flour mixture, about ¼ cup at a time, as soon as the flour has been mixed in, turn off the mixer, to avoid over-mixing the batter.

The batter will be thick and shiny, if needed give it a few stirs with a spatula, to make sure the flour has been well combined.

Fill the cupcake liners ⅔ of the way full with batter.

Bake for 15-18 minutes some ovens may take 20 minutes. At the 15 minutes, mark check the cupcake for doneness. The center of the cupcake should spring back up if gently pressed.
Coconut-Pecan Filling:
In a medium saucepan combine: evaporated milk, egg yolks, brown sugar, and butter. Cook mixture over medium heat, stirring constantly, until mixture comes to a light boil and thickened, for about 10 - 15 minutes.

Remove from heat and strain the mixture through a fine-mesh strainer into a medium bowl. Stir in vanilla extract and mix in shredded coconut flakes and chopped pecans.

Let mixture cool to room temperature before filling the cupcakes.
Chocolate Cream Cheese Frosting:
Add the chocolate to a microwave-safe bowl and melt it in the microwave in 30 seconds increments, stirring after each one to make sure it doesn't burn.

Add butter and cream cheese to the bowl of a stand mixer, starting on low speed, then increasing the speed gradually to medium-high, cream together until fluffy and pale yellow color.

Turn the mixer off and add in cooled chocolate, beat on medium speed until combined, for about 30 seconds.

In a medium bowl combine confectioners sugar and cocoa powder.

Turn mixer on to the lowest setting and add in confectioners sugar and cocoa mixture, 1 cup at a time. Once incorporated, turn the mixer on high for 1-2 minutes.

If the mixture is too thick add 1 tablespoon of whole milk at a time. If the mixture is too runny, and won't hold its shape, add more confectioners sugar, ½ cup at a time. The frosting should be soft and creamy but hold its shape.
Filling the Cupcakes:
Once the cupcakes have cooled to room temperature, take a sharp knife and insert it at a 45° angle at the top of the cupcake.

Work your way all the way around the cupcake and cut a little cake cone out of the middle of the cupcake. Slice the bottom/pointy part of the cone and save the flat top.

Using 1 tablespoon of the coconut pecan filling, fill the center of the cupcake by packing it tight. Use more filling if needed.

Cover the filling with the top part of the cone, by placing it back onto the cupcake and pressing gently. Don't worry about imperfections, they will be covered in frosting.

Scoop another tablespoon of coconut-pecan filling and roll it with your fingers into a ball with a flat bottom, place it on top of the cupcake.

Repeat with each cupcake.

You will have some leftover coconut pecan filling, just eat it, it is very good!
Frosting the Cupcakes:
Add the Chocolate Cream Cheese Frosting to a piping bag, fitted with the star tip. Start piping around, and very close to the coconut pecan ball (using an upper angle, worked best for me), and work your way up creating a high, beautiful frosting dome.

Place frosted cupcakes on a cutting board, and refrigerate for 30 - 40 minutes before adding the chocolate ganache. The frosting is soft, so it needs first to settle.
Chocolate Ganache:
Heat whipping cream in the microwave for 40-60 seconds until hot.

Place chopped chocolate into a bowl and pour hot whipping cream on top. Let it sit for two minutes and then stir until smooth and shiny.

Let the ganache come to room temperature (very important) for about 10 minutes before drizzling over the cupcakes.

Garnish with unsweetened shredded coconut flakes!

Refrigerate until ready to serve.
0 Calories: 698 Carbohydrates: 57 Protein: 7 Fat: 51 Saturated Fat: 29 Cholesterol: 136 Sodium: 351 Potassium: 420 Fiber: 6 Sugar: 43 Vitamin A: 975 Vitamin C: 0.2 Calcium: 101 Iron: 3.5
Save Recipe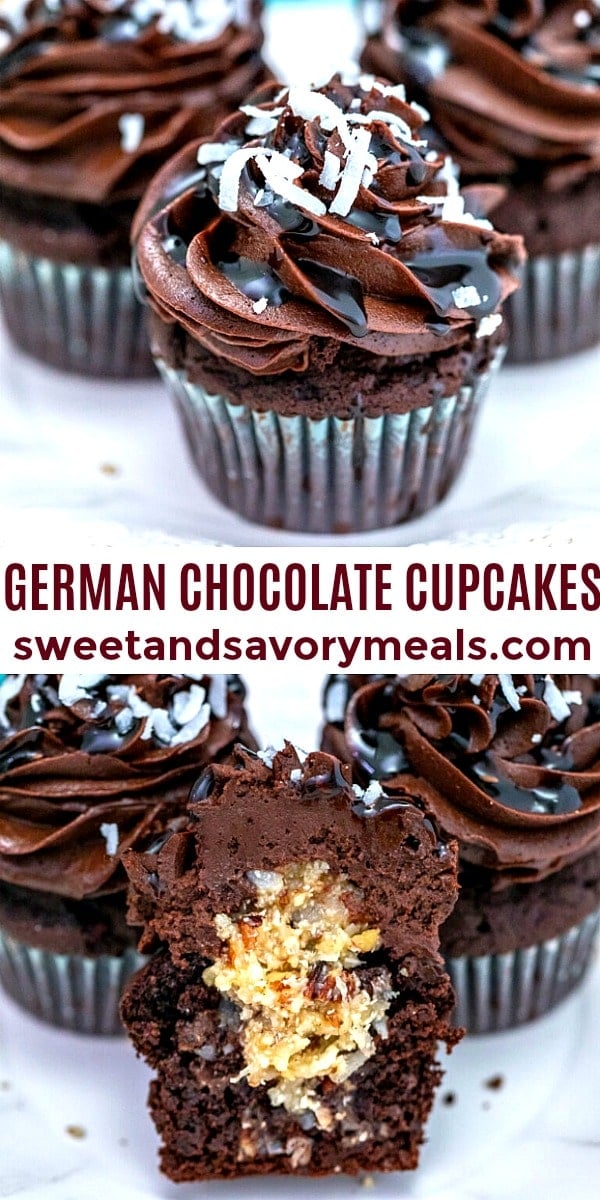 More recipes you might love