Grinch Cookies Recipe [Video]
Grinch Cookies will make your heart grow three sizes bigger this Christmas! These bright green treats have gooey middles and a delicate, crisp crust covered with powdered sugar. The red M&Ms on top makes them extra festive!
These holiday treats are heavenly with homemade Hot Chocolate. But if you want to take it to the next level, serve it with a cup of Peanut Butter Hot Chocolate or Red Velvet Hot Chocolate!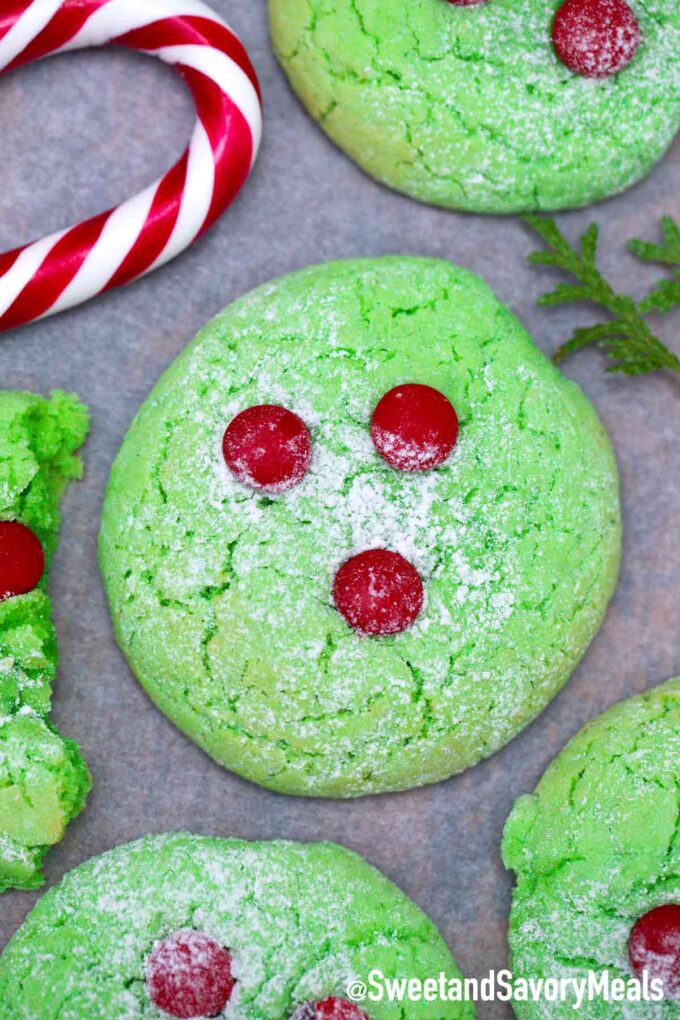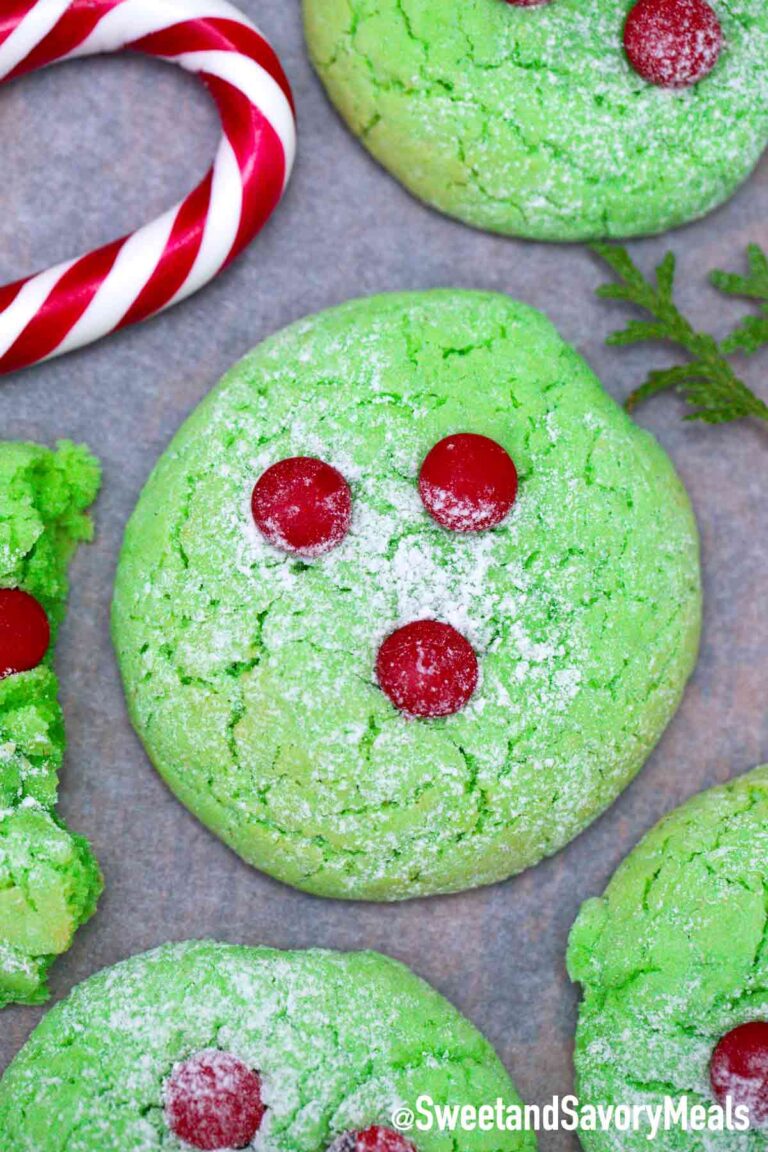 The Best Grinch Cookies
Grinch Cookies give me such a happy, nostalgic feeling every time I make them during the holidays. I can't tell you how many times I've read the book and the movie as a kid, and it's now a Christmas tradition in my family!
Seeing the Grinch transform from a lonely, bitter creature to a big-hearted softy never fails to make me feel warm inside.
These amazing treats were created in honor of the beloved Grinch! They're a fun green color with crinkled, snowy sugar tops perfect for Christmas. These treats won't steal Christmas, but they'll definitely steal the spotlight on your holiday dessert table!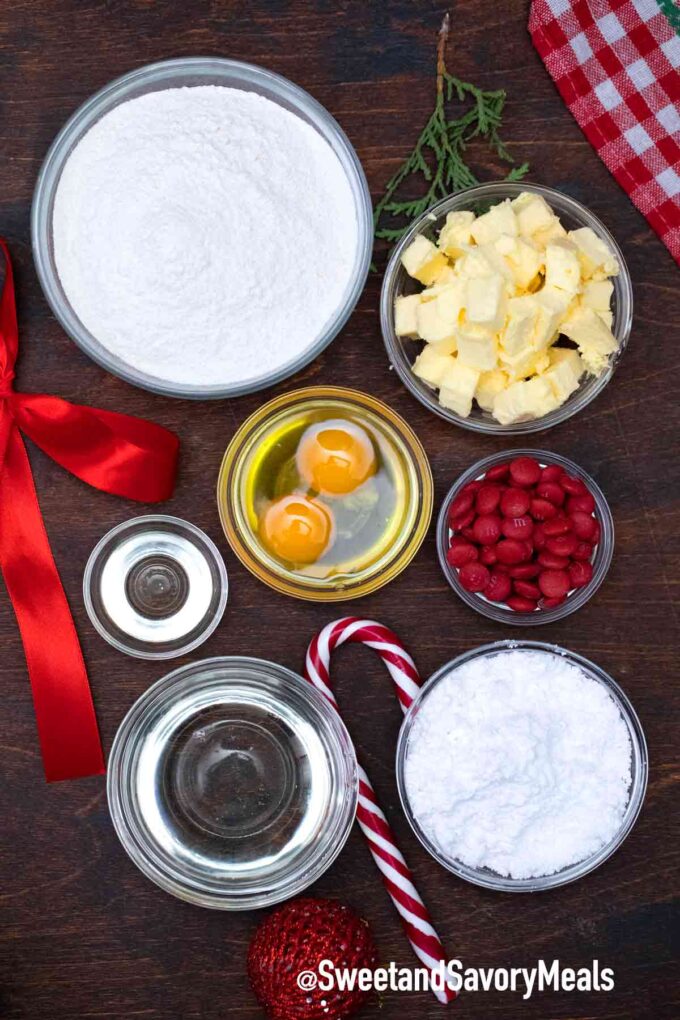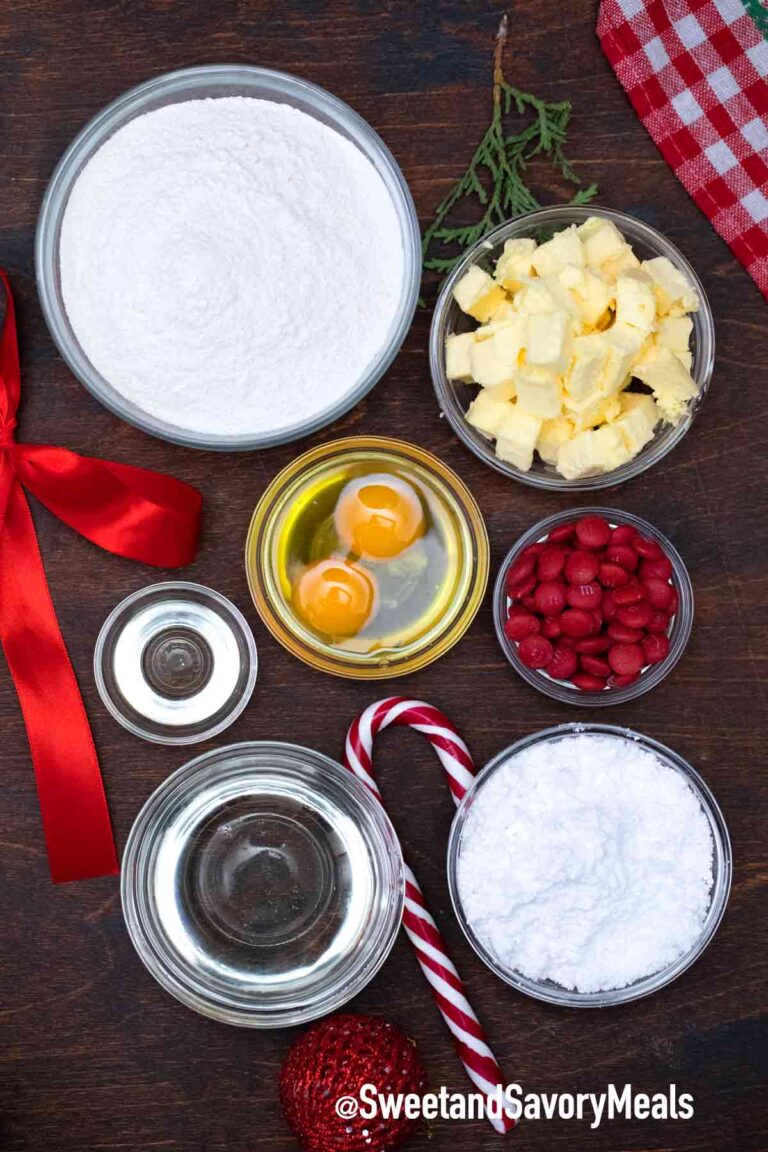 Who is the Grinch?
The Grinch is a character created by the brilliant Dr. Seuss. He's green, shaped like a pear, hairy, and with a face that resembles a cat. It's said that he was born with a very small heart, and there's nothing he hates more than Christmas.
He tries to ruin the holiday for the rest of the people in the village by throwing away their belongings and gifts. However, the Grinch eventually realizes that Christmas has a deeper meaning – which is being happy with the people you love.
This inspires him to save the gifts, which makes his heart grow bigger than ever. In the end, he joins everyone else for a delightful Christmas celebration. Such a wonderful story worthy of naming these sweet treats after!
What are the Grinch cookies?
They're very similar to the classic chocolate crinkle cookies, except there's no cocoa or milk chocolate here. Instead, we dye them green based on the color of the Grinch.
But just like the traditional version, we coat them with icing sugar before baking to create those trademark white cracked tops. For the ultimate holiday aesthetic, we stick red M&Ms on top.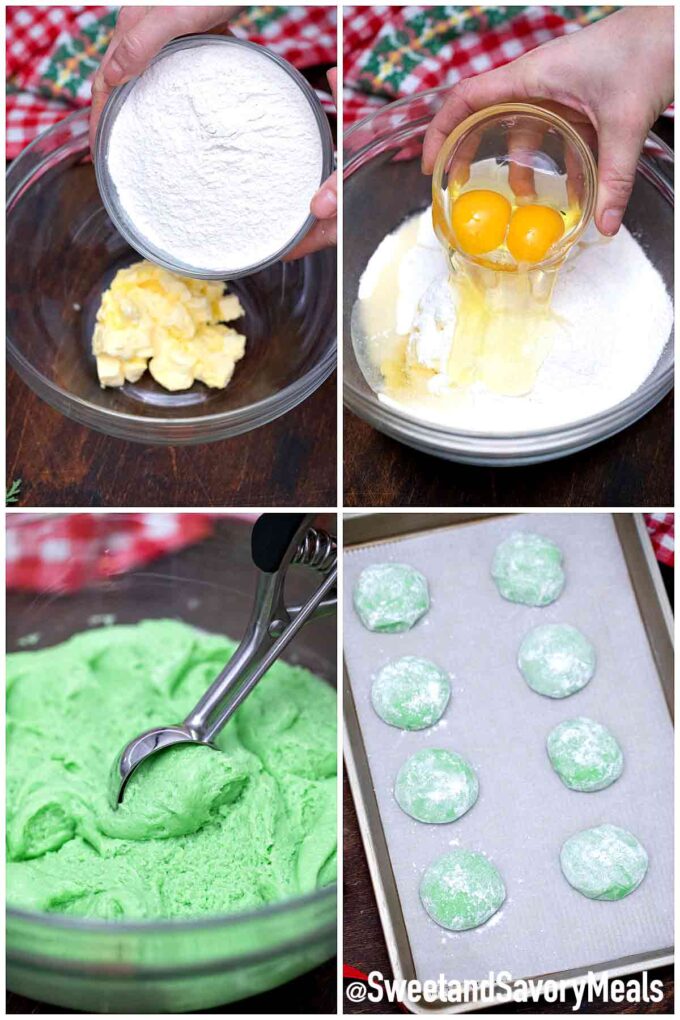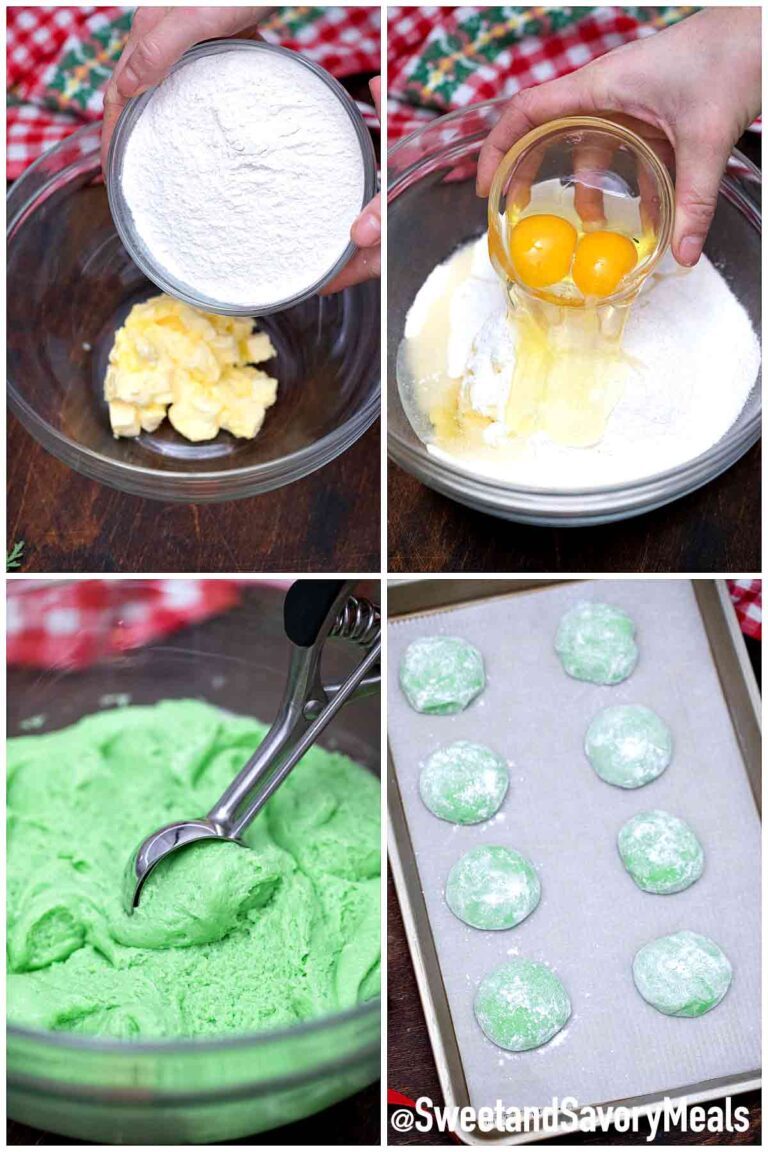 What are the crinkle cookies?
They're soft-baked cookies dusted with powdered sugar before baking. As result, the tops crinkle in the hot oven, resulting in those beautiful cracks all throughout the white powdered surface.
How do you make Grinch cookies?
Make the green cookie batter. First, blend the cake mix together with the oil, softened butter, and eggs. Stir about 3 drops of green gel color until you get the perfect shade of Grinch green.
Roll. Next, shape into little balls, then dredge in a mix of cornstarch and fine icing sugar.
Bake. In a preheated 375F oven, bake them until they're puffy. This usually takes around 8 to 10 mins.
Decorate. Lastly, press some M&Ms into the hot cookies immediately after taking them out of the oven. Cool, then enjoy!
What ingredients make a cookie chewy?
The chewiness factor is all about moisture. That's why we don't just use butter here; we also use oil in this recipe. Cornstarch is another trick to getting that chewy texture, as well as an extra egg yolk.
Also, brown sugar is also excellent for adding both moisture and achieving that delicious chewiness.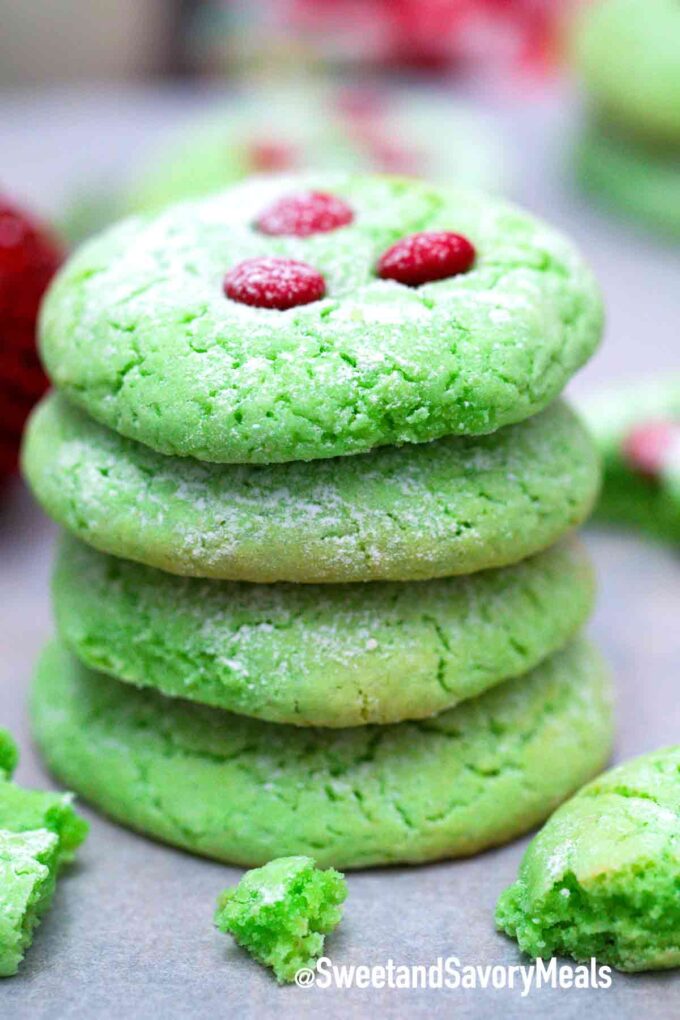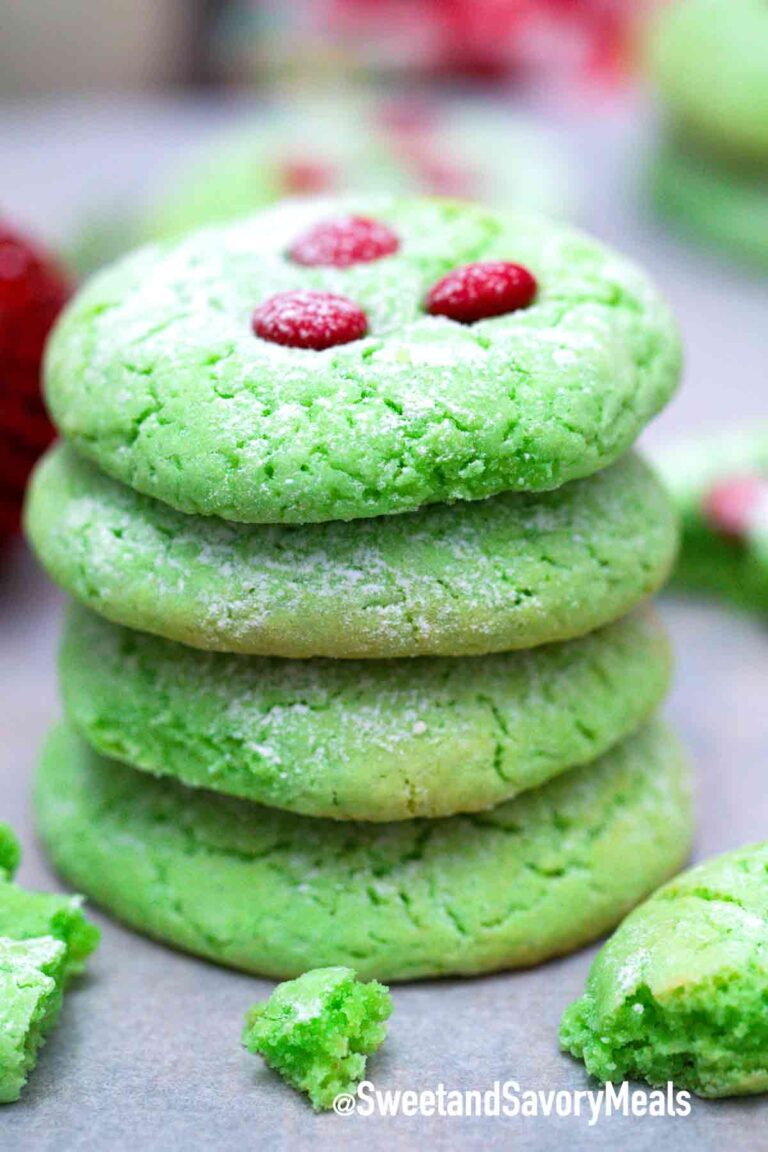 Why are my cookies flat?
The butter you used may have been too soft. Unlike what the name implies, "softened" butter should still feel cool, with no melted spots anywhere. If you press a finger into it, it should form a little indent, but not sink into the butter.
In addition, if your butter is too soft, it will melt in the dough too quickly, causing it to spread into a flat puddle.
Sometimes, baked goods become flat if you skip the chilling period that a lot of crinkle recipes call for.
Can you make Grinch cookies in advance?
Yes! You may freeze the baked ones, or freeze the dough instead. For the frozen dough, you can freeze it as a whole or after shaping them into balls.
Similarly, you can keep the frozen dough for about 2 to 3 mos. Such a great way to reduce the holiday baking rush!
I recommend the latter because it makes the baking day so easy – just dredge in sugar, add about 2 mins to the bake time, and you're done!
How to store them?
Keep the cooled cookies in a completely airtight container. They will stay fresh for up to 5 days in room temp.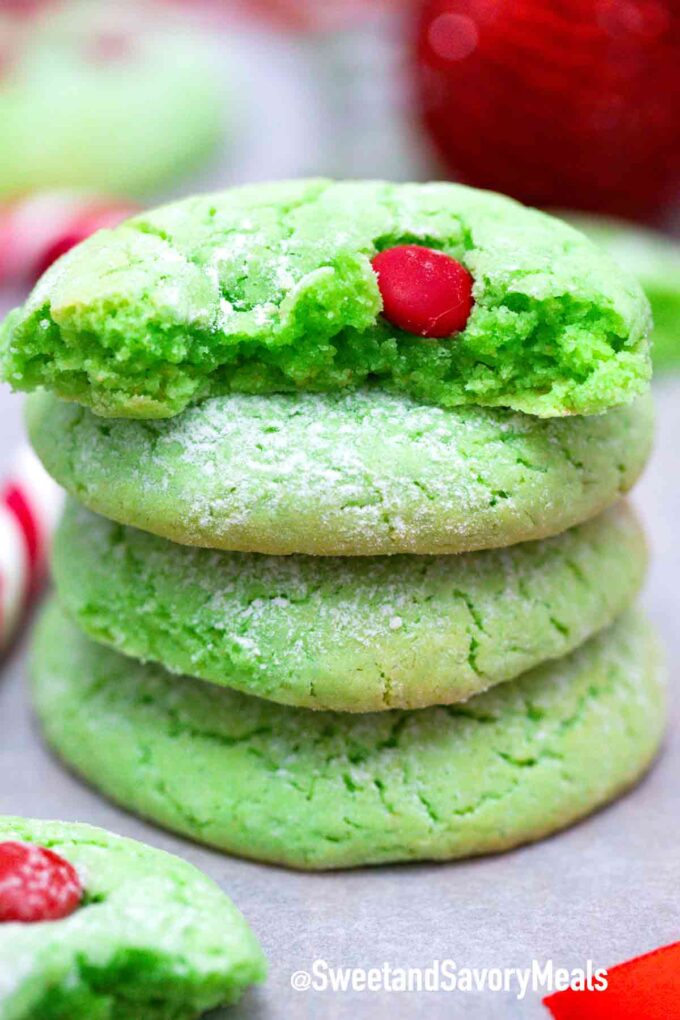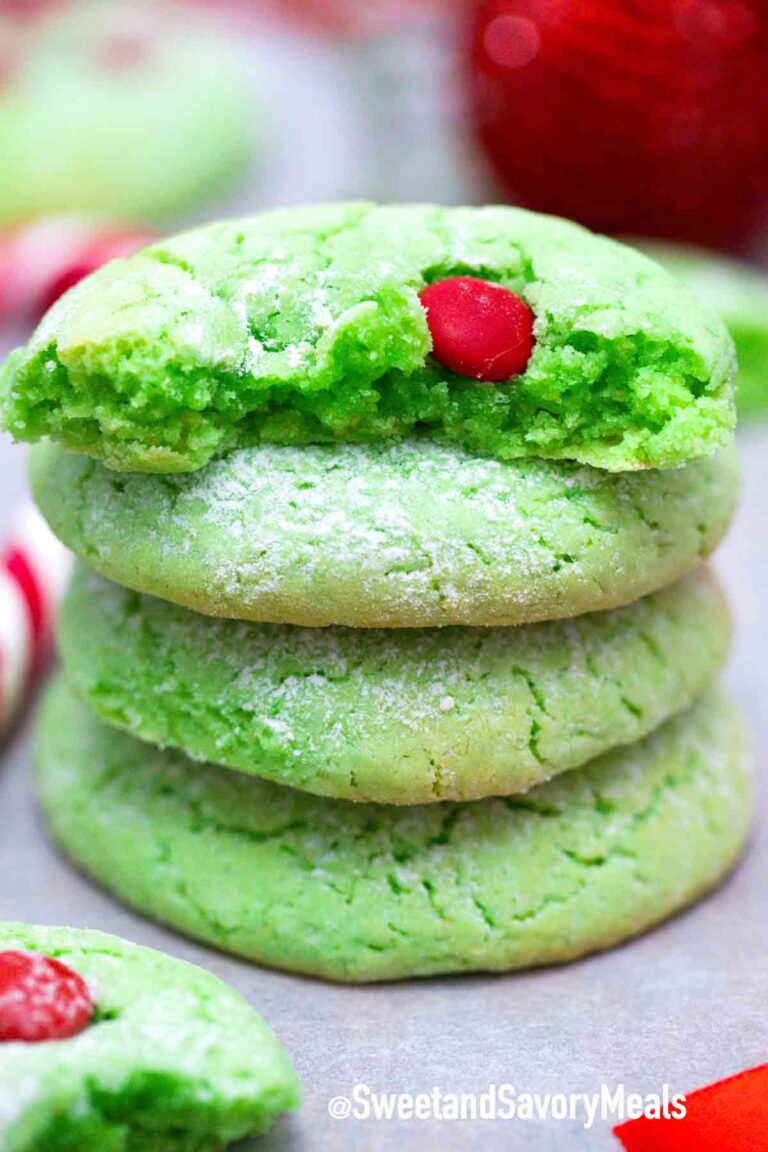 How to freeze them?
First, make sure all of them are completely cool. Then, arrange them on a flat sheet, then freeze individually before storing them in a container with an air-tight seal. Kept this way, they will last up to 3 months.
More Christmas Desserts:
Recipe tips:
Use gel food coloring, not liquid, for a brighter and more vibrant green shade.
Also, it is important to chill the dough for 30 mins if it's too sticky to shape.
Try using red, heart-shaped sprinkles instead of M&Ms to decorate.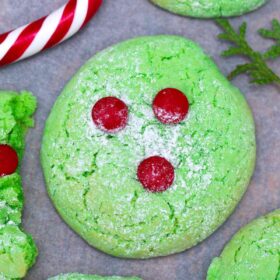 Grinch Cookies
Grinch Cookies will make your heart grow three sizes bigger this Christmas! These bright green treats have gooey middles and a delicate, crisp crust covered with powdered sugar.
Save
Share
Print
Pin
Rate
Ingredients
1

Box Vanilla Cake Mix

1/2

cup

unsalted butter

(softened)

1

tablespoon

canola oil

2

eggs

(room temperature)

1

cup

powdered sugar

1

cup

cornstarch

1/2

cup

red M&M's candies
Instructions
Preheat oven to 375 degrees.

Line a large cookie sheet with parchment paper and set aside.

In a medium bowl mix powdered sugar and cornstarch.

In a large bowl, using a hand electric mixer or stand mixer, beat in the butter, cake mix, oil, and eggs.

Stir in 3-5 drops of green gel food coloring to get the perfect Grinch green color.

Using a small ice cream scoop to scoop dough balls and after that roll each ball into the powdered sugar/cornstarch mixture and place it onto the prepared cookie sheet.

Place the cookie balls 2 inches apart.

Bake for 8-10 minutes or until they puff up and are slightly golden on the sides.

Remove from the oven and immediately lightly press 3-4 M&M's onto the top of the cookies.

Cool on the cookie sheet for 5 minutes, then transfer to a wire rack to completely cool.
Video
Nutrition
Calories:
141
kcal
|
Carbohydrates:
17
g
|
Protein:
1
g
|
Fat:
8
g
|
Saturated Fat:
4
g
|
Cholesterol:
33
mg
|
Sodium:
57
mg
|
Potassium:
7
mg
|
Fiber:
1
g
|
Sugar:
10
g
|
Vitamin A:
197
IU
|
Calcium:
11
mg
|
Iron:
1
mg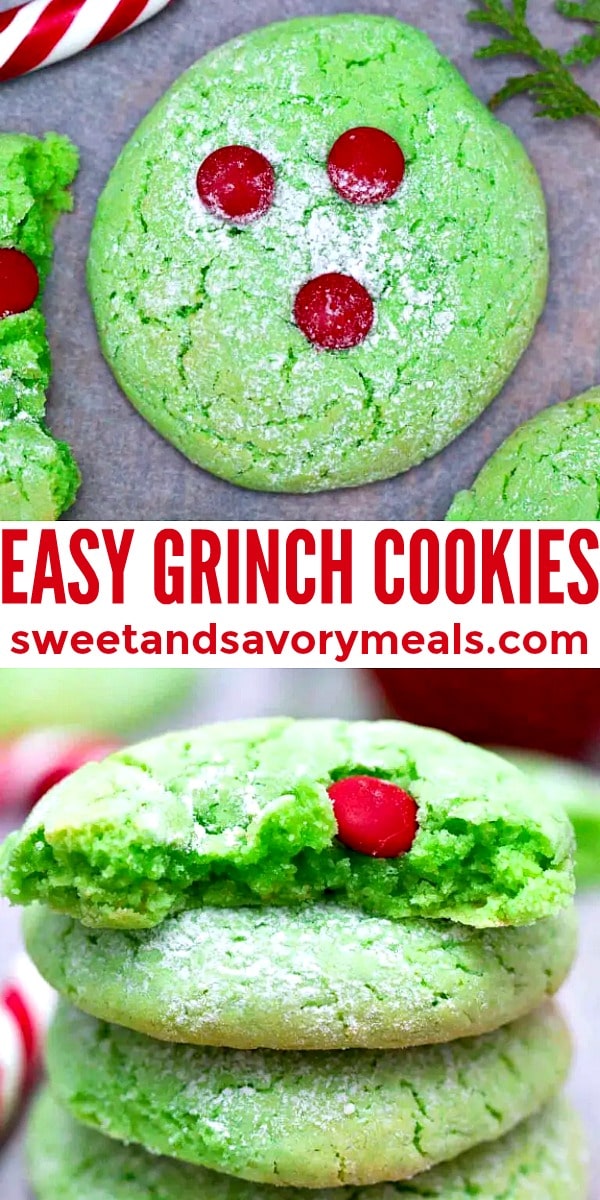 More recipes you might love