Pecan Pie Cookies are made of buttery shortbread cookies topped with sweet pecan pie filling and a dark chocolate drizzle. They are so good, they melt in your mouth. The perfect holiday treat combining a buttery base and a crunchy top!
We love the holidays because we get to bake so many treats for us, but also our friends and family. We are huge fans of anything pecan, so on our blog you will find the most amazing Bourbon Pecan Pie and the thickest and divine Pecan Pie Bars, and if you can't decide on one dessert, check this Pecan Pie Cheesecake!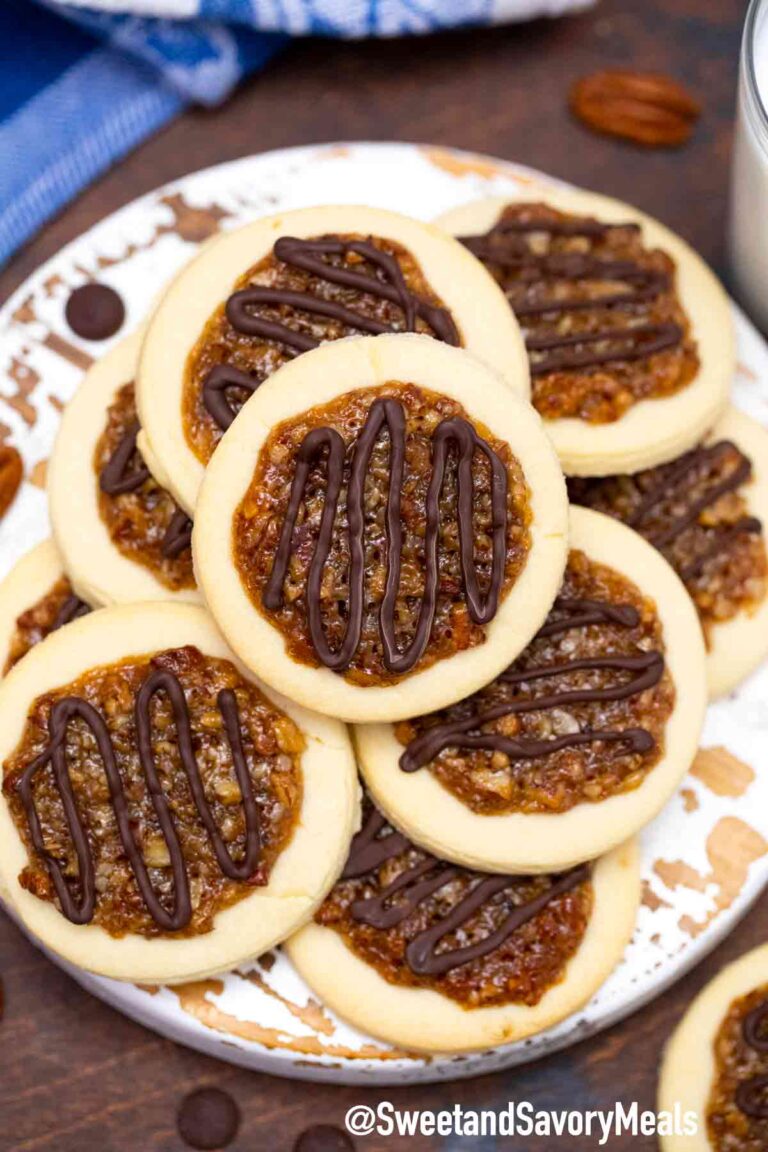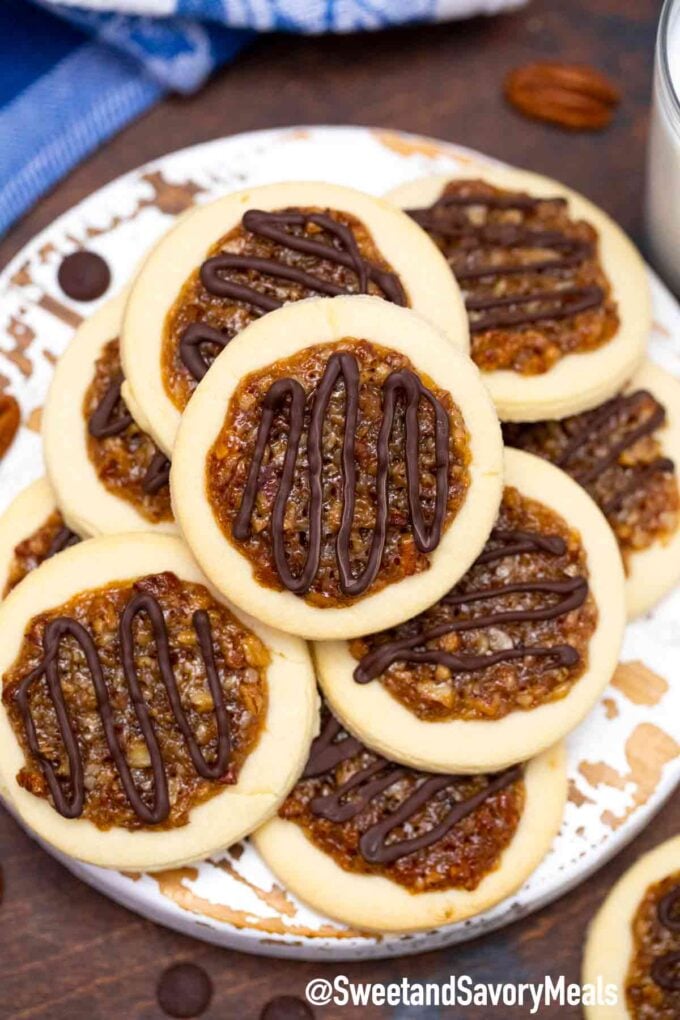 Pecan Pie Filling Cookies Recipe
What is pecan pie filling made of?
The filling is made of pecan nuts mixed with a mixture of eggs, butter, and white and brown sugar, and usually corn syrup. Other variations may include molasses, maple syrup, or honey and coconut flakes. You can use the filling to make pies, cakes, bars, and cookies.
What are the pecan pie cookies?
These are shortbread buttery cookies that are topped with a homemade pecan pie filling and after that a chocolate drizzle. These are delicious and perfect to control portion size and calories while still enjoying the flavors of a delicious pecan pie.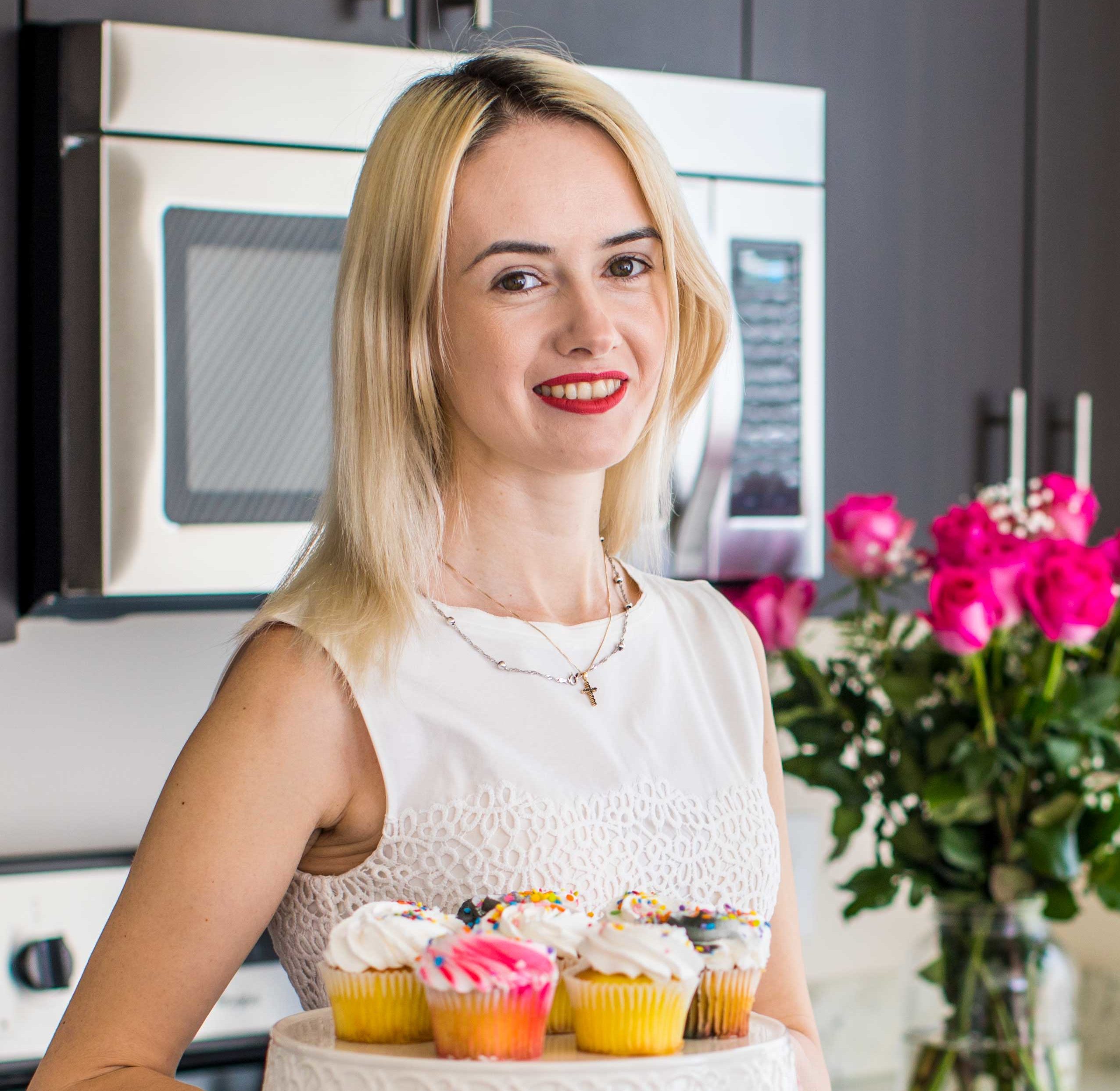 Follow us on Pinterest for more delicious recipes!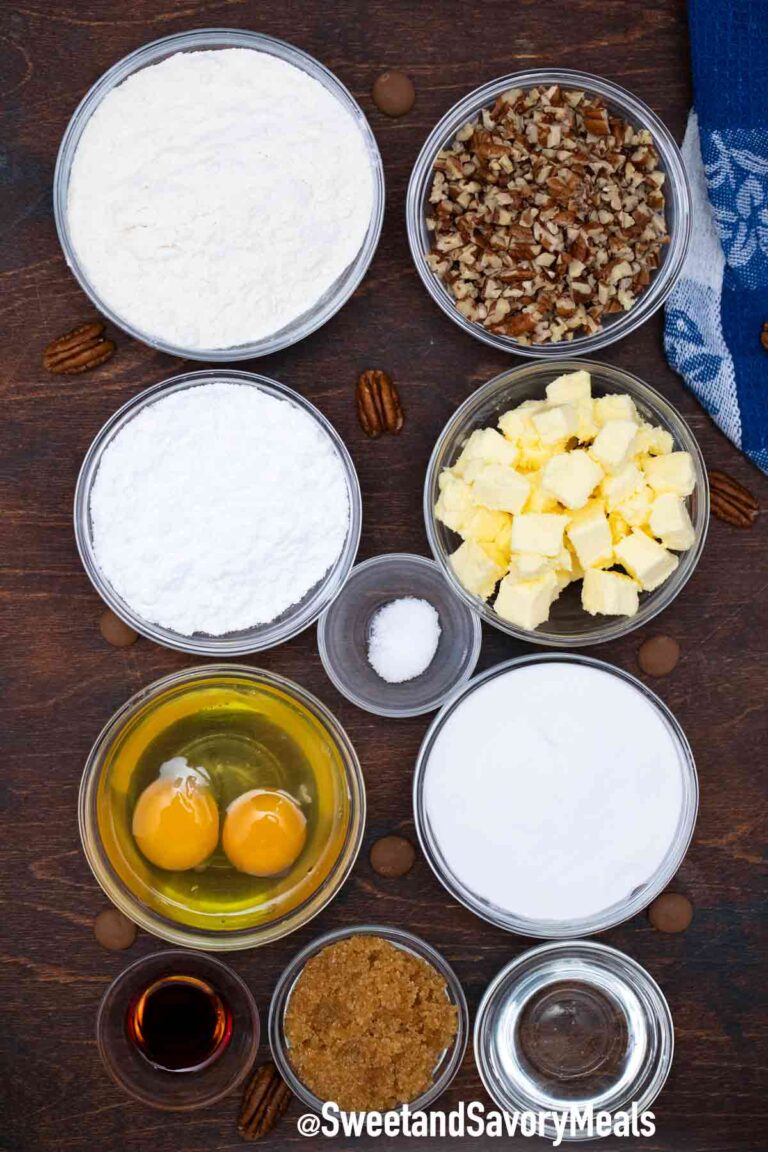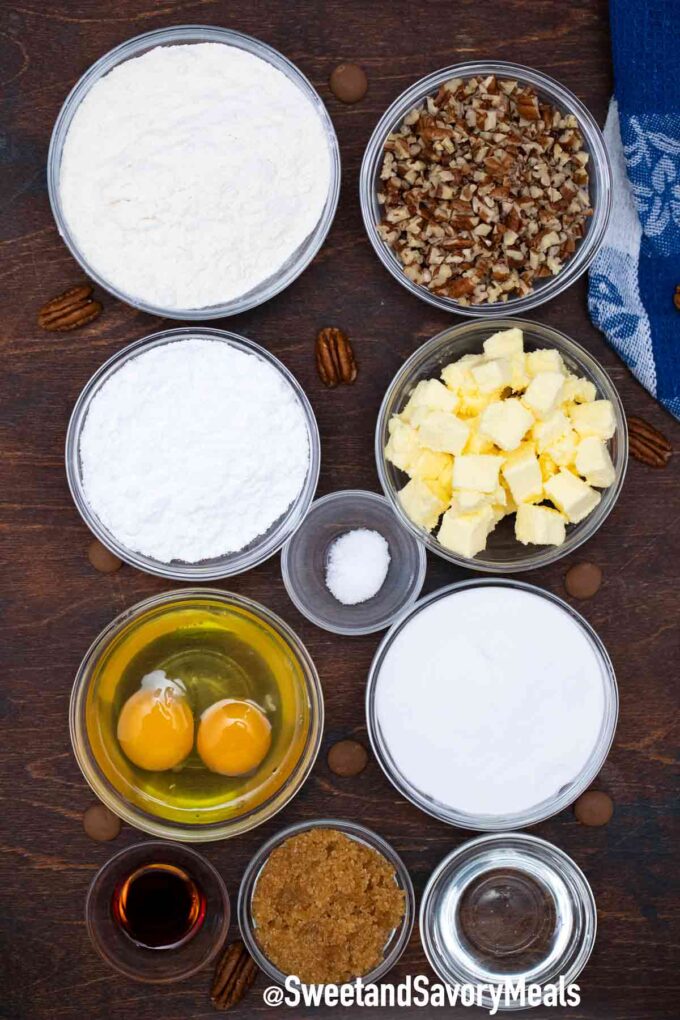 How do you make Pecan Pie Cookies?
Preheat the oven: You start by preheating the oven to 375 degrees F
Make the Filling: Next, you combine the butter, pecans brown sugar, corn syrup, salt, and eggs in a sauce[an over medium-low heat until thickened.
Prepare the wet ingredients: Next, cream together the butter, sugar, egg and vanilla.
Prepare the dry ingredients: If you have time, sift the flour.
Combine: Combine the dry ingredients with the wet ingredients.
Roll into Balls: Roll into 1 inch balls, place onto a prepared baking sheet, and lightly press into a flat thick disk.
Add the filling: Spoon 1 tablespoon of the pecan pie mixture onto each cookie.
Bake: Bake for 8-10 minutes or until filling is just set.
Cool and Serve: Remove from oven and cool on a wire rack. Drizzle with chocolate, let it set, and serve.
Recipe Variations:
Add different nuts: You can make the Pecan Pie Cookies with a mix of nuts as well. We are huge fans of adding walnuts, macadamia, and hazelnuts into the filling. Also, the ground almonds from the dough can be replaced with any other nut that you like.
Skip the nuts: With so many allergies going around, you can still enjoy these cookies by making them with either sunflower or pumpkin seeds! Obviously, the flavors will be different, but they will still taste delicious!
Toppings: Skip the chocolate drizzle altogether, or on the opposite, wait for the cookies to cook and dip them in either milk, dark or white chocolate.
Add dried fruits: Add dried fruits into the filling and dough for a variety of textures and flavors! You can use raisins, cranberries, dried cherries, coconut, or banana chips!
Make them Gluten-Free: Use gluten-free flour in this case!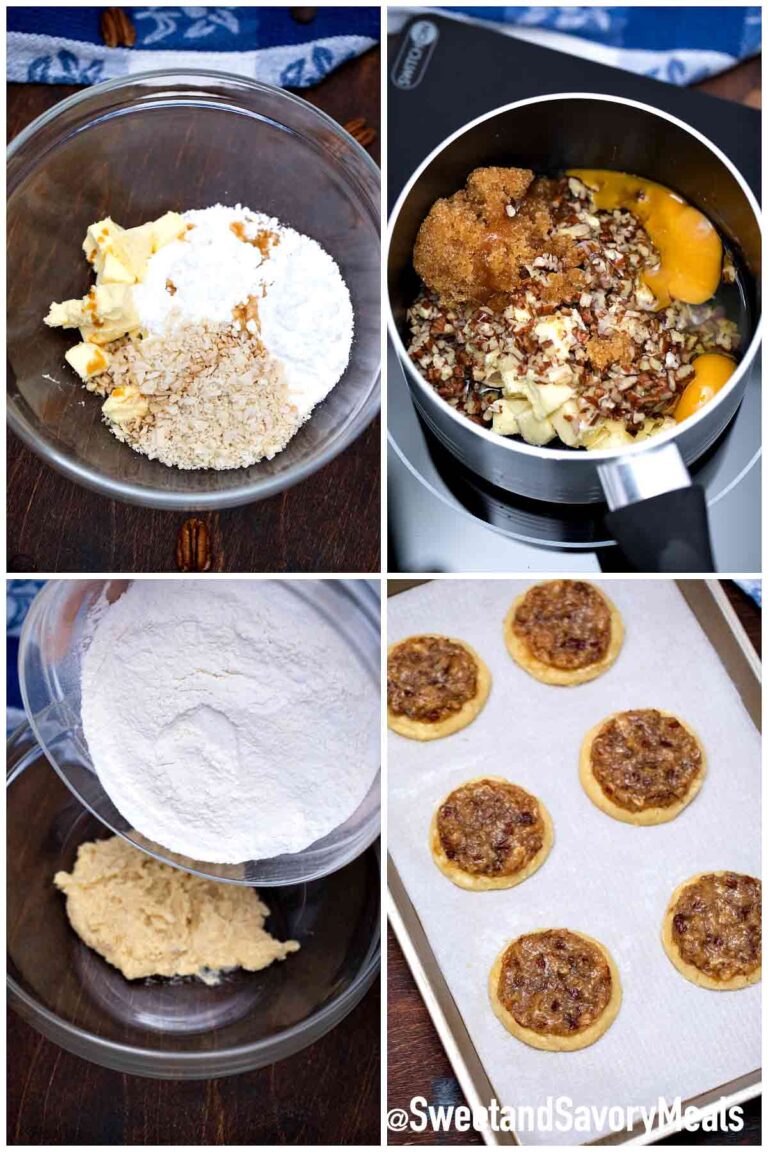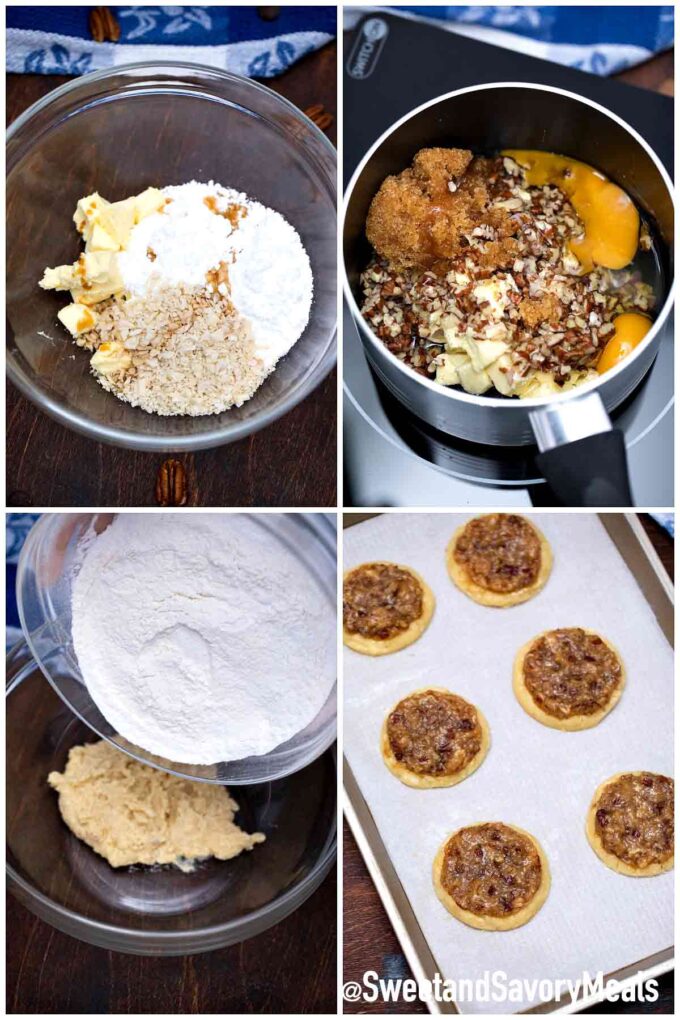 What would cause pecan pie filling to be runny?
A liquid filling is almost always the result of underbaking. Also, if you added too much liquid. The filling usually contains cream, so if you added a bit too much and not enough sugar and syrup, the filling will be runny!
How do you keep up a pecan pie filling from leaking out of the cookie crust?
First, make sure you start with a well-thickened filling. If the filling is too runny, it will run down the sides of the cookies.
Another reason may be that you added too much filling onto the cookies, make sure you leave 1/2 inch from the sides of the cookies.
Underbaking the cookies may cause the mixture to run off as well.
Can you make these in advance?
Yes!! Pecan Pie Cookies are so versatile and perfect to make in advance.
First, you can make the dough in advance wrap it in plastic wrap, and keep it in the fridge for a few days or even freeze it to use for later.
Also, you can prepare the pecan pie filling and store it in an airtight container until ready to use. It will be good for 3-4 days in the fridge.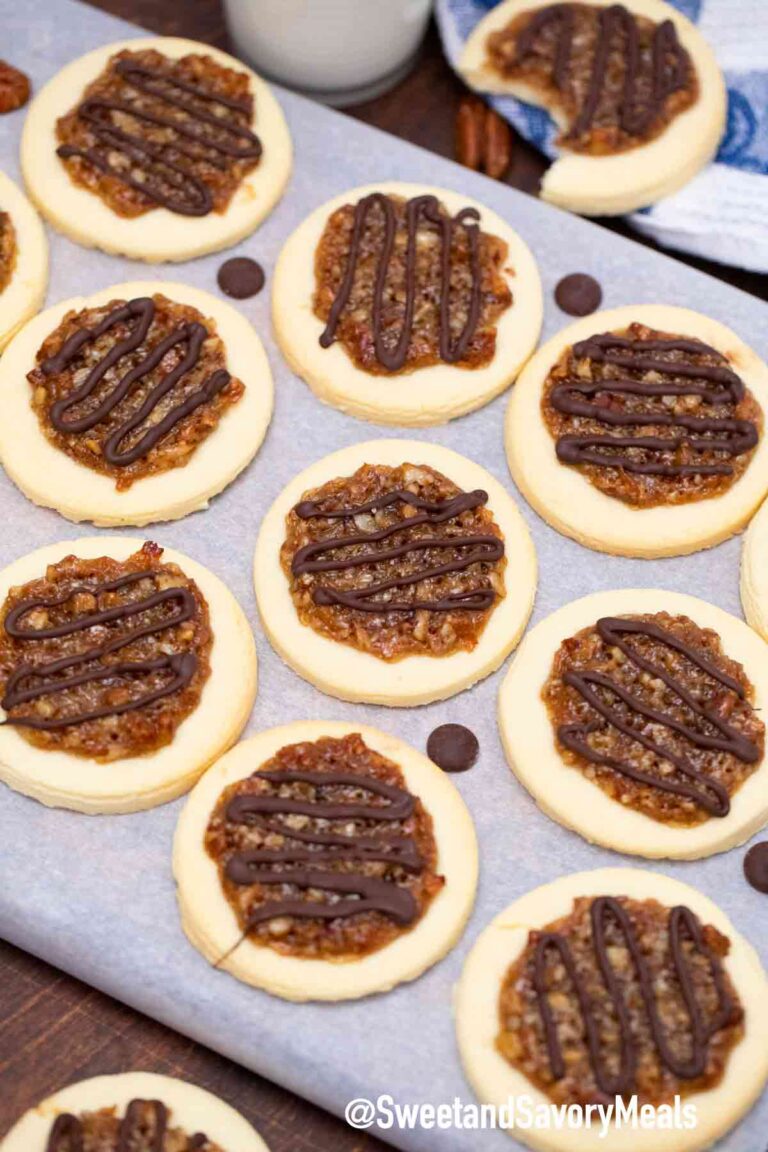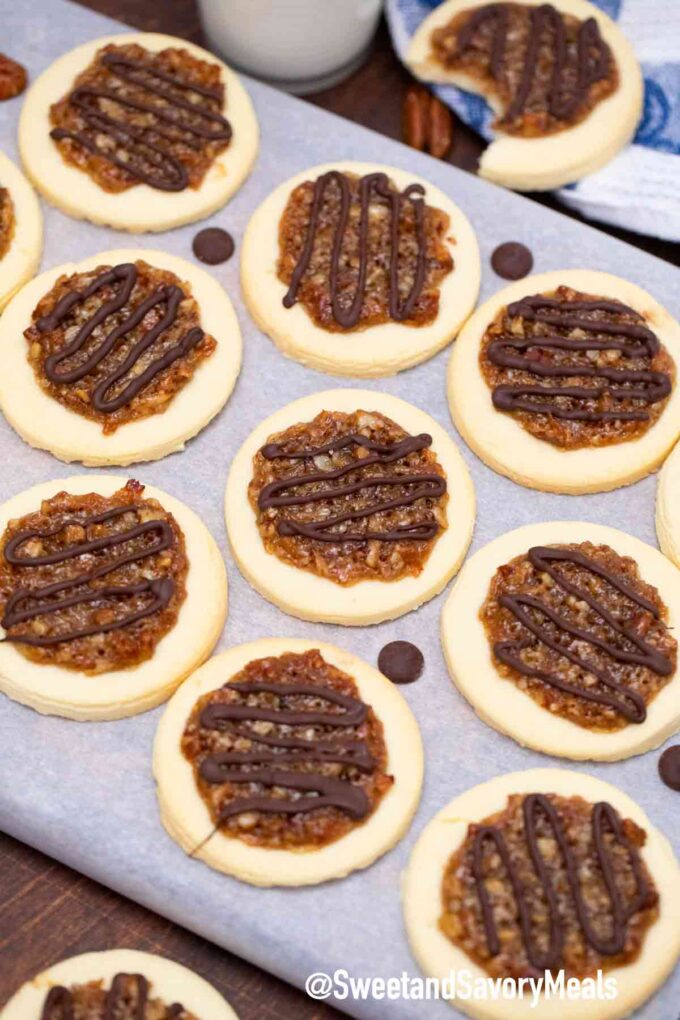 How to store:
Store at room temperature in an airtight container. The cookies will be good for 5-7 days.
How to Freeze Pecan Pie Cookies:
If you have too many on hand you can freeze them for later. You can layer them in an airtight container and place parchment paper between each layer. You can also wrap each cookie individually in plastic wrap and after that add them to a freezer-safe Ziploc bag.
Freeze for up to 3 months, but for best flavor, consume within one to two months. That in the fridge before consuming.
More Christmas Recipes: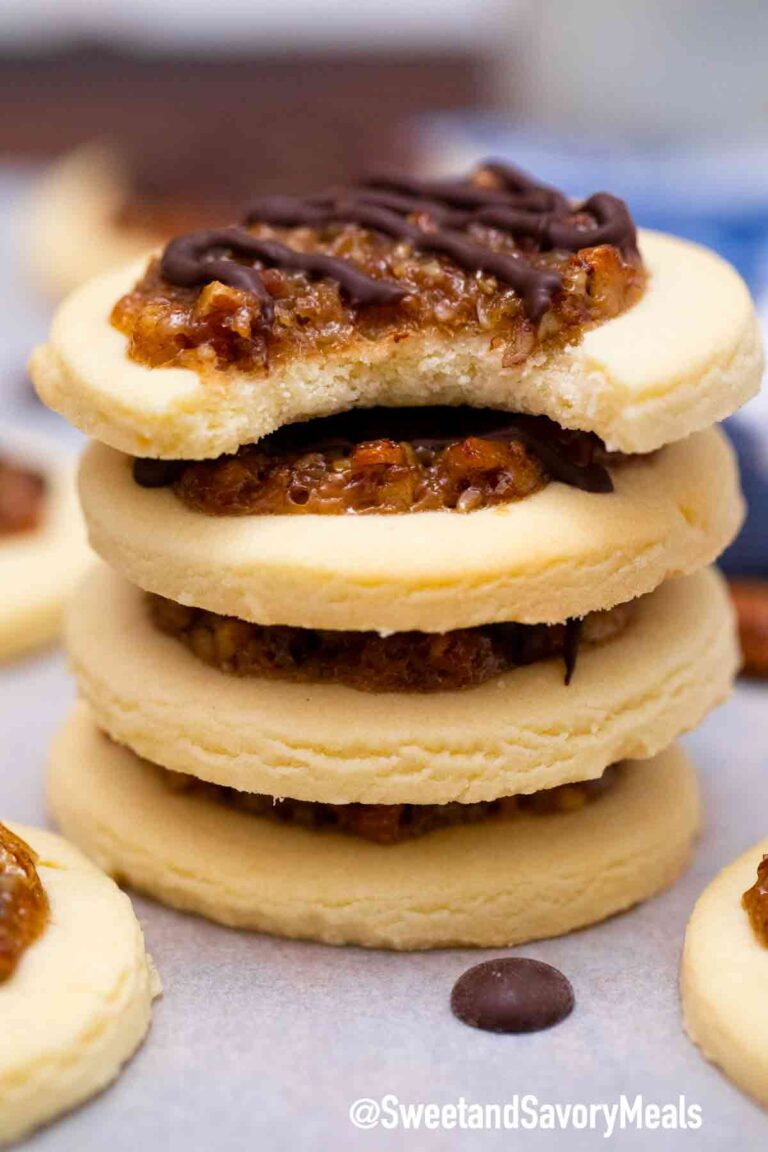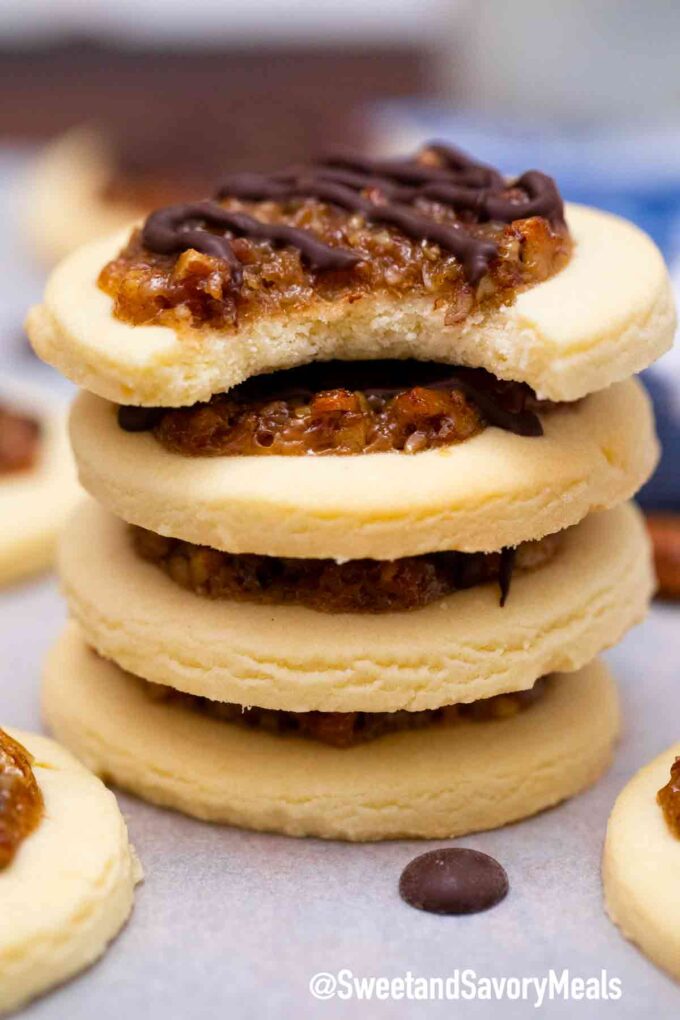 Recipe Tips:
First, make sure that the pecan pie filling is not too runny.
When baking the cookies, look for the filling to be set and for the sides of the cookies to be lightly golden.
For a more pronounced flavor, toast the pecans before adding them into the filling.
Save Recipe
Pecan Pie Cookies
Pecan Pie Cookies are made of buttery shortbread cookies topped with sweet pecan pie filling and a dark chocolate drizzle.
Author: Catalina Castravet
Serves: 16 cookies
Prep time:

30

minutes
Cook time:

10

minutes
Total time:

40

mins
Ingredients
Cookies:
Filling:
Topping:
Instructions
Filling:
Cookies:
Nutrition information
Calories: 267 Carbohydrates: 25 Protein: 3 Fat: 18 Saturated Fat: 9 Cholesterol: 55 Sodium: 145 Potassium: 69 Fiber: 1 Sugar: 12 Vitamin A: 428 Calcium: 22 Iron: 1
Save Recipe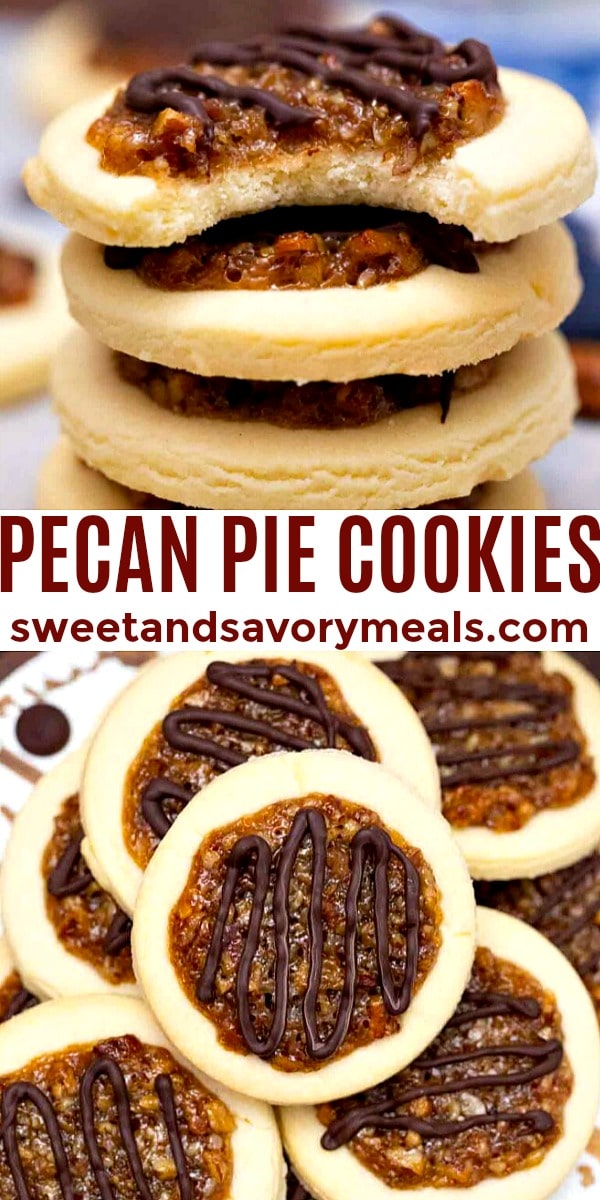 More recipes you might love
Categories: