Fruit Cake Recipe [Video]
Last updated on June 21st, 2021 at 08:19 am
Fruit Cake is packed with dried fruit and nuts, incredibly moist, and infused with orange zest for the ultimate Christmas loaf! Every slice is velvety and rich, and it stays soft for ages. Bourbon or brandy optional!
Now that you have dessert taken care of, it's time to focus on the rest of your Christmas feast! Make this year extra special with Slow Cooker Brown Sugar Ham, Red Wine Pot Roast, and these gorgeous Duchess Potatoes.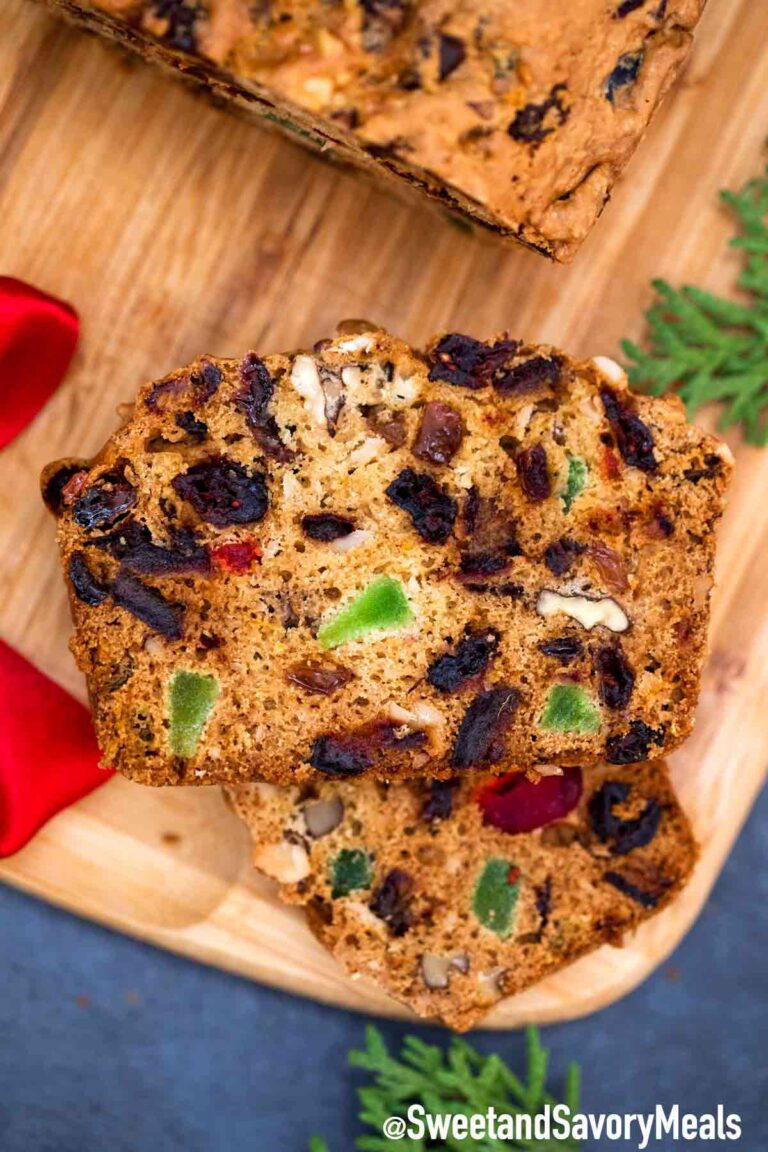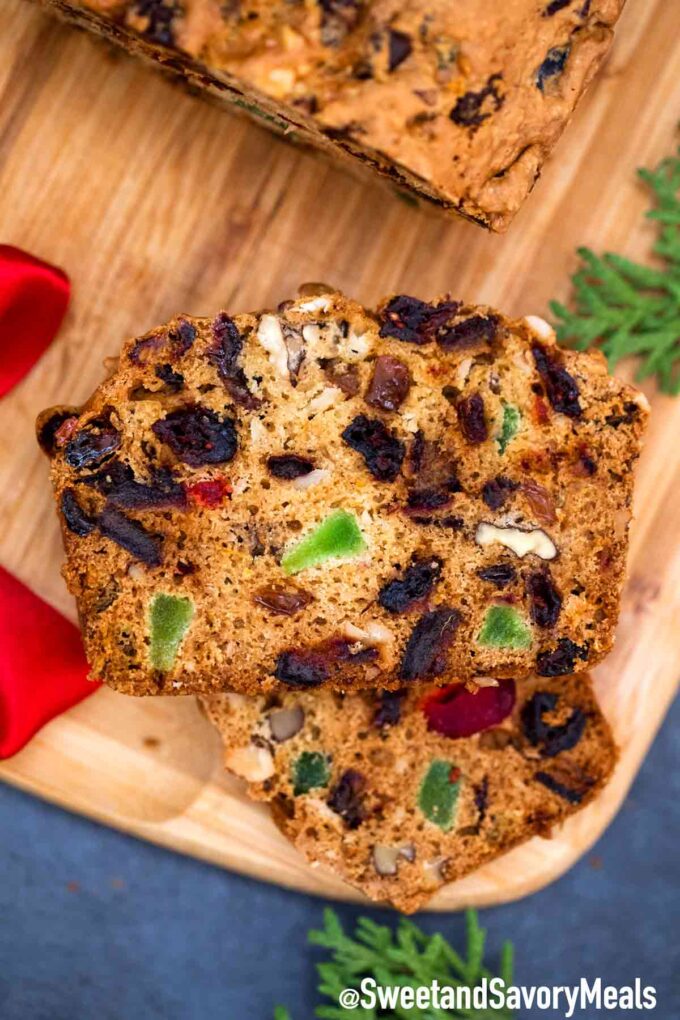 Christmas Fruit Cake
Fruit Cake tastes like Christmas! It's one of the most beloved holiday traditions in my family, but I'm aware that not everyone enjoys it. The common complaint is that it's dense, dry, and tasteless. Not this recipe!
Every slice is bursting with sweet and chewy dried fruits plus crunchy nuts. The cake itself is tender and moist with subtle hints of orange and vanilla. So good, and sure to change your mind about this Christmas treat.
The original version is alcohol-free so it's kid-friendly. But if you like, you can brush it with brandy or bourbon. The alcohol gives it a more complex flavor and helps it last for a long time. Finally, it makes for a really thoughtful holiday gift. Wrap in clear packaging to show off your beautiful, homemade treat!
The colors from the dried fruits and nuts are so gorgeous, that they will remind you of a beautiful Christmas tree. This makes this dessert a fantastic gift option during the holidays. I like to use a mix of red and green, cherries and cranberries for red, and dried kiwi for a bold green color.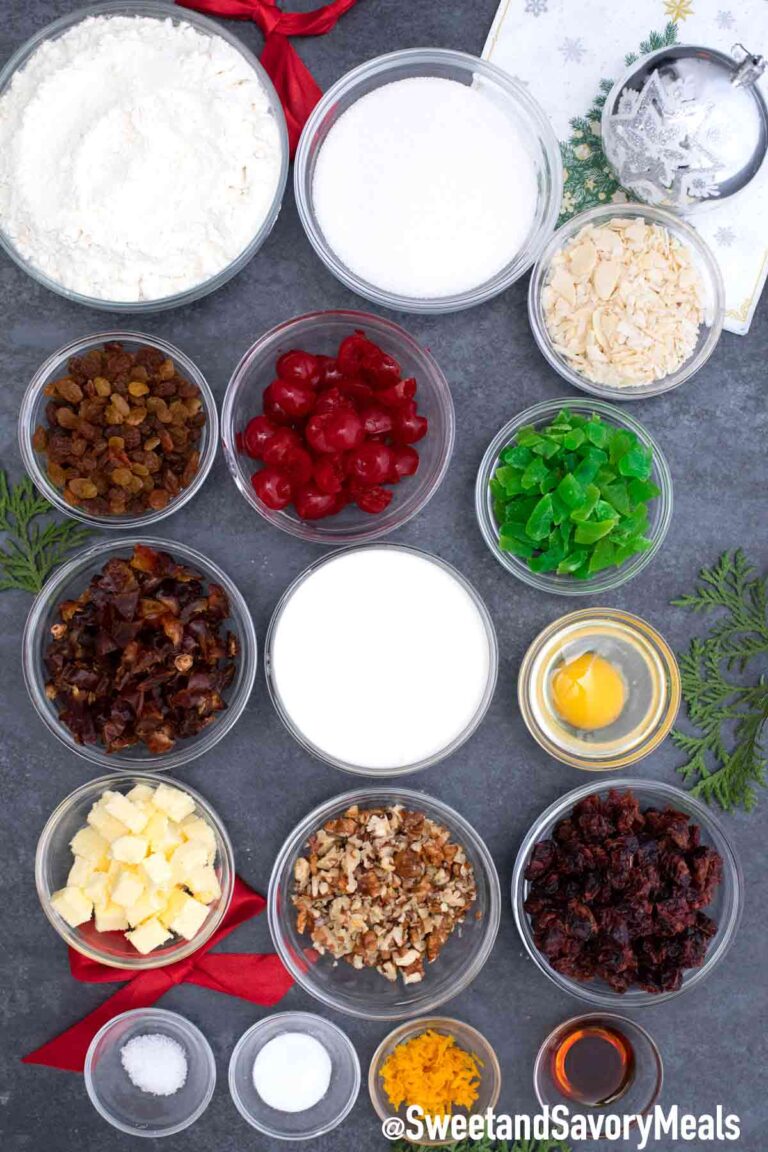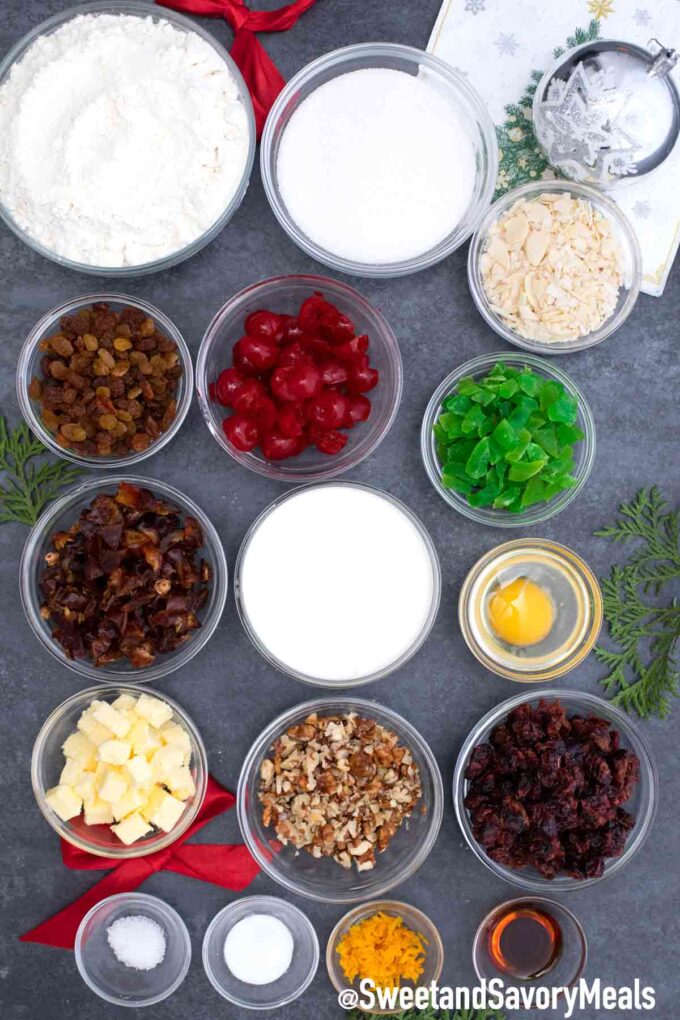 Fruit Cake Ingredients:
Fruits: We're using chopped dates and cherries, plus dried cranberries, dried kiwi, and raisins.
Nuts: Chop a half cup of walnuts and almonds.
Batter: Get some sugar and butter ready, along with flour, baking soda, and room-temp eggs. We're also using sour cream for more moisture.
Flavorings: Finely-grated zest of an orange, pure vanilla, and salt.
How to make the Best Fruit Cake?
Toss nuts and fruits in flour. This allows them to get distributed through the batter instead of sinking. You only need a very light coating.
Mix the batter. Blend the baking soda and sour cream together. Set aside. Cream together the butter and sugar. Add the egg, zest, then the sour cream mixture. Gently add the flour, taking care not to overmix. Add salt. Finally, fold in the nuts and chopped fruits.
Bake. Pour carefully into the loaf pan. Take a separate pan, fill halfway with water, and place in the bottom rack or beside the loaf pan (This creates a hot and humid environment so the loaf bakes gently and evenly). Bake in a pre-heated 325F oven for about 1.5 hours to two hours.
Serve. Cool the entire loaf completely before slicing. To infuse with alcohol, poke holes on the surface and sprinkle with bourbon or brandy.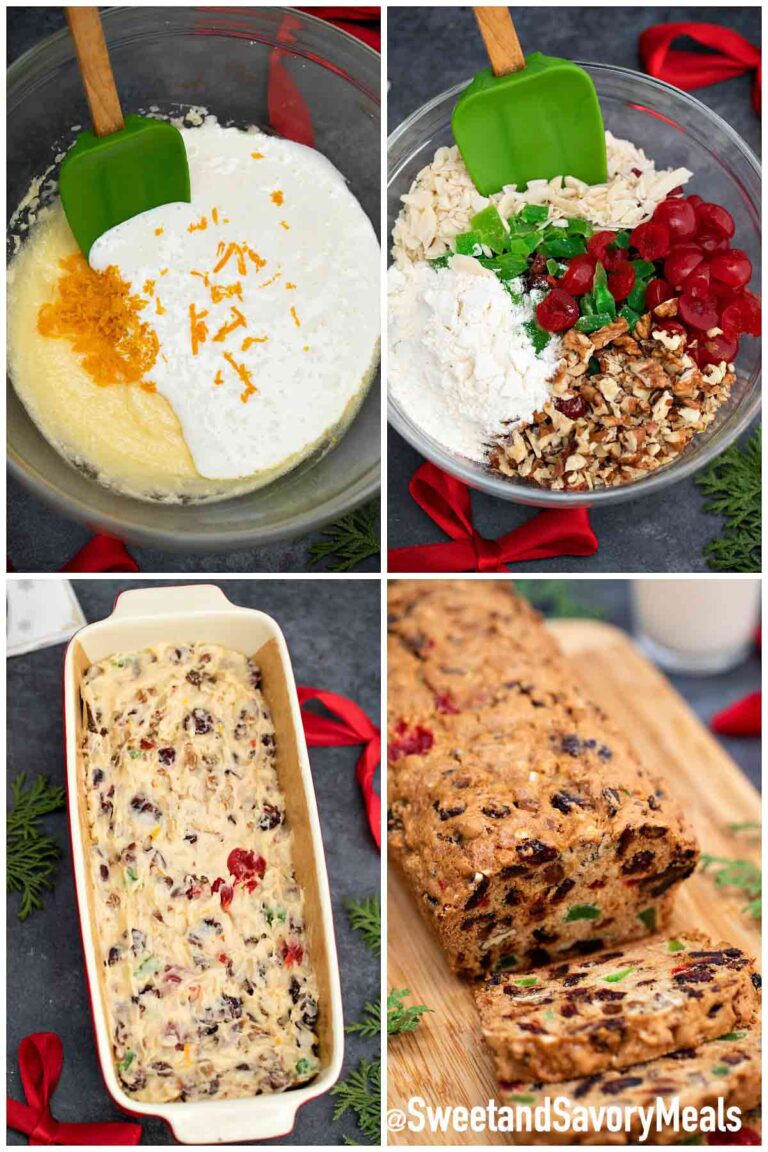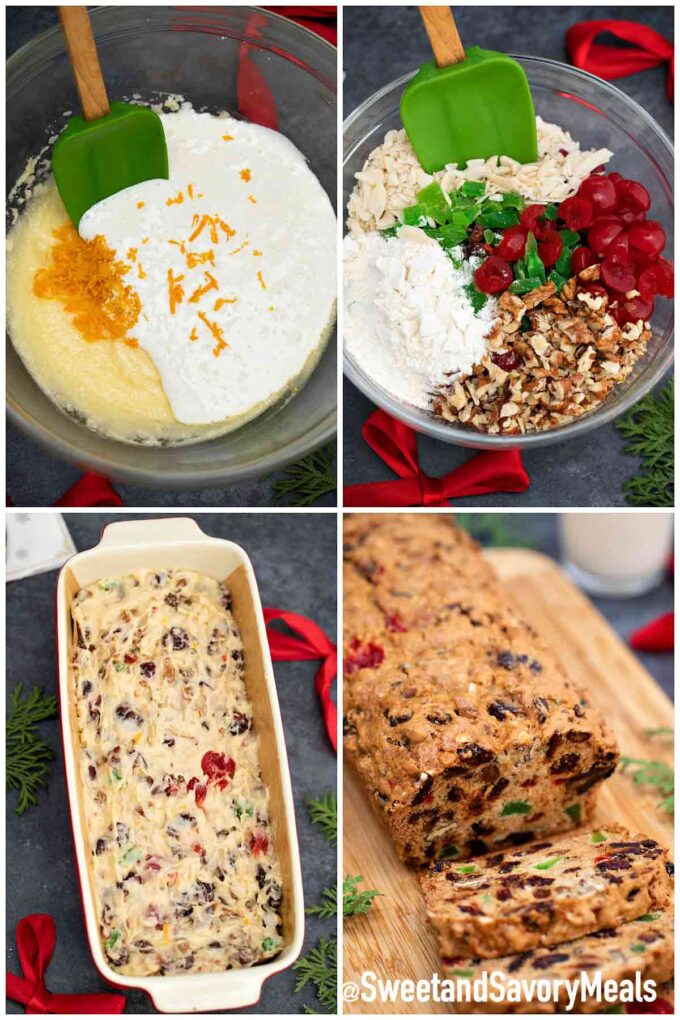 Can I substitute or use other types of dried fruit?
Yes. You can use whatever kind you like! They beauty of this recipe is that you can use any dried fruits you have on hand or prefer.
Some great swaps are:
Apricots
Sultanas
Currants
Prunes

Peaches
Figs

Grated apple
Fruit cake substitutions and variations:
Use jam: For a fruiter flavor, mix a little of your favorite jam into the batter. It's fantastic with cherry, apricot, or raspberry jam!
Substitute with other fruits: Feel free to use your favorites! It's also lovely with figs, dried peaches, other dried berries, and dried apples.
Use other nuts: Macadamia nuts, hazelnuts, cashews, and pistachios are delicious alternatives.
Make it gluten-free: Use gluten-free flour.
Make it lighter: Instead of sour cream, use thick and plain Greek yogurt.
Infuse with alcohol or juice: Brush with prosecco, dark rum sherry, bourbon, whiskey, or brandy. Don't want alcohol? Sprinkle some orange or apple juice instead.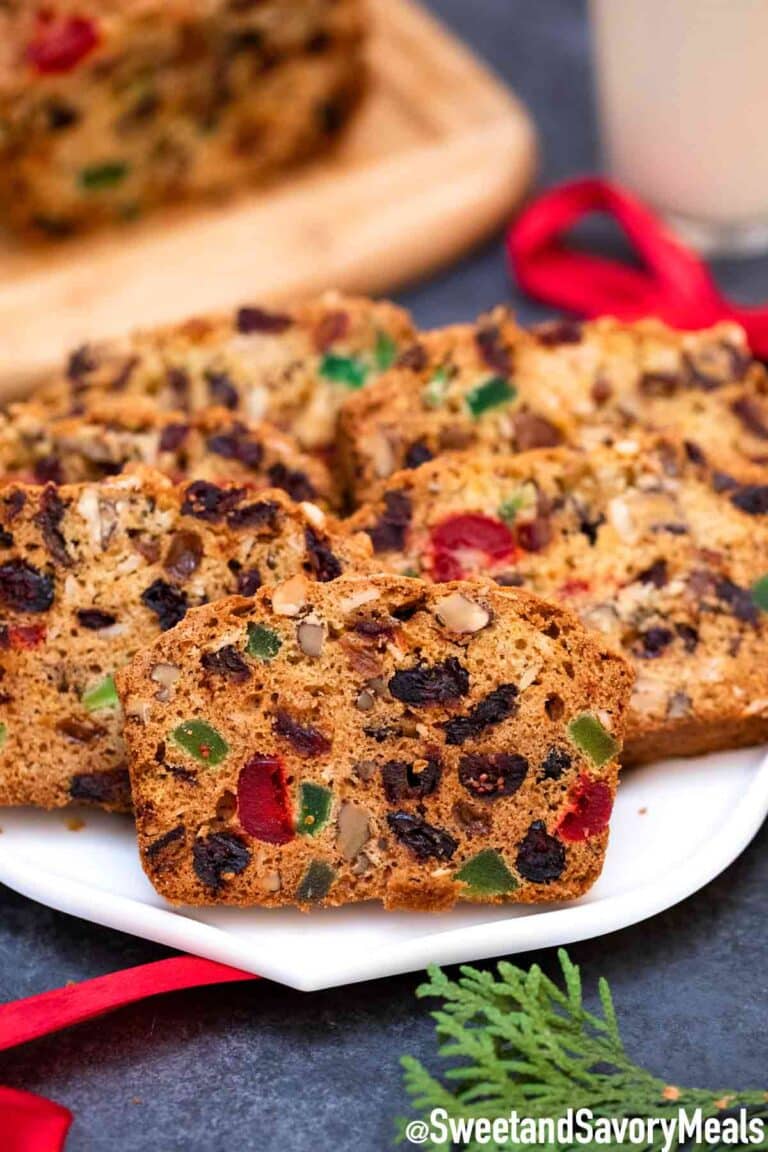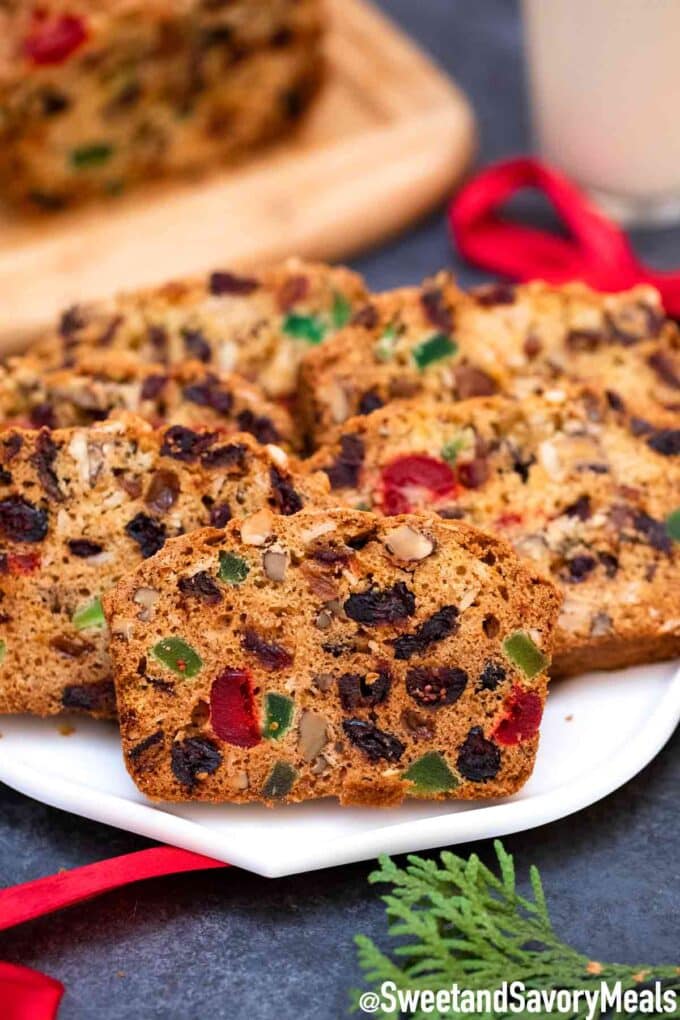 How do you keep fruit cake moist?
It begins with the batter, which includes sour cream for moisture. We also place a pan of water inside the oven so the loaf doesn't get overbaked and dry out.
Traditionally, this Christmas cake is brushed by alcohol over a period of several months. Not only does it keep it moist, but it also lasts much longer. You can do that, or brush with pure fruit juice.
How to store homemade fruit cake?
Check that it's completely cool so that the loaf doesn't turn soggy in storage. Wrap tightly in plastic wrap then aluminum foil. A properly-stored loaf will last for several months frozen.
More Holiday Desserts: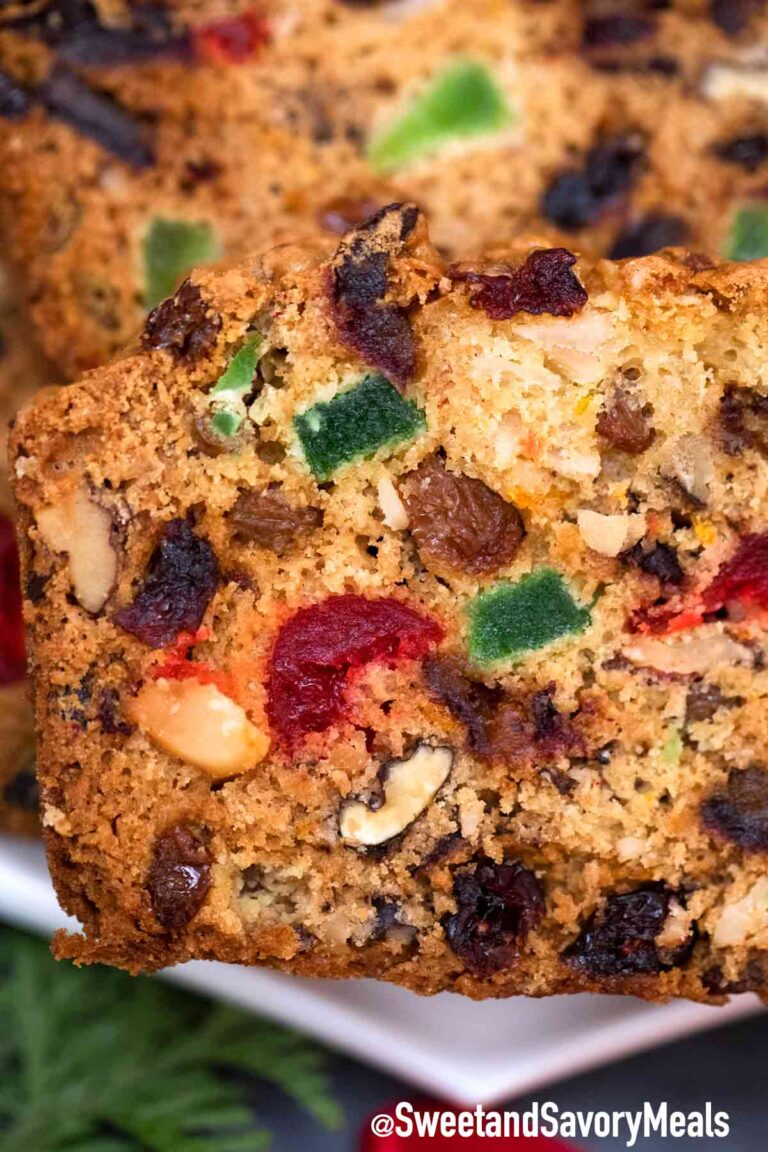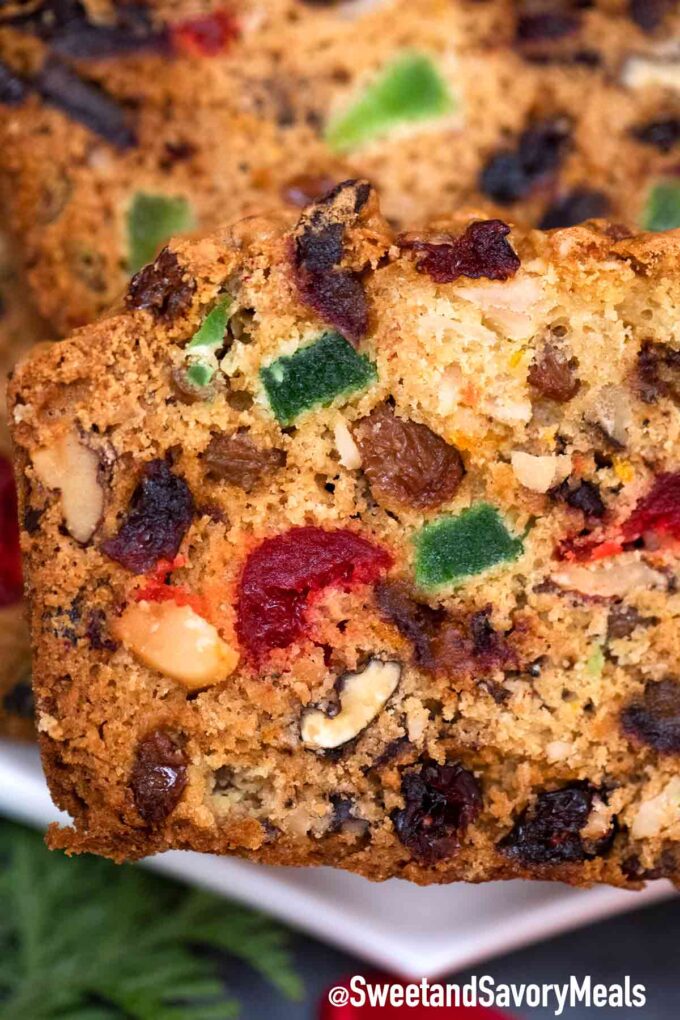 Recipe Tips:
The flavor gets deeper and better over time, so I highly suggest making it weeks in advance. Brush with alcohol every week or two as it ages.
Don't skip the pan of water in the oven to keep the loaf moist.
To take it over the top, make a simple glaze using powdered sugar and bourbon, and you will lick your fingers clean!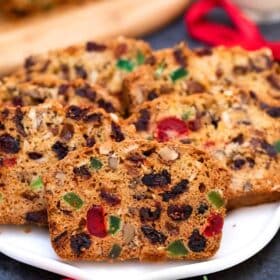 Fruit Cake Recipe
Fruit Cake is packed with dried fruit and nuts, incredibly moist, and infused with orange zest for the ultimate Christmas loaf! Every slice is velvety and rich, and it stays soft for ages.
Save
Share
Print
Pin
Rate
Ingredients
1

teaspoon

baking soda

1

cup

sour cream

1

cup

dates

(chopped)

1/2

cup

raisins

1

cup

dried cranberries

1/2

cup

dried kiwi

(chopped)

1/2

cup

maraschino cherries

(dry with paper towels and chop)

1/2

cup

walnuts

(chopped)

1/2

cup

almonds

(chopped)

2

cups

all-purpose flour

(divided into 1/4 cup and 1 3/4 cups)

1/2

cup

unsalted butter

1

cup

white granulated sugar

1

large egg

(room temperature)

1

tablespoon

orange zest

1

teaspoon

vanilla extract

1/2

teaspoon

salt
Instructions
Preheat oven to 325 degrees F.

Line a 9x5-inch loaf pan with greased parchment paper so it has handles on the side, for easy removal of the bread. Set aside.

In a small bowl, mix together the baking soda and sour cream and set aside.

In a medium bowl combine the fruits and nuts with 1/4 cup of the flour, toss to coat and set aside.

In a large bowl, beat together the butter and sugar until light and fluffy. Beat in the egg, then the orange zest, vanilla, then the sour cream and baking soda mixture.

Add the flour and salt, and mix just until combined.

Add the fruit mixture and stir well to distribute the fruit and nuts evenly.

Pour the batter into the prepared loaf pan.

Place a pan of water in the oven, on the bottom rack. Place the loaf pan on the middle rack.

Bake for 1 1/2 to 2 hours, or until a wooden skewer inserted into the center comes out clean. If the cake browns too quickly, cover it loosely with foil.

When done, remove to a rack to cool for 10 minutes in the pan. Using the edges of the parchment paper lift the cake out of the pan and cool completely on the wire rack.

Wrap tightly with plastic wrap and then in aluminum foil to store.

Before wrapping, you can poke a few holes over the top of the cake and drizzle on a few ounces of brandy or bourbon, this will actually help if you intend on storing the fruit cake for a while.
Nutrition
Calories:
560
kcal
|
Carbohydrates:
92
g
|
Protein:
7
g
|
Fat:
21
g
|
Saturated Fat:
10
g
|
Cholesterol:
61
mg
|
Sodium:
419
mg
|
Potassium:
442
mg
|
Fiber:
7
g
|
Sugar:
54
g
|
Vitamin A:
556
IU
|
Vitamin C:
12
mg
|
Calcium:
132
mg
|
Iron:
3
mg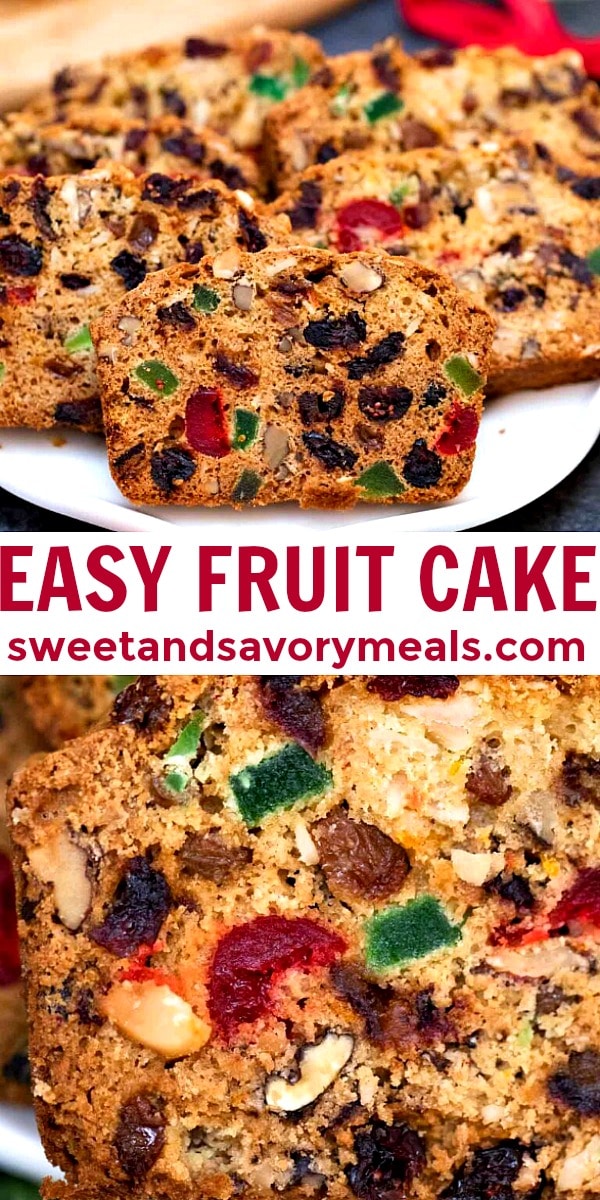 More recipes you might love