Chocolate Chip Banana Bread [Video]
Chocolate Chip Banana Bread is made with ripe bananas, delicious chocolate chips, which results in a super moist and incredibly tender bread. The bread is very easy to make, and the chocolate chips add great flavor and balance. Perfect for breakfast or snack.
I love making easy and delicious Banana Bread Recipes that can feed a crowd. Some of my personal favorites are Blueberry Banana Bread, this amazing Chocolate Banana Bread and the super tender Zucchini Banana Bread.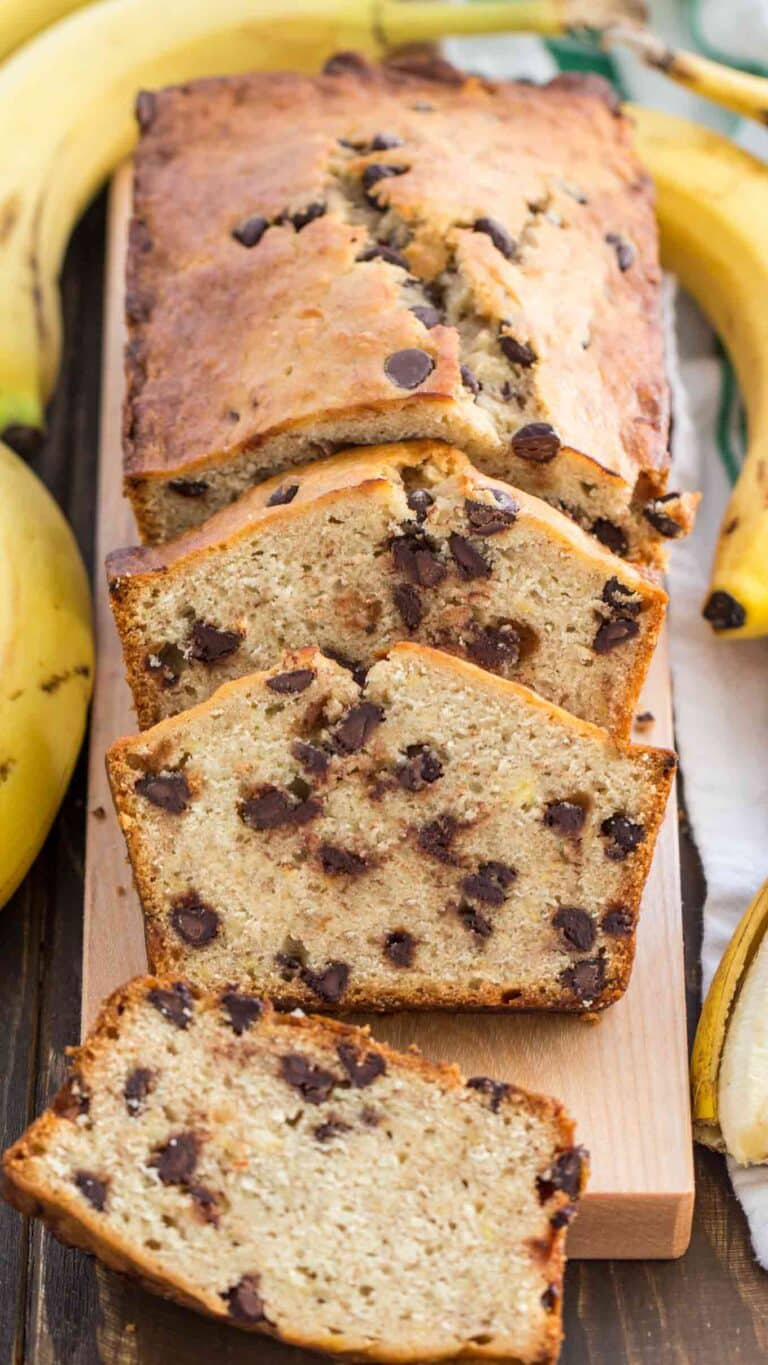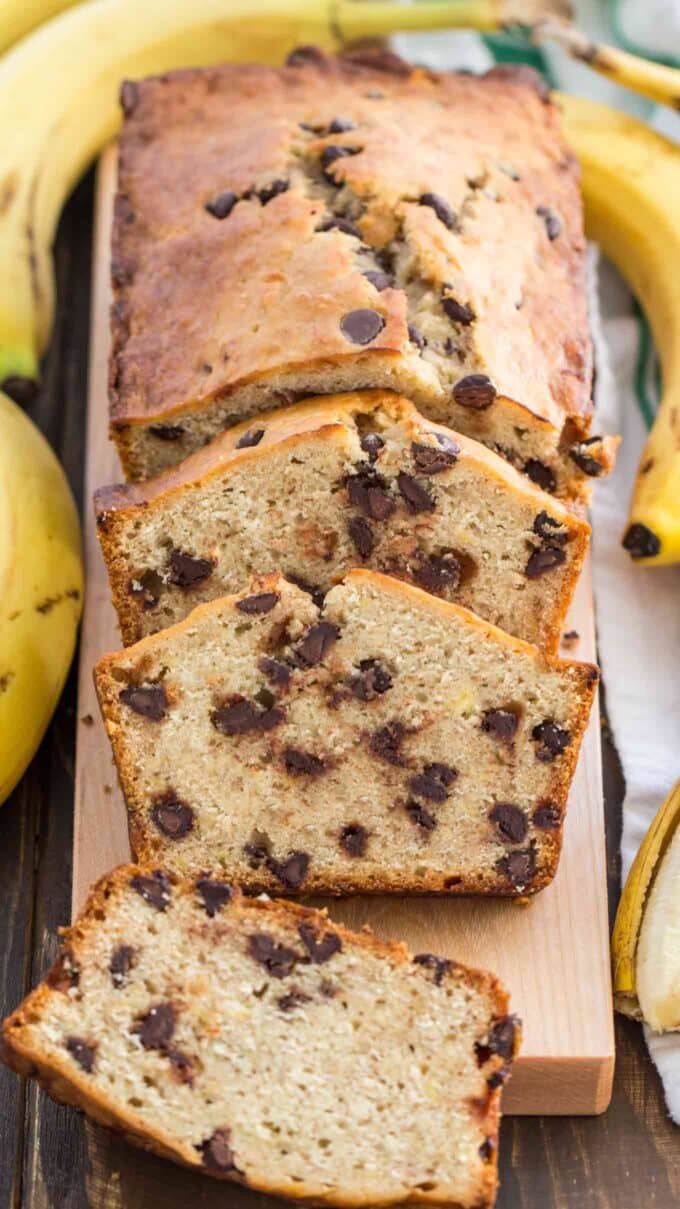 Best Chocolate Chip Banana Bread
Chocolate Chip Banana Bread is easily one of the best banana bread recipes that I have ever made. The bread is not overly sweet on its own, so adding some delicious chocolate chips really gives it the perfect balance. And since we love chocolate, I went ahead and loaded the bread with chocolate chips.
The result is the most tender and moist bread you can ever find. Once you bite into it, you will realize just how delicious, aromatic and flavorful the bread is.
Another great thing about this recipe is that you can put to use your ripe bananas rather than throwing them away. Ironically, the secret to making deliciously moist, tender and flavorful chocolate chip banana bread is to use very ripe bananas. Therefore, if you have some brown bananas on hand, you basically have to run into the kitchen and make this recipe. I guarantee you will love it just as much as we do.
How to make Chocolate Chip Banana Bread?
For exact ingredients and their measures, please see the recipe card below. Also, watch the short video tutorial and see how simple this recipe is to make. The general steps are as follows:
Preheat oven to 350 degrees F, and spray a loaf pan with non-stick baking spray.
Next, in a large bowl mash the bananas using a fork until creamy.
Add butter, oil, and sugar and combine using a hand mixer.
Then add eggs, vanilla and mix again.
Combine flour, baking powder, and salt in a separate bowl and whisk. Slowly add dry mixture to wet mixture and stir.
Next, fold in chocolate chips using a spatula.
Add the mixture to the loaf pan and bake for 55-60 minutes, or until a toothpick comes out clean.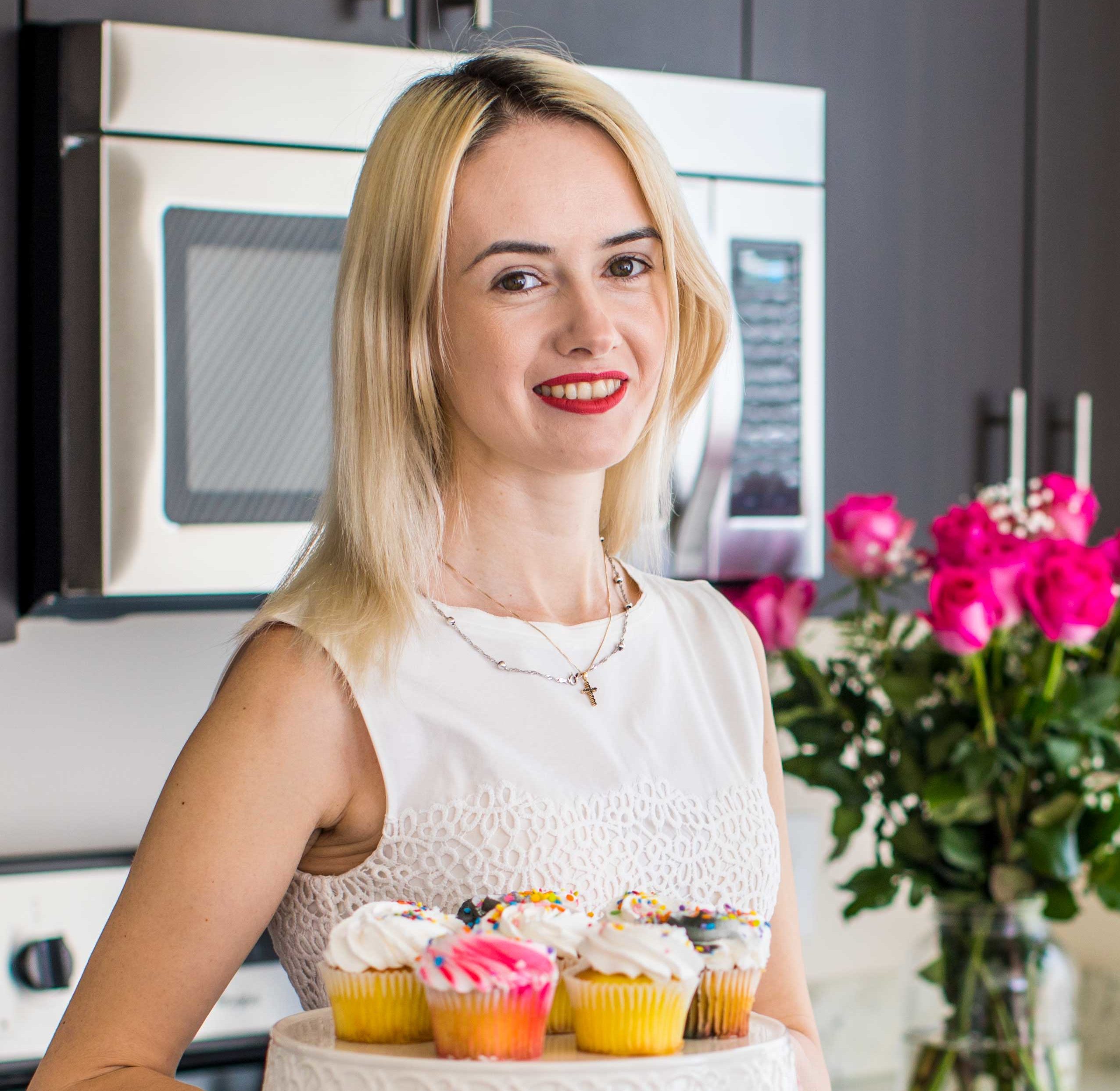 Follow us on Pinterest for more delicious recipes!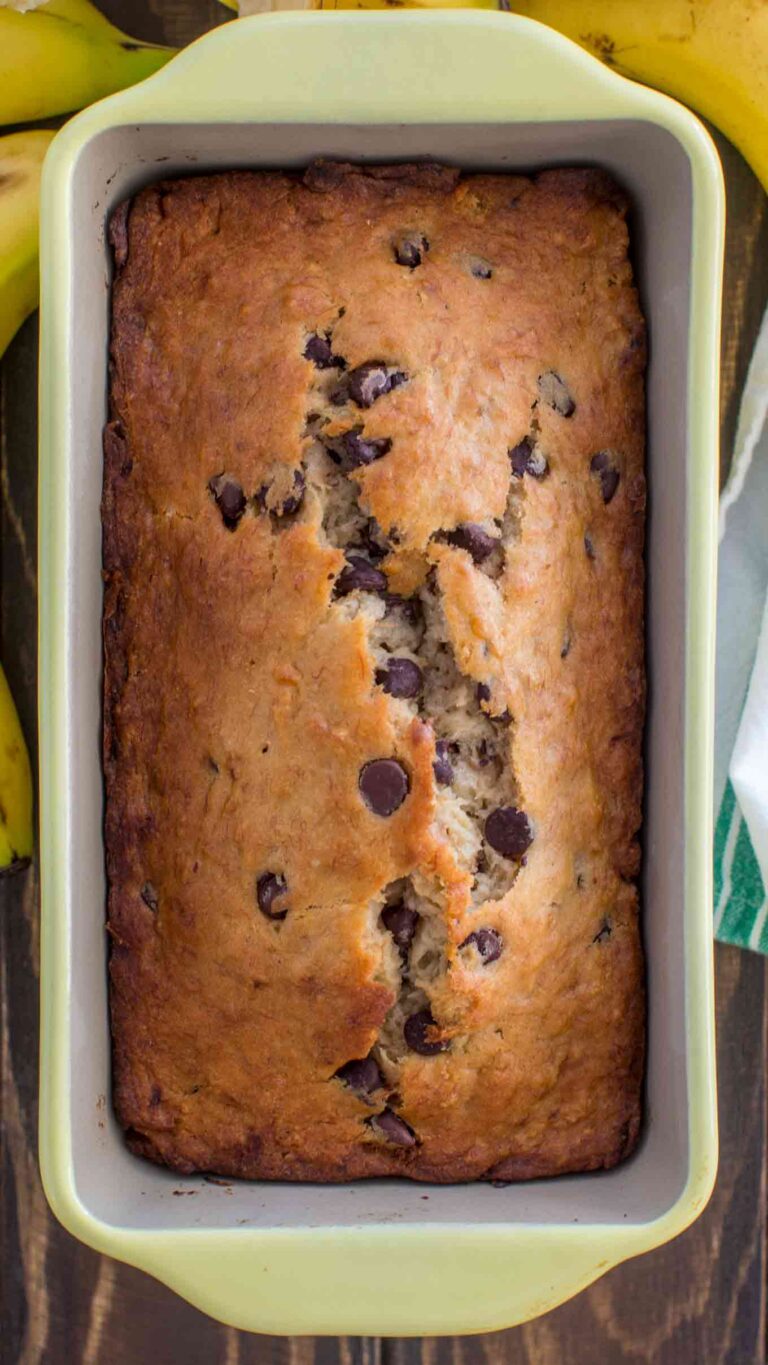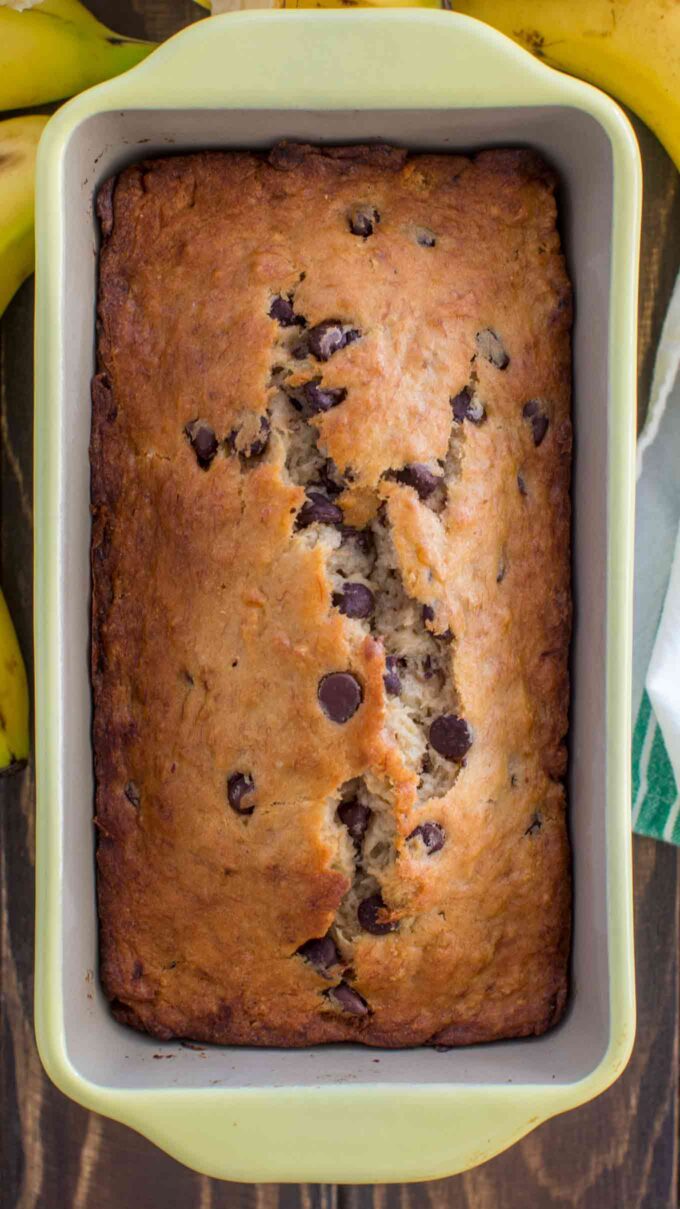 What are other great flavor options for this Chocolate Chip Banana Bread?
This recipe is very versatile, so you can mix in other ingredients if you desire. Some good ideas are:
Use half chocolate chips, half toffee bits.
For peanut butter lovers, add some peanut butter to the mixture.
Mix in 1/4 cup chopped walnuts or pecans for a nutty flavor.
Add some dry cranberries to the mix.
You can also top this with Cream Cheese Frosting if you're into the frosting.
What is the secret of making moist Banana bread?
The secret starts with ripe bananas. Use very ripe bananas as I have mentioned above. They might not have the best appearance, but ripe bananas are what you most definitely want to use here.
They are extra sweet and provide the moisture that is needed for the perfect bread. The oil and melted butter also add some richness and make the bread moist.
Can I substitute oil for butter to make Chocolate Chip Banana Bread?
Butter works best for this recipe. I have always used a combination of melted butter and oil for banana bread since it gives the nice buttery flavor and the puffiness to it. However, to save on some calories, you can always substitute butter with oil. Canola, coconut or vegetable oil will work best here.
Why is my Chocolate Chip Banana Bread Flat?
This can be due to an excessive amount of baking powder in a banana bread recipe. If extra baking powder is used, it can cause the dough to rise very quickly and then fall in the center when the resulting air pockets collapse.
Another reason can be that the oven temperature is too low. This means the dough rises to its maximum, then collapses before it gets hot enough to set. So try avoiding these mistakes.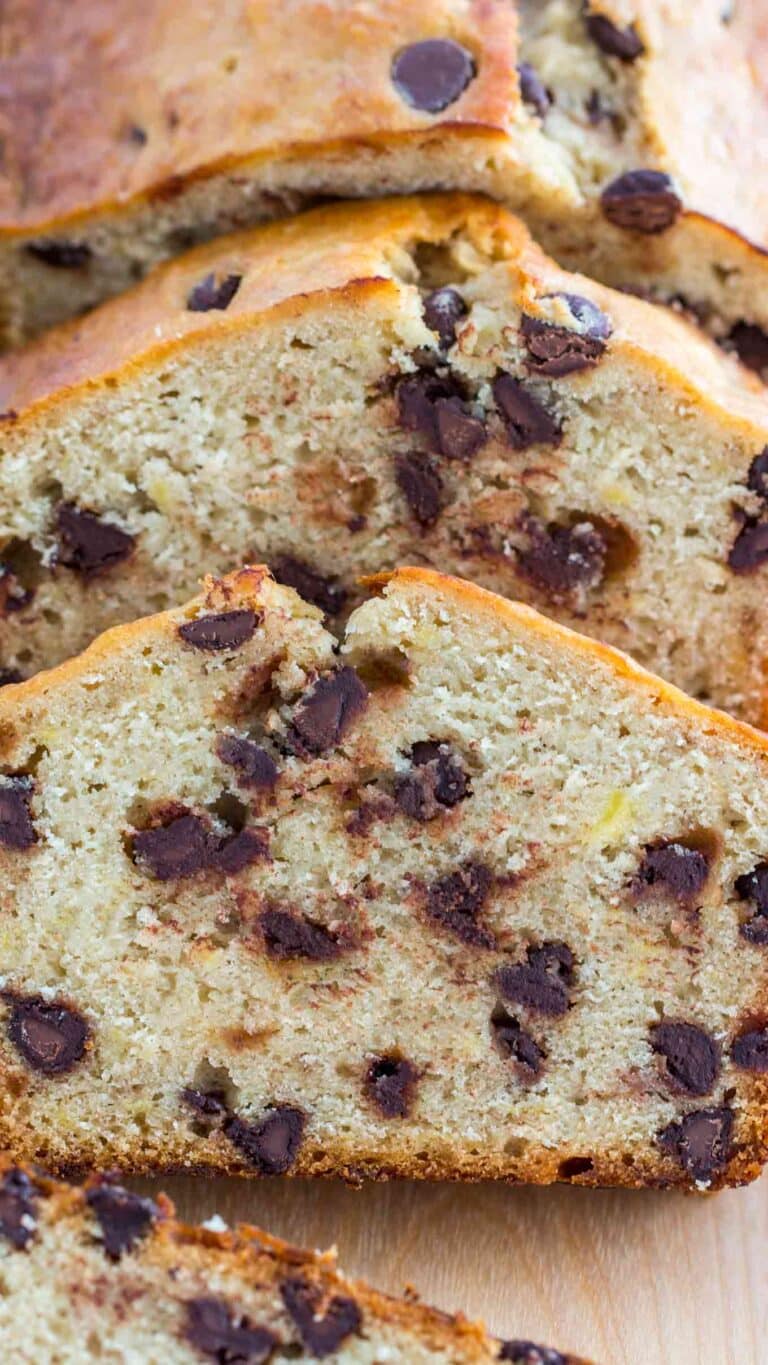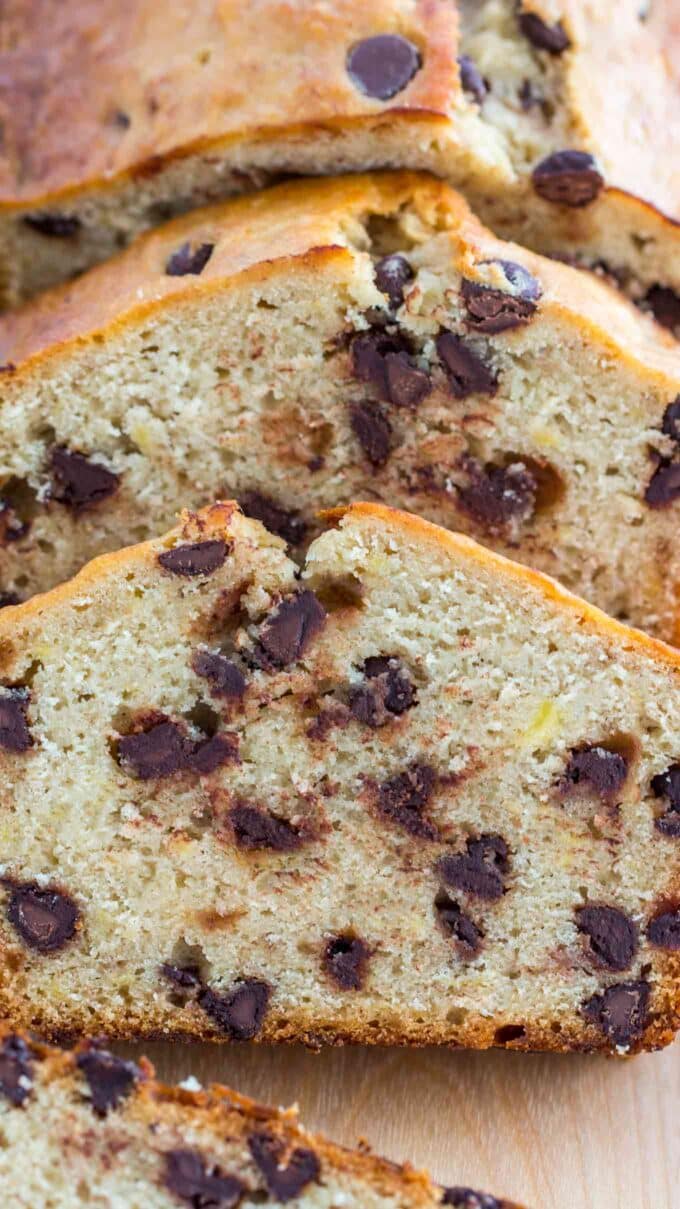 How to store Chocolate Chip Banana Bread?
For best results, make sure to wrap freshly baked chocolate chip banana bread in plastic wrap or aluminum foil before placing it in the fridge. Doing this will prolong the bread's freshness, and it will not dry out quickly.
It will be best to use for about 3-4 days at room temperature (or 1 week in the refrigerator).
Can You Freeze it?
Absolutely! Cool the cake completely and fully wrap it in plastic wrap, tightly. After that, wrap in aluminum foil. Freeze for up to 3 months. Defrost before slicing.
Chocolate Chip Banana Bread Recipe Tips:
Bananas must be brown, very ripe, and easy to mush. Obviously, don't wait for the bananas to turn completely brown, that is overdoing it.
You can substitute the all-purpose flour with cake flour or wheat flour, though there would be a slight difference with the texture.
I also like to use larger chocolate chips, as they don't fully melt when baked and are amazing when you bite into them!
You can use canola oil, vegetable oil or even olive oil! Also, you can use melted coconut oil.
The sugar can be reduced from 1 cup to 3/4 cups.
his banana bread also tastes amazing with peanut butter chocolate chips!
Also, the bread is very dense, so it will not rise a lot in the oven, that is ok.
Watch the bread closely after 45-50 minutes of baking, to make sure not to over bake it. I like to check on it at the 50-minute mark and if it still needs more baking, check on it every 5-7 minutes until done. A toothpick inserted in the center of the cake should come out clean or just with some melted chocolate on, but not raw batter.
Watch Chocolate Chip Banana Bread Recipe Video:
Save Recipe
Chocolate Chip Banana Bread
Chocolate Chip Banana Bread is made with ripe bananas, delicious chocolate chips, which results in a super moist and incredibly tender bread.
Author: Catalina Castravet
Serves: 10 servings
Prep time:

10

minutes
Cook time:

1

hour
Total time:

1

hr

10

mins
Nutrition information
Calories: 305 Carbohydrates: 26 Protein: 4 Fat: 16 Saturated Fat: 8 Cholesterol: 22 Sodium: 127 Potassium: 326 Fiber: 3 Sugar: 32 Vitamin A: 235 Vitamin C: 3 Calcium: 78 Iron: 3
Save Recipe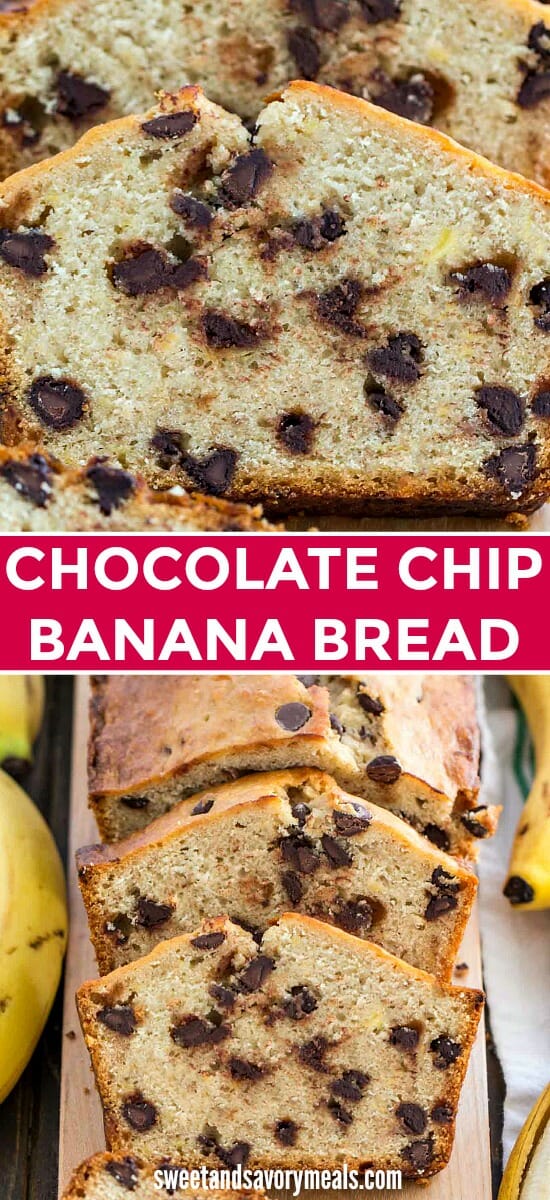 More recipes you might love
Categories: