Peach Cobbler From Scratch
Peach Cobbler has a sweet and moist fruit layer and a layer of biscuit-like batter. If you are obsessing over peaches this summer, then, this recipe is perfect!
If you like fruit desserts, then, this recipe is for you to try! Try it with these other recipes: Apple Crumble, Baked Apples, and Strawberry Tiramisu!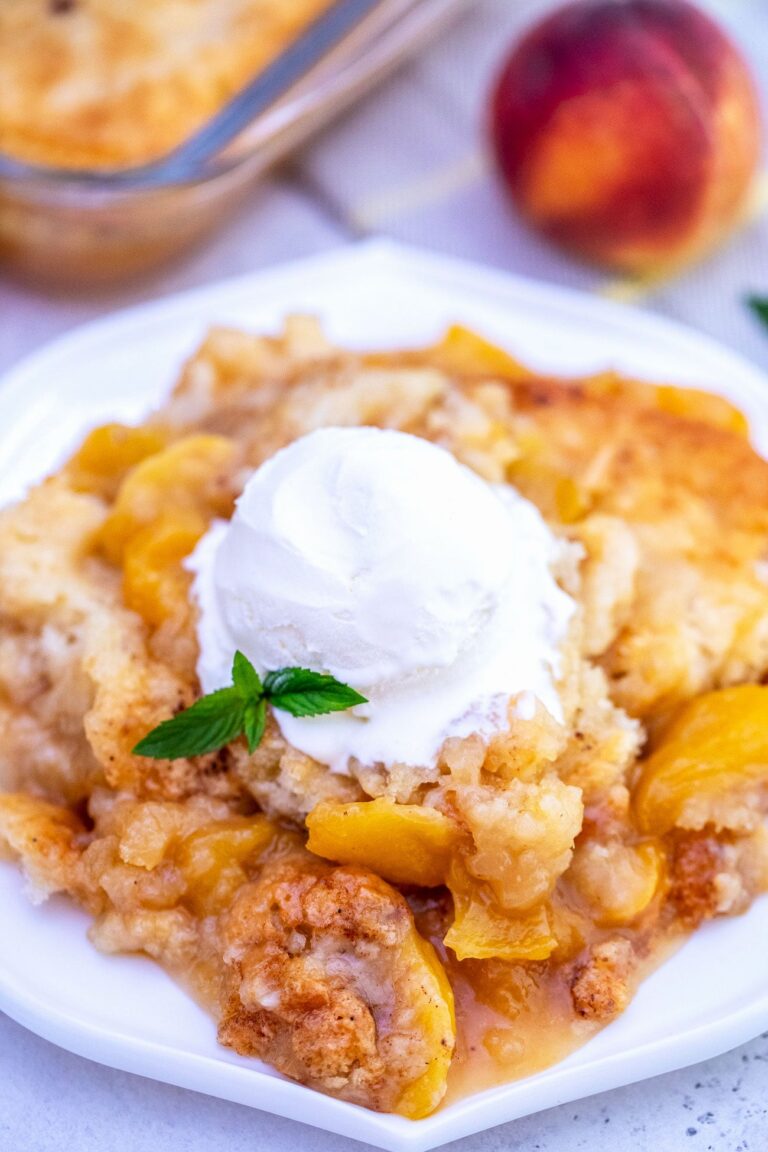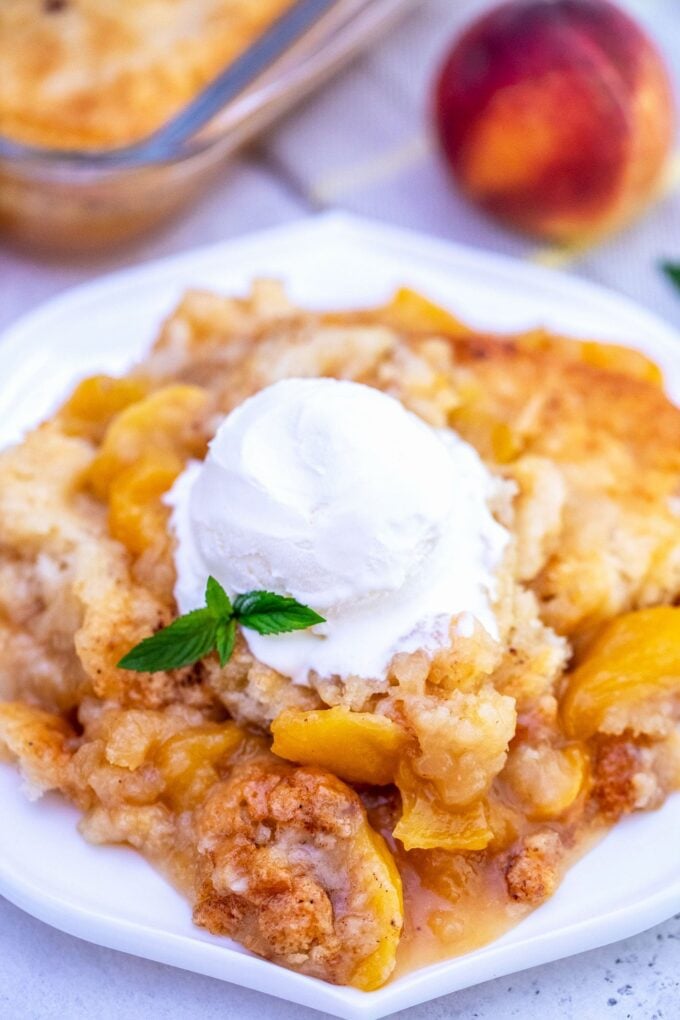 Homemade Peach Cobbler Recipe
Peach Cobbler is another comfort food I swear by. It smells heavenly as it cooks! And it tastes even better! With the sweetness and sourness balanced, what you get is an amazingly rich dessert that you would want to have all the time.
I like the rich flavors that the fruit layer contributes, especially, the combination of cinnamon and nutmeg. The fruits complement the crust really well, too.
It is easy to prepare as you can finish making one in under an hour. Also, the ingredients are simple, and you can even use store-bought canned peaches if you don't have fresh ones.
This dish is comforting and hearty – just perfect for a summer afternoon snack, or dessert, or eat it for breakfast even!
What is a cobbler?
It is a baked dessert that has a layer of sweetened fruits beneath a layer of crust. It is much like a crisp or a crumble that has sort of a layer of pastry on top.
Its name is derived from the way that pieces of biscuits are woven on top of the fruit layer – just like stones, and hence, the name! However, you can make your own batter, and have the appearance of the topping different from the original recipe.
The Dutch and English settlers brought this dish to America. These immigrants who were traditionally eating pies had to make do of what they had so they improvised.
They used the Dutch oven to cook the canned fruits that they had topped with biscuit dough. Fast forward to today, the traditional recipe has not changed much.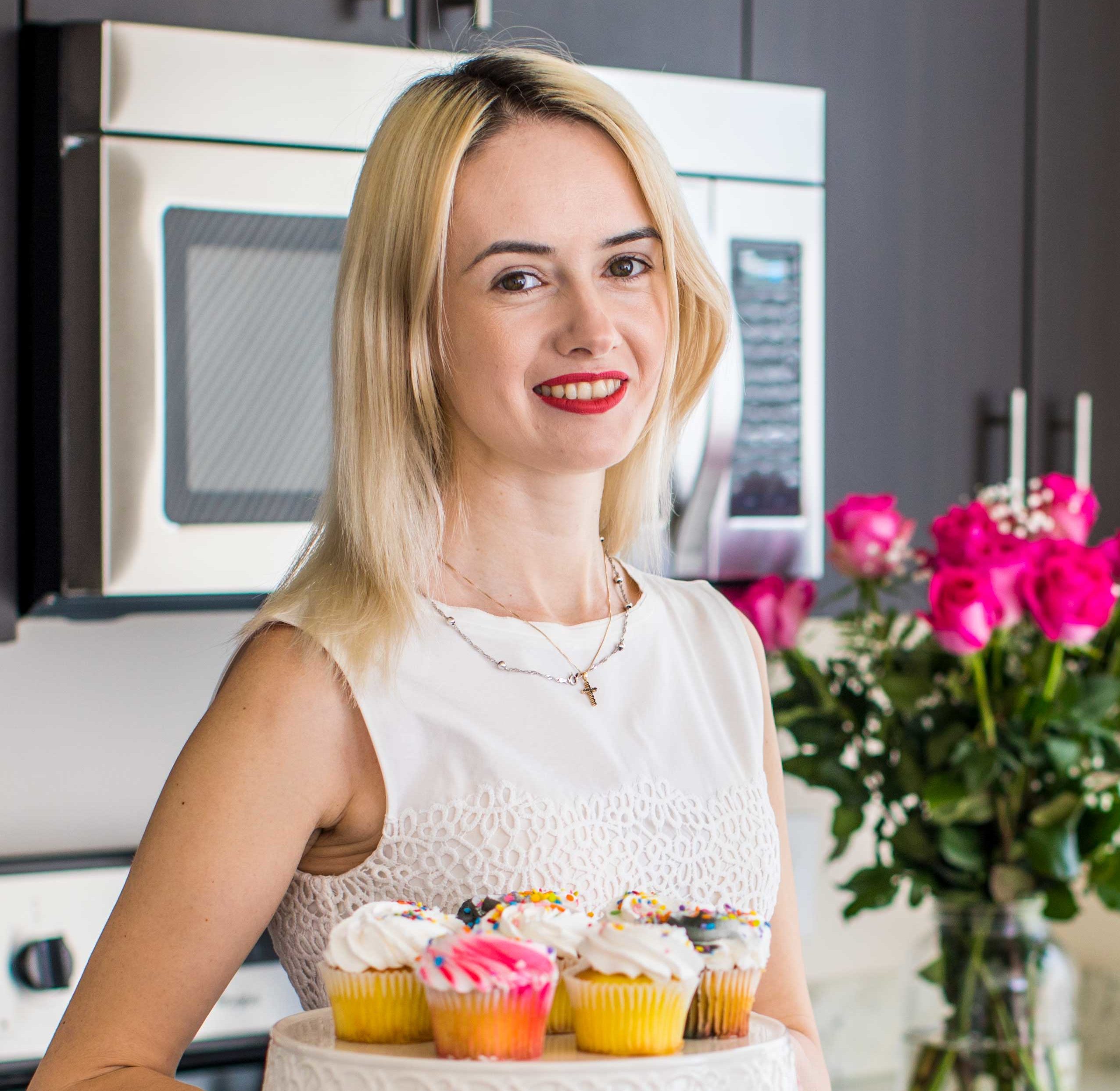 Follow us on Pinterest for more delicious recipes!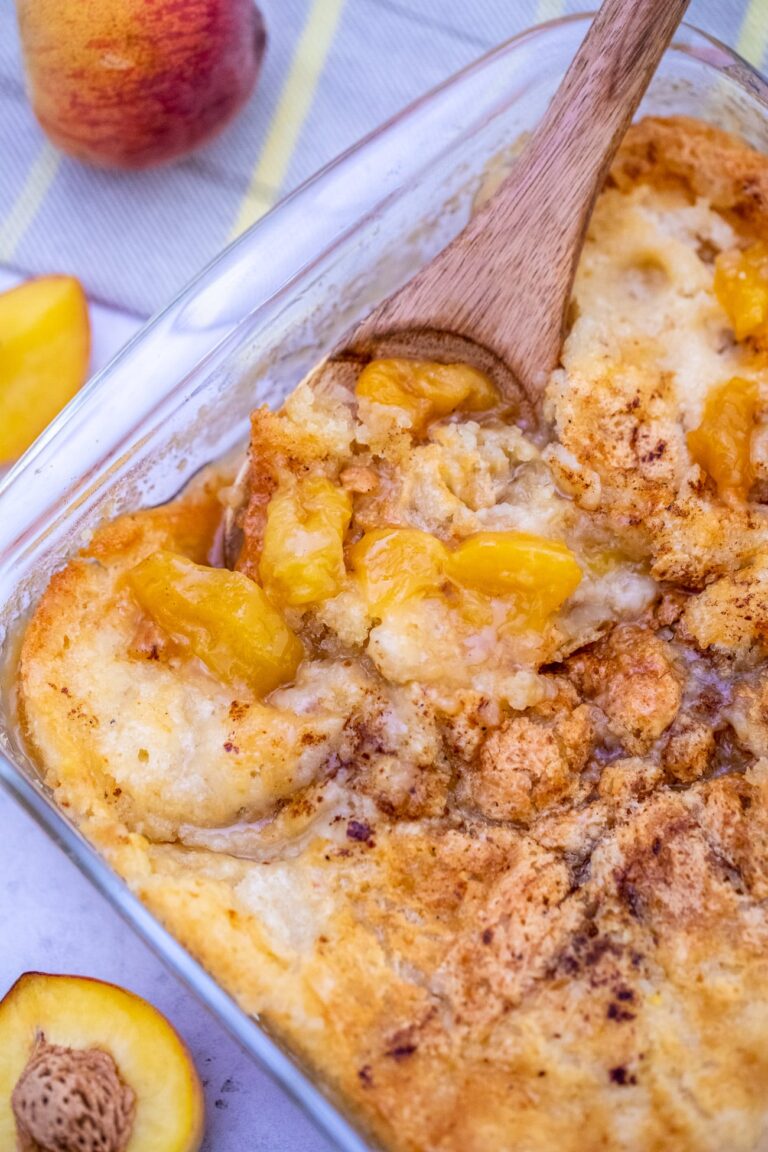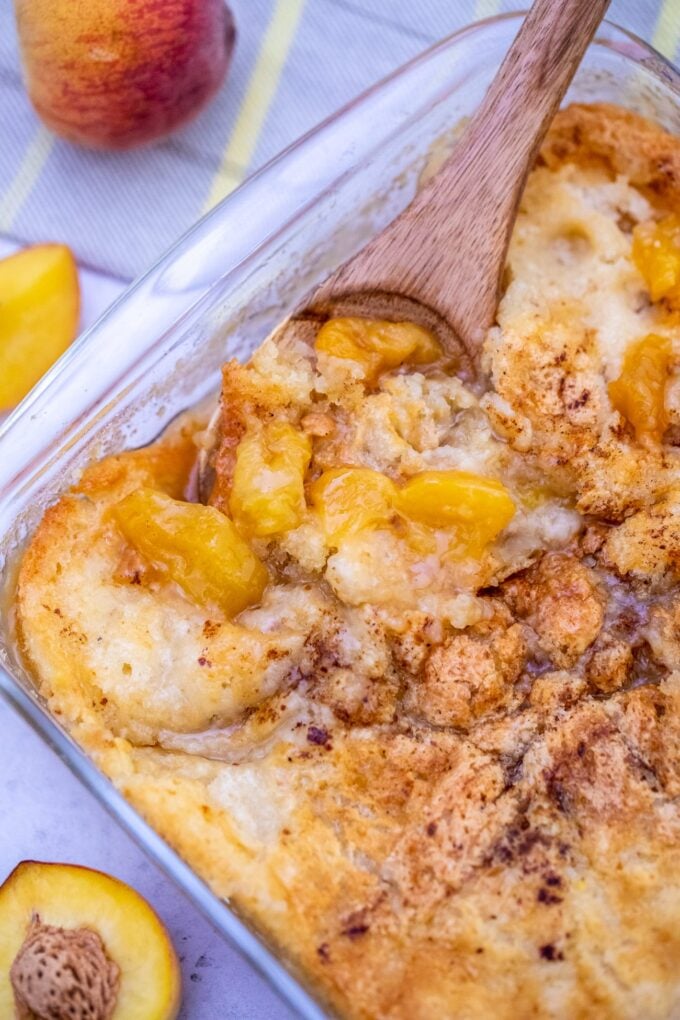 How to make peach cobbler from scratch?
Here is my recipe:
Slice the peaches: For this recipe, use ripe ones and then cut them into slices or wedges. You can also use canned peaches.
Prepare the baking dish: Put melted butter on a 9×9 baking dish.
Prepare the pastry: In a bowl, mix together the dry ingredients: flour, white sugar, baking powder, and salt. Add the cup of milk and vanilla extract. Stir everything but do not overmix – just enough to distribute moisture. Pour over the melted butter on the dish.
Cook the filling: Let a cup of brown sugar, peach slices, lemon zest, and lemon juice boil. Continuously stir and then, sprinkle with cinnamon and nutmeg.
Bake: Put the dish in the oven at 375 degrees and then, bake until golden brown. This will take as much as 45 minutes.
Serve: Serve with vanilla ice cream or whipped cream! You may choose to serve it warm or cold.
How to make peach cobbler with cake mix:
Using the cake mix is even easier as you will need just that, no more individual ingredients. Just mix it in the melted butter directly.
How to make peach cobbler with canned peaches:
Just follow this exact recipe! Canned peaches are perfect for this.
How to make peach cobbler with the pie crust:
Just follow these easy steps:
Roll out the pastry and flatten it against the wall of your baking dish.
Bake it for 15 minutes.
Once done, spoon in the fillings.
For the top crust, cut out pie crust strips and then, arrange them neatly on top, preferably following a crisscross pattern.
Then, bake it again to finish cooking. Then, serve!
Note that this is how you make a southern peach cobbler!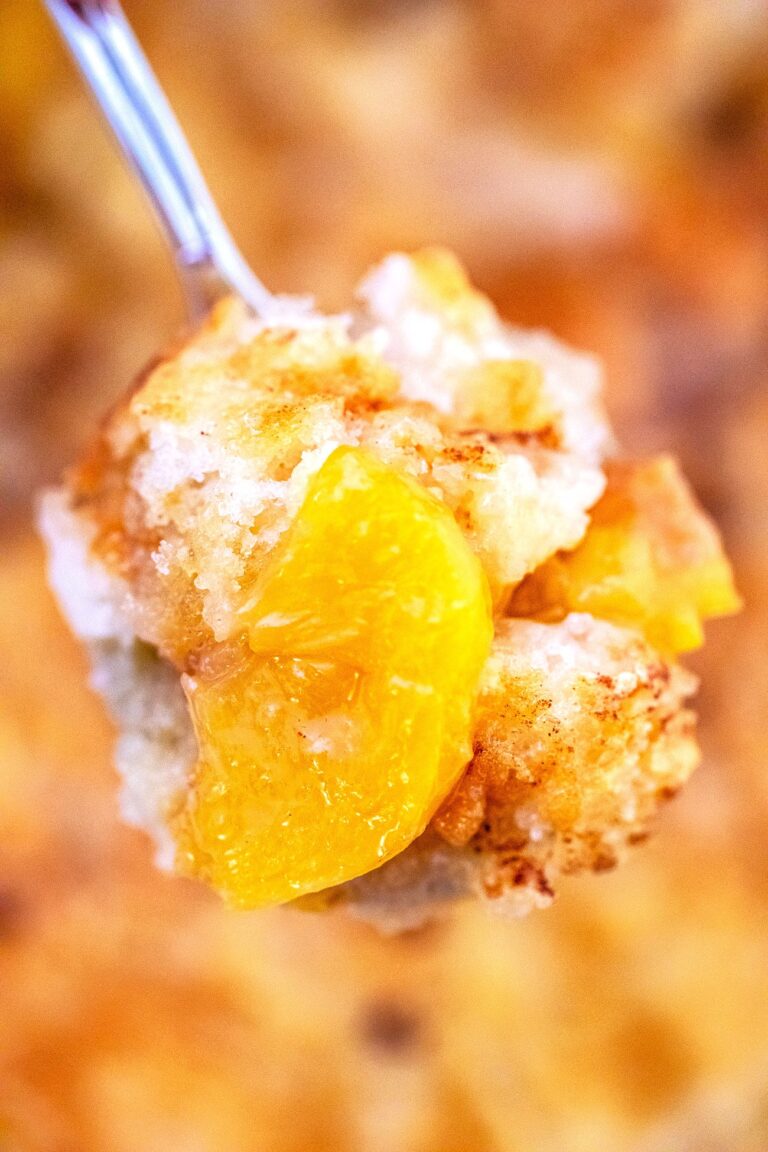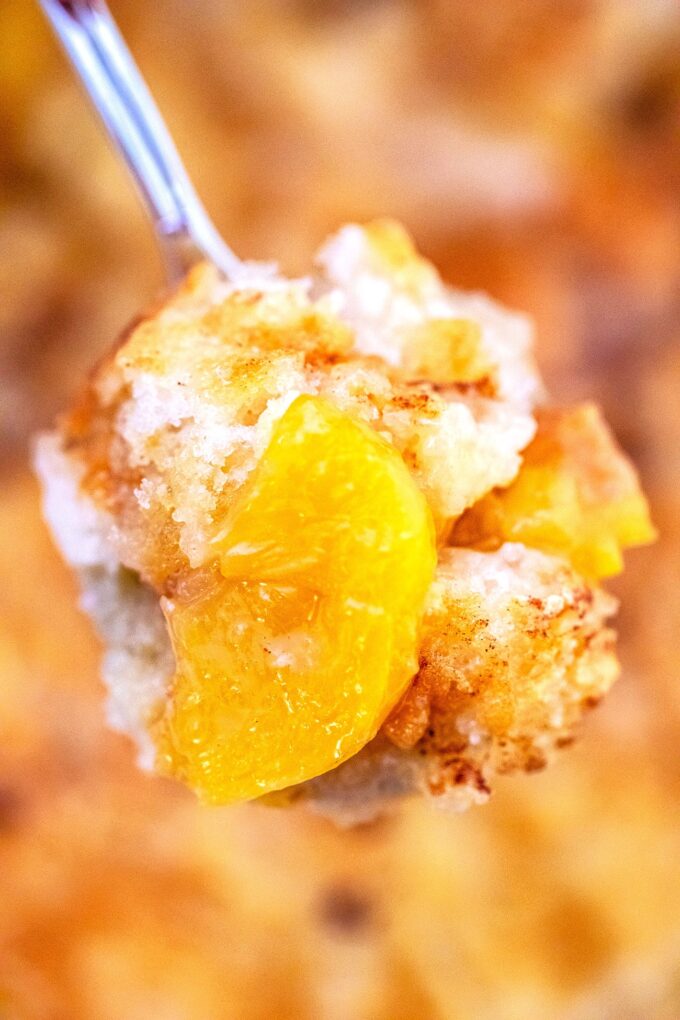 Recipe Variations
You can replicate this exact recipe using other fruits like:
Apples
Plums
Apricot
Cranberry
Raspberry
You can mix two or more kinds in one dish, too!
How to Store it:
Refrigerator: It can be kept in the fridge without getting soggy for about 3 to 4 days.
Freezer: This dessert freezes well and can be kept for about 6 months.
To reheat: Simply allow it to naturally thaw overnight. Or, you can directly use the oven or microwave to reheat.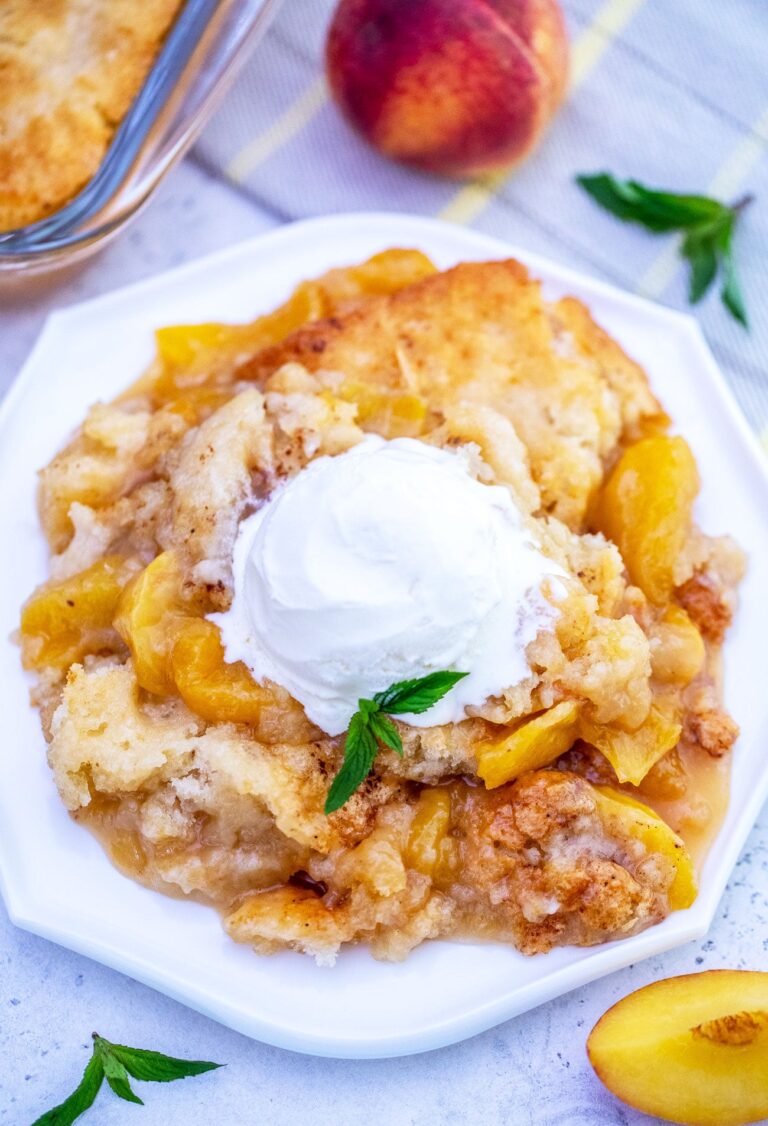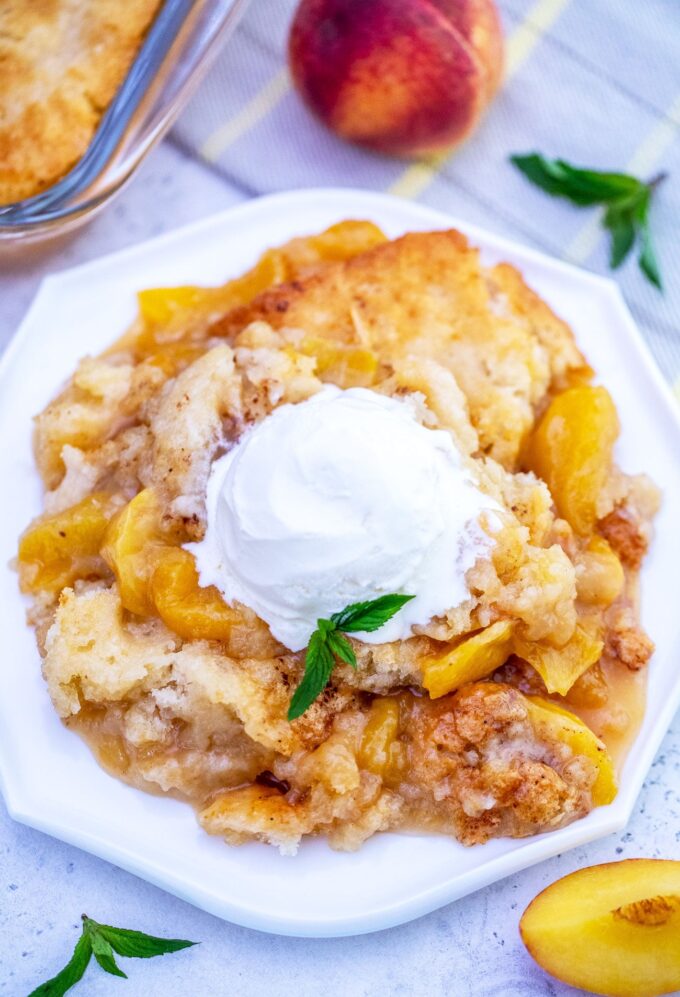 Recipe Tips:
When buying fresh peaches, look for ones that have wrinkles near the stem. This is an indication that the fruit is sweet.
It is important not to leave it on the counter as it may get soggy and watery.
In addition, it is best to refrigerate at once if not eaten immediately.
For a gluten-free pastry, you can substitute a combination of tapioca starch, brown rice flour, and potato starch with all-purpose flour.
Save Recipe
Best Peach Cobbler
Peach Cobbler has a sweet and moist fruit layer and a layer of biscuit-like batter. If you are obsessing over peaches this summer, then, this recipe is perfect!
Author: Catalina Castravet
Serves: 6 servings
Prep time:

10

minutes
Cook time:

45

minutes
Total time:

55

mins
Nutrition information
Calories: 543 Carbohydrates: 97 Protein: 4 Fat: 17 Saturated Fat: 10 Cholesterol: 44 Sodium: 166 Potassium: 549 Fiber: 2 Sugar: 79 Vitamin A: 915 Vitamin C: 9.1 Calcium: 200 Iron: 2.1
Save Recipe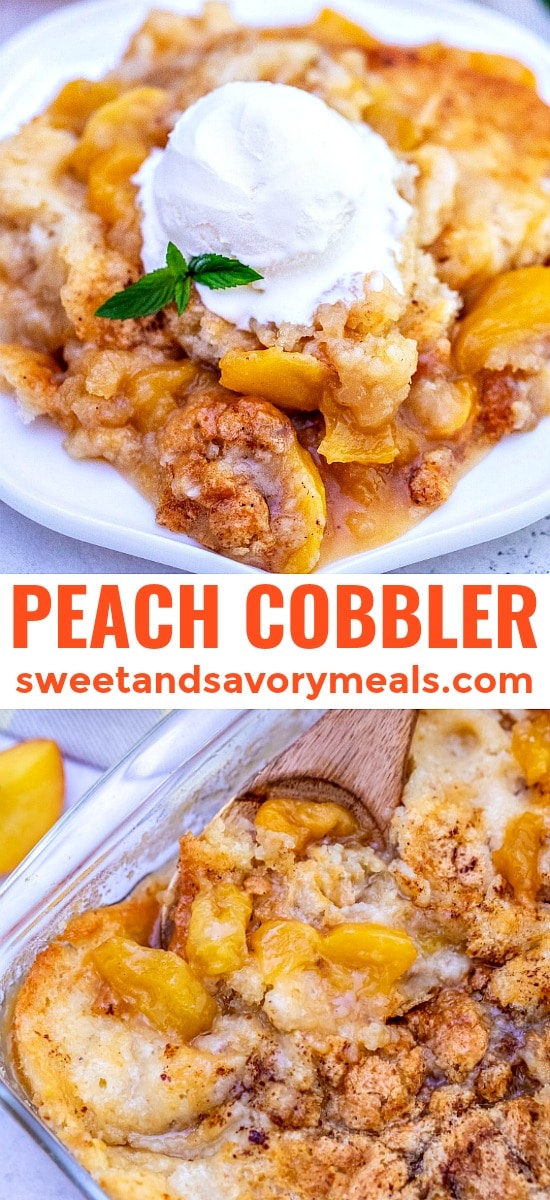 More recipes you might love
Categories: