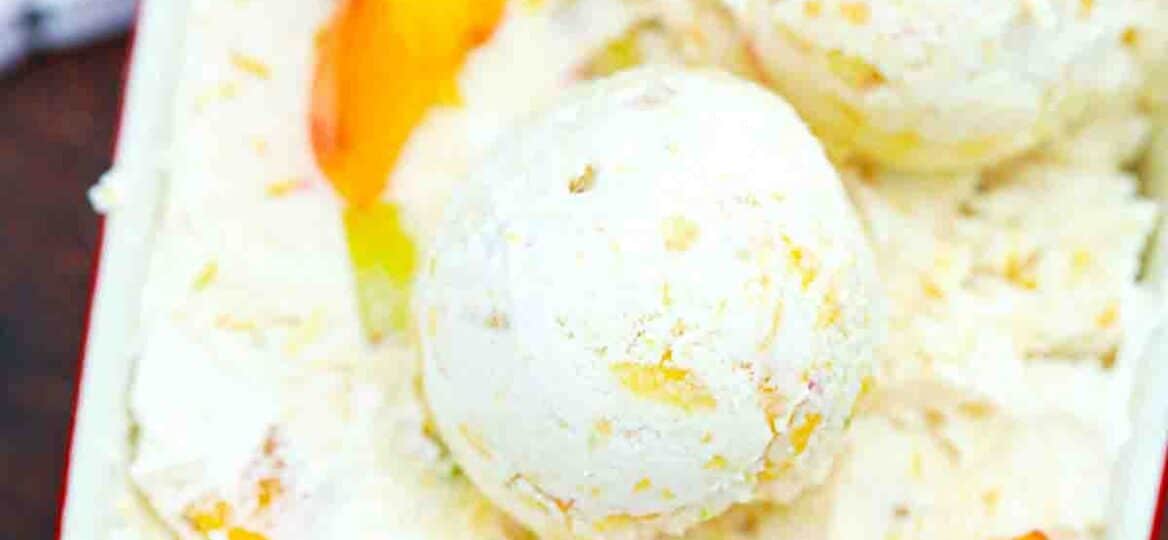 Peaches and Cream Ice Cream [Video]
Peaches and Cream Ice Cream is rich and creamy, made with lots of fresh peaches and refreshing lime juice and zest. You can make this peach ice cream with or without an ice cream maker, so you decide how you want to do it. The taste and texture are only a little different and either way, it is amazing.
If you love peaches, try our easy and delicious Peach Mousse recipe made with fresh peaches, whipping cream, and peach juice. Add a scoop of this scrumptious peach ice cream to our Cinnamon Fried Pineapple recipe flavored with brown sugar and maraschino cherries. Or serve it with this No-Churn Cherry Ice Cream at your next ice cream social.
Ice cream may just be the oldest dessert in the world. Frozen fruits with saffron, honey, and ice were part of Iranian traditions in 550 BC and both snow and ice were used in desserts in China, Greece, and Europe dating back to the 1st century.
No matter how old it is, we know that ice cream in any flavor is delicious, but this homemade peach ice cream is perfect. This is a sweet and creamy dessert you can make any time of the year, but it really tastes delicious during the summer.
What is better than a scoop of vanilla ice cream? How about a scoop of homemade peaches and cream ice cream? This peaches and cream ice cream recipe is the best thing that has ever happened to peaches. Or to ice cream. You can also use these peach ice cream flavors with more great recipes.
Looking for more ice cream recipes? Our blackberry ice cream with chocolate chips and vanilla beans is amazing and our five-ingredient strawberry ice cream with chocolate chunks and fresh strawberries would be great. For something more savory, try this crunchy avocado ice cream with maple syrup and mint.
Ingredients needed:
To make this peaches and cream ice cream recipe, gather the ingredients below. When you are ready to begin, move down to our recipe card at the bottom of the page for the exact measurements and instructions.
Fresh peaches: Peeled, pitted and sliced.
Chopped peaches: Fresh peaches are best.
Sweetened condensed milk: Not evaporated milk.
Cream cheese
Juice of 1 lime
Zest of 1 lime
Heavy whipping cream: Heavy cream, not whipped cream.
Vanilla extract
How to make peaches and cream ice cream without an ice cream maker?
Prep the peaches: First, pulse your peaches with a food processor or blender until you have tiny chunks.
Make stiff peaks: Next, whisk the cream cheese and sweetened condensed milk together with an electric mixer before adding the lime juice, heavy cream, and vanilla extract. Whip on medium-low until stiff peaks form.
Add the peach mixture: Then, fold the peach mixture in carefully until it is just combined. Pour into a freezer container and add the chopped peaches before placing your ice cream in the freezer.
Freeze and serve: Finally, let it freeze for four hours for soft serve ice cream or six to eight hours for completely frozen.
How to make peaches and cream ice cream in an ice cream maker?
Peel and slice peaches: To begin, slice and peel your peaches and then put them in a large bowl with sugar and lemon juice. Let it sit for about an hour or until it is soupy.
Mash the peaches: Then, mash with a potato masher or fork until you just have small chunks. Strain the juice into a different bowl and leave both for later.
Start the cream base: In the meantime, mix 1/2 cups sugar, 1 1/2 cups whole milk, 1 1/2 cups cream, and a pinch of salt in a medium saucepan over medium heat until it is hot but not boiling.
Temper the eggs: Meanwhile, whisk the rest of the sugar with 5 egg yolks for about two minutes until it is light in color. Add 1/2 cup of the hot cream in the first minute and another 1/2 cup of hot cream in the last minute.
Cook the egg mixture: Then, pour the egg mixture into the saucepan with the rest of the custard base and stir while cooking for two to four minutes over medium-low heat. It should be 170 to 175 degrees F and thick enough to coat the back of a wooden spoon.
Strain and chill: Next, remove from heat and one teaspoon of vanilla before straining the custard base through a fine mesh strainer into another bowl. Pour in the mashed cooled peaches and chill for four hours.
Churn your ice cream: Lastly, put the ice cream base into your ice cream maker and churn using the manufacturer's instructions until it looks like soft serve creamy ice cream. This typically takes about 25 to 30 minutes.
Freeze and serve: After you add the rest of the peaches during the last 30 seconds of churning, put it into an airtight container in the freezer for up to six hours before serving.
How to serve:
Serve a small bowl of this delicious peaches and cream ice cream alone or with your family's favorite topping. You can also use one of these awesome serving suggestions or share one of your own:
Top your peaches and cream ice cream with grilled peaches flavored with honey and almond extract.
Make your ice cream festive with some rainbow sprinkles.
Go ahead and add a dollop of our homemade whipped cream for an even more creamy flavor.
A drizzle of chocolate syrup would also be a great addition.
This tasty peach ice cream is super-tasty with this slow cooker peach upside-down cake made with almond extract and brown sugar.
You can use your leftovers to make a peach smoothie.
For something more adult, use leftovers to make some boozy peaches and cream martinis.
This is also a fun dessert for the kids after a day at the pool.
Add a scoop on top of our crunchy pineapple crisp made with crushed pineapples and coconut.
Frequently asked questions
How do you freeze peaches for homemade peach ice cream?
First, wash your peaches and then cut them into slices. You do not have to peel them. Soak them in lemon juice for five minutes, drain them, and then freeze them on a cookie sheet for about four hours before transferring them to a freezer bag. Use within one year.
What is the easiest way to peel peaches?
You definitely do not want to use a peeler or even a sharp paring knife. The best way to peel peaches is by blanching them. Simply boil a large pot of water and then reduce it to a simmer.
Place several peaches in the boiling water and let them sit for 30 seconds before removing them and putting them in an ice water bath. Now you can easily pull the peel off with your fingers.
Why can't you use whole fruits in ice cream?
Although using fresh fruit like ripe peaches is a good choice, whole fruit is just not a great idea. Almost every kind of fruit has a large water content that will make your ice cream crystalize with chunks of ice instead of creamy ice cream.
What are the nutrition facts in this recipe?
Each serving of this delicious peaches and cream ice cream has about 375 calories, 22 grams of fat with 14 grams of saturated fat, 65 milligrams of cholesterol, and 50 grams of carbs.
The high-fat content does not make a big difference when you only have it once in a while. And you will also get the nutrients from the fruit including 6 grams of protein, 1,420 units of vitamin A, 5 milligrams of vitamin C, and 130 milligrams of calcium.
How to store leftovers:
Store: Be sure to put your ice cream into the freezer right away so it does not melt. The more you let it melt and refreeze, the grittier it will become.
Freeze: Frozen, your leftovers will stay fresh for several weeks.
More peach recipes:
Deliciousness to your inbox
Enjoy weekly hand picked recipes and recommendations