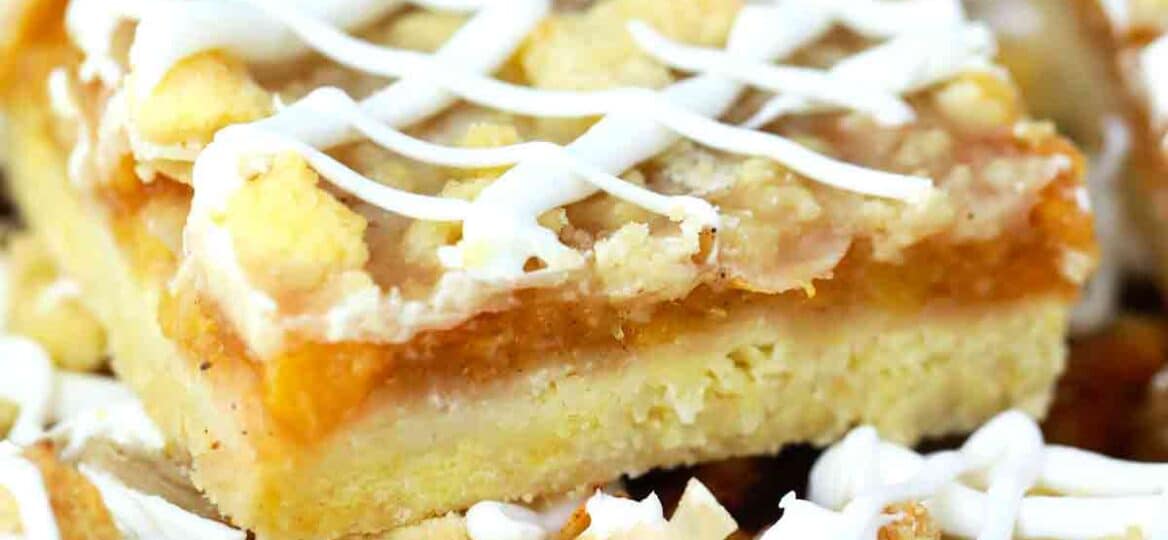 Peach Crumb Bars Recipe [Video]
Peach Crumb Bars are the perfect summer dessert, made with fresh peaches baked on a shortbread crust. The bars are topped with a sweet and buttery crumb topping, spiced with cinnamon and nutmeg. The dessert is finished with a sprinkle of slivered almonds and an almond-flavored sweet glaze.
Summer fruit desserts are so insanely good and flavorful, we already have in our collection the must-try Peach Cobbler Bars, and this Peach Mousse and Martini. But decided to add even more fruity recipes, for you to choose from, as they are so versatile, and can be made with any ripe fruits.
Peach Crumb Bars – made with fresh peaches!
This summer we have already shared with you the Slow Cooker Upside Peach Cake and since everyone loved that one so much, we are sharing another peach recipe. These bars are insanely easy to make and they are totally worth it to turn on the oven for a moment.
Your kitchen will smell divine, with aromas of fresh summer fruit, cinnamon, nutmeg, and almonds! We are huge fans of desserts that have a crumb topping, they are just so insanely rich and comforting. That's why we have the best ever Coffee Cake with a thick crumb layer! It is so good that we made a Cranberry version!
The bars are soft and buttery and bursting with sweet peaches. Also, the base is a shortbread crust, that is thick, sweet, and melts in your mouth. Next, the crust is a blanket for a layer of fresh peaches that have been coated in coconut oil, brown sugar, cinnamon, and nutmeg.
Slivered almonds are sprinkled on top for some slight crunchiness and a sweet almond glazed is drizzled at the end. Now, the glaze with its subtle almond flavor pairs so well with the ripe stone fruit. This dessert seems so decadent and elegant at the same time.
Ingredients Needed:
Shortbread crust:
Sugar
All-purpose flour – use gluten-free for a gluten-free version.
Baking powder
Salt
Butter – you need unsalted and make sure it is very cold!
Egg
Peach Layer:
Fresh peaches – from a can actually work as well, but if you can get your hands on fresh it will be better.
White and Brown sugar – the brown sugar adds a light deep caramel flavor that is very delicious in this recipe.
Cornstarch
Spices – we use a mix of cinnamon and nutmeg.
Lemon juice
Slivered almonds – they are optional, but the slight crunchiness works so well with the overall soft and tender dessert.
Icing:
Powdered sugar
Milk
Almond extract – peach and vanilla extracts can be used instead.
How do you make Peach Crumb Bars from scratch?
Make the crust: First, combine the crust ingredients, except the egg, and mix until the mixture resembles coarse sand. At that point add in the egg and continue to mix until combined. Remember to save the remaining mixture for the topping.
Add to the baking dish: After that, press a little more than half of the mixture into the bottom of a lightly greased 9×13 baking dish.
Peach layer: Next step is to combine all the ingredients except the slivered almonds and add the fruit mixture on top of the crust. Once done, sprinkle the slivered almonds on top and also distribute evenly the crumb topping.
Bake: The dessert should be baked at 350 degrees for 45-55 minutes.
Icing: Finally, when the bars are done baking and have been cooled to room temperature, then mix the icing ingredients. Once combines, drizzle it on top of the dessert and refrigerate until set.
Serve: Slice serve and enjoy!
Recipe Variations and Adaptations:
Jam: This recipe will be delicious also if you make it with Homemade Peach Jam instead of fresh fruit!
Other fruits: This is a very versatile recipe and can be made with a variety of fruits, use pears, apples, plums, apricots, or even try it with berries. Another option is to use a combination of two of your favorite fruits.
Nuts: Feel free to add more crunchiness to the crust and topping by mixing in chopped nuts. We recommend using almonds, hazelnuts, or macadamia nuts.
Gluten-free: Make this recipe gluten-free by using gluten-free flour. It will be crumblier, but still delicious.
Canned fruit: If you can't get your hand on fresh fruit, use the canned variety.
Glaze: The glaze is optional, it adds a nice touch, but you can either skip it or add more, based on your own preference.
How to serve them:
The Peach Crumble Bars are best served fresh, you can even serve them right out of the oven. Serve them as you would serve a cobbler, topped with some ice cream and some whipped cream on the side.
I prefer them chilled, straight from the fridge, as they are sweet and refreshing. Finally, enjoy them with a smoothie on the side.
How to store and freeze them:
These bars keep really well in the fridge, just let them cool, after that slice and add them to an airtight container. They will stay fresh in the fridge for up to 4-5 days.
In order to freeze these, make sure you first let them cool to room temperature, and after that refrigerate for 2-3 hours. In addition, the refrigeration will help with more uniform slicing, without crumbling the base.
After slicing the chilled bars, next, add them to a freezer-safe Ziploc bag or airtight container and freeze for up to 3 months. At last, to defrost, place them in the fridge overnight to thaw.
More Summer Recipes:
Recipe Tips:
First, make sure you have the right texture when you are making the crust dough. Keep in mind that the mixture should resemble coarse sand, if it is too wet add more flour little by little.
Pay attention to slice the peaches uniformly so the fruit layer looks nice and appealing.
If possible, do NOT skip the brown sugar and the spices, they do add extra flavor.
For best results, make sure you use ripe fruit that is sweet and juicy.