Gluten Free Peach Cobbler Bars
Gluten Free Peach Cobbler Bars are easy to make, vegan and incredibly delicious. Made with fresh peaches and gluten free oats.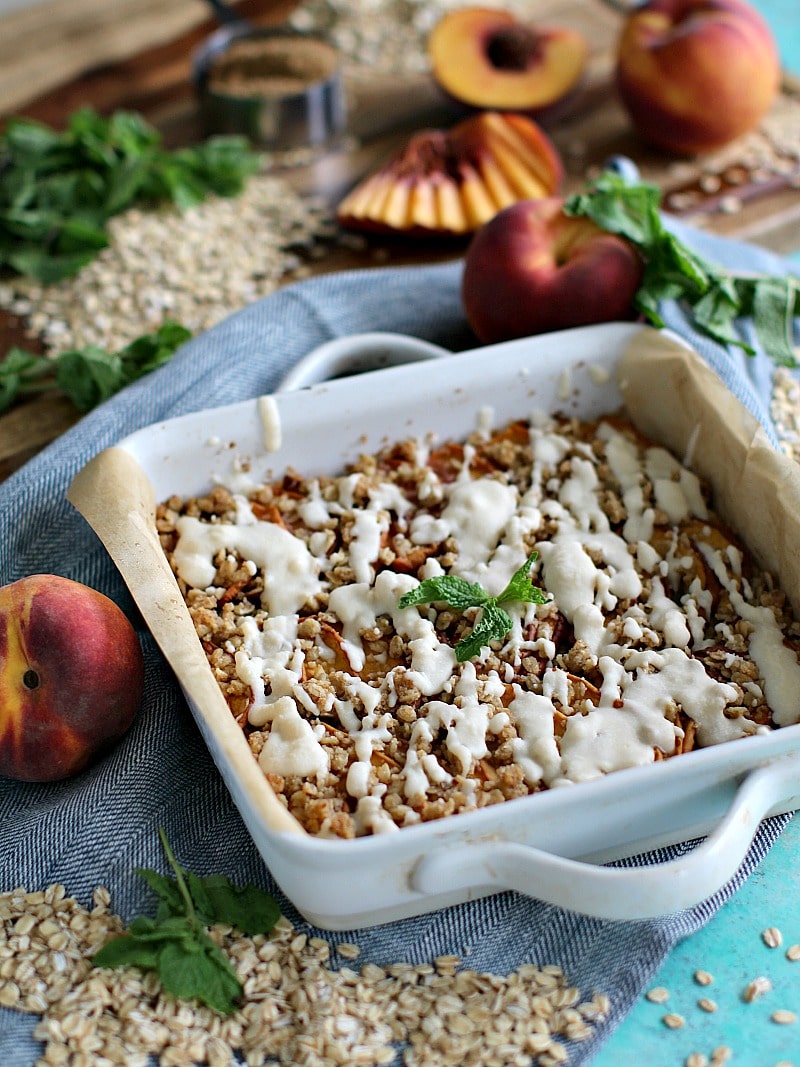 Gluten Free Peach Cobbler Bars
Happy first day of fall! First day of September is still very special to me. To properly celebrate it I made Gluten Free Peach Cobbler Bars that also happen to be vegan.
My toddler boy started school this week, and since he is in Pre-K, we are asked to pack his lunch every day. I must say that I am quite excited about this. The little guy is a great eater and every morning he checks his lunch box and gets very happy when he sees his favorite foods.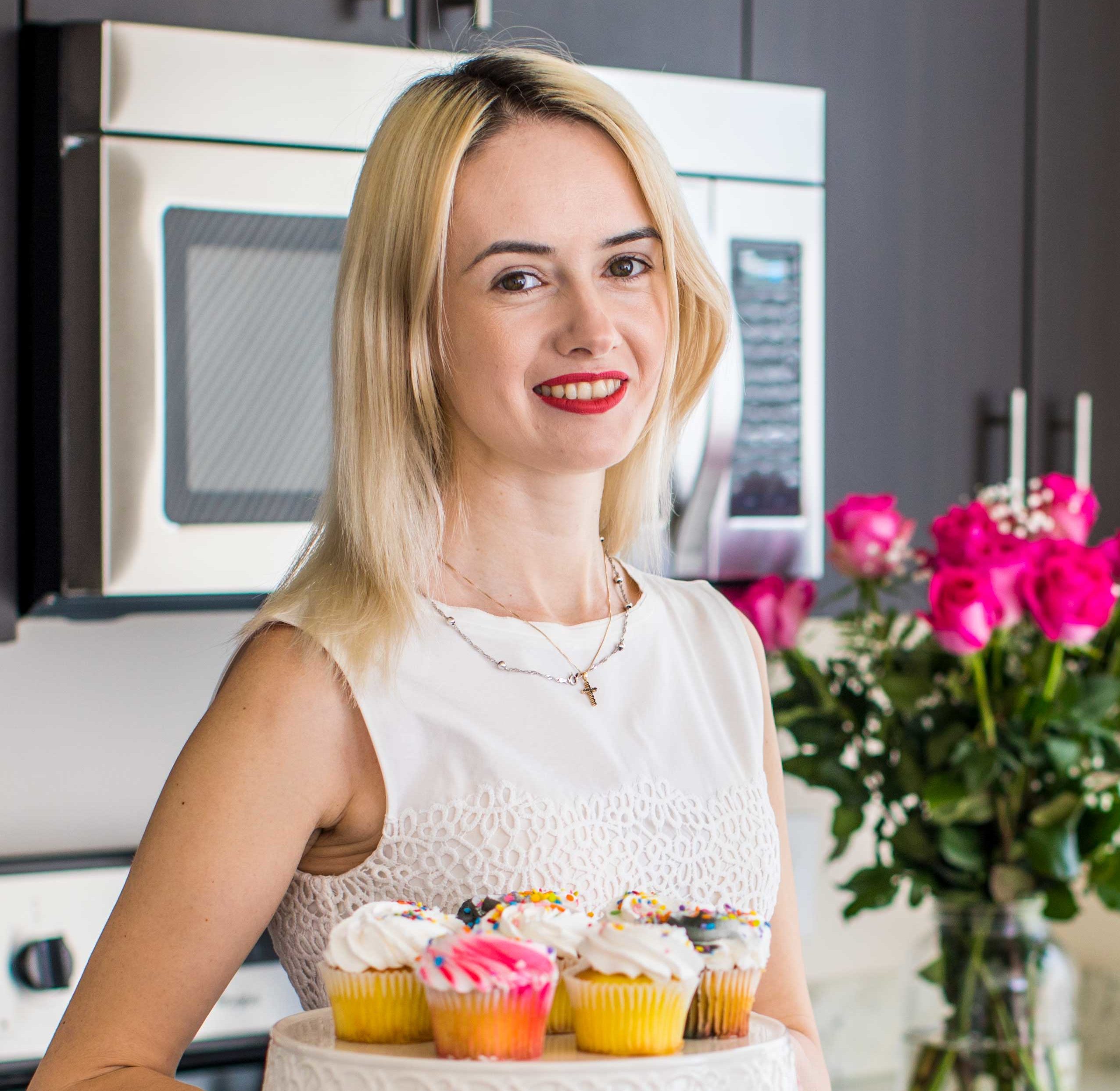 Follow us on Pinterest for more delicious recipes!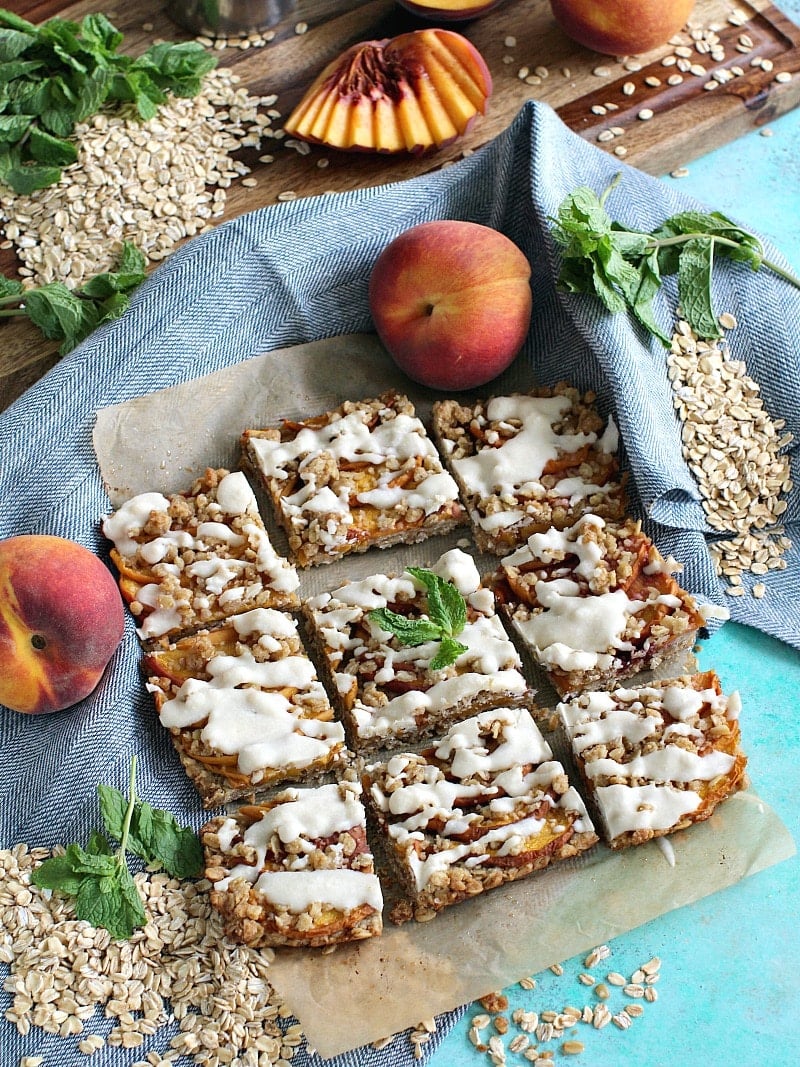 Gluten Free Peach Cobbler Bars
These Vegan & Gluten Free Peach Cobbler Bars are such a perfect, healthy lunch box treat. The bars are made with gluten-free flour and also with Bob's Red Mill Gluten Free Oats that we always have on hand.
I make oatmeal almost every morning. However, this time I wanted to change things a bit and actually use the oats in a delicious treat. Bob's Red Mill Oats are an incredibly versatile, whole grain, rich in dietary fiber and can help reduce cholesterol.
The Gluten Free Peach Cobbler Bars are made with just a few ingredients and they come together in less than one hour. You can serve them warm, peach cobbler style and top the whole thing with vegan ice cream.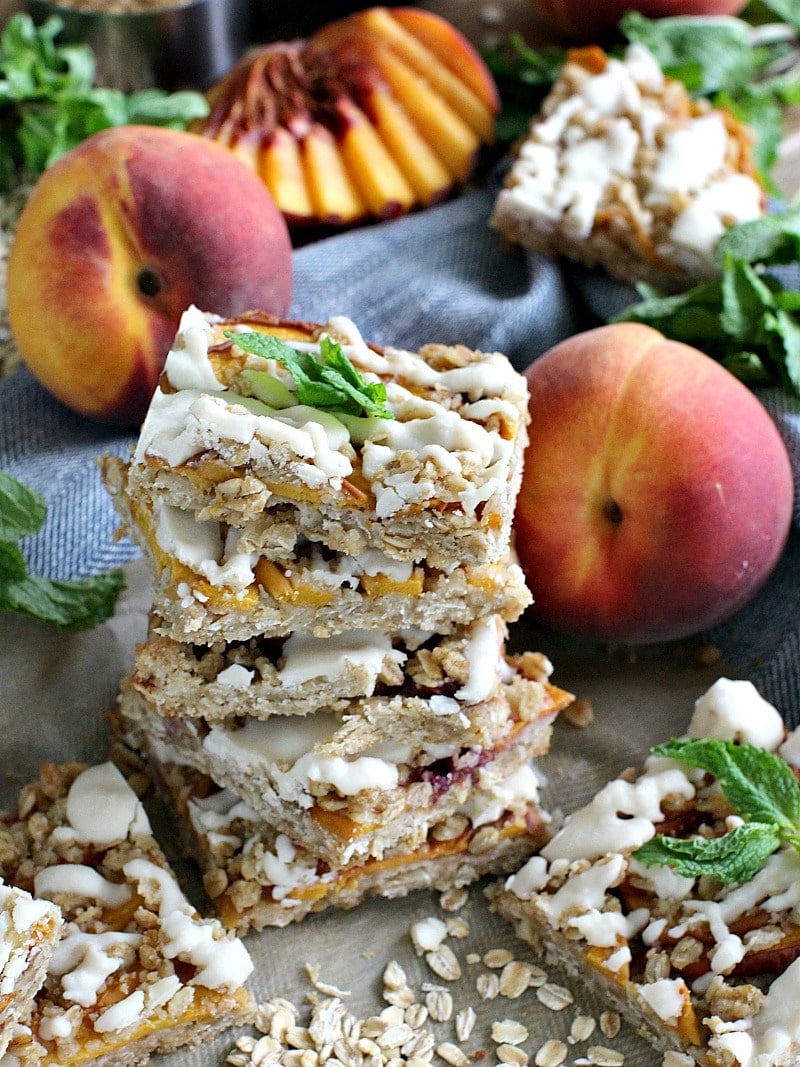 Also, you can drizzle the bars with melted vanilla coconut butter, refrigerate and cut into bars. The bars are a delicious part of lunch boxes, your kids can eat a yummy and nutritious treat this way.
These Vegan & Gluten Free Peach Cobbler Bars are perfect for breakfast as well. If you have some hectic morning routine, these are delicious straight from the fridge or if you prefer something warmer, you can pop a bar into the microwave for 20 seconds.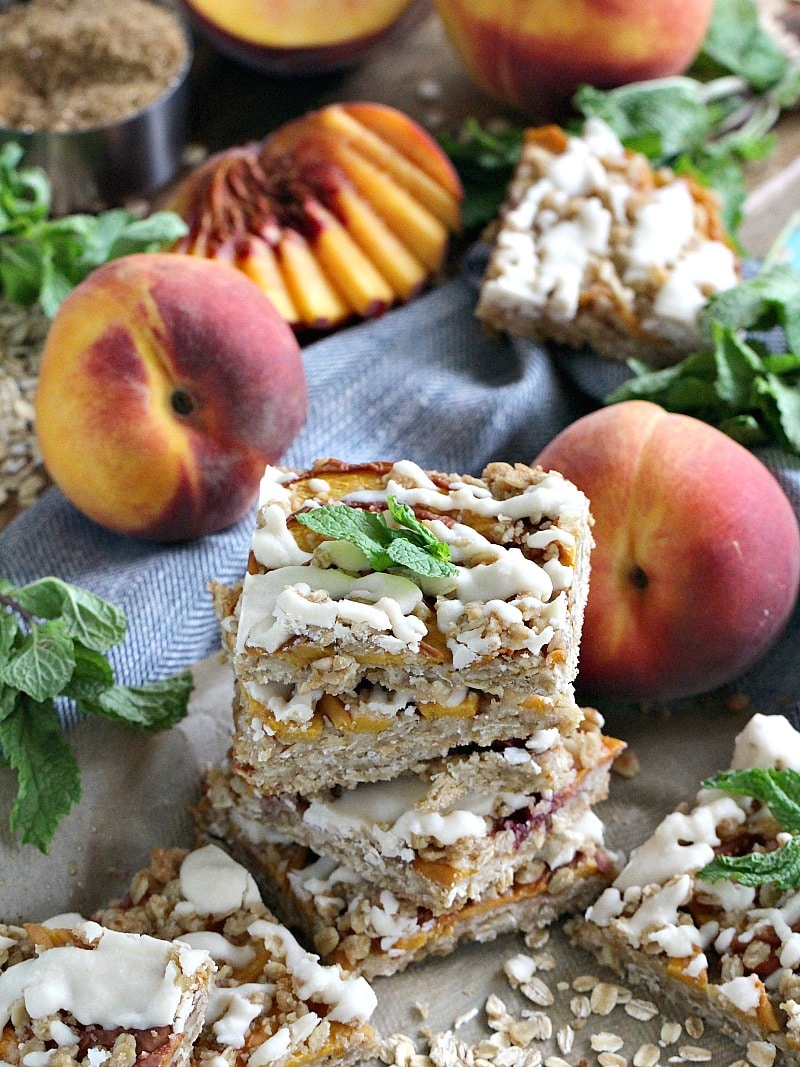 My little guy was very happy to find these Gluten Free Peach Cobbler Bars part of his lunch. I am sure he is looking forward to devouring one. I feel good when I know his treats are full of nutrients. The coconut butter drizzle is so fabulous, it adds a tropical twist to these bars and looks like melted white chocolate.
Save Recipe
Gluten Free Peach Cobbler Bars - Vegan
Author: Catalina Castravet
Serves: 9 servings
Prep time:

10

minutes
Cook time:

40

minutes
Total time:

50

mins
Ingredients
1 cup gluten free rolled oats
3/4 cup gluten free baking flour*
½ cup light brown sugar
¼ teaspoon kosher salt
8 tablespoons coconut oil (melted*)
2 peaches (pitted and thinly sliced)
3 tablespoons vanilla coconut butter (melted)
Optional: fresh mint (for garnish)
Instructions
Preheat oven to 375F and place a rack in the middle of the oven.
Line an 8-by-8-inch baking pan with parchment paper, so that the paper overhangs two sides like handles.
In a medium bowl, combine the oats, flour, brown sugar, and salt. Pour in the melted coconut oil and mix with a fork until clumps are formed and the dry ingredients are evenly moistened.
Set aside ½ cup of the crumble mixture. Transfer the rest of the mixture to the baking dish and then press it into an even layer.
Top it with sliced peaches. Sprinkle the reserved crumb mixture evenly over the top.
Bake for 35 to 40 minutes, until golden. Remove from oven: it can be served topped with ice cream immediately or drizzle with melted coconut butter and place the pan on a wire rack to cool completely, once cooled refrigerate for 2 hours.
Cut into bars and serve.
Notes:
* All purpose flour can be used instead of gluten free, if you are not looking for a gluten free version.
*Butter can be used instead of coconut oil, if you are not looking for a vegan version.
Calories: 166 Carbohydrates: 15 Protein: 0 Fat: 12 Saturated Fat: 10 Cholesterol: 0 Sodium: 68 Potassium: 79 Fiber: 0 Sugar: 14 Vitamin A: 110 Vitamin C: 2.2 Calcium: 12 Iron: 0.2
Save Recipe
More recipes you might love