Last updated on June 18th, 2021 at 10:28 pm
Duchess Potatoes look phenomenal and taste even better! These golden swirls are creamy, buttery, and savory. You won't believe how easy they are to make!
For more dishes that look fancy but take very little effort to make, try my Vanilla French Custard Bundt Cake, Instant Pot French Onion Soup, and French Crepes.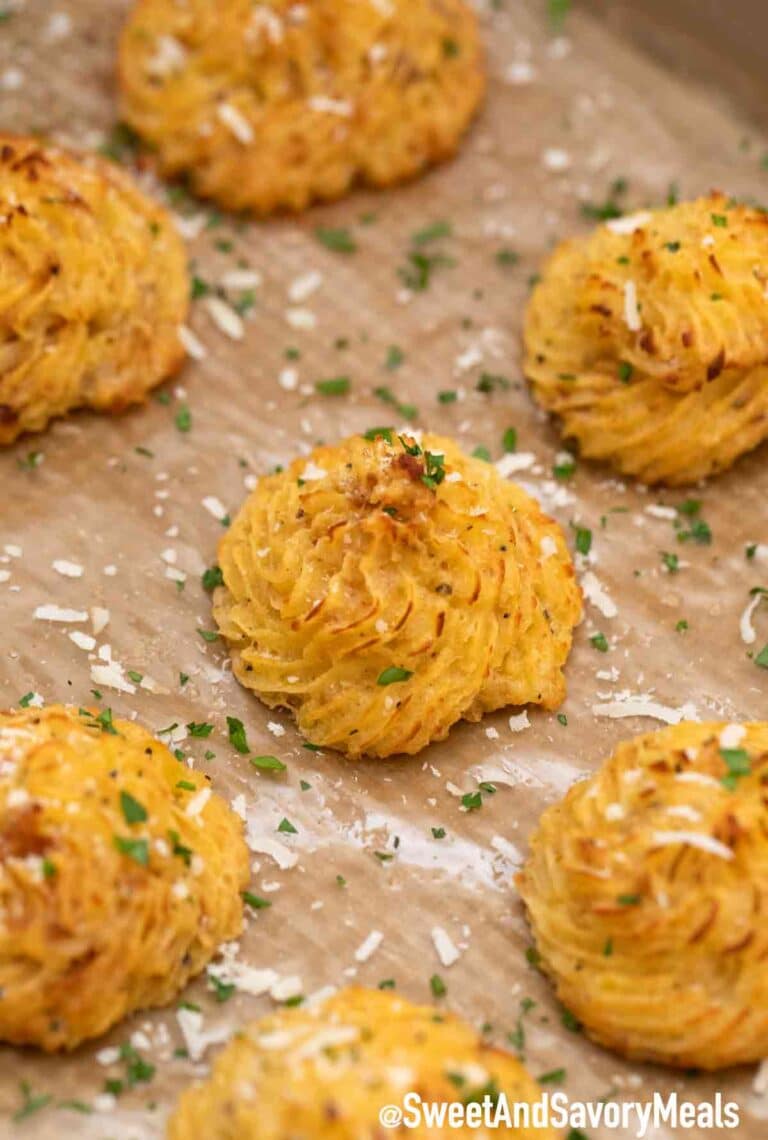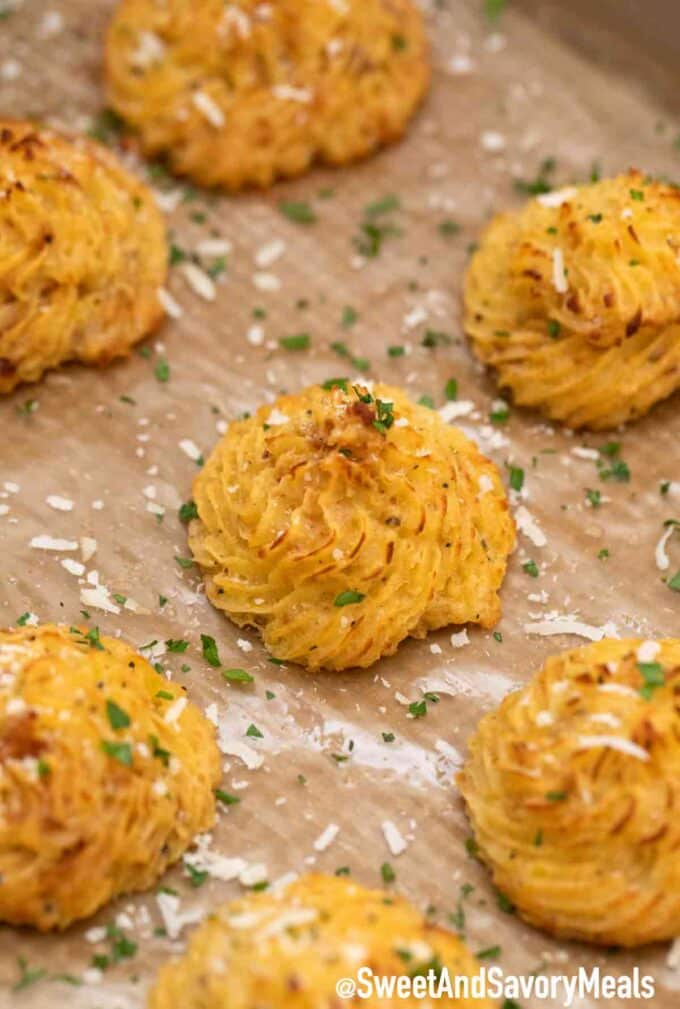 Creamy Duchess Potatoes
Duchess Potatoes have this old-fashioned elegance I love. This recipe transforms a humble dish – mashed spuds – into an impressive side dish or appetizer. They are creamy, crispy, melt-in-your-mouth fluffy, and beautiful all at once.
They are sure to elevate your dinner parties, brunch, or holiday table. But like the best recipes, they're a breeze to make. You don't have to be a chef to make this gorgeous dish. As long as you have the basic ingredients and a piping bag, you're all set to make some of the best side dishes you'll ever have.
It is basically a fancier way of serving mashed potatoes in decorative swirls, which are browned to perfection in the oven. You can serve them as a side dish with anything. Also, this recipe is a fabulous addition to serve during the holiday season.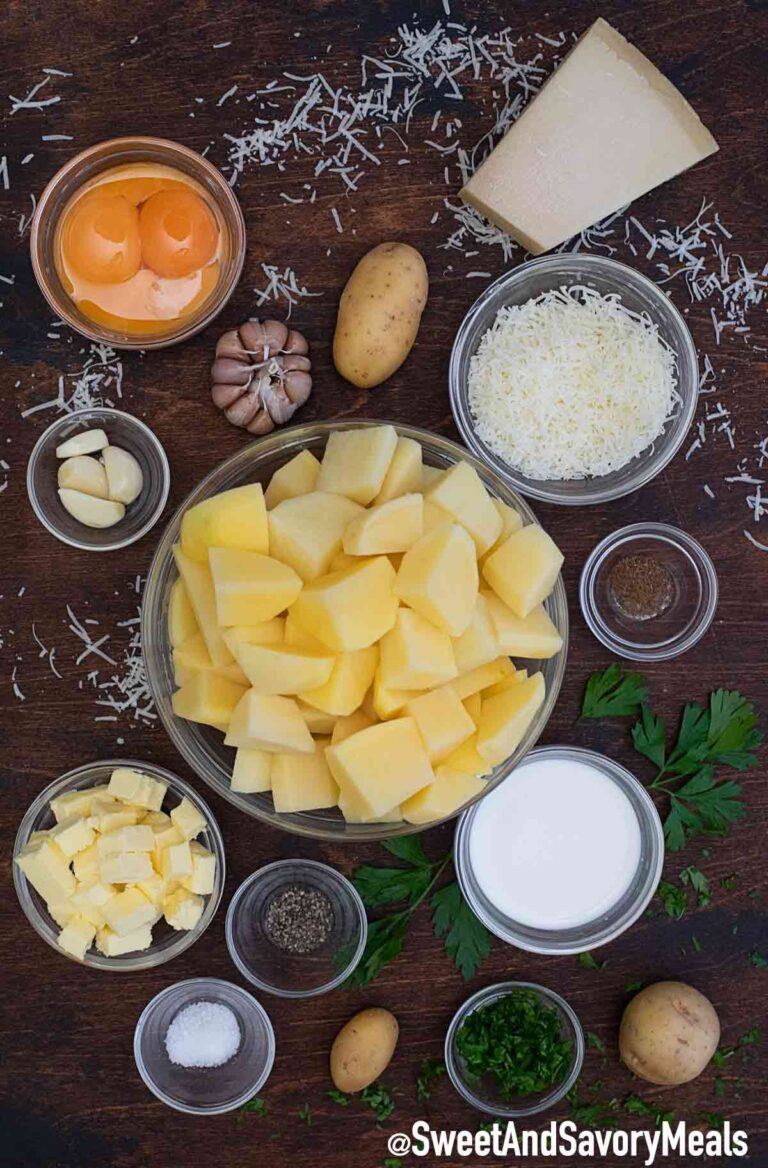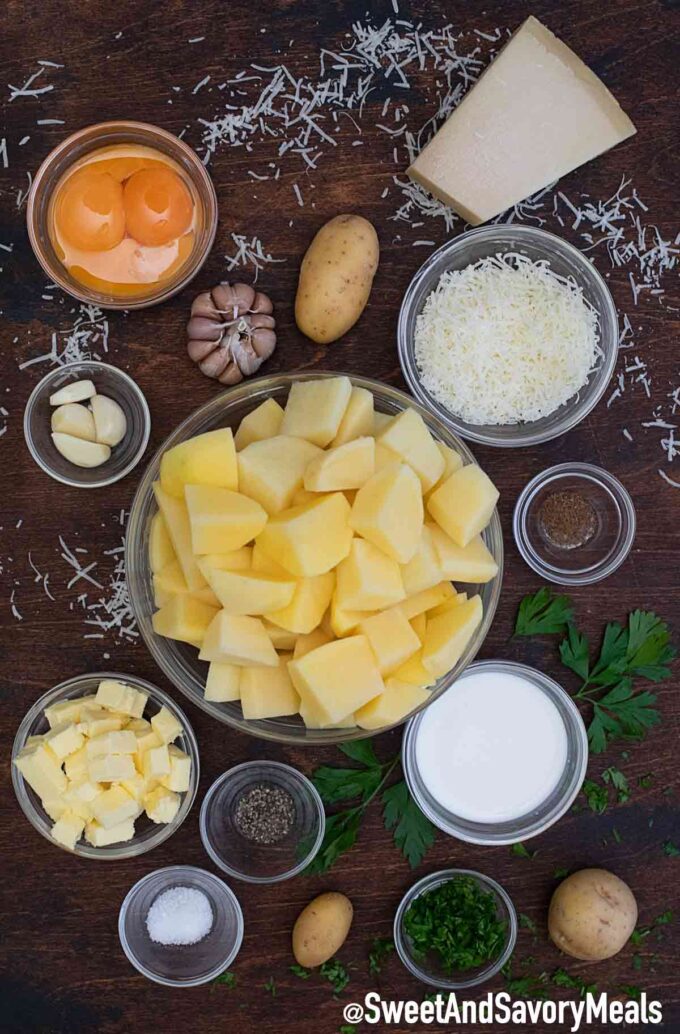 What are Duchess Potatoes?
It's a basic French preparation, but like most things in France, it looks super fancy. Don't be intimidated because it's basically mashed spuds, butter, cream, egg yolks, parmesan cheese, and seasonings.
The difference is that you pipe them out then bake the swirls to crisp up the outside. The flavor is similar to the twice-baked version but without the skin. Once baked, they hold their shape and can be served as finger food. This makes them a fantastic choice for a brunch buffet.
Duchess Potatoes Ingredients:
The ingredients as basic as they come. You'll need Yukon Golds, butter, and heavy cream. Egg yolks for structure. The garlic, nutmeg, and parmesan cheese add savory flavor. Season with pepper to taste. For garnish, sprinkle fresh parsley and serve with some extra parmesan.
How to make the best Duchess Potatoes?
Preheat your oven to 425F.
Then, mash your boiled spuds until completely smooth.
Sauté garlic in butter until golden.
Next, stir in the cream, then transfer to a bowl.
Mix the cream mixture with the mash, parmesan cheese, and seasonings.
Add the yolks once the mash mixture is cool.
Pipe into swirls.
Lastly, bake until golden brown.
Cool slightly, garnish and serve.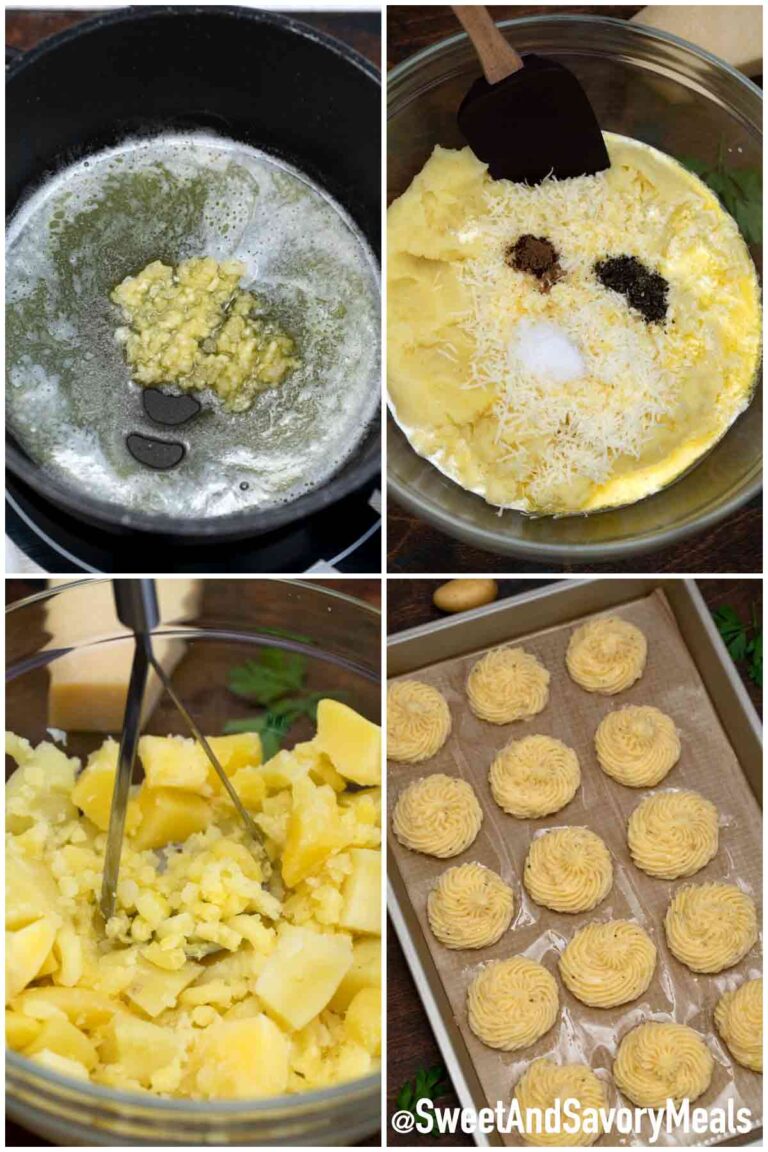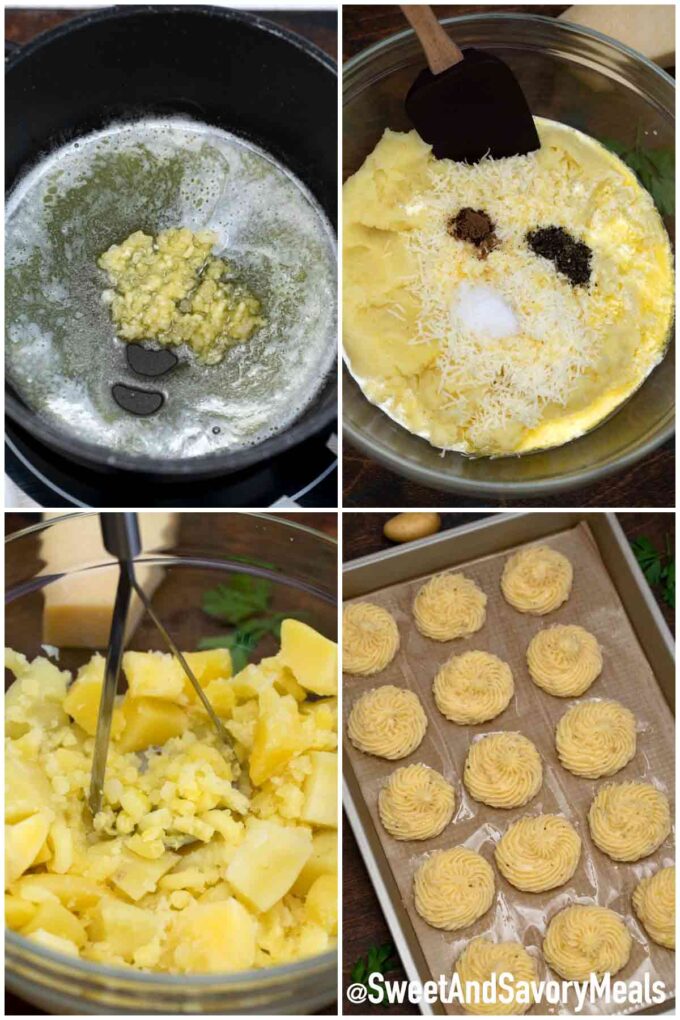 Best potatoes to use?
I prefer to use Yukon Golds because they can withstand both wet and dry heat. This makes them ideal for the boiling and baking required in this recipe.
However, you can use any variety you like such as Russets, but note that there may be a slight texture difference.
Do I have to pipe them out?
For the classic style, yes. But you can also turn it into a casserole. Instead of piping out the mixture, you put everything in your dish and make swirls using a spatula. You can also pipe them into ramekins or use a spatula again.
Whatever you do, don't forget the swirling part. They're key to those delicious crispy tops.
Can you make them ahead of time?
Yes, and you can do it in two ways:
Refrigerate: Pipe them onto a baking sheet and keep them in the fridge until you're ready to bake. Use this method if you're baking them the same day.
Freeze: Pipe them onto a sheet and freeze. Then, once frozen solid, transfer them to an airtight container. You can store them for up to two months.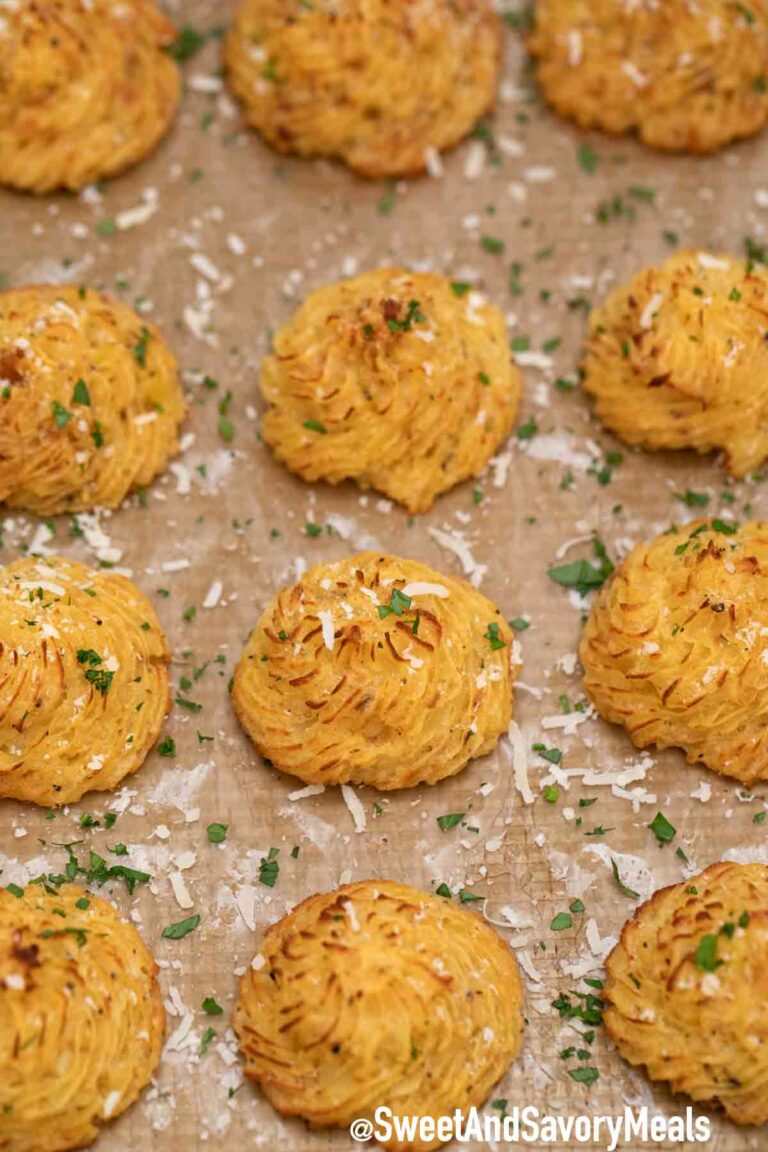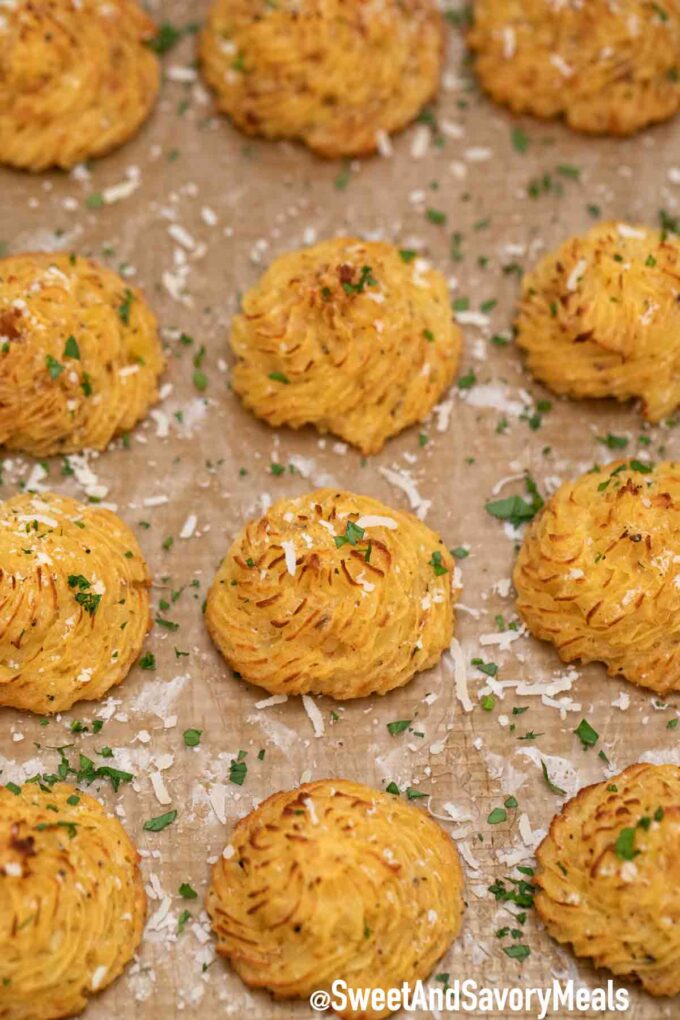 What to serve with Duchess Potatoes?
This dish goes well with anything you'd served mash with. If I'm having guests over, I like serving them with Garlic Herb Butter Roasted Chicken, Creamy Lemon Garlic Salmon, Bacon Wrapped Pork Loin, and Wine Roasted Beef.
More delicious potato recipes:
Storing instructions:
I strongly suggest consuming them the day they are prepared because you get the best texture that way. But you can totally your leftovers.
Just follow the tips for making ahead. Keep them in the fridge in an airtight container for a couple of days. Freeze in a baking sheet, then transfer to a container and store for two months.
While they won't have that freshly-baked crispiness, they will retain that amazing flavor. Also, thaw and reheat by baking for a few minutes prior to serving. Or turn them into potato pancakes or balls!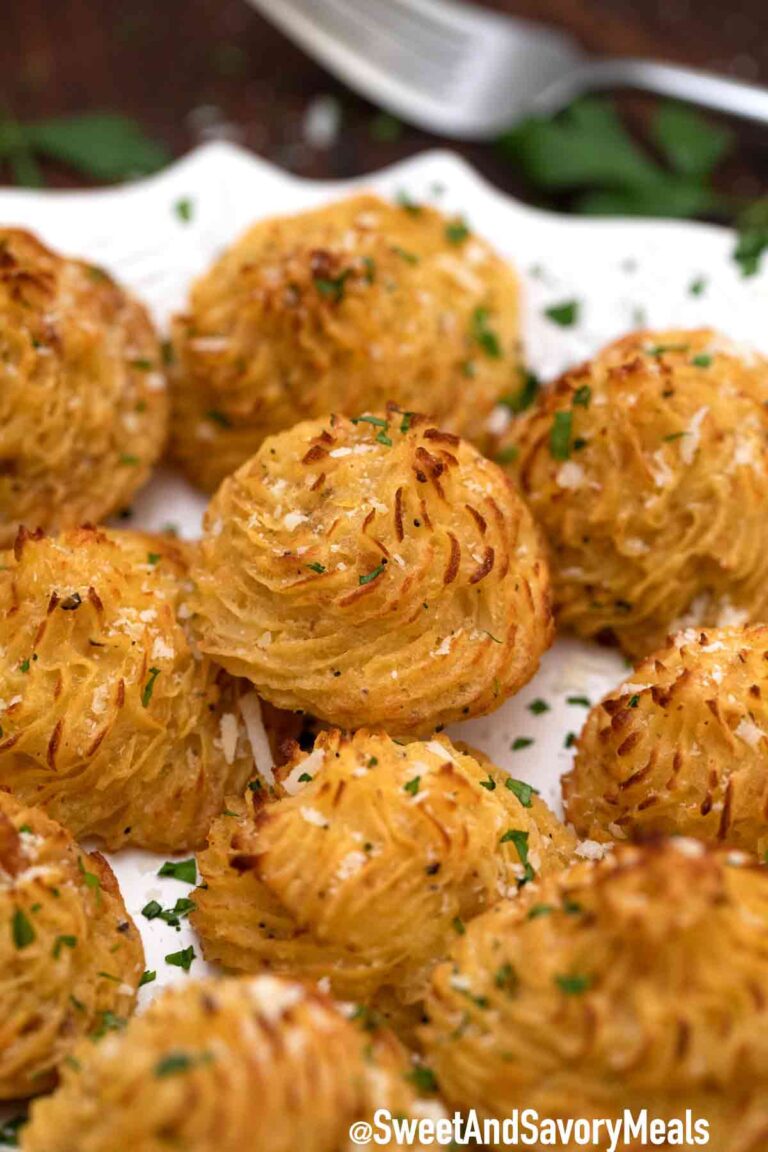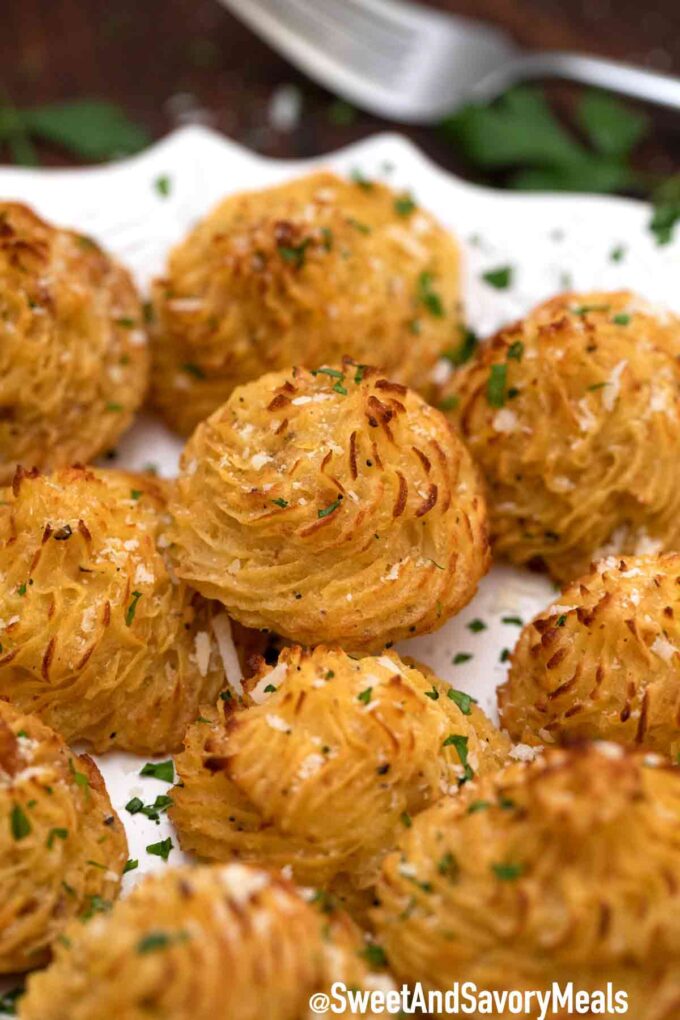 Recipe Tips:
Don't leave any skin on so you get that uniformly smooth texture.
Also, mash them well. Piping tips will get clogged with clumps. You can mash them manually, or use a mixture or potato masher.
All your ingredients should be room temperature so they incorporate easily.
Always let them cool before serving. This allows any extra moisture to evaporate, and they crisp up some more out of the oven.
Don't add your egg yolks while the mash is hot, or you'll end up with bits of scrambled egg in the mixture.
Use egg yolks ONLY. They add so much creaminess and gives a beautiful yellow color to the dish. Use the egg whites to make Paska Bread or Lemon Meringue Cupcakes. Great for a light omelet too!
Try freezing your piped mash before brushing them with egg wash so they hold their shape.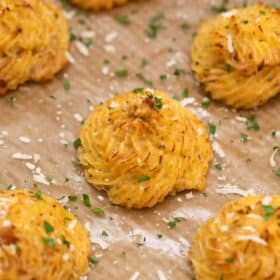 Duchess Potatoes Recipe
Duchess Potatoes look phenomenal and taste even better! These golden swirls are creamy, buttery, and savory. You won't believe how easy they are to make!
Save
Share
Print
Pin
Rate
Ingredients
2 1/2

lbs

Yukon gold potatoes

(peeled and diced)

Salt and freshly ground black pepper

6

tablespoons

unsalted butter

(divided)

4

cloves

garlic

(finely minced)

1/4

teaspoon

nutmeg

1/4

cup

heavy cream

1/2

cup

parmesan cheese

(finely shredded)

3

large egg yolks

1

teaspoon

fresh parsley

(minced - for garnish)

1

tablespoon

grated parmesan

(for serving)
Instructions
Preheat oven to 425 degrees F.

Line a baking sheet with parchment paper, grease it with 1 tablespoon butter or oil and set it aside.

Add potatoes to a large pot and cover with cold water, over medium heat. Season with some salt and bring it to a boil.

Reduce heat to medium-low, cover the pot with a lid and simmer until the potatoes are very tender about 15 - 20 minutes. Transfer to a colander and drain potatoes very well.

Add 3 tablespoons of butter to a small saucepan and melt it over medium heat, once melted add garlic and saute until lightly golden, about 1 - 2 minutes.

Remove saucepan from heat, and stir in the half and half then pour the mixture into a small bowl, this is to avoid burning the garlic, set aside.

Transfer the drained potatoes into a large mixing bowl. Mash them until there are no longer any lumps.

Stir in parmesan cheese and the butter garlic mixture. Add nutmeg and season them with salt and pepper.

Let the mixture cool a few minutes, and then quickly stir in the egg yolks one at a time using a wooden spoon.

If the mixture is very thick, add 1 tablespoon half and half.

Transfer mixture to a large piping bag fitted with a large star tip. Pipe the potatoes onto the prepared baking sheet, make 12-16 mounds spaced evenly apart, being about 2 1/2-inches wide by 2 1/2-inches tall.

Gently brush them with the remaining 2 tablespoons of melted butter.

Bake in the preheated oven until golden brown, about 17-20 minutes.

Serve immediately garnished with parsley and grated parmesan cheese.
Nutrition
Calories:
162
kcal
|
Carbohydrates:
17
g
|
Protein:
4
g
|
Fat:
9
g
|
Saturated Fat:
5
g
|
Cholesterol:
68
mg
|
Sodium:
133
mg
|
Potassium:
413
mg
|
Fiber:
2
g
|
Sugar:
1
g
|
Vitamin A:
281
IU
|
Vitamin C:
19
mg
|
Calcium:
79
mg
|
Iron:
1
mg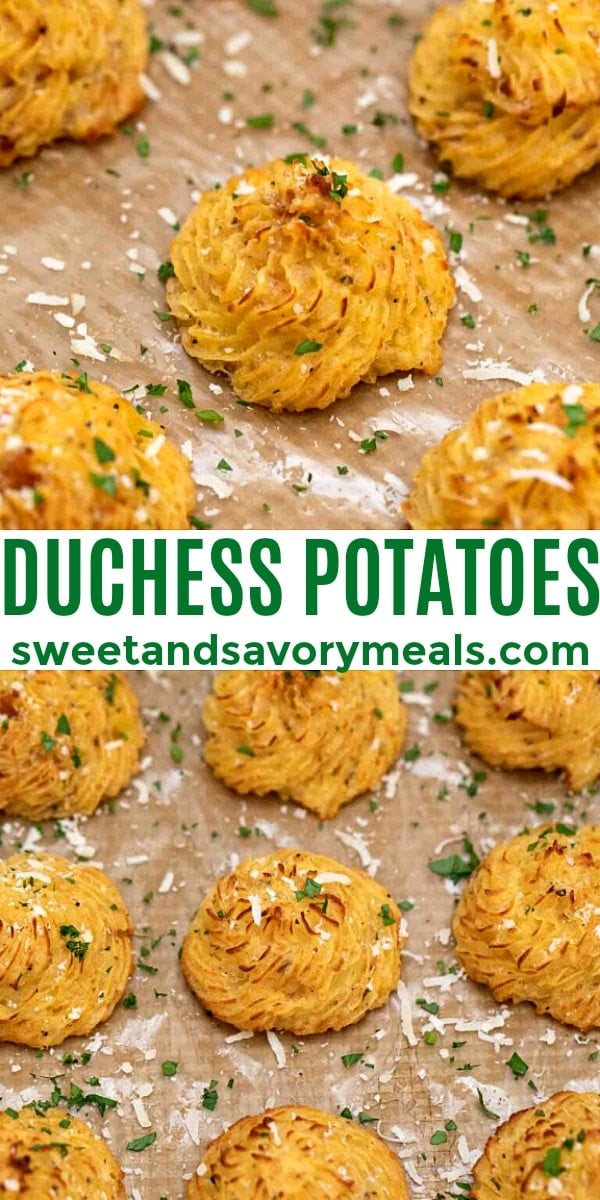 More recipes you might love