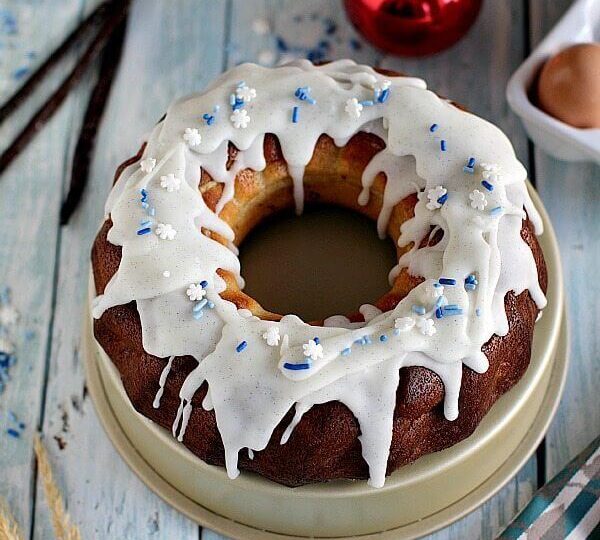 Vanilla French Custard Bundt Cake
Vanilla French Custard Bundt Cake is a smooth, silky and festive dessert with delicious vanilla notes and a perfect soft and tender custard texture.
We love making delicious holiday themed desserts. Our other popular once are Walnut Raspberry Linzer Cookies, Neon Chocolate Sugar Cookies and Peppermint Patty Cupcakes.
Vanilla French Custard Bundt Cake
Vanilla French Custard Bundt Cake is the perfect for the holidays, it looks festive and it tastes amazing. The texture is what I love about it. See, I always gush about how much I love creamy, soft desserts, and this cake is so smooth and silky! In France, the batter from this Vanilla French Custard Bundt Cake is usually baked in individual mini cakes, but I just wanted a festive bundt cake, that would capture the beauty of the holiday season. Garnished with a thick, vanilla bean glaze and winter themed sprinkles, this would make a show-stopper dessert!
The cake texture is very smooth, infused with vanilla bean flavor with a soft middle and a chewy top. The cake is very creamy thanks to all the heavy cream and egg yolks that are used in this recipe. Rich and scrumptious, this holiday themed bundt cake feels like a luxurious end to a holiday meal.
Pin This Vanilla French Custard Bundt Cake Recipe to your Favorite Board
First, do not replace the heavy cream with light cream or half and half. Tthis recipe is not where you want to cut on some calories.
Also, make sure you sift the flour, otherwise the cake may be not as smooth.
Make sure you use room temperature eggs, you will be whisking them with warm-hot cream. If the eggs are very cold, they will curd and cook.
When mixing in the cream mixture into the eggs, do it very slowly, as the egg mixture needs to warm up. Otherwise, you may end up "cooking" some of the eggs, and the batter will become unusable.
In addition, vanilla beans are very, very expensive. You can skip them in this recipe and use vanilla extract if you want. Please use 1-2 teaspoons of vanilla extract. Based on how much vanilla flavor you prefer in your desserts.
The bundt cake can also be made with almond extract and you can top it with a sugar glaze and silvered almonds.
Another option is to flavor the bundt cake with peppermint extract and top it with a sugar glaze and finely chopped peppermint candies.
Tools/Ingredients I used to make this Vanilla French Custard Bundt Cake Recipe:
Silicone Bundt Cake – I love using this one, makes cake removal a breeze!
Vanilla Beans – these are the ones more reasonably priced, if you decide to splurge and get some for the holidays.
Vanilla Extract – if you decide to use the extract instead.
Vanilla French Custard Bundt Cake
Ingredients
2

cups

heavy cream

4

tablespoons

butter

unsalted

¾

cup

all-purpose white flour

sifted

1¼

cups

white granulated sugar

2

whole large eggs + 2 egg yolks

room temperature

2

vanilla beans

seeds and pods separated

Pinch

of salt

2

tablespoons

butter

melted for the mold
Optional Glaze:
2⅓

cups

powdered sugar

¼

cups

whole milk

2

vanilla beans

seeds only

Sprinkles
Instructions
In a medium saucepan over medium heat, combine heavy cream, butter and vanilla pods. Cook until the mixture reaches a boiling point. Remove the mixture from heat, discard the vanilla bean pods and let it cool down a bit for about 7-10 minutes.

In the meantime, add the sifted flour, sugar and salt to a large bowl and whisk to combine.

Add the eggs and egg yolks to the flour mixture, whisk until well combined and the batter is smooth. This can be done using a hand mixer or stand mixer too.

Gradually start whisking the heavy cream mixture into the flour and egg mixture, whisking constantly and quick. First add a little bit while mixing, for the eggs to warm up, then keep adding the mixture gradually, while mixing vigorously.

Cover the batter with plastic wrap and put in the fridge for at least 1 hour (and up to 12 hours) before baking.

Brush a bundt cake silicone mold with melted butter, then place it in the fridge for 30 minutes for the butter to stick.

Preheat oven to 500F.

Place the silicon mold on a flat baking pan (cookie pan) before filling it with batter, so it's easier to move into the oven.

Pour the batter into the silicone bundt cake and bake for 10-15 minutes at 500F to get the brown caramelized crust.

Reduce oven temperature to 360F and bake for 40-45 minutes or until the cake is a deep golden brown color. Check on the cake at 30 minutes, to make sure it doesn't burn.

When done, remove cake from the oven and place on a cooling rack to cool down. Once the cake cooled down to room temperature remove it from the mold.

The cake will have a deep brown crust with a soft and silky inside.

The cake can be stored in the fridge for up to 4-5 days in an airtight container or wrapped in plastic wrap.
Optional Glaze:
In a small saucepan over medium-low heat, whisk together sugar, milk, and vanilla beans. Glaze should be heated through, but doesn't need to come to a boil. Remove glaze from heat and pour it over the cake, garnish with sprinkles immediately.