Neon Chocolate Sugar Cookies
This post may contain affiliate links. Please read my disclosure policy.
Fun and festive Neon Chocolate Sugar Cookies with a prominent chocolate flavor and beautiful neon colors make holiday baking so much fun.
It's beginning to look a lot like Christmas! Lights are everywhere! 🙂 Most likely tonight we will be getting our Christmas tree! I am so excited for this year's festivities, as Sebastian is 2.5 and he is so much more engaged and interested in everything. We already baked a few batches of cookies and these Neon Chocolate Sugar Cookies have been a huge success at his pre-school.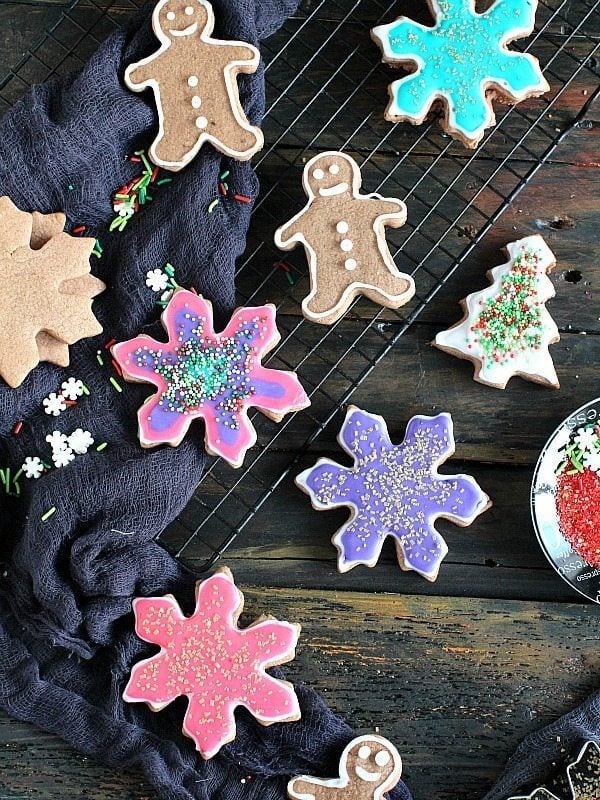 We made snowflakes, Christmas trees and ginger men, minus the ginger since they had a great chocolaty flavor! Adding a few tablespoons of cocoa made these cookies extra special and decadent with a prominent chocolate flavor. Neon Chocolate Sugar Cookies are so much fun to decorate. The colors pop up and put you in a great holiday mood.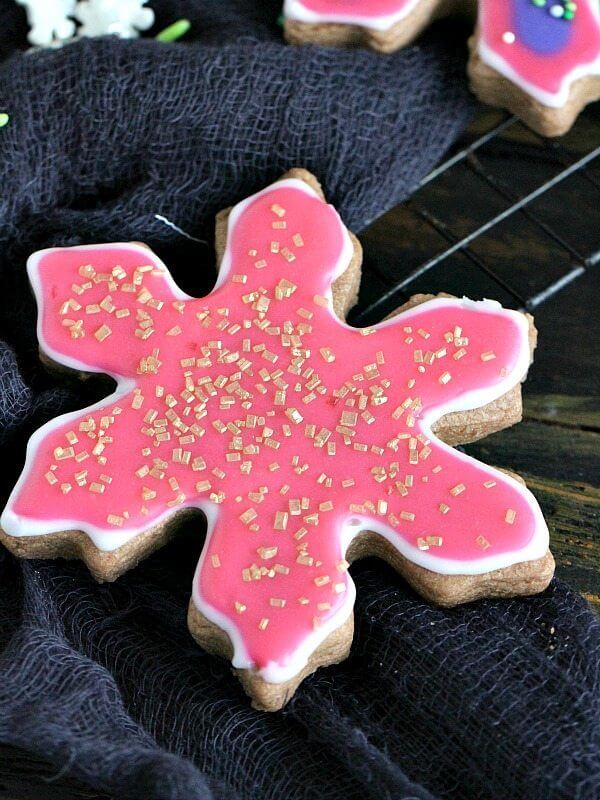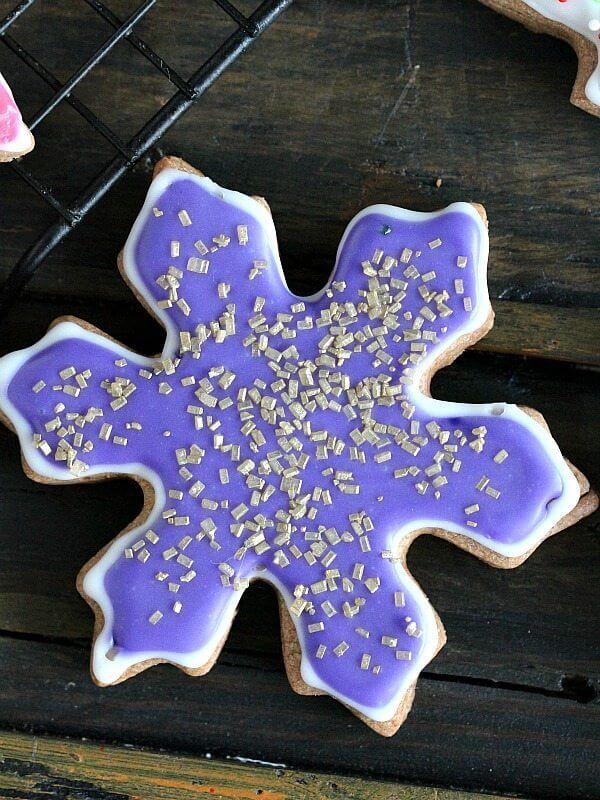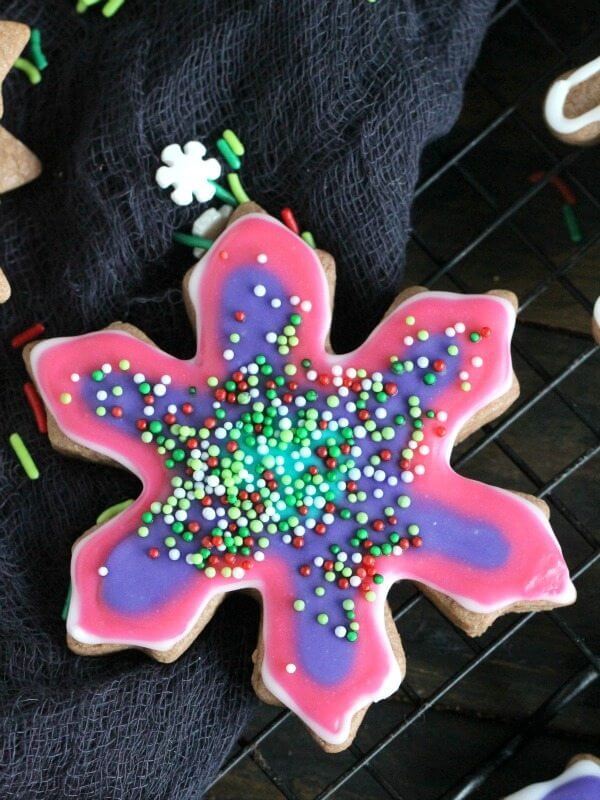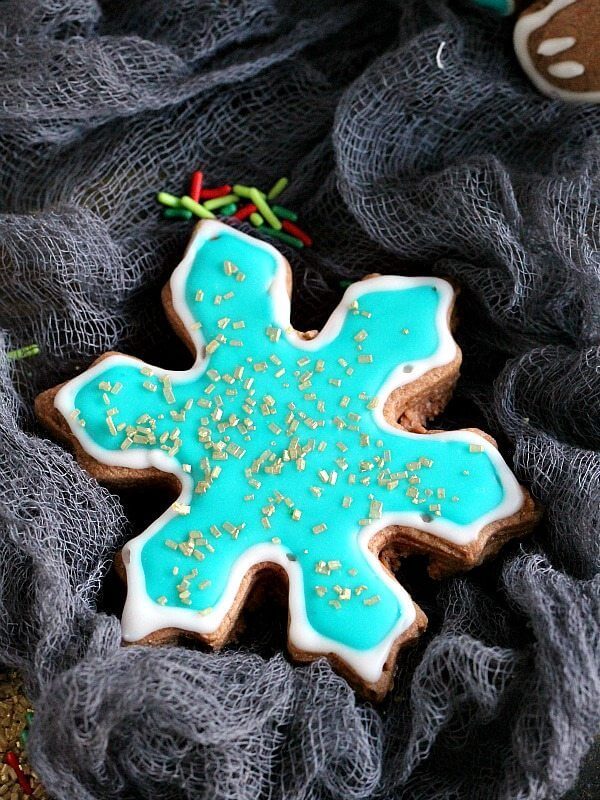 Decorating Neon Chocolate Sugar Cookies with Sebastian this year was so much fun, he even helped with the baking and cutting part. We also hosted a Sugar Cookie party with his friends and it was a blast, we loved it so much that we want to make it an annual event. There was icing and sprinkles everywhere, but thats the beauty of the holiday season! The kids and even the moms had so much fun, that I am already planning the next one.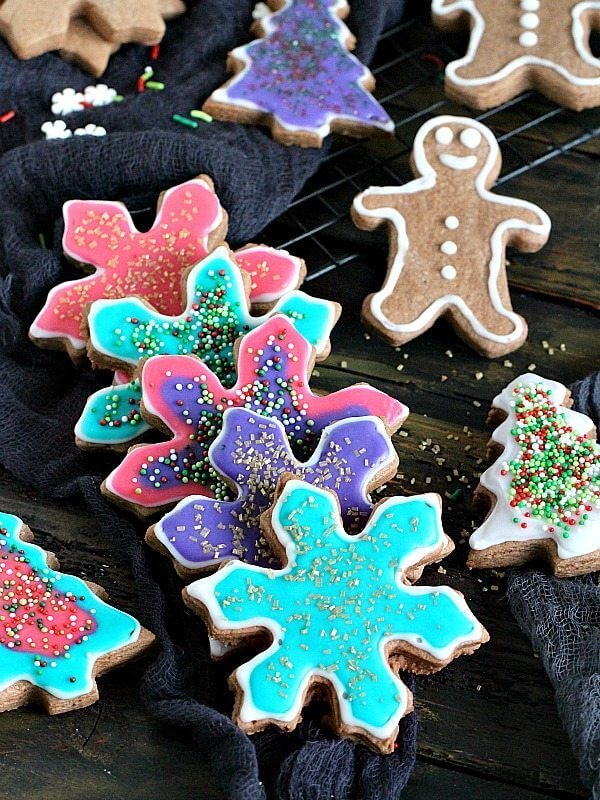 The Neon Chocolate Sugar Cookies went to his pre-school and in return we got a cute thank you card form the teachers, I guess they all loved them. The kids were definitely impressed by the bright and beautiful colors. Licking the icing was their favorite activity of the day.

MY LATEST VIDEOS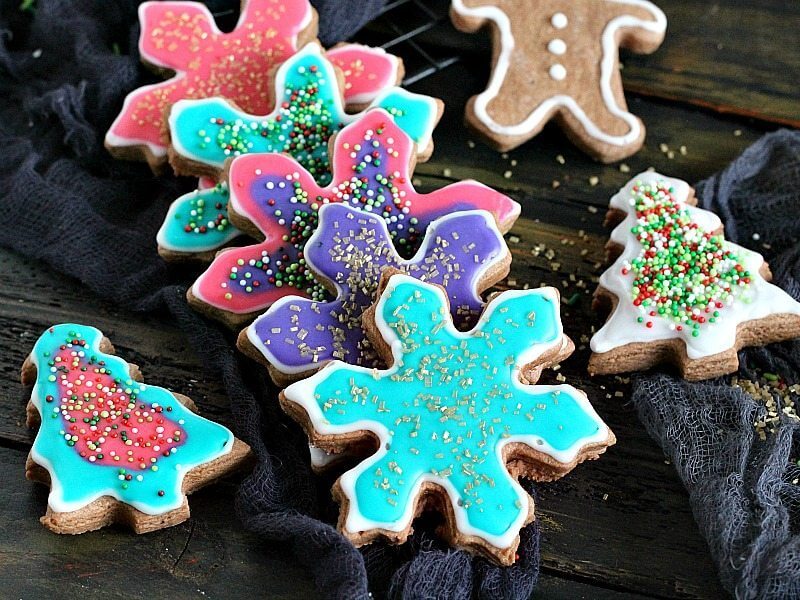 Neon Chocolate Sugar Cookies
Fun and festive Neon Chocolate Sugar Cookies with a prominent chocolate flavor and beautiful neon colors make holiday baking so much fun.
Author:
Katalina Kastravet
Ingredients
Cookies:
3 cups all-purpose flour
¾ teaspoon baking powder
3 tablespoons cocoa powder, unsweetened
1 cup unsalted butter, softened
1 cup sugar
1 egg
1 tablespoon heavy cream
1 vanilla bean, seeds only
pinch of sea salt
Powdered sugar, for rolling out dough
Icing:
11/2 cups powdered sugar
1 teaspoon light corn syrup
2.5 - 3 tablespoons room temperature water
5-6 drops gel food coloring of choice
Instructions
Cookies:
In a large bowl, whisk together flour, baking powder, cocoa powder and salt. Set aside.
Cream the butter and sugar in the bowl of an electric stand mixer until light in color. Add the egg, vanilla bean seeds and heavy cream and beat to combine.
Put mixer on low speed and gradually add the flour mixture, beat until mixture pulls away from the sides of the bowl. Make sure to scrape the sides of the bowl as needed using a rubber spatula. Divide the dough in half, wrap in plastic wrap, and refrigerate for 2 hours.
Preheat oven to 375 degrees F.
Sprinkle your working surface with a little powdered sugar. Remove one wrapped pack of dough from the refrigerator, sprinkle rolling pin with powdered sugar, and roll out dough to ¼-inch thick. Cut into desired shapes and place at least 1-inch apart on a baking sheet covered with parchment paper and bake for 7 to 9 minutes or until cookies are just beginning to turn brown around the edges. Rotate cookie sheet halfway through baking time.
Remove from oven and let cookies sit on the baking sheet for 2-3 minutes before transferring to a cooling rack.
The cookies must cool completely before icing.
Cookies can be stored in an airtight container for up to 1 week.
Icing:
In a medium bowl, whisk together powdered sugar, water, corn syrup and gel food color until combined and without any lumps. If the mixture is too thick (not pourable at all), add ½ tablespoon of water. If the mixture is too thin, add 1 more tablespoon of powdered sugar.
Test the icing, drizzle a little on parchment paper, if it holds it shape the icing is done, if it starts to melt on the sides right away, the consistency is too thin.
Using the same measurements create different bowls with different colors of icing.
Pour the icing into squeeze bottles and have fun decorating.
Leave cookies on the counter for 12-24 hours for the icing to settle completely. Once the icing is set the cookies can be packed, gifted and transported with ease.
Peas and Peonies, LLC. owns the copyright on all images and text and does not allow for its original recipes and pictures to be reproduced anywhere other than at this site unless authorization is given. If you enjoyed the recipe and would like to publish it on your own site, please re-write it in your own words, and link back to my site and recipe page. Copying and/or pasting full recipes to social media or personal blogs is strictly prohibited. Sharing this recipe is very much appreciated and encouraged. Read my disclosure and privacy policy. This post may contain affiliate links.