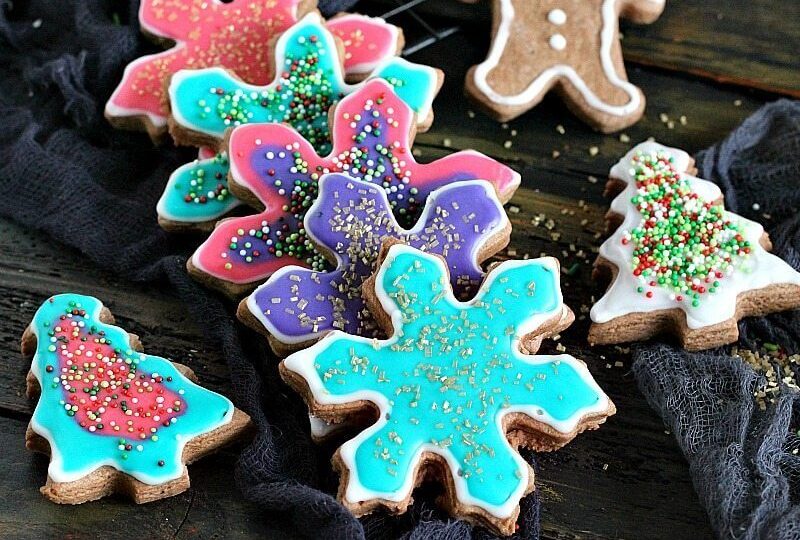 Neon Chocolate Sugar Cookies
Chocolate Sugar Cookies are fun and festive, made with a prominent chocolate flavor, and beautiful neon colors. They are soft, chewy, and perfect to enjoy during the holiday season!
Fall and Christmas themed desserts could be fun and easy to make. We have a variety of them on our blog, among our popular once are Pumpkin Cheesecake Bars, Pumpkin Poke Cake, and Sweet Potato Casserole.
The Best Soft Christmas Sugar Cookies
Chocolate Sugar Cookies are fun and perfect for the holidays. Not only they look festive and decorative, but they are also delicious. We made snowflakes, Christmas trees and ginger men, minus the ginger since they had a great chocolaty flavor!
Also, adding a few tablespoons of cocoa made these cookies extra special, and decadent with a prominent chocolate flavor. These Neon Chocolate Sugar Cookies are so much fun to decorate. In addition, the colors pop up and put you in a great holiday mood.
Decorating the cookies with my son this year was so much fun. He even helped with the baking and cutting part. We also hosted a Sugar Cookie party with his friends and it was a blast. We loved it so much that we want to make it an annual event.
There were icing and sprinkles everywhere, but that's the beauty of the holiday season! The kids and even the moms had so much fun. Therefore, I recommend you go ahead and try these, during the holiday season.
Why you will love these Chocolate Sugar Cookies?
First, they look pretty and are perfect for the holidays.
Also, can be a fun project to do with kids.
In addition, they are easily and quickly prepared.
Similarly, can be dipped with chocolate for alternative taste.
Can be made in a variety of shapes and form, to fit various events.
What ingredients are needed for Chocolate Sugar Cookies:
All-purpose flour
Baking powder
Cocoa powder
Butter and Egg
Sugar
Heavy cream
Vanilla bean
Pinch of sea salt
Powdered sugar
Light corn syrup
Gel food coloring of choice
How Thick Do I Roll Sugar Cookies?
These chocolate sugar cookies remain soft because they're rolled out pretty thick ane evenly. You want to roll the dough to about 1/4 inch thick or just under 1/4 inch thick.
Also, when you bake the cookies they will bake evenly. As a result, you will end with soft cookies.
Looking for more Christmas cookies?
How long will Chocolate Sugar Cookies stay fresh?
The cookies can be stored wrapped in plastic wrap at room temperature for about 5-7 days.
CAN YOU STORE AND Freeze Chocolate Sugar Cookies?
Absolutely! First, cool the cookies completely and fully wrap it in plastic wrap, tightly. After that, wrap in aluminum foil. Freeze for up to 2-3 months. Defrost before serving.
Recipe Tps:
We like using gel food coloring because you only need a few drops, and the color a nice and bright. You can use whichever brand and type you like. We usually go with this one.
Also, for the icing, we like using piping bags. It helps with the decoration process, and kids also enjoy utilizing it.
Don't over mix the dough after you add the flour, as it might get tough.