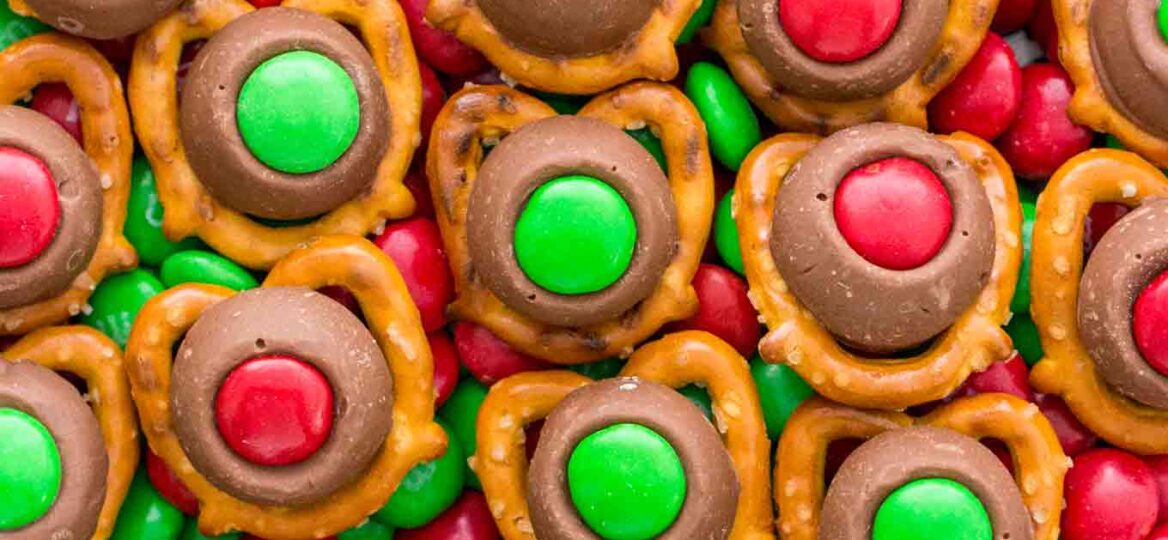 Reindeer Noses Treats – 3 Ingredients!
Reindeer Noses are the perfect no-fuss, easy to make Christmas treats! Only made with three ingredients, these are the perfect combo of sweet and salty.
Rudolph the reindeer treats are perfect during this time of the year, especially if you are looking for something simple and easy to make. Here on the blog we have a large collection of Christmas desserts.
We highly recommend you try our 2 Ingredients Only Oreo Bark, absolutely adorable Oreo Christmas Ornaments, easy Christmas Sugar Cookies, M&M Cookie Bars and Christmas Drunken Cherries.
Reindeer Noses
If you are looking for kid friendly Christmas desserts, that are super easy to make and don't require many ingredients or effort, these Reindeer Noses Treats are perfect for you. This fun and easy Christmas recipe is a hit with kids and adults.
These colorful Christmas treats are only made with three easy ingredients, and are a great combo of salty, crunchy, caramel goodness. You can also make these treats with mini peanut butter cups instead of Rolos for a peanut butter, chocolate dessert!
What ingredients do you need to make Reindeer Noses Treats:
How do you make Reindeer Noses Treats?
Preheat oven to 300 degrees F.
Cover a cookie sheet with parchment paper and arrange the pretzels in one layer onto the sheet.
Unwrap the Rolos and place one into the center of each pretzel.
Place cookie sheet in the oven for 2-3 minutes.
Take it out and immediately add an M&M on top of the Rolos, slightly press down.
Let the chocolate harden before serving.
Follow Sweet and Savory Meals on Pinterest for more great recipes!
WHAT ELSE CAN YOU DECORATE THE REINDEER NOSES WITH?
You can decorate with any of your favorite sweets, candies, chocolates, some great alternative would be:
Skittles
Marshmallows
Chocolate chips
Dragees
Rolos
Peanuts
Almonds
Chopped dried fruit
CAN I MAKE CHRISTMAS REINDEER NOSES IN ADVANCE?
Making them in advance is a great way to manage some time during the busy holiday season. The treats can be stored in the fridge in an airtight container for up to 5-7 days.
HOW TO FREEZE CHRISTMAS REINDEER NOSES?
First, cool the treats completely and add arrange in one layer in a freezer friendly airtight container.
After that, wrap well in aluminum foil.
Freeze for up to 2-3 months.
Defrost before serving. Best to put them in the refrigerator the night before serving.
Reindeer Noses Recipe Tips:
Salted pretzels add more flavor, and taste better, because of the sweet and salty combo going on.
If you are looking to reduce sodium, you can also use unsalted pretzels.
Rolos are great in this recipe, use mini peanut butter cups for a change or if you prefer peanut butter over caramel.
M&M's make very cute noses, but these treats can be made with nuts, like walnuts and pecans, as well.
Pin This Easy Reindeer Noses Treats Recipe to your Favorite Board
Deliciousness to your inbox
Enjoy weekly hand picked recipes and recommendations