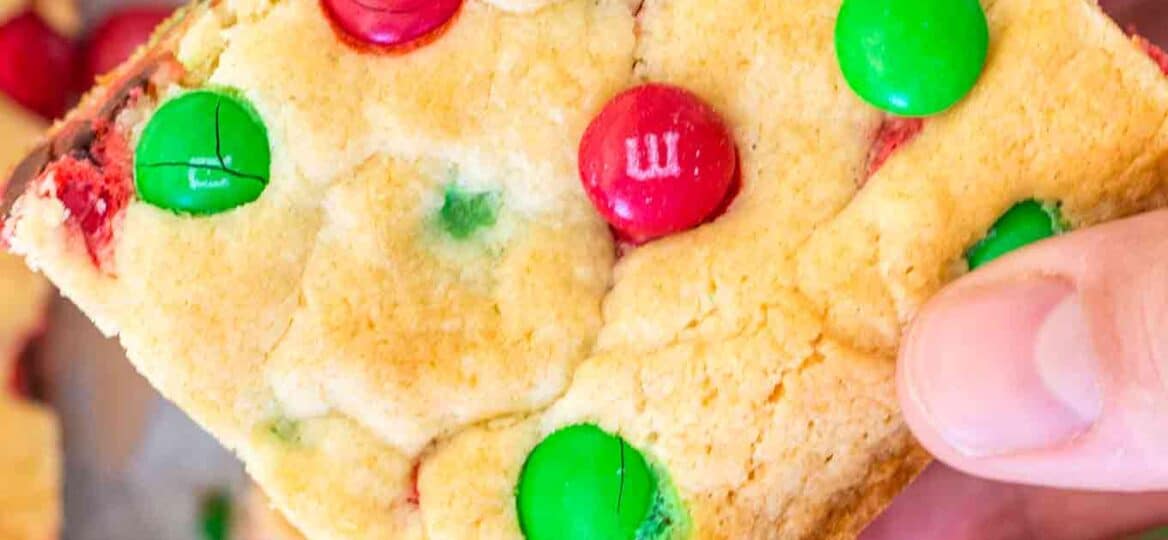 M&M Cookie Bars – 4 Ingredients Only! [Video]
M&M Cookie Bars are soft and chewy and are easily made with only four ingredients. If you love M&M's, this is the ultimate treat to make. We guarantee it will satisfy your sweet tooth many times over!
These cookies are festive, delicious and loaded with M&M's. We love baking them, and especially eating them. They are pure heaven! They are perfect for any occasion and could be a nice project to do with kids. M&M's lovers can also try our Flourless Peanut Butter Cookies and Easy M&M Twister Cookies.
Homemade M&M Cookie Bars
M&M Cookie Bars could easily be the best-kept secret in the dessert books. Since I love M&M's and cookies, it was natural to try and mix these two up. Not surprisingly, they are a perfect match. In addition, the cookies are incredibly easy to make, and are soft, buttery, and loaded with M&M's. Similarly, they require only four ingredients and are ready in about 30 minutes.
These cookies can also be perfect to have with kids. They will love topping and mixing the cookies with M&M's and arranging them in various orders. The cookies have an amazing texture, with a chewy, dense and buttery flavor. Ready in about 30 minutes from start to finish, they should definitely be on your must-try list!
What are M&M Cookie Bars made of?
They require only four easy ingredients:
1 box vanilla cake mix
2 large eggs
1/2 cup butter
2 cups M&M's
How to make the perfect M&M Cookie Bars?
In a large bowl, stir the first 3 ingredients together until well combined. Stir in M&M's.
Preheat the oven to 350 degrees F. Spray a 9×9-inch pan with nonstick spray.
Then, spread and pat the cookie dough in the pan.
Bake for about 20-25 minutes or until golden brown.
Lastly, let them cool before cutting.
Can the dough be made in advance?
Yes, making the dough in advance is definitely an option. Once you made the dough, wrap it up in plastic, and store in the fridge for up to 2-3 days. When the time for cooking comes, let the dough rest at room temperature for a bit to soften.
How long will the M&M Cookie Bars stay fresh?
This delicious homemade dessert can be stored at room temperature for about 4-5 days.
Can you freeze the M&M Cookie Bars?
Yes. First, cool the bars completely and fully wrap it in plastic wrap, tightly. After that, wrap in aluminum foil. Freeze for up to 2-3 months. Defrost before serving.
M&M Cookie Bars Recipe Tips:
Let the cookies cool in the baking pan after you remove them from the oven. Because they are very soft, it's best to let them rest a bit, so they will harden once they cool.
You can add chocolate chips to the mix, or Reese's if you desire.
Use a chocolate cake mix for chocolate cookies.
You can also use a strawberry cake mix for strawberry cookie bars.
Watch M&M's Cookie Bars Recipe Video: