Eggless Walnut Raspberry Linzer Cookies
Buttery and sweet, homemade Eggless Walnut Raspberry Linzer Cookies have a slight nutty flavor and a delicious raspberry preserves middle.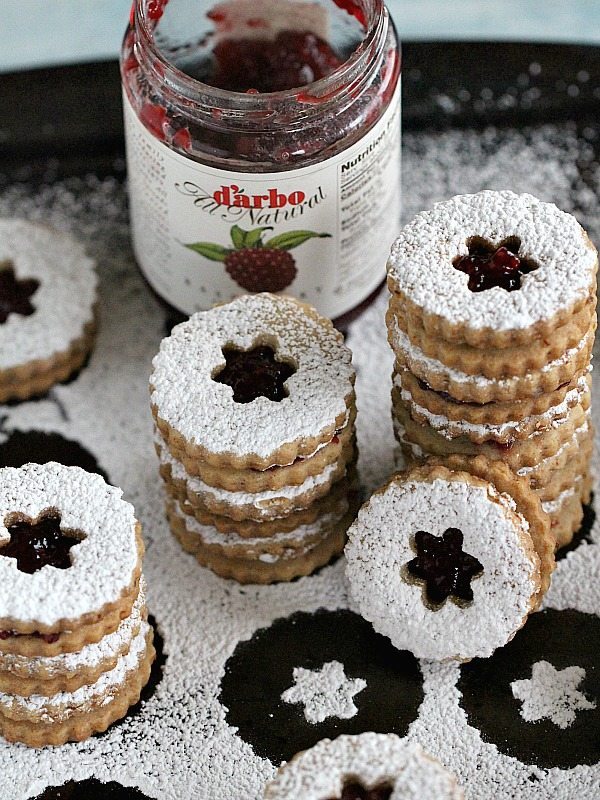 So its the middle of February and I am sharing with you a cookie recipe…but let's face it, it's not like we only eat cookies in December! Hubby asked me to bake him some cookies so he can enjoy a few with his morning cup of tea, so I quickly settled for cute Walnut Raspberry Linzer Cookies since the guy is a huge fan of raspberry jam.

You see, I am actually that person who goes on a cookie diet, yes, you read that right! I usually bake a few cakes per week, some of them are more on the indulgent side, covered in buttercream and all that good stuff, others are made with avocado and olive oil so I can tell myself that the cake is healthy! So cookies, cookies definitely feel like something light in our house.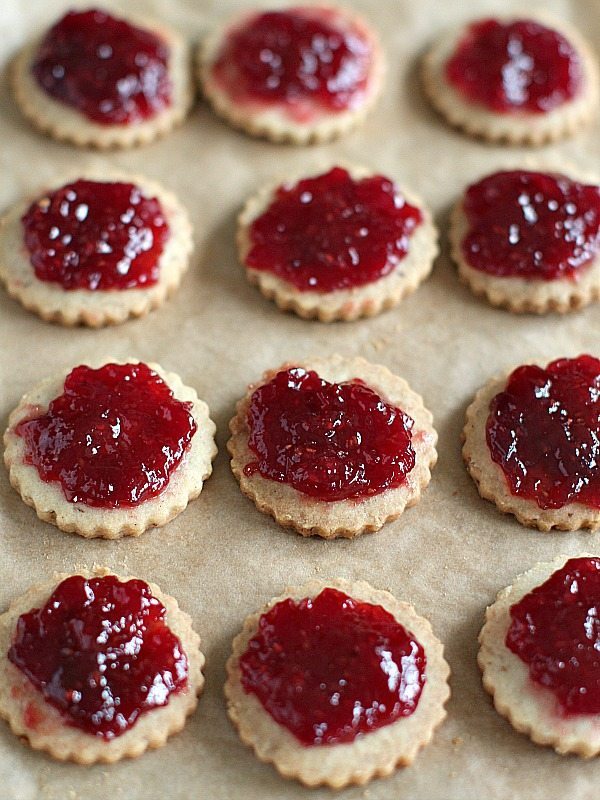 I am also a firm believer that cookies are not for Christmas only, having a few on hand for an afternoon coffee or tea feels like such a treat, and homemade cookies always taste so much better. After I baked these Walnut Raspberry Linzer Cookies I said to myself that I should bake a new cookie every week, this way we can have something buttery and good on hand all the time.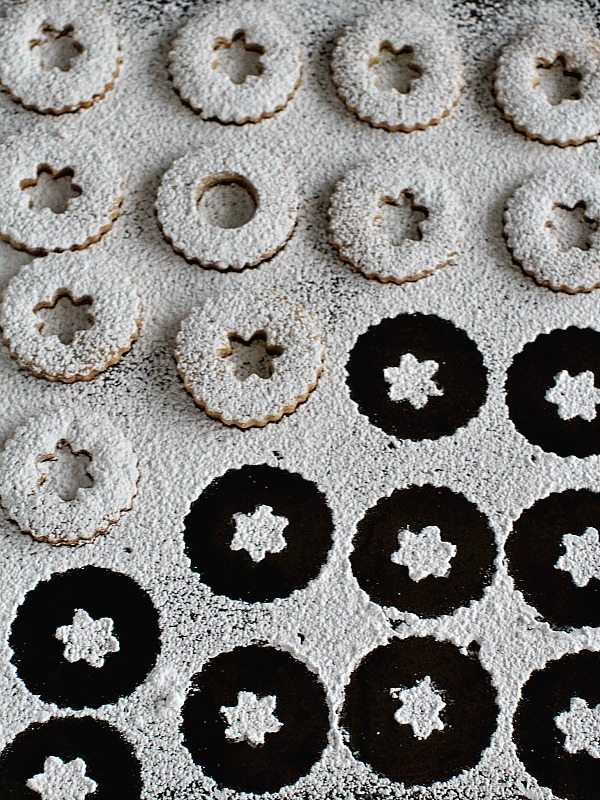 I especially love buttery cookies that just melt in your mouth. I am a huge fan of shortbread cookies and these Walnut Raspberry Linzer Cookies are basically shortbread cookies sandwiched together, with roasted walnuts thru the batter and with a delicious and sweet raspberry preserves middle.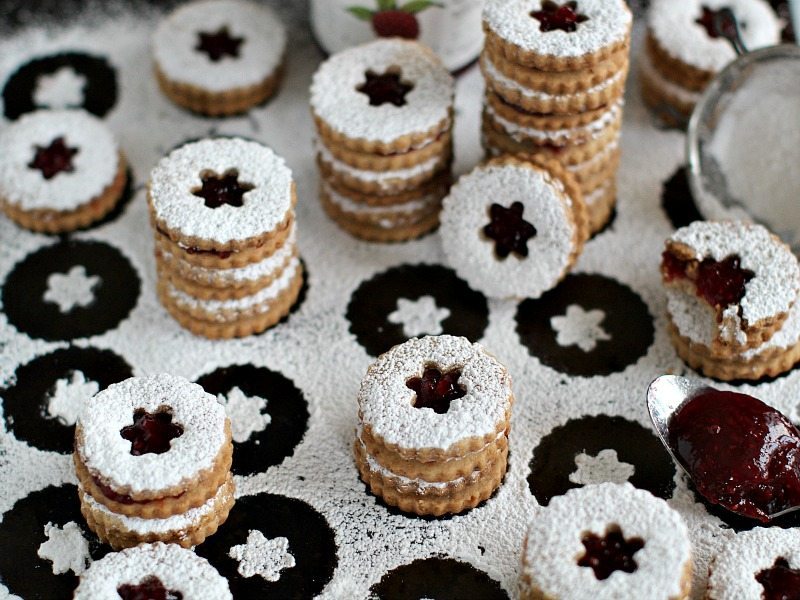 These cookies are also eggless!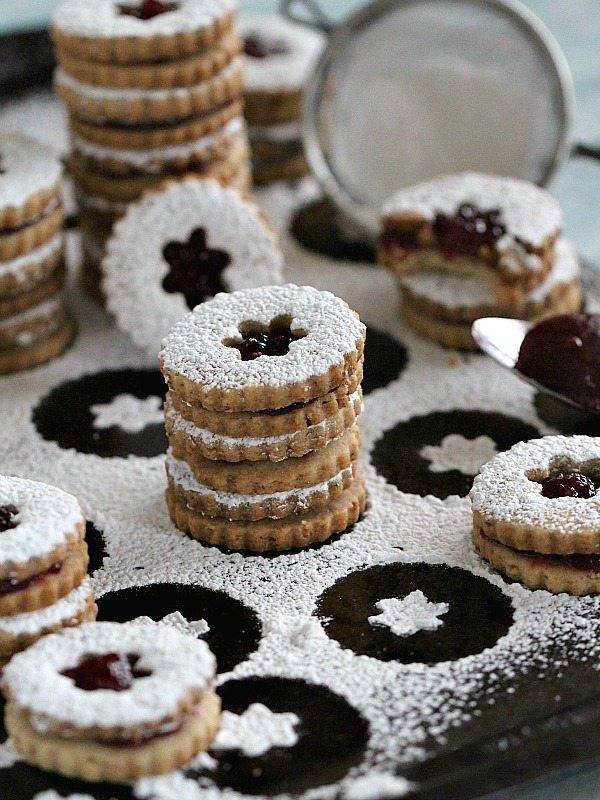 I can't even tell how much we loved these Walnut Raspberry Linzer Cookies that are not overly sweet, the raspberry preserves and confectioner's sugar add the right amount of sweetness. The toasted ground walnuts add such a nice nutty flavor and aroma. Each bite is filled with buttery crumbs and sweet raspberry preserves. You know what I love most about these homemade Walnut Raspberry Linzer Cookies ? Well, the fact that you can control how much raspberry preserves you can add, as the store bought ones never have enough!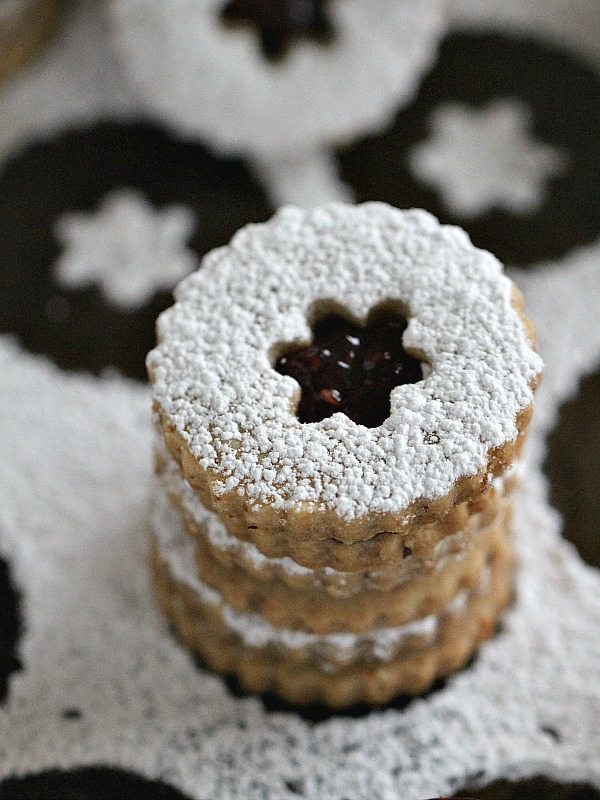 I definitely had a lot of fun making these Walnut Raspberry Linzer Cookies as my little guy helped me in the kitchen 🙂 He loves so much to test taste and waits patiently for the cookies to cool down, what a cook!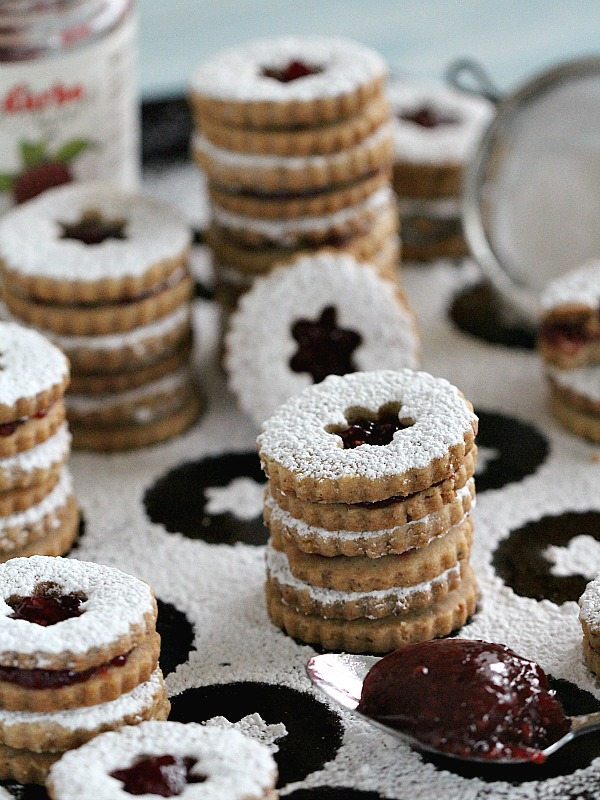 These Walnut Raspberry Linzer Cookies involve a few steps and you need to refrigerate the dough, its nothing hard, but you have to make sure you have the time to play in the kitchen with them. The dough is a little crumbly, so you can get those divine buttery crumbs, so don't skip the refrigeration part, and just be patient and gentle, you are about to be rewarded with some amazing cookies.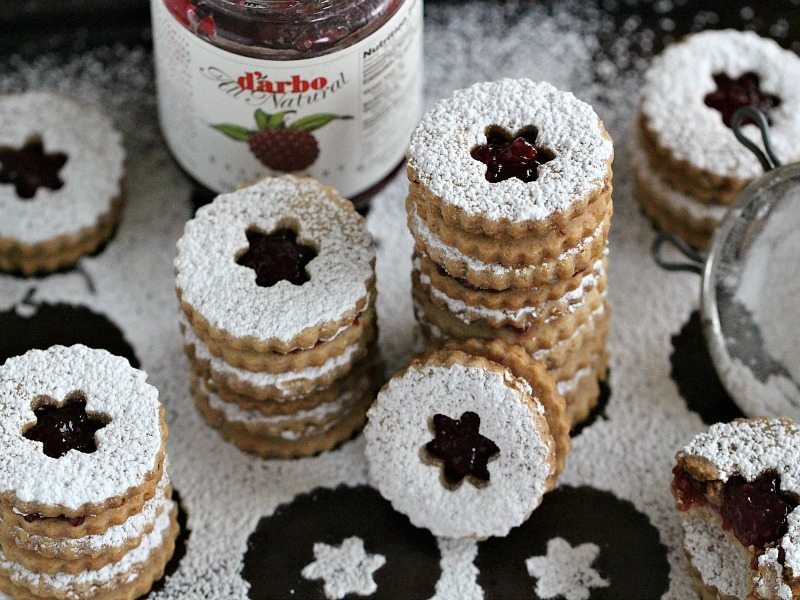 And look they have a flower center, so perfect for spring!
Eggless Walnut Raspberry Linzer Cookies
Buttery and sweet, homemade Eggless Walnut Raspberry Linzer Cookies have a slight nutty flavor and a delicious raspberry preserves middle.
Author:
Katalina Kastravet
Ingredients
2 sticks unsalted butter, room temperature
½ cup granulated sugar
2 cups all-purpose flour, plus additional flour for rolling the cookies
½ cup chopped walnuts, toasted and ground
½ teaspoon ground cinnamon
¼ teaspoon salt
1 cup raspberry preserves
Powdered sugar
Instructions
Preheat oven to 350 F.
Lay walnuts on a cookie pan covered with parchment pepper and bake for 5-6 minutes. Remove from oven and ground in a food processor. Set aside to cool.
In the bowl of an electric mixer, fitted with the wire whisk, whip the butter until smooth. Add the sugar and mix until the mixture becomes light and fluffy, for about 5 to 8 minutes. Make sure you pause once to scrape the sides of the bowl using a rubber spatula.
In a medium bowl mix flour, ground walnuts, salt and cinnamon.
Manually, using a rubber spatula, add flour mixture to the butter mixture and mix slowly until all combined.
Lay 2 large pieces of wax paper in a single layer on a flat surface. Sprinkle each one with a light coating of flour. Place ½ of the batter on each of the pieces of wax paper. Coat with another light layer of flour and roll until ⅛ inch in thickness. Top with another piece of wax paper of the same length and slice the dough on a cutting board. Repeat with the remaining dough and transfer the cookie dough discs to the refrigerator for 2 hours.
Preheat oven to 350 degrees F.
After 2 hours, remove 1 dough sheet/disk from the refrigerator and gently, avoiding to create any creases or cracks, using a liner cookie cutter, cut as many round shapes as the dough sheet fits. Using a mini flower cookie cutter, cut out flower shapes (or any desired shape) of the center of half of all the cookies. Save the scraps.
Arrange the cookies neatly in a single layer on a baking sheet covered with parchment paper and bake for 12 minutes, until they are lightly golden brown. Please start checking after 7 minutes of baking as every oven is different.
Remove the trays from the oven and allow cookies to cool slightly on the tray for a few minutes before gently transferring them to a flat surface or cooling wire rack.
Roll any remaining scraps and repeat the process, if the dough becomes too soft, roll into a disk on wax paper and refrigerate for 15-20 minutes before cutting the cookies.
Repeat with the remaining cookie sheet/disk from the fridge.
Assembling: Lay all the flower center tops on a separate cookie sheet and dust with powdered sugar. This is done to avoid powdered sugar on the raspberry preserves center.
Spoon ½ or 1 teaspoon of raspberry preserves on each bottom and place a top flower center on squarely on each.
Serve and enjoy!
Notes
Preparation time does not include 2 hours of refrigeration.