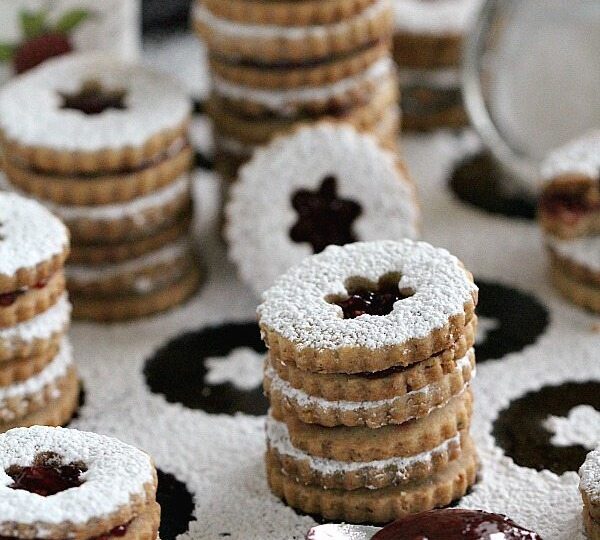 Raspberry Linzer Cookies – Eggless
Raspberry Linzer Cookies are tender, buttery and sweet. They melt in your mouth and have a light nutty flavor and a delicious raspberry preserves middle.
These cookies are perfect for the upcoming holiday season. Like our other popular desserts Neon Colored Chocolate Sugar Cookies, Chocolate Truffle Cookies and White Chocolate Raspberry Lemon Cookies, the Raspberry Linzer Cookies will be a nice addition to the holiday table.
Raspberry Linzer Cookies
Walnut Raspberry Linzer Cookies are tender and buttery. They almost scream "holiday" and make you blast some Christmas music and moves. Seriously guys, these classic cookies are the bomb. While they may take a little longer to make and only seconds to eat, everyone will love them. The Walnut Raspberry Linzer Cookies are buttery and tender, the shortbread dough is made with walnut meal for extra flavor. May your Christmas be nutty and filled with raspberry preserves, see what I did here!
Raspberry Linzer Cookies Recipe Tips
Firstly, the cookies can be made with either walnut or pecans.
Also, when you process the walnuts, make sure the final results resembles walnut meal / fine crumbs.
The dough itself, is very tender and you should work with it only after chilling it. Because the more you keep it at room temperature, the harder it will be to roll and shape the cookies. Therefor, chill your dough!
Similarly, you can use your favorite preserves or jelly in these cookies. For example, I made other versions with blackberry jam and dulce de leche. Check those here.
In addition, let the cookies completely cool before sprinkling the tops with powdered sugar. Similarly, before adding the filling onto the bottom ones.
Pin This Raspberry Linzer Cookies Recipe to your Favorite Board
I can't even tell how much we loved these Raspberry Linzer Cookies – they literally melt in your mouth! Also, they are not very sweet, the raspberry preserves and confectioner's sugar add just the right amount of sweetness. At the same time, the toasted ground walnuts add a nice nutty flavor and texture. Each bite is filled with buttery crumbs and sweet raspberry preserves.
While the cookies involve a few steps and you need to refrigerate the dough, its nothing hard. However, you have to make sure you have the time to play in the kitchen with them. The dough is a little crumbly, so don't skip the refrigeration part. Just be patient and gentle, you are about to be rewarded with some amazing cookies.
How Long Will Raspberry Linzer Cookies Stay Fresh
The cookies can be stored wrapped in plastic wrap at room temperature for about 5-7 days.
Tools/Ingredients I used to make this Eggless Walnut Raspberry Cookies Recipe:
Deliciousness to your inbox
Enjoy weekly hand picked recipes and recommendations