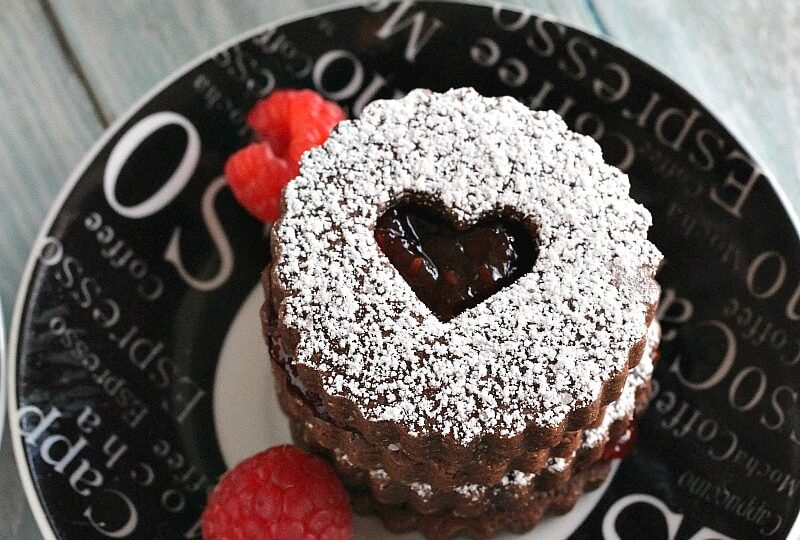 Chocolate Linzer Cookies topped with sea salt and filled with Dulce de Leche, sweet blackberry jam and flavorful raspberry jam.
These cookies are perfect for the upcoming holiday season. Like our other popular desserts Neon Colored Chocolate Sugar Cookies, Chocolate Truffle Cookies and White Chocolate Raspberry Lemon Cookies, the Chocolate Linzer Cookies will be a nice addition to the holiday table.
Chocolate Linzer Cookies
The Chocolate Linzer Cookies are topped with Sea Salt and are so buttery that they melt in your mouth. These cookies are a staple in my house. Previously, I made classic Raspberry Walnut Linzer Cookies that were gone by the end of the day. After that success, I decided to spice things a bit and make Chocolate Linzer Cookies that to my delight were a grand success.
The cookies are definitely not for Christmas only. While they are festive and nice, I am that person who will gladly enjoy cookies daily with a hot cup of tea or coffee. To be totally honest, cookies make me happy, especially this once. They are tiny, beautiful, and packed with so much flavor, that they are meant to make you feel better.
While the process of making Linzer Cookies is a bit tedious, as you have to cut the shapes, and also carefully cut those centers, I find it absolutely motivating. Especially, when my tiny toddler sits by my side, patiently observing the process. Give them a try, they will cheer you up, and everyone in your family will gladly enjoy them.
Chocolate Linzer Cookies Recipe Tips
Firstly, the cookies can be made with your favorite flavors. I used cocoa in them, but you can easily use vanilla or cinnamon. instead.
Also, the dough itself, is very tender and you should work with it only after chilling it. Because the more you keep it at room temperature, the harder it will be to roll and shape the cookies. Therefor, chill your dough!
Similarly, you can use your favorite preserves or jelly in these cookies. For example, I made my versions with blackberry jam and dulce de leche, but you can use chocolate or other jams.
In addition, let the cookies completely cool before sprinkling the tops with powdered sugar. Similarly, before adding the filling onto the bottom ones.
Deliciousness to your inbox
Enjoy weekly hand picked recipes and recommendations