Chocolate Linzer Cookies with Dulce de Leche
This post may contain affiliate links. Please read my disclosure policy.
Chocolate Linzer Cookies topped with sea salt and filled with Dulce de Leche, sweet blackberry jam and flavorful raspberry jam.
Let's start with these Chocolate Linzer Cookies that are so pretty and oh so good!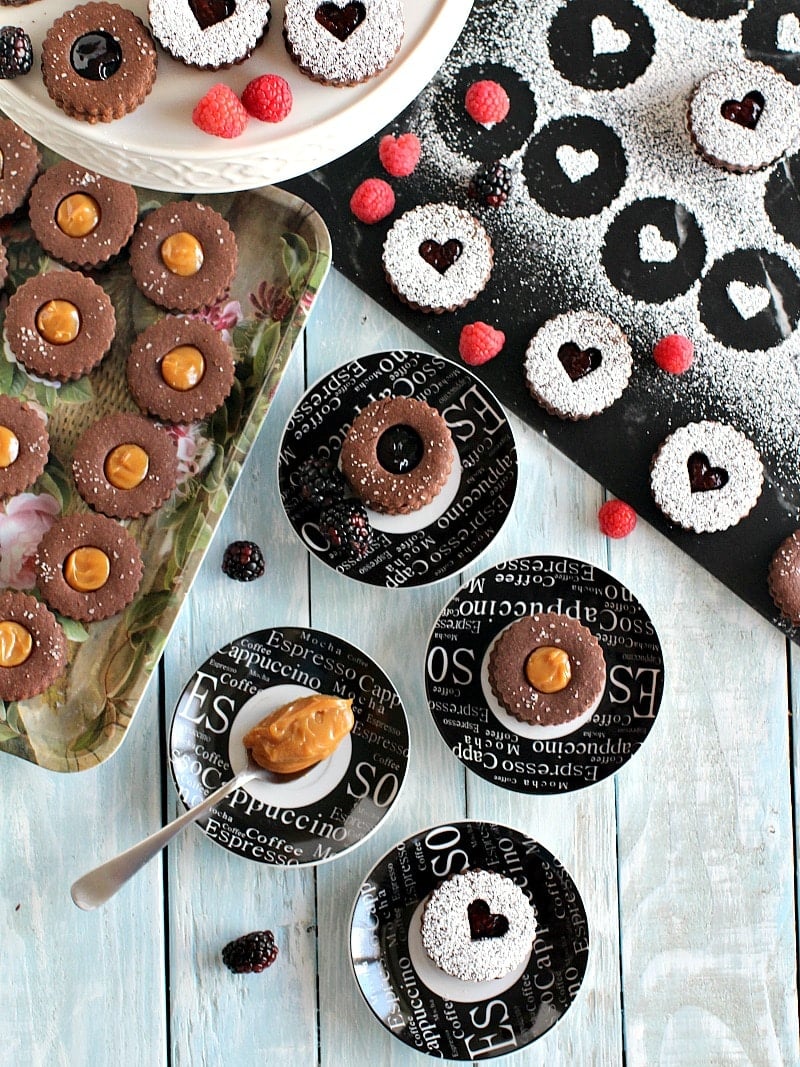 Fridays call for Chocolate Linzer Cookies that are topped with Sea Salt and are so buttery that they melt in your mouth. Such a perfect way to end the week. These Chocolate Linzer Cookies are a staple in my house, previously I made classic Raspberry Walnut Linzer Cookies that were gone by the end of the day. After that success I decided to spice things a bit and make Chocolate Linzer Cookies that to my delight were a grand success.
Cookies are definitely not for Christmas only, while they are festive and nice, I am that person who will gladly enjoy cookies daily with a hot cup of tea or coffee. To be totally honest, cookies make me happy, tiny, beautiful, packed with so much flavor, a cookie always makes me feel better.

While the process of making Linzer Cookies is a bit tedious, as you have to cut the shapes, and also carefully cut those centers, I find it absolutely therapeutical, especially when my tiny toddler sits by my side, patiently observing the process. I made these Chocolate Linzer Cookies with so much love, carefully crafting each one and brainstorming what fillings should I add. I decided on Sea Salt Dulce de Leche: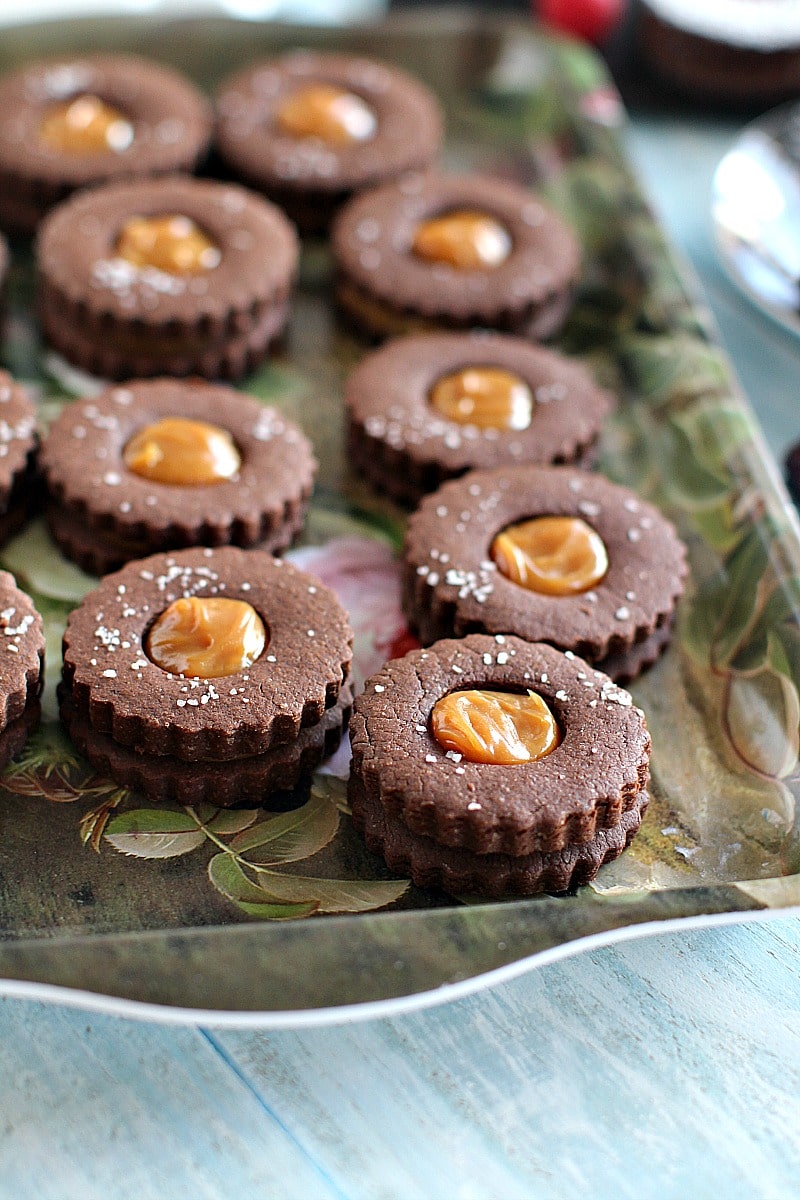 That was a good decisions, Dulce de Leche, chocolate and sea salt is a match made in heaven!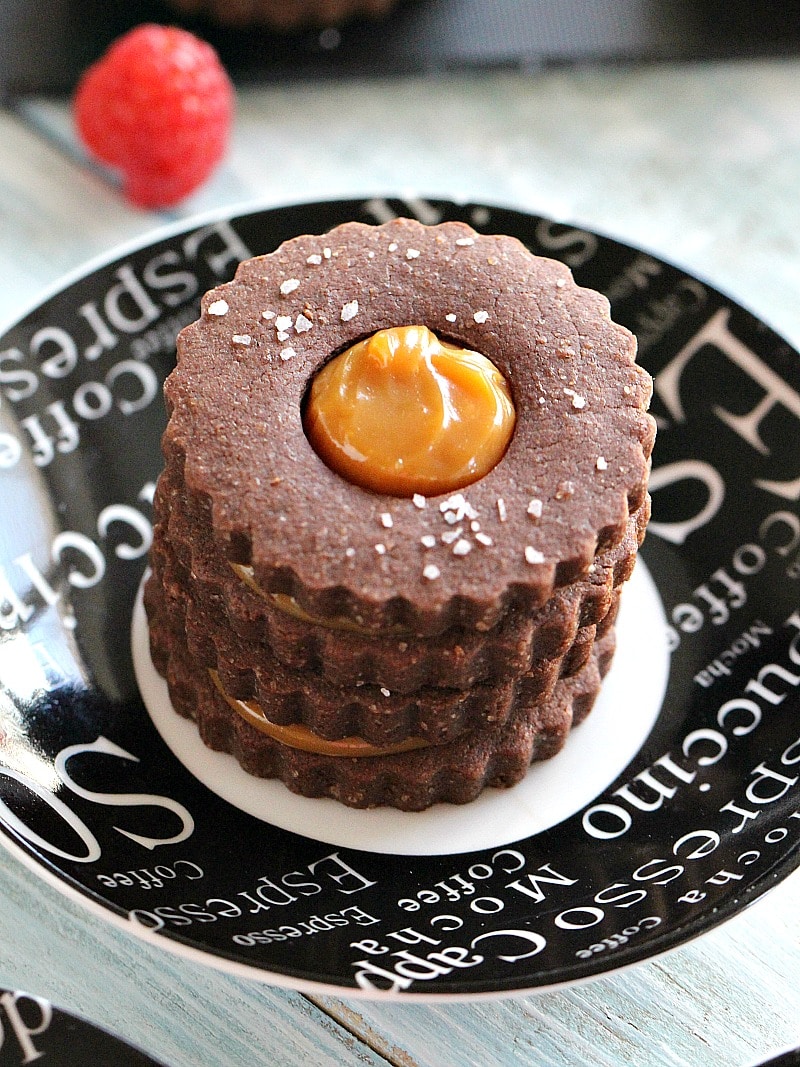 Take a bite and you will be on your way to devour the whole tray.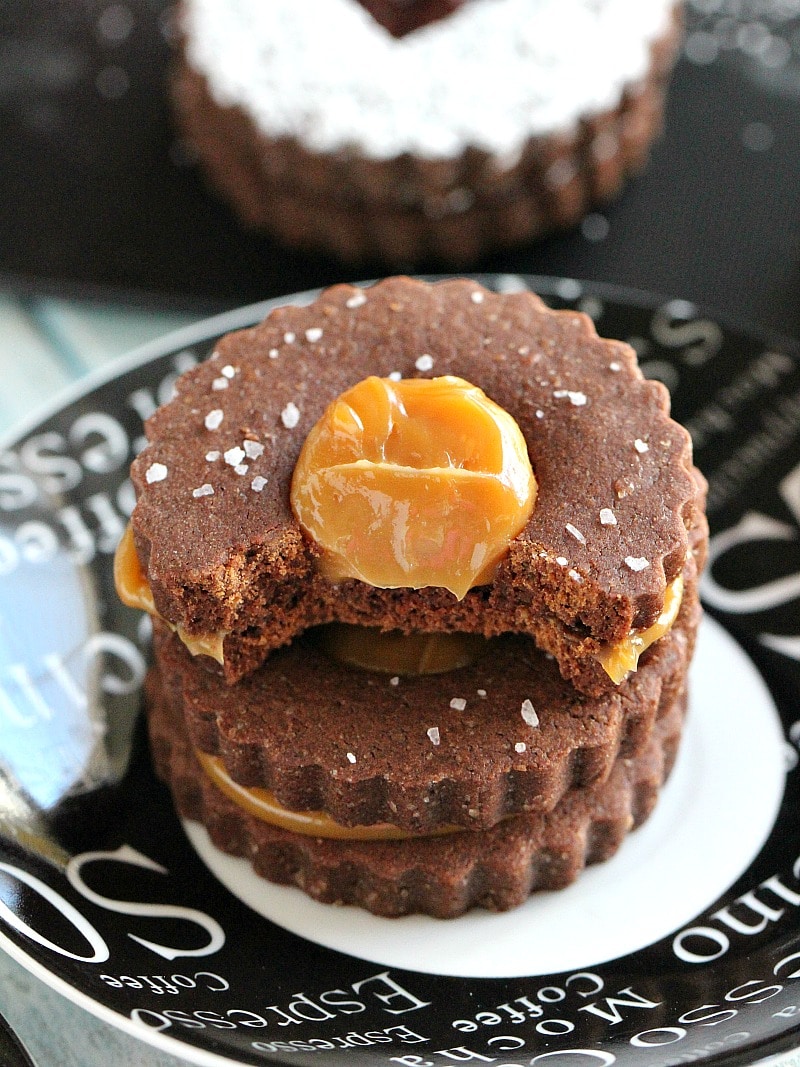 Another batch was made with Blackberry Jam, and I loved the chocolate notes with the sweet blackberry flavor. The sea salt added a very nice finish to the overall sweet cookie.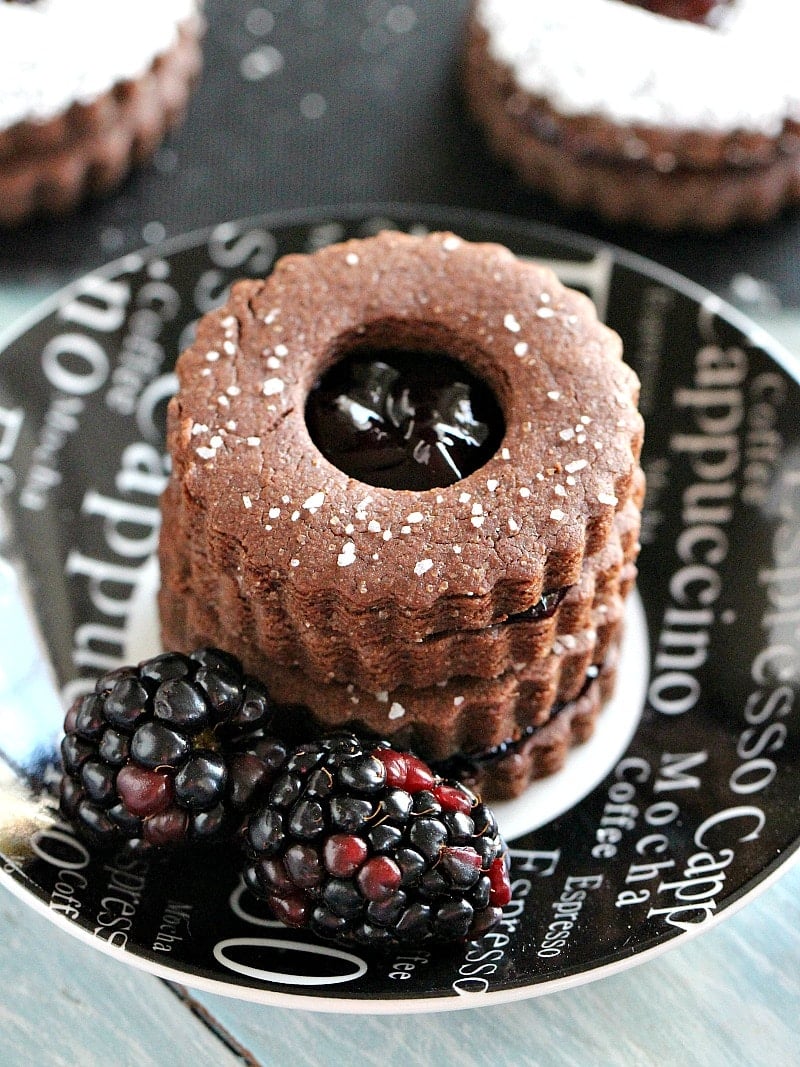 Obviously one of the fillings for my Chocolate Linzer Cookies was Raspberry Jam: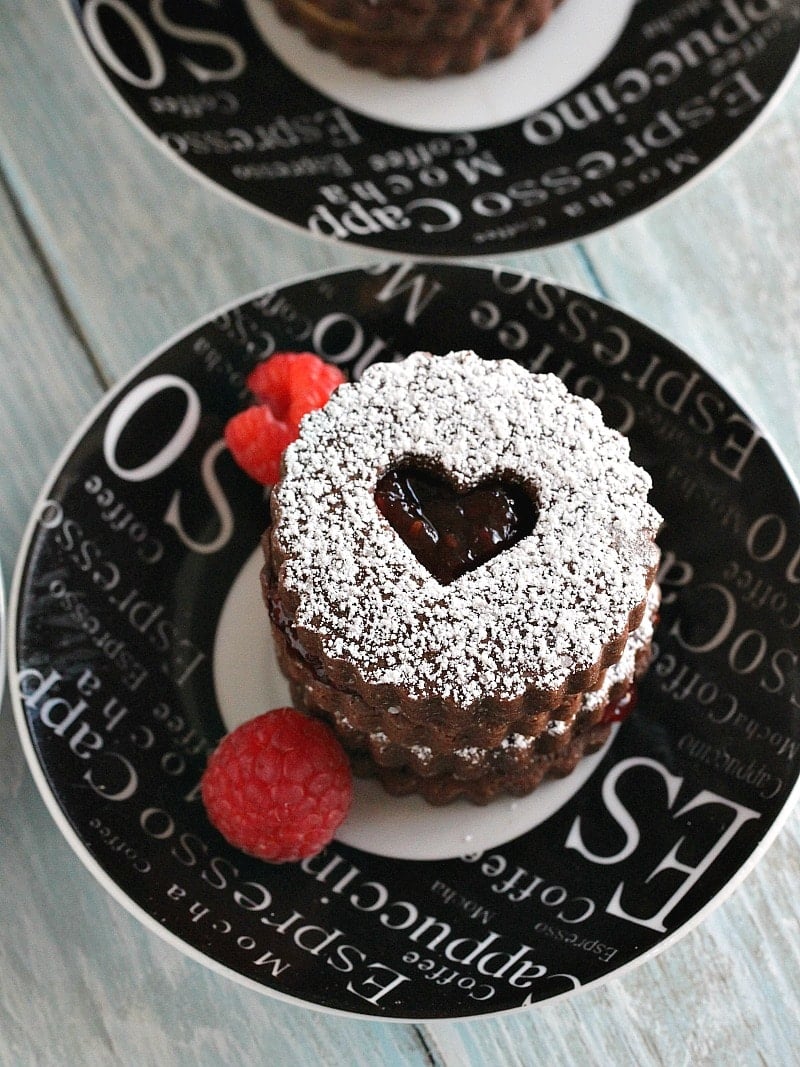 The raspberry flavored ones were my husband's favorites, because the man is a raspberry fanatic. I loved the combo as well, chocolate and raspberry always go hand in hand, but if I have to choose a favorite I must settle on the Dulce de Leche one. With so many options and endless possibilities you can make the combo that speaks to you the most.
Now cookies are followed by a GIVEAWAY! I didn't have time to host one when the blog turned 1 year on March 8th so I figured that I will do it now, as a thank you to YOU for reading, for coming here to hangout with me, for trying my recipes, for sending kind notes and comments. So here is a Giveaway fully sponsored by your truly 🙂 Good Luck!
Blogiversary Giveaway! – CLOSED
PRIZE: One winner will receive $100 PayPal cash
RULES:
-Giveaway is open to US Residents that are 18+
-Giveaway ends on 2/11/2015 at midnight EST
-Entries are only valid through the Giveaway Tools Form (see below)
-Comments on this post do NOT count as entries
Chocolate Linzer Cookies - Dulce de Leche, Raspberry, Blackberry
Chocolate Linzer Cookies topped with sea salt and filled with Dulce de Leche, sweet blackberry jam and flavorful raspberry jam.
Author:
Katalina Kastravet
Ingredients
3 cups all-purpose flour
½ teaspoon salt
½ teaspoon baking powder
2 sticks (226 grams) unsalted butter, softened
1 cup sugar
½ cup brown sugar
2 large eggs, room temperature
1 teaspoon vanilla extract
¾ cup cocoa powder
Sea Salt
½ cup Dulce de Leche
Raspberry Jam
Blackberry Jam
Powdered sugar - optional
Instructions
In a small bowl, whisk together flour, salt and baking powder and set aside.
Using a stand or hand mixer, cream together butter and sugars until light and fluffy, about 2-3 minutes. Add in the eggs one at a time, mixing well after each addition and making sure to stop and scrape the sides of the bowl with a spatula.
Add in the vanilla extract and cocoa powder, mix well, stopping to scrape down the sides when needed. Slowly add in the flour mixture, and mix until smooth on low speed to avoid over mixing.
Shape the dough into two - three discs, wrap in plastic and chill for at least two hours or overnight.
When ready to bake preheat oven to 325F.
Line baking sheets with parchment paper and set aside.
Remove the dough from the refrigerator (one disc at a time), sprinkle cocoa powder onto a counter and roll out one of the discs to ⅛ inch thick. If the disc is too hard, let it at room temperature for 10 minutes. Dust the Linzer cutter with cocoa powder and start cutting out the cookies, making sure you have equal amount bottom and top cookies. Using the center Linzer cutter, make center cut outs into the top cookies.
Transfer cookies onto the prepared cookie sheets and place at least 1-inch apart, sprinkle with sea salt if desired. Bake for about 9 minutes until the edges are firm and the centers are just slightly soft and puffed.
Remove from oven, let the cookies cool on the tray for 3-4 minutes and transfer to a wire rack to cool completely. Cookies must be completely cooled before assembling.
Place about ½ tablespoon of raspberry jam, or blackberry jam, or Dulce de Leche in the center of one of the bottom cookies and place one of the top halves gently on top, gently press so the jam doesn't spill out the sides of the cookie. Repeat with remaining cookies.
Optional: before assembling the top cookies can be dusted with powdered sugar for the raspberry and blackberry version.
Store in an airtight container at room temperature for one week or frozen for up to 3 months.
Notes
*Preparation time does not include refrigeration of the dough.
*Cooking time is higher, because I had to bake multiple batches.
Peas and Peonies, LLC. owns the copyright on all images and text and does not allow for its original recipes and pictures to be reproduced anywhere other than at this site unless authorization is given. If you enjoyed the recipe and would like to publish it on your own site, please re-write it in your own words, and link back to my site and recipe page. Copying and/or pasting full recipes to social media or personal blogs is strictly prohibited. Sharing this recipe is very much appreciated and encouraged. Read my disclosure and privacy policy. This post may contain affiliate links.