Peppermint Pattie Cupcakes
Peppermint Pattie Cupcakes are made with rich chocolate cupcakes, topped with peppermint buttercream, chocolate ganache and peppermint patties!
Making gorgeous and festive cupcakes are somehow of a quest for us. Among our popular once are Dark Chocolate Peanut Butter Cupcakes, Galaxy Cupcakes and Red White and Blue Cupcakes.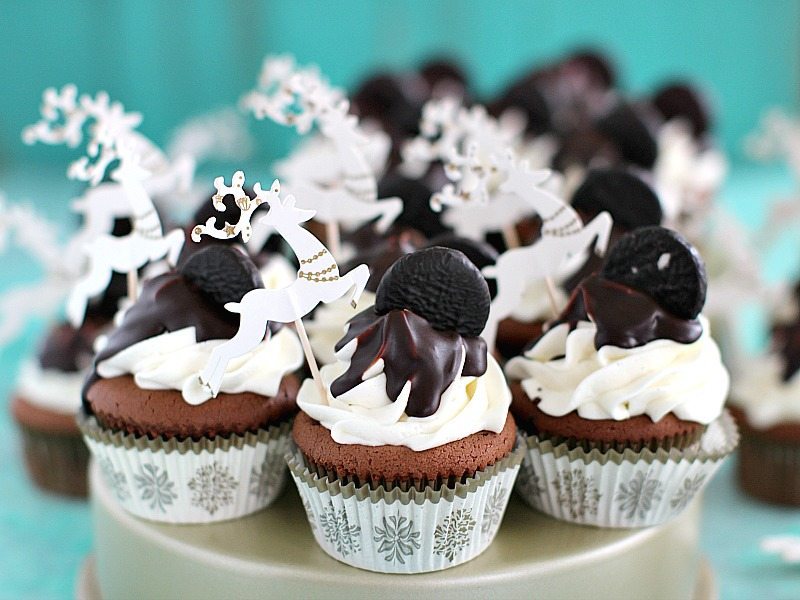 Peppermint Pattie Cupcakes
The holidays have officially arrived in our household! We made Peppermint Pattie Cupcakes over the weekend, and they turned out amazing. Chocolate and peppermint are my seasonal favorites. These Peppermint Pattie Cupcakes combine the two flavors in a delicious and beautiful way! For the chocolate flavor to shine, I used good quality cocoa, which added a gorgeous chocolate flavor to the cupcakes.
The cupcakes are topped with a luxurious frosting to resemble the beloved peppermint patties. The frosting has been flavored with Vanilla Bean Paste and a touch of peppermint extract. These cupcakes combine an amazing combination of rich chocolate topped with Peppermint Buttercream, and covered in chocolate ganache! The Chocolate Ganache is a nice finish, because it hardens a bit on top of the cupcakes. As a result, it creates a chocolaty shell on top of the Peppermint Buttercream.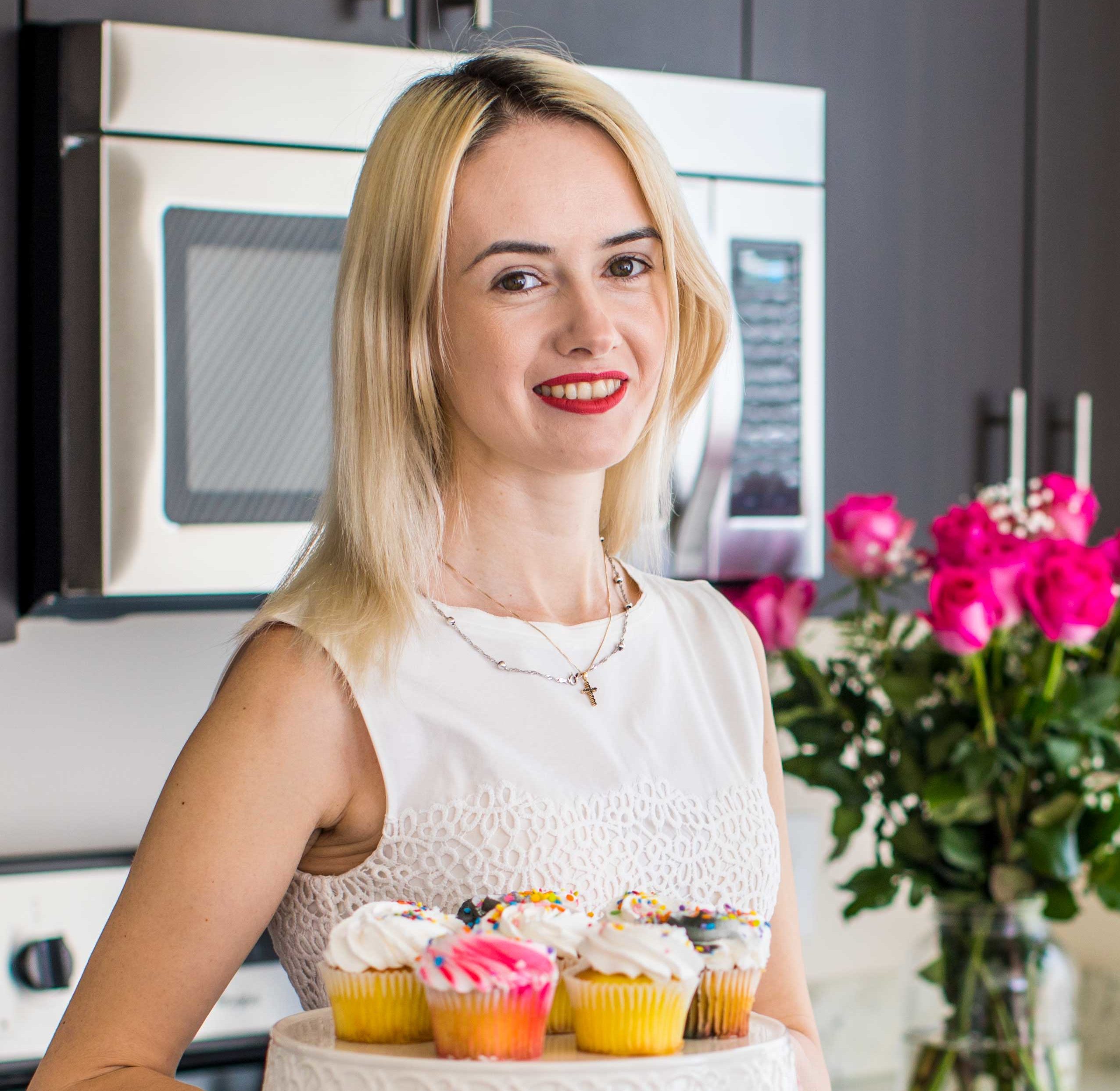 Follow us on Pinterest for more delicious recipes!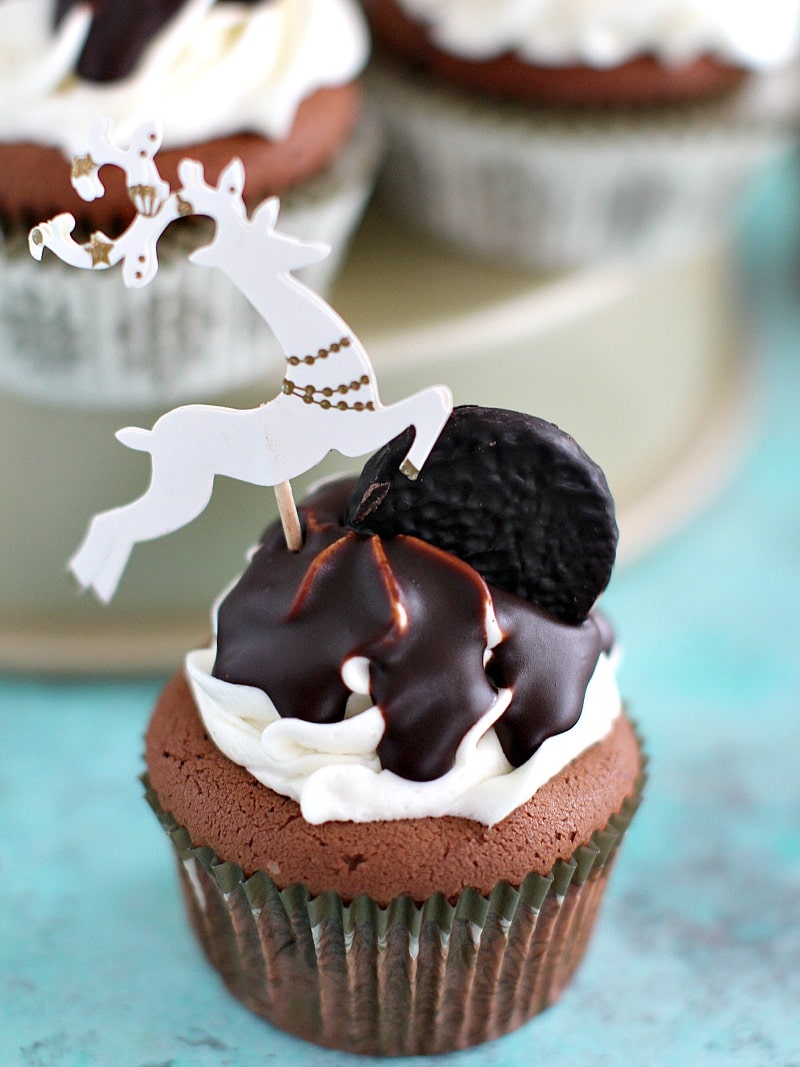 Why you'll love these Peppermint Pattie Cupcakes
Firstly, they are very easy to make, and taste delicious.
Also, they are the perfect dessert for chocolate and peppermint lovers.
In addition, they are rich and creamy. They are guaranteed to become a show stopper dessert.
Can be made 1 or 2 days in advance so you don't have to worry about a last minute dessert.
Follow Sweet and Savory Meals on Pinterest for more great recipes!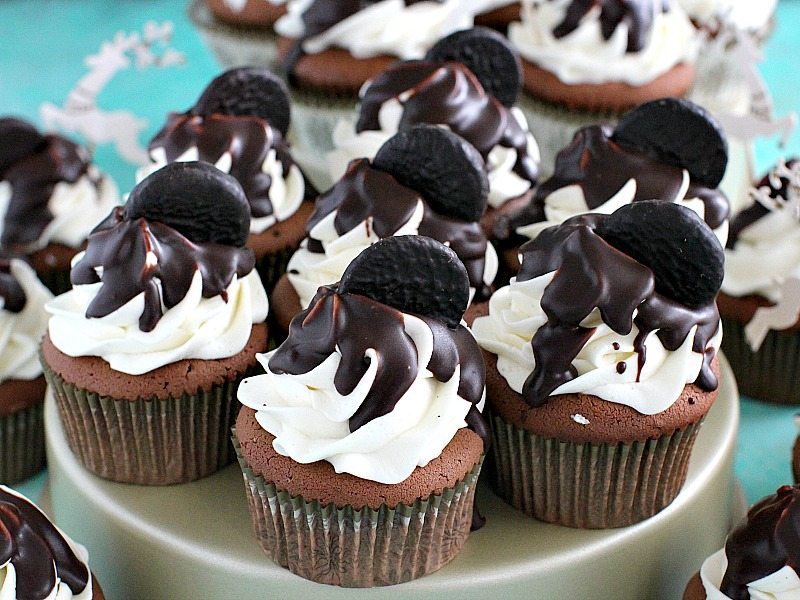 CAN THE CUPCAKES BE REFRIGERATED?
Best to refrigerate the cupcakes for one hour before serving, so the frosting can harden a bit. Keep the cupcakes refrigerated, as the frosting will melt at room temperature.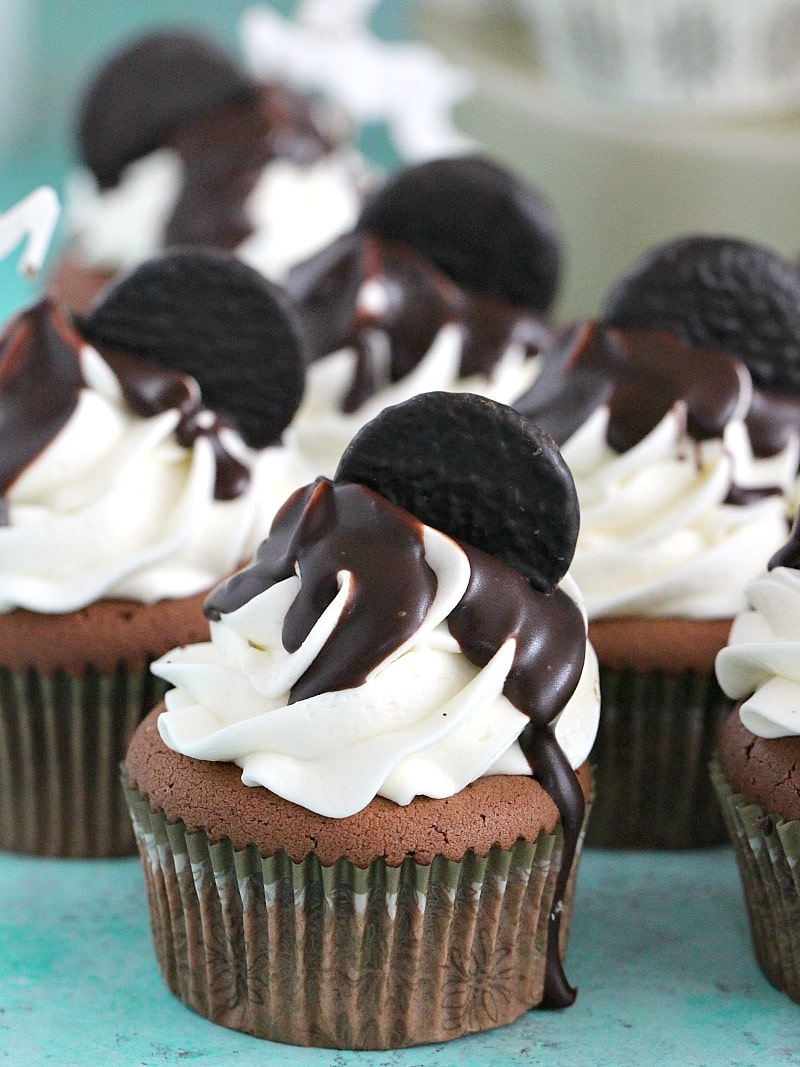 Save Recipe
Peppermint Pattie Cupcakes
Author: Catalina Castravet
Serves: 25 servings
Prep time:

40

minutes
Cook time:

15

minutes
Total time:

55

mins
Ingredients
Chocolate Cupcakes:
11/2 cups granulated sugar
1 cup all-purpose flour
1/2 cup cake flour
1 cup unsweetened cocoa powder
11/2 teaspoons baking powder
pinch of sea salt
2 sticks unsalted butter (room temperature)
4 eggs (room temperature)
1 cup whole milk yogurt
1 teaspoons vanilla bean paste
Peppermint Buttercream:
2 sticks butter (room temperature)
8 ounces cream cheese (room temperature)
7 cups powdered sugar
1 teaspoon vanilla bean paste
1 1/2 teaspoon peppermint extract
Ganache:
1/2 cup whipping cream
4 ounces semi-sweet chocolate (chopped)
Garnish:
Instructions
Chocolate Cupcakes:
Preheat oven to 350 degrees F.

In the bowl of a mixer add: flour, sugar, baking powder, cocoa powder and salt. Stir to combine.

Then, mix in the softened butter on low speed until fully combined, and the mixture resembles moist crumbs.

After, stir in the eggs one at a time. Mixing well after each addition. Also, stir in greek yogurt and vanilla bean paste, while stopping to scrape the bottom and sides of the bowl with a spatula.

Mix batter for 2-3 minutes, it should be creamy and fluffy.
Fill lined cupcake wells just over half full.
Bake for 15 - 20 minutes, a cake tester inserted into the center of a cupcake should come out clean or with just a few moist crumbs.

Once the cupcakes are removed from the oven, let them cool in the pan for 10 minutes. After, transfer to a wire rack to cool completely before frosting.
Peppermint Buttercream:
First. beat butter and cream cheese together until smooth. Then, add powdered sugar one cup at a time and cream for 2-3 minutes. Add vanilla bean paste and peppermint extract and beat until completely combined. Stop to scrape the bottom and sides of the bowl, to be sure all the ingredients are well-combined.

Place frosting into a pastry bag fitted with a large star piping tip.
Ganache:
Heat whippe cream in the microwave for 40-60 seconds, or until hot.
Place chopped chocolate into a bowl and pour hot whipping cream on top. Let it sit for two minutes and then stir until smooth and shiny.
Let the ganache come to room temperature for about 5-10 minutes before applying to cupcakes.
Assembling:
Once the cupcakes have cooled, pipe frosting on top of each cupcake and then spoon 1 tablespoon of chocolate ganache over the top.
Press in a peppermint pattie on the sides into the frosting. Refrigerate for 30-60 minutes before serving.
Enjoy!
Calories: 689 Carbohydrates: 119 Protein: 4 Fat: 23 Saturated Fat: 11 Cholesterol: 58 Sodium: 222 Potassium: 280 Fiber: 2 Sugar: 103 Vitamin A: 730 Vitamin C: 0.1 Calcium: 93 Iron: 1.7
Save Recipe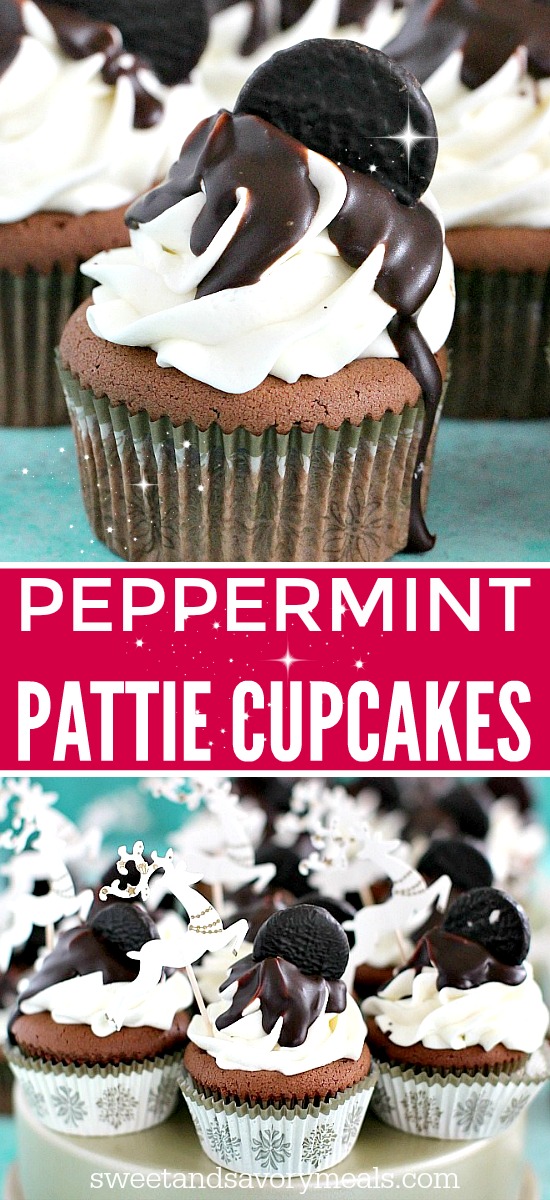 More recipes you might love