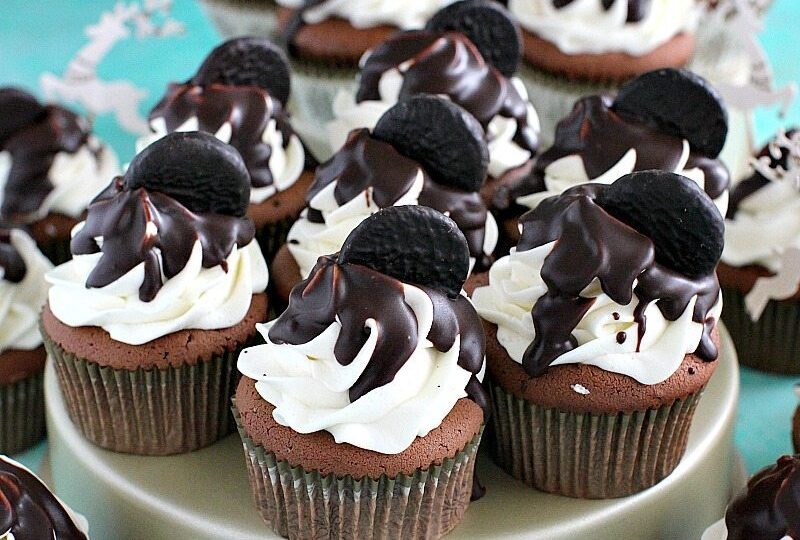 Peppermint Pattie Cupcakes
Peppermint Pattie Cupcakes are made with rich chocolate cupcakes, topped with peppermint buttercream, chocolate ganache and peppermint patties!
Making gorgeous and festive cupcakes are somehow of a quest for us. Among our popular once are Dark Chocolate Peanut Butter Cupcakes, Galaxy Cupcakes and Red White and Blue Cupcakes.
Peppermint Pattie Cupcakes
The holidays have officially arrived in our household! We made Peppermint Pattie Cupcakes over the weekend, and they turned out amazing. Chocolate and peppermint are my seasonal favorites. These Peppermint Pattie Cupcakes combine the two flavors in a delicious and beautiful way! For the chocolate flavor to shine, I used good quality cocoa, which added a gorgeous chocolate flavor to the cupcakes.
The cupcakes are topped with a luxurious frosting to resemble the beloved peppermint patties. The frosting has been flavored with Vanilla Bean Paste and a touch of peppermint extract. These cupcakes combine an amazing combination of rich chocolate topped with Peppermint Buttercream, and covered in chocolate ganache! The Chocolate Ganache is a nice finish, because it hardens a bit on top of the cupcakes. As a result, it creates a chocolaty shell on top of the Peppermint Buttercream.
Why you'll love these Peppermint Pattie Cupcakes
Firstly, they are very easy to make, and taste delicious.
Also, they are the perfect dessert for chocolate and peppermint lovers.
In addition, they are rich and creamy. They are guaranteed to become a show stopper dessert.
Can be made 1 or 2 days in advance so you don't have to worry about a last minute dessert.
Follow Sweet and Savory Meals on Pinterest for more great recipes!
Pin This Peppermint Pattie Cupcakes Recipe to your Favorite Board
CAN THE CUPCAKES BE REFRIGERATED?
Best to refrigerate the cupcakes for one hour before serving, so the frosting can harden a bit. Keep the cupcakes refrigerated, as the frosting will melt at room temperature.
Deliciousness to your inbox
Enjoy weekly hand picked recipes and recommendations