Holiday Peppermint Pattie Cupcakes
This post may contain affiliate links. Please read my disclosure policy.
Peppermint Pattie Cupcakes are made with rich chocolate cupcakes, topped with peppermint buttercream, chocolate ganache and peppermint patties!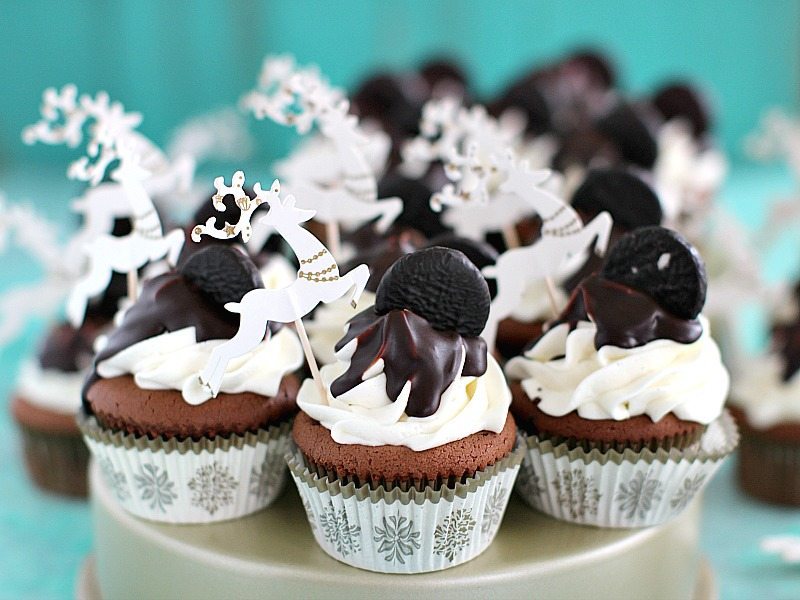 The holidays have officially arrived in our household! We made Peppermint Pattie Cupcakes over the weekend and I will tell you a secret, we even listened to Christmas music!

We are kind of skipping Thanksgiving this year, and by that I mean that we are taking a tropical vacation for the holiday and for the first time in a few years we won't be hosting on Turkey Day! Since I don't have to test Thanksgiving recipes and since I am in a dessert mode, I decided to start baking from my Christmas list. I settled right away on cupcakes after I spotted this beautiful Sparkle & Shine Cupcake Kit on Dean & Deluca website. Their website is loaded for the holidays! OMG you can go and browse it endlessly and create the most amazing cheese spread, serve caviar to your guests or create some outstanding desserts!
Check those super cute reindeers! Aren't they adorable? It put me in a festive mood and my toddler had so much fun sticking those into the cupcakes! I haven't seen a more adorable holiday baking cupcake kit!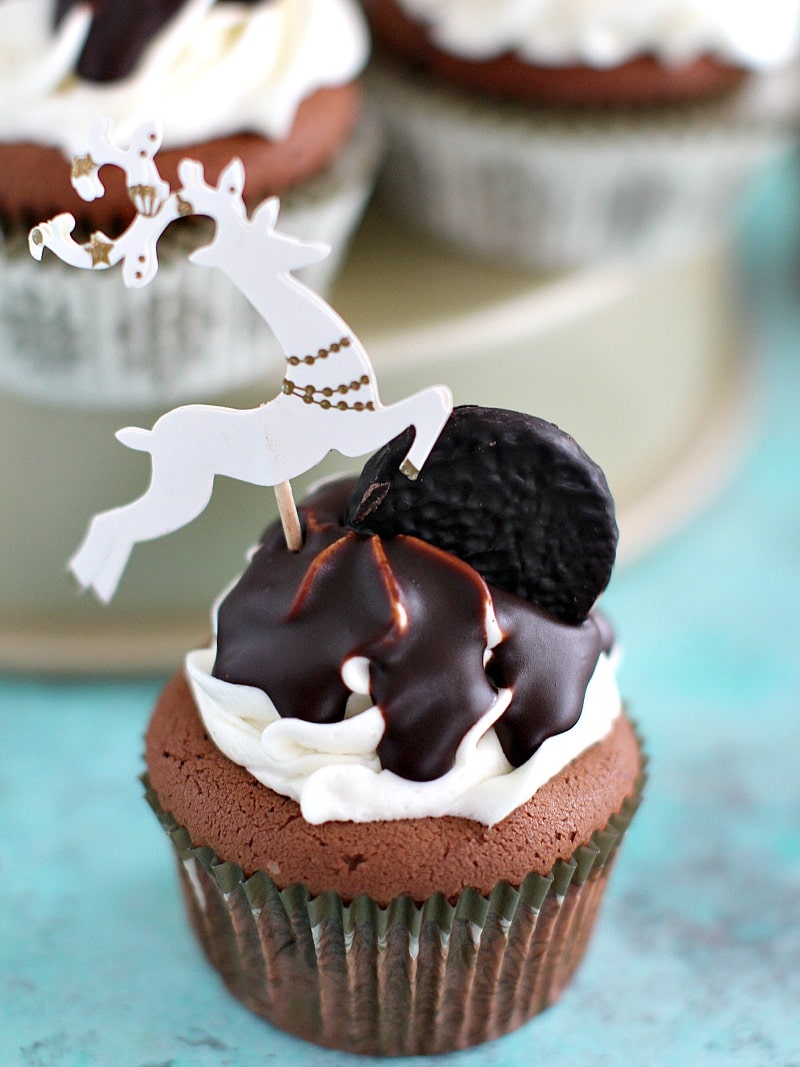 Chocolate and peppermint are my seasonal favorites and Peppermint Pattie Cupcakes combine these two flavors in a delicious and beautiful way! For the chocolate flavor to shine, I used good quality cocoa: Dean & Deluca Bensdorp Cocoa that is a rich and luxurious, premium quality Dutch processed cocoa powder and it added a gorgeous chocolate flavor to the cupcakes. You will find the Dean & Deluca website is very easy to navigate and the products have gorgeous photos, that helps you create your own vision how your holiday table will look!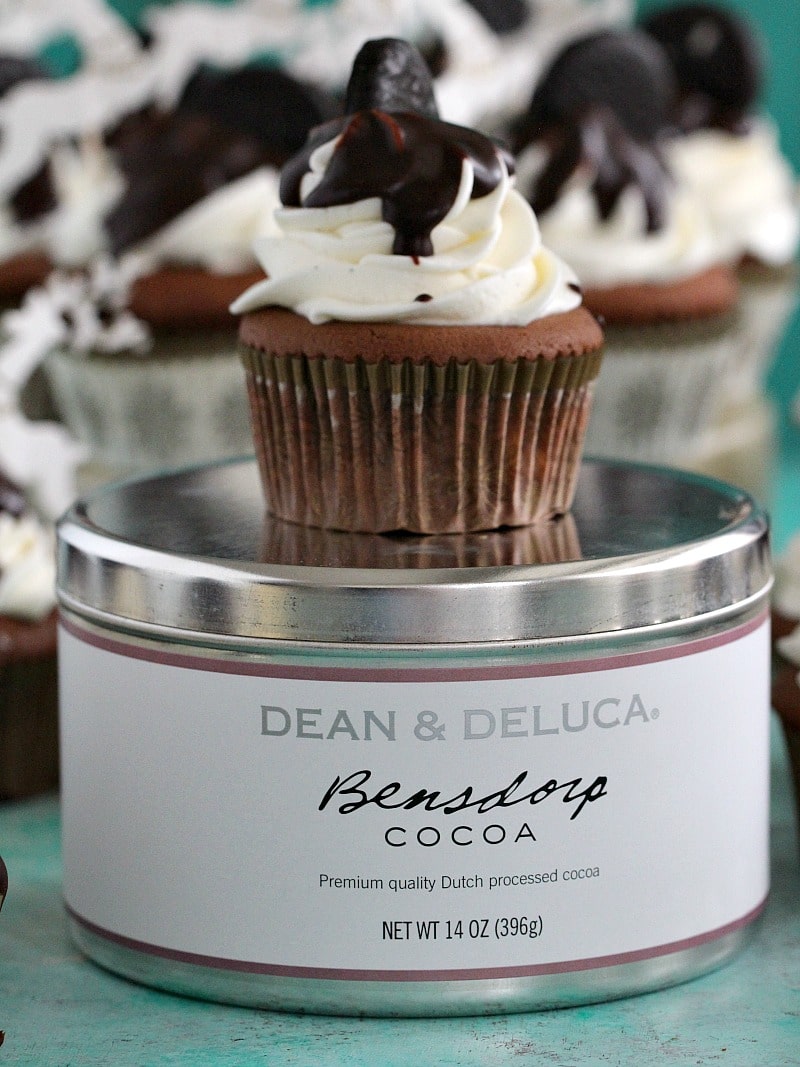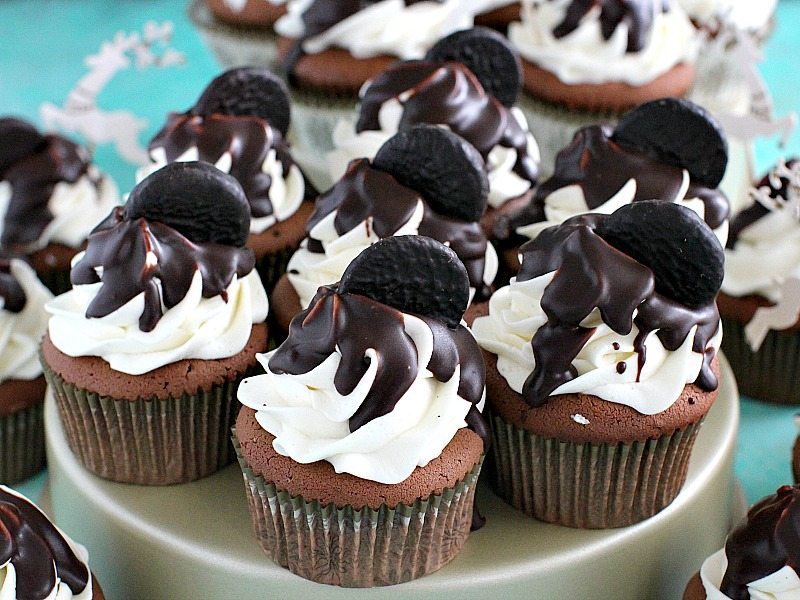 The cupcakes are topped with a luxurious frosting to resemble the beloved peppermint patties. The frosting has been flavored with Vanilla Bean Paste and a touch of peppermint extract! You can find all you need on Dean & Deluca website to create your own Gourmet Baking Project!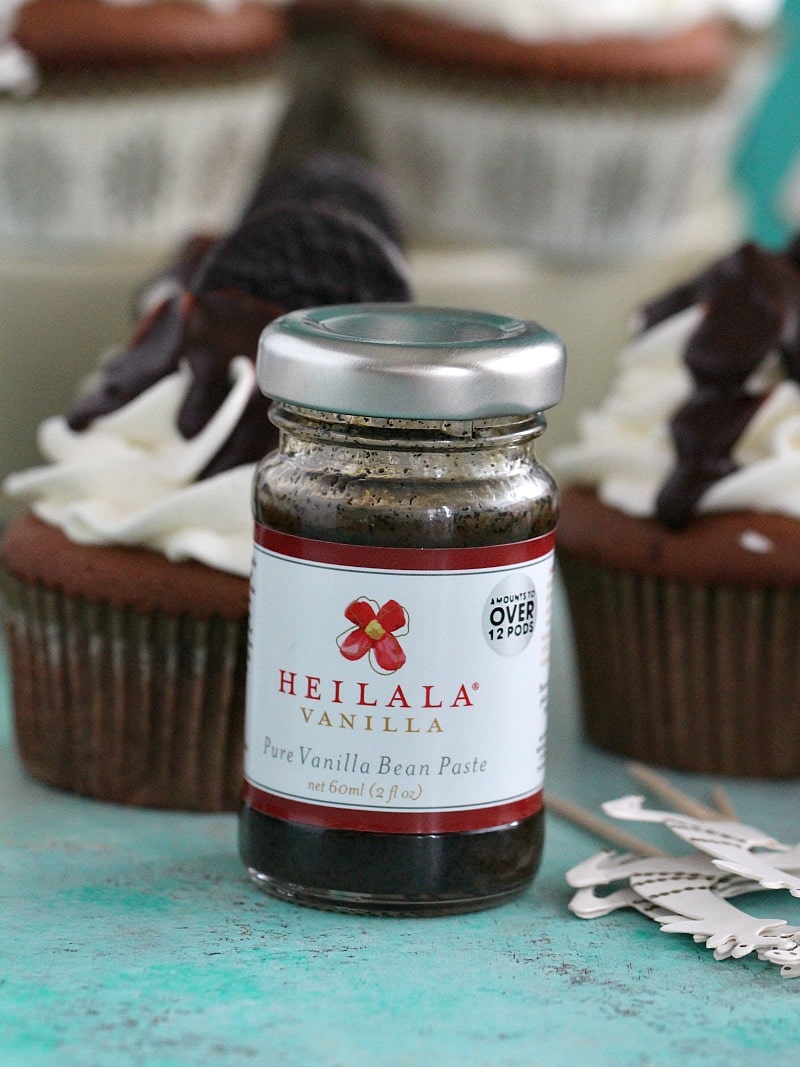 These Peppermint Pattie Cupcakes are an amazing combination of rich chocolate cupcakes topped with Peppermint Buttercream and covered in chocolate ganache! The Chocolate Ganache is a nice finish, it kind of hardens a bit on top of the cupcakes, creating a chocolaty shell on top of the Peppermint Buttercream.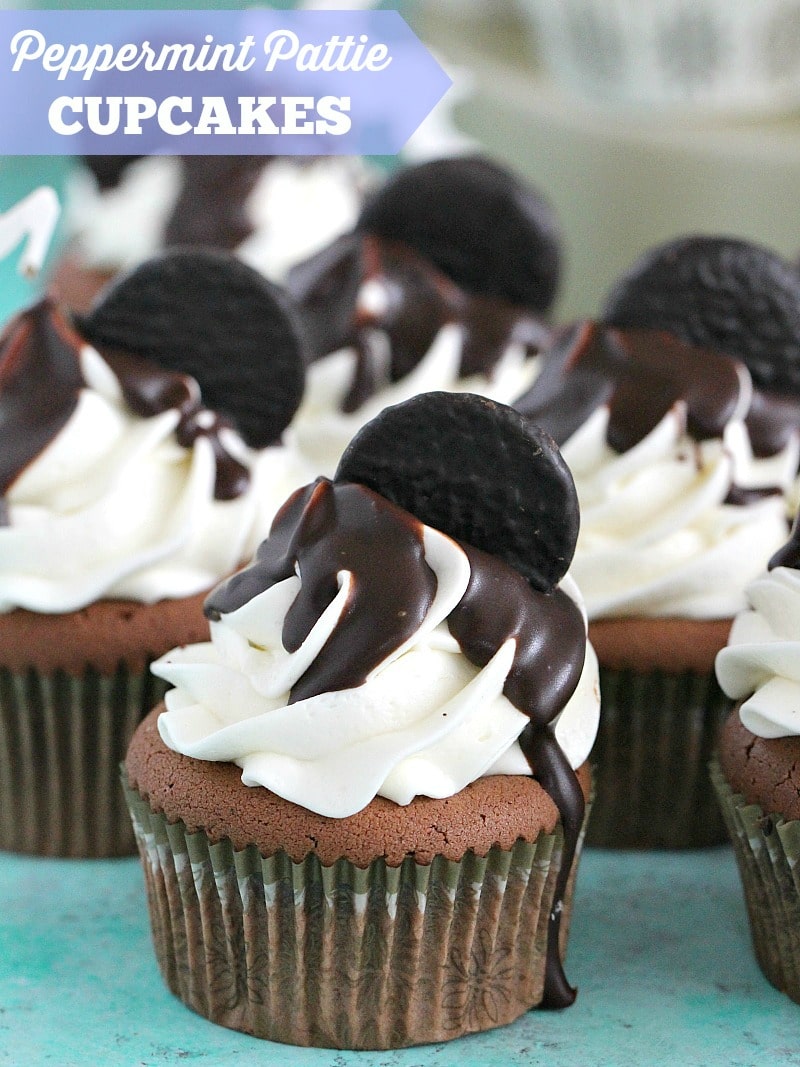 Finally the Peppermint Pattie Cupcakes are garnished with a classic peppermint pattie! Enjoy! 🙂

Peppermint Pattie Cupcakes
Peppermint Pattie Cupcakes are made with rich chocolate cupcakes, topped with peppermint buttercream, chocolate ganache and peppermint patties!
Author:
Katalina Kastravet
Ingredients
Chocolate Cupcakes:
11/2 cups granulated sugar
1 cup all purpose flour
½ cup cake flour
1 cup unsweetened cocoa powder
11/2 teaspoons baking powder
pinch of sea salt
1 cup (2 sticks) unsalted butter, room temperature
4 eggs, room temperature
1 cup whole milk yogurt
1 teaspoons vanilla bean paste
Peppermint Buttercream:
1 cup (2 sticks) butter, room temperature
8 ounces cream cheese, room temperature
7 cups powdered sugar
1 teaspoon vanilla bean paste
1 1/1 teaspoon peppermint extract
Ganache:
½ cup whipping cream
4 ounces semi-sweet chocolate, chopped
Garnish:
22 peppermint patties
Instructions
Chocolate Cupcakes:
Preheat oven to 350 degrees F.
In the bowl of a mixer add: both flours, sugar, baking powder, cocoa powder and salt. Stir to combine.
Mix in the softened butter on low speed, until fully combined and the mixture resembles moist crumbs.
Stir in the eggs one at a time, mixing well after each addition. Stir in greek yogurt and vanilla bean paste, stopping to scrape the bottom and sides of the bowl with a spatula.
Mix batter for 2-3 minutes, it should be creamy and fluffy.
Fill lined cupcake wells just over half full.
Bake for 15 - 20 minutes, a cake tester inserted into the center of a cupcake should come out clean or with just a few moist crumbs.
Remove from oven, let the cupcakes cool in the pan for 10 minutes, after transfer to a wire rack to cool completely before frosting.
Peppermint Buttercream:
Beat butter and cream cheese together until smooth. Add powdered sugar one cup at a time and cream for 2-3 minutes. Add vanilla bean paste and peppermint extract and beat until completely combined, stop to scrape the bottom and sides of the bowl, to be sure all the ingredients are well-combined.
Place frosting into a pastry bag fitted with a large star piping tip.
Ganache:
Heat whipping cream in the microwave for 40-60 seconds until hot.
Place chopped chocolate into a bowl and pour hot whipping cream on top. Let it sit for two minutes and then stir until smooth and shiny.
Let the ganache come to room temperature for about 5-10 minutes before applying to cupcakes.
Assembling:
Once the cupcakes have cooled, pipe frosting on top of each cupcake and then spoon 1 tablespoon of chocolate ganache over the top.
Press in a peppermint pattie on the sides into the frosting. Refrigerate for 30-60 minutes before serving.
Enjoy!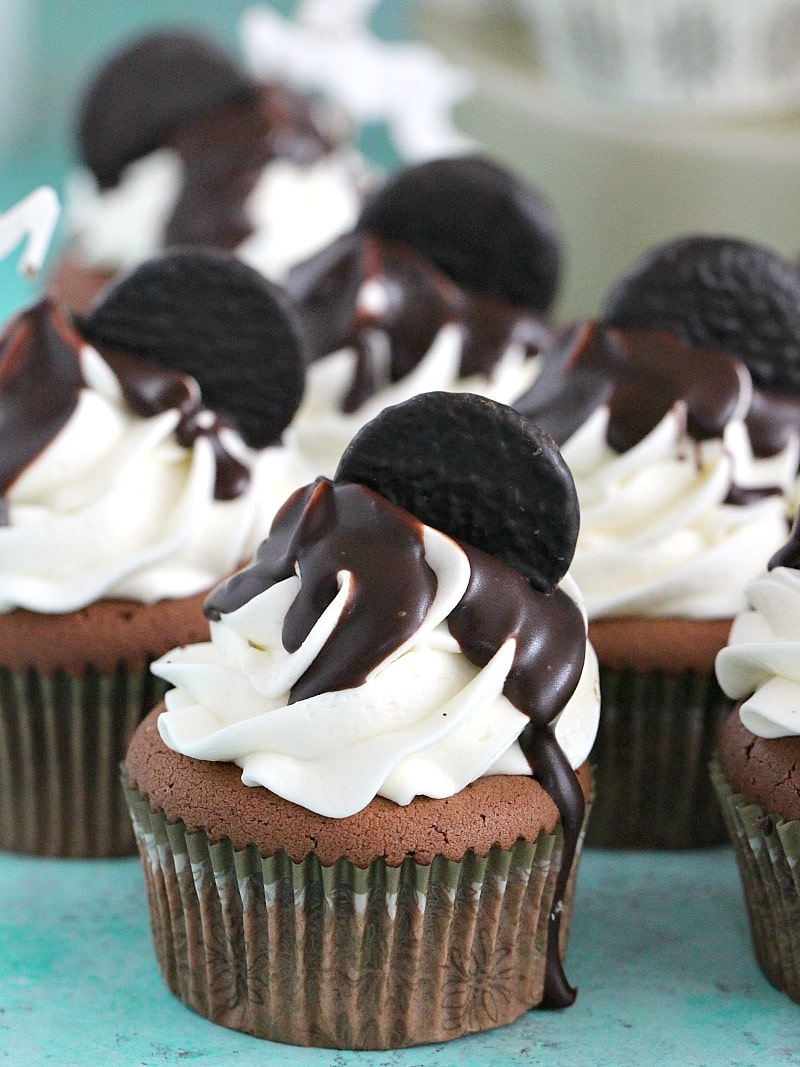 Peppermint Pattie Cupcakes perfection!
*This post has been sponsored by Dean & Deluca. All opinions are of Peas & Peonies.
Peas and Peonies, LLC. owns the copyright on all images and text and does not allow for its original recipes and pictures to be reproduced anywhere other than at this site unless authorization is given. If you enjoyed the recipe and would like to publish it on your own site, please re-write it in your own words, and link back to my site and recipe page. Copying and/or pasting full recipes to social media or personal blogs is strictly prohibited. Sharing this recipe is very much appreciated and encouraged. Read my disclosure and privacy policy. This post may contain affiliate links.