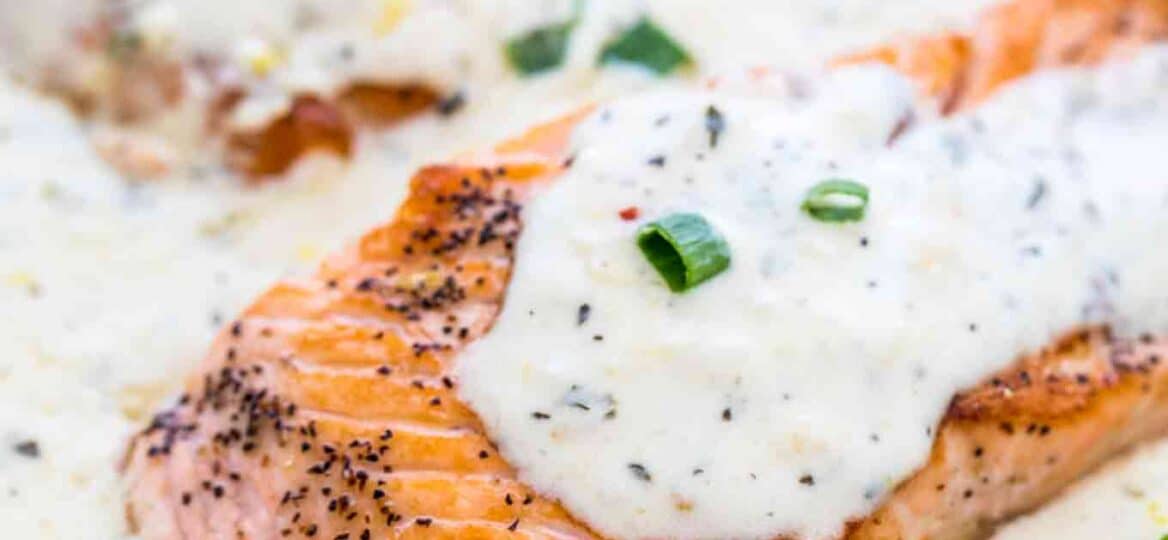 Creamy Lemon Garlic Salmon [Video]
Creamy Lemon Garlic Salmon is the perfect family dinner that is super easy to make and ready in only 20 minutes. The salmon is seared and prepared in only one pan together with the most delicious and creamy lemon sauce. This is hands down the best recipe you can find for a buttery and creamy one-pan salmon.
This is our go-to recipe for a quick yet delicious dinner. Our friends are also big fans of it, so we make it at least once a month. The salmon is always perfectly crisp and seasoned on the outside and flaky and tender on the inside. The sauce is truly making this dish stand out. You can serve it as is, or with some Mashed Potatoes, Roasted Asparagus, or Brussels Sprouts.
Easy Lemon Garlic Salmon
Creamy Lemon Garlic Salmon is one recipe that we make it again and again. It is easy to prepare and ready in no time. This is the kind of meal that we make to impress someone when we have limited time on our hands. You can't go wrong with pan-seared salmon cooked in a creamy lemon sauce. Honestly, it is our favorite way to prepare this fish. First, we pan-sear the fish for a few minutes, then cover it with sauce and cook a few more minutes in a single pan.
Searing salmon fillets in a skillet gives it a slightly charred exterior with perfectly crispy skin. We love cooking the fish with the skin on, as it gives it a nicer and richer flavor. However, you can remove the skin if you are not a big fan, it will work just as fine. This simple yet fancy meal has few ingredients, but tastes absolutely delicious!
How do you pan-sear salmon?
Searing the fish properly is what makes or breaks this recipe. Below we list the easy to follow steps to get the most amazing and crispy coating.
First, start by using a good quality nonstick pan OR well-seasoned cast-iron skillet.
Then, place the pan over medium heat. Make sure the pan/skillet is preheated, and add some olive oil or butter to it.
Pat salmon dry before cooking and add some salt and pepper.
Place the skin side down for about 5-6 minutes. Once you place it in the pan, don't move it around. This will ensure a perfectly crisp exterior.
Once 5 minutes past, flip to the other side and cook for another 3 to 5 minutes, or until brown and flaky.
How to make the Creamy Lemon Garlic Sauce?
The sauce is truly what makes this dish so special. It makes it buttery and adds another level of richness to its flavor. All you need is a few simple ingredients, mix them together, and cook for a couple of minutes.
We have a full post explaining step by step how to make it. Check out that recipe here.
What to serve with Creamy Lemon Garlic Salmon?
This dish is amazing on its own and can be enjoyed as-is with a fresh baguette. Similarly, it goes well with:
Is this dish the same as Creamy Tuscan Salmon?
The two are similar in many ways since they both have cream and Parmesan as the main ingredient. However, the main difference between the two is that the Tuscan recipe uses sun-dried tomatoes and spinach. Check out the full Tuscan Salmon recipe here.
Recipe Tips:
Add some dill to the dish to brighten the flavor. But if you're not a big fan, use thyme, chives or parsley instead.
We did not use capers here, but it complements the fish nicely. Therefore, you can add some if desired.
You can use the fish with or without the skin. Both versions work perfectly fine.
To reduce calories, we use light cream, but full-fat cream or even milk can be used as well.
Deliciousness to your inbox
Enjoy weekly hand picked recipes and recommendations