Creamy Tuscan Salmon [Video]
Tuscan Salmon is an easy one-pan meal featuring pan-seared salmon in a creamy sauce with spinach, sun-dried tomatoes, and Italian flavors. Because the meal comes together quickly, this is one of our favorite salmon recipes for an easy weeknight dinner.
I love making delicious and easy fish dishes, as they come together quickly, taste great, and usually are healthier. If you love salmon, I recommend you also try our other popular fish recipes, such as Oven Roasted Mahi Mahi, Oven Roasted Spanish Mackerel and Mediterranean Salmon.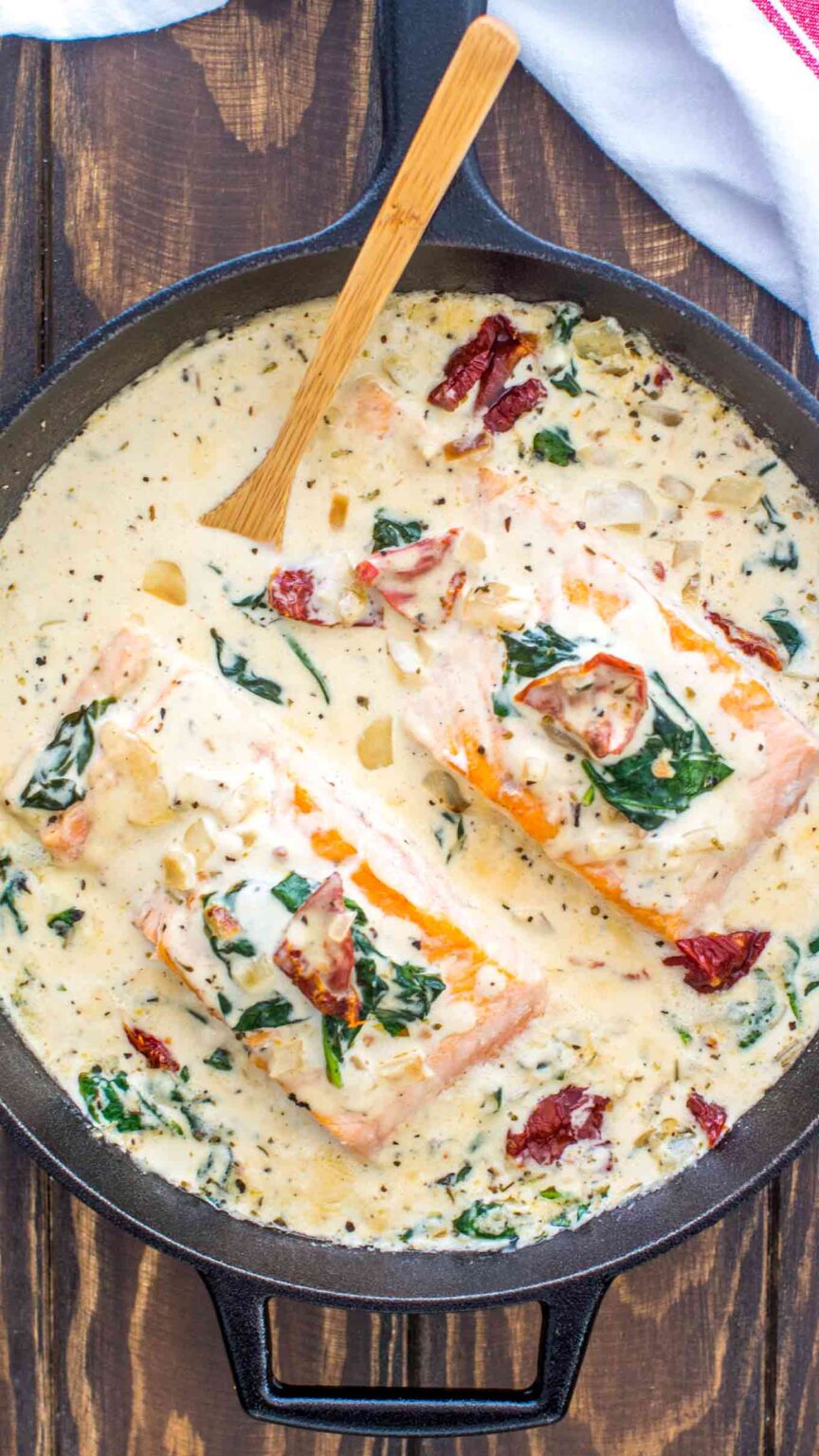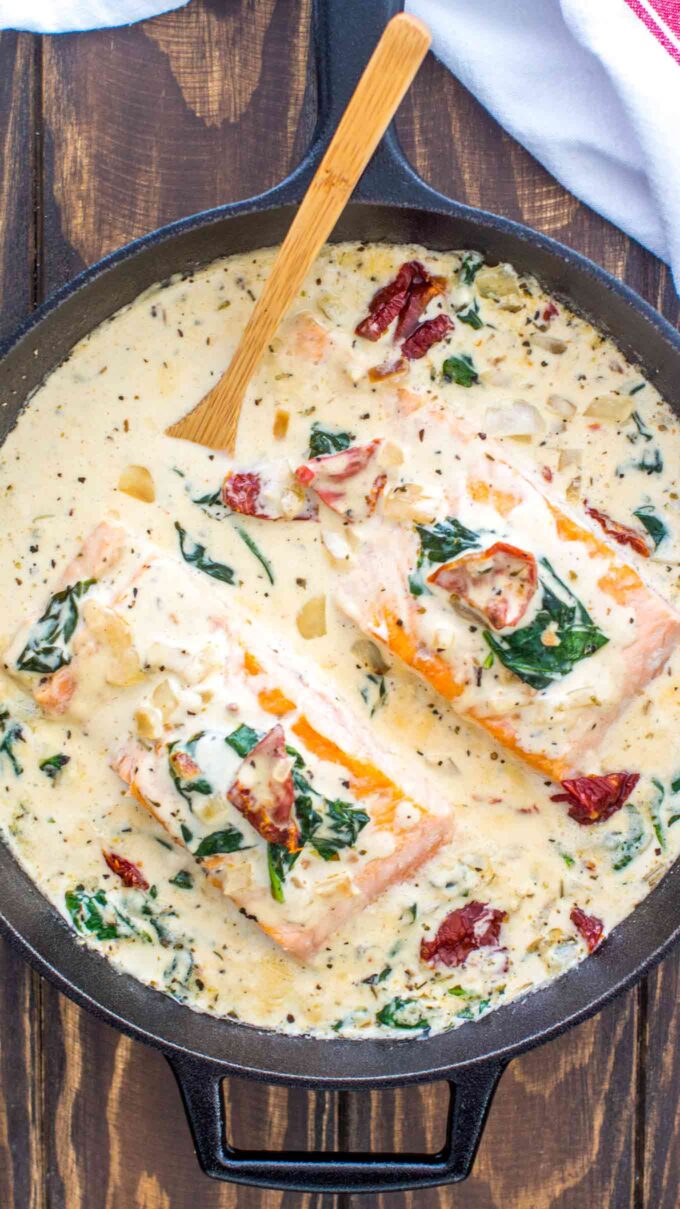 Creamy Homemade Tuscan Salmon
Tuscan Salmon with sun-dried tomatoes, Parmesan and cream is such an easy and delicious dinner, that you can make in less than 30 minutes. The meal is full of flavor and satisfying, while made in a very short time. I used fresh Atlantic filet Salmon for this recipe, as it tends to be tastier than the frozen version. However, you can use frozen fish if you want to save some dollars. Just make sure you thaw the fish prior to cooking.
The salmon is cooked in one pan, making the cooking and cleaning process easier. The sun-dried tomatoes truly bring the flavors to another level in this dish. The fresh spinach compliments the fish well, which everyone seems to love. The cream and Parmesan provide the thick and dense aroma, resulting in a buttery and flaky meal that melts in your mouth.
How to make Creamy Tuscan Salmon?
This creamy and delicious dish is quick and easy to make. For exact instructions, please refer to the recipe card below. Also, I have included a short step-by-step video to make it easier to understand the cooking process. Below are the steps:
Place a cast iron pan over medium-high heat. Add olive oil.
Then, cut the salmon into 2 or 3 pieces and season with salt and pepper.
Once the oil is hot, add the fish to the pan and cook on both sides for about 2-3 minutes. It should still be slightly pink in the center.
Remove salmon from pan and transfer to a plate, cover with foil. Set aside.
Next, add diced onion to the same pan and cook for 1 minute stirring from time to time. Add minced garlic and chopped sun-dried tomatoes. Stir and cook for another minute.
Add fresh spinach, stir and cook for 1 minute and add salt, pepper, dried basil, and Italian seasoning herbs. Stir and toss until the spinach is wilted.
Add heavy cream, stir to combine and cook for a few minutes, until the cream just slightly starts to simmer.
Reduce heat to low-medium.
Then, add grated parmesan cheese and stir until the cheese is fully melted. Taste and adjust the sauce for salt and pepper.
Add the salmon back to the pan, skin side down, scoop and pour some of the sauce on top of it, and cook it in the sauce for about 3-5 minutes, or until heated through. Baste the salmon from time to time.
Serve Tuscan salmon dish immediately with some bread for dipping.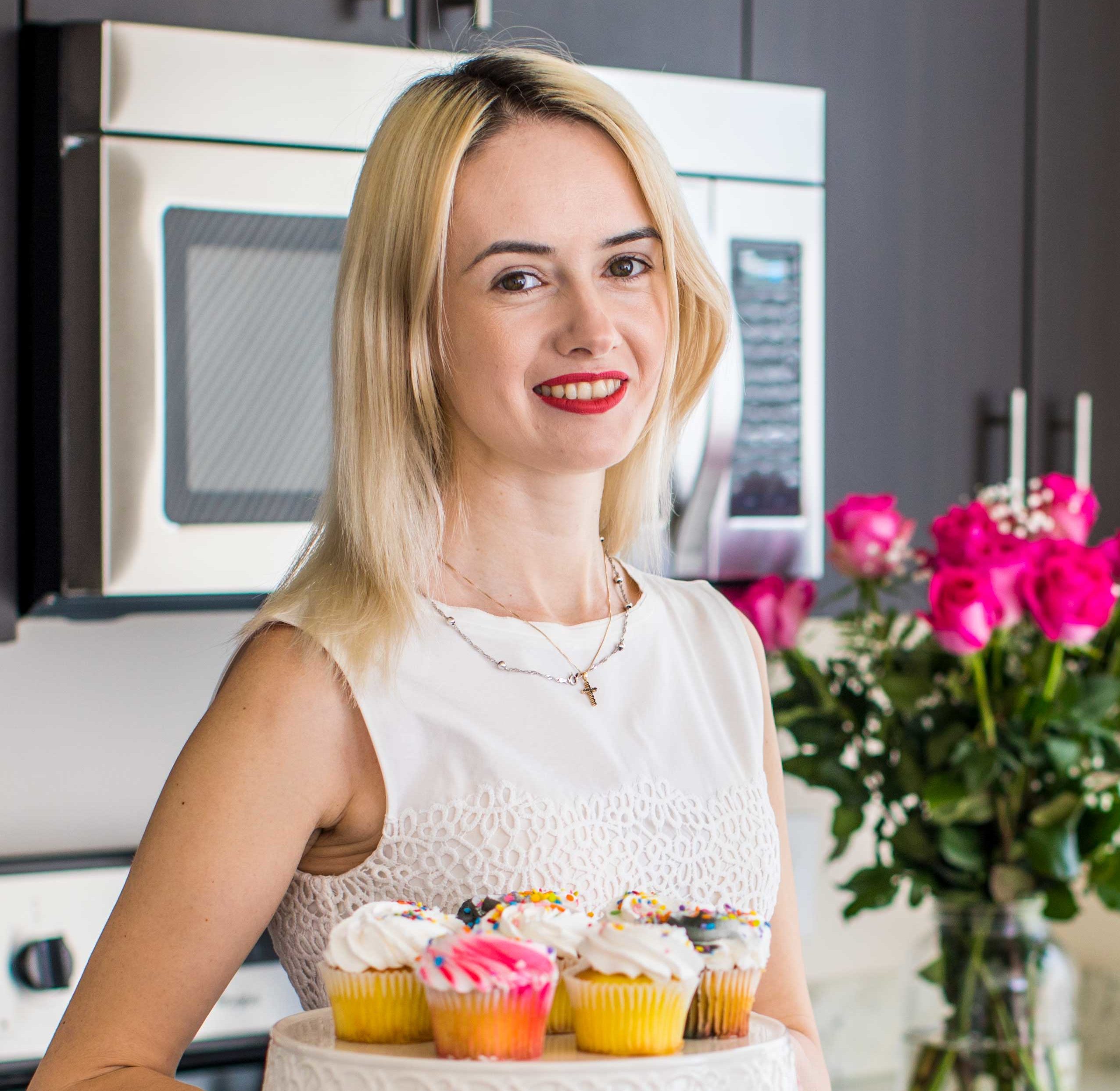 Follow us on Pinterest for more delicious recipes!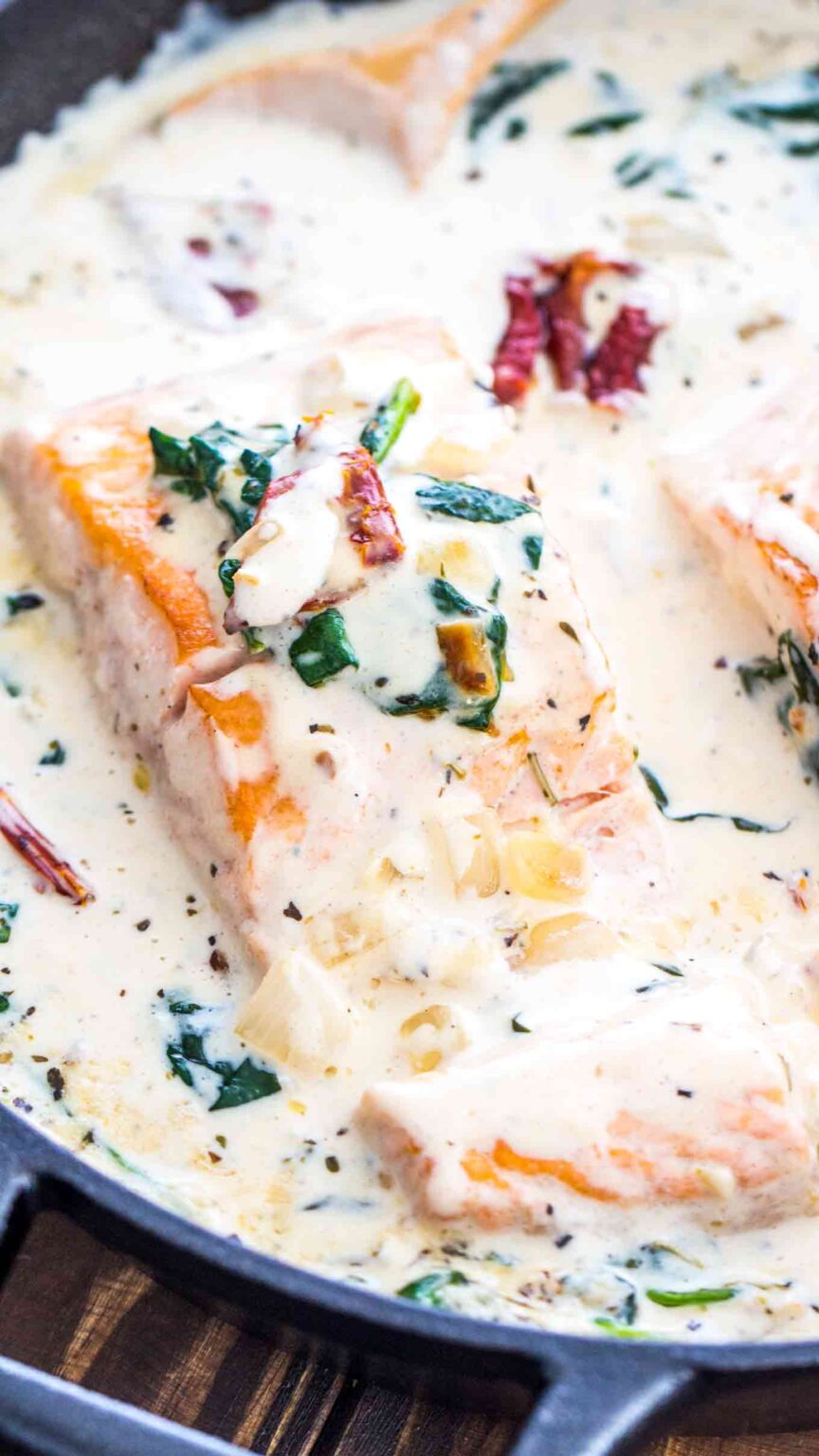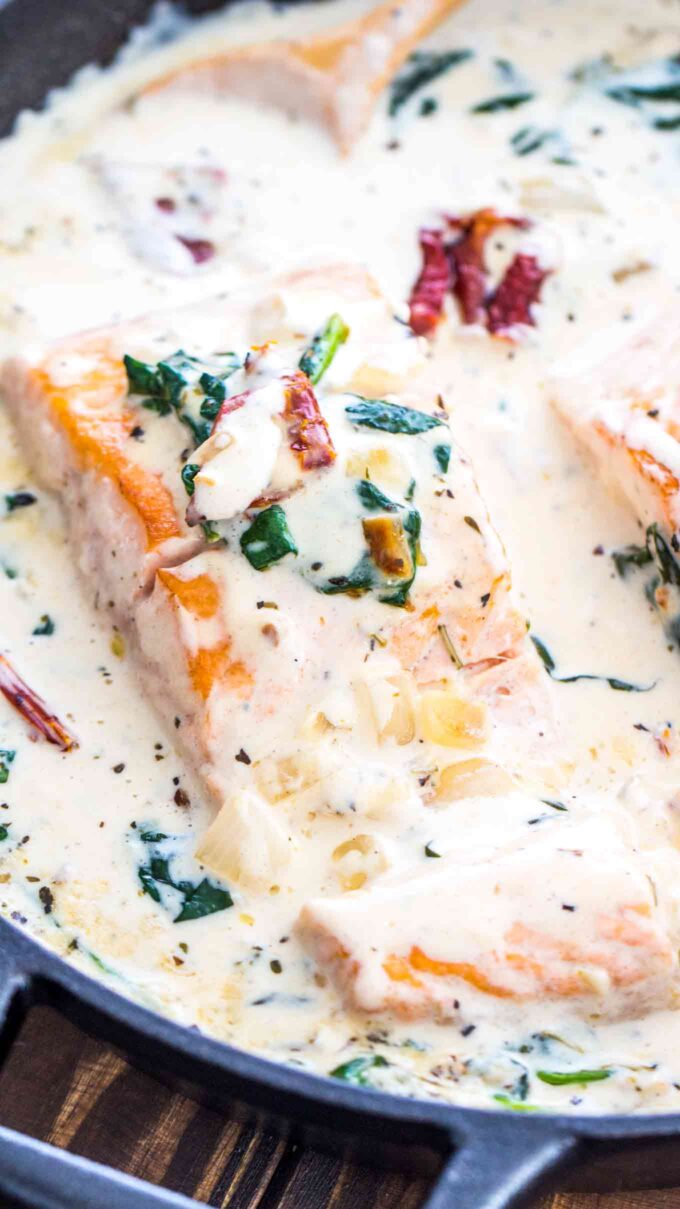 IS SALMON HEALTHY?
Do you know that salmon is a superfood? It contains omega 3 fatty acids, best known for its heart health benefits. By eating salmon or other fatty fish such as lake trout, mackerel, herring, and albacore tuna, you can protect your heart! The American Heart Association recommends eating at least two 3.5 ounce servings of non-fried fish per week.
HOW DO YOU COOK SALMON?
There are actually many ways to prepare salmon. Popular ways to cook it include:
steaming
poaching
grilling
oven-baked
smoked, or
pan-seared
For the One Pan Tuscan Salmon recipe, the fish is pan-seared.
DO YOU PAN SEAR SALMON WITH THE SKIN ON?
The best way to prepare the Tuscan Salmon is to pan-sear it. For the best sear, you will need the pan to be as hot as possible.
To begin, cook the salmon skin side up for 3-4 minutes, or until the flesh is golden brown. Then flip the fish, searing the skin side.
To make this homemade recipe, you will remove the seared fish from the pan temporarily so that the sauce can be made.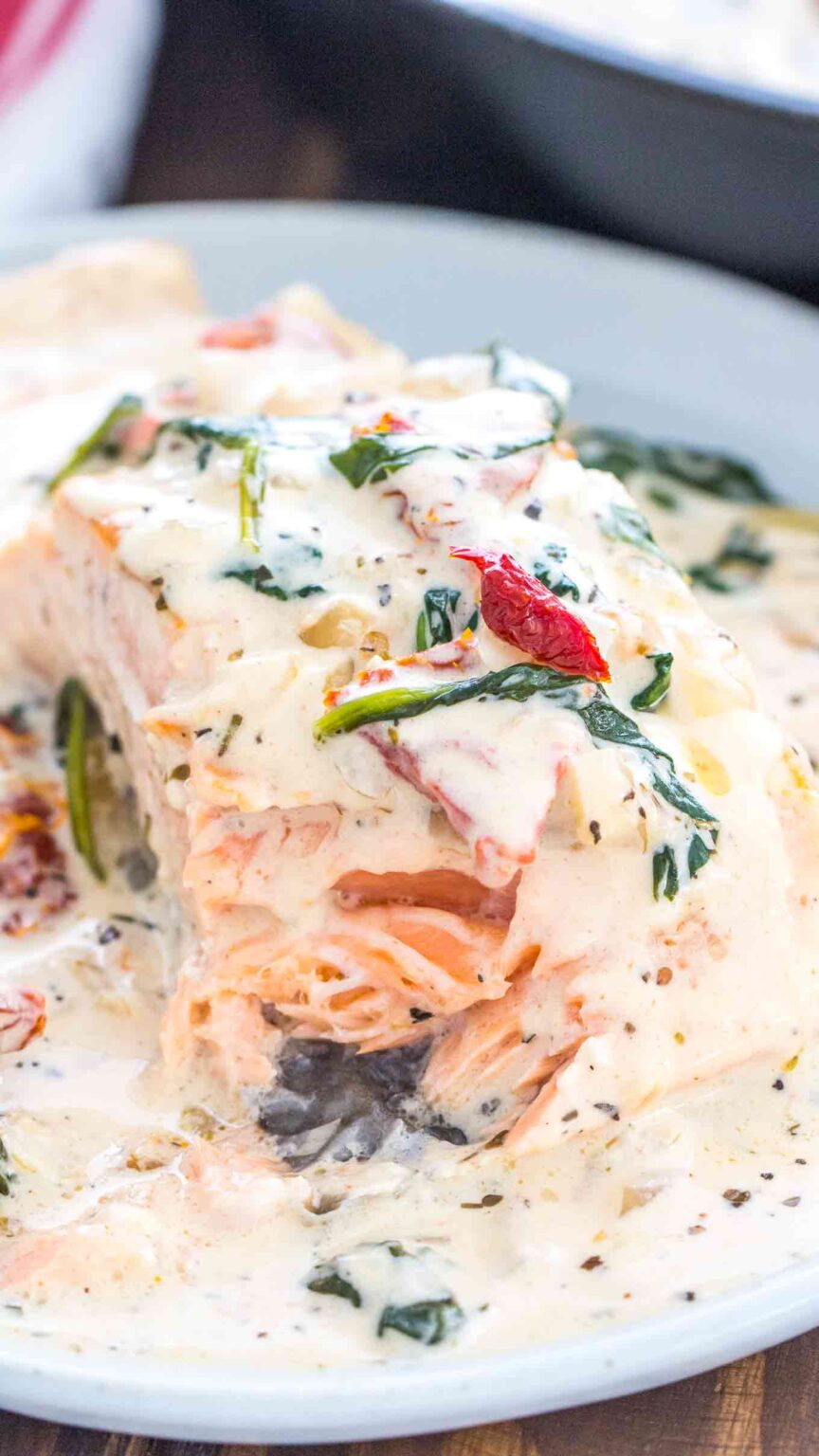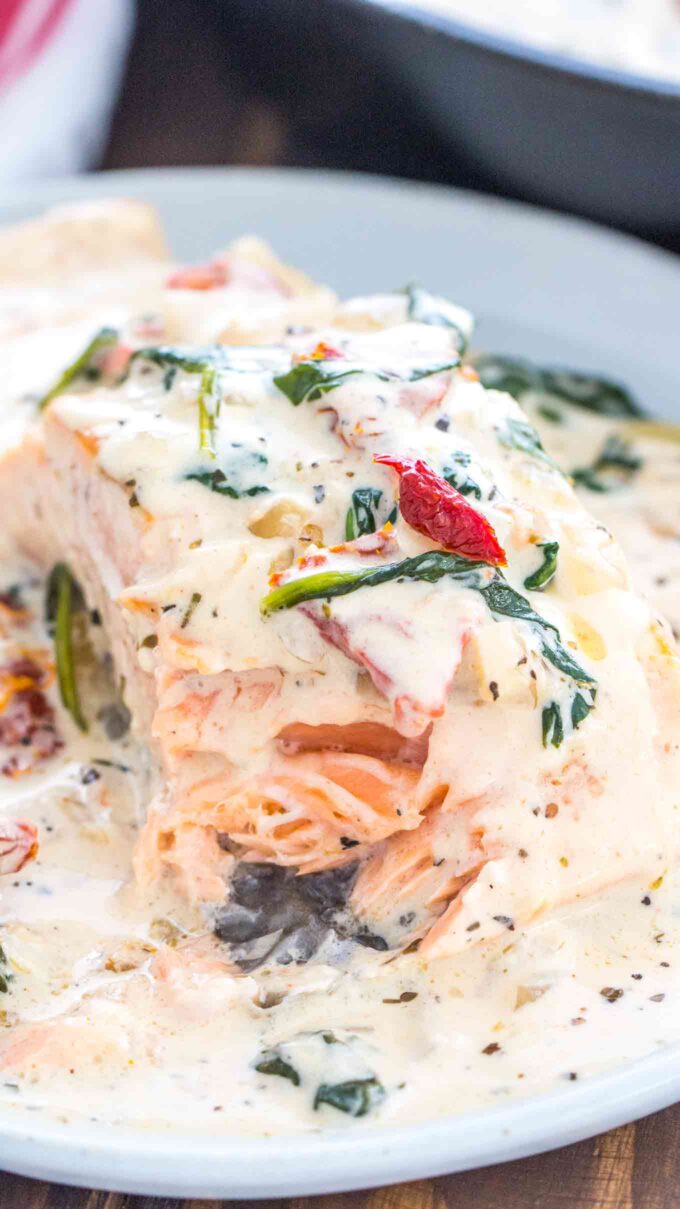 WHAT ARE GOOD SIDE DISHES FOR TUSCAN SALMON?
The cream sauce for the Tuscan salmon has spinach and sun-dried tomatoes in it, but for a complete meal, there are many options of what to serve with salmon. Some of our favorite side dishes for it are:
TUSCAN SALMON RECIPE TIPS:
When possible, choose wild-caught fish, as it tastes better and is healthier.
Also, make sure the salmon has a nice, vibrant color, that it looks fresh and moist.
To save some money, you can use frozen filets. Make sure to thaw before cooking.
Because cream sauces can separate over time, this is one of the salmon recipes that is best eaten the day it is made.
If you have leftovers, refrigerate them in an airtight container and try to use them within 1-2 days.
Watch Recipe Video:
Save Recipe
Creamy Tuscan Salmon
Tuscan Salmon is an easy one-pan meal featuring pan seared salmon in a creamy sauce with spinach, sun dried tomatoes, and Italian flavors.
Author: Catalina Castravet
Serves: 3 servings
Prep time:

10

minutes
Cook time:

20

minutes
Total time:

30

mins
Nutrition information
Calories: 597 Carbohydrates: 16 Protein: 49 Fat: 36 Saturated Fat: 11 Cholesterol: 122 Sodium: 946 Potassium: 1530 Fiber: 2 Sugar: 9 Vitamin A: 4570 Vitamin C: 31.6 Calcium: 658 Iron: 3.4
Save Recipe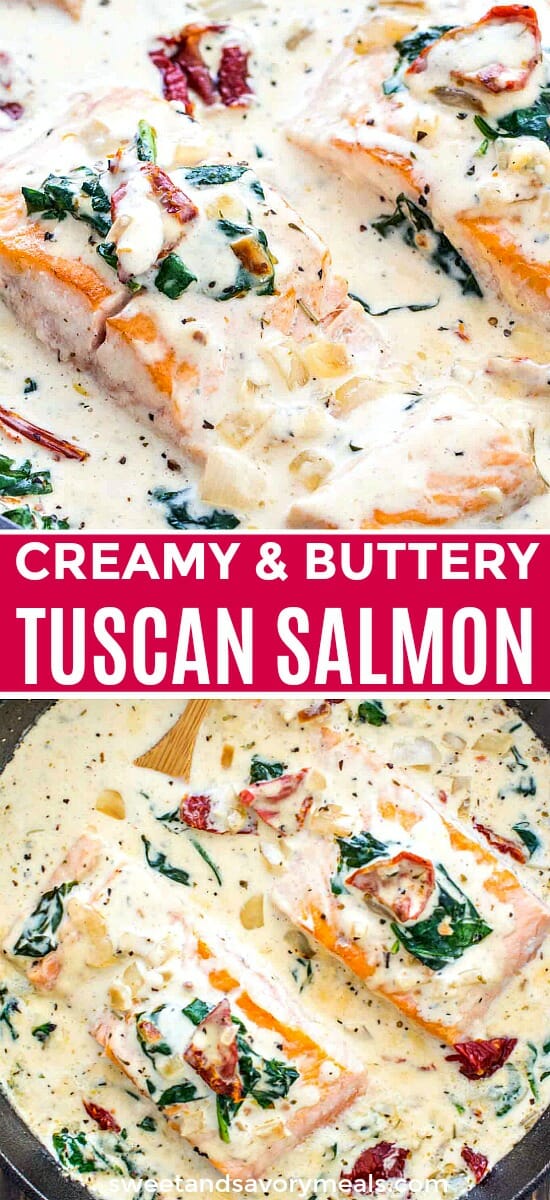 More recipes you might love
Categories: