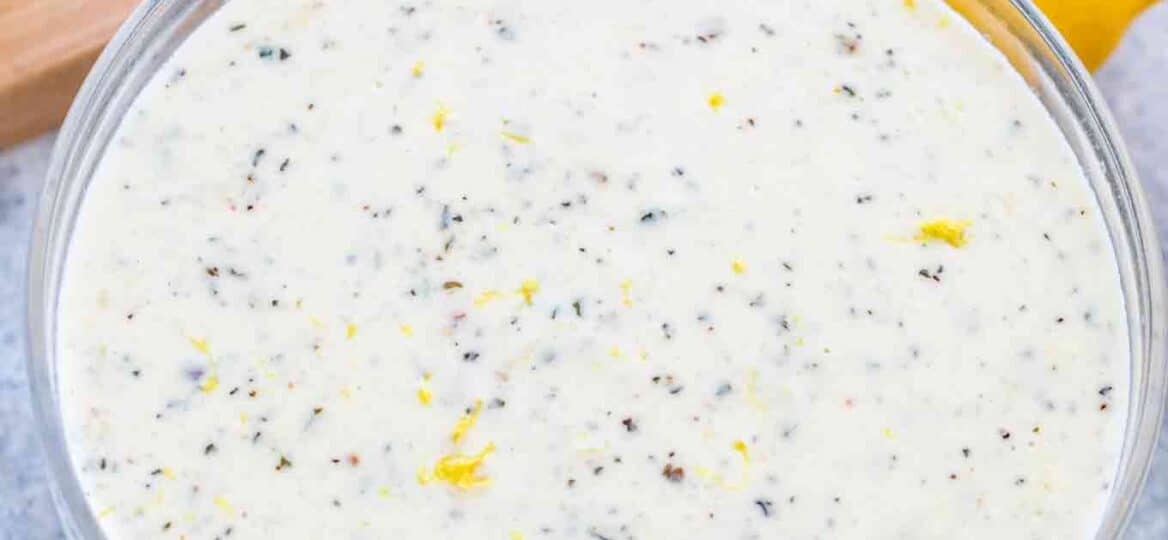 Check out this delicious and creamy Sauce for Salmon that can be used in a variety of dishes. It is our favorite sauce to use when cooking poultry and fish, especially salmon. Made with butter, lemon, light cream, garlic, and Parmesan cheese this one is guaranteed to win you over. Watch step by step recipe video below.
This dish is not only rich and creamy, but it is easily made in less than 15 minutes. I love creamy sauces, and my all-time favorite is the creamy alfredo sauce which I pretty much use on any dish! Just like the Alfredo sauce, this one is made with minimal ingredients. Once you give it a try, you will never cook your salmon with any other sauces. The sauce can also be used to dip Shrimp Cakes, Crab Cakes, or even Mahi Mahi.
Creamy lemon garlic salmon sauce
This Homemade Sauce for salmon is one of the easiest and quickest recipes you can prepare. It is delicious and comes together fast and effortlessly. I love using it over creamy pan-seared salmon and Honey Garlic Salmon, but you can use it pretty much with any seafood dish. It has just a few ingredients, but tastes rich, creamy, and delicious!
The flavors are out of this world, with butter, cream, fresh herbs, and garlic mix, you will smell the aromas filling your kitchen right away. When using it for cooking salmon, it truly boosts the flavors of the fish to a new level.
Also, we have added some lemon juice and zest to it, which adds a nice citrusy kick and a great overall balance. You can also use a bit of white wine if desired. It adds a nice boost of aromas to it.
All in all, this is our favorite sauce to use when cooking salmon recipes because it is buttery, creamy, and melt-in-your-mouth delicious. We have tried making this recipe in many variations over the years, and we have perfected it over and over again.
This homemade recipe is truly easy to follow and yields a delicious and hearty sauce that can be mixed in lots of other recipes. We love it so much that we use it as a dip once in a while. Give it a try, we are confident you will enjoy it just as much!
Ingredients needed:
Butter and light cream: this makes it creamy and adds a lot of flavor to this dish. I go with unsalted butter, this way I can control the saltiness. Also, you can use heavy cream if desired.
Flour: you can use regular all-purpose flour. This is used to thicken and make it more consistent.
Garlic: freshly minced garlic is just a must here! Feel free to use more or less based on your preference.
Lemon juice and zest
Herbs: dried basil, parsley, red pepper flakes, salt, and pepper.
Parmesan cheese: it is important to use high-quality and grated parmesan cheese here to ensure it properly melts and combines with the rest of the ingredients. The store-bought, pre-shredded cheese is just not the same as the grated one. It will make your sauce gritty.
White wine and olive oil: both of these ingredients are optional, but can be easily added if desired.
How to make homemade Sauce for Salmon?
This is one of the easiest dishes you can make at home. Follow the simple steps below:
Place a large skillet over medium heat, add butter, and melt.
Once butter is melted and sizzling, add flour, stir to combine, and cook for 1 minute.
While stirring continuously, add the cream little by little.
Next, add garlic, lemon juice lemon zest, and dried herbs. Season with salt and pepper.
Bring the sauce to a light simmer and reduce the heat to low.
Lastly, stir in parmesan cheese until fully melted.
Follow us on Pinterest for more delicious recipes!
Can you substitute Parmesan Cheese?
Sure, can! We love using grated Parmesan cheese in this recipe since it gives it a nice and rich aroma. However, you can use any of your favorite cheeses. They will work just fine. Some of our other favorites are:
Romano cheese
Gruyere cheese
Mozzarella cheese
Asiago
Grana Padano
How to make Dill Sauce for Salmon?
Dill version of it is also delicious and super fast to prepare. You can use it mainly over any fish, especially if it's grilled.
You will need:
1/2 cup sour cream
1/2 cup mayonnaise (optional) or whole Greek yogurt
1 1/2 tablespoons Dijon-style prepared mustard
1 teaspoon lemon juice
2 teaspoons chopped dill
salt and pepper to taste
Then, simply whisk together all the ingredients above until well blended. Chill for a few hours before serving. Once used, make sure to refrigerate it since it contains dairy, you want to make sure it does not go bad.
Also, you can make this recipe dairy-free. It is also great for those who are lactose intolerant or people who wish to serve this fish entree alongside a kosher meat meal. Just replace the sour cream with dairy-free vegan sour cream and vegan yogurt.
Ways to use garlic lemon salmon sauce?
This dish can be used pretty much on all fish and meat types. Try it on:
Can I make the salmon sauce healthier?
Yes! Simply opt for healthier ingredient alternatives. For example, feel free to substitute the light cream with Greek yogurt. Also, use half a cup of cheese instead of one cup.
These options will reduce the excessive calories and make it healthier.
Can I prevent the sauce from becoming too runny or too thick?
If your sauce becomes too runny, then simmer it gently to thicken it. Also, feel free to add an extra 1/4 teaspoon of flour and whisk it together. This will thicken it.
On the other hand, if it is too thick, you can add some liquid to it. Use 1-2 tablespoons of broth, white wine, or lemon juice. This will thin it out. Just remember to add the ingredients gradually.
How to store leftovers?
If you have any leftovers, it is best to store in an airtight container or mason jar in the fridge for up to 5 days. If stored for over a few days, it is best to shake it well before consuming it.
Can you Freeze it?
Absolutely! Use a sealable plastic container and freeze it up for up to 3 months. When ready to use, just thaw overnight in the fridge. Also, do not forget to whisk it before serving.
More salmon dishes to try:
Recipe Tips:
For an even richer and creamier sauce, add one extra tablespoon of butter.
You can also substitute regular butter, with vegan, or dairy-free butter.
Also, adjust the garlic per your preference.
In addition, if you want a stronger lemon-flavored dish, then simply add the wedges to the pan when the sauce is bubbling.
Dried herbs can be substituted with fresh herbs. Such as fresh dill, basil, parsley, chives, etc.
Sauce for Salmon
Ingredients
2

tablespoons

butter

unsalted

2

tablespoons

all-purpose flour

2 1/2 - 3

cups

light cream

4

cloves

minced garlic

2

tablespoons

lemon juice

1

tablespoon

lemon zest

1

teaspoon

dried basil

1

teaspoon

dried parsley flakes

1/4

teaspoon

red pepper flakes

salt and fresh ground pepper to taste

1

cup

Parmesan cheese

grated
Instructions
Over medium heat, place a large skillet and add butter.

Once butter is melted and sizzling, add the flour, and whisk well to combine while cooking. Let it cook for about 1 minute while stirring.

Next, add slowly the light cream and continue to stir. Make sure not to pour the cream all at once, instead do it slowly.

Then, add garlic, lemon juice, lemon zest, dried herbs, salt, and pepper.

Once the sauce simmers, reduce heat to low and add shredded Parmesan cheese to the mixture. Stir for few seconds until the cheese fully melts.